The popularity of Instacart began growing for its convenience and time-saving benefits. Then, the COVID-19 pandemic and lockdown skyrocketed the service's growth. Today, the app generates over 20 billion dollars in sales with 85 percent of households having access (via Zippia). And this number is only expected to grow into the future.
This staggering growth and impressive usership numbers can mean big things for your brand. One of the most powerful tools you can harness is the Instacart ad platform. These allow you to put your products front and center and gain exposure to this wide audience. 
One benefit of these ads is their pay-per-click, or PPC, pricing model. You only pay for placement with Instacart users engage with your ads. This creates a budget-friendly way to campaign and sets you up for a promising return on your investment. 
However, creating your Instacart campaigns can be time-consuming. Plus, you can boost your results when they're monitored and optimized. Why not put this task in the hands of the experts? With the right Instacart advertising agency in your corner, you can bolster your sales and gain vital market share.
How do Instacart ads work?
Instacart advertising is a multi-step process that should be planned with your specific objectives in mind. First, you'll want to prioritize the products you want to advertise and boost the sales of. Then, you'll decide how much of your advertising budget you want to dedicate to your Instacart PPC ads. 
Instacart ads can be in the form of ads for specific products. They can also be featured as promotional coupons or special delivery offers. Your campaign expert can determine what ad type is best for your specific goals and objectives. Many times, this is a carefully balanced combination created with your intended results in mind.
The best part is that you'll receive concrete sales data to see how well your campaigns are working. This is the information that your Instacart PPC agency will use to optimize your advertising. Using this data, they'll make adjustments and scale your campaign so you're getting the most out of your advertisements.
The Best Instacart Ad Agencies
When looking for an Instacart ad agency, you'll want to find the right combination of expertise, service, and communication. You'll also want clear reporting so you can be confident investing in your advertising and PPC strategies.
1. Search Nurture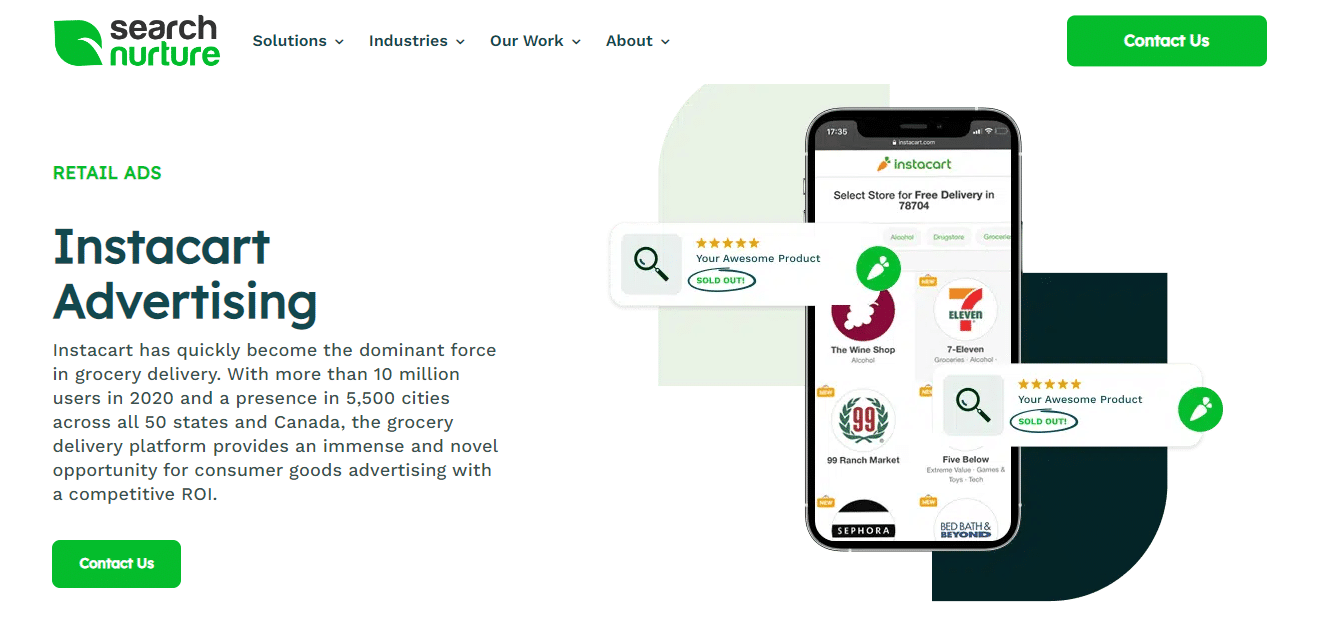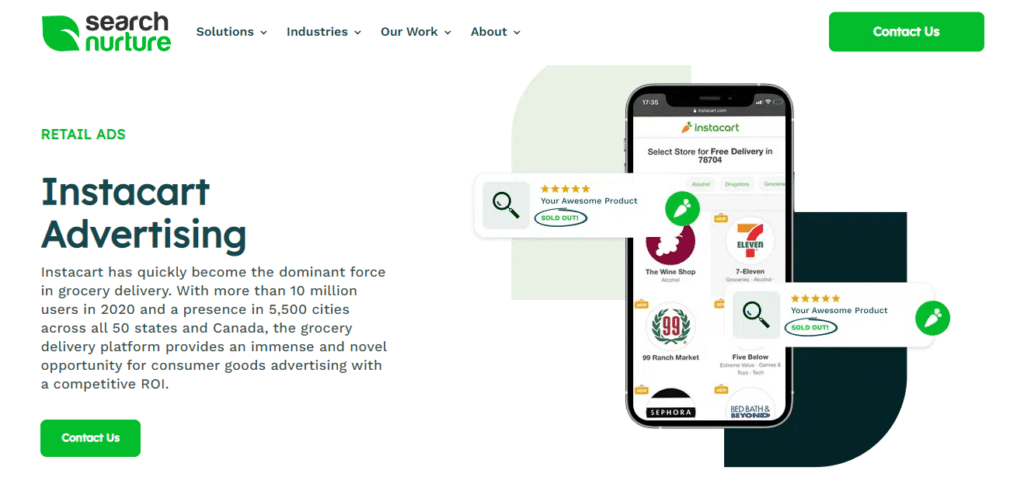 Search Nurture is an Instacart advertising agency that can provide you with top-of-the-line services. Their Instacart ad experts are masters at creating and optimizing stellar campaigns with measurable sales growth. 
Over a decade of eCommerce advertising experience with proven results
Access to SearchRAMP, an interactive dashboard that allows you to see your campaign performance in real-time
White-glove client support, proactive communication, and top-notch service
Custom-built plans for your specific business's goals and industry trends
Regular meetings and guaranteed email response timeline
When it comes to relying on an Instacart ad agency, you can't go wrong with Search Nuture's level of expertise and attentive client service standards. 
2. Fidelitas
With Fidelitas, you'll work with a full-service marketing agency with innovative practices. The business prides itself on its employee's creativity and their company culture. 
A focus on your unique goals and optimized ROI
Committed to honesty, transparency, and open communication
Focused on creating brand loyalty and repeat customers
Experienced partnering with various-sized businesses across multiple industries
Fidelitas can help you take your brand to the next level with its top-notch communication and proven strategies.
The Best Software for Instacart Ads
There are also some great software programs on the market to bolster your advertising efforts. From Instacart ads managers to data analytics, these can help you understand your data and improve the results of your campaigns.
1. Intentwise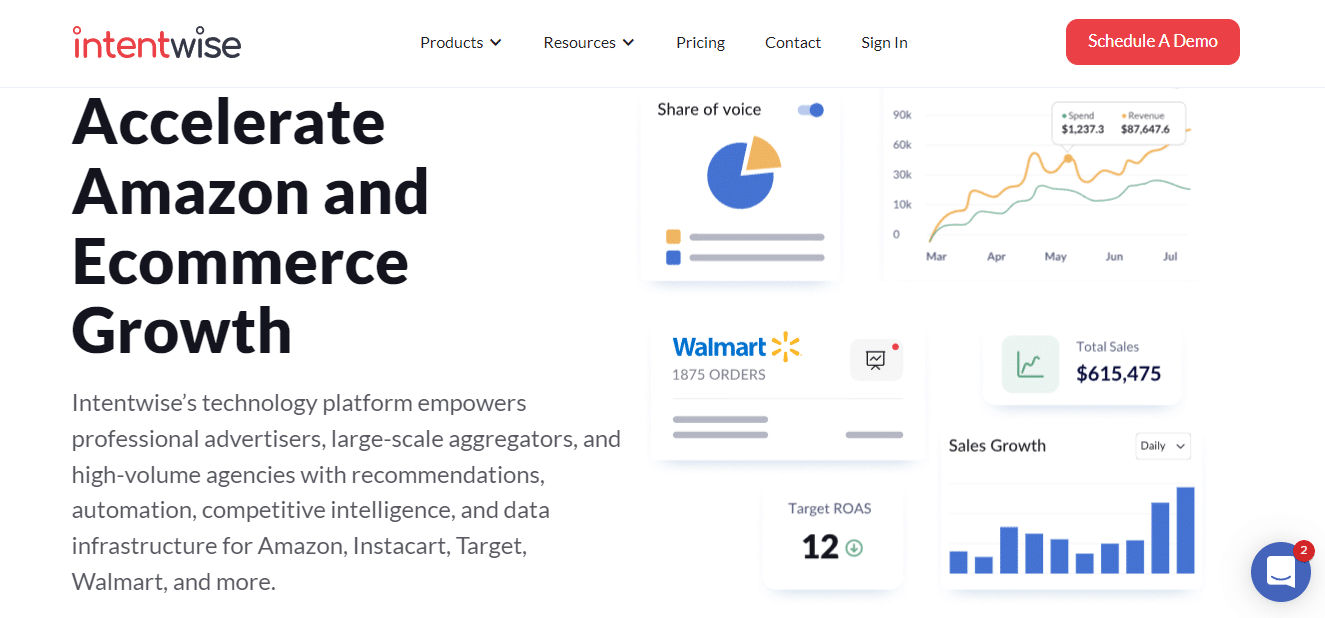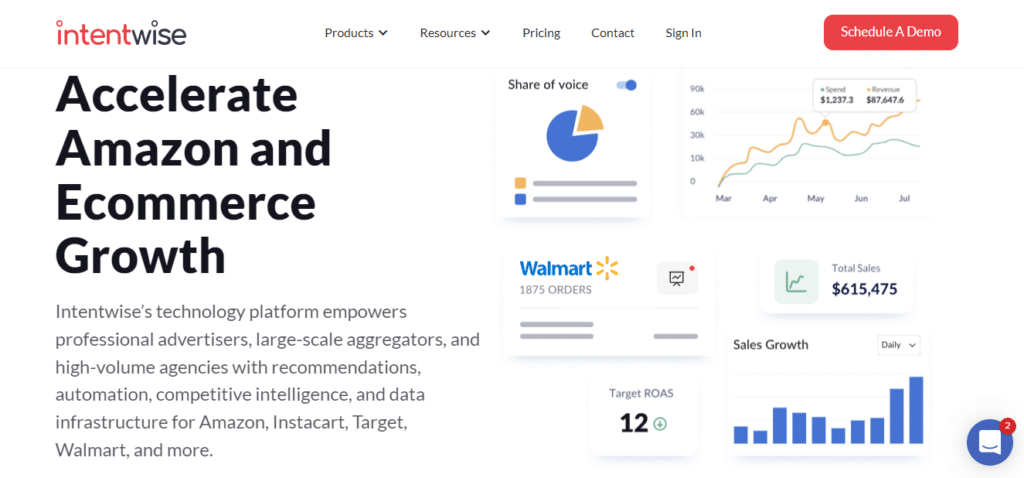 Intentwise is an intuitive platform that can help advertisers accelerate campaigns. This tool provides useful data and outstanding recommendations for optimizing advertising strategies.
Innovative AI-based algorithms used for data-driven recommendation
Uses the latest algorithms to make campaign projections
Proven results with a wide range of brands and companies
This tool is one of the best ways to make Instacart ads work for your brand and skyrocket their success.
2. Quartile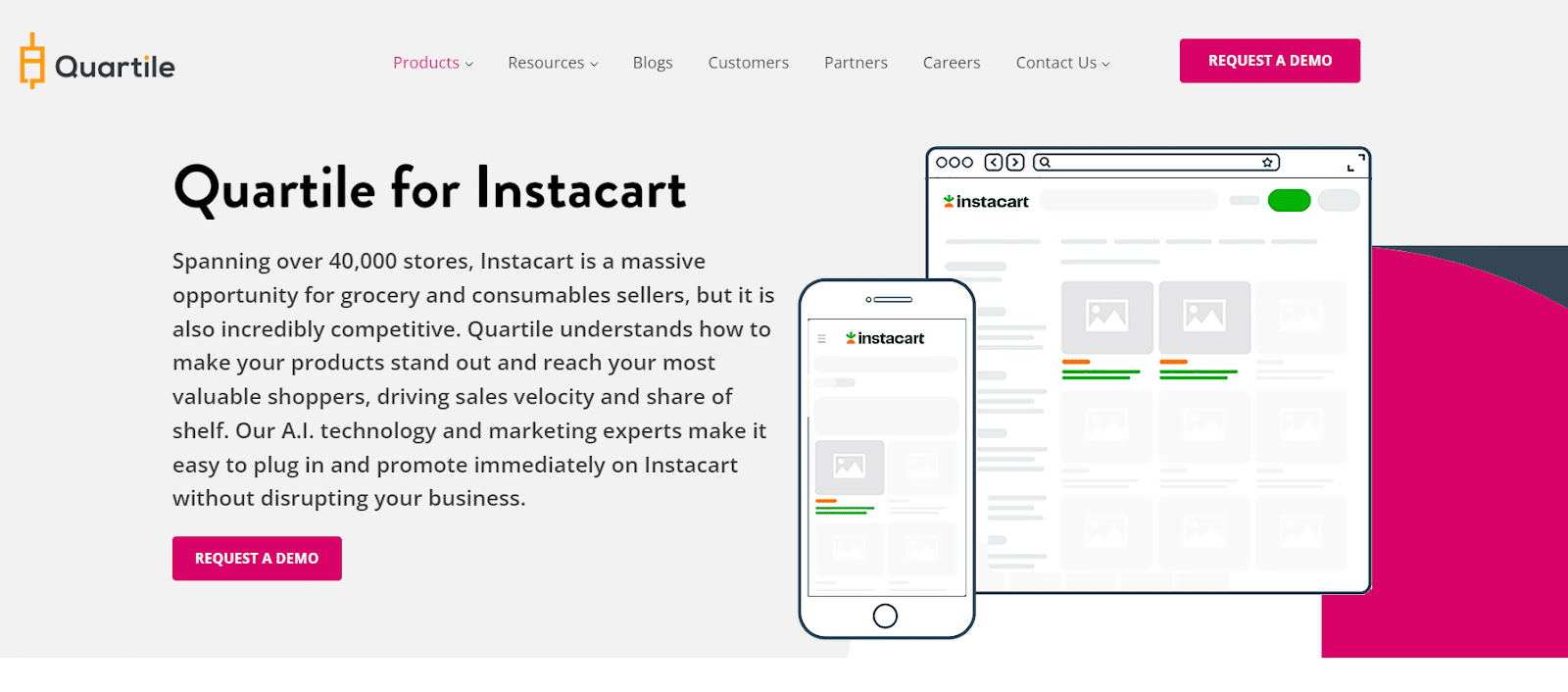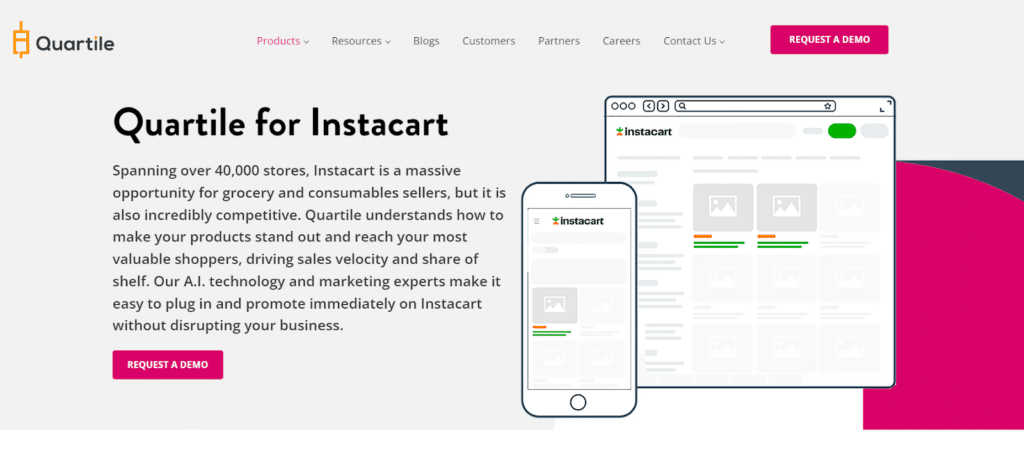 Quartile provides an intuitive tool for Instacart advertising. This allows you to automate your campaigns and make the most out of your Instacart ads. The platform uses innovative technology to control advertising spending and maximize ROI. You can create targeted Instacart campaigns and analyze what product ads generate the best response from users.  Clients also have 24/7 access to a user-friendly dashboard that helps monitor ads and provides reports to evaluate results. Plus, Quartile's ad-spend-based fee structure is a budget-friendly pricing model. Your dedicated account executive with expert-level Instacart advertising experience will be an invaluable resource.
3. Perpetua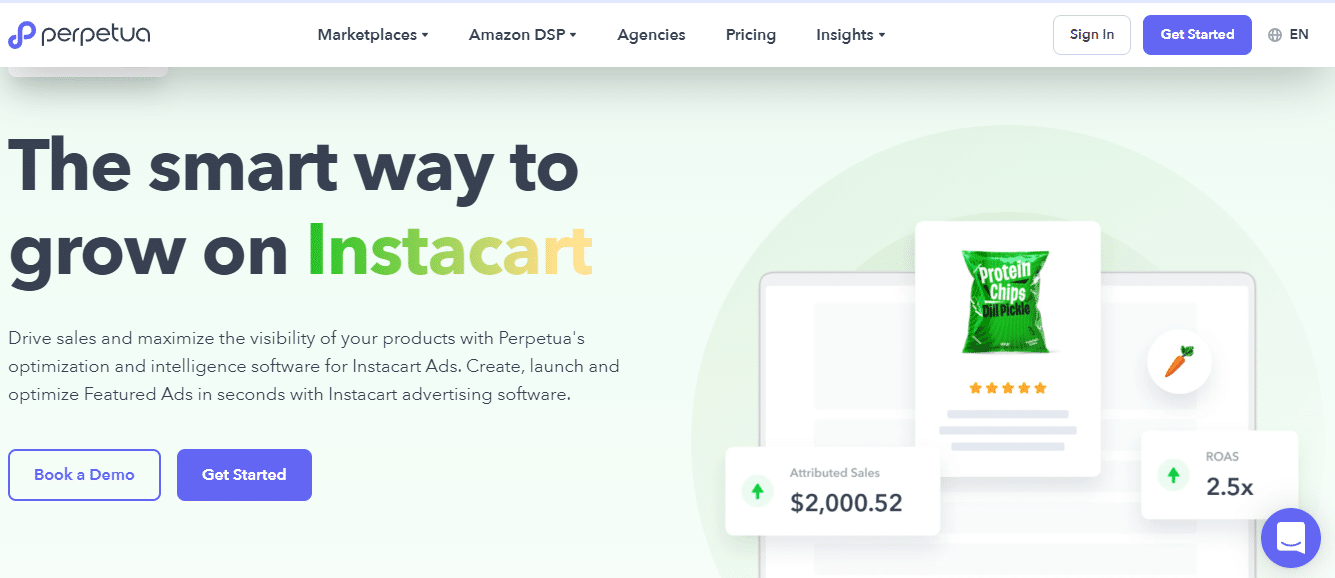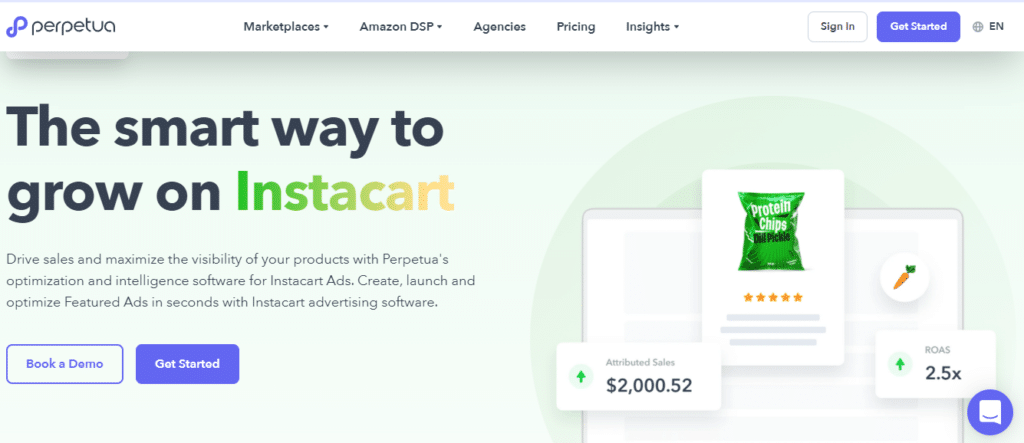 Perpetua is an Instacart ads software that helps increase sales and brand visibility. It allows campaigns to be automated for greater efficiency and better results. 
Allows for daily budgetary guidelines and adjustments
Provides clear campaign analysis and result data
Clear tiered pricing strategy and multiple customer support channels
This software has a proven track record of taking brands and their Instacart campaigns to the next level.
4. MarinOne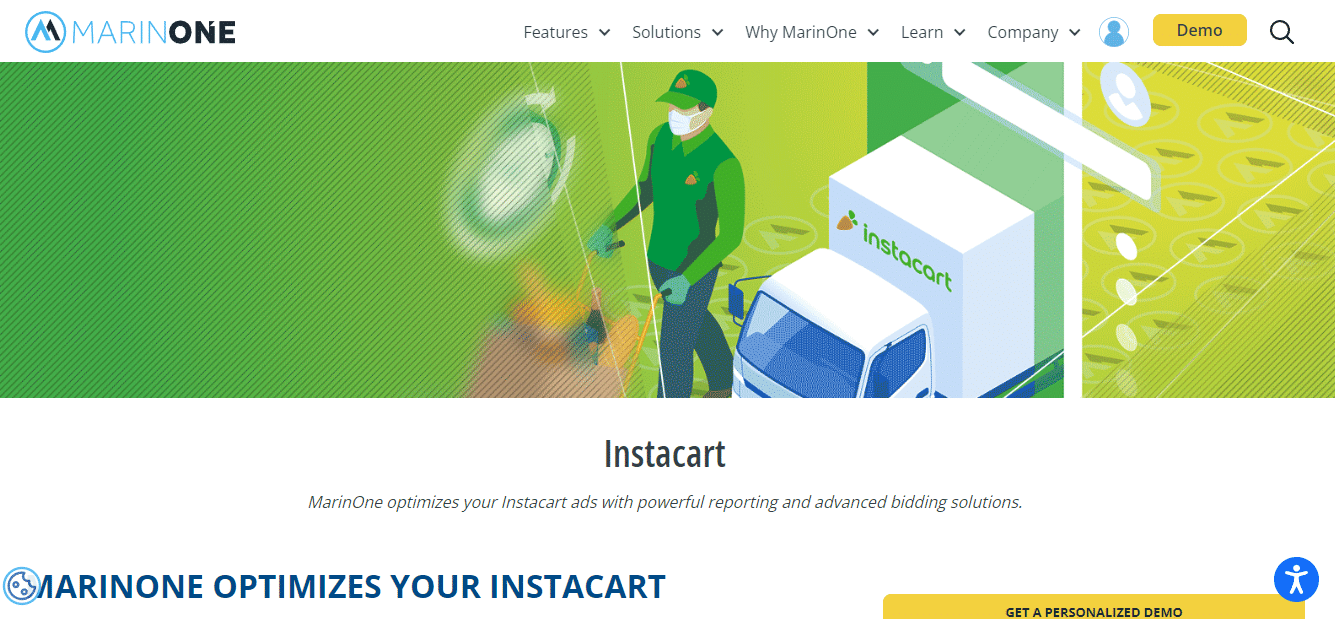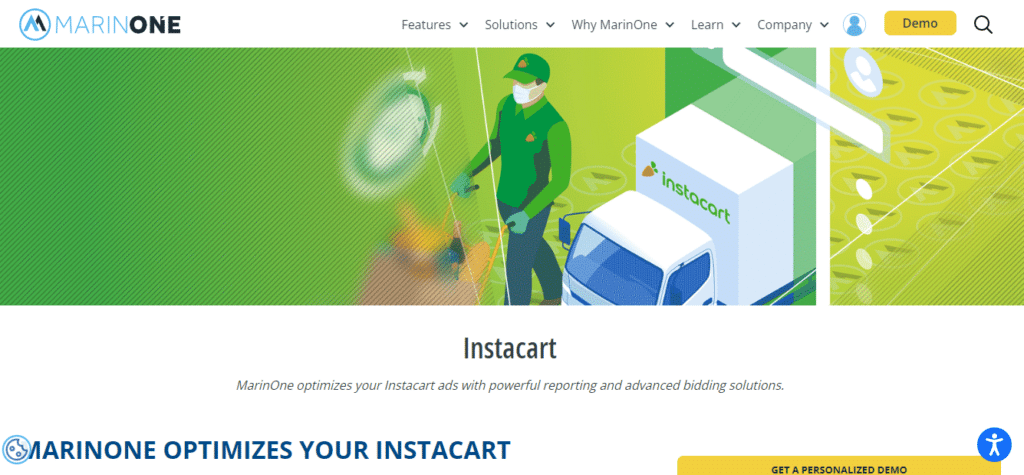 MarinOne provides outstanding and useful reporting of campaign metrics in clear and concise methods.
Utilizes A/B testing for optimized results
Generates reports that can be easily integrated and provide performance alerts
Sophisticated bidding tools make the most of advertising spend
This platform allows users to harness advertising data and implement and plan smarter, data-driven campaign strategies. 
5. Pacvue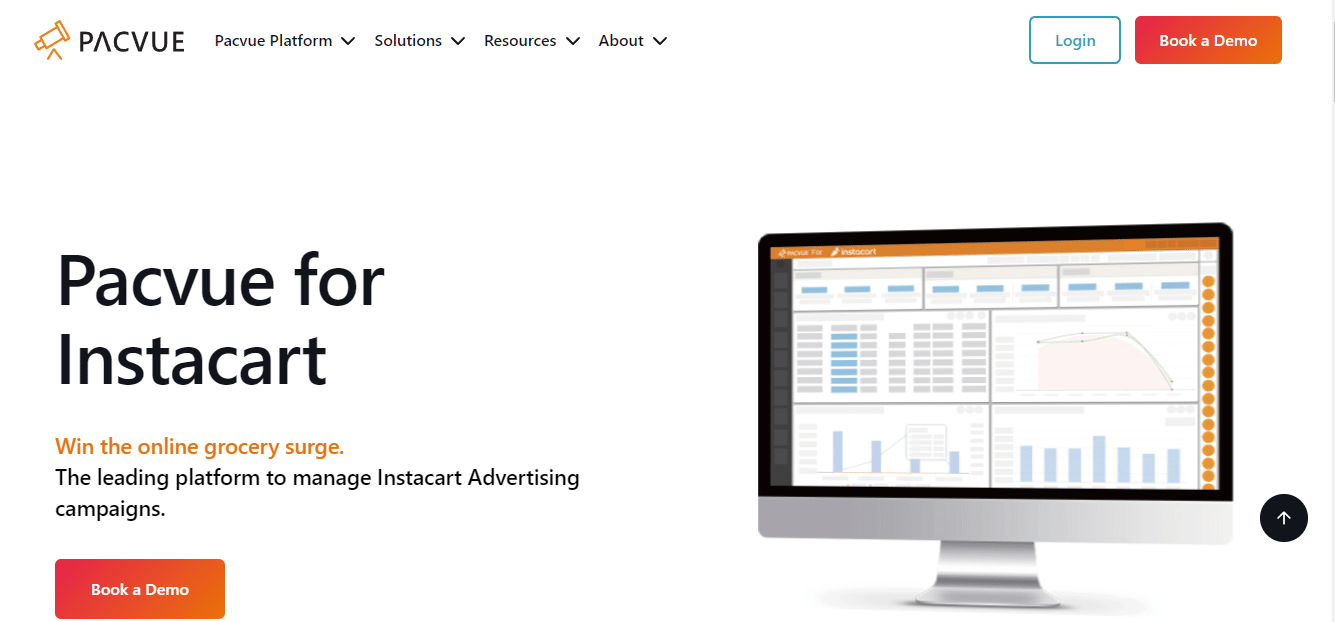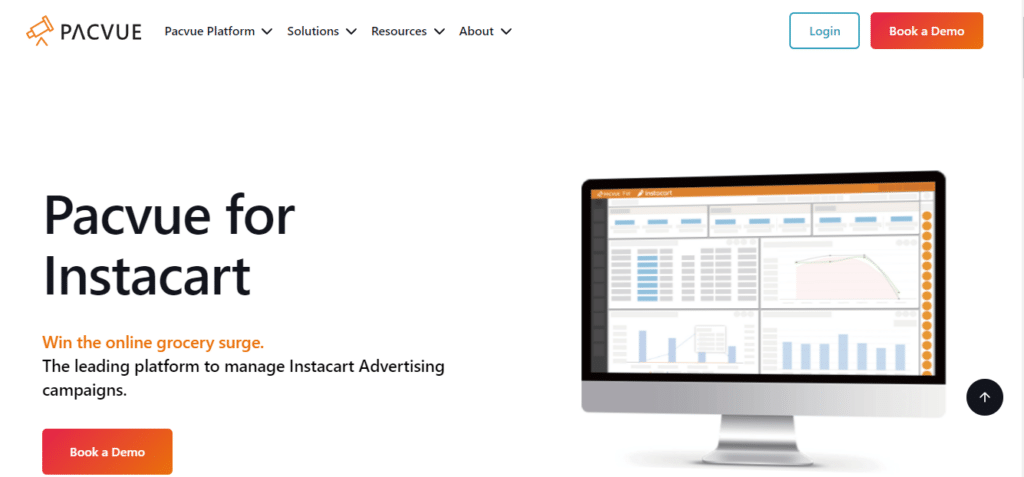 Pacvue is an Instacart ad campaign manager with rule-based automation features. It provides users with regular reporting to provide insights into their campaigns.
Allows for daypart bidding and budget pacing for financial control
Provides keyword recommendations based on search data
Boosts a proven return on advertising spend for clients
The software can be an invaluable tool in controlling, managing, and optimizing your Instacart campaign budget.
Growing your business with Instacart advertising
It's projected that Instacart will reach 35 billion dollars in sales by 2023 (via Statista). This continued popularity and gain of the market share mean that more and more customers are using the app to simplify their grocery shopping. Advertising on Instacart can give you prime placement in the view of this growing audience.

A well-thought-out Instacart ad campaign can mean huge things for your brand. With the right partners and tools by your side, you can accelerate your business and smash your sales goals. Get started making the most of advertising on this game-changing eCommerce app today.