There are plenty of Amazon seller tools available for purchase. They all promise to increase customer engagement and ultimately improve your brand's reputation. But how do these tools actually work, and which are the best ones?
Here, we'll be reviewing one of the most prominent ones, FeedbackFive, and determine if it's worth investing in.
What is FeedbackFive?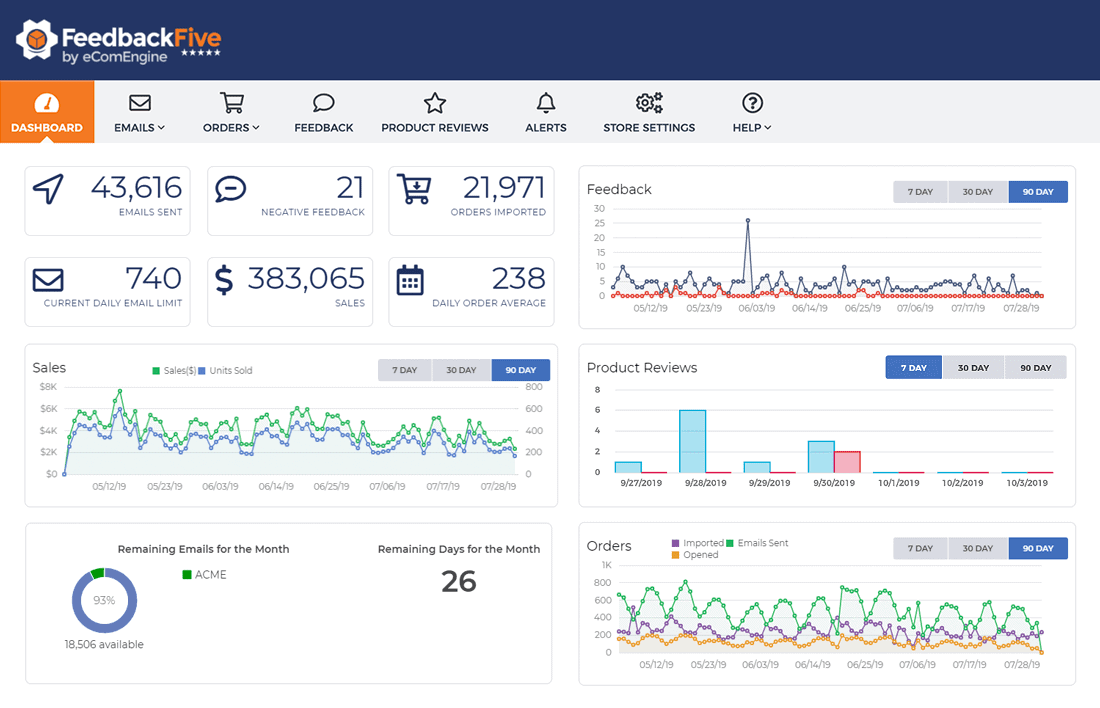 FeedbackFive is one of the oldest Amazon feedback management and review management tools available. It has been around since 2009, and it has amassed a huge following and solid reputation.
Some of its main goals are to:
Alert you of negative reviews as early as possible
Provide compelling CTA (call-to-action) buttons to encourage buyers to leave responses
Protect your brand's Buy Box
Preserve your brand's reputation
Help you respond to customers immediately with automated responses and custom email templates
This software also lets you review your store's past performance. By looking at this pertinent information, you can make data-driven changes to your company's strategy instead of relying on guesswork.
A Breakdown of FeedbackFive's Tools & Features
Before purchasing FeedbackFive, you should be familiar with some of its notable tools and features and how they can benefit your Amazon store:
Email Automation
Email automation is arguably the most important part of any feedback management system.
Its user interface is very simple to use and understand, even if you've never used any kind of Amazon seller tool before.
As part of FeedbackFive's email automation, you can browse its email template gallery. This gallery is fully searchable, simplifying the process of finding the perfect background theme and text for the message you want to send out.
FeedbackFive also lets you add emojis to your email messages. While this may not seem like a big deal, emojis can play a big role in increasing your email open rates.
Email automation will certainly help you increase engagement and feedback from your customers. However, customers may not be compelled to interact if your messages aren't personalized enough.
Some Amazon seller software falls short when it comes to customization. FeedbackFive enables customization through its Campaign Rules Editor. Here, you can ensure specific customers receive highly personalized messages.
One downside to this customization is that it is only available if you purchase the Pro or Enterprise plans.
Alerts for Negative (& Neutral) Feedback
As a FeedbackFive user, you will have full control over how the software notifies you of the reviews your product gets. You can receive these notifications via SMS text or email.
Some users like to review every piece of negative feedback as it comes in. This may not be reasonable if your store receives hundreds of reviews every month.
Depending on your preferences, you can get an individual alert for every piece of feedback or receive them all together on a daily report.
When customers leave a negative review of your product, your response will reflect on your brand. You should be aware of these reviews every time one comes in. This way, you can respond quickly and in a helpful manner.
Your professional response will improve your company's image. In some cases, you may even be able to get the review removed if you go about it efficiently.
If you want to, you can opt-in for alerts about neutral reviews. While neutral feedback won't be as damaging to your company, you should still address it. Neutral comments can help you notice flaws you didn't know were present. You can use them to improve your product, customer service, and brand as a whole.
Overall, we love the freedom that this Amazon seller software offers when it comes to managing feedback alerts.
Data & Analytics Tracking
If you have the Pro or Enterprise plan, you get access to FeedbackFive's email analytics section. This portion of the software offers detailed breakdowns of multiple metrics. By reviewing these numbers, you can determine which emails are working and which ones aren't. Some metrics that you can review to develop your strategy on Amazon include:
Unsubscribe/blacklist rates
Conversion/click-through rates
Open rates
If you're taking advantage of FeedbackFive's email customization options, it can become confusing to keep track of who's receiving which emails. The analytics section displays summaries of relevant information like:
Total emails sent
Percentage of recipients who have opened your emails
Total unique email opens
We love how you can use these metrics to adjust your email templates and increase customer engagement. If you ever find yourself stuck and don't know what changes to make, FeedbackFive offers plenty of training content to help you along the way.
Professionally Translated Email Templates
Expanding into different Amazon marketplaces is a great way to get your product noticed. However, you won't be able to understand the different languages of all of your global customers.
Communicating with all of your customers is essential to offering the best product in your niche.
To help combat language barriers, FeedbackFive grants users to professionally translate email templates if they launch their products in any of these marketplaces:
Spain
Mexico
Italy
Germany
France
When you opt for these professionally translated email templates, you won't have to make any grueling changes to your current campaign.
You can easily send your current emails to customers in different customers with peace of mind that they are well-written and understandable. You will encourage engagement even with customers who aren't familiar with your native language!
What Makes FeedbackFive Stand Out?
Although all of these features are essential, they are pretty standard in most Amazon seller tools.
So, what sets FeedbackFive apart from other similar products?
As an Amazon seller, you already know that buyers can leave a review for your product anonymously or under a different name. Anonymous reviews make it difficult to pinpoint which user left a negative review.
This is where FeedbackFive can step in. The software matches reviews to buyers on your Amazon seller account. It can tell you exactly which order produced a negative review.
This is a very impressive feature. Amazon doesn't give away any of this information outright; FeedbackFive offers it through its well-developed algorithm.
With this feature, there's no excuse for letting negative comments go unaddressed. You can easily get in touch with the buyer that left a negative review. In your communication with them, you can acknowledge their concerns and offer a solution. When repeated over time, this process will work wonders for your brand's reputation.
How Many ASINs Can I Track?
The number of ASINs you'll be able to track will depend on the plan you pick. Anywhere between 2 and 10 ASINs will be in your monthly plan.
However, we have found that some large-scale sellers need to track more than 10 ASINs. With FeedbackFive, this isn't an issue. You can add extra ASINs to track for as little as $.05 each.
Can I Track a Competitor's ASIN?
Yes! You can track any ASIN on Amazon, even if it is not your own. This is a great way to discover buyers' opinions on competitors' products. You'll be able to learn what they are looking for and make improvements accordingly.
How is FeedbackFive's Customer Service?
In our experience, we have not noticed any negative things about FeedbackFive's customer service. We have noticed that its customer service representatives are quite helpful when it comes to an understanding of your business and its goals. They will always go the extra mile to offer comprehensive support.
FeedbackFive's Privacy Policy
As part of its premier customer service, FeedbackFive has a secure privacy policy. The company is very transparent about its privacy policy on its website.
For example, any third parties who provide FeedbackFive's behalf are not obligated to use personal data for any ulterior purposes.
Who is FeedbackFive For?
FeedbackFive is supported by Amazon marketplaces in ten different countries:
The U.S.
The U.K.
Australia
Mexico
Canada
Italy
Germany
India
France
Spain
Any Amazon seller who is active in one of these marketplaces and looking to increase their sales will benefit from FeedbackFive. No matter if you are just getting started as an Amazon seller or have been at it for years, there is a plan available that will meet your needs.
FeedbackFive also offers reputation management solutions for sellers located in over 100 different countries.
Are There Any Drawbacks to FeedbackFive?
After reading others' experiences and trying out this Amazon seller software for ourselves, we have found very little wrong with FeedbackFive.
One potential drawback is the software's aesthetics. It isn't the most visually-appealing software available. However, it is easy to use and gets the job done.
FeedbackFive Pricing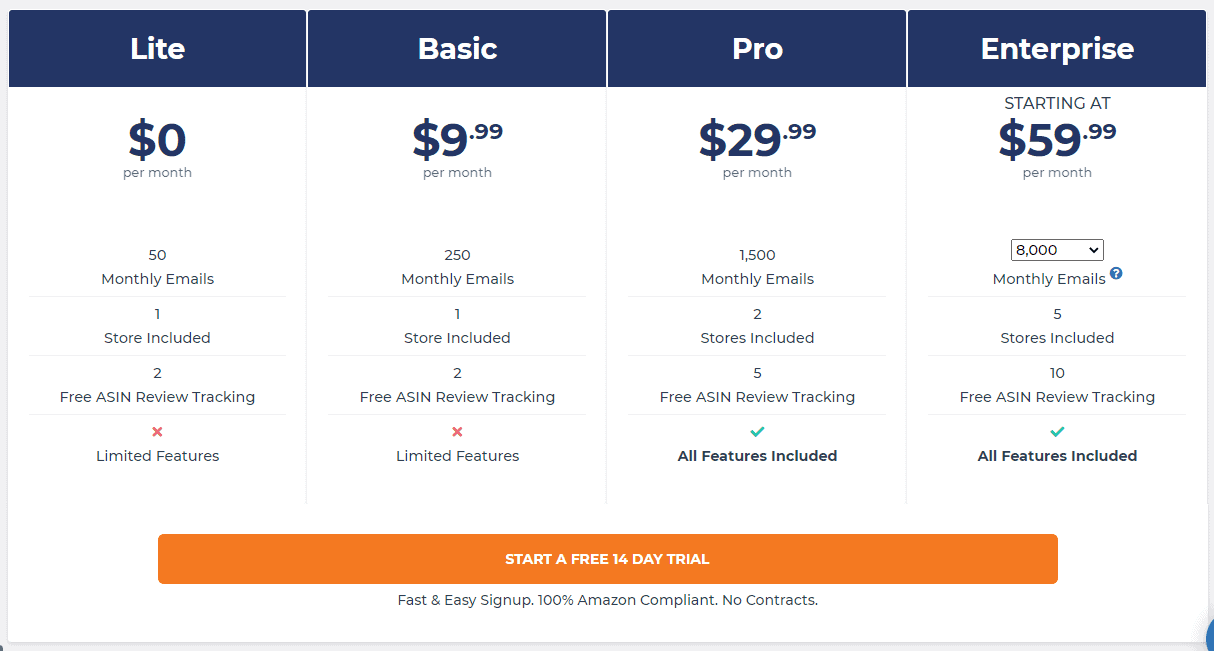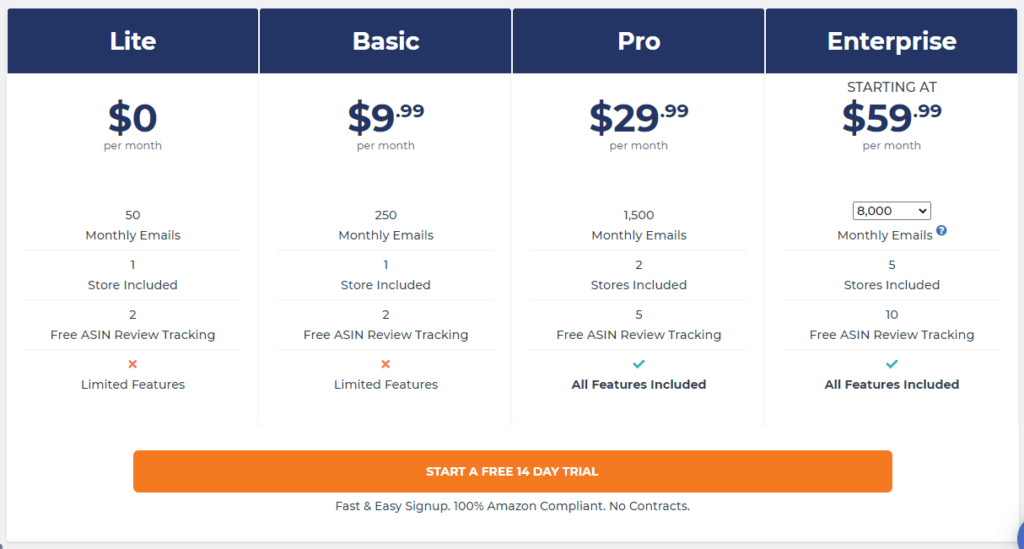 FeedbackFive has a diverse pricing system. This way, every seller can find something to fit their needs. The four different plans you can choose from are:
FeedbackFive Lite
The Lite plan is perfect for small sellers. If you are just starting as a seller or are on Amazon as a hobby, this plan will fit your needs. Every month, this plan lets you send 50 emails, track 2 ASINs, and manage three email campaigns.
The Lite plan will cost you nothing from month to month, so there's no investment on your part! However, it only includes one Amazon store and is restricted to one user.
Despite this plan's limited features, it is a great way to test FeedbackFive and learn if you could benefit from a more comprehensive plan.
FeedbackFive Basic
FeedbackFive Basic will cost you $9.99 per month. In some ways, it's very similar to the Lite plan. The Basic option comes with limited features and includes one Amazon store. It also lets you track two ASINs and manage three email campaigns.
However, the Basic plan lets you automatically send 250 emails per month, which is a major step up from the Lite plan. For larger sellers, being able to send out five times as many emails to your customers for $10 per month is worth it.
It's also worth noting that starting at the Basic plan, FeedbackFive allows unlimited users. This way, anyone on your team can monitor your campaigns and make adjustments as needed.
FeedbackFive Pro
FeedbackFive Pro costs $29.99 per month. From month to month, this plan lets you send out 1,500 emails and track 5 ASINs. It includes two Amazon stores instead of just one with all of the FeedbackFive features. Plus, you can manage ten email campaigns every month.
FeedbackFive Enterprise
FeedbackFive Enterprise starts at $59.99 per month. It includes 5 Amazon stores, all of FeedbackFive's features, and the ability to track 10 ASINs. You can also manage an unlimited number of email campaigns.
At the lowest level of the Enterprise plan, you can send out 8,000 emails per month. You can send out more emails for increasing prices:
20,000 emails for $99.99/month
50,000 emails for $174.99/month
100,000 emails for $249.99/month
250,000 emails for $449.99/month
500,000 emails for $649.99/,month
1,000,000 emails for $899.99/month
Will FeedbackFive Bind Me to a Contract?
FeedbackFive makes it easy to change your plan at any point as your business grows. You can also cancel at any time, no matter what plan you have.
This software will send you alerts as you get close to your monthly email limit so you can update your plan if needed. This way, you won't miss out on valuable feedback and reviews from your customers.
FeedbackFive's Free Trial
If you're on the fence about FeedbackFive, you can receive a free 14-day trial. We appreciate the authenticity of this free trial. It offers a seamless signup process and doesn't come with a contract or any strings attached.
Plus, it's 100% Amazon-compliant, so you won't need to worry about receiving any violations from Amazon for participating in the free trial.
Final Breakdown: Pros and Cons
Here's a summary of FeedbackFive's pros and cons:
Pros
You can enroll in a free trial to test out this software before purchasing it
You can track any ASIN, including a competitor's
FeedbackFive has a secure privacy policy and superior customer service
FeedbackFive tells you exactly which order produced a negative review
You can receive customized alerts for negative and neutral feedback
Cons
The translated email templates feature is only available for limited marketplaces
This software's visual design isn't the most appealing compared to other products
Verdict
FeedbackFive has been helping Amazon sellers build brands and increase sales for more than a decade. It's one of the first products of its kind, which has garnered a solid reputation since its creation.
Through our research, we can say that FeedbackFive is definitely worth the price. Its ability to pinpoint the origin of negative reviews is unprecedented and will help you improve your products and your customer service quality.
However, you need to be careful when selecting the plan that's right for your store:
How many products are you currently selling?
What are your Amazon store's goals?
Ask yourself these questions when selecting the plan that's right for you. This way, you won't be paying too much for features you won't get any use from.