As a zealous and adventurous Amazon seller, you likely have a lot of product ideas you want to test out. However, you need to be resourceful, as you don't want to waste time and money on producing, marketing, and selling unprofitable items.
Even experienced Amazon sellers may not know where to start when it comes to toying with new product ideas.
How are you supposed to know which products will be the most lucrative?
Performing analytics marketing research may help you narrow down your options, but it can be very labor-intensive. It can also distract you from completing other essential tasks to your business's success.
There are thousands of Amazon research tools available to help you make informed decisions when it comes to deciding which products you want to sell. However, not all of them are created equally.
Here, we'll be discussing the Helium 10 Cerebro reverse ASIN lookup tool. We'll cover how it differs from other similar tools available. And, you will become familiar with how it can benefit your Amazon FBA business.
What is Helium 10 Cerebro?
Helium 10 Cerebro is one of the large numbers of tools that are included in the Amazon Software Suite. It can also be purchased apart from the other tools in the package.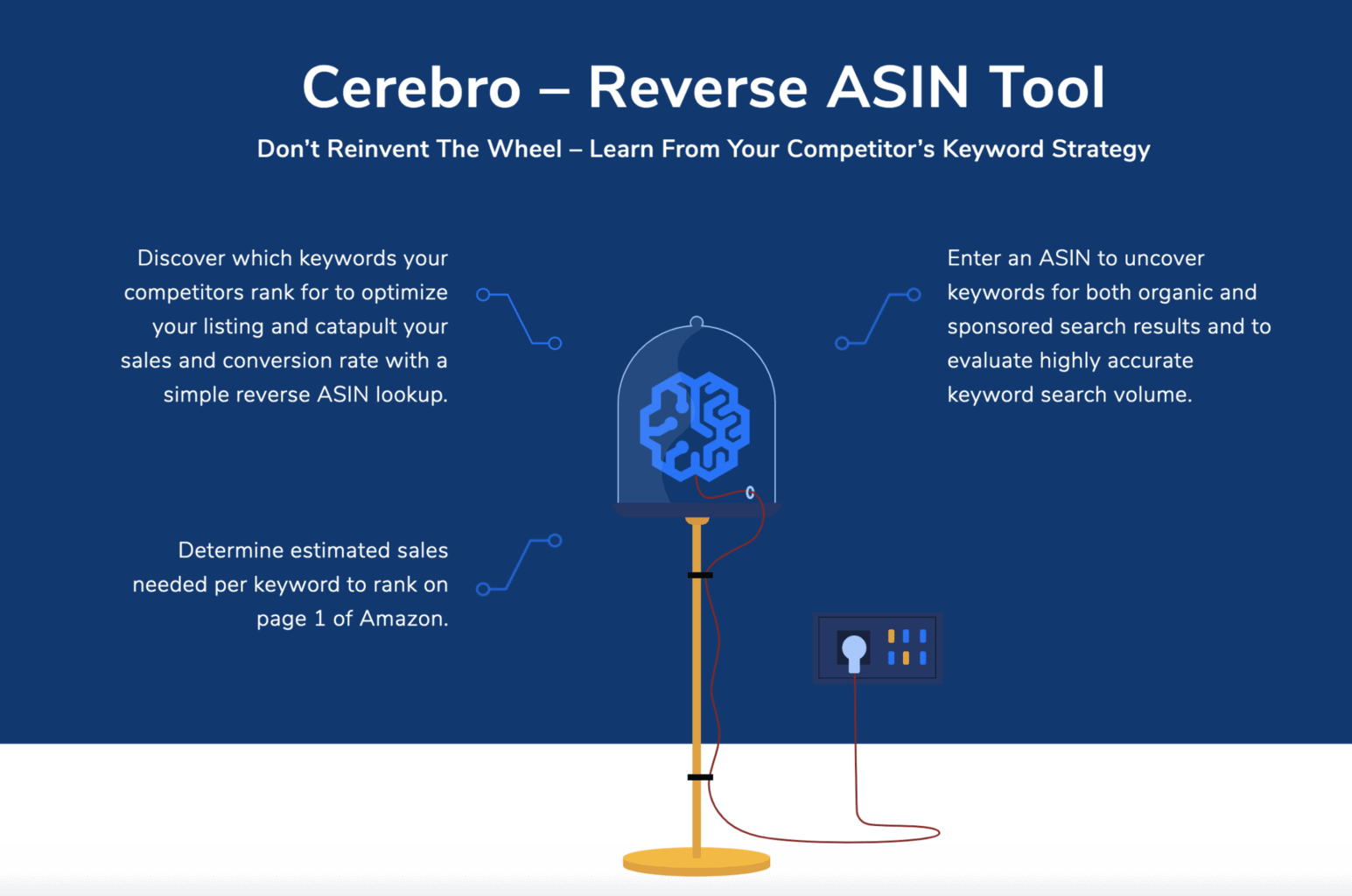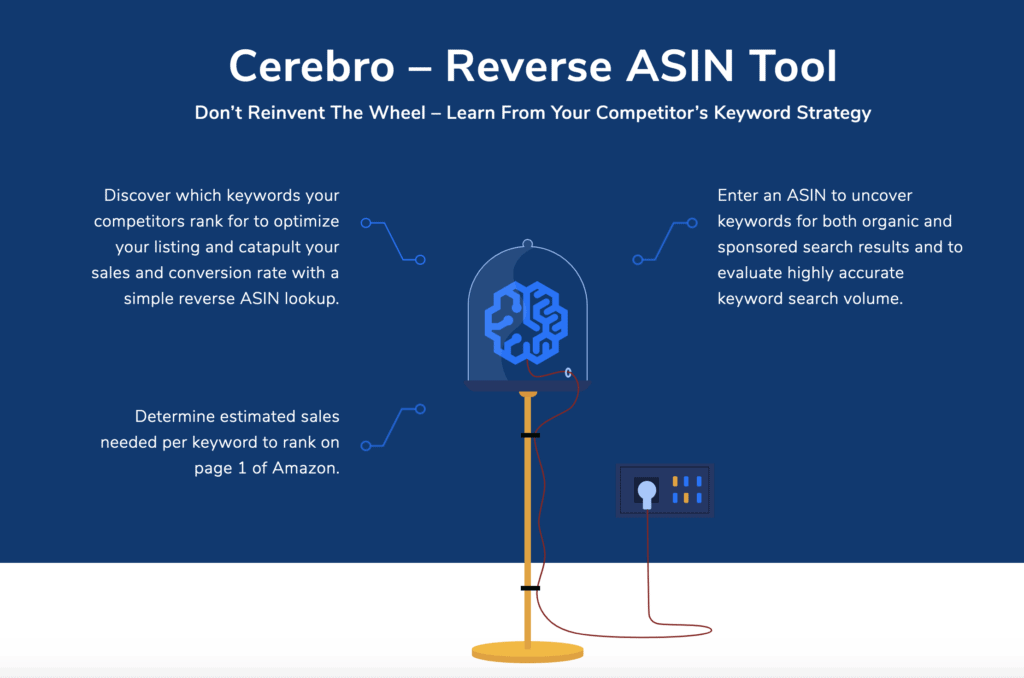 Helium 10 Cerebro is a reverse ASIN lookup tool, which means that you can input a product number and receive all of the keywords that it shows up for on Amazon. Users find this tool useful for evaluating their product ideas and searching for profitable products across all of Amazon. Cerebro isn't a newer tool, but it's constantly being improved upon. Its developers have recently added a new feature, which we will cover later. Plus, it uses cookies to improve your experience with its interface.
How to Use Helium 10 Cerebro
Using Helium 10 Cerebro successfully will require some experimentation on your part. Through trial and error, you should figure out how to make it work for your Amazon FBA business.
Let's assume you have five products you're considering selling. Before taking the leap and putting them up on your store, you need to evaluate your product ideas.
How do you determine which ones will be successful and which ones won't be worth your time?
As you probably already know, you should always try to sell products that don't have a lot of competition.
Helium 10 will help you determine which Amazon products have low competition and which ones you should steer clear of.
The Most Effective Way to Use Helium 10 Cerebro
To get started, go to your Amazon watchlist and click on the first product you want to evaluate. Helium 10 will display the number of reviews the product has and the turnover per month. Ideally, the product you are interested in selling should have a low number of reviews. This means that it isn't very competitive. It should also ideally produce a high turnover rate every month.
After spending some time on the Helium10 chrome extension, head over to Amazon. Search for the same product here and copy its ASIN number. Go back to the Helium 10 chrome extension, paste the ASIN in the "Product ASINs" field, and click on "Get Keywords."
Once you have completed these steps, you should see a detailed results page. This page will display a list of keywords that your selected product has either ranked for or is indexed for on Amazon.
In general, the first ten rankings are responsible for approximately 95% of the total turnover. With this in mind, your attention should be focused on these top ten results.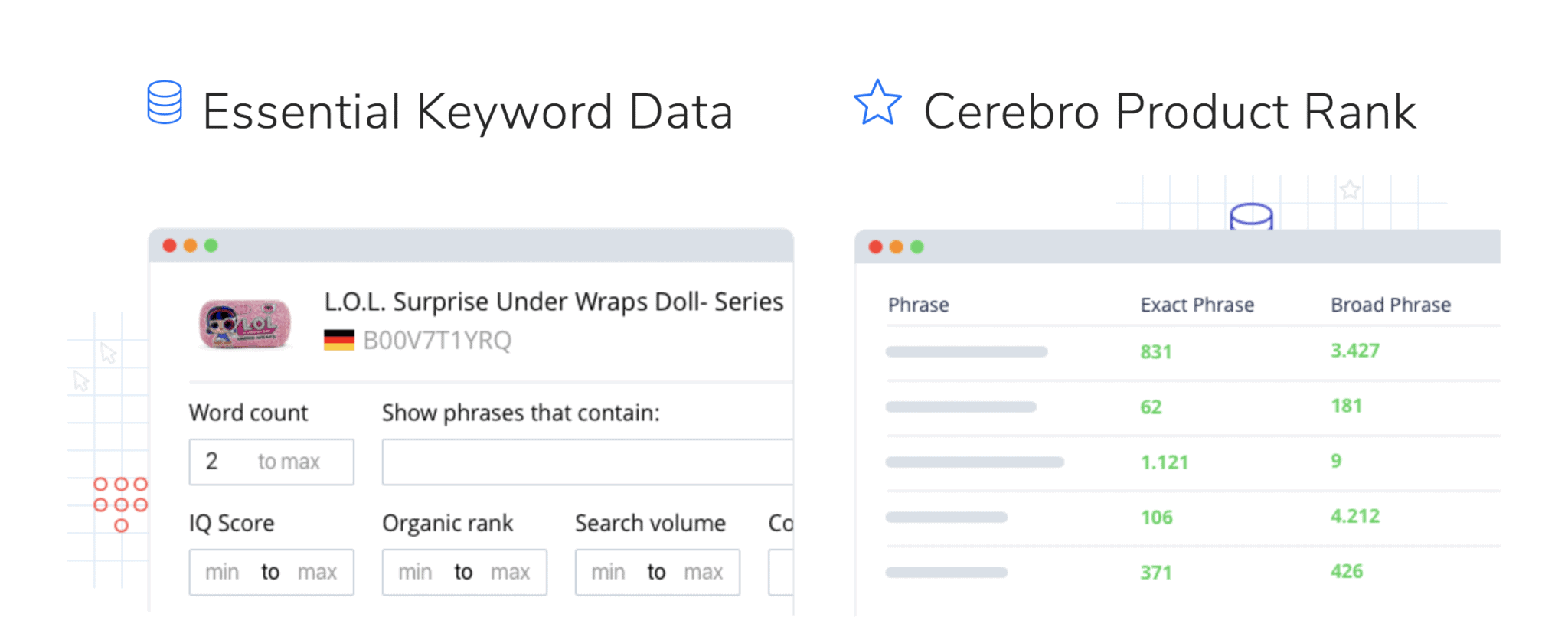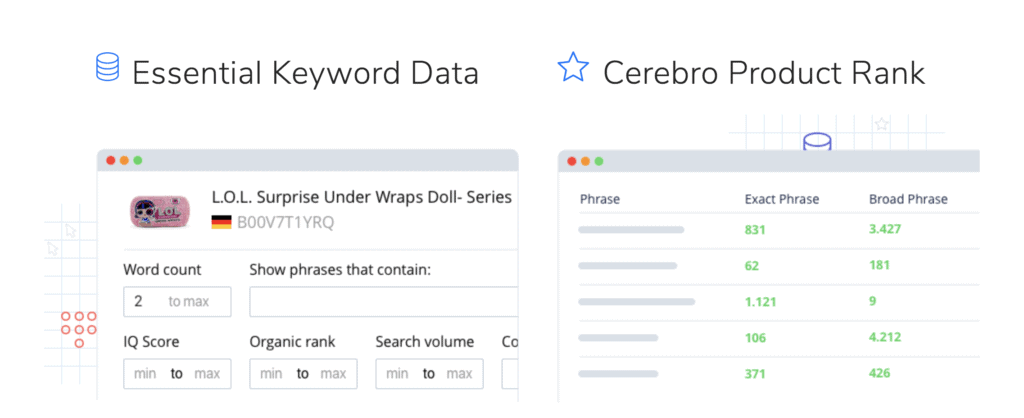 From the main menu, you can add filters to narrow your search results. For example, you can set minimum and maximum values for factors like search volume, Cerebro IQ score, organic rank, and word count. You can also adjust the options for "Match Type" and "Amazon Choice."
Now that you know how to filter your search results, you should begin looking for products that are not highly competitive.
Begin by looking at Helium 10 Cerebro's "Competing Products" column. If it lists a number greater than 20,000, you should start looking at other competing products.
We recommend trying to find products with less than 1,000 competing products. While it is possible, it's very difficult to timely obtain good organic rankings for highly competitive products.
Discover products that do not have a lot of competitors but do have a high search density. For example, finding an item with less than 100 competing products but also has certain keywords that are searched for over 1,000 times per month is a great move for your business.
If you're impressed by Helium 10 Cerebro's capabilities, you may be skeptical of its affordability. Contrary to what you may believe, it's actually a very cost-effective tool.
As part of the "A La Carte" plan, Helium 10 Cerebro costs $50 per month on its own.
If you want access to Cerebro plus the many other tools included in the Helium 10 Software Suite, you can choose from one of these three plans:
Platinum: $97/month
Diamond: $197/month
Elite: $397/month
If you're interested, you can test out Cerebro for free for 60 total uses with limited functionality.
FAQs
Want to learn more about this popular reverse ASIN lookup tool? Read below to view some of the most common questions about Helium 10 Cerebro, asked and answered.
What is the Cerebro IQ Score?
The Cerebro IQ score helps you understand the potential of individual keywords. The IQ score summarizes a keyword's ratio of search volume and number of competing products. Just like in the conventional understanding of IQ, you want your Cerebro IQ score to be high.
Keywords with a high Cerebro IQ have a high search volume and don't have a lot of competing products. Try to avoid a low IQ. Keywords with low scores have a lot of competing products attached to them but have a relatively low search volume.
What is the Helium 10 Cerebro Advanced Filter?
A few months ago, Cerebro added a new advanced filter to help you broaden your keyword research. It lets you more effectively discover keywords that your ASINs rank high for.
Helium 10 added a new advanced filter for Cerebro allowing you to search for the keywords that don't have a high average rank overall but do rank for some of the ASINs. Set the search volume and the advanced rank filter to discover additional keywords or phrases for your product. These relevant key words can be used in your listing or in PPC campaigns.
To use the advanced filter navigate to the Cerebro main menu. From the main menu, you can navigate to the "Product ASINs" field and enter at least two ASINs. Apply parameters including Search Volume, Position Rank, and Ranking Competitors.
While the traditional filters are useful, the advanced filters will display keywords that you wouldn't have been able to find in any other way.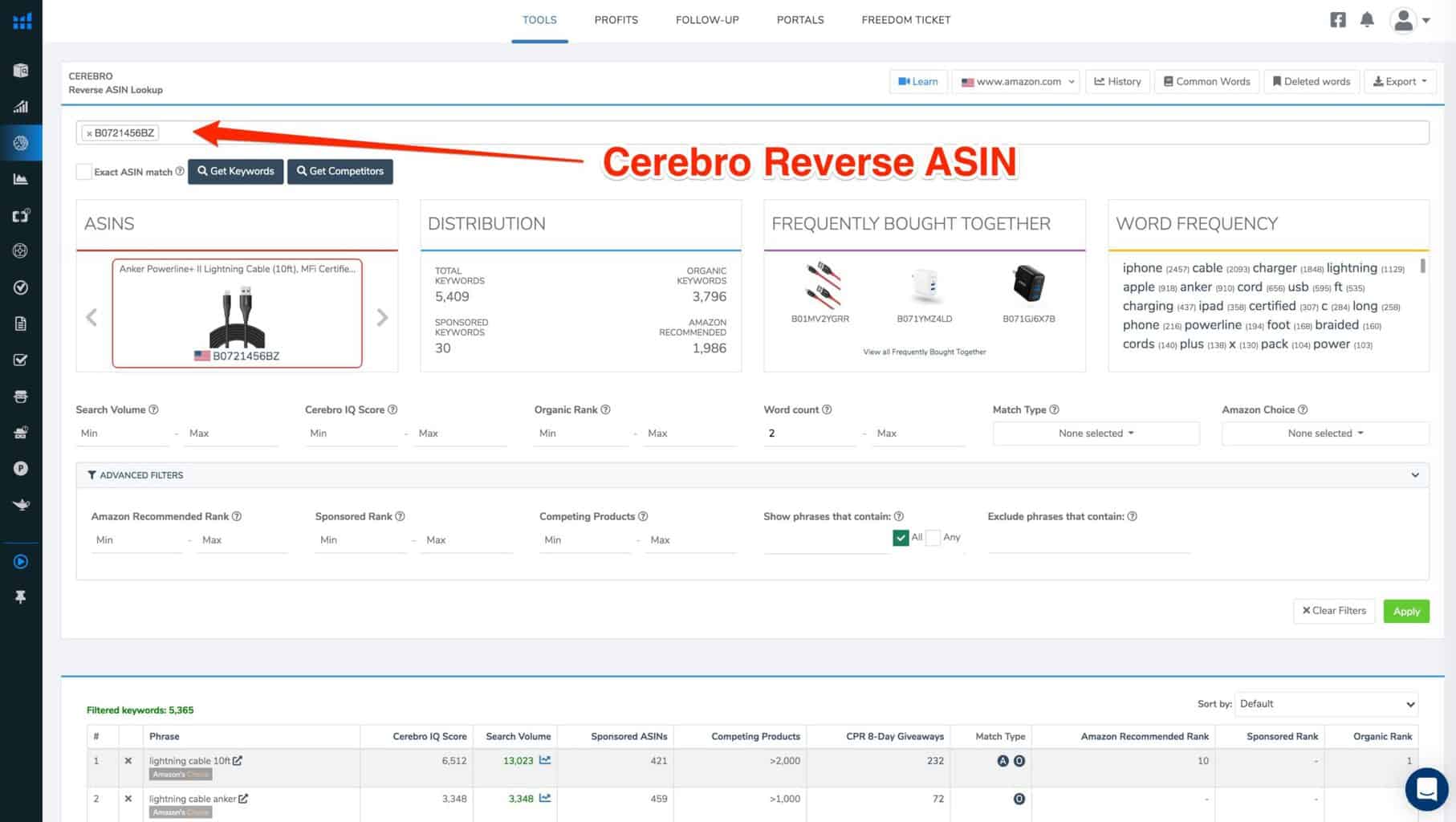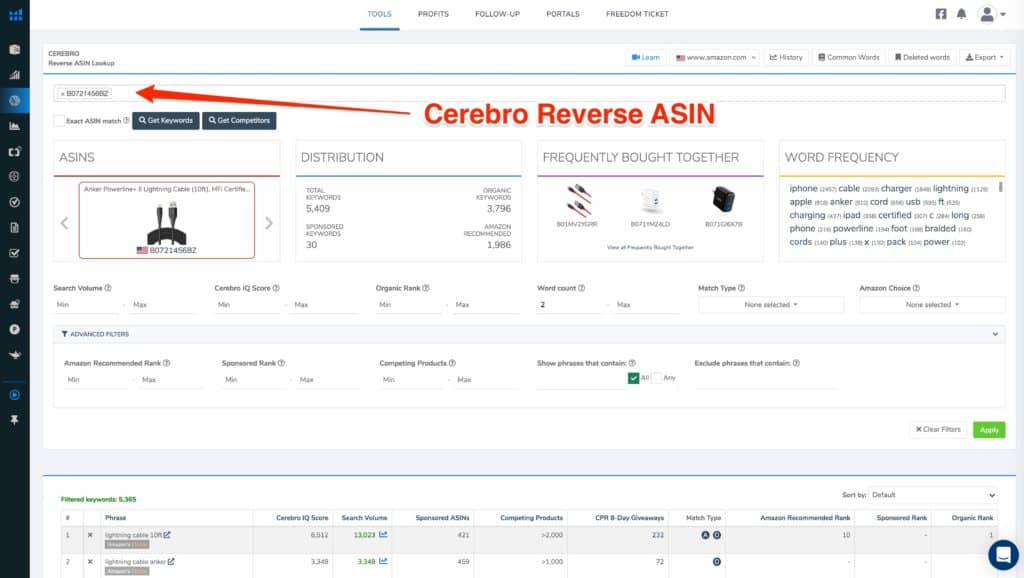 Does Helium 10 Cerebro Actually Look at Backend Keywords?
According to Helium 10's help center and support team, knowing what your competitors' backend keywords are doesn't matter. Their backend keywords may be irrelevant or poorly-researched.
Rather, you should only familiarize yourself with the keywords that they are ranking and converting for, and Cerebro offers sellers that exact information.
Backend keywords don't provide any value, so Cerebro doesn't actively look at them. Rather, Cerebro is one of the tools available that pinpoints which keywords produce conversions. This will be much more beneficial to your FBA business in the long run.
Further Reading:
Is Helium 10 Worth It?
Based on our experience with Helium 10, we can safely say that this is one of the most effective and well-developed product research keyword tools available. Its developers are always discovering ways to make it even better, as evident in the recent addition of the Advanced Filter options.
We highly recommend this product over other tools for novice and seasoned Amazon sellers alike. In addition to all of its innovative features, Helium 10 has a great help center and support team that can help you through any issues that arise, read our full Helium 10 review for more details.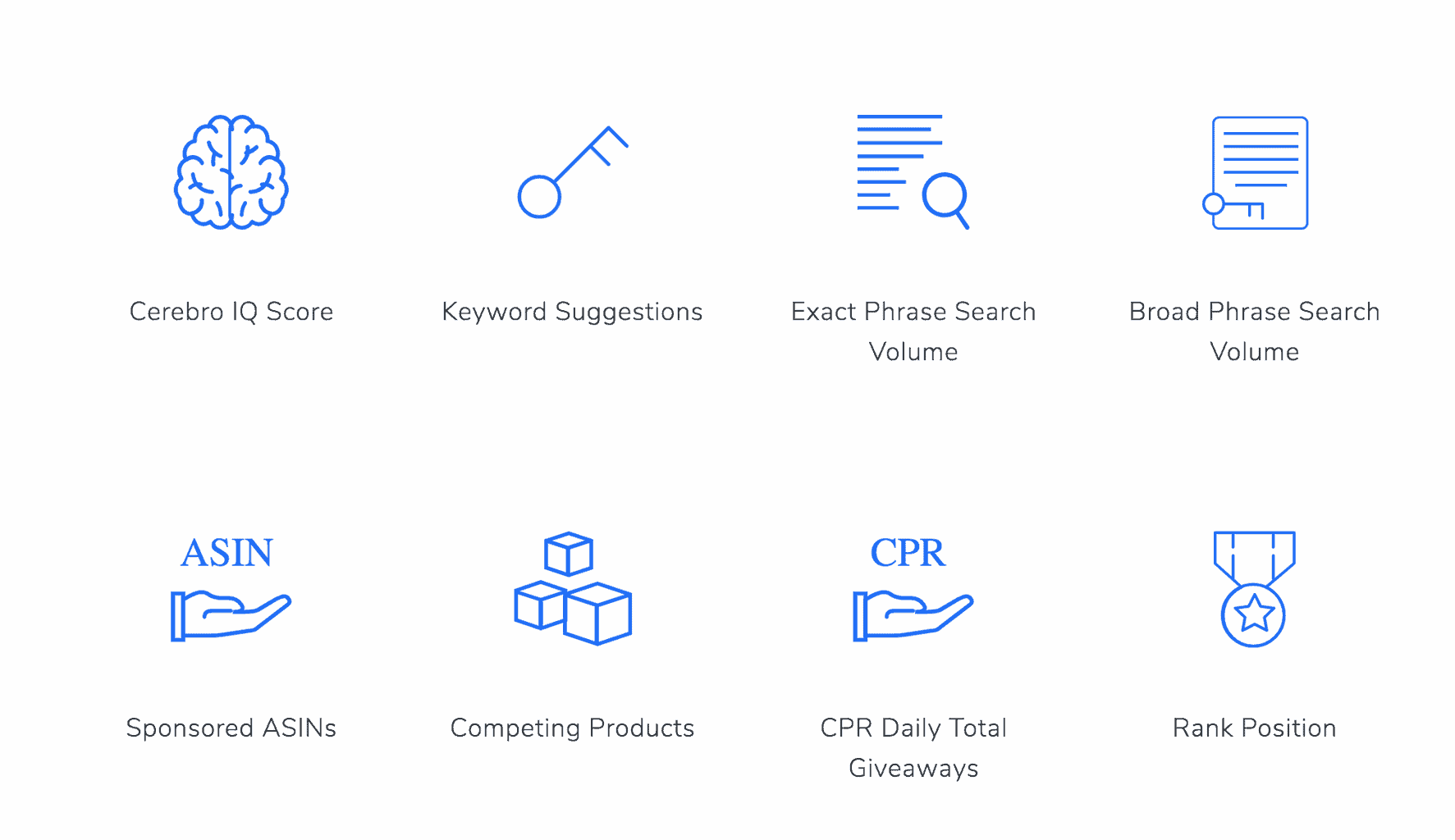 We only advise you to be cautious when choosing a plan. Some small-scale sellers may be able to get away with the free version. More serious sellers who rely on their Amazon business as their primary source of income will benefit from a paid version of this research tool. Evaluate your business's needs, choose tools that will improve your experience as a seller, and don't invest in a plan that you won't get a lot of use out of.