Amazon is only continuing to become a bigger player in the e-commerce world. Consumers can order virtually anything they need, including groceries, electronics, novelty items, and clothing. According to BizJournals, the company facilitates nearly half of all sales that occur online.
Even with all of this selling activity going on, you aren't guaranteed to succeed as an Amazon seller.
As many as 90% of sales are finalized through something called the Amazon Buy Box. This means that to optimize your revenue as a seller, you have to secure this highly-sought-after place and learn how to win the Buy Box.
So, what exactly is the Buy Box, and how do you win it? Below, we'll explore everything you need to know about this special section on Amazon's website.
What Is the Buy Box?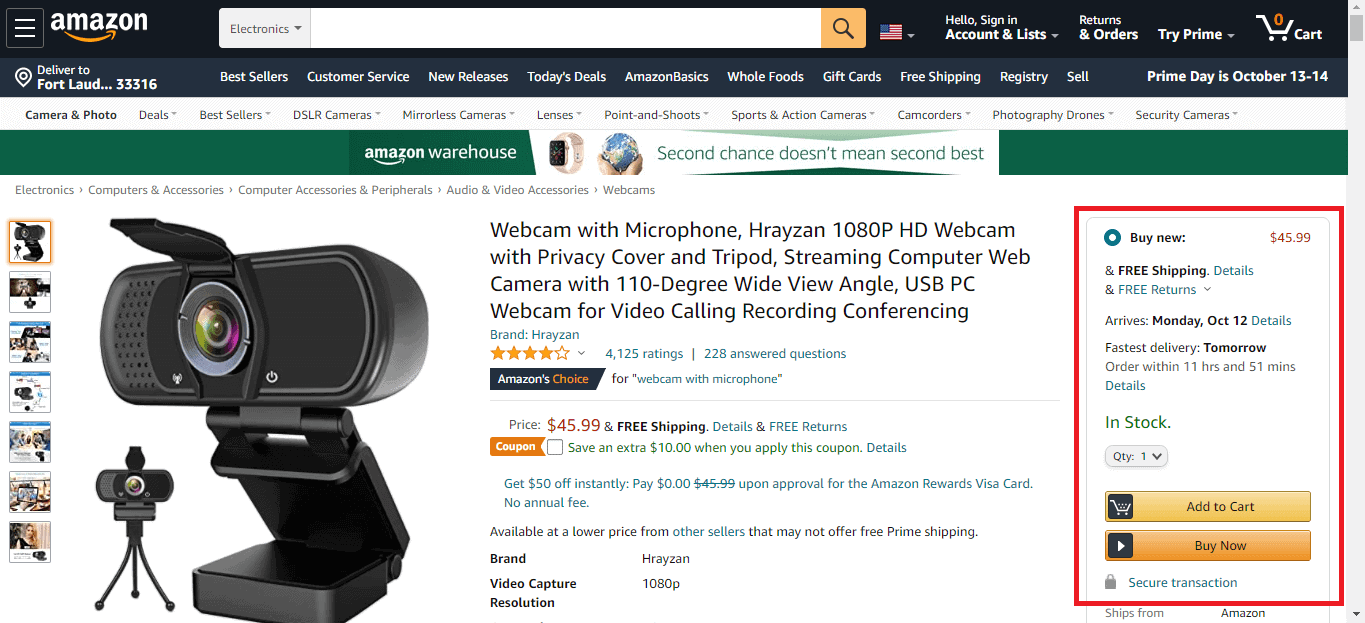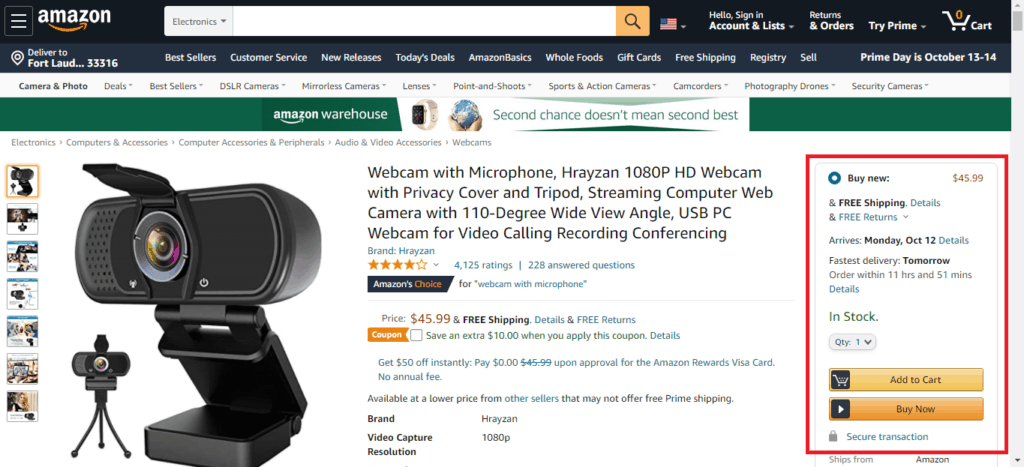 The Buy Box is a widget that helps Amazon buyers quickly purchase the items they need. To understand what the Buy Box is, you should be intimately familiar with what a potential buyer sees when they land on a product:
The product's images on the far left
The product's title, description, variants, and number of ratings are located at the center of the listing
The Buy Box is located on the far right
Within this section, buyers can purchase the product they want by selecting options for certain variables like:
Condition (new, renewed, used)
Gift options
Shipping speeds
Quantity of items
Once a shopper has selected the variables they want, they can click on the "Add to Cart" button to prepare for checkout. From there, the buyer can select "Proceed to Checkout" and the widget will direct them to the checkout page.
The main point of this widget is to simplify and expedite the sales process. It gives shoppers an easy two- or three-step way to purchase the items they need.
It's important to note that the Buy Box is separate from the actual product listing. It's a standalone widget that sellers compete for ownership of.
Unfortunately, it's possible to own the listing but not the widget itself.
As an Amazon Seller, Why Should I Care About the Buy Box?
You should learn how to win the Buy Box for two primary reasons:
It increases your chances of closing a sale: As discussed early, a majority of purchases made on Amazon occur through the Buy Box. It's the first kind of call-to-action button that customers see. Plus, it's convenient placement is often enough to finalize a sale.
It lets you create PPC ads: Owners of this widget can create PPC ads, while non-owners can't.With PPC ads, you can bid on the prices of certain keywords. You can also create sponsored listings, which increases your products' visibility to consumers
Does Every Amazon Product Have a Buy Box?
No. A vast majority of products have this widget, but not all of them do. A couple of instances where a product listing will not display a Buy Box are:
If all sellers don't meet the eligibility requirements
If all sellers list the product at a price that's too high or too low compared with the average price
If a product doesn't have a Buy Box, it will most often be a used or collectible item.
Who's Eligible to Own the Buy Box?
Meeting the eligibility requirements to own the Buy Box is pretty simple. You must:
Have a Professional Seller Account (individual sellers cannot own this widget)
Keep your seller's Account Health in good standing
A healthy account will have superior customer service and shipping performance. You'll also need to adhere to Amazon's product policy compliance.
If you're not sure of your Account Health's status, you can check it on your Seller Central account. From your account, navigate to the "Performance" tab and click on "Account Health."
How Do I Check If I'm Eligible?
If you're not sure if you're allowed to own this widget, Amazon offers two ways to check your eligibility:
Option 1:

Start by logging into your Seller Central Account. Navigate to the "Inventory" tab and click on "Manage Inventory."
On all of your product listings, you'll see two columns: Buy Box Eligibility and Buy Box Price. If you don't see these columns, you'll need to select the gray "Preferences" button at the top of your dashboard.
Once you can see these columns, you can browse the Buy Box Eligibility column to see which products qualify.
From here, you can adjust the prices of your products to match the Buy Box Price. This will increase your chances of securing the prime spot.
Option 2:

You can also check your eligibility by scrolling to the top of your Seller Central account page and typing in "Buy Box."

Then, a Help window will appear and grant you access to a tool. This tool will let you look up the Buy Box availability for specific SKUs and ASINs.
5 Ways to Win the Amazon Buy Box
Even if you meet all of the requirements, you likely won't control this widget straight away. Here are five steps you can take to improve your chances of securing this widget:
1) Sell New Products
For almost every listing on Amazon, the seller who secures the Buy Box offers a new version of the product. Very rarely does a product in used condition sit in this widget.
2) List as a Prime Seller
While you can win the Buy Box as a non-Prime seller, Amazon always gives priority to Prime sellers.
If you use fulfillment-by-Amazon, you automatically qualify for Prime. However, sellers who fulfill their own items can also become Prime sellers.
3) Maintain Positive Seller Feedback
When it comes to deciding who gets control of the widget, no one is entirely sure how much weight Amazon's algorithm gives seller feedback. However, it can be assumed that sellers with positive performance metrics have a better chance of winning the widget than those with poor performance metrics.
4) Always Keep Inventory on Hand
Running out of stock could hurt your chances of securing the widget. If you run out of inventory and need to order more, your items won't reach customers efficiently. Amazon will award the Buy Box to sellers who always have products on hand and can fulfill orders faster.
5) Keep Your Prices Competitive
Low prices equal happy customers, so do everything possible to keep your prices competitive. The Buy Box price is always the lowest available price for a particular item.
A good rule of thumb is to list your product within 5% of the Buy Box price.
If you can't make a profit by listing your item in this range, you should consider selling something different.
Does Amazon Itself Always Win the Buy Box?
In most cases, an offer sold by Amazon will win the Buy Box. However, this isn't due to the company playing favorites. Rather, Amazon always offers its own products at the cheapest prices possible. The company wins its own Buy Box by following the same rules as every other seller.
However, if Amazon doesn't offer the lowest price possible, the Buy Box can go to another seller.
Is It Possible to Lose the Buy Box?
If you have successfully secured the Buy Box, don't get too comfortable. It's very possible to lose ownership of this widget. It can go to another seller because:
Another seller listed a lower price: Another seller can join your listing and post their product at a lower price. This will automatically grant the new seller ownership of the widget.
Your offering price is too high or too low: Even if you're the only seller on this listing, you shouldn't stray too far in either direction from the Buy Box price.
Your Amazon Account Health is suffering: Make sure your Account Health doesn't fall below certain thresholds. You can also lose ownership of the widget by having a suppressed ASIN.
How to Tell If You're Winning the Buy Box
Amazon offers insights to help you know if you're winning the Buy Box.
On your Seller Central dashboard, you should see a metric called 2-Day Buy Box percentage. By clicking on this metric, you can see your Buy Box standing over the last 30 days and in each market that you sell in.
Once you click on any of the percentages, you'll be redirected to your Pricing Dashboard.
You ideally want your percentage to be 100%, as this means that you won the Buy box every single time someone visited your listing.
You can also view your Price Competitiveness, which shows you all of your products that are listed within 10% of the Buy Box price.
How to Track Your Buy Box
Customers are constantly viewing your product around the clock, so it can be difficult to track the Buy Box.
One of the most effective ways to track this widget is to use Amazon's "Automate Pricing" tool. This tool will automatically change the prices of your products if they differ too greatly from the Buy Box price. You can even create custom repricing rules to maximize your tracking efforts. The five different types of repricing rules include:
Competitive Buy Box
Competitive Lowest Price
Competitive External Price
Based on sales units
Price synchronization
Bottom Line
While it can be tricky to obtain ownership of, the Buy Box is a powerful tool that can help your business maximize its revenue. Follow this guide, and you'll be on your way to becoming a competitive seller on Amazon!