[toc]

Being a successful Amazon FBA seller isn't an easy task. It takes a lot of careful planning and decisions and usually some losses along the way to be able to make huge returns on investments from Amazon FBA.
Many new sellers fail to be successful on Amazon, they rush into products without proper research and skip over important details that the online "Gurus" forget to mention when "selling courses". Why would you waste your hard-earned money in the hopes you get lucky first time.

Start The Freedom Ticket Course Today

Freedom Ticket by Helium 10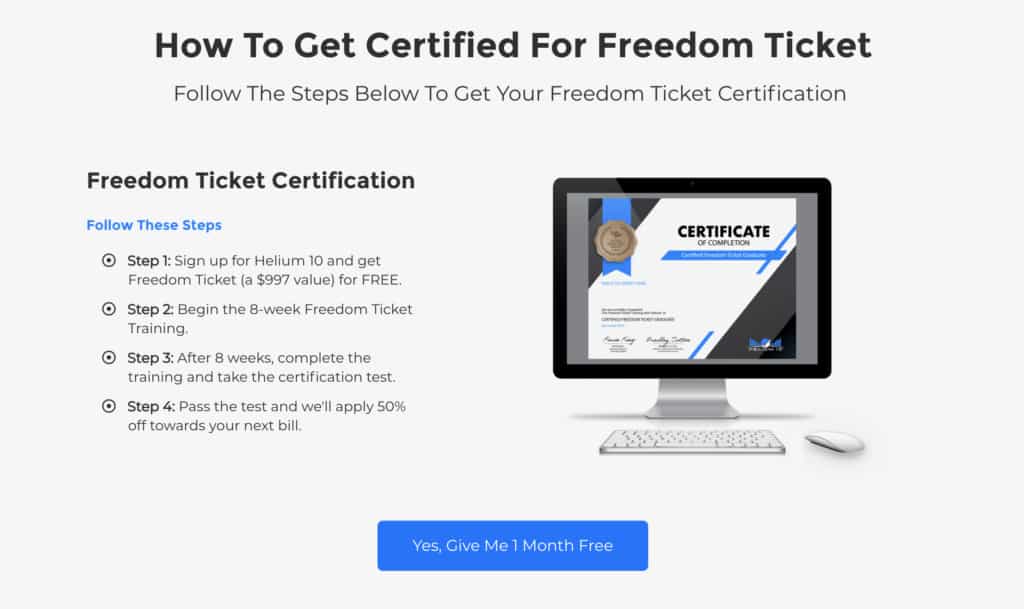 Those who say they haven't failed or lost money on products would be lying, its part of learning the process and the ever-evolving business of Amazon FBA.
But what if one course can give you insight into a successful Amazon business, not a money-making scam to earn money via the course itself? An actual course by a highly respected actual seller! Don't get me wrong there are a few good courses out there still, just too many that don't actually earn money from Amazon anymore.
Freedom Ticket Course 2.0 is the only course that you need to start and manage your own Amazon FBA business effectively, without wasting those hard-earned dollars on trial and error.
There are many decent free tutorials to be found online on blogs such as this and YouTube videos. But to get the full overview and step by step proven method all in one place for you to follow is priceless in terms of investment.
The Freedom Ticket Course 2.0 covers A-Z from setting up to running your Amazon FBA business. This course was created by an industry veteran Kevin King, who has been making millions by actually selling on Amazon and he still sells this day.
What is the Freedom Ticket Course?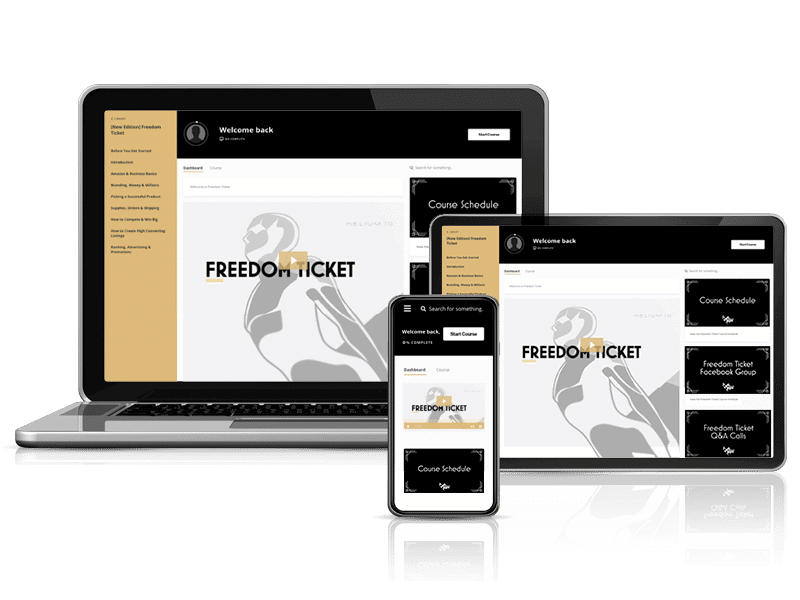 Freedom Ticket Course 2.0 is a course solely built to help sellers make it on Amazon. It mainly allows sellers to establish their business on Amazon. It provides an interactive walkthrough of how to manage your Amazon business, what trends to follow, how to think for your business, and what mistakes to avoid.
Unlike other courses, this course keeps updating to be compatible with the current market. It has an eight-week training material (around two months). Each week's course unlocks a week after the previous week's course start date.
Kevin King has been selling products on eBay and Amazon since 1999, that's two decades worth of experience. He has put all his knowledge and expertise into this course. This course provides one-on-one training from the expert himself.
Freedom course originally cost $4997 but Manny Coates, CEO from Helium 10 has joined forces with Kevin's Freedom Ticket and they now offer this course absolutely free!
This course is a must for beginners Amazon sellers. People who have taken other courses claim to be highly satisfied with the Freedom Ticket Kevin King and Helium 10 Course. The main highlight of this course is a classroom like training provided live to the users and the course material, which is highly informative and practical.
The course provides the following –
Review slides for downloadable modules,
Detailed written notes that can be reviewed and downloaded
30+ handouts that cover sourcing, accounting, mistakes to avoid, and more.
Group Q&A with Kevin King
Access to Kevin's bookmarks and contact list
Spreadsheets, profit estimators and analysis sheets
A private Facebook group
Training for social media on how to build your off-Amazon brand
Kevin provides his decade worth of knowledge and experience in this course and does not take content from anywhere else. His course provides the roadmap to success rather than a specific formula to follow. His level of knowledge and expertise is unparalleled, and he is a much sought after speaker for Amazon conferences.
Helium 10 and Freedom Course have joined forces
Helium 10 provides an all-in-one software solution for Amazon sellers. They have partnered up with Freedom Course, so with every Helium 10 membership of Platinum and above, you can access the Freedom Ticket Course for free. The Helium 10 platinum membership pricing plan is much cheaper at a rate of $97 per month.
This package an absolute bargain for those looking to start their business on Amazon or those looking to make their business better. Modern tools have been helping businesses in ways that could never be imagined. Data meets strategy is the part that sets Helium 10 and Freedom ticket apart from the rest, an Amazon sellers dream team as it may be! And you can have them both in your selling corner for less than $100 a month, just a small fraction of your business profits.
Freedom ticket 2.0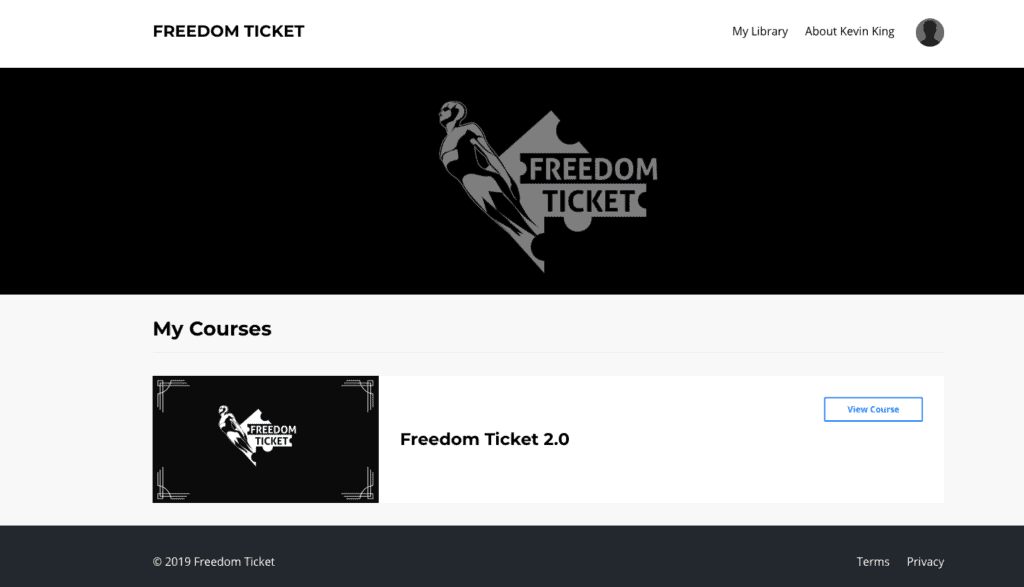 Since Amazon keeps updating, so do the tactics of performing a successful business. Kevin King has reworked on the Freedom Ticket Course from scratch to come up with Freedom Ticket 2.0.
The new and improved course offers up to 30 hours' worth of content. New modules have been added to many sections, and the notes updated. The entire material was refilmed to make sure the course is updated and apt for the current market as some much has changed in the Amazon game.
Freedom Ticket Course Schedule
Since this is a course, it has a specific schedule, and each content unlocks over time; that is not all at once. It is to ensure that people don't binge the content and miss out on the critical content. The material is 21 hours long spread over eight weeks containing 60+ videos. 
Week 1 – Introduction (Available Immediately after joining.)
Module 1 – Welcome to the Freedom Ticket Kevin King and Helium 10 Training
Module 2 – The Amazon Opportunity
Module 3 – About this Course
Week 1 gives a basic introduction to the course and business on Amazon.
Week 2 – Amazon & Business Basics (Available 7 days after joining.)
Interlude – How Kevin Got Involved with Helium 10
Module 4 – Basic Business Requirements
Module 4.1 Moving Money Between Countries using Ping Pong
Module 5 – Ways to Sell on Amazon
Module 6 – Walk Through of Seller Central
Module 7 – Essential Amazon Glossary
Module 8 – How Much Money You Need
Module 9 – What to Expect When Your Start
Week 2 is where you learn the basics of Amazon and its glossary. It also tells you about selling on Amazon and what expectations to keep.
Week 3 – Branding, Money & Millions (Available 14 days after joining.)
Interlude – Why Kevin Chose to Create Freedom Ticket
Module 10 – What Can a $5K Investment Selling on Amazon do
Module 11 – Branding
Module 12 – Ladder of Loyalty
Module 13 – Cash Flow
Module 14 – Category Approval
Module 15 – Costs to Sell on Amazon
Module 16 – Quick Overview of Sponsored Ads
Module 17 – Product Cost Sheet and Cashflow Walkthrough
Week 3, you will learn more about money management and investing in your Amazon business.
Week 4 – Picking a Successful Product (Available 21 days after joining.)
Interlude – What has been the Biggest Challenge Selling on Amazon
Module 18 – Introduction to Helium 10 Tools
Module 19 – Where to Find Product Ideas
Module 20 – How to Do Keyword Research &; Pick Products Walkthrough
Module 21 – Choosing a Product to Sell
Module 22 – The Freedom Ticket Product Test
Module 23 – Reviews and Competition Research
Module 24 – Using Blackbox to Find Products
Module 25 – The Chinese Way of Thinking
Week 4, you start thinking about the products to sell and ideas to choose the right products.
Week 5 – Suppliers, Orders & Shipping (Available 28 days after joining.)
Interlude – Biggest Advantages of Doing E-Commerce
Module 26 – Where to Source Products
Module 27- Finding a Chinese Factory
Module 28- How Not to Get Ripped Off
Module 29 – 12 Common Rookie Sourcing Mistakes
Module 30 – UPC codes and Packaging Primer
Module 31 – Package Inserts & Product Websites
Module 32 – How Much Should Your Order?
Module 33 – The Purchase Order & Proforma Invoice
Module 33.1 – Create a Legally Enforceable Purchase Order in China
Module 34 – Which Way to Ship
Module 35 – Shipping Terms & Problems
Module 36 – How to Create a Shipment in Seller Central
Module 37 – Verify Your Supplier is Giving You a Fair Price
Module 38 – Intro to Shipping Master Class
Module 38.1 – Saving Money by Mastering 3 Shipping Terms
Module 38.2 – Shipment Modes – Why and When
Module 38.3 – Actual Weight vs Volumetric Weight
Module 38.4 – 10 Rookie Mistakes you MUST Avoid
Module 38.5 – Packing your Products for International Shipping
Module 38.6 – Customs Product Classifications Tips & Tricks
Module 38.7 – 10 Hacks to Help you Rule International Shipping
Module 38.8 – Customs Exams Types and What to Expect
Module 38.9 – U.S. Import Regulations and Certificates
Module 38.10 – Europe Import Regulations and Certificates
Module 38.11 – Complete Guide to Choosing your Shipping Partner
Week 5, you start deciding about the source and shipping of your products.
Week 6 – How to Compete & Win Big (Available 35 days after joining.)
Interlude – Importance of Continuing to Sell as you Teach
Module 39 – Brand Registry & Brand Gating
Module 39.1 – Trademarks and Patents
Module 40 – Tips to Being a Great Seller
Module 41 – Prohibited Activities
Module 42 – Sales Stopped Checklist
Module 43 – Key Ranking Factors on Amazon
Module 44 – Breakdown of a Product Listing
Module 45 – Using Competitor Reviews to Your Advantage
Module 46 – Basics of Getting Discovered on Amazon
Module 47 – Keys to Making Sales
Module 48 – All About the A9 Search Engine
Week 6 modules are all about being the best seller and making the perfect sales.
Week 7 – How to Create High Converting Listings (Available 42 days after joining.)
Interlude – Bradley's Passion to Helping People Succeed with Helium 10
Module 49 – Introduction to Product Listings
Module 50 – Writing a Killer Title
Module 51 – Writing Bullet Points & Descriptions
Module 52 – Completing Backend Keywords
Module 52.1 – Using Flat Files & Browse Tree Guides in Backend
Module 53 – Creating Images that Convert
Module 53.1 – Testing & Producing Powerful Images
Module 54 – Creating Your Product Listing
Week 7 mainly focusses on optimizing your sales and product listing.
Week 8 – Ranking, Advertising & Promotions (Available 49 days after joining.)
Interlude – Importance of Continuing to Learn & Execute
Module 55 – How to Set Up Promotional Discounts & Coupons
Module 56 – How to Set Up Giveaways
Module 57 – How to Set Up a Lighting Deal & Deals
Module 58 – Launch to Page 1
Module 59 – Amazon's Secret Sauce URL
Module 60 – Using Facebook Ads to Launch your Products
Module 61 Chatbots Basics for Launching
Module 62 – The Basics of Amazon PPC
Module 62.1 – How to Use Helium 10 PPC Tool
Module 63 – How Much to Bid on PPC
Module 64 – Product Targeting PPC
Module 65 – Setting up your Initial PPC Campaigns
Module 65 – PPC Campaign Optimization
Module 66 – Wrapping It All Up
Week 8 wraps it all up. It also talks about how to expand your sales.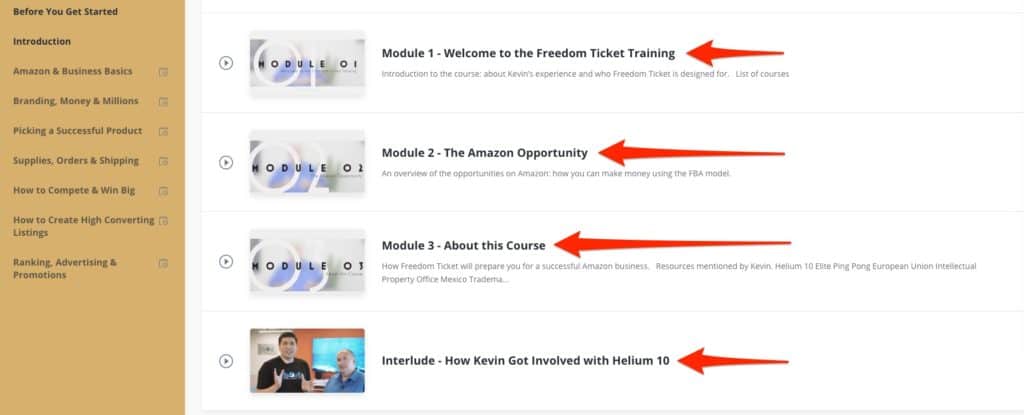 Just by looking at the long schedule, you may not understand everything, or you may not have understood anything depending on what stage you are in your new venture into Amazon FBA private label selling. Here's what the course offers to its users in short:
Basics of business for new Amazon sellers
Brand building and financing
Choosing the right niche for Amazon
Handling suppliers and orders
Trying to be the number 1 seller
Amazon listing optimization for success
Rank maintenance and effective advertising
How Kevin runs his business
The waiting period after the first week three modules is pretty long, with courses unlocking only a week after the other. For people who tend to binge on tutorial videos, this course might not be their cup of tea, but I can tell you now the wait is well worth it and it forces you not to rush into products without the data from Helium 10 to further confirm your business plan.
The Freedom Ticket Kevin King and Helium 10 training course takes approximately two months to complete. It is a necessary amount of time to take in all of Kevin's ideologies and experiences.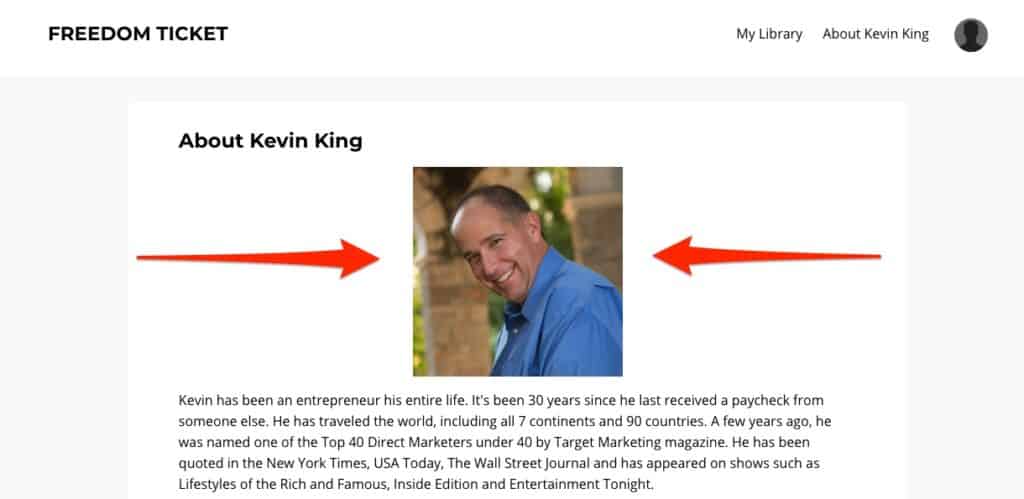 Conclusion
Freedom Ticket Course has become popular over the years, mainly due to Kevin King and his success as an Amazon seller. Best of all, Freedom Ticket is FREE! A $997 value — and you get it for FREE! All you need is a Helium 10 Platinum, Diamond, or Elite Account. Bonus tip you can use our coupon code below:
Coupon code: PROJECTFBA20
Review of Helium 10 and Discount code for 20% OFF
Every Amazon FBA course has some relevant content, but they tend to lack the complete information, tactics, and interactive sessions that are provided by the Freedom Ticket Course.
Kevin King provides all his methods and tactics from how to set up an Amazon FBA business to how to keep it running and increase revenue. Other courses may be created by people with little or no experience on Amazon. They also provide steps to follow or formulas to consider rather than make you think like Kevin's highly interactive course.
Most of the online courses are apt only for the period in which they were released. For example, a course released in March may be suitable for the market six months to one year after the course whereas the Freedom Ticket Course is continuously updated to be compatible with the changing market and Amazon. Freedom 2.0 was just launched in October 2019, featuring updated content from scratch and new notes for the users.
Being good in business is all about developing the right skill and mindset. You need to train your brain to think outside the box to make your business successful. Courses cannot teach you that, but Kevin sure does point you in the right direction and help you develop the right skills for the company. The perfect platform for any soon to be successful FBA seller.
Other Helium 10 Tools That You May Be Interested In:
Freedom Ticket vs Other FBA courses
For those who cannot afford the Helium 10 suite which gives you free access to Freedom ticket, I would suggest you start saving as Amazon requires a decent amount of capital to start, so saving on the best tools and course to set you up for success is not the approach you should be taking to start a new business. You can however in the meantime go through the Amazon seller podcasts or sessions of Kevin King on YouTube or other platforms. He has been featured on many podcasts shows and also on many articles in the past couple of years. You can also check out the AM/PM podcast where Kevin is featured for more than an hour.
Kevin King has attended many of the world-famous Amazon seller conferences, and if you ever get the chance to participate in his sessions, you will be filled with confidence and the will to do better in your business. In his talks or conferences, he gives out advice from his own stories and experiences without any fluff or filter.
The Freedom Ticket Course content is original and all taken from his expertise on Amazon over the years. He has launched his line of products on Amazon after careful analysis and planning.
Becoming a successful Amazon seller is a mundane task. You can take inspiration from anyone, follow any method, or even come up with your tactics and techniques. It's all about selling the right product.
You have to treat online business like any other business. You need to invest your time and money. Follow Kevin's instructions carefully, if your first product fails, pick another product, and work on it. Talk to any Amazon seller out there; even they would have come across some obstacles along their way.
Cheap courses will only help you reach the target a little bit, but the Freedom course can change the way you do your business.
Don't just take our word for it, see what Freedom Ticket students are saying!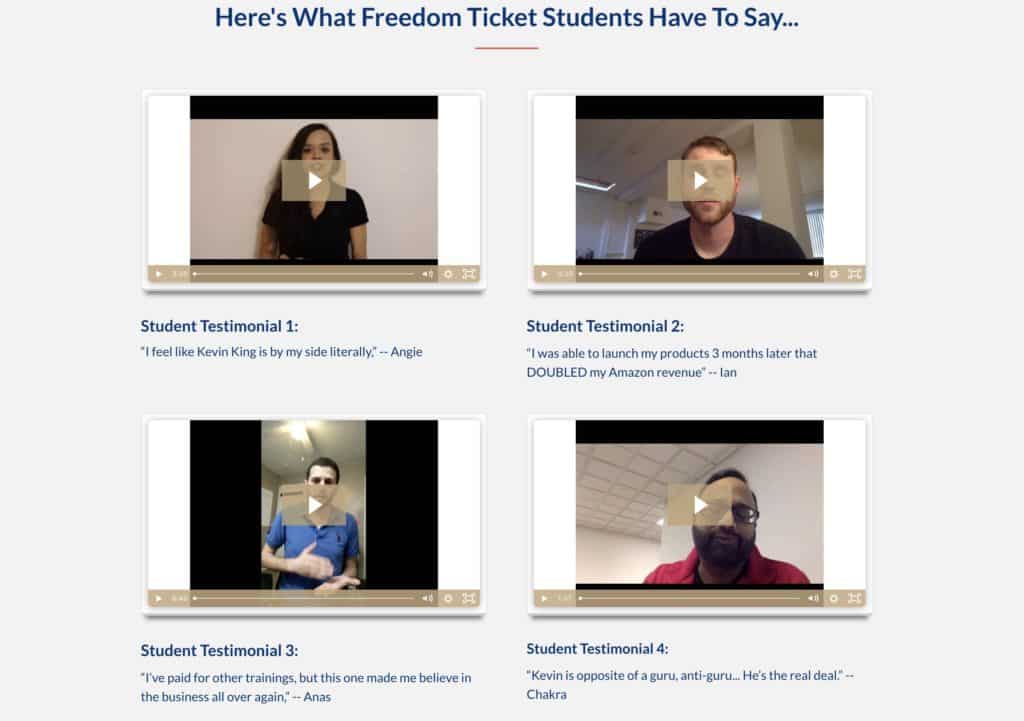 Freedom Ticket Course is for people who are beginner Amazon FBA sellers or have already started selling on Amazon but need help in managing their sales or need some guidance and tips. It covers all the topics right from setting up on Amazon to maintaining your business and increasing your revenue.
However, you are bound to hit some bumps along the way. With the right guidance, decision-making, and tricks, you can make your Amazon business successful. Kevin provides all his tips and tricks in this course.
Freedom Ticket Course is one of the best courses for Amazon FBA sellers. Their partnership with Helium 10 only makes the package more valuable. Helium 10 is an excellent tool for new Amazon FBA sellers and helps to manage the business well and you can check out our review here.
People who have completed this course, claim that the Freedom Ticket Course is the complete course for an Amazon FBA seller. There's a lot of material in this course, and it's updated regularly to match the changes in the market and Amazon.
There are many Amazon courses out there, but none of them provide this amount of information and techniques like the Freedom Ticket Course.
With constant changes in the market and Amazon business, the course content also needs to be updated. Freedom Ticket Course continually updates its content and videos as they get outdated pretty soon. Just by updating a few modules here and there, the content won't be updated enough. Kevin had to re-film the entire content.
Freedom Ticket 2.0 features 30+ hour's worth of content, which is a total remake of the course from scratch. It also has new modules in many sections and fresh notes for the users.
This new version also talks about using modern tools and new tricks and tips about launching your product. A total redo of the notes section is coming up and even new ways to help make your Amazon FBA business bloom.
An Amazon FBA course like the Freedom Ticket is an essential training tool to give you a step by step blueprint to follow and set your new business up for success from the get go.
Now Kevin King has partnered with Helium 10, the Freedom Ticket course comes Free with the $97/mo Platinum, $197/mo Diamond or $397/mo Elite plans.
The best Amazon FBA course in 2023 is Freedom Ticket Course by Kevin King and Helium 10. Kevin King has 25+ years of e-commerce experience years of experience. So there is no better person to learn from.
Freedom ticket will help you from day 1, teaching you step by step the process to follow of how to sell on Amazon.