Is The Helium 10 Chrome Extension The Best Extension For Amazon Sellers?
When it comes to selling on Amazon.com, there are a great number of things to keep track of in order to keep your business competitive and moving. To keep up with it all, it's important to have the best tools at your disposal. However, having a million different tools from different sources can lead to details getting lost in the mix. That's why it's crucial to find a tool that does a lot for you and really provides meaningful, high-quality services all rolled into one neat package.
Helium 10 is a software suite that is comprised of over twenty different tools for Amazon sellers, which is exactly what sellers need most. What's more, Helium 10 offers part of its suite as an extension for Google Chrome to enhance your product research. This allows you to sample the power of the Helium 10 software suite for free! Comprised of five of their best tools, the Helium 10 Chrome Extension is arguably one of the best, if not the best Chrome extension available for Amazon sellers. Let's examine why.
What Is The Helium 10 Chrome Extension?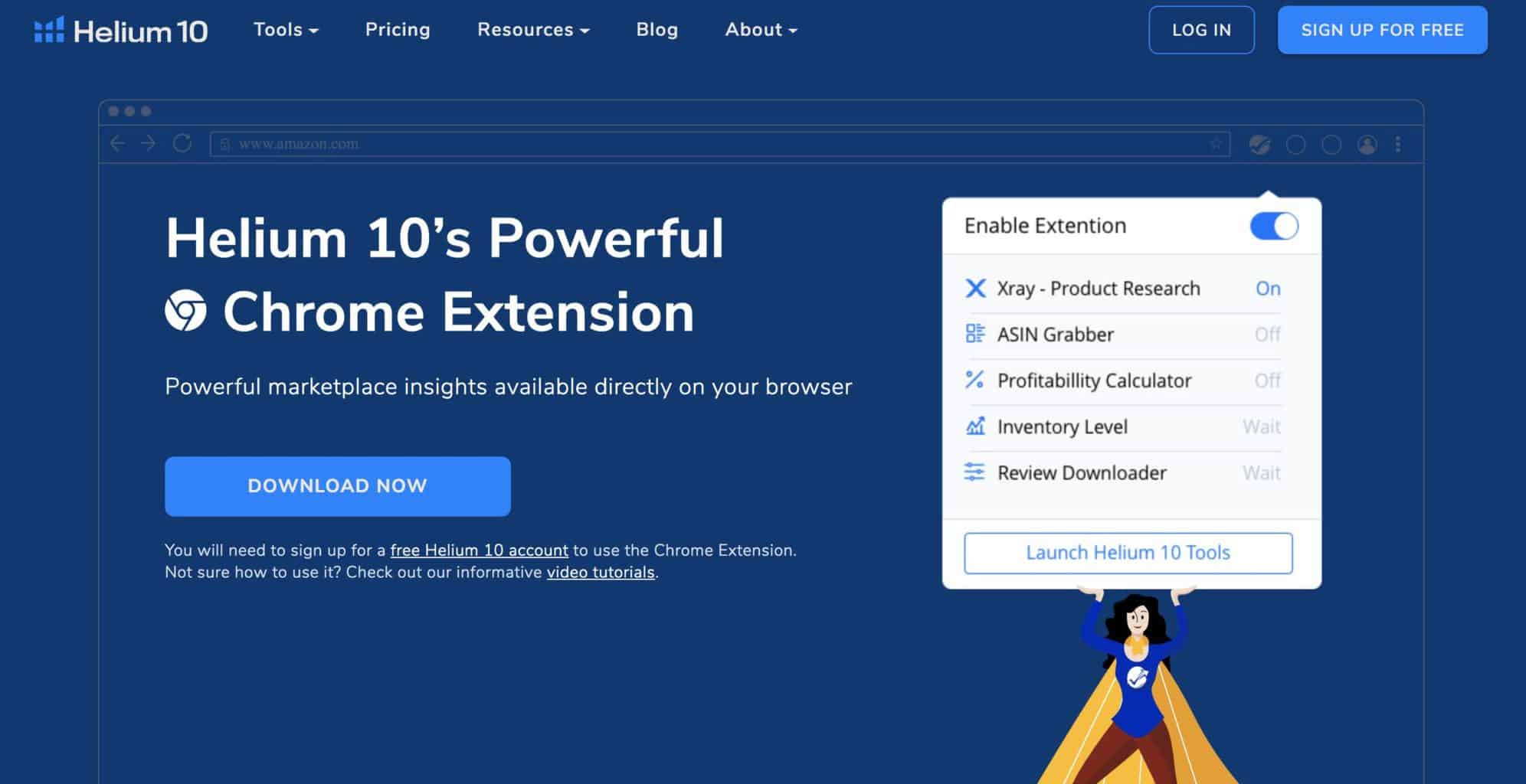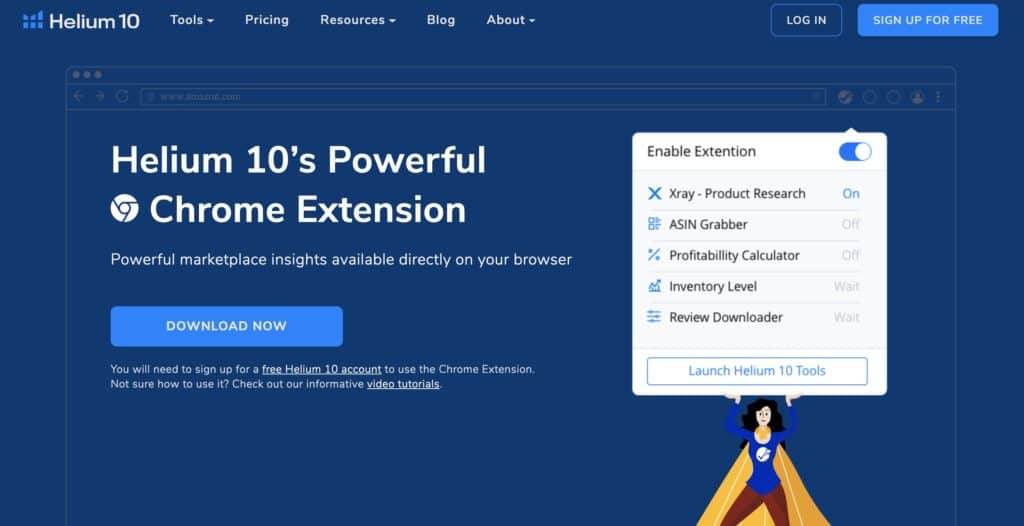 In short, this extension is a web-based set of tools that exists to help Amazon sellers optimize their operations. It is most ideal for those who create a lot of their own product listings, as it has tools integrated therein designed to help those sellers. That being said, Helium 10 is also designed for any seller to generate income they may have otherwise missed.
Because it is a web-based set of tools, this means that you can use it actively while you browse Amazon, allowing you instant insights into your listings and the listings of competitors. While all five of these tools are considered separate features of Helium 10 overall, they are all packaged within the one Google Chrome extensions. The features are Helium 10's Xray, ASIN Grabber, Profitability Calculator, Inventory Levels, and Review Downloader.
About The Tools Included in Helium 10s Chrome Extension
XRay Amazon Product Research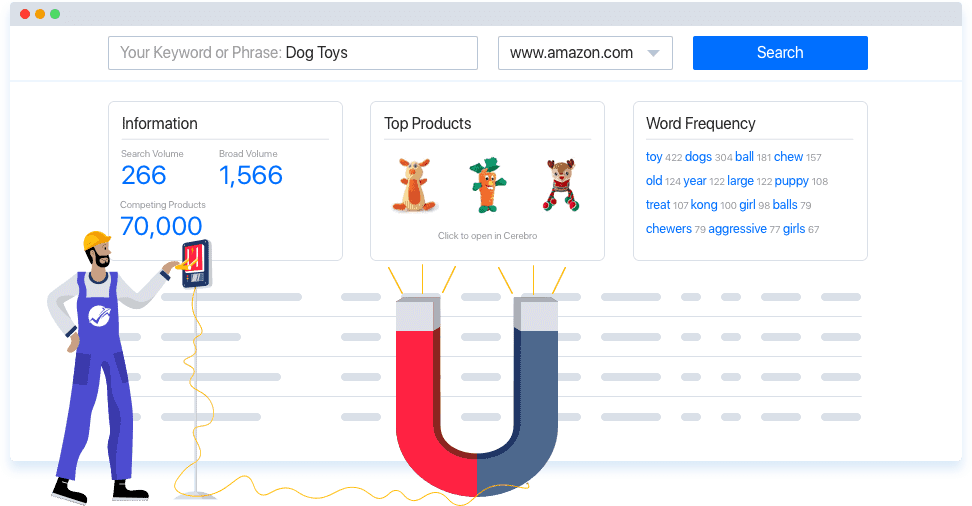 In short, Helium 10's Xray is a tool that provides you with a source of reliable market data to find the best product(s) for your niche. This tool gives you access to over 450 million ASINs, allowing you to see just how much revenue your competitors are making monthly.
You can also see your competitors' "Review Velocity" with Xray, a feature that was added in direct response to the relatively new phenomenon of "disappearing reviews." This feature allows you to see how many reviews you or your competitors are both gaining and losing each month. Because of how important reviews are when it comes to selling on Amazon, this is a great, innovative tool you definitely want access to.
ASIN Grabber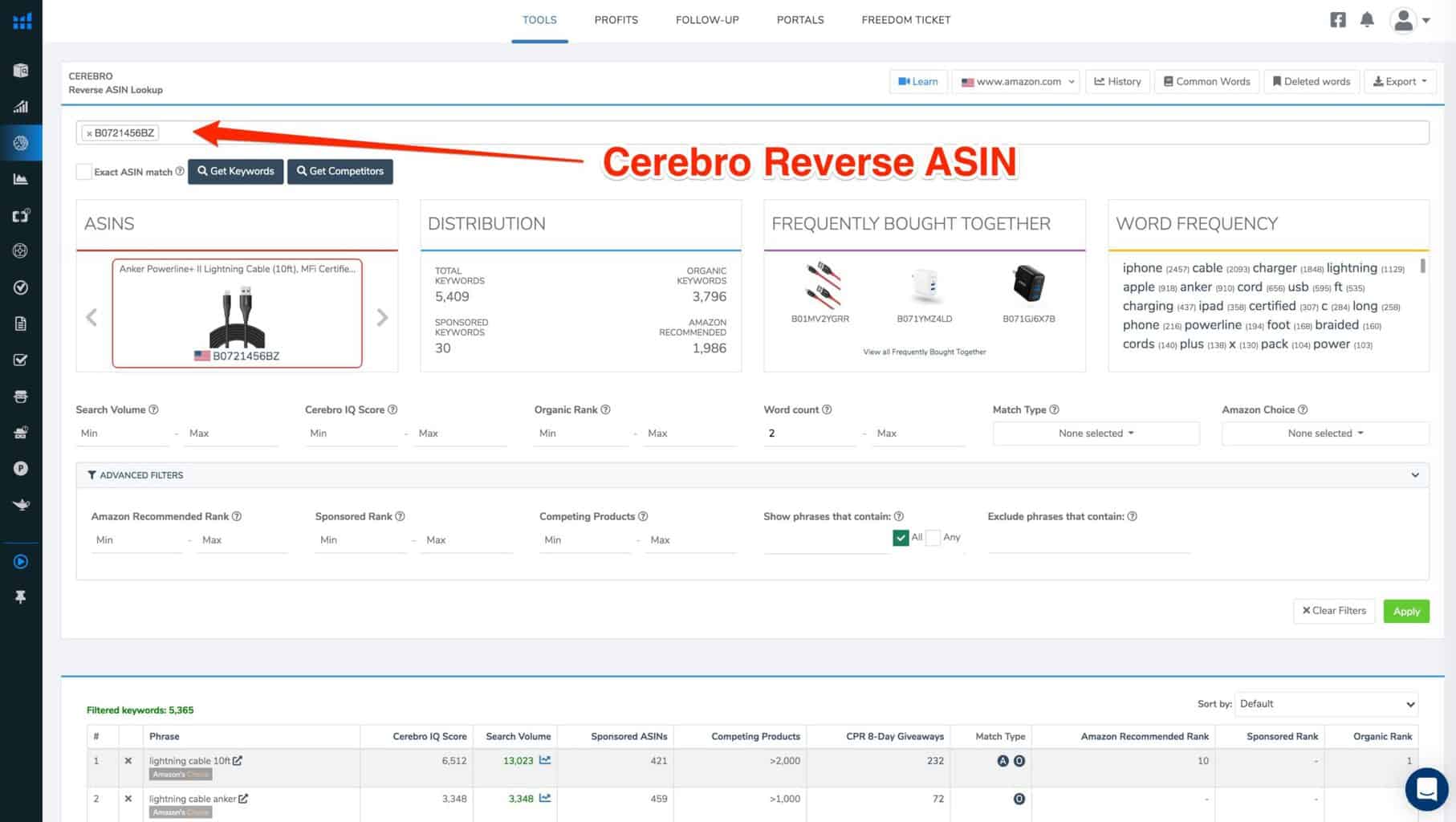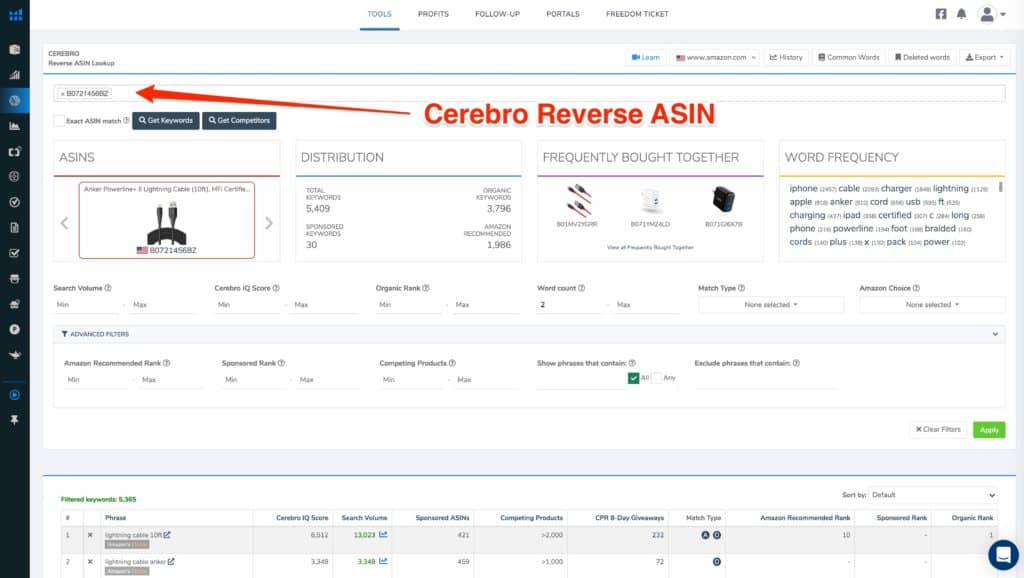 ASINs are crucial to have easy access to when selling on Amazon. Helium 10's ASIN Grabber makes getting ahold of these, even in bulk, an easy task. You can snag the ASINs of the top 100 or more products in a niche with this, allowing you to see which products are ranking in a given market.
A particularly nice feature of the ASIN Grabber is that you can easily export the ASINs you've acquired into a spreadsheet. This is useful when looking at seasonal products or peak sales days such as Prime Day. If you don't have time to analyze rankings on that very day, being able to export that list and come back to it later comes in handy. It's a small feature, but one that can be surprisingly crucial if you do the majority of your own listings.
Profitability Calculator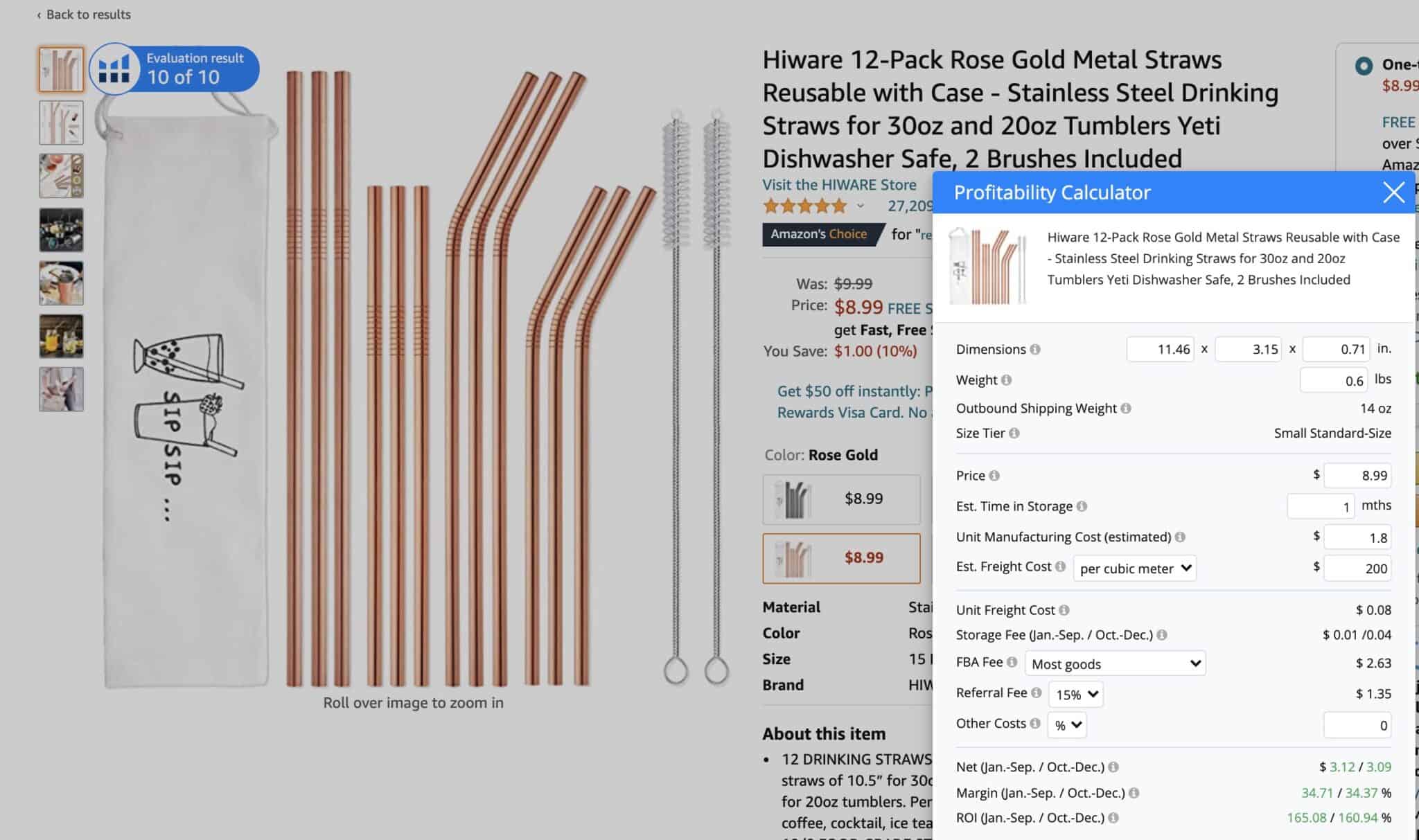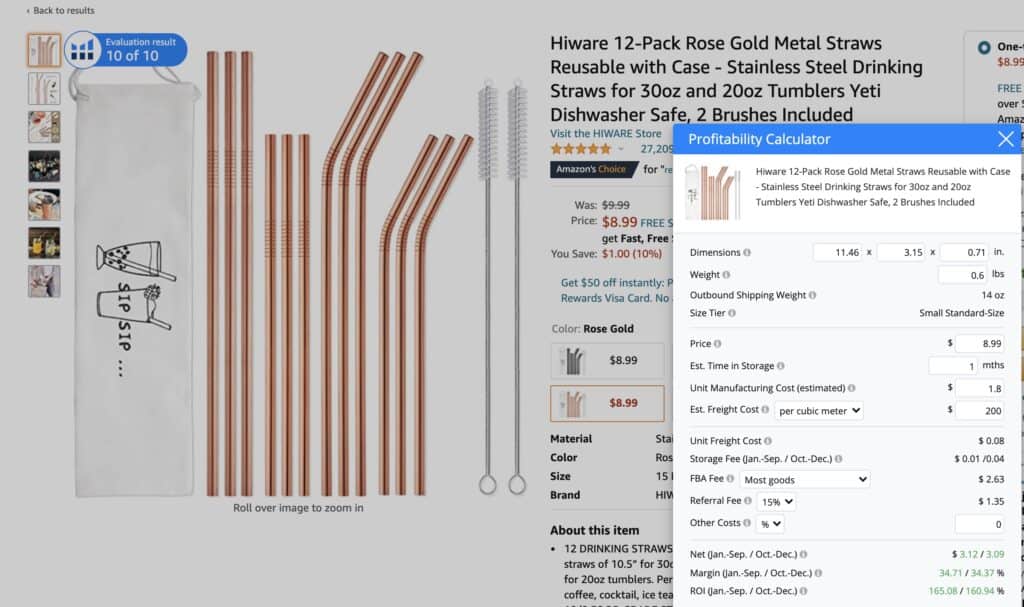 Helium 10's Profitability Calculator does exactly what it sounds like: it calculates your profit margin. By entering key information such as dimensions and weight, manufacturing and freight costs, and FBA fees, the Profitability Calculator quickly and concisely gives you the profit margin you can expect from a given listing.
It's entirely possible to miss or gloss over vital net profit gains or losses without a core tool to keep track of it all. By keeping track of your profit margin, you can ensure that you're not wasting time, money, or effort on something that isn't going to give you what you were hoping to get out of it.
Inventory Levels
Helium 10's Inventory Levels tool is an all-around must-have whether you make a ton of listings or just a few. This is because, no matter how much or how often you list, you should capitalize on other sellers' low inventory. This neat little tool allows you to see just how much inventory a competitor has, which gives you invaluable insight into what you should list and when.
Another way in which Inventory Levels can be used is even more critical: the detection of hijackers. If you suspect your product or a counterfeit of your product is being sold, Inventory Levels can show you how much of your product is being sold by others. If it's a small, independent seller with just one in stock, maybe they simply won your product somewhere. But if it's being sold en masse at a competitive price point to your product, it's important to be able to detect and deal with this right away.
Review Downloader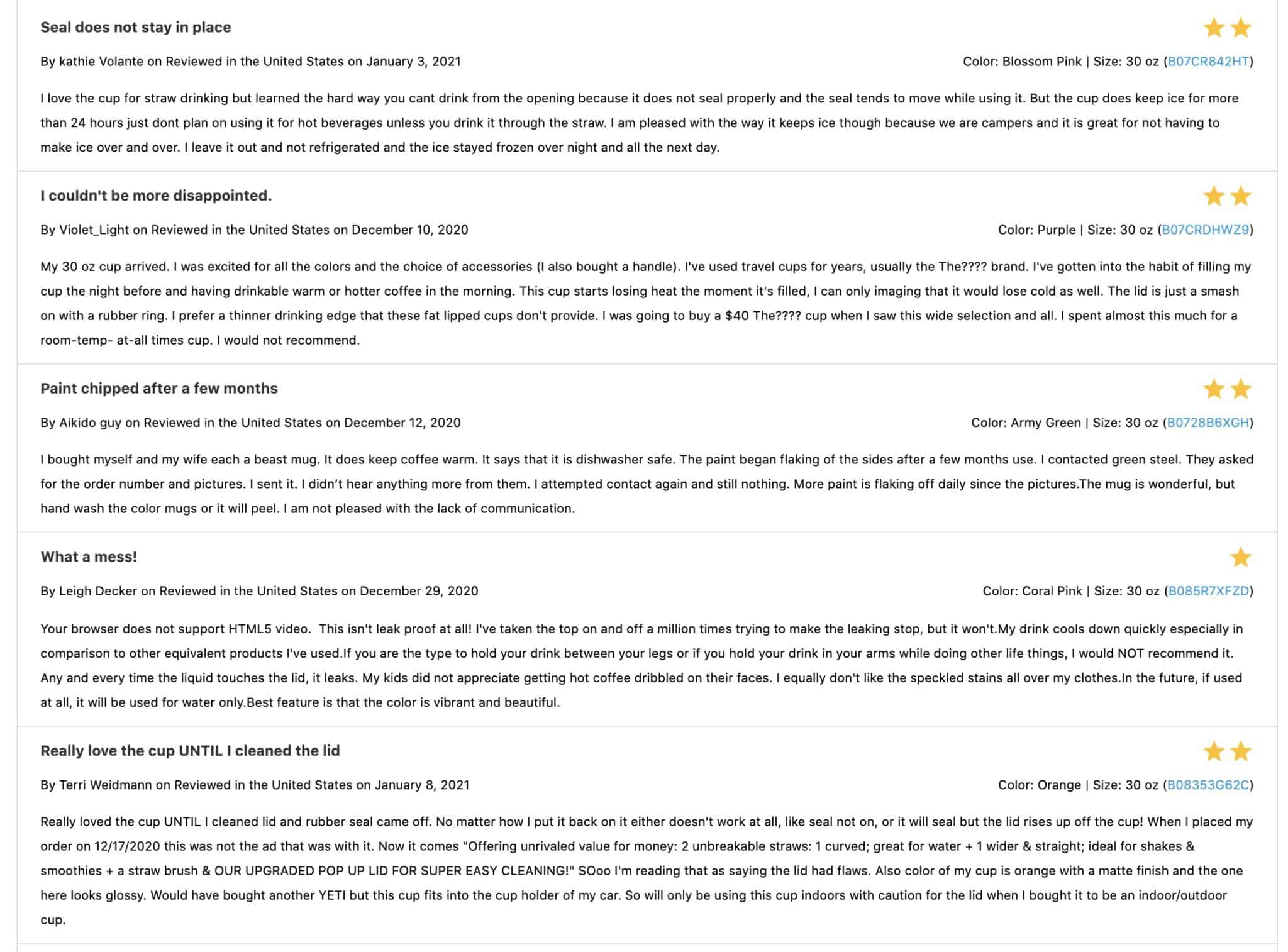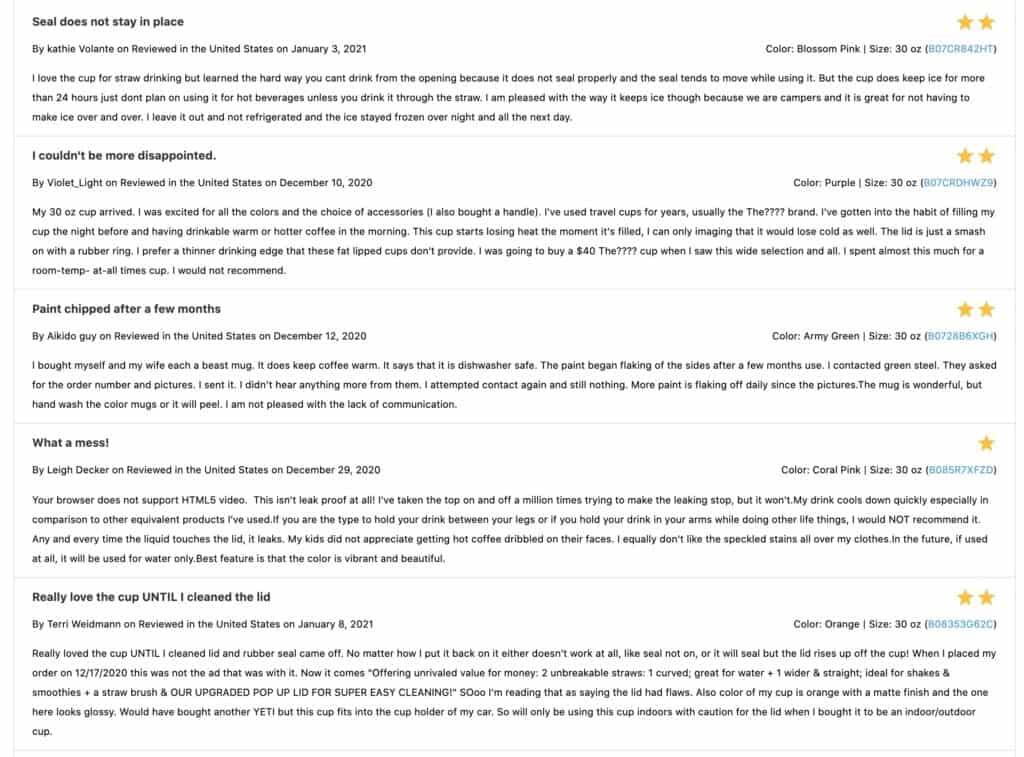 Being able to get insight into your and your competitors' reviews is beyond crucial when selling on Amazon, but paging through and manually sorting reviews in bulk is nobody's idea of a good time. The Helium 10 Review Downloader lets you filter through hundreds of reviews on Amazon in a matter of mere seconds. This is the kind of work that would take hours to do manually.
For example, if you're on a product page and you want to download a certain subset of reviews because you're looking for a specific insight, you can choose to filter based on a variety of criteria: reviews left within a certain timespan, verified purchases, helpful reviews, reviews with images, reviews with video, reviews with a certain rating, or even specific keywords. It's also an amazing tool to easily spot issues that exist in either your products or the product of a competitor, allowing you an edge in your niche.
Alibaba Supplier Finder
Helium 10 has partnered with Alibaba to integrate a new add on to the extension. If you remember Ali Baba source now chrome extension where you could essentially find a product on Amazon click on the "source now" button and it brings you to the suppliers on Alibaba for those products. Now you can do this all from within the Helium 10 Extension. Not only that you can do so much more using the Alibaba demand analyzer.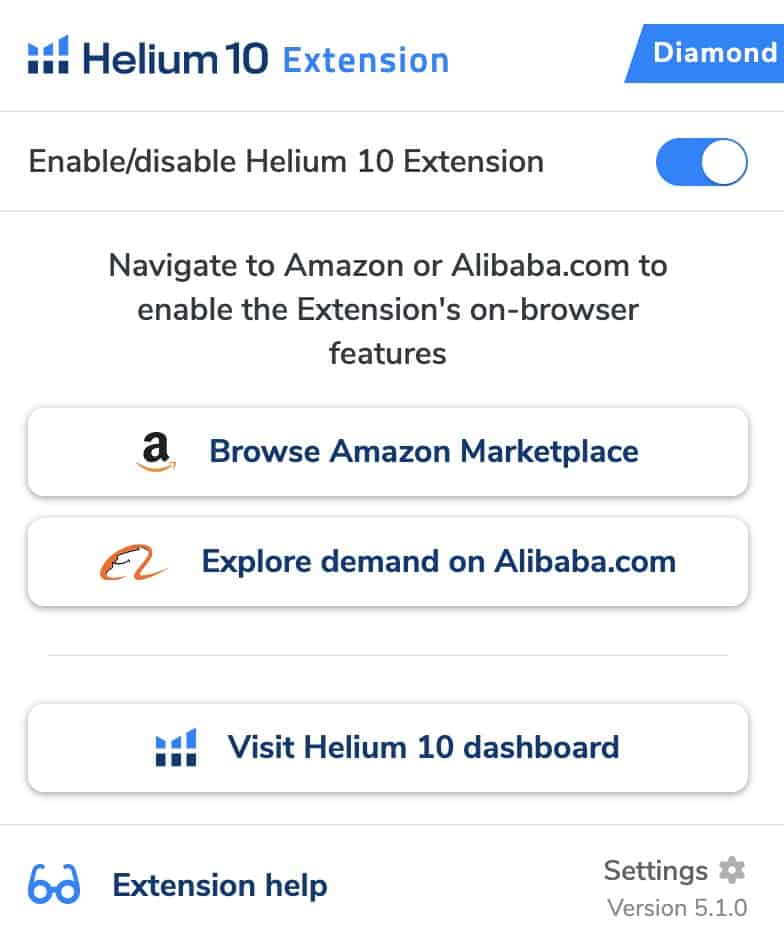 How To Use The Helium 10 Chrome Extension
Installation
The Helium 10 extension is available exclusively in Google Chrome, so you want to make sure you've downloaded and installed that chrome browser first. From there, go to the Helium 10 website and create your free account. Once you've made your account, click on Xray under the Tools dropdown to get to the extension page (or, you can just click here).
Click the "Download Now" button on that page to go to the Google Chrome extension page. Click on the "Add to Chrome" button near the top-right of that page, accept the installation, and Helium 10 is now part of your browser.
Using The Extension
In order to use the extension, first head over to Amazon.com. In the upper right-hand corner of your chrome browser, to the right of your URL bar, there should be an icon for Helium 10 (if there isn't, double check your chrome browser settings).
For an example of how to use the Helium 10 extension, let's look at Xray.
Search for a product.
Click on the Helium 10 icon next to your URL bar.
Click on Xray.
Wait for the chart to pop up.
Sort and filter the chart however you'd like!
To view a specific product in the list, click on its ASIN.
You can see if a product is sponsored as part of Amazon's CPC program if it has a blue "SP" next to it in the chart. These products' rankings will be affected by their participation in the CPC program, meaning their ranking is less driven by actual customers and sales. Put more consideration into those that don't have the SP by their name, as those rankings reflect more organic consumer demand.
The rest of the extension works essentially the same way. However, some of the tools are only available on certain pages. For example, the Review Downloader is available on product pages whereas the ASIN Grabber is also available on the search results page.
More Helium 10 tools you may be interested in:
Overall Thoughts
From product research to assistance with listings and SEO, the selection of tools available within the Helium 10 extension is impressive. It gives you access to powerful, well-designed tools that will give you an edge in the Amazon sales market at no cost. While some competitors don't offer their products for free, because Helium 10's extension is, this means you can test it out entirely risk-free to see if it's right for you.
This extension is powerful. Whereas some extensions only perform one function, Helium 10 gives you five fully-developed tools to use. Check out the full Helium 10 review of the complete suite of Amazon Seller Tools. This is honestly one of the few All-in-one softwares in the industry and Amazon sellers both big and small should definitely check it out.
Checkout our Helium 10 Review and Discount Code to Save 20% on your subscription.
Alternative Chrome Extensions
As to be expected with any good product, there are a few Chrome extensions and software suites out there that compete with Helium 10. Some of them are good competitors, and some fall short. Looking for something to compare Helium 10 to? Here are a few of the most common chrome extensions for sellers: