Getting a review on Amazon is important for boosting visibility, fostering a loyal following, and increasing conversion rates. A positive review can improve your profitability, while a bad review can be hard to recover from.
With the right tools, you can keep your reviews in check and decrease the impact of bad reviews. Feedbackwhiz vs Feedback Genius are two online programs that help Amazon sellers manage reviews. But they don't stop there:
Create and manage email templates
Schedule emails so that you can personally request a review from customers
View in-depth data analysis of emails, reviews, and more
These tools are highly valuable for growing your Amazon FBA store in general. But how do you choose between Feedbackwhiz and Feedback Genius?
We're here to help. In this guide, we'll share the details about these two tools and how they can help your business manage reviews and become far more profitable as an Amazon seller.
What Is Feedback Whiz?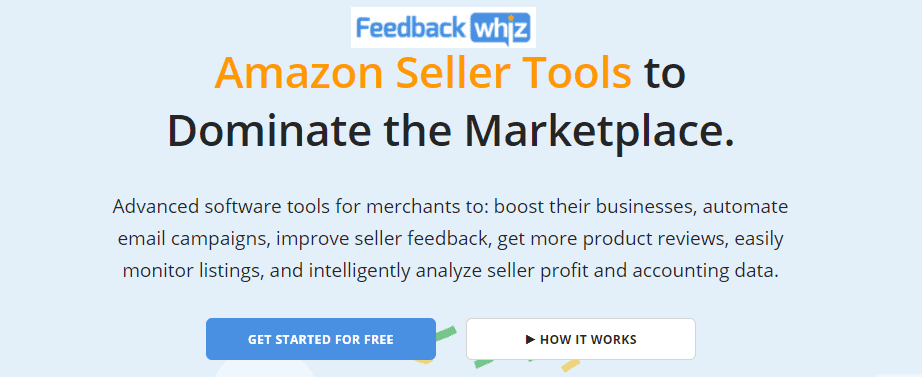 Get all the features you need in an easy-to-use Amazon feedback review management software with Feedback Whiz. It will save you time as a seller on Amazon, so you can get back to strategizing and spend less time looking for data.
This software has just about every feature you could want for managing your Amazon feedback. It offers extremely detailed data across in-depth reports and provides a brief overview of information and quick stats in the dashboard.
For example, Feedback Whiz makes it easy to report negative reviews that violate Amazon rules with a single click and instant alerts. However, you can also see every statistic you need about product reviews. Get both quick stats and interactive reports that help you understand when your products need attention.
While you can give it a try for yourself with a free trial, there is also a free plan available for one email campaign per month. So you don't even need a paid subscription to get the basic features!
However, with its amazing additional features, superior customer support, powerful tools, and easy automation, sellers are more than willing to pay the price for this software.
Feedback Whiz Features
Let's focus on the features of Feedback Whiz that are either similar to Feedback Genius or that set it apart. These tools are designed to help a seller more easily and quickly respond to customers' product reviews.
Order Management
Through Feedback Whiz, you can actually manage your online orders while getting information about your customers and important data in one place!
But it's not just one report that you get. You can find and filter the related information for sales and download what you need. The Feedback Whiz software saves time by letting you manage any order from Amazon and automatically provides detailed information.
See all information, such as whether the customer is offered discounts for shipping delivery or the item. View feedback and product reviews for the order and get detailed shipping and delivery information.
Email Management
Feedback Whiz's email management tool will help you organize all your customer emails. Control what automated emails are sent to your customers and easily manage your email campaigns.
View active campaigns and see what Amazon customers they are reaching. For example, you can determine which orders are targeted and whether you have repeat buyers of your products.
Not only will this tool save you time in managing your email campaigns, but the data you get on repeat buyers is invaluable. You can better target potential customers when you understand who is more receptive to your products and are more likely to provide the best feedback.
Feedback Whiz Search
You are going to love the detailed search you can perform with the custom search feature. You can look in different time frames and filters to see which had feedback. This is also great for seeing the connection between feedback and promotions.
If customers use a code to leave reviews, you can see this with Direct Match Reviewer. You can also see daily sales made by users.
Find the exact information you are looking for fast with the search feature—filter based on just about anything, including FBA or SKU.
We love this feature because it's so simple but saves sellers on Amazon so much time. Something we could all use more of!
Email Scheduling
With its email management, you can control and quickly see exactly what emails are being sent out and your active campaigns. But Whiz also gives you the power to schedule your emails all in one place!
View the data on buyers' behavior to help inform exactly when you should send emails to different customers. Then use the scheduling option so that emails are sent without you having to do any more work. Automated emails are going to save you so much time as a seller.
Create and use templates in Feedback Whiz as well. Email templates can be sent to customers through automation to follow up on different behaviors immediately. The system allows for not only text but attachments, animated gifs, and more!
Use your Amazon seller name and logo to connect with your customers. Address each customer personally with automated templates. Make an impression that will be reflected in your product reviews while doing less work!
Depending on the pricing of your plan, you can get unlimited email campaigns for your business. With the unlimited campaign pricing option, you can make an impact on the marketplace like never before.
Analytics Data
The most detailed reports you are going to get will be through the software.
Whether you want to filter analytics based on FBA or get every metric available, it's at your fingertips. Look at sales performance and your company insights to understand how to improve as a seller.
Enjoy analytics on everything, including:
A/B testing campaigns
Customer behavior
Product reviews
Make more strategic decisions, including:
Moving from FBA
Creating ad campaigns for different products
Determining future products by understanding your current business
Know how your company is reporting by taking the guessing out of data. Get straightforward analytics about how customers respond to your business and understand how you can improve.
Marketplace Integration
One great perk of this software is the integration with Amazon marketplaces around the world.
Send out emails in multiple languages based on the customer marketplace used. This makes it far more likely you'll actually get the positive Amazon feedback you need.
If you want Amazon feedback from around the world, you can integrate this tool with the following Amazon marketplaces:
Amazon USA
Amazon Canada
Amazon Mexico
Amazon UK
Amazon Germany
Amazon France
Amazon Spain
Amazon Italy
While it doesn't provide the translation, it does make sending out Amazon feedback requests possible worldwide.
Notifications and Monitoring
The software goes beyond tracking negative reviews. Get notifications about almost every facet of your business to make things easier and avoid negative feedback.
Be notified about any changes to orders or products, Amazon listing hijackings, and relevant events.
You won't spend your time constantly checking Amazon when you can get all the information you need sent to you. Save yourself time scrolling and get the data you need without seeking it out!
What Is Feedback Genius?


The Amazon Marketplace can be an overwhelming place, and responding to every piece of buyer feedback with a message can overtake your business as a seller.
Manage your Amazon feedback and ordering system more easily with Feedback Genius. Like Feedback Whiz, Feedback Genius wants to make managing Amazon feedback as simple and easy as possible.
Many of the basic features are similar because they're not limited to just helping sellers review feedback. You'll also have tools like automated emails and customer data.
Test out its features for free by signing up for a free trial. Both Feedback Genius and Whiz offer free trials, so it's easy to compare. However, unlike Whiz, Feedback Genius doesn't include free pricing for a basic plan.
To continue getting their support in the Amazon Marketplace, you will need to pay for your account. But their service does make responding to a buyer much easier.
But we'll save you time by going over just about everything you need to know about Feedback Genius!
Feedback Genius Features
A simple tool, Feedback Genius includes many of the features that Both FBA and FBM Amazon sellers love. It makes feedback and review management easier for sellers, and it's easy to get started.
Here are some of the best features that they offer to make selling on Amazon even easier.
Email Management and Scheduling
Maybe you rely on sending out customized emails to customers with timely messages to encourage positive feedback subtly. Maybe you need clear user notifications that you've received related emails. Either way, you'll enjoy the email management from Feedback Genius.
Their service makes sending out timely messages simple with generated emails customized to your products and seller page.
Generated emails can include as much or as little information about your seller contact details as you want. Make it simple with a follow-up email after purchase. Or connect to customers after getting a negative post from a customer account.
Notifications for this feature also include being notified about negative feedback and messages on your Amazon sellers page. Once a user sends a negative post, you'll receive an email letting you know to follow up.
Product Review
Request product reviews directly from a buyer with this software and see honest results. Boost sales and find greater success on Amazon with support from your customers by sending out a review request. Feedback Genius's customized message tool could encourage a buyer to leave a kind comment about your brand.
You can select the template as well as the timing for your products. For example, if you want messages sent directly after purchasing vs. giving the customer time to try the product.
Follow up as quickly or as slowly as you believe is necessary to get genuine and positive Amazon feedback.
Instant Notifications
Don't let a negative post sit on your product's listing without responding as fast as you can. The longer negative feedback is visible by potential customers without a clear response from the seller, the more likely it will scare people away.
You can see recent posts quickly. That's why instant notifications are essential.
Get unlimited notifications directly to your account, so you know whenever there is a new comment about your products.
Now, knowing immediately about negative reviews doesn't mean you can change the reviews. However, you can address it as soon as possible. And often, a clear message from management is enough to assuage concerns.
You can also report any negative reviews that violate Amazon's policy.
A/B Testing
Don't just send emails out into the void to every account with a buyer attached. When you have real data on response rates, you can strategize and make informed decisions for your email management.
A/B testing allows for testing for any messages you would like sent out to buyers. You want to send emails that get positive feedback. By testing these messages, you can anticipate the response rate and Amazon feedback you receive.
Once you have the results from A/B testing, you can customize your automated messages to result in a better review rate for your products. Better emails mean better feedback which results in increased sales. Boost the profitability of your business with this tool!
Analytics Data
The data you get for emails doesn't stop at testing different templates. Get analysis for all your emails sent to understand your Amazon email performance.
Feedback Genius will create these analytic in graphs so that it's easy to read. Spend more time trying to understand your customer behavior and less on trying to understand your account data.
See how many customers are opening emails, clicking through to leave Amazon feedback for your business.
Feedback Genius vs. Feedback Whiz – The Pros and Cons
Now that we've covered the features of each tool let's compare them up side by side and see what really makes them different.
Feedback Whiz
Pros:
The price. Though the plan is limited, nothing beats free. The subscriptions have a wide and varied range, so you can get exactly what you want for how much you want to pay.
More in-depth analytics. Get more analytics on your account all in one software.
Goes beyond templates and Amazon feedback. With great customer support, powerful data, and a free trial to sell you on the tools, you will love what the system has to offer.
Cons:
Marketplace integration is an extra cost. If you are doing mostly international business across marketplaces, you will need to pay for each additional marketplace integration in addition to your subscription service price.
Feedback Genius
Pros:
Get more user support for a higher price. For 3p Amazon companies making 10 million+ dollars a year, get additional tools and services like dedicated onboarding support.
Instant negative feedback notification. Know immediately if you have received a negative comment you need to address.
Cons:
Higher price bracket. With Feedback Genius, you don't have a free plan option. You could also end up paying a much higher price tag depending on how much your 3p Amazon business earns.
Conclusion
When considering Feedback Genius vs. Feedback Whiz, you can see that these are very similar tools that help a seller respond to feedback and reviews from buyers.
The features look similar by allowing you to know when you need to respond to buyers' feedback, create and send related email templates, and request customer reviews. What sets them apart are the details.
If you want to make personal connections with your customers with highly customizable email messages and in-depth analysis, you'll probably want to look into Feedback Whiz.
If you want more dedicated support as a much larger Amazon seller, Feedback Genius may be the way to go.
But the good news is that with either software, you can request a free trial and see exactly what will work for your business.
We hope that this review gave you some insight into what you can expect from these Amazon review tools and you find the software that works best for you!
Further Reading