Achieving a greater online success is something every business owner seeks. There could be several ways to achieve this success. However, without the use of technology and certain software, tools, it could be hard to achieve success and better productivity.
If you are an Amazons seller, you must utilize and must understand some of the great tools and extensions that are available. Coming up are some of the best chrome extensions for Amazon sellers and FBA Amazon Chrome extensions.
Here, you will find a list of chrome extensions for Amazon sellers that can help with all aspects of selling on Amazon. Along with each extension, the benefit of the extension are also listed that includes what the extension is used for, how you as an FBA seller can use it, what kind of benefits you get from its use, its key features and if there is any pricing attached to the extension. 
The Best Amazon Chrome Extensions For Sellers In 2023
Helium 10 Chrome Extension
Jungle Scout Extension
Viral Launch Chrome Extension
Not choosing a perfect keyword for a product is one of the biggest mistakes that a seller does in online selling. Helium 10 plugin is the one the best Amazon FBA keyword tools which you can use to plan the perfect keywords for your products. There are lots of features of Helium 10s X-ray Amazon Chrome extension/plugin:
Product research
Keywords listing and tracking
Build and optimize product listing
Competitor analysis
Alibaba supplier integration
Helium 10 chrome extension X-ray is available as a free extension. You can also checkout the full review of the Helium 10 suite.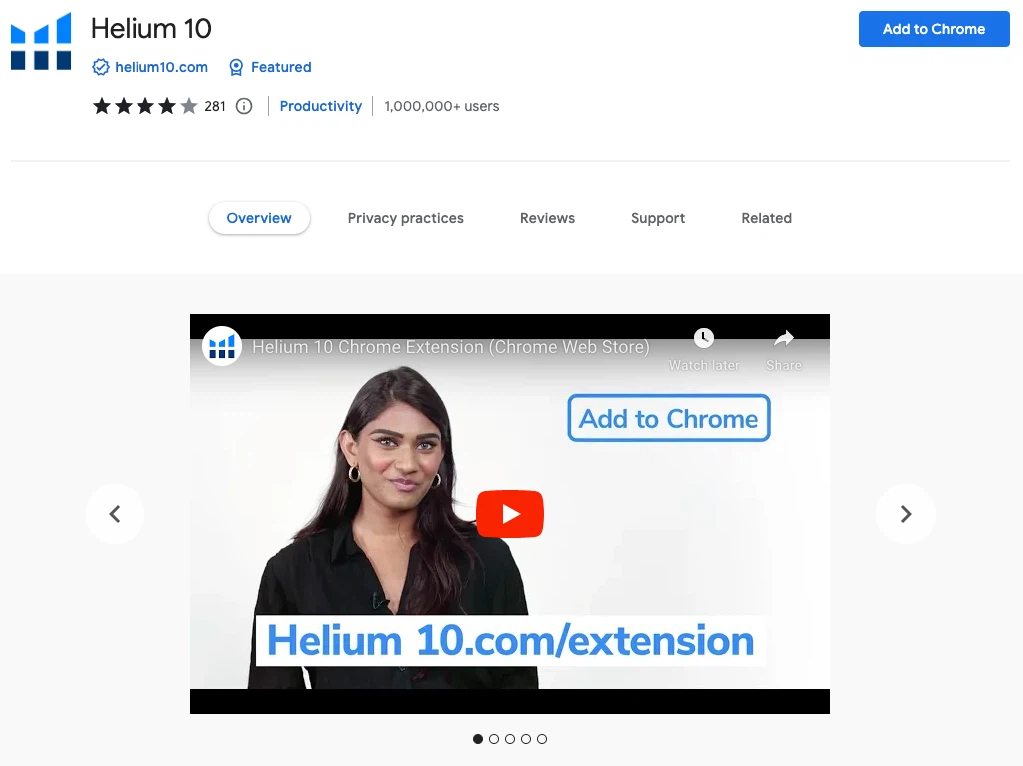 As a seller, you need to know how well your product niche can do. Jungle Scout chrome extension can help you to find how profitable your product niche is. It gives you the estimate sales of each product page.
Other than that it can give you the following information:
Average BSR (best seller ranking)
Average price
Opportunity score of that product 
Seller details
Numbers of reviews of the particular product
Jungle Scout has a chrome extension that you can pair with the web bases app Jungle Scout for an All in One Amazon seller tool suite. Check out the latest Jungle Scout Discount we have available exclusively for our readers. 
Every seller wants to keep track of their products and their competitors. Keepa can do the same for you. It can give you a detailed price history chart of products on Amazon. It can track any product and notify once the price drop and will compare international prices. Once you use it as a plugin on your browser, it can show the price history graph directly on Amazon page.

The best part of this extension is that it supports multiple locales like, .com, .co.uk, .de, .co.jp, .fr, .ca, .cn, .it, .es, .in, .com.mx, .com.br, .com.au. It is the perfect price tracker that you need.
4. Viral Launch Market Intelligence
Viral Launch chrome extension market intelligence is an Amazon analytics tool that a seller really needs. It can tell you which product you can sell and give you the most profitable products on the site. It can help you to understand the market with monthly and year sells, and historical trends. You can calculate costs and profits with the help of the in-built calculator.
There are four different versions of Viral Launch Market Intelligence with monthly and yearly subscription option. You can get 2 months free for every annual subscription package.
Read the full review for a detailed breakdown review (coupon included) of Viral Launch.
AMZScout can help to find a profitable niche on the platform. And with the help of this tool, you can choose products which you can sell and generate more profit on the Amazon. AMZScout is available in 10 different countries.
There are several features of AMZScout:
Get estimate Sales
Get estimate revenue
Analyze Listing Quality
Price and ranking details
View the latest trends
Export your data in excel sheet
You can try it for free. After a trial period, you can choose a monthly, yearly and lifetime plan.
6. Amazon kw index and rank checker
With the use of Amazon keyword index and rank checker tools, you become able to put into action a marketing strategy which is based on data of real demographic, that will attract a large number of customers to your product. It makes you able to get correct keywords and also provides you exact rank. It also helps in optimizing your Amazon entries that will improve the visibility of your products and increase sales. 
AMZ Seller Browser displays the important listing information directly on the search result pages. It includes the following features:
It displays price and rank history from camel camel camel in quick view
It has the ability to add Amazon BSR to each and every product in the search
Lists other products from a similar brand in quick view
Shows if Amazon is selling the product
Supports both amazon.co.uk and amazon.com
Shows how many FBA sellers are on the listing
Unicorn Smasher is built by Amztracker, it is a free chrome extension for Amazon sellers that supercharges your Amazon product research. With the use of this, it is easy for you to pinpoint the perfect product that can fast track you to the top of your niche.
Check out the comparison we did on Unicorn Smasher Vs Jungle Scout to give you a breakdown to the two Amazon Chrome Extensions
9. Amazon Publisher Studio Extension Beta
Amazon Publisher Studio extensions beta helps you to sell products via the images on site by adding a small "Shop now" icon in the lower right corner of every image. Also, it makes it easy for you to the link up the text as well, it shows a pop-up search box in both cases that facilitate linking.
It is a tool for Amazon associates that is slowly been rolling out and I have not had a chance to appear it until last week. 
10. Sellerboard Amazon FBA profit calculator
If you are going to sell your physical products on Amazon FBA, one of the important business admin tasks to get right is to figure out profitability.
This is important both before and after you launch a product on Amazon. During the phase of product research, you'll need to do some calculations and research to estimate a potential of the product before you launch, taking into account initial investment costs, estimated sales, and FBA costs.
What is an Amazon Chrome Extension?
An Amazon chrome extension is a plugin for your browser, The extensions main function, in this case, is to save you time, increase your sales, rank higher on Amazon, uncover hidden competitor keywords and speed up the process of product research or quick product sourcing.
With the use of Amazon Chrome extensions downloads, you will get several benefits. Some extensions act as an Amazon Price Tracker with which you can easily get price drop alerts, check price history graphs, can track shipping cost, can keep track of your own products as well as the products of competitors. With these extensions, you can speed up your product research, obtain their ASIN number quickly, calculate your FBA profits and many more.
Some of the best Amazon chrome extensions for FBA sellers that are easily available in the market are Jungle scout extension and chrome plugin, Keepa, Helium 10 plugin, Viral Lunch Market Intelligence, Sonar (Sellics), Ali Baba, AMZ Scout/Pro, The FBA Calculator for Amazon, Amazon KW index and rank checker, Grammarly, AMZ Seller Browser, Unicorn Smasher, Scope Seller Labs, Amazon Publisher Studio Extension Beta, Sellerboard Amazon FBA Profit Calculator, The Camelizer and DS Amazon Quick View. 
What is the Best Chrome Extension for Amazon FBA Sellers?
We get asked this alot, what is the best amazon chrome extension. The truth is, its not a one size fits all debate, As many of these are free they should be in you list of go to tools. The two most popular chrome extensions and our favourites are the Jungle scout chrome extension and Helium 10 Xray chrome extension. The Jungle Scout chrome plugin is a real-time Amazon product fact-checker, by using this extension you can easily do risk-free investment for your selling business.
The Helium 10 chrome extension provides active functions that are contextual within Amazon such as ASIN Grabber, Inventory Level, and Review Downloader tools. It also provides valuable passive functions when performing Amazon competitor research to access which products you should target.