When first entering the world of being an Amazon seller, the number of factors that must be taken into account at all times can seem quite daunting. Thankfully, tools like Viral Launch Chrome extension are available to allow you to easily keep track of data, analytics, and various insights.
Some tools are available bundled into various product suites for convenience and ease of use, ensuring all of your Amazon seller tools can be used in tandem with no compatibility issues and no need to have a piecemeal assortment. These product suites can give you a large advantage in the world of Amazon selling, giving you comprehensive insights into your niche market.
What Is the Viral Launch Extension?
With a plethora of tools available for both new and experienced Amazon sellers alike, Viral Launch boasts an expansive product suite. Some of their tools can be used right in your browser, including the Market Intelligence Chrome Extension, which provides invaluable data for your business.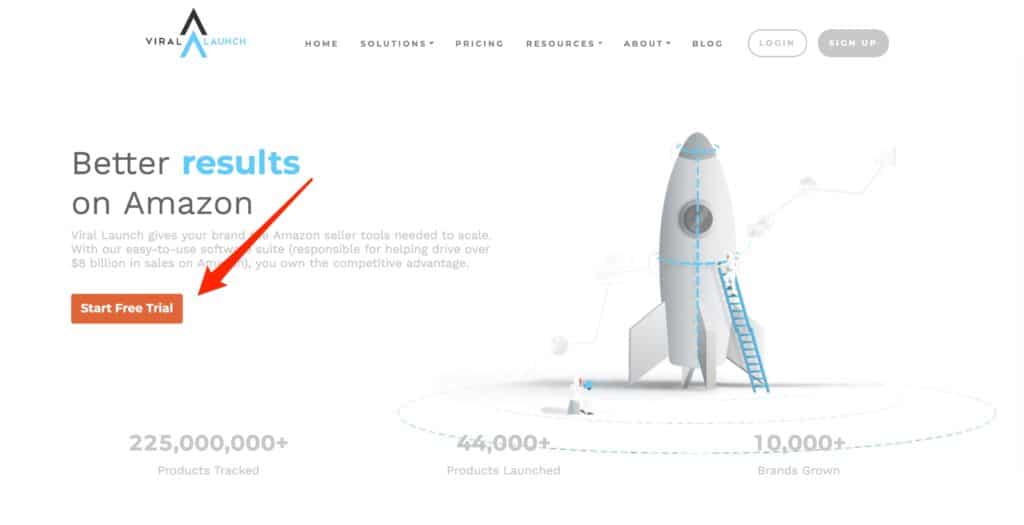 Viral Launch's tools include a variety of key elements designed to deliver the right information to you with ease. This includes features that allow you to increase profits, create an effective selling strategy, reap the benefits of tracking your competitors' activity, and more.
Kinetic PPC
One of Viral Launch's key elements is Kinetic PPC. What this tool does is give you a trifecta of important information that can help you make an informed decision regarding your sales strategy and maximize your income. It also gives you an analysis of your ad campaign and product performance across that campaign.
The Kinetic PPC allows you to set ad-specific actions, adjust or create new ad templates, and dictate the rules therein. Those rules can either be automatic or manually set, allowing you the flexibility to dictate your ad behavior.
Product Discovery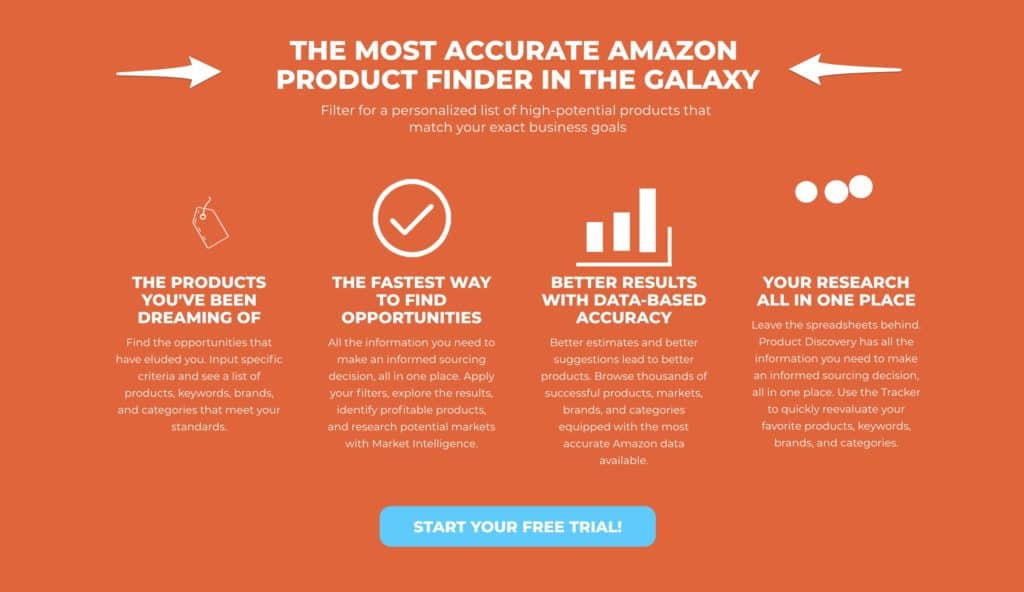 The Product Discovery tool does precisely what it sounds like it might do – allow you to find best-selling products in your niche and determine which niche is most advantageous to you and see crucial data about those products.
You can also use the Product Discovery Tracker feature in order to keep track of the niche data you're most interested in. This allows you to appropriately evaluate and re-evaluate competition in your niche and determine where the demand in a given market lies.
Keyword Research
Search Engine Optimization, or SEO, is what gets your products seen by the right people. The Keyword Research tool Viral Launch offers allows you to determine which keywords will provide your products the best opportunity to be seen by potential customers and how those keywords perform and have performed historically.
Competitor Intelligence
If the above tools didn't reassure you enough that you'll be able to keep an eye on your competition and how to beat it in a given niche, Viral Launch's Competitor Intelligence tool gives you a more in-depth look at the activity of your competitors. By just putting in a product's ASIN, you'll be able to look at your competitor's most- and least-searched-for keywords.
Competitor Intelligence also monitors and estimates their sponsored ad rank, prices, feedback, indexation, and more. This allows you to tailor your information search to specific areas of your competitor's performance. And if that wasn't thorough enough, you can also set it up to send you notifications whenever your competition has a significant change in price, sales, ad placement, and more.
Listing Analyzer
Another element of Viral Launch, the Listing Analyzer, delivers you a trifecta of tools that work together to give you insights about your product's potential in the market. It includes a keyword manager, listing builder, and listing analyzer that you can go through step-by-step to create better, more search engine optimized results.
Split Testing
Split Testing with tools like Splitly or Listing Dojo (also owned by Viral Launch)allows you to combine multiple efforts across the market into one effective result. You can use this tool to gain a comprehensive analysis of your product listings and how to make them more efficient, giving you detailed infographics and statistics. You'll be able to test up to seven variations of pricing, images, titles, and descriptions to find out which one will be the best combination going forward.
Market Intelligence Chrome Extension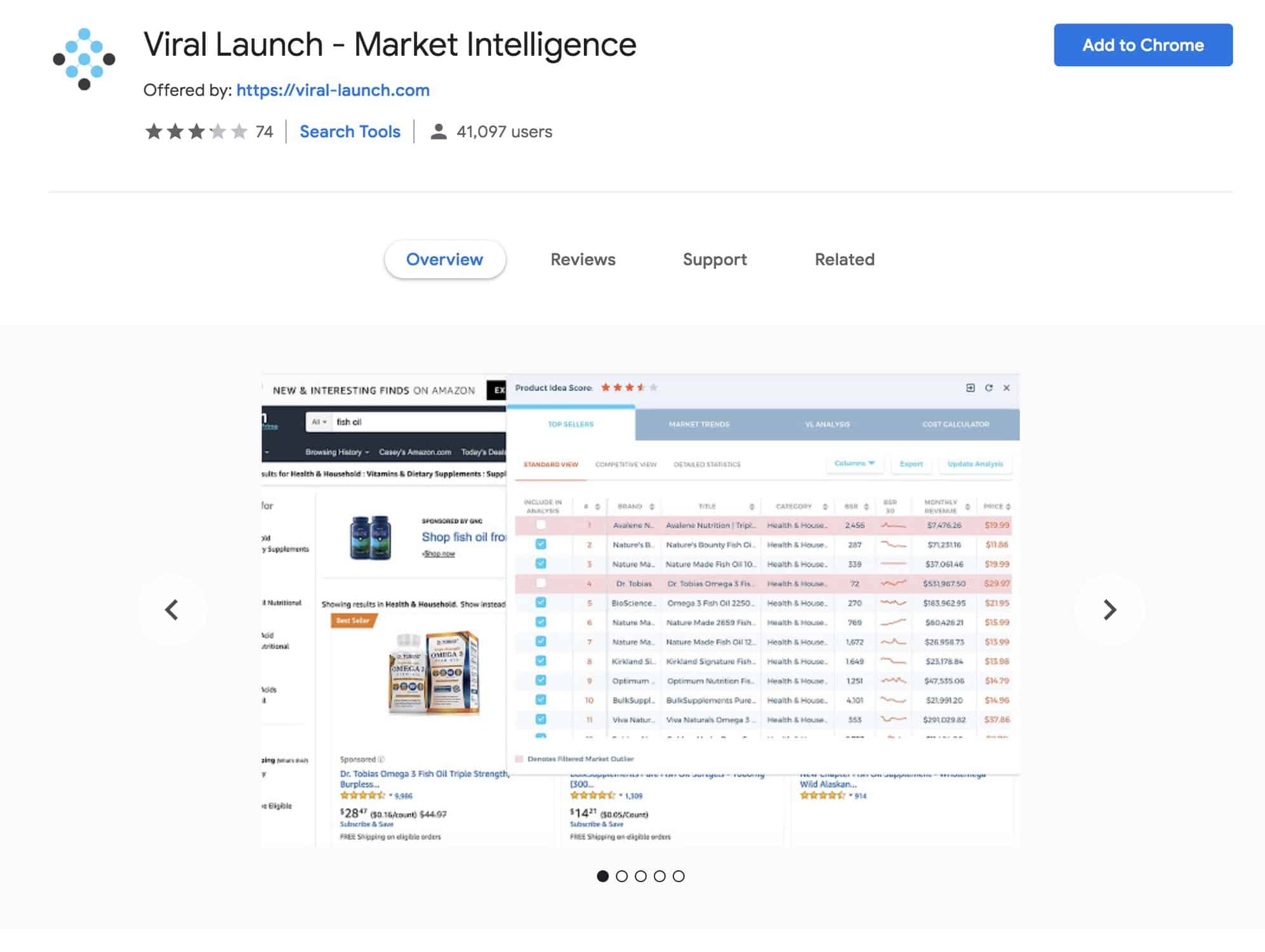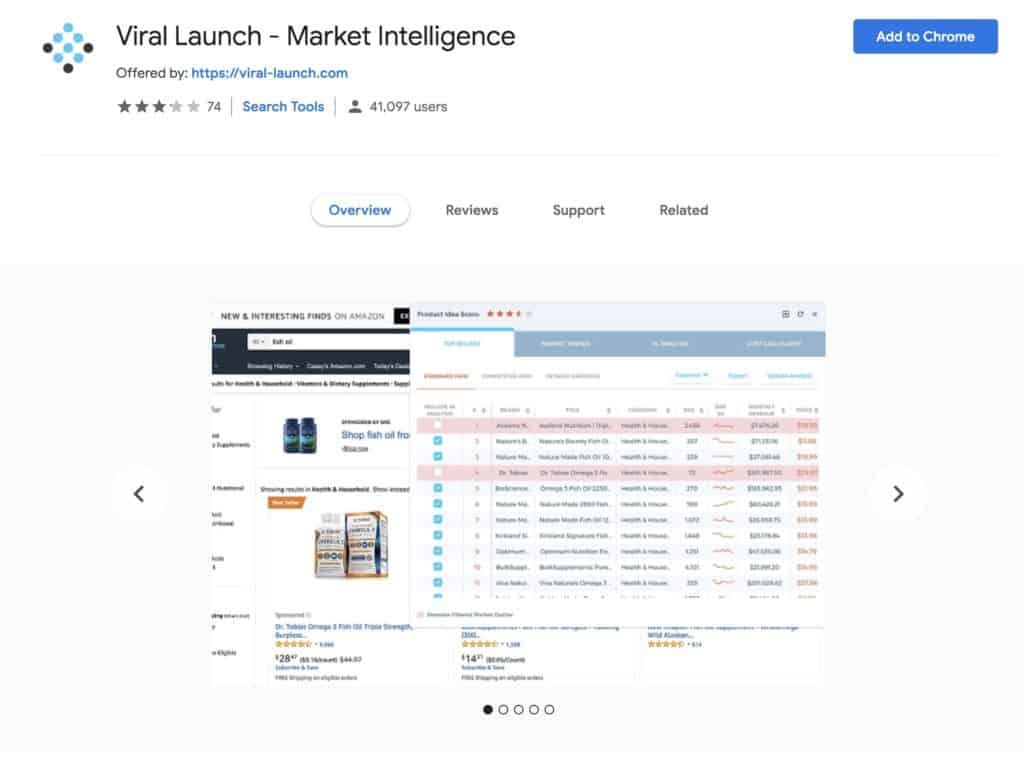 Viral Launch's Market Intelligence tool is one of the more intriguing and versatile aspects of the product suite. This tool makes its home in the Viral Launch Chrome Extension and is a more hands-on approach to product research than was available before. This browser-based tool is hugely advantageous in the way it works to give you the most effective and efficient product research possible.
Step-by-step guide on how to install and use the Viral Launch Chrome Extension:
Installing the Viral Launch Chrome Extension:
Sign up for any of the Viral Launch plans here and make sure you are logged in.
Open the Google Chrome browser on your computer.
Go to the Viral Launch website (https://viral-launch.com).
Click on the "Resources" tab at the top of the page.
Select "Chrome Extension" from the dropdown menu.
Click the "Install Now" button to start the download of the extension.
A pop-up window will appear. Click "Add to Chrome" to confirm the installation.
Wait for the extension to download and install.
Once the installation is complete, the Viral Launch icon will appear in the top right corner of your browser.
Click on the Viral Launch icon to open the extension and sign in using your Viral Launch account credentials.
Using the Viral Launch Chrome Extension:
Open the Amazon website in your Google Chrome browser.
Use the "Product Discovery" tool to search for potential products on Amazon by entering relevant keywords or ASIN numbers.
Use the "Listing Analyzer" tool to analyze top-performing products in your niche and see how you can improve your product listings.
Use the "Keyword Research" tool to find relevant and profitable keywords for your product.
Use the "Competitor Intelligence" tool to track your competitors' performance and see how you can differentiate your products.
Use the "Market Intelligence" tool to evaluate the demand for a particular product and identify new opportunities.
Use the "Product Launch" tool to create a launch plan for your product, including setting up promotions, email campaigns, and more.
Monitor your product's performance using the Viral Launch dashboard and adjust as needed.
That's it! You're ready to use the Viral Launch Chrome Extension to help you with your Amazon product research and analysis.
How Can The Viral Launch Market Intelligence Extension Help?
By using the Viral Launch Chrome Extension, you can gain a plethora of product data to detect and take advantage of trends, evaluate sales across niches, calculate estimated expenses and potential profits, and give appropriate and comprehensive sales estimates.
At first, it may not be clear just how important and comprehensive the Viral Launch Market Intelligence data is. When you first search, basic information appears alongside the product. If you click on the Detailed Statistics tab, however, you'll find an entirely different story.
The data available through the Market Intelligence extension gives you a breakdown of data that allows you to look at information from the top five, top ten, and page one listings for a given keyword. It then shows you the average for sales, prices, reviews, and what you need to aim for in order to have your product featured among any of those three categories.
From this information, you can determine how many giveaways you need daily in order to rank in a given category, the estimated monthly sales at that rank, and how many reviews are needed, on average, to sell well at that rank. This information is invaluable when you utilize the Viral Launch product suite to build the right marketing campaign for your products.
Alternatives Extensions to Viral Launch
How Much Is Viral Launch?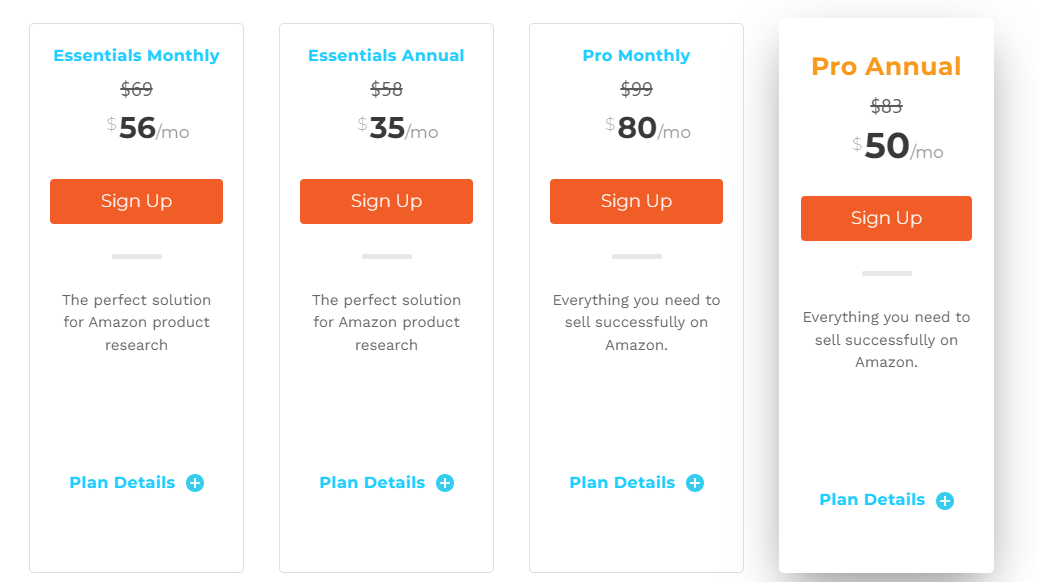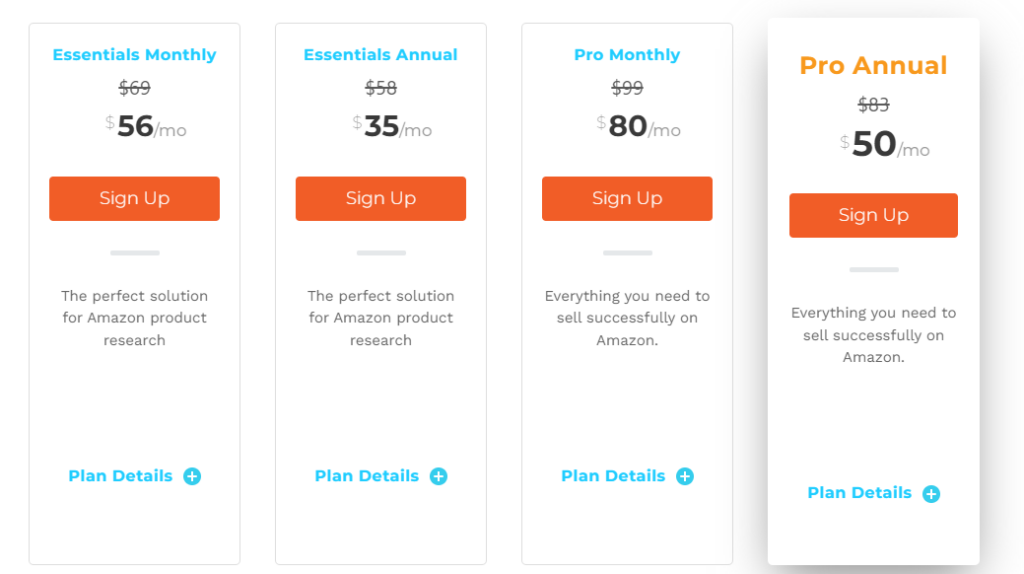 Viral Launch offers a variety of products and services, and there are different plans you can select from depending on what you are looking to get out of the product suite. These payment plans were developed with budgets and needs of various levels in mind so you can make the most of the tools included at an appropriate level for your business. You can also use our Viral Launch coupon code or set up a free trial, so you can test out the tools before making your final decision.
Beginner/Essentials
The Beginner or Essentials Plan is ideal for those just starting to sell on Amazon or those who are not quite ready to dive headlong into the deep end of Amazon seller tools. For $69 per month ($56 with our discount code), you will have access to the Chrome Extension, Reverse ASIN Tool, the Product Research system, and the Product Finder.
Pro
The Pro Plan is the next step up in Viral Launch's product suite bundles and is ideal for those who already have a bit of experience selling on Amazon and are ready to take their business to the next level. For $99 per month ($80 with our discount code), you'll have access to everything included in the Beginner Plan and the Keyword Research, Listing Creation, and Listing Evaluation tools. With the Pro Plan, you'll also be able to track up to 2,000 keywords at any time.
Pro Plus Ads
The difference between the Pro Plan and Pro Plus Ads is how much you can do with the Listing Analyzer and how many keywords you can track. For $199 per month (only $160 without coupon code), you'll have access to everything the Pro Plan offers with the following bonuses: with the Listing Analyzer, your product count doubles from 50 to 100, and you can track 5,000 keywords instead of 2,000. You also gain access to the Kinetic PPC sponsored ad management tool. You'll have access to everything listed above with the following bonuses: the allowance you'll get for the Competitor Intelligence tool is increased to 1,000 products. If you select this plan, the annual plan will save you quite a bit of money, so keep that in mind if you're going for the big guns here. If you want to learn more, check out check out how Viral Launch compares with Jungle Scout.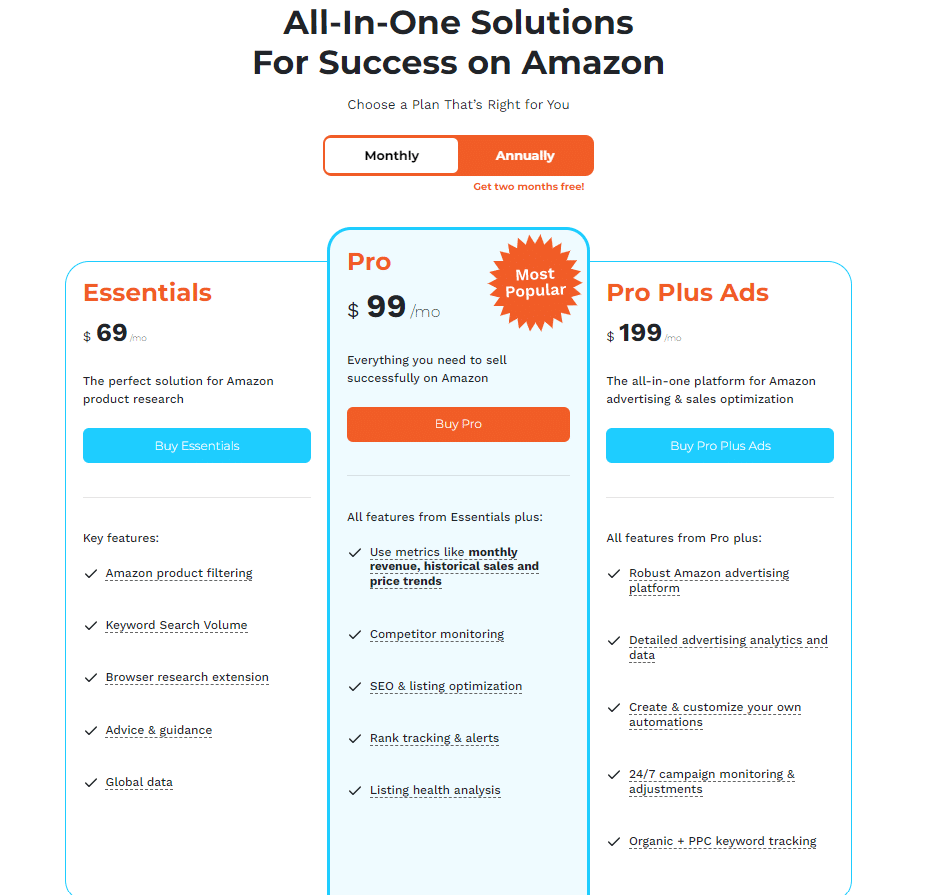 New Features
Keywords Tab
One of the key new features is the addition of a Keywords tab, which provides key metrics from Viral Launch's Keyword Research tool. This new tab is in addition to the four existing tabs in the extension, including Sellers, Trends, Analysis, and Calculator.
Sellers can open up the Keywords tab and see the following updates:
Related Search Terms
One of the most valuable updates is the inclusion of related search terms. Using Viral Launch's proprietary ARCS algorithm and powerful collection of Keyword Research data, the extension now provides related search terms for sellers. By quickly comparing search volume estimates for a handful of the most relevant search terms for the keyword, sellers can avoid the mistake of performing product research under a secondary or tertiary search term instead of the primary keyword.
Google Trends Integration
Another new feature of the extension is the integration of Google Trends. This allows sellers to validate ideas beyond the Amazon marketplace in just a click. By checking Google Trends to see how in-demand a search term is outside of Amazon, sellers can better understand the seasonal interest and provide another avenue of product research for the growing number of Amazon sellers expanding their brand beyond the confines of the Amazon marketplace.
Competitor Scouting
The third new feature of the extension is the incorporation of the reverse ASIN lookup tool, Competitor Intelligence. This tool allows sellers to uncover how an individual ASIN performs across crucial keywords. For example, when running the extension on a product page, the Keywords tab quickly compiles the organic rank for the selected ASIN. This allows sellers to dig deeper into competitors' performance to stay one step ahead and fast-track their Amazon success.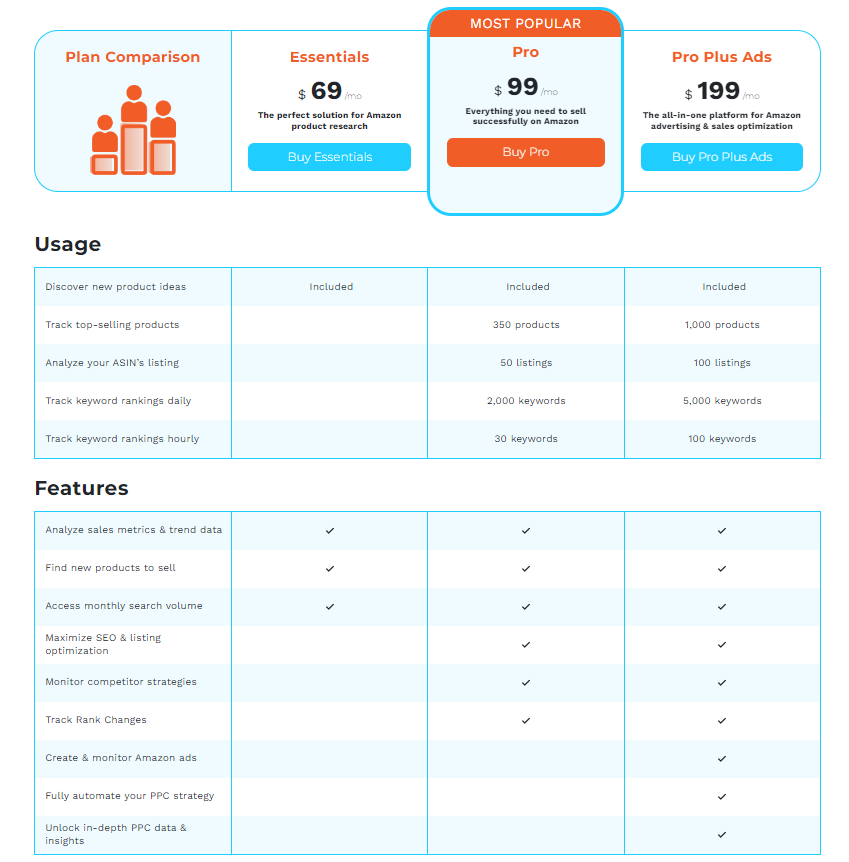 Conclusion
If you have a need for a set of effective, intertwined tools for your Amazon sales business, Viral Launch is an expansive suite that gives you effective tools designed by people with significant experience as Amazon sellers. The Market Intelligence extension, in particular, is an effective way to integrate your Amazon business and the tools you use to manage it, right in your browser.
These tools are invaluable regarding product research, insight into your competition, and how to find and maximize the profits in a given niche. Whether you are new to the playing field or are a seasoned seller, Viral Launch is a great product suite to consider in order to grow your business and don't forget to check out our full Viral Launch Review to learn more about the amazing suite of tools they provide for Amazon FBA sellers.
FAQ