Keepa is the indispensable Amazon seller tool, Keepa, recently updated to a paid-for product, changing its structure in 2019. There is still a free version, but all the more insightful information is now only available on the paid subscription. It's okay – many in the Amazon selling sphere saw this coming, and everyone has to make a living. We think Keepa is still worth it.
In this Keepa review, you will find out how the new structure works and the premium subscription costs involved. If you are new to Amazon selling, or even buying, you will also learn about the browser extension's features and details.
What Is Keepa?
Keepa is a super useful tool that helps Amazon sellers to see product sales data. The info can also assist Amazon buyers to get great deals. It is an extension you can add to your internet browser. It is compatible with browsers such as Chrome, Mozilla Firefox, Internet Explorer, Opera, and Google.
Keepa helps you to capture and analyze information like rank and price history of Amazon products so that you know if an item's price is higher or lower than usual. These features allow you to make informed decisions when selling online through Amazon. Keepa's features also help you to see what items are selling well or not so well.
With the experts advising that Keepa is one of the top two Amazon buyer extensions you can get, it's certainly worth investigating if you are a dedicated Amazon seller.
You can see the Amazon sales item information depicted in the Keepa graph or chart format. The data display is generally pretty easy to read if you are familiar with charts. The tool covers over 800 million items. This number is continually growing.
While the new premium version has some limitations unless you are paying the good buck, it still has a lot to offer.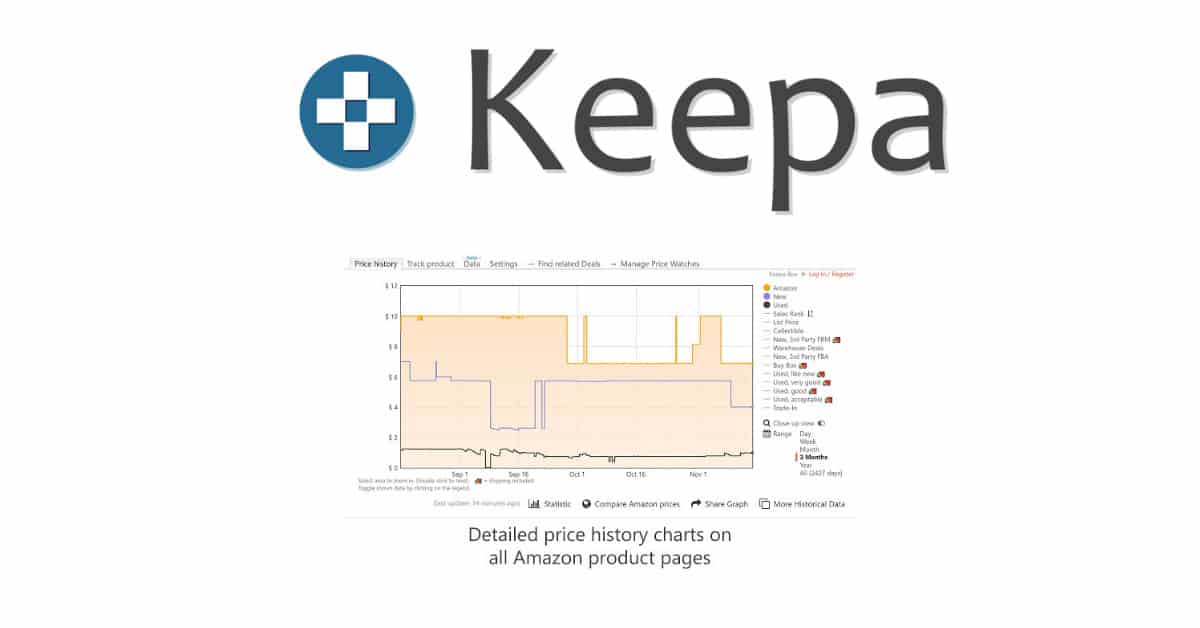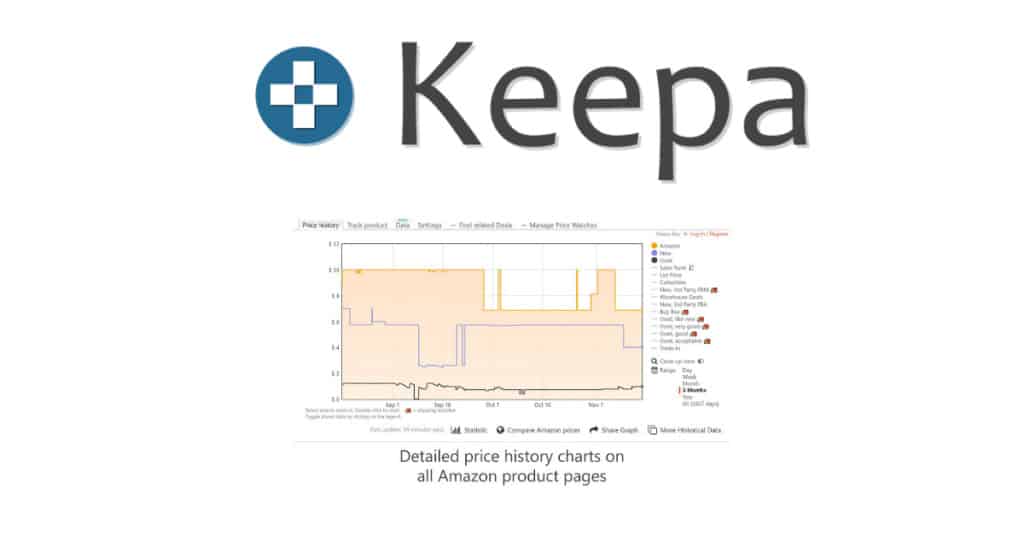 Keepa Features
Keepa has a variety of features to support Amazon sellers. Some are free, and others you must pay to play.
Keepa's features provide details such as:
Graphs depicting broad statistics of price history
Item availability and Price Drop alerts
Once you have installed the Keepa browser extension, the price history graphs show directly on Amazon product pages
Keepa allows you to compare millions of Amazon product prices internationally
Users can import their Wish Lists
Users can browse recent Price Drop overviews
Keepa also supports a diverse set of domains, i.e. .com; .co.uk; .de; .co.jp; .fr; .ca; .it; .es; .in; .com.mx; .com.br; .com.au.
Keepa's Best Features
Keepa's best feature by far is its API, which is in the section of tools that is no longer free. This API is the service included in the Premium Subscription. This area behind the paywall gives you the big or full picture of what is going on with Amazon product pricing, rankings, history, and listings.
The API also allows you to ask for Amazon product availability and pricing in real time.
The following is the section of features it allows you to see:
Price and Review Count history
Details for used and new items
Information on collectibles
Warehouse and other offers
Category information
Best Seller listings
Sales rankings
Tracking of price increases
eBay history of pricing
We count these factors among the tool's most essential features. If you are a dedicated Amazon seller, this is the information you'll need the most. Find out how Keepa compares with the CamelCamelCamel features.
Keepa Pricing
The new structure and pricing of Keepa came into play in 2019. The cost of the premium subscription is about €15 a month, or €149 per annum, as of 2020.
Why Should I Buy this Product?
If you are serious about Amazon selling and thus checking out what your competition is doing, the Keepa browser extension is invaluable. It will quickly help you keep informed and up to date on the latest pricing information.
Without Amazon analytics, you could lose a lot of money on creating uninformed product pricing. In the long run, a tool like Keepa will help you make money and stay competitive in your market.
The premium subscription price stated in this Keepa review is very reasonable. Also, it is likely the cheapest add-on dedicated sellers will be using, so it is worth spending your money on it.
What Features Can I No Longer Access with Keepa's Unpaid Subscription?
Two main things are no longer available on the restructured Keepa extension. These include:
Sales Rank Statistics;
and being able to look at the pattern of Buy Box prices.
Frequent users say they make about 90% of their decisions based on the strength of these Keepa features.
Without having the information provided by the premium features, there is little context about if a present Buy Box product price is what people are historically happy to pay for it. You also cannot easily see how often an item is selling.
Are There Any Ways Around This?
There are a couple of tricks you can use to view premium information briefly. These are not user-friendly, but they do give you a quick take.
To see annual Sales Rank statistics, you can enable a setting labeled 'show price history graphs as overlays' when hovering Amazon products. This setting will allow you to see a small table with sales rankings. You can't zoom in on the graph, but it will help you understand how well a product is selling. It is not an ideal feature, and Keepa will likely disable this function in the future.
You could also invest in a cheaper tool that analyzes Keepa's data and performs other functions related to capturing Amazon buying and selling stats. This option may, however, not give you the same scope of information that Keepa provides. Some of these tools are also more expensive than Keepa Premium in any case.
What Can I Still Access with an Unpaid Subscription?
Keepa's other features, which help you by relaying product statistics, are still quite helpful. However, they won't give you as much detailed and especially applicable information as the premium features do.
The free subscription still gives you access to most of the complete feature set, but each utility has limits for how many items it can show information.
These features include:
Best Selling Listings
Keep up to date about what is selling the best on Amazon.com. The lists break down into categories for easy use.
Top Seller Listing
Be aware of which sellers are making the best sales.
Product Finder
This feature allows you to look for an item and add it to your watch list for action when the price is best.
Product Viewer
This feature allows you to import Wish Lists.
Stock Information
You will be able to see when products go in and out of stock.
Category Tree
Use this feature to browse items by category easily.
Overall – Keepa Pros & Cons
Pros:
Keepa is an excellent tool to see current prices for Amazon items
Includes analytics for over 800 million items
Provides detailed graphs for an easy look at sales and pricing trends
Accurate historical pricing information
You will get alerts when Amazon prices change
By and large, very user-friendly
Pricing of the paid Keepa subscription is reasonable at about €15 per month
Cons:
The best features are no longer free
It can take a little time to understand the graphs if reading them is not typically your thing
Verdict
As a top Amazon seller tool, Keepa is an excellent investment for buyers and sellers alike. Even though our Keepa review found the best features of the extension are no longer free to use, it is still a fantastic add-on that will help you to make the best decisions.
If you haven't done so already, which surely by now you think perhaps you should have, click here to get your own Keepa subscription!