Input from customers is a must for anyone wanting to maintain a successful business.
Seller feedback, like product reviews, lets you know what's working about your business and what's not. It allows you to improve and build upon your store. With seller feedback, you'll make better decisions to help your growth in the long run.
But getting this input from customers is not always straightforward. That is where software comes into the picture.
You'll find intuitive feedback software is the best way to see how your customers are feeling. If you make great use of the product, you'll be a selling pro in no time.
Here we'll break down two great seller feedback tools popular among Amazon sellers: Feedback Five vs Feedback Genius.
With Amazon as the biggest online retailer in the world, examining the software used by a large majority of the best Amazon sellers will point you in the right direction of what's best.
If your company or business is looking to sell products on Amazon, you'll need to use customer input to help you compete among other retailers out there.
Determining Amazon Feedback Software Right For You
Successful entrepreneurs will tell you that a successful business must be customer-focused. The best way to create a customer-centric model is to prioritize input from those who have purchased your products or services.
When looking at reviews and feedback, utilizing a feedback tool provides insight you may not have otherwise. This tool will keep seller feedback organized for you.
To determine the tool right for you, check out:
Pricing: This can vary significantly between programs, even between software that performs similar tasks.
Easy to Use: For an Amazon seller, having software with a steep learning curve tends to help more than hurt. That's why finding feedback tools that are easy to use is a top priority.
Included Features: There are vital features your software should have. Look for options that include data transfer, templates, a CRM system, and the questions the program asks customers following their purchases.
Now that we have the basics covered, let's jump into two tools popular among Amazon sellers: Feedbackfive and Feedback Genius.
Feedback Five
Feedback Five lists its major selling point as notifying your customers about various deals and products and walking them through the entirety of the order process — from ordering to shipping.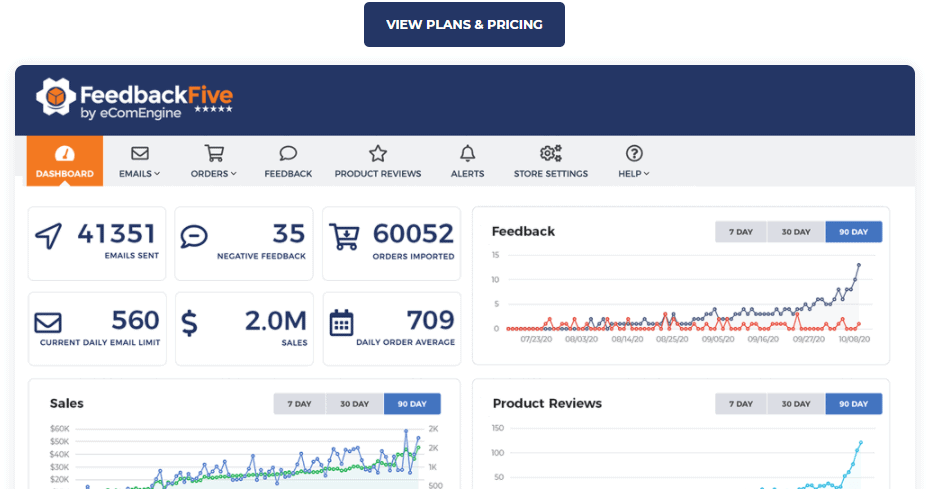 Like its competitors, it claims to be the most trusted source for Amazon seller feedback.
Pricing of Feedback Five
In the tier levels of Feedback Five vs Feedback Genius, the former is cheaper. However, their free plan seems to be a worse deal. With Feedback Genius, you can send 100 emails, but FeedbackFive only allots 50 emails per month. The full tier break down is as follows:
Free Plan – $0 Per Month:
50 emails
2 campaigns
1 user
1 store included
Help center
Basic Plan – $10 Per Month:
250 emails
2 campaigns
Unlimited users
1 store included
Advanced support
Pro Plan — $30 Per Month:
1,500 emails
10 campaigns (per store)
Email analytics
Unlimited users
2 stores included
$10 extra store fee
$0.0075 email overage fee
Advanced support
Enterprise Plan — $50 Per Month:
Unlimited email capabilities
Unlimited campaigns
Email analytics
Unlimited users
5 stores included
$10 extra store fee
Advanced support
Features of Feedback Five
Feedback Five is full of key features that'll help your Amazon store grow.
For one, you can request Amazon product reviews from your patrons. You can customize your request within their email templates.
You'll also get notified of Amazon feedback, so you have immediate access to what your buyers think about your business.
No Cap On Users
From one person to a hundred users to a thousand users—there's no limit to users allotted on the interface. This feature comes included in each plan, excluding the free tier.
Multiple Marketplaces
With FeedbackFive, you can control multiple marketplaces and sell your product on various websites. The versatility will help your business excel in niches without an Amazon presence, giving your business an edge above the rest.
Amazon Review Alerts
Product reviews are some of the most crucial pieces of information for your business. With FeedbackFive, you have the option to get notified about negative reviews. It lets you perform review management damage control in real-time.
This response time means you can guarantee excellent customer service. You may even convince unhappy buyers to revise any negative reviews. By addressing issues promptly, you'll generate a sense of trust between yourself and your buyer community, which will only lead to sales growth.
Beautiful Templates and Designs
You can get some of the best templates and designs with FeedbackFive. Compared to Feedback Genius, they're ahead of the game.
The email templates are customizable, and minimal effort is necessary to create them. You'll want to send customized content to your Amazon patrons to up your engagement.
Customize your buyer's name, email subject, and content. You can even request amazon reviews. A request like this will go a long way.
Ease of Use
The most criticism of FeedbackFive from its users revolve around their interface. It's a valid critique, as new users will encounter a high learning curve with this software.
FeedbackFive is far from impossible to navigate, but the product is hard for beginners to get the hang of without outside help.
Loyalty Incentives
The loyalty program of FeedbackFive is popular among their customer base. Loyal sellers can get unique campaigns meant to promote their products. This feature does not come with Feedback Genius, giving FeedbackFive a bit of an edge for their customer base.
User Product Reviews On Feedback Five
Feedback Five reviews are pretty positive! Their customer base seems satisfied with their product and the services offered.
In review after review, users say FeedbackFive pricing is appropriate, and using the product on Amazon is an overall positive experience.
Most negative reviews express unhappiness with the difficulty of use. It takes time to learn, which can vex novice users. Even positive comments will point out this one major critique.
Overall, however, the software has proven to be one of the best feedback tools available.
You can check them out here to find out more.
Feedback Genius
Feedback Genius stands to be the top-used buyer-seller messaging service. If you're an Amazon seller, you've most likely heard the name.
You get a variety of features, including keyword research, managed services, inventory management, product discovery, sponsored advertising, and more.
The product exists under the parent company, SellerLabs. Feedback Genius offers a free 30-day trial. Once the free trial ends, you can subscribe to any of their premium plans.


Pricing of Feedback Genius
Feedback Genius starts with a free trial period that allows one marketplace and 100 monthly emails. It's not as in-depth as what Feedbackfive offers with its free plan, but it still gives a nice introduction to the overall product.
Once the free trial ends, however, the price is much higher. The general tier breaks down as follows:
Essentials Plan – Free:
Startup Plan – $20 Per Month:
1,000 emails
$10 per additional marketplace
Growth Plan – $40 Per Month:
3,000 emails
$10 per additional marketplace
Premium Plan – $80 Per Month:
10,000 emails
$10 per additional marketplace
High Volume – $250 Per Month
60,000 emails
$10 per additional marketplace
The pricing isn't over-the-top, but it's certainly not the cheapest out there. If you're an Amazon seller with a small or medium store, you'll be OK with the premium package. There are still great tools you'll get with this system. Just make sure your cost doesn't eat away at your profits.
Features of Feedback Genius
The software lets you send emails to your Amazon customers when their order is confirmed, shipped, and delivered. It will also send a thank you email about positive feedback! Their analytics are intuitive, and you'll gain knowledge on what customers engage with and the right time to send emails.
This Amazon seller software lets you send and customize messages for order confirmations. It includes emails detailing tracking information after shipping.
Multiple Amazon Marketplaces Grouping
Feedback Genius lets Amazon sellers group marketplaces together, which includes both North American and European marketplaces. The full grouping extends to Canada, Mexico, the US, the UK, France, Germany, Italy, and Spain.
You can customize the emails you send to the specific region. You can make great use of this feature as your store grows over time.
Negative Feedback Notifications
Feedback Genius emails feedback alerts for negative reviews. Any recent posts of a negative Amazon review will never go unnoticed again.
You can review feedback and address any problems your customer may be having. Your swift response may get a negative review changed into a positive review.
Email Analytics
You can test out potential email campaigns before launching a full one. You can observe which receives more engagement.
This tool will also show you which customers interact with your emails, which customers give feedback on Amazon, and when they're doing it. When you know what your patrons are likely to interact with, you can cater each email accordingly and send them at the right time.
No Upgrade Required for Additional Emails
A cool feature of this product is you can add emails per month without upgrading entirely.
If you want to send more emails, you can pay a surcharge rather than having to upgrade your account altogether.
Bonus Features
With this software, you can view an unlimited amount of your sales history, and you have unlimited campaigns for your products.
If you're switching from one Amazon feedback system to this, integration from older platforms is easy.
Easy To Use Feedback Genius
In terms of Feedback Genius vs Feedback Five, Feedback Genius is way more user-friendly. This Amazon feedback tool is perfect for new online Amazon sellers.
You'll find your sales progress outlined clearly for you on the homepage. You also receive easy-to-understand instructions on how to handle your campaigns. With all this, you can spend less time trying to understand what to do next and more time growing your sales.
A YouTube channel run by the folks over at SellerLabs will walk you through the system. You can become a pro in no time.
User Product Reviews on Feedback Genius
Despite the bountiful features, it seems user reviews are mixed—some things people love, others don't.
The highlights include excellent customer service, heightened customer feedback on Amazon compared to other tools, and overall good service.
However, other user reviews commented negatively on the customer support and have mentioned integration from their services is unreliable. A bit hit-or-miss, isn't it?
Another thing their customers knock them for is their pricing system. Compared to other Amazon feedback programs, you can get more bang for your buck.
User reviews say that Feedback Genius is exceptionally user-friendly and easy to learn. The features, especially automatic email messaging, are all useful and save sellers time.
You can check them out here for more info.
Further reading:
Feedback Genius vs Feedback Five – What's Better?
After weighing the two software, Feedback Five seems to be the better Amazon feedback tool. It has a better value and more features for its pricing system.
Although product reviews dislike the difficult user interface, it's still clear that Feedback Five is the superior system.
It may seem frustrating having to work to understand their system, but this in-depth knowledge will only serve you better in the end. You want a program that'll benefit you and your Amazon marketplace above one that is easy but lacks essential features, which is why Feedback Five reigns supreme.
All rights reserved.