Last Updated on March 29, 2021
For many new Amazon sellers, the riddle seems to be that you're almost not selling your product on Amazon anymore. Seller tools such as Zonblast (part of Sixleaf) and Viral Launch have added so much to the traditional Amazon services. Without them, it can feel as if you turned up to the market without a stall.
Is there any truth to this? The short answer: yes. There's a reason that market intelligence tools and launch services are so popular: they work.
Well, at least, some of them do.
Today, we look at two of the most popular and useful tools among FBA and private label sellers: Zonblast vs Viral Launch.
Best Way of Launching a Product on Amazon
Especially for smaller sellers, the launch can be the hardest part of the operation. You just don't have sufficient product data and research. Without that, your brand relies on neat product photography and an audience that doesn't exist yet.
No matter the size of your business, your Amazon product launch can significantly improve with launch services that offer:
Keyword research
Competitor information
Market intelligence
Sales tracking
Intuitive coupon targeting
There's even more, but we'll go into that in the product reviews.
Zonblast vs Viral Launch: What's the Best Tool for an Amazon Product Launch?
As with almost all sales services, the answer depends on your business:
How big is your brand?
How much research do you want to see?
Do you want to see organic growth based on quality customer support and product quality?
Perhaps intensive use of ads and coupon campaigns sounds like the best strategy?
Whatever the current size of your platform and seller rank, using a product launch service is the best way to take your place in the world of top Amazon sellers.
Here's how two launch sellers can help you get closer to that number one Amazon seller spot.
Zonblast

A leading player in Amazon product launch services, Zonblast launched in 2014 and became part of the wider Sixleaf operation in 2016. Sixleaf is one of the most impressive platforms for Amazon seller tools around today. The reviews say it; those using the service say it. Sixleaf gets results.
What Is Zonblast?
Zonblast is a tool designed to:
Increase the search ranking of your product
Increase the size of your selling platform and help bring customers to you in an organic way
Provide keyword research using an intelligent keyword algorithm
Suggest categories of customers for better coupon distribution
One of its many features is analyzing keywords and providing keyword suggestions, especially in keyword clusters.
The chances are that if you've been an Amazon seller for even a short time, you've learned that keyword clusters increase sales. The problem is how to identify keywords and make them part of your strategy. Zonblast does this for you.
How Do Zonblast Keyword Clusters Improve Amazon Sales?
Zonblast offers a service that analyzes search terms, leading products, and competitors' product sales to determine what makes them so attractive to Amazon and its algorithm.
Amazon uses the A9 algorithm to determine its search ranking. This algorithm is the same one used by Google. Zonblast can identify the best keywords and report back to you with the results. You can then use these keywords in marketing your products to increase the product ranking and bring in new customers.
Lovely product photography will convert one in ten potential buyers. Keyword research will bring in 100 new customers for every one of those potential buyers. It's not the case that traditional market sense is dead: it has just expanded.
Long-tail keywords tend to fare well with the algorithm. Think about it: if someone wants a new laptop, they don't just search 'Dell' or 'Windows' (other brands are available). The keywords in search terms are often chains, and you can increase your product ranking by tapping into this Zonblast service.
How Do Zonblast Blasts Work?
We don't want to say 'sales steroids,' and we'll admit that Zonblast's features are far smarter than we are. It's why we're writing this review instead of competing with them. But… yeah. To humble sellers like us, the blasts are sales steroids.
Blast services can do many things. Here are a few examples.
Learn on the Job: It's not organic, but a solo blast will briefly boost your product's search rank. And boy, does it get results. For first-time sellers unsure about their approach, try solo blasting a product you know will sell. It'll give you an idea of what you can expect.
Become Number One: For Amazon sellers in a highly competitive market, a 7-day blast is an excellent strategy for ensuring that your business reaches the ears of your audience and stays on their lips.
Talk to the Algorithm: If you need the Amazon algorithm to recognize features you think people will search for, the 'Pulse' tool will report these features. It's a superb service for boosting your product's ranking.
Go Your Own Way: There's also a custom option. As an experienced seller, you can tailor the tool to support your case in the ways you think will work well. It's a great way to grow your platform and boost the rank of your products.
What Is Variable Code Distribution?
Customers love a coupon. Zonblast's variable code distribution feature allows you to choose when to distribute a coupon code relative to how your products are selling. You can choose which product needs a coupon to give it a boost, and voila!
This service is valuable to private label sellers, as your stock of products doesn't always match sales volume. Zonblast uses data to improve the ranking of even your weaker products and free up your inventory space by issuing a coupon at the right time.
Is Zonblast Legit?
A frequent criticism of Zonblast is that it benefits established sellers, as its financial terms are a little steep. What's certain is that the tools it provides are what an Amazon seller needs to increase their market share.
Let's now look at a more affordable Amazon product launch service: Viral Launch.
Viral Launch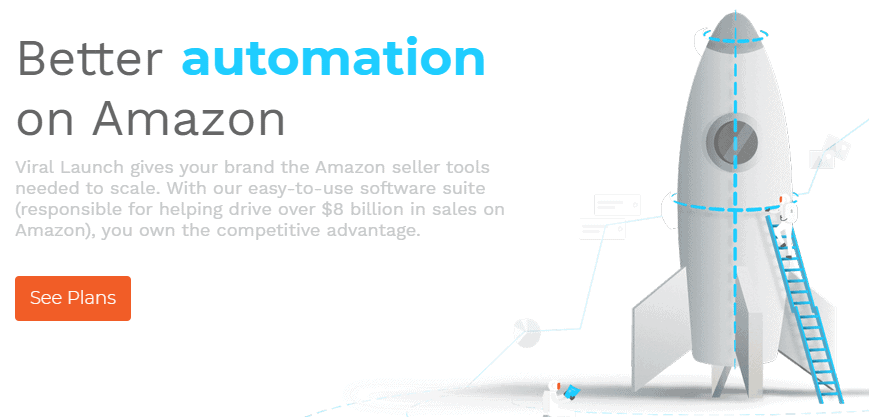 Some services beg the question, 'Is this service too good to be true?' Private label and FBA sellers are always looking for the cheapest services to boost their search ranking, and Viral Launch has caught our imagination.
Let's look at Viral Launch's services and how it uses data to boost your Amazon product ranking.
What Is Viral Launch?
Viral Launch boasts several attractive features:
Very easy to use
Helps to analyze keyword data and boost your search rank
Track many sales trends at once
Helpful cost calculator
The product discovery tool produces a report on untapped markets.
These advantages aren't mentioning the cost. Viral Launch is far cheaper than many Amazon launch services, some of which aren't half as effective.
How to Use Viral Launch to Track Sales Trends
Any seller new to Amazon may not have a full idea of how their business should operate. What product will bring the most sales in this most competitive of markets? Am I using the platform well? Should I use more data—and where do I get sales data?
Viral Launch has all the answers. Better news: it's a very user-friendly service. Many sales interfaces are intimidating, but Viral Launch is easy to get to grips with and ideal for your first product launch in this way.
Just by clicking your cursor, you can track market trends with Viral Launch. You can see how the bestsellers—your competitors—have been operating. You can see what's been selling well and what hasn't. You can take this data and adjust your Amazon business approach accordingly.
That's market intelligence. With Viral Launch, you've got 007 services inside the search rank algorithm, giving you an up-to-date report on what's what. Viral Launch works on your majesty's secret service.
Viral Launch Product Discovery Tool
This tool allows you to identify new categories within your product's target niche. If you need a way to increase your product's market share, you could do a lot worse than spending some time with this feature.
This feature is of great use to private label Amazon sellers. You're free to tailor the services to whatever you consider your need to be, including finding inexpensive suppliers. It's one of the most versatile tools for Amazon sellers on the market today.
Is Viral Launch Legit?
Okay—this question comes up a lot, so we take it seriously. It's in your interest as an Amazon seller to know that you're using services that are legit and will benefit you.
Viral Launch started in 2014, making it an established name in Amazon product launch services. Its products regularly come up among many industry experts, owing to their incredible efficacy/cost ratio.
There's a good reason we want to share Viral Launch with Amazon sellers everywhere: It can make your life easier. We care about that. Its terms aren't as steep as many launch specialists, but its ability to improve product rank is legendary. We think that's worth all the buzz.
Who Owns Viral Launch?
Casey Gauss is the founder of Viral Launch. He's famously a college drop-out who saw a more significant benefit in putting his formidable skills into business than studying.
We imagine that sounds familiar to a lot of Amazon sellers. Offering services that degrees don't teach you is what entrepreneurship is all about. Success isn't about the number of degrees you have but the difference you make.
Is Viral Launch Free?
Nice try! If Viral Launch were free, everyone would have it. As it is, a vast number of sellers have it anyway, which means that you need to compete with them.
Viral Launch isn't free, but it's absurdly cheap compared to a vast number of Amazon product launch services. Its offering is diverse and compelling. We consider those to be essential characteristics in any Amazon sales business worth its salt. Check this out if you are interested in reading about how Viral Launch compares to Jungle Scout.
Viral Launch vs Zonblast: Pros and Cons
We love both of these products. The question is, are you in the mood to conquer or expand? Let's summarize.
Viral Launch
A plucky underdog with a lot to offer, Viral Launch is one of our favorite platforms on the market today. And its prices are hard to beat.
Pros:
Amazing prices
Product discovery tool very useful to private label sellers
Good keyword analysis
Market trends tracker invaluable to new businesses
Very easy to use
Cons:
Limited to product promotion
Zonblast
Zonblast is hard to compete with if you're looking for an all-in experience.
Pros:
Superb keyword analysis
Blast features effective and appropriate for all kinds of retailers.
Variable code distribution is excellent for tailored coupon code offers
Amazing pedigree
Cons:
Costly, especially for smaller businesses
The interface can be intimidating for beginners.
Verdict
So. Who comes out on top in Viral Launch vs Zonblast? The answer is… you already know.
You've read the information. You've considered how each of these tools could help you with your Amazon product launch. You've considered the costs. We know you have because we've done the same.
The best choice is whichever suits your budget and plans. Do you want those extra gears? Yep. You've chosen Zonblast. Are you after that versatility and keen to expand your operation? You're a Viral Launch fan, and we applaud your decision.
You're a seller. Your business is the point here. Choose the option that's going to help you, and enjoy the results. We certainly are.
Rights reserved.