Want to improve your selling on Amazon? Why not join seller forums?
Seller forums are the perfect way to connect with other Amazon FBA sellers. You can ask questions, learn new tricks, and perfect your marketing approach. You can also build meaningful business connections and even make close friends.
There are many places you can find seller forums. But, by far the best social media platform to find them on is Facebook. Best Amazon seller Facebook groups feature tight-knit communities of sellers eager to give advice.
Read on for a complete guide to best Amazon seller Facebook groups! We tell you the benefits of joining, what to look for in a forum, and the best groups to join.
Why Should You Join an Amazon Seller Facebook Group?
Joining a discussion forum will help you find advice for getting more reviews, sourcing products, and other tasks essential for your business.
In our opinion, Facebook is the best social media platform for an Amazon seller forum. It's the perfect place to source ideas and help each other out. Unlike Twitter that provides instant updates, Facebook allows you to find a sense of community.
It Will Kick Start Your New Launch
Launching a new e-commerce business is scary. You are dropping money into something you aren't sure will be successful. Worst of all, you have to compete against the millions of already-established Amazon e-commerce stores.
If you are looking to give your FBA ecommerce store a leg up, consider joining an Amazon seller Facebook group. These groups have everything you need to give yourself a fighting chance. They give you the best marketing tips for having a successful launch. They also teach you how to get product reviews, integrate your ecommerce site through Shopify, optimize your listings, etc.
Perhaps most beneficial, the groups let you connect with other Amazon FBA sellers. You might even be able to find a more experienced business owner who is willing to mentor you. So, if you are brand new to the Amazon FBA world, join a page! You've really got nothing to lose.
It Will Help You Improve Your Current Listings
Even if you've been an Amazon seller for years, you will still benefit from Amazon seller Facebook groups. Why? Well, for one, they keep you posted on the latest ecommerce trends. If you want your products to sell, you must stay on top of these trends.
You'll also benefit in that you will learn new things. No matter how experienced you are, you can still learn from others. Facebook groups might show you a new way of doing things that you never thought of before. Or, they might help you overcome a problem you're stuck on.
So, if you've been hesitating to join Facebook groups, this is your sign to set aside your pride. Find the ecommerce support group that's right for you and go into it with an open mind.
It Invites Collaboration into Your Business
Amazon sellers have it made as they get to pursue the entrepreneurial lifestyle. This is great as you can be your own boss and set your own hours. Most importantly, you only have yourself to answer to.
The entrepreneurial life has its perks. But, it also means that sellers feel alone from time to time. Sellers might not have someone to bounce ideas off of. They might not have a partner to share the responsibility of running a business with.
If you feel alone, Amazon seller Facebook groups might be just what you're looking for. They are a free, accessible option to connect with like-minded entrepreneurs. This sense of community and collaboration is crucial to your store's success.
It Lets You Help Other Entrepreneurs
Last but not least, joining a FB group will let you help other FBA entrepreneurs. You can share how you get reviews, how you optimize affiliate links, and other best practices. You can also share your experiences to prevent other Amazon sellers from making the same mistakes.
No matter how new you are to the Amazon FBA community, you can help other Amazon sellers. There will always be something you can contribute to the conversation. Even if this is just asking questions, your input is bound to help other Amazon sellers and create a more successful seller community.
What Should You Look for in an Amazon Seller Facebook Group?
If you type "Amazon seller groups" in the search bar, you'll see that there are thousands you can join.
It's a good thing that there are so many options. But, it makes it slightly harder to find the right Amazon sellers group for you. Here are a few things you should keep an eye out for.
How Many Group Members There Are
How many people are in an ideal FB group for Amazon sellers? It all boils down to personal preference.
Some people want to join a very large group with tons of community members. This allows them to interact with Amazon sellers from all over the world. You'll have a much larger pool of Amazon sellers to talk to.
Other people, however, prefer smaller ones. When a group is less crowded, you can make more intimate connections. You might also find yourself getting quicker, more helpful responses.
How Active the Group Is
We've all joined a FB group only for it to be dead. If you're lucky, you might get one post every month.
It's important to choose an active group. They should post plenty of helpful, engaging content.
That being said, there's such a thing as too much content. It can get annoying to comb through hundreds of posts every day. So, when you join a group, search through its posts. Take note of how active it is and determine if you want to stay.
What Kind of Content Is Shared
Active groups are good, but you don't want to choose one that focuses on quantity over quality. Every post should be of value to users. Bonus points if there is an admin constantly vetting posts.
If the posts are spammy or contain irrelevant/inaccurate information, you probably don't want to be part of that marketplace community.
What Kinds of Amazon Sellers the Group Focuses On
Most groups for Amazon sellers are pretty general. They will provide useful advice for anyone part of Amazon Seller Central. This includes how to get reviews, where to source your products from, etc.
Some groups for Amazon sellers, however, focus on specific types of sellers. Some might tell you the best practices for dropshipping or Amazon FBA. Other platforms will connect you with Amazon sellers that specialize in FBM or private labeling.
Whatever the case may be, make sure you pick a Facebook group that's in line with your business structure.
How Easy the Group Is to Join
There are a few groups that are very exclusive. They make you pay for a product or service to get access.
You shouldn't pay for a product or service just to join FB groups. There are plenty of other great groups that have good tips that let you in for free. In certain cases, you will have to provide an email address to remain in the group. But, that's not a huge deal. At this point, what marketing company doesn't have your email address?
Best Facebook Groups for Amazon Sellers
Above, we discussed the best tips for finding the perfect Facebook group for Amazon sellers.
Want recommendations? We've got you covered. Check out our list below:
1. Helium 10 Members
If you use the Helium 10 Amazon seller tool, you should definitely join its Facebook page. Join over 48,000 community members to get answers to all of your burning questions. There's plenty of information on how to optimize your product listings, affiliate marketing, and more.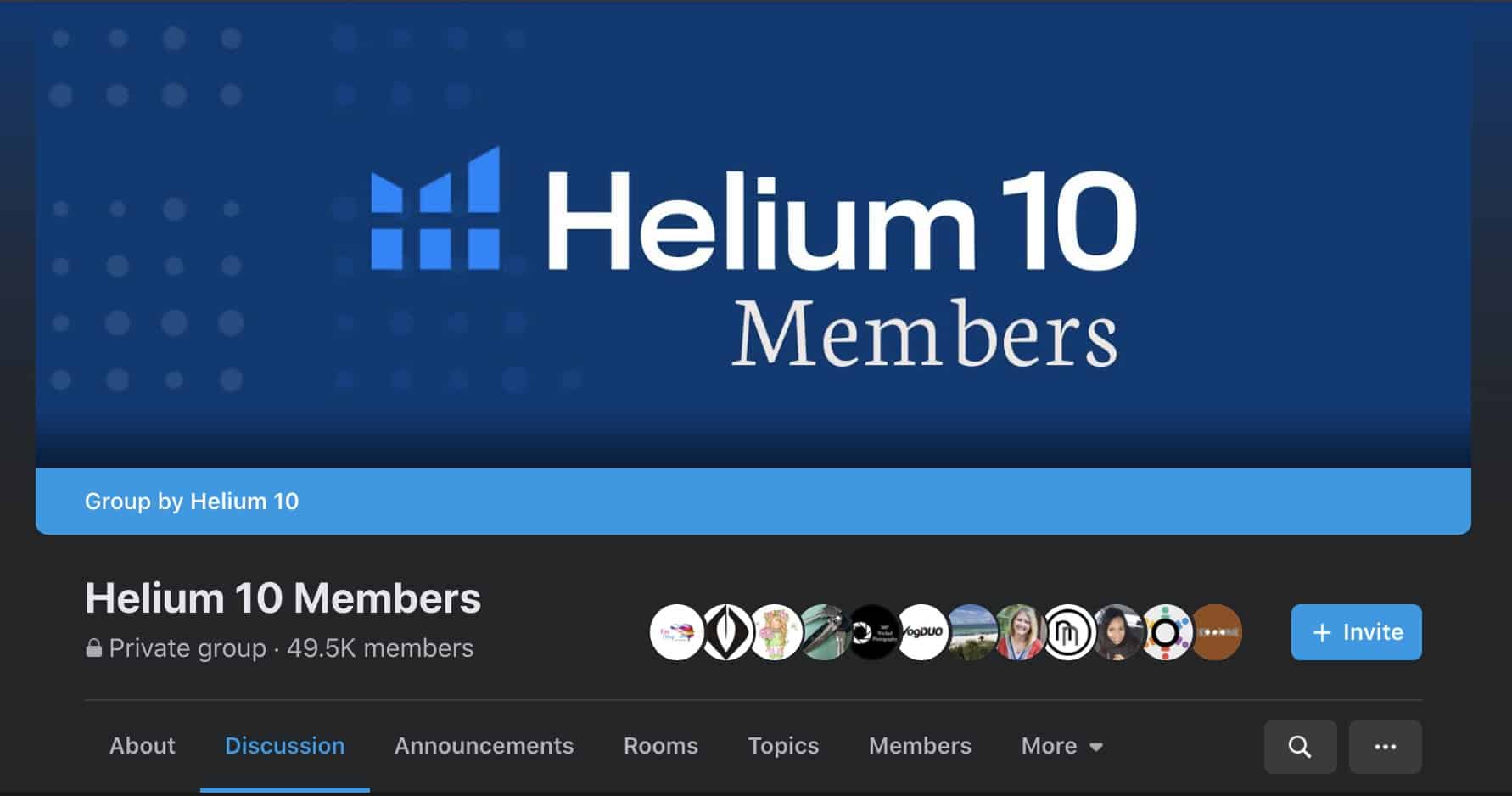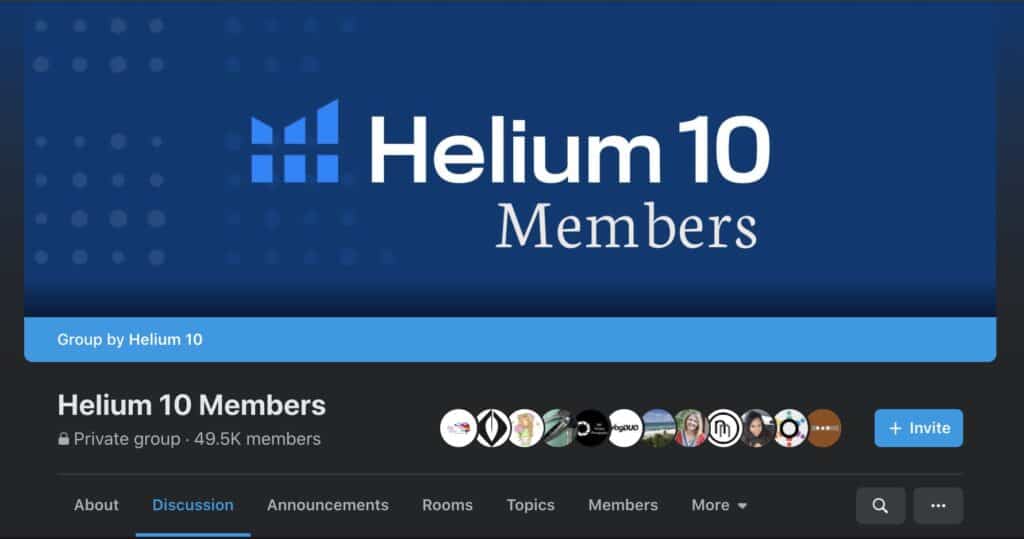 Note that this page is NOT the place to get Helium 10 customer support. If you need to contact a representative, click here.
2. Seller Tradecraft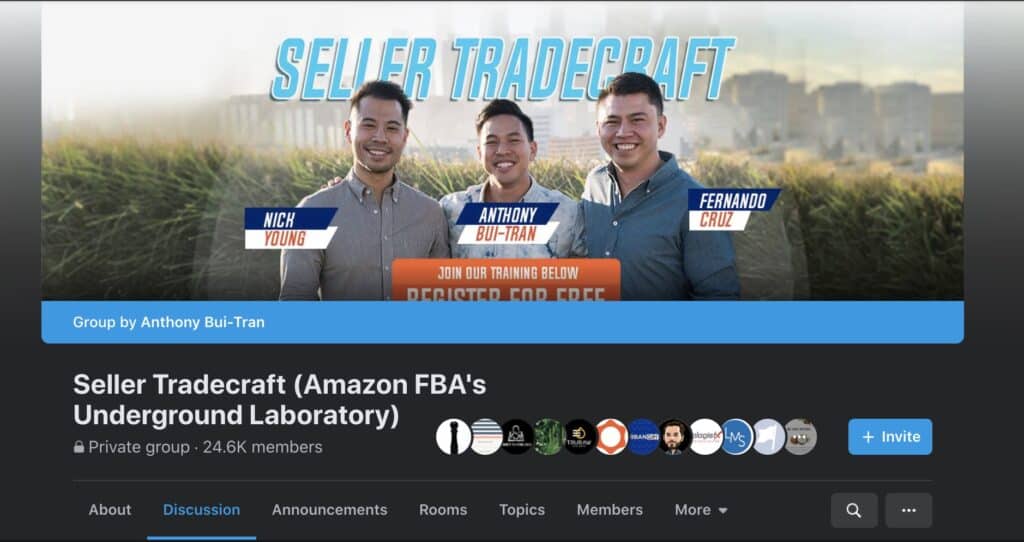 Next up on our list is Seller Tradecraft. The page, run by gurus Nick Young, Fernando Cruz, and Anthony Bui-Tran, claims to be a place where Amazon sellers can find industry secrets. To join, all community members must register for a free Private Label MBA Masterclass. Once you're in, you can connect with Amazon sellers. The group is home to over 24,000 like-minded Amazon marketplace sellers. They're friendly, knowledgeable, and eager to help each other out.
3. Amazon FBA Sellers – No Gurus Allowed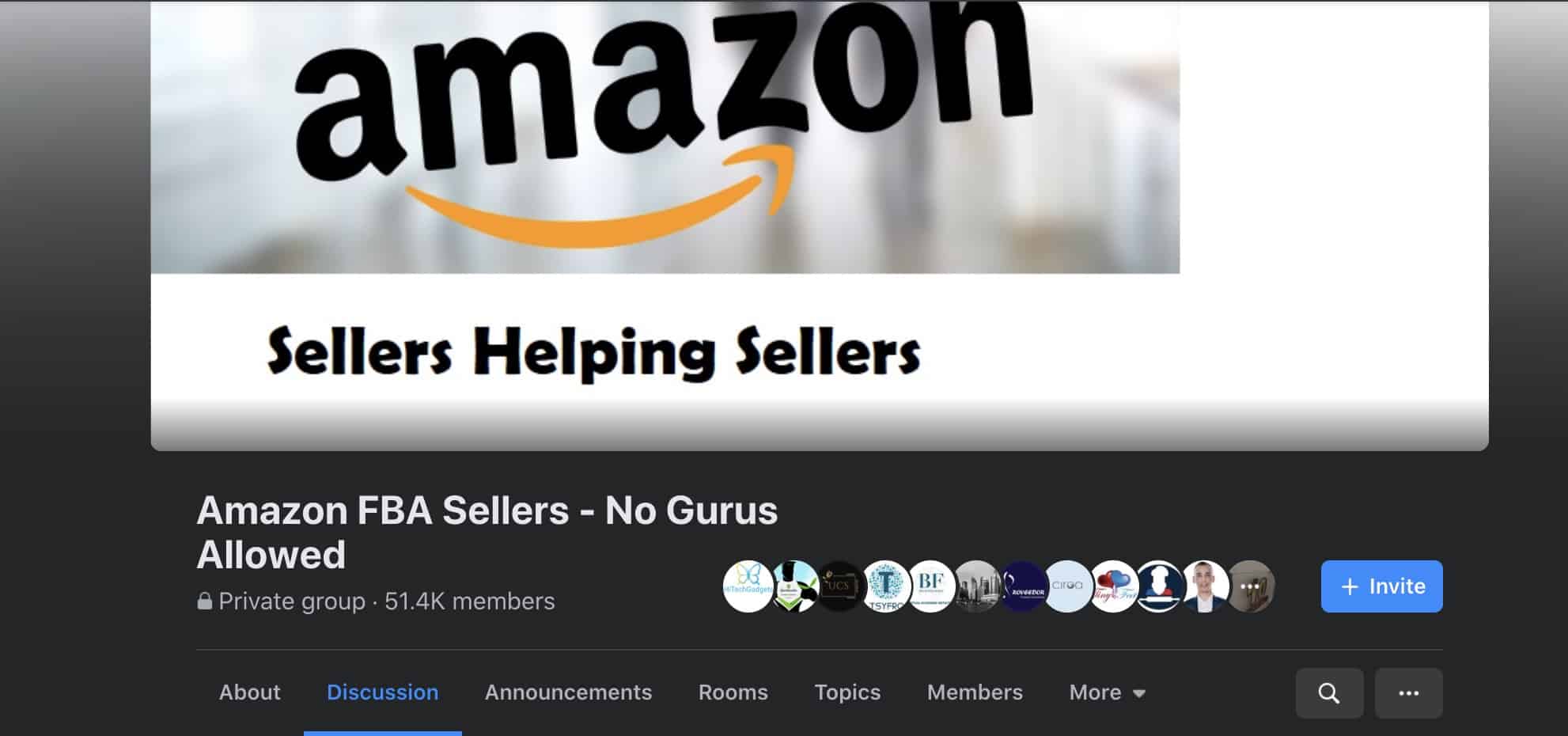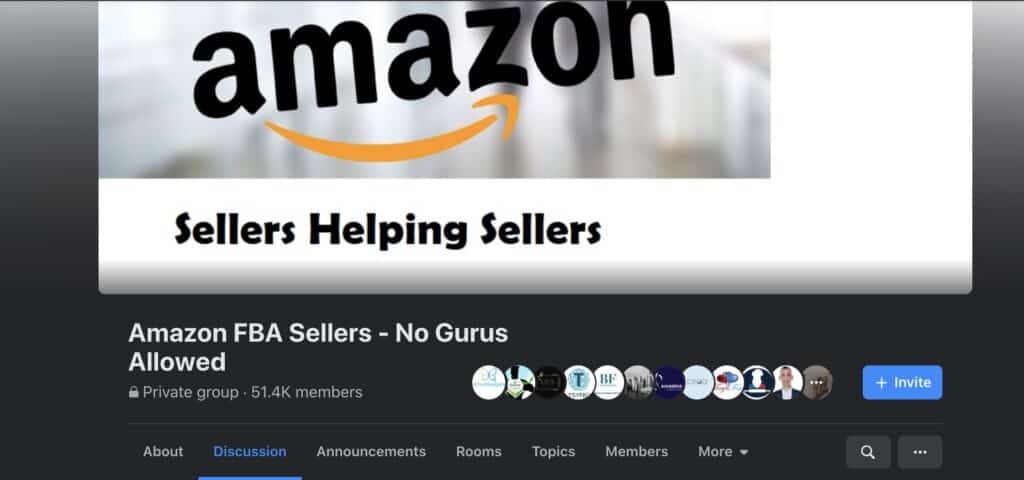 Since 2017, Amazon FBA Sellers – No Gurus Allowed has been a go-to spot for the best marketing tips and information. The relatively large group of 51,000+ community members will help ensure you get all your questions answered.
Another great thing about this group? Sellers can promote a service. Just make sure you clear it with an admin first.
4. Data Hunters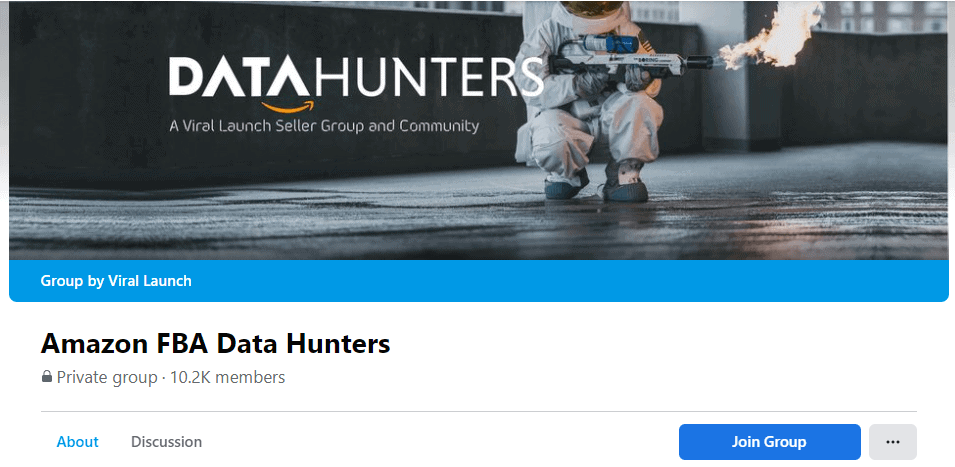 Data Hunters take the guesswork out of selling on Amazon. In this Viral Launch group, Amazon FBA sellers can find all the latest ecommerce data. This helps sellers list products in a way that attracts customers and drives sales.
With around 10,000 members, Data Hunters is the smallest group on our list. You can form intimate connections and easily get advice specific to your Amazon business.
5. Unstoppable FBA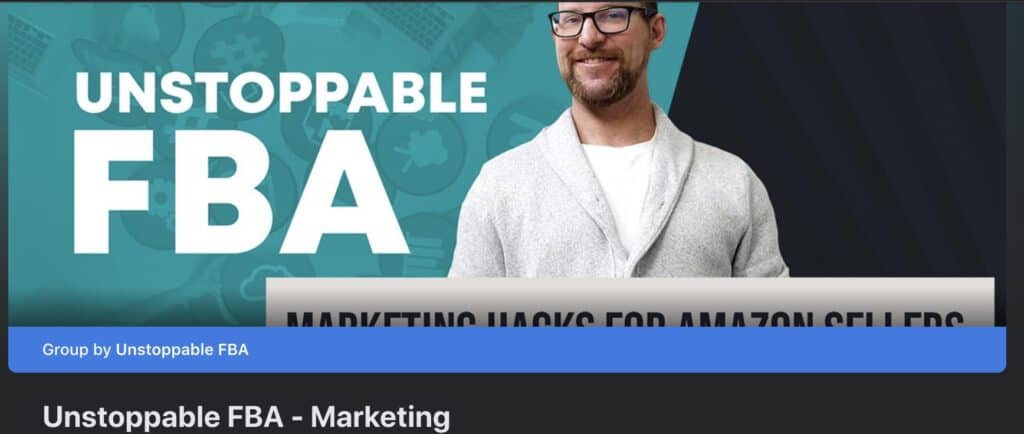 The Unstoppable FBA group was created on blank and has over 11,000 members. In it, you can discover how to help Amazon customers find your products through search, the best places to source your products from, and much more.
6. Amazon PPC Troubleshooting
With a following of over 21,000 Amazon sellers, the Amazon PPC Troubleshooting page is a great resource. It helps Amazon sellers get answers regarding their PPC campaigns. You can also use it to figure out where to source products, learn how to navigate your account, etc.
7. Amazon FBA High Rollers
Since 2015, this group has been the go-to place for listeners of the AM/PM Podcast by Manny Coats. With a current membership of over 75,000, it is the largest group on our list. People can talk about information they heard on the show and ask questions related to Amazon, private labeling, and much more.
Project FBA Facebook Community
It would be rude not to add our own Project FBA facebook group 🙂
FAQS
Have more questions? Check out these FAQs for Amazon sellers:
How Do I Join an Amazon FBA Facebook Forum?
Most groups are private. This is good as it ensures not just anyone can join and post answers. To join a group, you will have to send a request to the page owner.
How Do I Find a Mentor on an Amazon FBA Facebook Forum?
Successful sellers are usually more than willing to help newbies. It can be intimidating to put yourself out there, but don't be afraid! Start by asking questions specific to your business in the group. An experienced seller is bound to respond, and you can go from there.
What Is Good Etiquette for an Amazon FBA Facebook Forum?
As a member of any social media platform (including a Facebook group), you must follow community guidelines. Every group has different guidelines, so be sure to read them thoroughly. Follow the guidelines closely and don't give the admins a reason to ban your account.
Most groups have similar rules. For instance, you usually can't solicit reviews for your products. Soliciting reviews will get you banned. But, of course, you can use the tips in the group to increase your reviews naturally.
Further reading:
Conclusion
Joining a community Facebook group for Amazon sellers or reddit group is one of the smartest you can make for your Amazon business. It will keep you up-to-date on the latest Amazon marketplace trends. It will also teach you how to get a lot of product reviews, how to optimize your listings, and much more.
Want to start getting advice from the top Amazon sellers? Join one (or more than one) of the Amazon seller's Facebook groups we recommended today!