Amazon PPC can help you sell your inventory faster than you can stock it. It can also really hurt your profit margins if you don't know what you are doing. Looking for a PPC solution to create and manage it in a proper way, welcome Helium 10 PPC tool called "Adtomic".
The sponsored program of Amazon is quite simple, it's all about relevance. Have you seen Helium 10s new tool – Adtomic, keep reading to find out more.
Name change update: Now called Adtomic (ADS + Automatic) = PPC on 🔥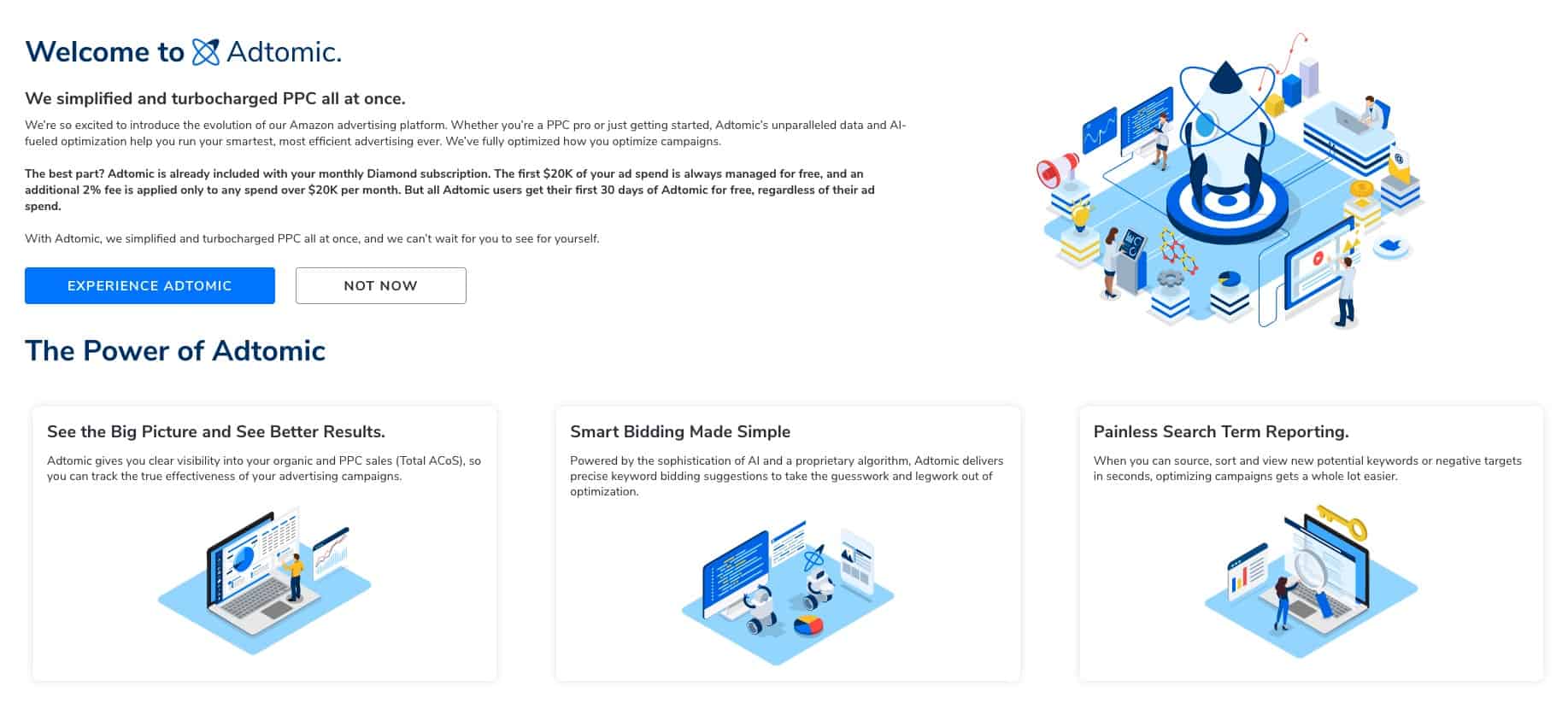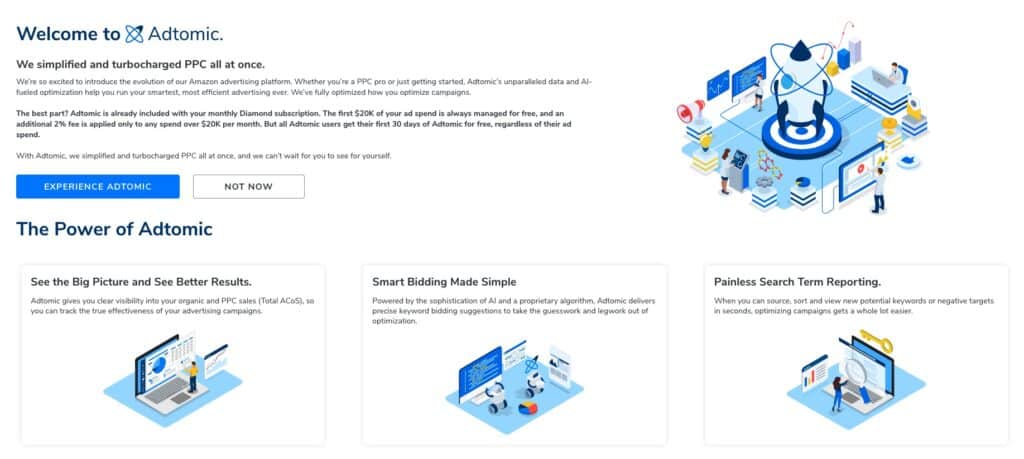 Helium 10 Atomic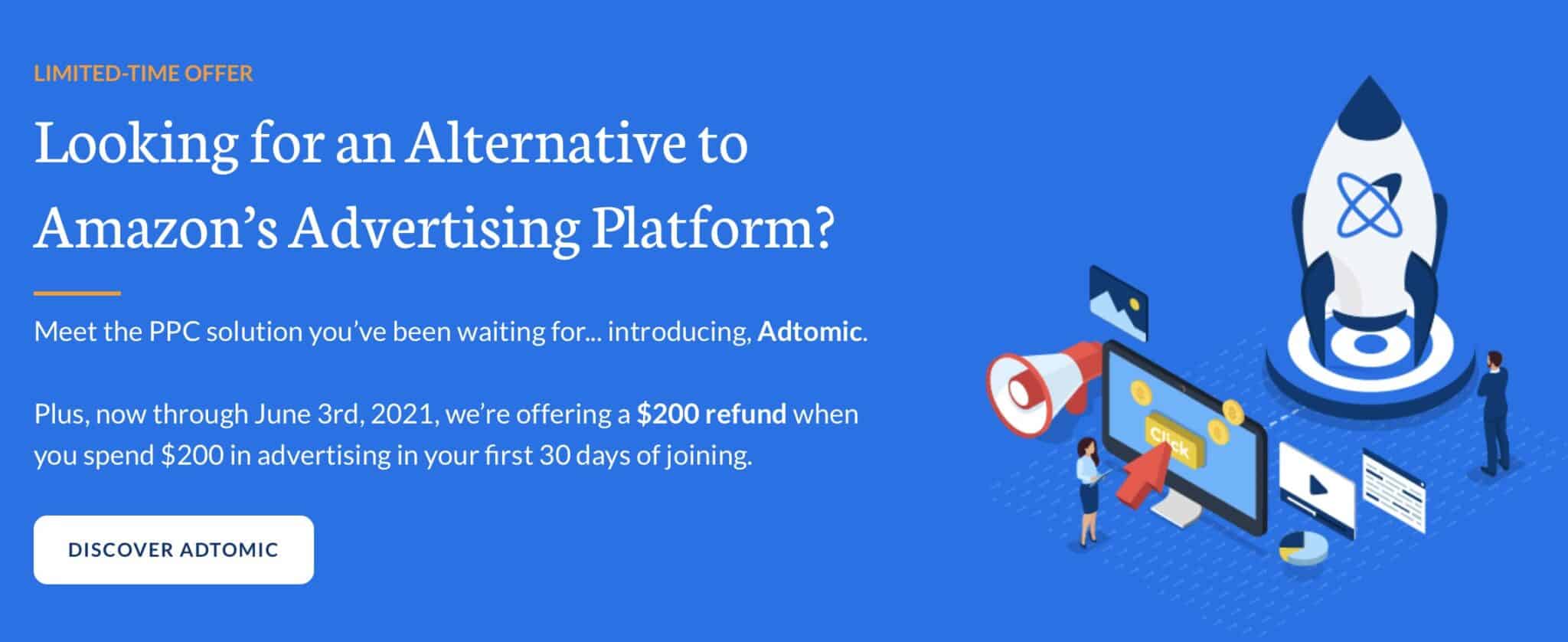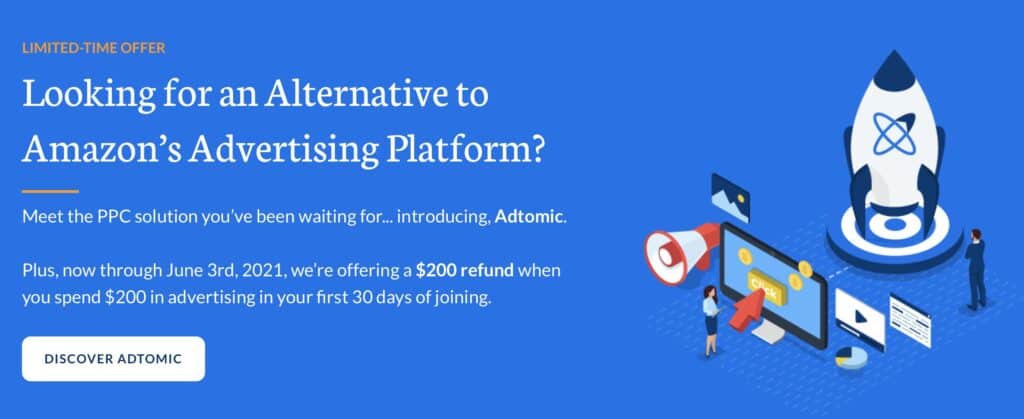 Helium 10 Adtomic is available with the Diamond and Elite plans can access the Amazon ads manager tool. If you don't want to jump straight in Helium 10 now offers a free PPC audit with actionable steps you can start using today! It's a simple case of uploading a search report (don't worry they show you how if you can't remember).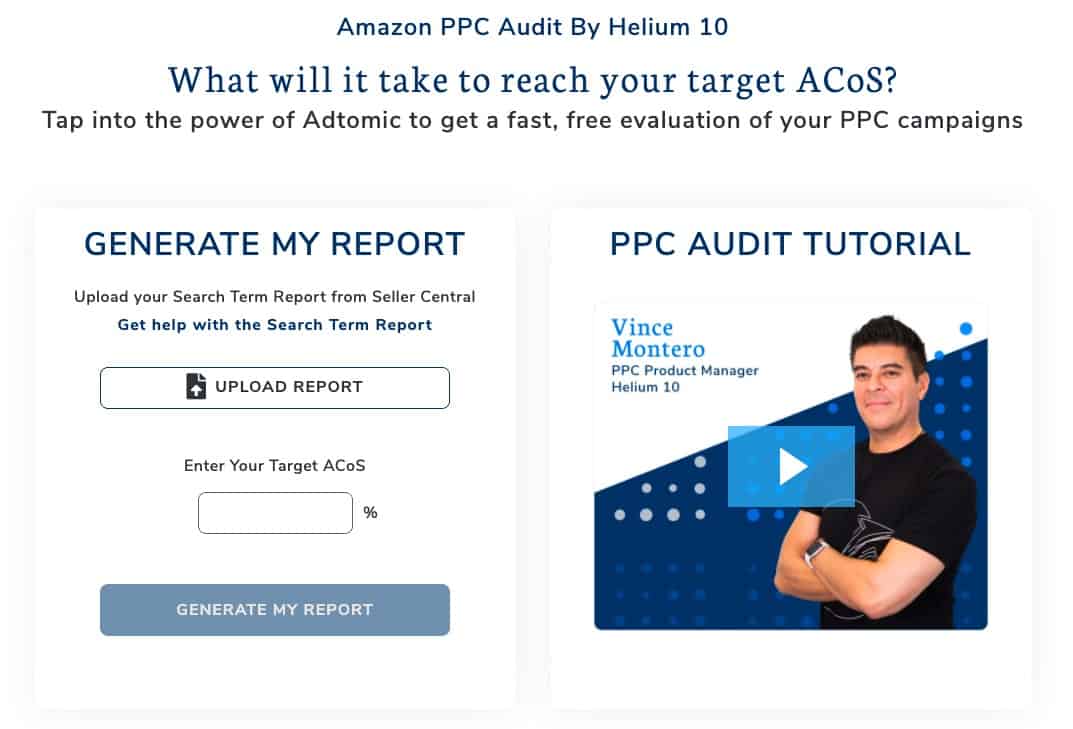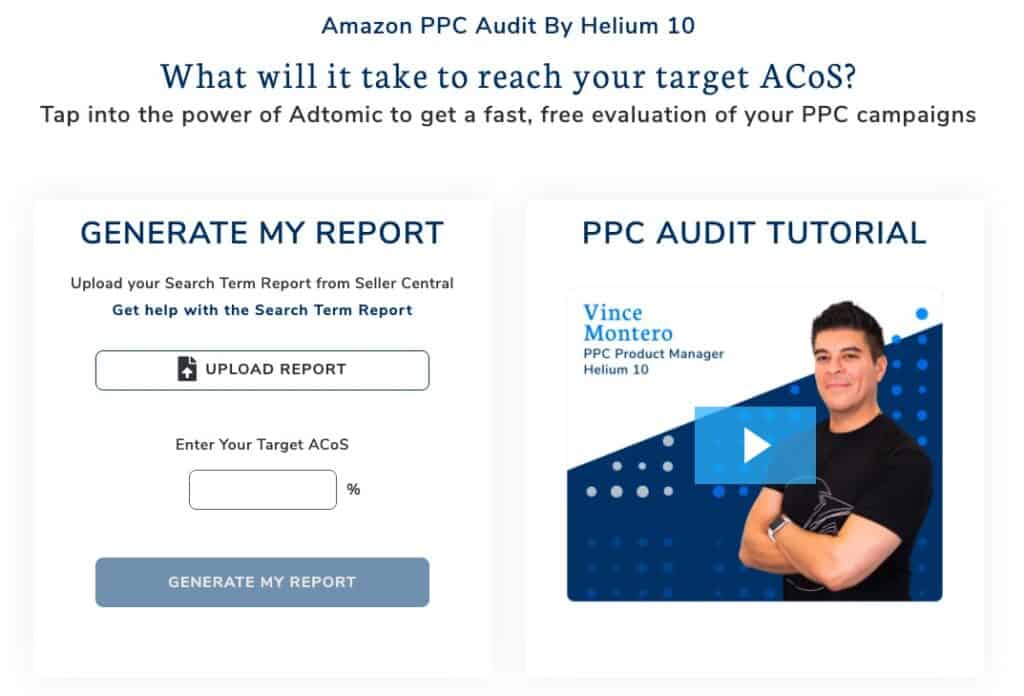 Helium 10 Adtomic – PPC Management Tool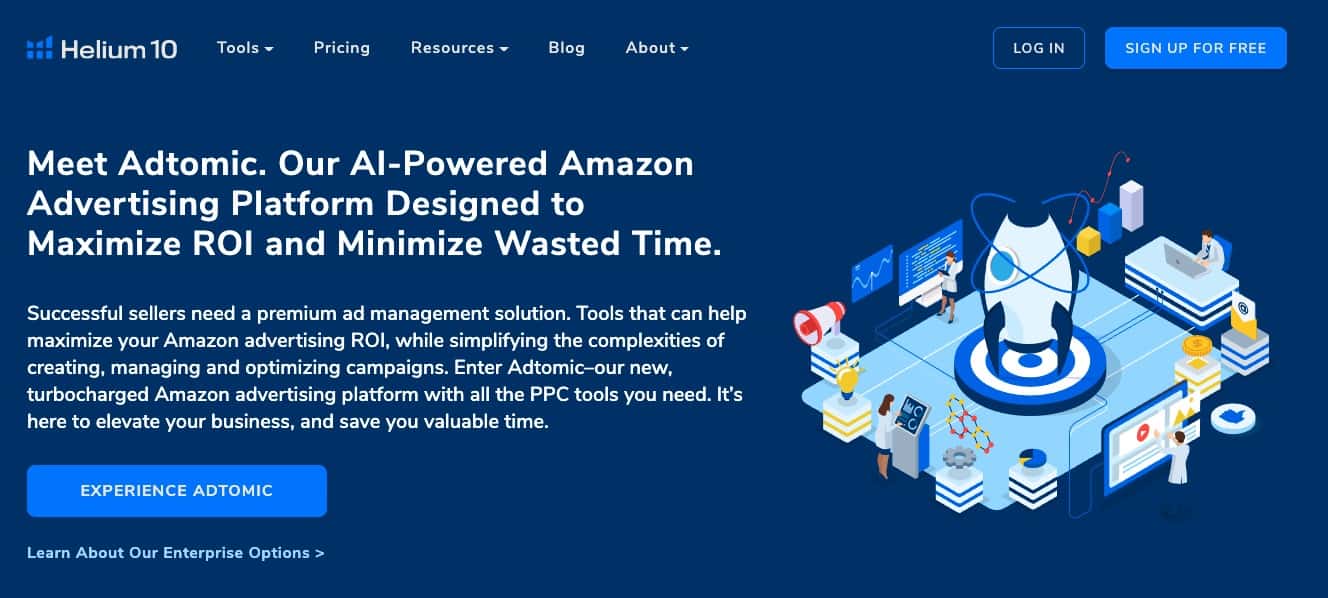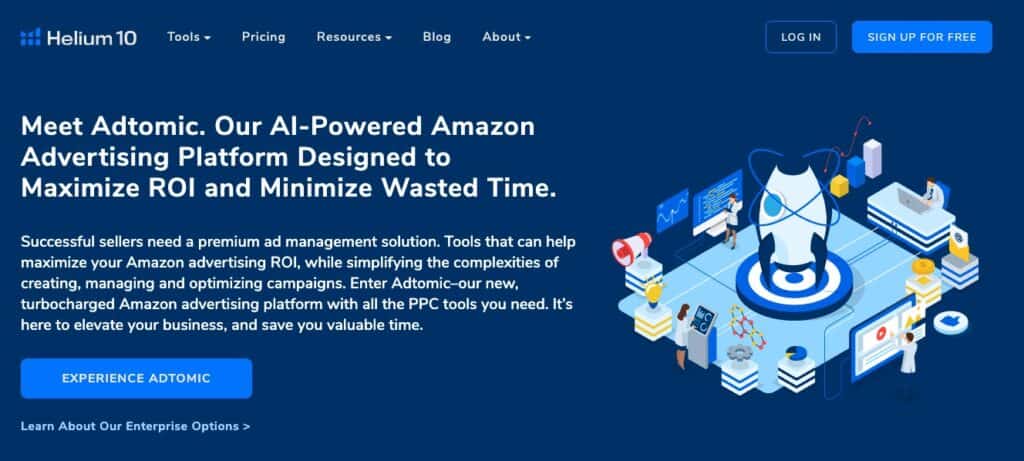 Helium 10 Adtomic, the new Helium 10 PPC software tool will help sellers automate PPC Ad campaigns, increase you Ad performance. The new PPC tool will provide you with automated bid suggestions.
Lower your ACOS with Helium 10 Adtomic PPC manager today, if you are part of the Helium 10 Elite pricing plan, you can get started with testing the Helium 10 Adtomicprogram. Improve your ad performance with automated bid suggestions based on metrics that matter to you, like ACoS, CTR and CPC. ADS or Adtomic also generates new and negative keywords using advanced, rule-based algorithms.
Further Reading:
projectfba.com/helium-10-review-discount-coupon-code/
Does Helium 10 Adtomic work?
Helium 10 Adtomic can help you streamline, simplify, and automate your Amazon PPC campaigns. The Ads software offers suggestions and recommendations for your campaign bids. It helps improve your ACOS and generates negative keywords to remove from your campaigns.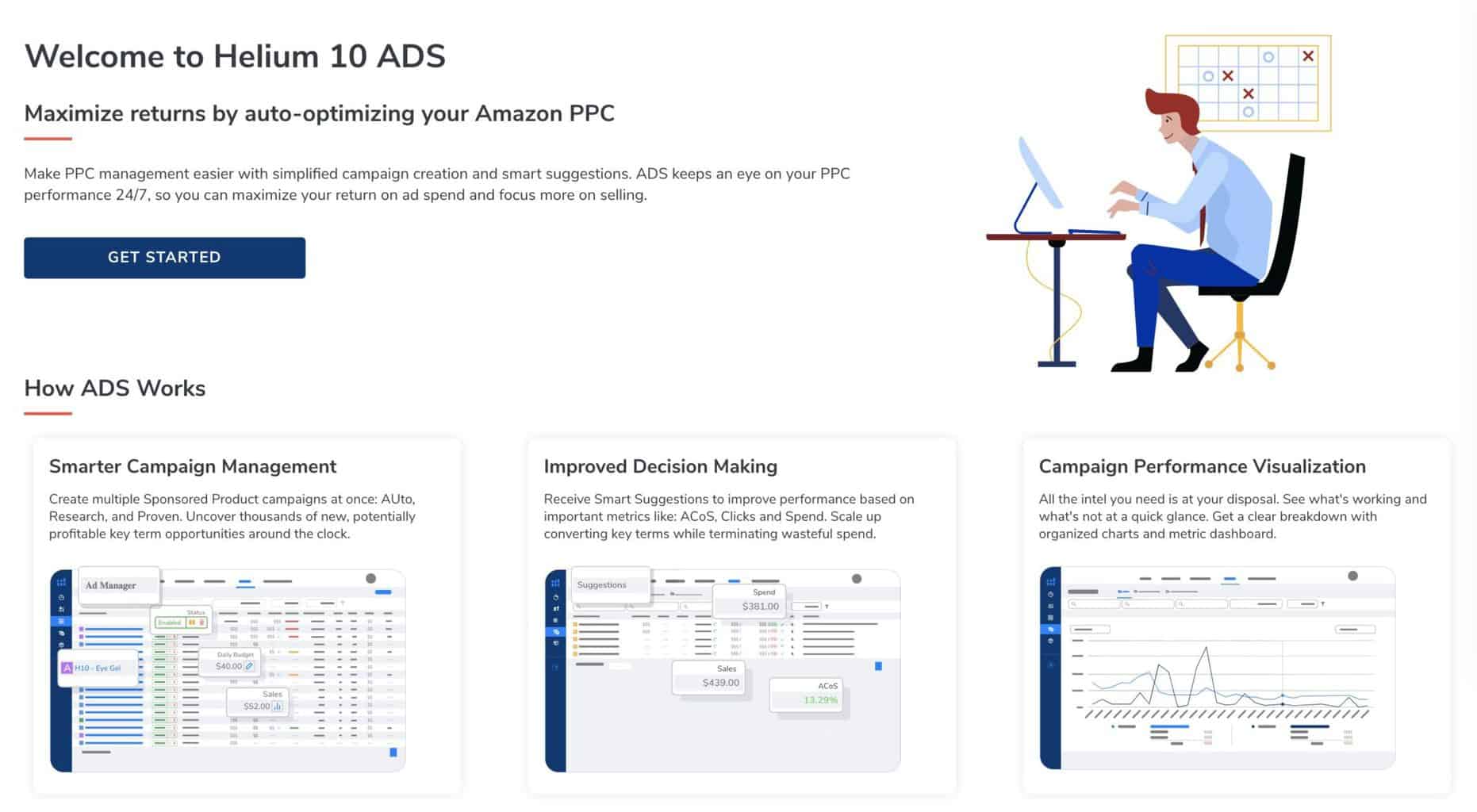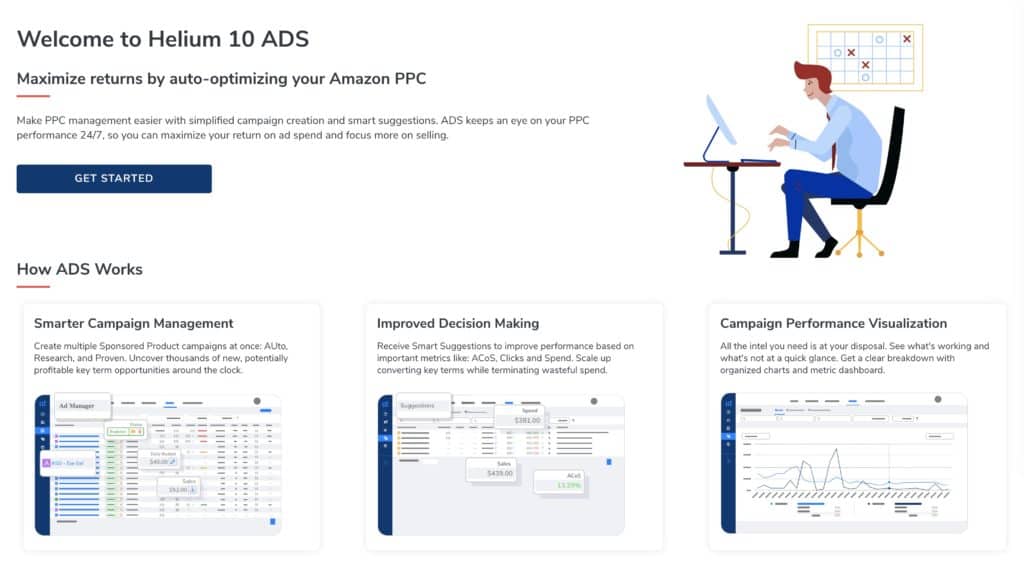 Amazon Keywords & Match Types
In Amazon, you always have to choose the keywords for your bid while creating an ad for your product. So, that if the customer's search will match with your specified keywords then there will be chances of your ads to be displayed. However, for every keyword you have selected for your bid, you also have to specify a match type. You must have a look at the following match types for your keywords to get a better idea about the things in this regard:

• Exact match: In this match type, the ad will be displayed to the customers who will have exactly matched keywords in their search terms.
• Broad match: The search term of your potential customer must have all the keywords which you have selected for your ad. However, the order of the words could be different.
• Phrase match: As long as the search phrase of the customer will contain your bided keywords, your ad will be qualified for this to display.
This is a complete guide about Amazon PPC management and automation which surely has given you detailed information about the things which are essential to know.
The 3 Amazon Ad Types
Product display Ads: These ads are only available in Amazon Marketing and product detail pages. These ads can be used to control the user from going to competitors pages. Mainly, these ads are for the customers of the bottom-of-funnel.
Sponsored Brand Ads: These are the ads that will be displayed on the top banner of SERP of the search engines. This is more often for the customers of top-of-the-funnel and provides more opportunities to grab the attention of the customer at the very first point.
Sponsored Product Ads: These are the ads that are being displayed on the Product Detail Page and SERP. This is the most popular ad type on Amazon because it can appear on throughout the journey of customers. Therefore, these are quite awesome.
Automatic Vs. Manual Campaigns
In automatic campaigns, advertisers only fix the budget they want to spend and let Amazon perform the remaining task of finding keywords for them. These campaigns are easier to set up and can be great for beginners to go with. In this process, Amazon will collect the entire data for you and will also track the clicks and spend for you. You can get a better chance of experimenting without putting many efforts. Even more, it can also let you know the long-tail research which otherwise can be the hardest for you to perform. However, in the process of Amazon PPC automation, you will get lower control on your bids and even you may have to spend some for all of the high, low or even no converting bids.
However, if you are more experienced in PPC then nothing can be a better option for you to choose than manual campaigns. It can help you to maximize the volumes of your sales and even will let you go for more precise targeting. Even more, you can also get a better opportunity to lower your bid as per need or to skip lower performing keywords with ease. However, this process will take much time and effort to get done.
Amazon Terminology
Before going further, it is always important to understand the key metrics of Amazon PPC software. Let's have a look at the following information to understand how Amazon

• Advertising Cost of Sales (ACoS): it is the percentage of the attributed sale which you are going to spend on the process of advertising. You can calculate this by dividing the total ad spend with attributed sales.
For example, if you are going to spend $5 on the advertisement and this has resulted in attributed sales of $25 then your ACoS will be 25% because of $5/$25=0.25.

• Sales: Attributed sales can be determined by identifying total sales that have been generated within the duration one week through your ads clicks. This sales data may take up to 48 hours to get populated. Therefore, the sales data may not be available in the form of Today's date. More often it can be delayed to the date range of yesterday. However, you will be able to view the totals of individual sales for the products which were advertised along with other products in the report of campaign performance.

• Impressions: The total number of times your ad gets displayed in the search results is known as an impression. Once you have identified this, then it will take up to 3 days to remove the wrong clicks from the report. Hence clicks from the last days can be adjusted because of click invalidation.

• Clicks: The total number of times your ad gets clicked will come in the list of clicks. Once you are going to identify this, it can take the time of up to 3 days to terminate invalid clicks from your performance report.

• ROI: Return on Investment can be determined by determining the profit you are getting from the amount you have invested in this process.

Amazon FBA PPC overview
Paid advertisements have a long history because these are in the marketing field for years. However, Amazon PPC came into existence to provide a better opportunity for its sellers to display their sponsored products as a result of customers search. Although Amazon PPC and Google advertisements are having different missions but still, they have some things common. Fortunately, Amazon PPC software is providing more ease to its sellers especially with Amazon PPC automation. But still, for most sellers, Amazon Pay-Per-Click (PPC) is going to be one of the biggest costs on the marketing side of the business. It is because in Amazon PPC you have to be one step ahead from your competitor in terms of your bid cost.
What is Amazon PPC?
Amazon PPC is a system of Action-style, in which advertisers can bid on the keywords. When any buyer performs a product search, merchants with the highest bids on related keywords can win the auction. The winner products from the sellers with the highest bid will get listed as "sponsored products". Advertisers have to pay the bid only if their sponsored product will get a click. Keep in mind the fact that you have to pay one cent more than your competitors to get your ad placed there.


Other Helium 10 Tools you should know exist:
FAQ
How much does amazon PPC cost?
Well, the cost of amazon PPC depends on your own. You can bid the maximum cost per click offer which you are willing to spend there.
How much should I spend on Amazon PPC?
It can be beneficial for you to spend the maximum cost which you are willing to pay when any shopper is going to click the ad of your product. It is because, for more competitive bids, there will be higher chances for your ad to be displayed when it will match with the search of Amazon customers.
What is the Buy Box?
This is a box which you can find on the page of product detail, where customers can start the process by adding selected items to their shopping carts. Well, this is the key feature of the Amazon website that various sellers there can offer the same products. This can be an amazing opportunity for you to compete with various sellers to seem in the buy box. Most interestingly, Amazon is using performance-based criteria to find the buy box placement and eligibility status.
Can I get Helium 10 Adtomic with the Platinum plan?
Yes now you can use the Helium 10 Adtomic tool if you have the Helium 10 Diamond or Elite plan.
How do I Access Helium 10 Adtomic
You will now find the Helium 10 Adtomic tool in the tabs at the top of your dashboard proving you have either the Diamond or Elite Plan.