Are you thinking about starting out Amazon PPC Campaigns? Do you want to get some tips on how to improve and refine your Amazon Campaigns?. Amazon PPC software is the key to managing and maintaining your Pay Per Click advertising quickly and efficiently, saving you time and money.
We have wasted hundreds of thousands of dollars testing Amazon PPC campaigns, made all the mistakes, so you don't have to. Sick and tired of downloading and trying to analyze Amazon PPC reports from Advertising Manager in Seller Central?
There are various kinds of Amazon PPC management tools available that can put you ahead of your competitors regarding customer targeting. Burning cash on poorly optimized campaigns and unsure which keywords or search terms to use for your product.
In this article, you will get to know about some of the most effective Amazon advertising PPC software or tools that are available for Amazon agencies and FBA (Fulfilled By Amazon) sellers.
No matter what task you may be trying to accomplish, if it is in the realm of technology, there are probably a lot of tools to choose from to help you get where you want to go.  This is certainly true when it comes to all things Amazon. 
That's why before you choose your tool, you should know what criteria you need for your company. 
What is Amazon PPC Software?
Amazon PPC software refers to tools or applications designed to help Amazon sellers develop, control, and enhance their PPC campaigns on the Amazon advertising platform. These management tools and Amazon PPC software solutions may provide various features, including ad reporting, automated bid management, performance tracking and reporting, keyword research and optimization, and A/B testing, all of which aim to help sellers maximize their advertising budget's return on investment on Amazon's platform.
Why is it Vital to Choose Powerful Amazon PPC Software?
Achieve better results: You may identify areas where your campaigns are underperforming and make data-driven decisions to enhance your results by using a reputable Amazon PPC software solution's extensive performance tracking and reporting.


Streamline campaign management: Continuous monitoring and optimization are necessary for effective PPC campaign management. Using a potent Amazon PPC tool, you can automate these procedures and save time and effort.


Gain a competitive edge: Using cutting-edge tools will help you keep one step ahead in the highly competitive PPC advertising market on Amazon. Advanced capabilities like automated bid management, keyword research, and optimization may be found in reliable Amazon PPC software packages, which can help you improve the effectiveness of your campaigns.


Maximize your ROI: Maximizing your return on investment is the ultimate purpose of PPC advertising. You may accomplish this goal by refining your campaigns, lowering wasted ad spend, and enhancing your overall performance.


Long-term success:

Long-term success in the marketplace requires a significant investment in reliable Amazon PPC software. You can raise the visibility of your products, boost sales, and ultimately expand your Amazon business by continuously improving your campaigns.
What to Look for in Amazon PPC Software?
Here is a quick list of some of the things you should look for in the tools you are going to use to help your business.
Scalability
Scaling your business should be more than just about selling more products. Finding a tool that helps you expand while lowering average costs is a great way to double down on increasing profits. 
Scaling also means keeping customers engaged, not just finding new ones, and finding the best Amazon advertising software will help you do just that.
Timesaver
When you are first getting started, it is good to be hands-on in order to learn every area of an Amazon business, including how to manage Amazon PPC. Once you are comfortable, finding a tool that allows you to automate Amazon PPC tasks is vital to save you time.
Amazon PPC tools that can send you alerts will take away the need of a person to monitor and constantly check your accounts.
Data Analysis
Again, when you begin, it will be easy to take a quick look and see how much the cost of your ads compared to how much you are selling. As you scale upwards, looking at the data constantly and gathering insights on the go can be hard.
Find an Amazon advertising software package where you can get periodic reports related to your campaigns, seller events like Prime Day reports, and more.
Automation
Use a tool that allows you to automate:
Be sure your Amazon PPC automation tool still tracks metrics so you know what is working and what is not.
Best Amazon PPC Software and Management Tools for FBA Sellers in 2023
You want to manage Amazon PPC efficiently and effectively, which means you want it to save you time and money. The goal of any business is to make a profit, and PPC management software can help you maximize the output you get from your input (dollars out vs. dollars in).
Here is our take of the best Amazon PPC tools; there is something for everyone.
Intentwise is an advertising optimization platform that drives Amazon and e-commerce growth for brands, sellers, and agencies. Choose from 3 products: Intentwise Ad Optimizer, Intentwise Analytics, and Intentwise DSP. Intentwise's Ad Optimizer, in particular, will revolutionize your e-commerce advertising efforts by providing you with meaningful optimization recommendations based on various advertising and retail factors. The platform can save you time through the automation of Amazon ad execution, reporting, and analytics.
Best features:
24/7 customer support
Personalized onboarding
On-demand training through Intentwise Academy
Webinars and free educational resources
The ability to vote on your team's most-needed platform updates
Pricing:
Tier-based pricing starts at $500 for:

Unlimited users

Personalized onboarding

Expert chat support

Monthly office hours

Find out more details about

Intentwise pricing here
Helium 10
has released the latest Amazon marketing tool
(
after many requests from the public), adding to their never-ending list called Helium 10 Adtomic. Helium 10 Adtomic is PPC software designed to maximize your Amazon Advertising ROI. It uses strategies developed and data gathered from expert sellers to create hard analytics. The software can simplify, automate, and optimize your Amazon PPC campaign starting from day one.
Note: At this time you must be a Helium 10 Diamond Member or above to access Adtomic. (But this is well worth your investment and savings on your marketing and PPC spend). 
Helium 10 Adtomic for Amazon PPC management
will help you set up proper campaign structure and they have tools for
researching and finding
profitable keywords that come with the package.
Best features: 
Advanced optimization & automation capabilities to level up your advertising campaigns and cut through the complexities of Amazon Advertising to save you hours of manual work

Flexibility to make individual performance decisions based on clear and actionable analytics

Critical data to better understand how your PPC efforts are driving your overall sales.
Pricing:
Plans starting as low as $29/month

25% discounts when paying annually
Find out more details about
Helium 10 pricing here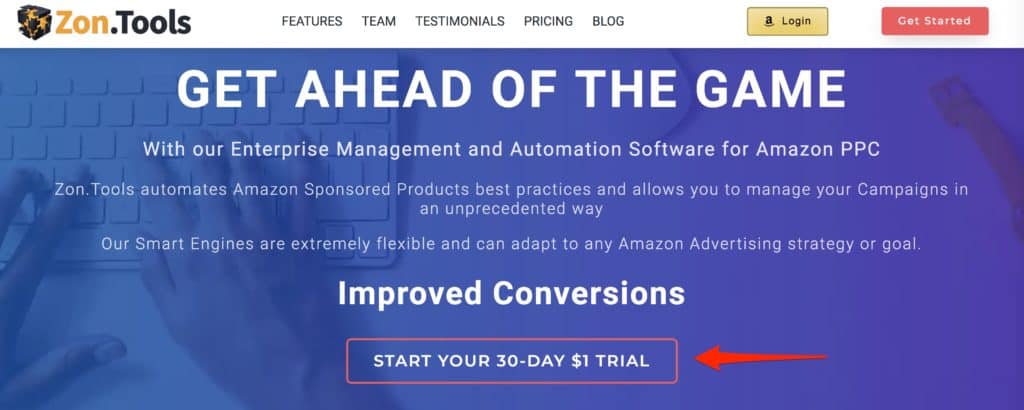 Zon.Tools is affordable and produces effective Pay Per Click conversion rates. It decreases ACoS while generally creating greater advertising revenue for any Amazon Sellers using proven tactics. This also makes it simpler than ever to maintain, administer, and automate Amazon Sponsored Products campaigns.
This tool is the most advanced, fastest Amazon PPC automation tool, but it is also one of the steepest learning curves for the PPC management software we have tested. The tutorials and videos of how to set it all up and other walk-through training that are provided are excellent; however, do not expect this to be one-click automated campaigns. PPC on Amazon takes time to get right and you need to collect the data before you can see any serious decrease in ACoS.
Want to give it a try for practically nothing?, Zon.Tools offer a 30 day trial for just $1.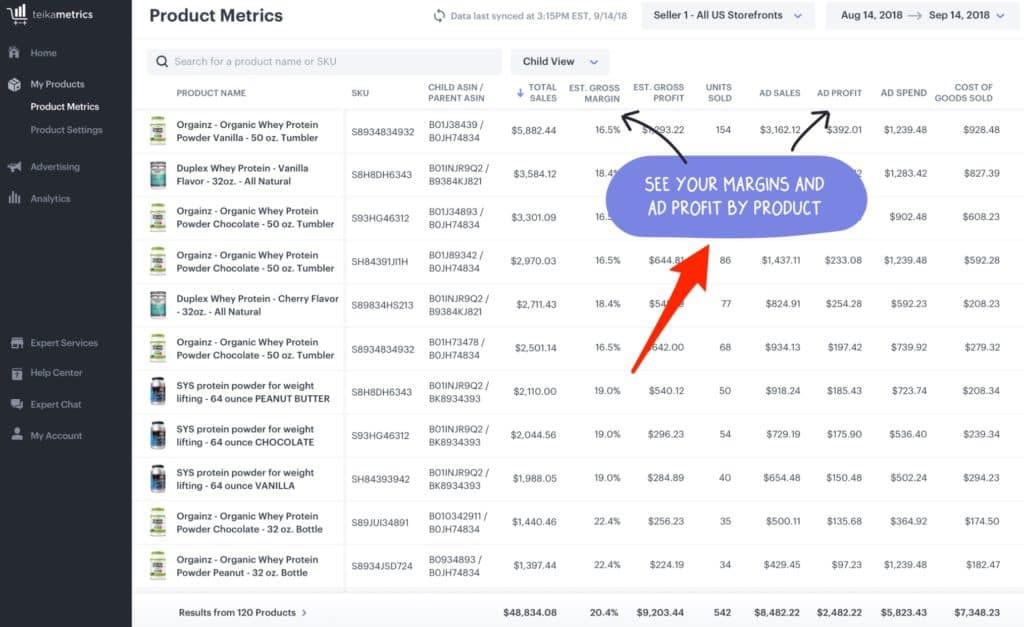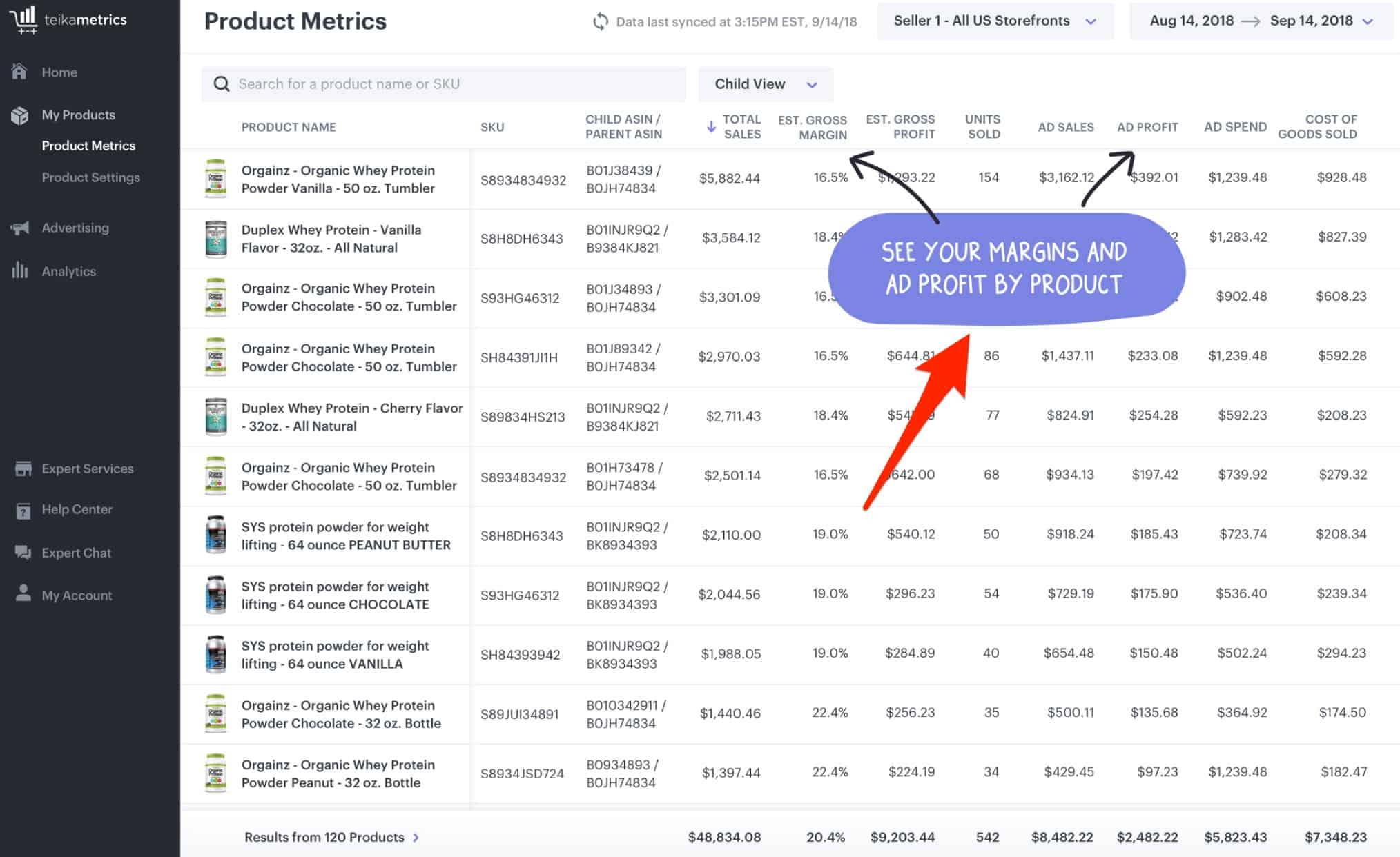 Teikametrics' goal is to help sellers manage their Amazon PPC campaigns. The sellers can profit from a variety of additional services, including in-house expert advice and data that is simple and straightforward enough to automate activities. You can use their programs to create targeted campaigns that will help you reach your ACoS goals.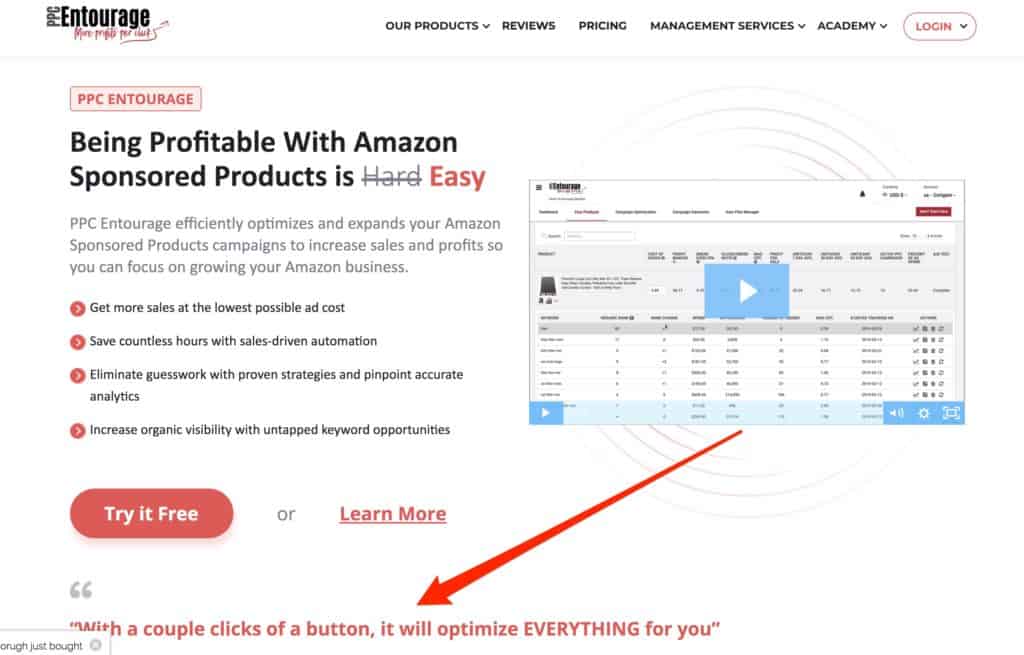 PPC Entourage is a user-friendly and simple Amazon PPC management software tool. It's ideal for Amazon sellers who are not fond of math or do not want to spend too much time on hard data. 
Amazon PPC management using PPC Entourage software is a breeze. Use their Campaign Strategy, automatic campaign keyword editing, and a quick bid change system to increase or decrease your bids based on your ACoS strategy in a single click to assist with your Amazon PPC automation. 

PPC Scope might provide the best PPC Amazon management tools for new FBA sellers. Optimize your Amazon PPC campaigns by using simple investigation charts which reveal the big picture of your effort history and results. Brian Johnson, another expert in the field of Amazon PPC, created PPC Scope using innovative analytical tools that assist you in determining the flaws and strengths of your Ad campaigns, an exhibit of which keywords will work, and help you replace the ones that are not. 
Users will be able to make quality decisions and use information collected from past and current campaigns with ease. For brand-new brand new sellers, users benefit from a simple cost package of $19.99 monthly. Why not try a free 21-day trial (no credit card required)?
Scope by Sellics is one of the leading Amazon PPC management software tools and also the best solution to maximize your profits in Amazon PPC. An Amazon PPC tool permits the users to analyze, optimize, and track the performance of all the Amazon ads with user-friendly graphs that are easy and simple to read.
The key features of Scope include automated keyword changes, the capability to pause keywords in ad campaigns, and the ability to set search terms to negative in campaigns.
The user's data trackers and graphs will help you to make informed decisions for their campaigns and also carry their Amazon business in the right direction. The basic price plan of Sellics for Amazon sellers starts around $67 per month, is $1000 – $60,000 annually.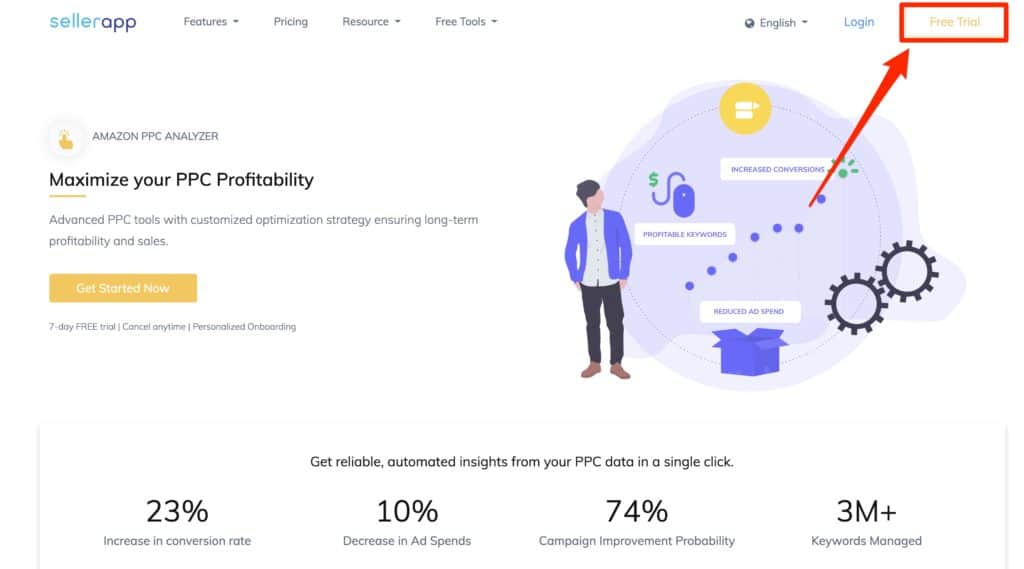 This tool is specially designed for Amazon PPC management for Amazon merchants. It helps you easily and quickly reach your target ACoS by going through the campaign data in minutes.
It can help increase the ranks of your ad by bidding on top keywords of buyers with the best keyword optimization strategy. This software analyzer tool helps you to grab the top ad position easily. Some of its other features are:
Product listings
Product research
Amazon seller analytics
Amazon keyword research
Amazon competitor lookup
Amazon PPC analyzer
Amazon product listing quality
Amazon product alerts
With the help of Cashcowpro, you will be able to check the SKUs of your product quickly and can make modifications based on how each of your products is performing. Users can also automatically send emails to customers during their busy schedules. Plus, it allows users to gain organic and more positive reviews for your Amazon business.
This tool is available in two price packages, $99.70 for monthly and $997 for yearly, along with a free trial of 10 days.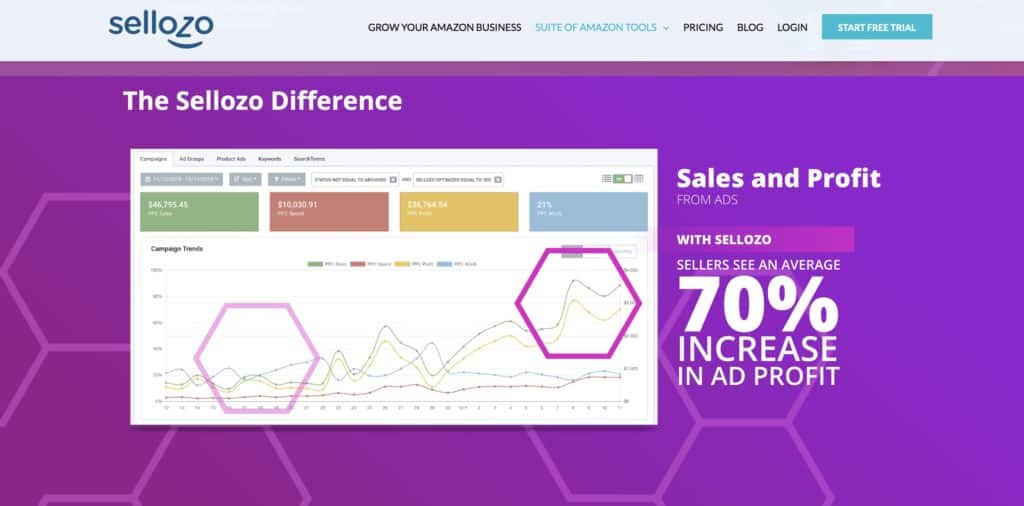 Sellozo offers the leading suite of optimization and management tools for Amazon sellers powered by real data. Increase profits and be a better Seller with intelligent data-driven tools!
This tool provides a comprehensive, a la carte suite of intelligent tools for merchants of Amazon. It improves both sales performance and ads for sellers and also automates the tedious stuff, analyzes a wealth of packages, and analyzes it all up into tools and reporting, which is powered by real data and backed by exceptional support that Amazon sellers need.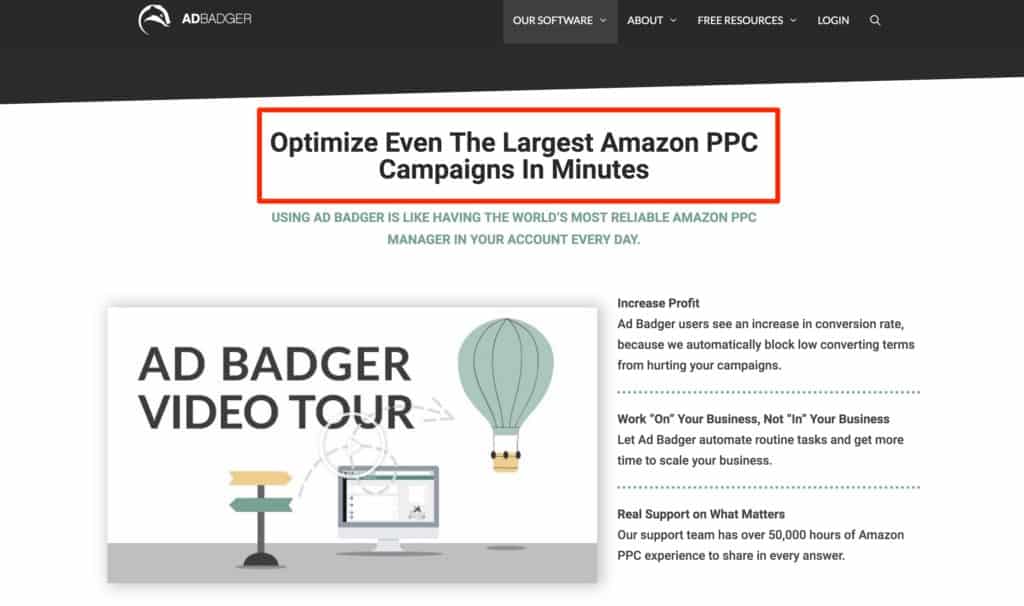 This tool makes running your company easier with its Amazon PPC management software. Users do not need to log into Amazon Sponsored Products Ads or sponsored brand Ads ever again. They can easily and simply leave the tedious and hard work to Adbadger and see the growing profits. 
This managed tool automatically adds useful and positive keywords to your products and also ensures that you never pay more for a PPC ad click again. Its basic package is $107 a month.
Amachete is an Amazon PPC management system that works like a Google Chrome extension for your browser. This software monitors your listing constantly and ensures that you can automatically pause or stop product hijackers trying to take your customer or product listings. You can also take advantage of an inventory tracker, and an hourly rank tracker, which makes the extension basic but great Amazon PPC software for your FBA Company. Its pricing starts from $39 a month with a 100% money-back guarantee.
This tool provides an effective PPC Amazon tracker that can show you real-time statistics for all your paid ads. Its product launcher will help you generate sales with little or no effort. It keeps track of your reviews with its product promotion tool and assists you in launching products every day to generate hundreds of sales. This tool provides sales support for better customer engagement too. This Amazon PPC management software starts from $60 a month.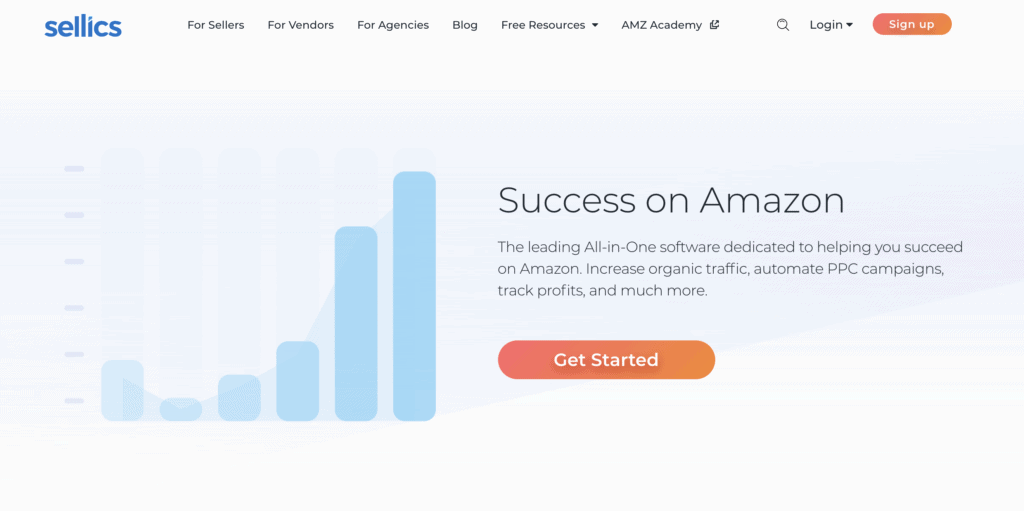 If you want to increase the visibility of your ads, then you need to perform thorough keyword research as a part of your PPC campaign strategy. Make use of Sonar, a free Amazon keyword research tool, to create your PPC keyword lists. Sonar by Sellics has a comprehensive Amazon keyword database that extracts keywords from the customer search queries used by real Amazon shoppers.
PPC Winner is an automated advertising tool for Amazon sellers, which can help in creating new PPC campaigns and manages the whole advertising process for sellers. The main features of PPC Winner include automatic keyword search, PPC campaign creation, as well as daily bidding optimization to enhance ad impressions and the position within search results. Management services include around the clock support and online training to boost your Amazon FBA company PPC sales through the roof.
Prestozon is an Amazon PPC management service tool that can provide you results within moments. You can switch your keywords from bad ones that are not searched for to ones that your customers frequently use when searching for products you sell. Its price package ranges from $50 to $1,000 for monthly advertising, and it may vary between $1,000 and $100,000 depending on your advertising needs and uses.
Our Top Picks for Amazon PPC Management Tools


10% discounts when paying annually

20% OFF first six months with our exclusive link

Saves you time with advanced optimization & automation capabilities

Flexibility to make individual performance decisions

Access to critical data to better understand how your PPC efforts are driving your overall sales
Best Personalized Support

Tier-based pricing starts at
On-demand training through Intentwise Academy

Webinars and free educational resources

The ability to vote on your team's most-needed platform updatesational resources
Ignite is a tool which can help you to get an intelligent bid and keyword suggestions that can help to increase your profit and decrease ACoS percentages. It also offers a PPC strategy based on historical data so that you can spend less time managing campaigns and more time in optimizing them for profit. Sellerlabs provide Ignite as a 30-day free trial period for their Ignite product. Its minimum price is $49 per month for five campaigns, and the maximum price is $499 per month for 100 campaigns.
My Seller Pal helps in automating Amazon feedback requests and reviews, promoting Amazon products on Facebook and other social media platforms using brand websites and landing pages, optimizes Sponsored Products campaigns, and shows true Amazon profits after Amazon cost and fees of goods sold.
It is all-in-one Amazon PPC management tool that helps sellers of Amazon to grow their business in profitable ways such as sponsored brands ads. It is available in a free trial of 30 days and cost $50 a month.
Conclusion - Choosing the Best Amazon PPC Advertising Software
Amazon PPC software has come a long way in 2023, with some of the big competitors like Helium 10 now adding to their suite of Amazon PPC tools. This makes you wonder how long it will be before Jungle Scout does the same. Along with these, there are hundreds of Amazon PPC management tools that can effectively help you in managing your PPC advertising and Amazon marketing efforts. 
Prior to anything else, you must select the best Amazon PPC software based on its features and capabilities, but most importantly, on the demands of your company. Asking the businesses that catch your attention and stimulate your curiosity about what they can do to assist you in growing your business might be useful. You can make wise decisions with the aid of such things. Take your time, learn about the industry, do your research, and then start managing your PPC ads for Amazon advertising. You can always turn to a top Amazon advertising firm for professionally managed PPC if locating the appropriate tools and knowing the ins and outs of Amazon PPC proves to be too daunting.