When most consumers shop online, they source products from major distributors, such as Amazon. Customers want to search for an item and compare prices from a variety of sellers to get the best deal. For sellers, it's critical to know what price your competitors are selling their products for. This way, you can offer your products at a lower price and steal those customers.
The best way to do this? A price tracking tool like CamelCamelCamel, which is one of the leading software for both sellers and buyers to analyze prices on Amazon.
In our CamelCamelCamel review below, learn how this tracking tool covers pricing history for Amazon products as well as retail on third party sites.
What is CamelCamelCamel?
CamelCamelCamel is a simple-to-use price tracking tool that notifies users whenever the price of a watched product drops. In addition to notifications of price drops, CamelCamelCamel allows buyers and sellers to gain information about product trends in regards to costs.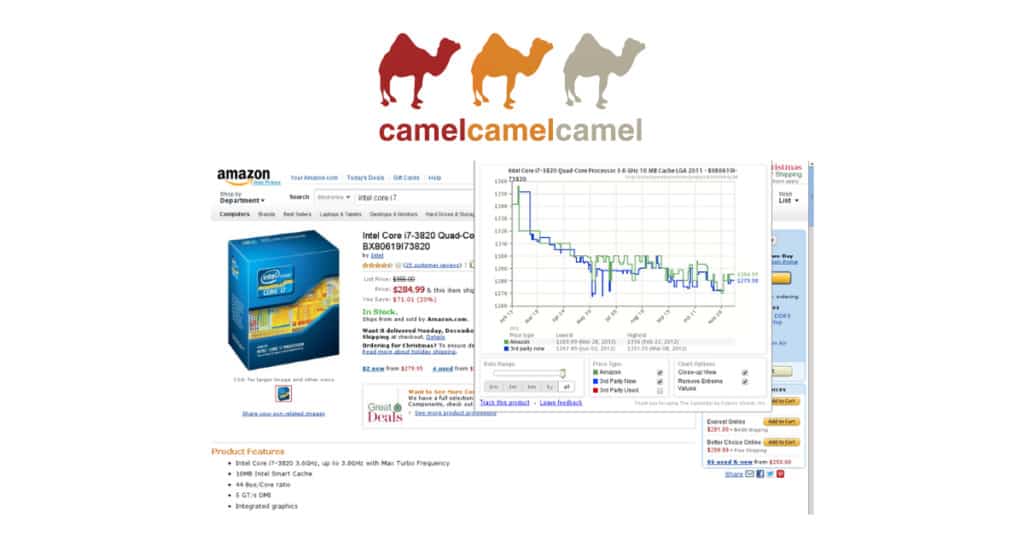 The collective features and information from CamelCamelCamel allow sellers to price their products with a more competitive edge. The goal is to turn a better profit and help consumers shop smartly on a budget.
How Do I use CamelCamelCamel?
Consumers and sellers will be glad to hear that this tool is easy to install and use.
Creating a Search
To gain full access to the features CamelCamelCamel has to offer, you must sign up with an account using an email and a user-created password. It's also possible for users to use CamelCamelCamel to check prices without creating an account. To do this, you'll conduct your searches through CamelCamelCamel's search bar using the corresponding Amazon product link.
Using Product Pages
Once you've searched your desired product, click on different product pages to see the product's changing price history. Graphs are available to illustrate when that product sold at its lowest and highest prices over recent months. By changing the date range of your product search, you can see what it was first priced at when initially listed on Amazon.
Some users may find the cost tracking graphs to be slightly chaotic to read. If so, click "close up views" or "remove extreme values" to see more streamlined information.
Tracking a Product
To track a product for drops and availability, simply create a price watch for that product to stay notified about that listing. You will need to enter your email ID to receive alerts for a product.
A drop won't alert you of the decreased amount specifically. However, by viewing the price history graph, it's easy to gather more information about price trends. This information will help users save money when shopping, but most importantly, it will make sure you're pricing products the smartest way possible.
Further reading:
CamelCamelCamel's Features:
It's important to understand the main features this plug-in has to offer if you want to scale your business using CamelCamelCamel.
1. Price History Chart:
CamelCamelCamel's price history chart is one of the most informative and helpful features to any buyer or seller. Every product page includes graphs and cost variations per time. Camelcamelcamel divides its price variation graphs into three categories: average, high, and low.
The software regularly updates information from Amazon, so you always see the most recent, accurate data. Price history, as well as sales rank, are available for Amazon's selling history. The product competition on third-party sites is also available to view in these infographics.
2. Price Drop Alerts:
The Price Drop feature sends an email notification anytime the cost of a product you've been viewing drops or changes. Users can set a price threshold to determine when they'll get alerts. If a price drops within the range you set, you'll receive an automatic email notification.
3. The Camelizer Extensions:
CamelCamelCamel also offers a browser extension for Firefox and Chrome browsers called 'The Camelizer'. The Camelizer allows you to view price history charts directly from the retailer's product pages. This allows you to keep an eye on prices and set thresholds for alerts as you browse retailer websites directly.
4. Price Watch Interface:
By clicking on the link "Your Price Watches" in the CamelCamelCamel tool, your price watches will be broken down into an easy to understand table format breaking down the following information:
Product photo and name
A small product description
Your desired purchase price, including the cost when you started tracking a product and its price currently
Link to product pages
To organize your separate price watches, you can use the filter option while logged in to feature this information as well:
Status: Whether your product price watch is active (meaning at the price you're willing to buy), updated, or unchanged from your last search.
Price Type: This displays if the price is from a used third party seller, new third party seller, or Amazon product. It's available to set your search preference for one or all three of these seller categories.
Category: Based Amazon's breakdown of products.
Product Name: It's possible to filter your tracked history by the first letter of the product name.
Every price watch item includes a checkbox that allows you to delete or edit multiple product watches by using a dropdown menu at the bottom of the page.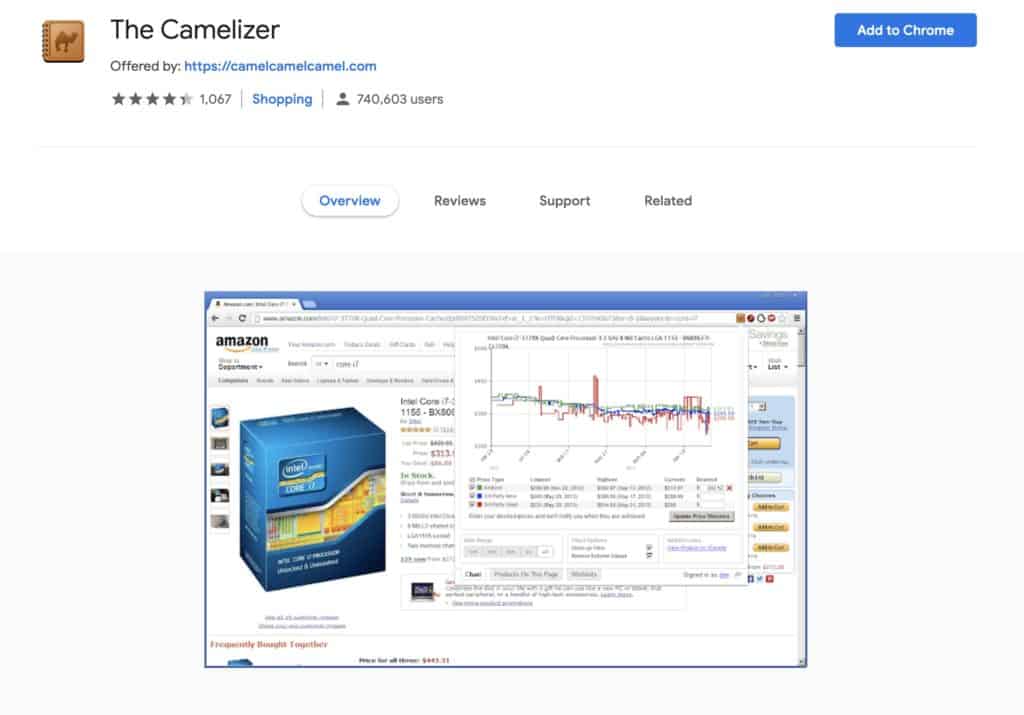 Pros and Cons of CamelCamelCamel:
No matter the product, there will always be strengths and weaknesses. This especially applies to new technology or software developments. Here are some of CamelCamelCamel's pros and cons:
Pros:
User Friendly: CamelCamelCamel's interface is easy to learn and interpret to increase your sales or find the best deals
Available as a Browser Add-On: The tools are easy to install as a plug-in or an add-on to your browser of choice.
Compatible on Mobile Devices: The CamelCamelCamel add-on is available for mobile devices. That way, you can receive updates and won't miss price drops while you're out and about.
Transparent Pricing: Not only will you see the most recent price, but this tool also shows the product's lowest, highest, and latest price. The pricing history is available from the last couple of hours to when the product was originally listed.
Cons:
Twitter notifications unavailable: Unfortunately, due to new Twitter policies, the notifications feature has been disabled.
Not compatible with Safari: Apple has implemented new software and policy modifications that no longer support the plug-in.
Data can be incompatible with product options: Occasionally, the plug-in sends notifications about price drops that only apply to specific variations or colors of products.
Buggy alerts: Due to the large catalog of millions of Amazon products listed, incorrect notifications happen from time to time.
If you are looking for CamelCamelCamel alternatives then Helium 10 or Jungle Scout would be the most suggested alternative for CamelCamelCamel. Find our how CamelCamelCame compares with the Keepa tool.
The Takeaway
The CamelCamelCamel price-tracking software is an effective way to track Amazon and third-party product costs. The interface collects and represents data in a way that's user-friendly, easy to install, and easy to interpret. Although it may have some bugs for Safari users, CamelCamelCamel is still widely compatible with most browsers and devices.
The plug-in is fast and reliable. The simplicity of this browser extension is what makes it so successful. With its free installation and optional sign-up commitment, this plug-in will only enhance a shopper's ability to track pricing trends from their desktop or mobile device to shop on a budget.
Thanks to its comprehensive data graphing, sellers looking to scale their business for more success will benefit from trying the CamelCamelCamel software.