If you are an online seller, you would agree that scaling your sales is key to success on all the e-commerce platforms. Amazon is no different. With FeedbackWhiz, you don't have to worry about scaling your business. It is an advanced tool designed to improve and boost your business on Amazon through repairing feedback, automating high-volume emails and improving product reviews.
FeedbackWhiz is made using a cutting-edge technology that enables you to view and utilize its advanced features/solutions more than any other software and it comes with its own comprehensive tutorial with step-by-step instructions and guidelines via videos to help you through the process.
FeedbackWhiz Promo Code - June 2023
If you are just looking for the latest Feedbackwhiz coupon and promo codes then you have come to the right place. Project FBA has exclusive feedbackwhiz promo codes to offer our readers. Read on to get the latest feedbackwhiz coupons.
Coupon Code Updated: for June 2023
To use the Feedbackwhiz promo code simply click here or copy/paste the following text PROJECTFBA and add it to your FeedbackWhiz order to receive a 50% discount. 
Promo Code = [  PROJECTFBA  ]
Just copy/paste the code above to use the feedbackwhiz coupon code at checkout.
Feedbackwhiz is an all in one order management suite built for Amazon sellers to manage orders, automate emails, increase sales and profit by boosting product reviews. The best feature is the eye-catching email templates that can be tailored to generate high open and feedback rates.
Whats the second hardest thing about selling on Amazon? Getting product reviews!
We have all been there, spent months doing product research, keyword research, optimizing your listing and images. Now its launch time!
Just sit back and watch the reviews come flooding in………….
Days later, weeks later…….
Still waiting on those reviews, googling how to get Amazon product reviews. Checking out review groups on facebook, Fiverr gigs to get reviews. White hat, grey hat, and black hat methods. You are willing to try it all for that quick fix.
Is it too late to sign up to Amazon early review program? Ok, let's stop here, you are trying to build a real business. To do that you need a solid process in place. One of the items you will need is a customer follow up. Feedbackwhiz has the best email templates that will increase conversions and encourage buyers to leave you "honest feedback" about your product.
Check out one of the prebuilt review request follow up templates below.
Add that personalization, with custom autofill variables such as [[CUSTOMER_NAME]],[[CUSTOMER_FIRST_NAME]], [[ORDER_ID]], [[PRODUCT_IMAGE]] etc to make your emails more engaging. Easy to use interface with a live preview screen to show you exactly how your email will look in real time using your own actual Amazon products. It looks a little strange but Feedback Whiz shows you a preview of what the end users sees without the short code.
Feedbackwhiz Features Review
Order Management
FeedbackWhiz pays special attention to time-saving. Its Order Management tool is comprehensively designed in order to improve your productivity by saving time by a significant margin. Let's get into the details of its working mechanism. The process is very simple, i.e. to manage and track the order database. All the orders including customer data, order metrics are fully synced and integrated into a single screen platform. This filtered data is quick and efficient which help saves your time.
Apart from that, it allows you to search for the orders with the help of available order metric. You don't have to search or go through multiple webpages as it will give exactly what you are searching for.
Here are some of the key features of the Order Management Tool:
Advanced Search Engine
Find Repeat Buyers
Views emails sent per order
Search by any time frame
View pending and unshipped orders
View email statistics per order
Search with 20+ different variables
View delivery status
View shipping status per order
Do not solicit option
View promotional orders
Direct link to Amazon order page
Send instant emails to any order(s)
View feedback and rating
View up to 200 orders per page
The Order Manager shows you a list of all the orders coming from the Amazon. You also have a Shipping and Buyer Info option from where you can see their tracking numbers and other useful customer data.
As FeedbackWhiz sends email to every order instantly irrespective of the fact that the user is a repeat customer, or one with an unshipped, returned or purchased order. All in all, it is intellectually automated with an email, content, and statistics that are right for any order. The Order Management solution is intuitively designed to save your time and keep you focused on selling.
Feedback Tools
For every Amazon seller, it is very important to have an automated feedback system to monitor and interact more with the customers. Positive feedback from the customers really helps a lot in increasing your sales and maximizing your revenue. Even if there are negative feedbacks, with FeedbackWhiz, you can manage and set up instant alerts to remove them quickly with just a single click. Also, you can attract prospective customers to your products with the most effective campaigns which you can easily identify with the tool's intelligent data analytics. These data analytics can also be used to create effective email content and delivery methods that can help you get more positive feedback.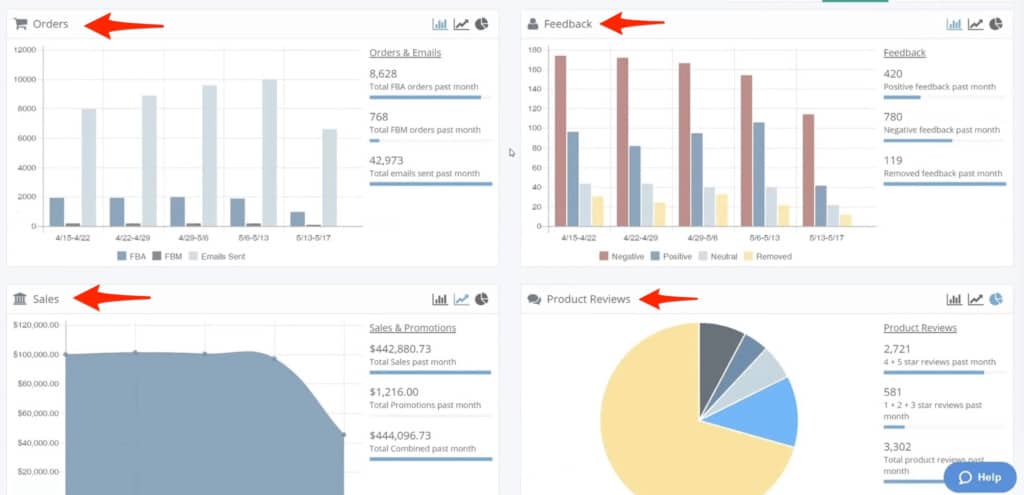 The Feedback Repair Management tool gives you all the data of those users who left a negative review (1 star, 2 stars and 3 stars) on your products. You can select those buyers and send them a mail from a list of different templates you have set up to know the real reason why they are not happy with the product and address the issue or request them to remove the negative feedback.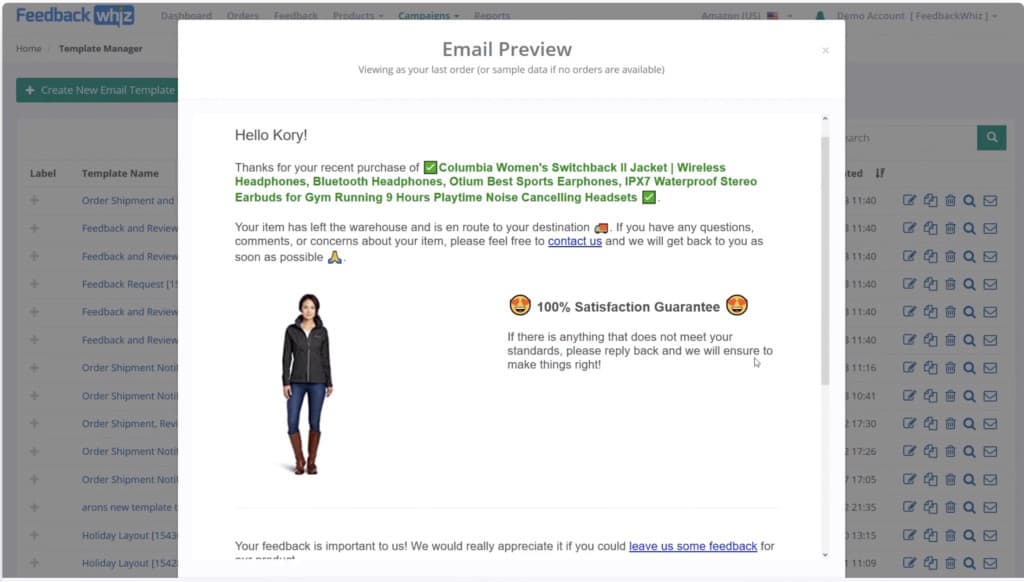 You can create customized, professional or personal emails to engage with your customers 24/7. Automating your Amazon campaigns will shoot emails based on an event or a specified time.
Below are some of the key features of Feedback Repair Management Tool:
Negative feedback notifications
Send feedback removal request emails
Track emails sent
Neutral feedback notifications
Easily track all feedback received
Amazon support quick link
Feedback removal notifications
Filter only 1,2,3 star feedback
Feedback analytics
The tool gives you filtered results for 1, 2 and 3-star feedback and notifications for negative and neutral feedback. It is advised to prioritize negative feedback to address unsatisfied customers and try to maintain a good reputation with minimal effort.
Product Reviews
Managing products reviews effectively is one of the most important aspects of Amazon business. FeedbackWhiz comes with an all-in-one product reviews that help you in managing, repairing and analyzing the product reviews which are seamlessly integrated into a single platform/screen. You can either view them individually or group them by product. Use filter and search option to get the reviews you are looking for instantly. You will get an instant notification for all the unfavorable product reviews through email so that you can immediately respond and resolve the situation.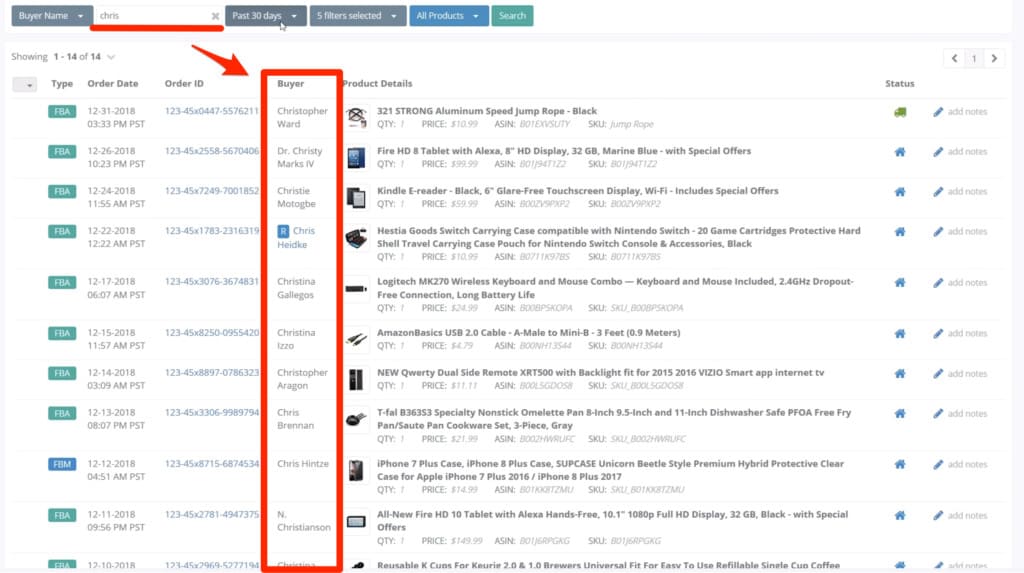 Below are some of the key features of the Product Review Tool:
Negative review notification
Find keywords to identify trends
Respond to reviews via comments
Positive and neutral review notifications
Product selector tool
Competitor tracking
Advanced review search engine
Group by ASIN product review
Add notes to reviews
With the Product Review Manager tool, you can monitor any ASIN you want on Amazon. Suppose you want to track and analyze your competitor's products and feedback, you just have to import your list of ASIN and you will get access to dive into all your competitor's data. You can filter your product reviews by star ratings and verified purchases and can also add your personal notes any product review you want.
FeedbackWhiz also has the Reports option under which you can download the reports based on orders, buyers or feedback reviews. You can use this information to run custom audience campaigns on Facebook by just uploading the CSV report on your audience section. This is a good option for those who are launching a new similar product and want to re-target their past customers who purchased their related products in the past.
Email Automation
This tool saves a lot of time which goes in creating emails. FeedbackWhiz's email builder is extremely simple and intuitive to use as you can create beautiful and effective emails in less than 5 minutes. It creates and automates emails and you don't even have to worry about the mail format or test checks. The tool offers an easy-to-use email creator which helps you in creating a perfect email by just clicking and dropping variables to customize it. You can see your email through the live preview to draft a perfect email for your customers.
Apart from that, you have unlimited Amazon email templates which you can use for any purpose you want. You can also create effective custom templates with the help of the live preview editor using custom variables, emoji's, animated gifs, file attachments, custom HTML and much more. The tool also gives you access to manage and monitor the statistics on all templates and campaigns to analyze and identify which emails are the most effective and which are not. You can use the click to open rates and A/B testing data to increase your conversion rates.
Here are some of the key features of Email Automation and Analytics Tool:
Custom email creator
Send test emails
Target only orders with promotion
Click and drop variables
Send emails based on delivery
Campaign statistics
Customs links and text
Send emails at specific times
Email open statistics
Logo and file upload
Target specific orders
Global buyer blacklist
Insert product images
Exclude orders from solicitation
Buyer unsubscribe data
Live order email preview
Exclude orders with feedback received
Duplicate email detection
Amazon follow up email template by Feebackwhiz
The Campaigns tool is for those who want to send out emails to their customers. Here you can create all types of templates or you can use from the pre-built amazon follow up email templates. You can categorize your mail type and label it to filter them easily. The tool comes with a live email preview functionality so as you type you can see exactly how your email will look like on the right side of the dashboard. To make your emails more engaging you can use animated gifs and emojis which are there in the tool or can also insert related images. Once you are done with your email, you can send it as a test mail to your selected email is to check exactly how your final email looks like. If you know how to code you can go for HTML email format where you can create more attractive and engaging emails than those generic text emails which are boring for the users to read.
The Email automation functionality lets you set targets for each campaign which triggers the email once that target and scheduled date is met. For example, you can set a campaign for people under shipped, delivered, returned, positive feedback, negative feedback, repeat buyer, and product review categories. So once the customer meets the target, your email goes straight into their mailbox. Amazing, isn't it?
Scheduling your emails in this manner also helps you prevent getting the negative reviews from the buyers. For example, you can schedule an apologetic mail to those buyers who have returned the product. Also, if someone has left positive feedback such as 4-star or 5-star and haven't left a product review, you can schedule a mail for them requesting to leave a product review to help other buyers in making the right decision. You can send emails to orders for the last 60 days if you want to take reviews on the products purchased in the last 60 days. Some people like to set sequences for their emails from as soon as someone books an order and then follow them with emails at every stage.
You can use A/B split testing method to increase your open and click rates. So within each campaign, you can split it up and send an equal amount of emails based on the number of different subject lines you want to try. This will give you a clear indication which subject lines are actually effective and reflected more open and click rates. If your sample size is big or gets a significant number of orders, your statistics would be more reliable. So with this, you are not blindly sending out your emails not knowing whether your customers are actually opening them, reading them and leaving their reviews.
FeedbackWhiz gives access to add up to 5 email accounts to get the notifications and you can choose which type of notifications you want to receive. They are soon going to launch an admin tool for big companies that have multiple accounts wherein they can have one master user who can manage 10-20 accounts.
Analytics
The analytics tool helps you increase profitability by letting you focus on intelligent insights that inform key decisions. It gives you access to perform A/B testing on your campaigns, check open rates for your emails, and download historical customer data to create a custom audience or lookalike campaigns on social media channels such as Facebook to retarget your customers.
Monitoring and Notifications
With FeedbackWhiz, you get a 24/7 feedbackwhiz product monitoring plan which will be the monitoring of your seller feedback and product reviews. It can monitor seller feedback, product reviews, buy box changes, listing title changes, listing hijackers, order returns, etc. It gives you complete control over exactly which products you need these alerts for so that you can take quick actions.
Profit and Loss Tracking Tool
Feedbackwhiz have added a new profit and loss tracking tool to the suite. Now you can track your profits with ease. Get a glimpse into how your Amazon FBA business is really doing. It's a quick win for Amazon sellers to boost their amazon business by having a better understanding with real data at their fingertips. 
Feedbackwhiz is for every Amazon seller that wants to streamline the managing of customer's orders, sales, reviews, etc. manually takes a lot of time. FeedbackWhiz integrates all the details of the customer's orders on a single platform screen. Its advanced features such as search, filter, analyze, and download help you manage your sales more effectively and efficiently.
Apart from that, FeedbackWhiz has a direct match buyer-review tool that will help you protect and repair your brand name and trust among the buyers. It helps you view, organize and group the product reviews and you can always analyze and manage the posted reviews with the instant notifications functionality. Once it has been set up its a fully automated system and feels like you have your own Virtual assistant in the background chasing up customers.
With FeedbackWhiz, you can view all your Amazon orders and see all the related metric details such as emails sent, email queued, feedback, product reviews, tracking numbers, promotional items, repeat buyers, buyer-opt out and much more. The tool will import your past 365 days of orders and give all the data and statistics from those orders. Order information is updated every 15 minutes whereas feedback and return information is updated in every 30 minutes. For product reviews, you need to wait for 6 hours to get the information.
Feedbackwhiz Discount Coupon Code
Looking for a Feedbackwhiz Coupon Code, look no further! Use Discount code PROJECTFBA for the best price.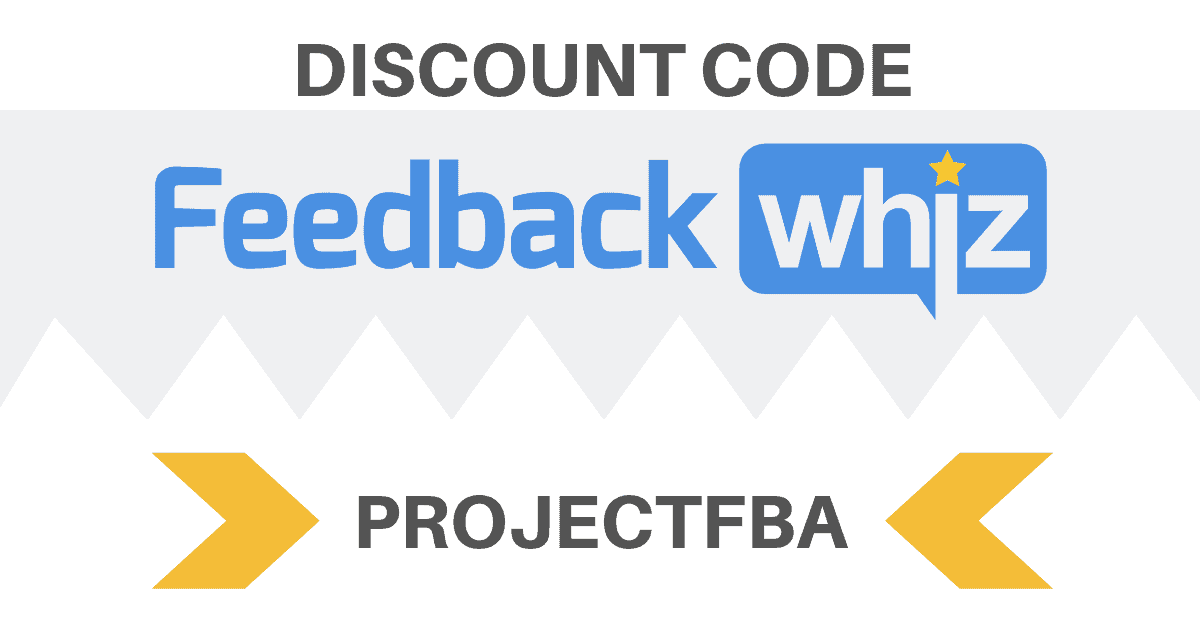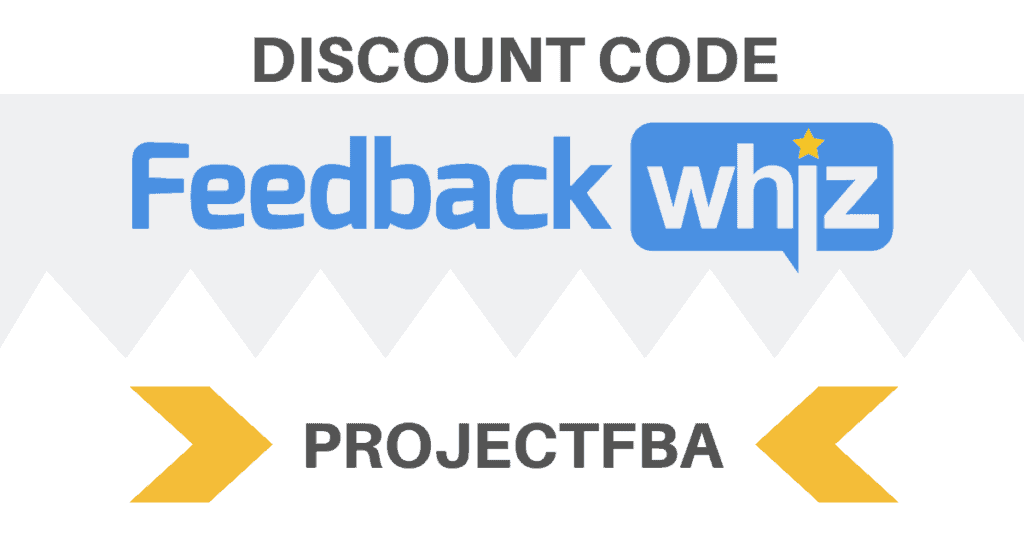 Click the image for the latest Feedbackwhiz promo code.
The main difference between FeedbackWhiz and other similar tools is that FeedbackWhiz put a lot of efforts into some of the main features to help sellers try to get more organic product reviews especially through email automation and order and buyer reports which people can download order information, run custom-audience campaigns on Facebook or lookalike audience and get traffic outside of Amazon especially for the new products you want to launch. It's hard enough when the majority of buyers never leave a review or don't know how to leave a review on Amazon.
FeedbackWhiz is for all types of Amazon sellers, either you are a beginning seller, a seller having sales of 10 million dollars or a private-label owner. For private-label sellers, the Product Review and Monitoring tool are really effective. For those sellers who have just started or those who have started getting a few orders in a day, email automation is really important to get those organic product reviews and feedback. So, all in all, FeedbackWhiz cater to any level Amazon sellers.
When you login into your account on FeedbackWhiz, you get a quick summary of orders, feedback, the amount of sales you have, your product reviews, quick statistics on your best selling products, most frequent buyers, buyers who left the most reviews, a list of your most reviewed products and a quick summary of all the email campaigns you are running in your dashboard. You can filter your data according to the past day, past one week, past one month, the past year or customize it according to the specific dates. The dashboard also has a notification system where you can check the feedback, product reviews, orders, etc.
FeedbackWhiz supports various Amazon marketplaces including Amazon US, Mexico, Canada, Italy, UK, Germany, France, Spain, Australia, Japan, and India. The best thing is that you don't need to create multiple accounts to manage multiple markets. There is only one login required to access all the marketplaces. To toggle between these marketplaces, you just need to click the marketplace flag present on the top menu bar and it will instantly show you your other marketplace data.
As FeedbackWhiz is a web-based software, you can use it directly through your web browser. It supports all the browsers such as Google Chrome, Internet Explorer, Safari, Mozilla Firefox among others and is compatible with any mobile device, tablet or PC.
Similar Coupon and Discount Codes 
Is FeedbackWhiz worth the price?
The cost of Feedbackwhiz should be considered more of an investment than an expense. Using the feedbackwhiz promo code PROJECTFBA for the latest feedbackwiz discount and promotion. Prices start from $14.99 to $199.99 per month for the Starter plan up to the Ultimate feedbackwhiz package. FeedbackWhiz has everything which you need to simplify and effectively grow your Amazon business. It is the best software for Amazon sellers to dominate the marketplace. With FeedbackWhiz, the merchants can boost their Amazon business, repair feedback, improve product reviews, and automate high-volume emails.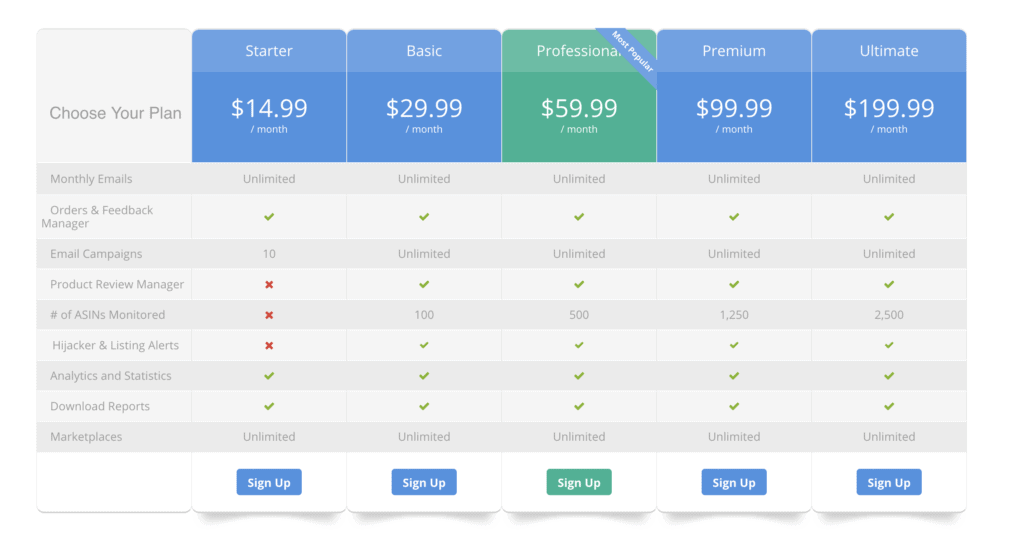 Built on one of the most advanced platforms, you will not find another Amazon platform having such data, analytics, and usability to help Amazon sellers like you to save time and grow your brand. Trust me, it will be fun to work an awesome metrics dashboard to help you see the latest trends, what's working and track emails.
FeedbackWhiz Alternatives worth checking out:
Feedbackwhiz vs Feedback Genius
After starting a free trial with feedbackwhiz, I haven't looked back. I used the same templates from feedback genius, but make them look much nicer in feedbackwhiz. The A/B split testing with feedbackwhiz has led to a much higher conversion rate and open rates for my email.
The level of control and flexibility you have with feebackwhiz vs feedback genius is much higher. The product review manager and notifications eliminate the need for me to use feedback genius anymore.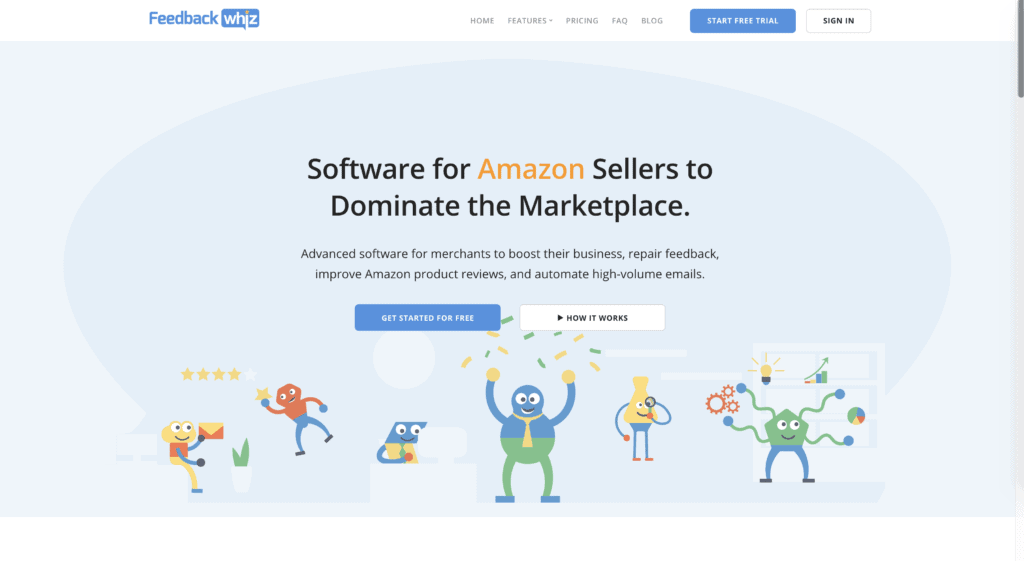 The FeedbackWhiz support team is always reliable and quick to respond and resolve your queries. The platform also provides helpful tutorial guidelines and videos which are being uploaded on Youtube by the Feedbackwhiz team on a weekly basis.
It comes with five different pricing plans which vary in features. The plans are grouped into – Starter Plan, Basic Plan, Professional Plan, Premium Plan, and Ultimate Plan. Hint: Dont forget to use our exclusive feedbackwhiz promo code to get the latest deal.
The main difference between these plans includes the number of email campaigns creation facility, ASINs monitoring and access to premium features such as Product Review Manager and Product Review Targets.
All the plans include unlimited emails feature and come with a 30-day free trial under which you are eligible for the "Professional Plan" that you can cancel anytime. The best thing is that you don't have to give your credit card details to get your 30-day free trial. It allows you to have full access to the features for 30 days where you can send over 10,000 emails and monitor 100 products. Once the free trial ends, the tool will not pull data from Amazon and you won't be able to send emails. You will be asked to upgrade your account to a paid plan.
You don't have to worry about the Email Automation tool as you get unlimited emails on all the plans. If you are selling a lot of varied products which fall into different categories and have a lot of reviews to monitor, then you should go for the Premium ($99.99) or Ultimate ($199.99) Plans.
Feedbackwhiz coupons promo: You can get an additional discount codes of up to 20% if you opt to sign up for the annual plan.
If you face any issue with the product usability or have any confusion regarding any functionality of the tool, you can always connect with the FeedbackWhiz's support team through the live chat system or you can call the customer care to get it resolved in no time. As all the customer care team members at FeedbackWhiz are developers, so you won't get the responses like "We have noted your issue and will get back to you soon". You will actually get your problem solved right away.
No more customer private data means that the order manager page will no longer display customer name, zip code, city, phone number.
What Amazon marketplaces does Feedbackwhiz support?
Feedbackwhiz supports these seven marketplaces: Amazon US, Mexico, Canada, UK, Germany, Italy, France, Spain, Australia, Japan, and India.
I hope you have got all your doubts cleared with this FeedbackWhiz Review and you are ready to dominate the Amazon marketplace and boost your business with the help of this Amazon tool.
Feedbackwhiz Discount
50% Off First Month
COUPON CODE = PROJECTFBA