Amazon early reviewer program aims to build trust with their online community and help sellers make the most of the opportunities available to them. A product without reviews will struggle to compete with the top sellers on Amazon's marketplace. Therefore, gaining those first reviews, even if only two or three, is essential.
In the past, placing early reviews on Amazon was more challenging due to certain restrictions. However, Amazon recently introduced the Early Reviewer Program, which allows users to write early reviews easier than before.
In this blog post, we will explore this Early Reviewer Program. We'll tell you exactly what it is, how it works, how sellers can join, and the benefits of being a part of this program.
What is the Amazon Early Reviewer Program?
Getting those first reviews for a newly listed product on Amazon can be difficult. With thousands of products listed on the site, a new item has relatively little chance of gaining immediate attention. As a result, sales will suffer.
Therefore, the Amazon Early Reviewer Program is in place to help new sellers get a head start on sales. It's an easy solution to finding those initial reviews, which will help to boost early profits.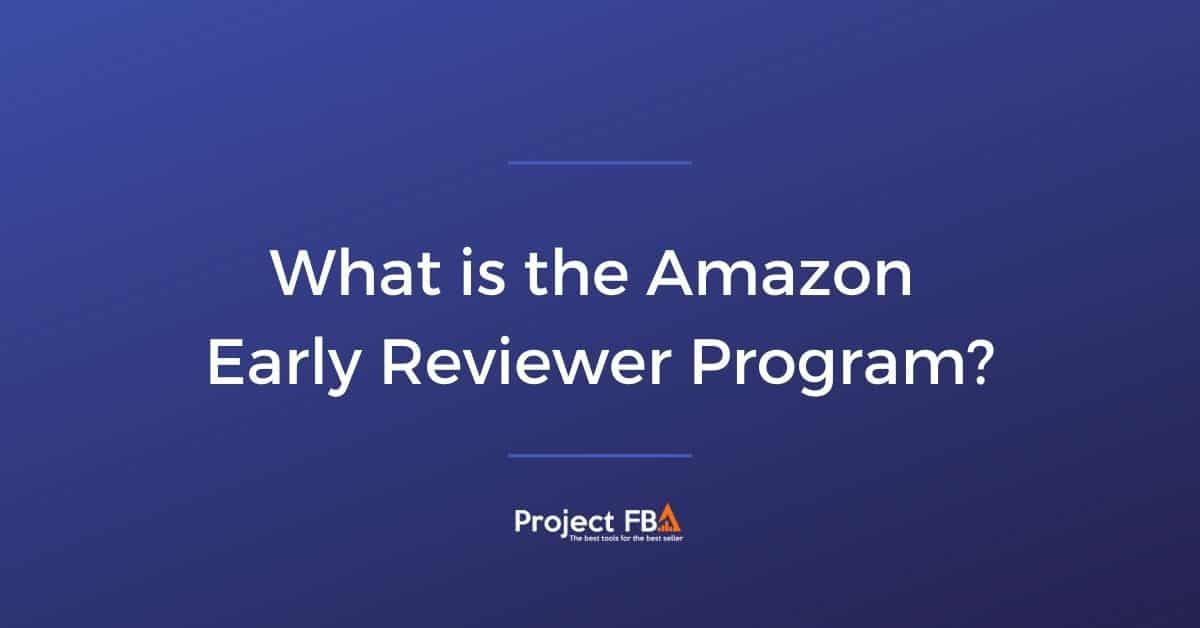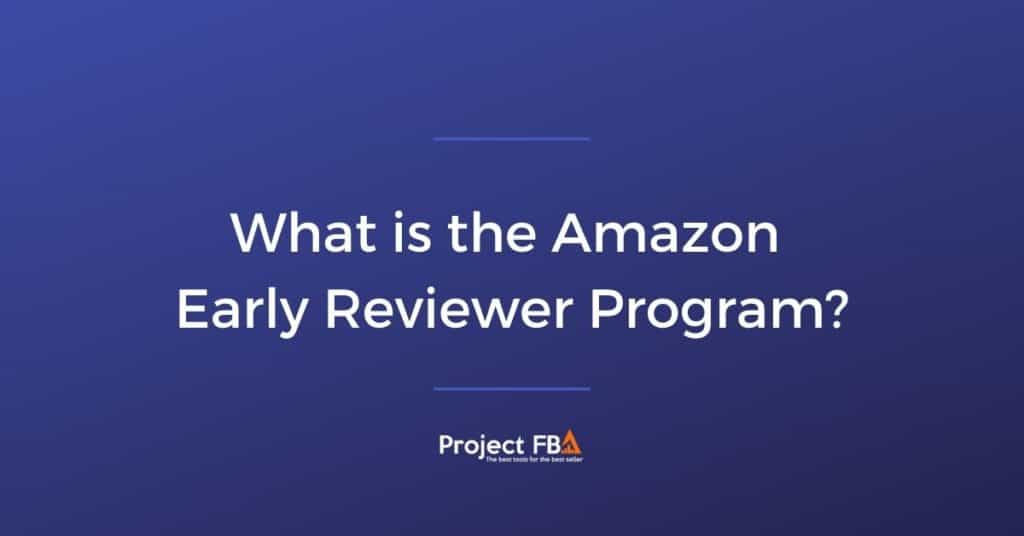 How Does the Program Work?
The Early Reviewers Program is an internal system that encourages those who have already bought an item to leave a review. Amazon selects reviewers on a random basis. However, those selected must meet Amazon's eligibility criteria and have no history of leaving negative reviews.
If a potential reviewer has a negative history, Amazon can intentionally exclude them from the random selection process. In exchange for leaving a review, customers receive small gift tokens from Amazon with a value of $1-$3.
The Early Reviewer Program costs $60 for sellers to join but is greatly beneficial, as product submission allows Amazon to promote to early reviewers. Sellers aren't charged for their submission until they receive at least one review or until one year has passed.
The submitted products should receive around five reviews, but this depends on the product and the reviewers selected. All products with early reviews linked to them are marked by an orange badge to differentiate them.
What Makes This Program Different Than Before?
One of the greatest problems with Amazon's original, incentivized review system was the lack of trust it built with customers.
With this new system, a seller's participation is not visible to the customer when they are making their purchase. As a result, the gift card reward can't tempt the customer into writing a biased review. Customers are only notified of a reward option once they've purchased the product.
These factors all aim to encourage authentic reviews. While there is no guarantee of this, Amazon is in direct control of the program, making inauthentic reviews much less likely.
With this tightly knit network of sellers, buyers, and reviewers, a product stands a far better chance of becoming a successful sale.
How Can Sellers Join?
It is a relatively simple process for sellers to join the Early Reviewers Program and submit a chosen product for review. There are four main steps to follow:
Step 1: Enroll the product brand
To enroll in the Early Reviewers Program, the product submitted must be part of Amazon's Brand Registry. Once you have signed up as a seller, you will be able to proceed to the seller portal.
Step 2: Prepare a CVC template
The Early Reviewer Program portal can be found in Amazon Seller Central under the advertising tab. Up to 100 Stock keeping Units (SKUs) can be added at once, but products must have under five reviews already to be eligible.
Also, products must be over $15 to be accepted onto the program. Although you, as a seller, are in charge of what you would like to enroll, you won't be able to decide who reviews your product.
Step 3: Upload the product
Once the template is complete, you can upload your products. Amazon will continue running the program until five reviews are received.
Step 4: Refresh seller status
Once the template is uploaded, sellers can check their status by refreshing the page. Amazon will either confirm or reject the application. You will have to agree to Amazon's terms and conditions and proceed to make a payment only when the first review has been received or a year has passed.
Is the Early Reviewer Program Worth Joining?
The Early Reviewer Program does not guarantee positive reviews, but it gives sellers a strong chance of gaining them. Working with a program is far more likely to gain reviews than simply leaving the product to sell itself.
For a well-established product, gaining reviews is hard enough. For a new product, it is even tougher. According to many sellers, the reviewer program is a successful way to gain traction.
While reviewers are rewarded with gift cards for their participation, sellers gain the benefits of an early review. Although you will have to invest in the program, product reviews tend to generate more sales, and any initial cost successfully is then countered by the results achieved.
Although early reviews are an excellent resource, there are some negative factors associated with Amazon's program. Guaranteeing a positive review is impossible, and this is a risk many sellers don't wish to take. If you do choose to list a product, you should do so with an awareness that positive feedback is not guaranteed, and ratings could take a while to come in.
Pros
Customers can access unbiased reviews
Cheaper to use than other services such as Amazon Vine
New products or those struggling to gain traction receive a sales boost
Cons
Reviews don't always come in quickly
There is no guarantee of a good review
Sellers must be willing to invest in the program
How to Make the Program a Success
Focus on Quality Products
The more outstanding a product is in the first place, the better its chances of achieving higher ratings and greater sales. Therefore, you should carefully consider which products you want to list and make sure descriptions and images are the best as possible. Sellers offering a bad product should not expect a large number of reviews, or positive feedback. So the more work that goes into the product to make it polished and sellable, the better.
Set Goals
While the Early Reviewer Program made it more difficult for sellers to gain reviews when it was introduced in 2019, it is a more effective method than the original incentivized reviews system. The new program opens reviews up to all types of customers. By focusing on those who had already bought the product, Amazon aims to gain the most authentic reviews.
Once you get past the ten reviews mark, the increase in sales will become more noticeable. Aiming to achieve a goal such as this will help drive product sales forward. You will have relatively little control over the outcome. But the better the product is, and the more professionally you present it, the more likely it is to sell and generate reviews.
Smart Pricing
Correctly pricing your items and understanding Amazon SEO is important to gaining success for your product. Matching your price against those of competing sellers will help you rise above.
SEO
Using the correct SEO search terms to make your product more easily searchable will attract more customers to your page. It is then up to your product description, images, and specs to keep customers on the page and converted into buyers.
A low SEO ranking can greatly affect sales. The lower your product is on the ranking charts, the less likely it is to capture the attention of potential buyers. The easiest way to climb up the rankings is to gain positive reviews.
The more five-star reviews you have, the more customers will trust your product enough to buy it. So much of selling and buying based on reviews, so working with a program such as Early Reviewers will help you climb higher up the rankings and gain a more solid customer base.
Additional Help
Alongside the reviewer system, sellers can work to drive external traffic and run promotions to help get the chosen product more visible on the market. Although these systems cost more money and are harder to maintain, they can increase the rate of sales and reviews.
Promotions
Amazon has millions of members, including both buyers and sellers, and getting ahead of other competitors is challenging. The company does run advertising channels through which sellers can promote their products specifically to Amazon customers. This does cost extra, but it can work well alongside the Early Reviewer Program to help increase sales.
Digital Marketing Skills
To be a seller on Amazon and make a success of the Reviewer Program, you need to be a strong writer, marketer, and salesperson. The reviewer program can only generate reviews if customers first buy the product in question. Utilizing advertising resources, promotional aids, and social media will help to increase buyer demand and get those reviews flooding in.
Dedication
Most buyers have little time to spend on reviews, and many see it as a waste of time. Capturing their attention with a product that is worth their time and a five-star review is important. Therefore, to join the program, we recommend you're fully prepared to get the most out of it.
Final Thoughts
Ultimately, early reviews are useful ways to gain traffic towards a certain selected product. If you're a new seller offering a product, or if you're having little success with sales, the reviewer program is a great way to kickstart the process. Reviews are honest and will generally provide a positive outlook for your products.
Amazon reviews will not only make a product look better, but they also reassure the seller that the product they invested in is receiving feedback and generating sales.
To ensure you get the most out of this program, make sure you follow this guide before signing up for the program. Bring your digital marketing skills and the right attitude to the Amazon Early Reviewer Program and you'll walk away with positive reviews and more sales from your product.
If you have any other questions about beginning the Early Reviewer Program, shoot us an email. We'll be happy to give you some extra pointers about getting started.