Because online marketplaces such as Amazon have become saturated with sellers, and buyers usually pick the certified brands at the top of the pecking order, online feedback tools are necessary for sellers. Amazon has multiple tools that can help the sellers find out what steps to take to make their products trend. These tools allow small sellers to compete favorably in the large marketplace.
Jump Send is a common Amazon feedback request tool that you can use to receive feedback on the products and services you sell. However, it's not the only option worth considering.
If you're on the fence about Jump Send, here is more information about this Amazon tool and seven other Jump Send alternatives worth trying.
Why You Need Amazon Feedback Tools
These Amazon tools use keyword searches to make the products seem more relevant, among other trends. If you're a seller, you'll access data on trends and why old trends aren't popular anymore. This can also lead you to understand what the customers love and what turns them off, which can help you make your products better.
Most importantly, these online tools can help you establish a relationship with the buyers. By sending them customized emails and surveys to fill, you can evaluate their interest in your product.
There are many Jump Send alternatives, and considering that it's considered as one of the best feedback tools, it's likely that you'll find a better alternative. However, let's go over everything you need to know about Jump Send just to be sure you would prefer an alternative.
What is Jump Send?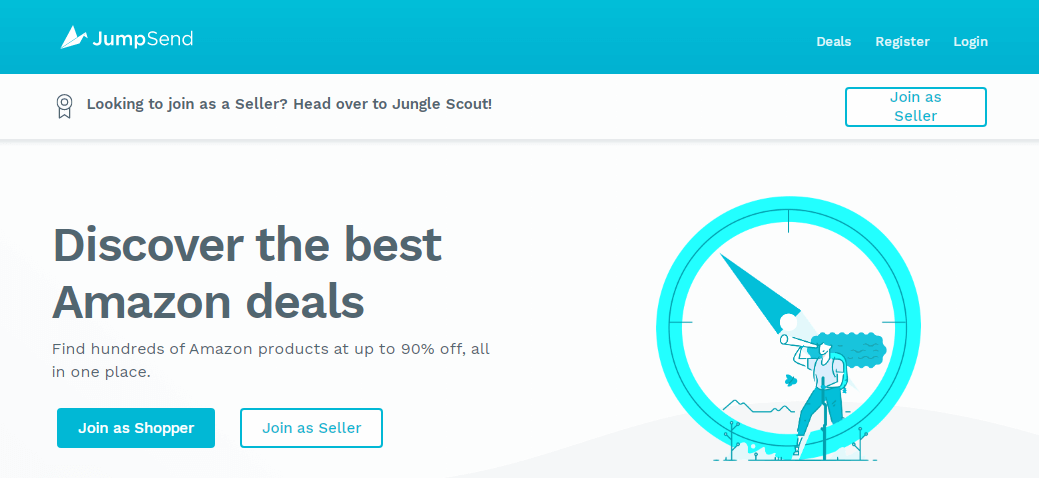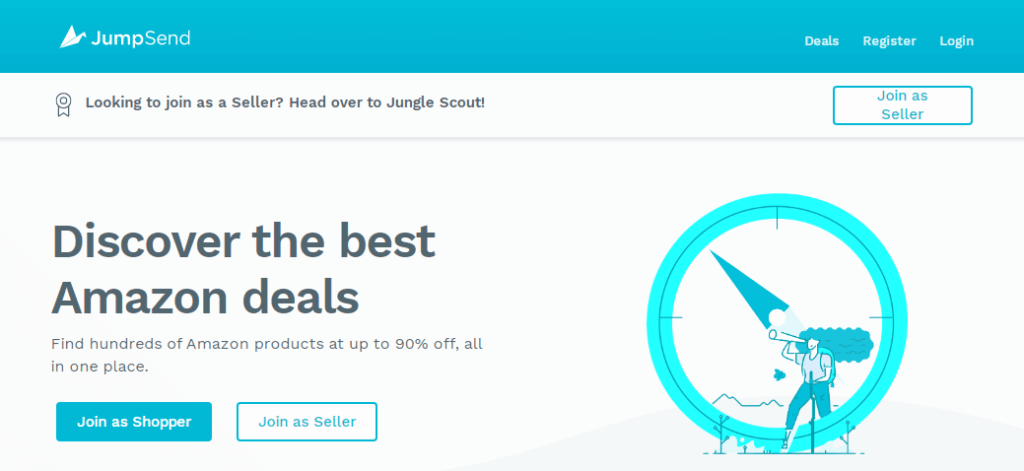 Created by the same developers that made Jungle Scout, Jump Send has reached about 100,000 shoppers on Amazon. It has multiple other benefits, including an autoresponder, which allows shoppers to communicate with the seller after the purchase.
Overall, the tool makes communication between customers and sellers much easier than before. The tool also works on similar marketplaces such as Souq and Alibaba.
Jump Send Features
Jump Send has numerous features to increase sales, including product promotions such as discounts, attractive deals, and online campaigns to attract traffic to Amazon. It also boosts sales for products through specific keyword searches.
However, here are the three main benefits to using Jump Send:
Customer Accessibility
The main advantage of using Jump Send is access to the large marketplace of about 100,000 shoppers who require the seller's services. Within the large marketplace, you can offer your products at a discount, and the resultant shopping by a large number of buyers makes your product trend.
This strategy also increases the chances of buyers leaving reviews on your products, which you can analyze to increase your product trend.
Email Marketing Tools
Sellers can also access multiple email templates which they can use to customize the marketing of their products. These email templates may be more effective because they have a higher chance of being opened and read than regular emails that customers receive from Amazon.
Organic Customer Feedback
Information on what the customers love or dislike about your product can help you make your product better, and expand your reach. The Jump Send tool doesn't manipulate reviews or delete negative reviews, which allows for more organic growth.
Jump Send Pricing
Jump Send's annual pricing model is quite pricy, and their monthly plans even pricier. You should only take the monthly plans if you're only trying out the product, although it comes with inventory protection, which is absent from annual plans. There are four main tiers for the tool:
Starter tier- At $19 per month, the starter tier offers unlimited email campaigns, premium analytics, unlimited coupons, and access to 100,000 shoppers. However, it is limited to 3 products.
Entrepreneur tier- Allows you to market up to 10 products at $39 per month.
Business tier- Costs $69 per month.
Enterprise tier- Costs $139 per month.
Best Jump Send Alternatives
Jump Send is affordable and offers you access to a wide customer pool. However, it will become expensive as you add more products.
With Jump Send alternatives, you'll have access to unique features not included with Jump Send for a similar price. Here are seven alternatives you should explore:
1) Jungle Scout Launch (The New JumpSend)
Jungle Scout Launch is a useful tool among Jump Send alternatives that you should familiarize yourself with to successfully marketing your products and services on Amazon. It gives useful insights from Amazon data, so you walk away with profitable business strategies. The tool can also help new sellers to get new opportunities to grow their businesses. It works either as a Chrome extension or a web application.
Features
The most important functions of Jungle Scout's Launch are in product research. The tool tracks product sales as well as reviews and ratings from customers. It also helps in finding out the performance of each product you sell, as well as how competitors are performing in the market. Jungle Scout Launch helps you identify your strengths and weaknesses to improve your business.
Breakthrough technology in database analysis and management allows you to identify which products are on-demand, so you don't have to spend days researching on appropriate products. All you have to do is search the product, and you can access sales data. Furthermore, you can also get data on your suppliers and most loyal customers. This way, you can monitor most aspects of your business.
Jungle Scout Launch also has important features such as email campaigns and product productions. Email campaigns provide a platform for you to keep in touch with your customers. Because the emails are personalized, you can get valuable information such as whether the customer has received their product, whether they like it or dislike it. Product promotions allow you to showcase discounted products, which can increase sales. This is a great way to boost ranking on your products and services on Amazon.
Pricing
Jungle Scout Launch pricing starts from $49 a month, but the costs are tailored based on the monthly order count.
2) FeedbackWhiz
FeedbackWhiz is similar to the higher tiers of Jump Send, which means you'll have to pay more to access unlimited campaigns. However, it's still worth trying out.
Features
The greatest benefit of using FeedbackWhiz is that it allows marketing of your products on unlimited platforms. It gives sellers the option to run unlimited campaigns and emails on every tier, which is better than what Jump Send offers.
Pricing
The starter tier costs $15. It allows for ten email campaigns to be launched, but you can send unlimited emails and promote products on unlimited marketplaces. The other tiers are Basic, Professional, Premium, and Ultimate tier, which cost $30, $60, $100, and $200, respectively. The difference between these categories is increasing Amazon Standard Identification Numbers, which you can monitor.
3) Helium 10 Follow-Up
The Helium 10 Follow-Up tool is a fully automated email tool that offers an effective approach to creating a great customer experience. This tool allows you to focus your attention on improving your product and services, leaving the automated email sequence to deal with other event triggers and order deliveries.
Features
The tool has has a user-friendly dashboard which allows you to organize all your activity such as viewing orders, setting up automation, managing your products, and building email templates.
These interfaces allow you to save time. It's automation also allows all customer issues and concerns to be answered immediately. It can also follow up on orders, which helps to improve seller reputation leading to more sales.
Pricing
The Platinum plan costs $97 per month, while the Diamond and Elite packages cost $197 and $397 respectively. You can also opt for the Basic plan, which is free. However, the Basic plan has limited access to most Helium 10 features.
4) Feedback Genius
Feedback Genius is a stellar software tool for Amazon sellers. It automates communication between the buyer and the seller by automated emails that are sent at specific times. This helps to increase the number of reviews received by the seller. The tool is created by Seller Labs and is one of the best options for sellers who are looking for value in a marketplace management tool.
Features
Seller Feedback Notifications
One of the most outstanding benefits of Feedback Genius is that it provides immediate notifications to the seller every time a buyer leaves feedback. You can customize the notification only to notify you when you receive negative feedback, especially if you have high traffic and wouldn't like to be notified of everything.
Filtering notifications for negative reviews only could be a great strategy to avoid spam notifications and to take action on the ones that require immediate attention.
The full email automation of Feedback Genius allows sellers to:
Ask for reviews a specific amount of time after the buyer received an order.
Solicit buyers to contact you about any issues regarding their orders, which helps to reduce the number of negative reviews.
Utilize emails as a marketing tool through cross-selling or upselling a product to a customer who had used the platform to purchase a similar product.
Although Feedback Genius doesn't give the sellers the variety of segmentation and A/B testing tools that other email automation tools used for marketing do, the tool is suitable for review management. It also has a full range of email templates that have been proven to be effective in bringing the highest possible engagement.
The tool comes with an analytic section that allows you to analyze previously sent emails and check for various metrics such as unsubscribe rate, open rate, and click-through rate. These analytics can help you determine where you need to improve. You can also access monthly reports with appropriate statistics.
Pricing
Pricing for Feedback genius is fair, with a free package that allows you to send 100 emails to one marketplace. The free package is a great way to test the service. There are other packages for $40 offering 3,000 emails, 10,000 emails for $80, and a high volume package with over 60,000 emails for $250 per month.
5) Viral Launch
Viral Launch is a market intelligence tool that helps you search for profitable products that you can source and sell on Amazon. It allows you to see historical trends of products, monthly sales, and revenue, as well as the number of sales annually. It is also suitable for the scanning page of search results on Amazon as well as keyword research. Use the Viral Launch coupon code to get 40% off for our readers.
Features
There are multiple benefits of using Viral Launch. First, you can make smarter business decisions faster because of the insights provided by their data science teams. The team processes billions of data points per data, more than any other marketing company.
Viral launch is also an all-in-one solution, so you don't have to keep compiling spreadsheets for analysis. You'll save more time and focus on making more money.
Pricing
The product is quite effective, but if you want to try it out, you can start with the free version before you upgrade to a payment plan. The payment plans range from beginner ($50 per month) to Kinetic ($166 per month).
The price range depends on the number of tools you access per month. You also get two months free when you pay annually.
6) AMZ Finder
AMZ Finder is another Jump Send alternative to pave your way to success on Amazon. The tool offers a range of carefully designed customizable email templates, order filtering setting as well as a blacklist feature. The features work together to achieve automated matching of suitable email templates that can be sent to individual customers. This automation improves your customer service as well as customer shopping experience.
Features
AMZ Finder includes a system to manage your reviews and orders intelligently. This system allows a time-saving overview on the Amazon store. Positive and negative reviews are filtered and delivered automatically, enhancing customer care responsiveness.
Additionally, AMZ Finder has an automatic invoice generator feature, which also allows automatic entry of customer data, based on customizable invoice rules.
Pricing
AMZ Finder offers various packages starting from $49 to $799 per month. The packages vary according to the number of tracking ASINs and monthly emails sent. Each plan comes with a discount when you pay annually.
7) Sage Mailer
Sage Mailer is a tool that helps sellers increase their Amazon sales by getting more organic feedback and reviews through automated email campaigns much the same as Zonmaster does.
Features
Managing your Amazon Reputation – Sage Mailer allows you to monitor your Amazon feedback and ASINs without the need to use the Seller Central account. You receive notifications every time someone sends negative feedback, so you can react and quickly remove it to maintain a top rank for best-selling products.
Customize your emails – You can use Sage Mailer's pre-made feedback and product review templates or use personalized ones by adding logos, product images, etc. The tool also allows you to target your customers, which helps to increase customer's responsiveness.
Create creative letters – You can improve review conversion by creating different versions of letters, to determine which variation increases your chances of success. Sage Mailer's A/B Testing improves your decision making, instead of using guesswork.
Get immediate results – Sage Mailer's allows you to send requests to orders placed 30 days before you signed up. You can also start receiving feedback from the first day, so you don't have to wait for weeks to receive the first review, as in other autoresponders. The tool also allows you to be timely because you reach your customers when they are most likely to open your emails.
Pricing
Sage Mailer has three main packages: free, basic, and pro. The free plan gives you 200 emails per month and one marketplace. However, the basic and pro packages offer additional features such as A/B testing, review monitoring, and VAT invoices among others.
The basic and pro plans cost $10 and $25 respectively. This tool also offers a 21-day free trial for new customers.
Final Thoughts
From the above comparisons, these seven tools offer a great Jump Send alternatives. Compare each of them based on the pricing and the kind of features you desire before choosing the right one for you.