It is no secret that the world of eCommerce is big business. One way to secure yourself some of the lucrative profits of eCommerce is through the sale of FBA private label products.
If you are not familiar with the term, FBA stands for fulfillment by Amazon. Essentially, you post a product on Amazon manufactured by a third party and you earn revenue from the sales of that product.
It is an easy way to earn some extra money, but you need to do a bit of product research first. You can't just throw anything up on Amazon and hope to start earning some big bucks. There are numerous factors to take into account. This research can be a tall order if you don't have any assistance.
Luckily, that's where Helium 10 Black Box comes in.
What is Helium 10 Black Box?
Helium 10's Black Box is the best Amazon FBA Product Finder. It stands out as a premier solution amongst the 25 dynamic Amazon seller tools offered by the Helium 10 Suite. Its prowess lies in unveiling profitable Amazon FBA opportunities at your fingertips.
With the "Amazon Black Box", you have the capability to sweep through the vast Amazon marketplace using a myriad of filters. Whether you're setting parameters for maximum or minimum sales or diving into specific turnover rates, this tool ensures you pinpoint products that align perfectly with your criteria.
When it comes to Amazon-centric tools, Helium 10 reigns supreme. Its unmatched accuracy and expansive filtering capabilities make it the go-to choice for serious Amazon sellers, outshining its competitors with ease.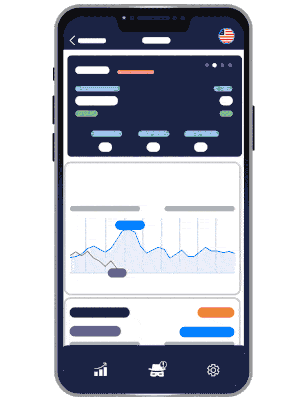 SIGN UP FOR HELIUM 10
Get 20% OFF your first 6 moths or 10% OFF every month
How to Use Helium 10 Black Box?
The overwhelming amount of products featured on Helium 10 Black Box can be both a blessing and a curse. While it's great to have so much variety available to you, how do you know where to begin? Which filters do you need to pay attention to in particular?
What Should You Look For On Black Box?
The first thing you need to know is that a successful Amazon product is defined by high sales with little competition. This is what you're aiming to find with Magnet during your product research .
How do you know which Amazon product categories are a no-go? Well, there are a few categories that you should generally avoid entirely. These include:
Books
Cell phone accessories
Clothing (including shoes and jewelry)
Photography
Musical instruments
Why should you avoid these Amazon product categories? Because they are filled with expensive and branded items that you simply cannot compete with. Instead, you want to find a niche Amazon product that receives regular monthly sales without facing impossible competition. Examples include:
Pet products
Automotive
Home and kitchenware
Garden ornaments and furniture
Sports
Arts & crafts
These categories excel because they are frequent staples for Amazon customers, but are miscellaneous enough to not incur fierce competition.
How do you find such a product? By making the most of the Black Box filters.
Search Filters Featured on Helium10
We mentioned categories above, but that's just one of the many main menu filters at your disposal when you use Black Box. Let's look at some of the most important:
Monthly Revenue: This dictates how much monthly profit you're going to make from a particular Amazon product. These are estimates, of course, but give you an idea of how much money could be made.
Monthly Sales: This highlights how many units of a product are sold per month on average. This is an incredibly important filter when gauging demand.
The Number of Amazon Sellers: You need to know what your competition looks like. The less Amazon sellers you're up against, the more likely you are to secure a niche of your own.
Title Keywords: Via this filter, you can mark specific keywords you want the products to have in their title. This is important for SEO purposes.
Pricing: You need to find a healthy middle-ground here. If the products are too cheap, you won't return a substantial profit. Too expensive and it becomes difficult to maintain
The full list is extensive, which speaks to the efficacy of Helium 10. You can select any of these features from the main menu search, allowing you to maintain full control over your search results.
Can Black Box Find Profitable Products
Let's take a deep dive into the Helium 10 Black Box tool to see what we can find. I have just finished the training video (another great thing about Helium 10, is everything is laid out step by step) so let's use Bradley's settings and see what we find.


Black Box Amazon product research settings used:
Categories = Office Products and Patio, Lawn & Garden
Monthly Revenue = $4,000 – $12,000
Price = $15 – $35
Review Count = Max 75 (so we are looking for products with less than 75 reviews)
Review Rating = Max 3.9 Stars
Variation Count = Max 1
Number of Images = Max 4
So what did the search setting find?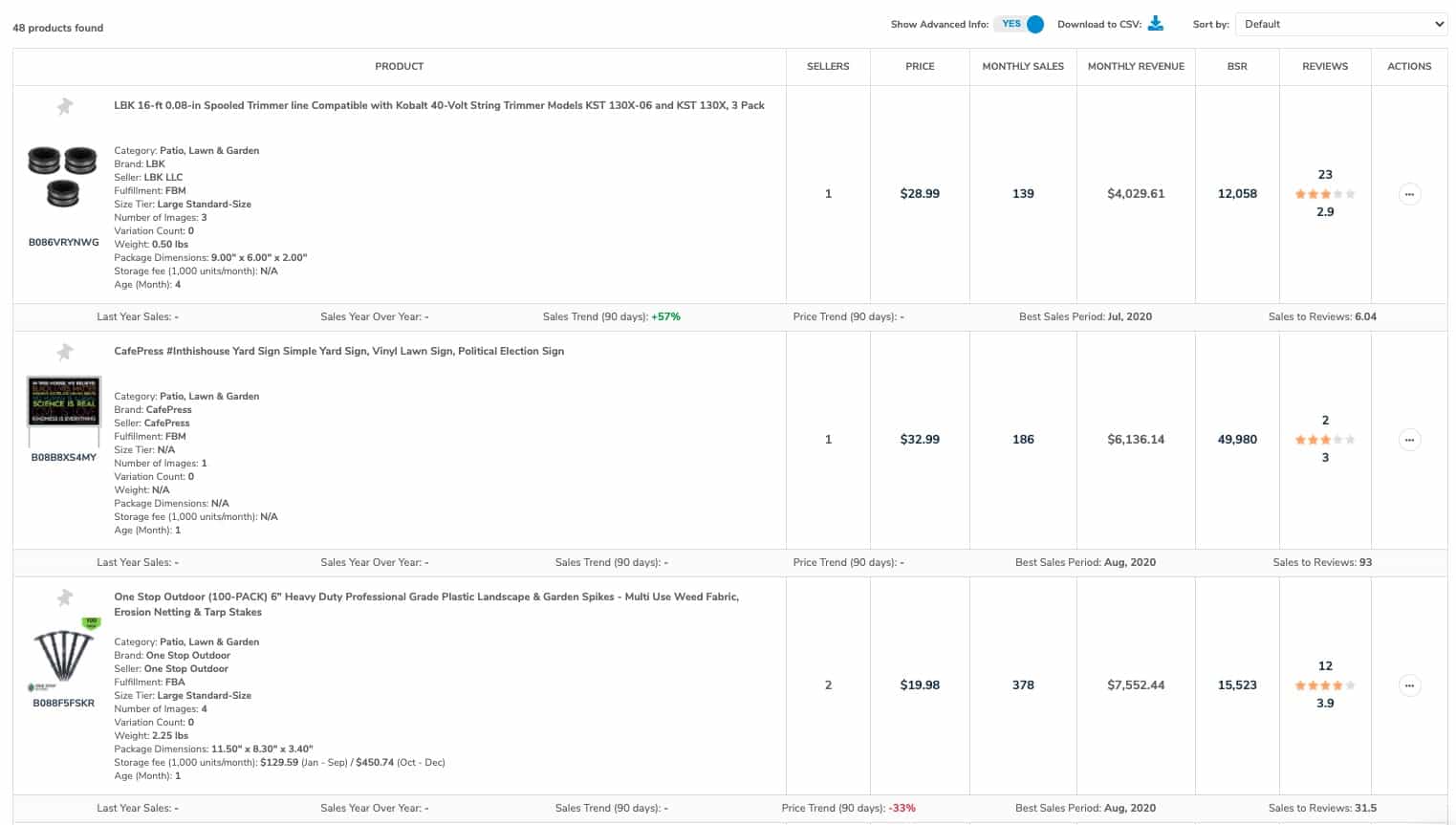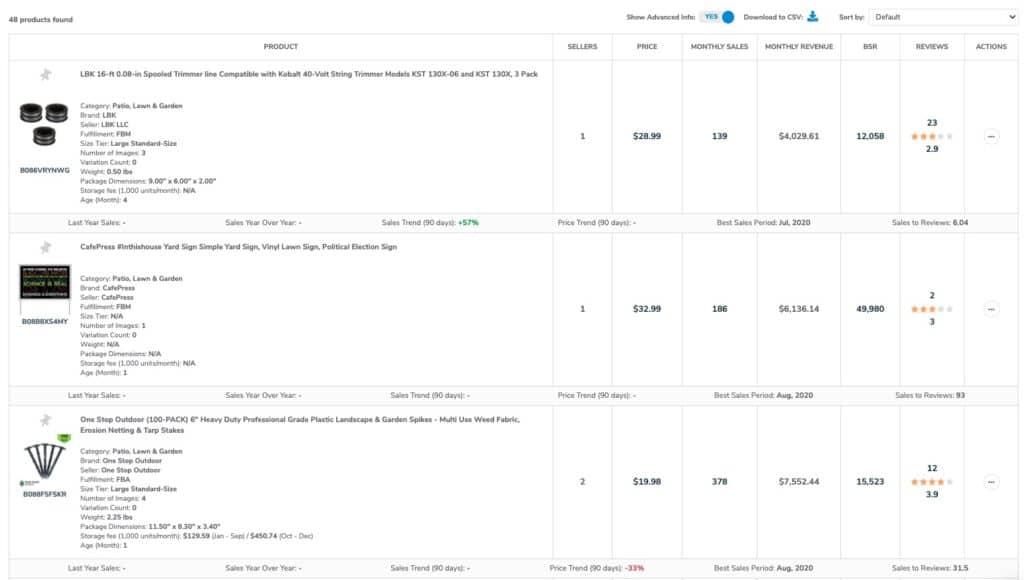 These filters returned a total of 48 products which is a good number to start to dig a little deeper into the results.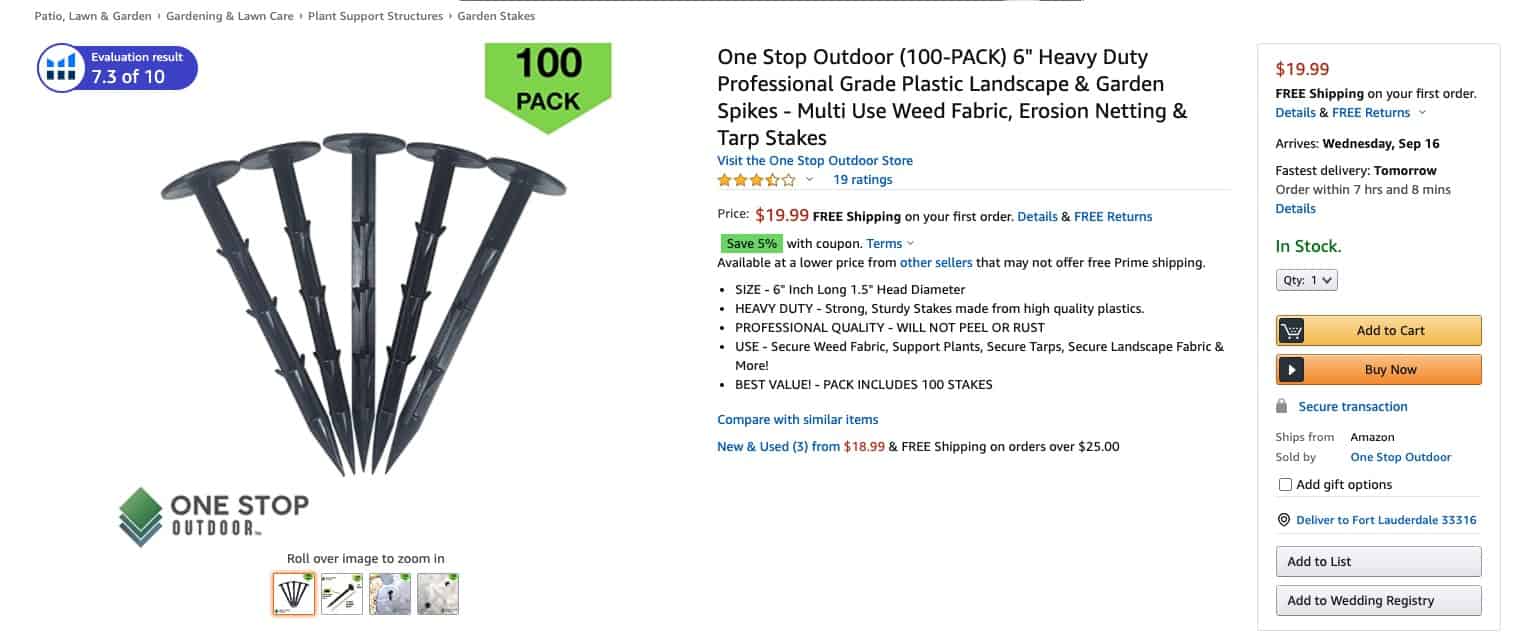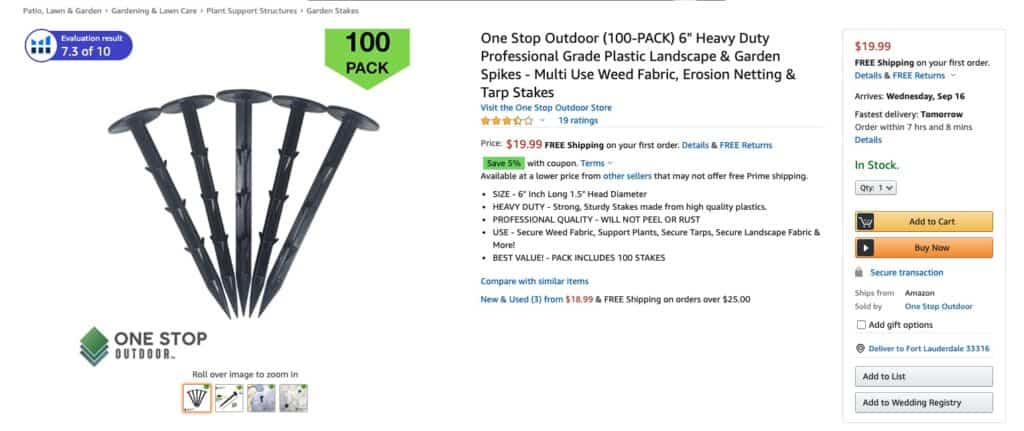 Heavy duty professional grade garden spike – Interesting. Never heard of these before. As you can see the Helium 10 rating is 7.3 out of 10, they only have 4 images so definitely something that could be improved on.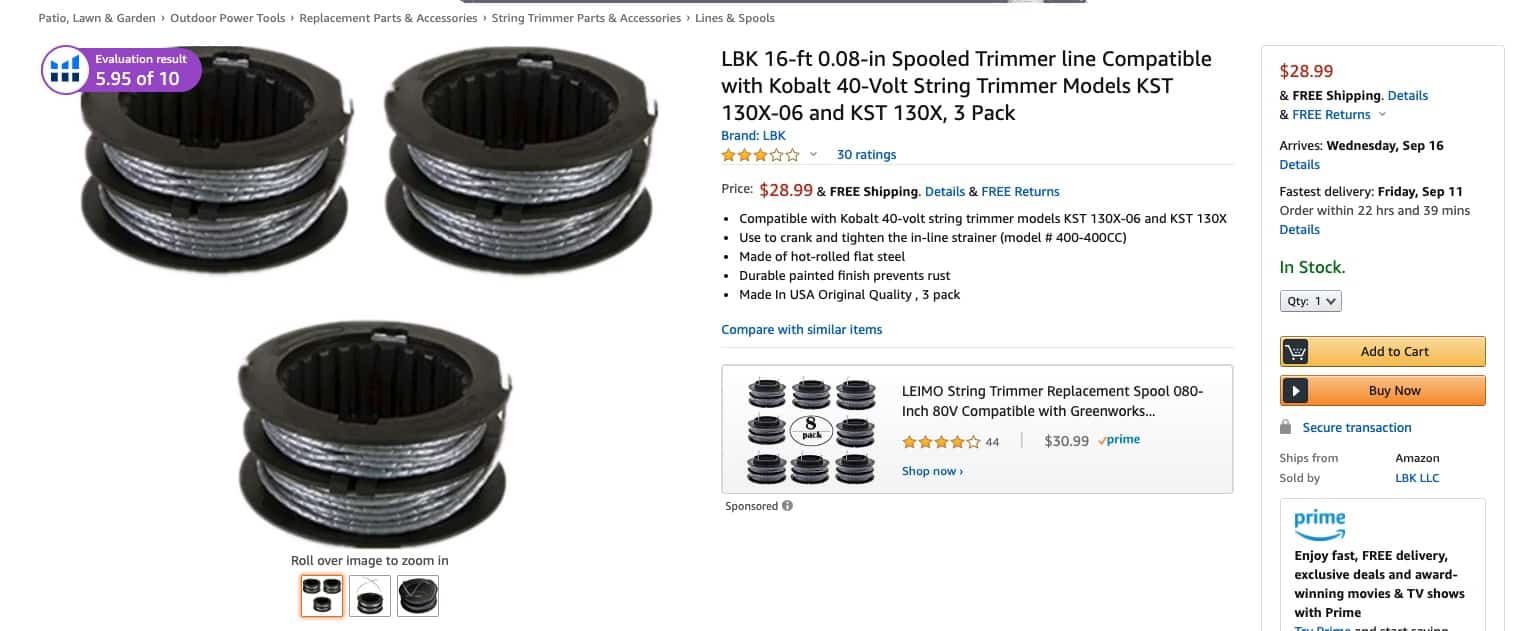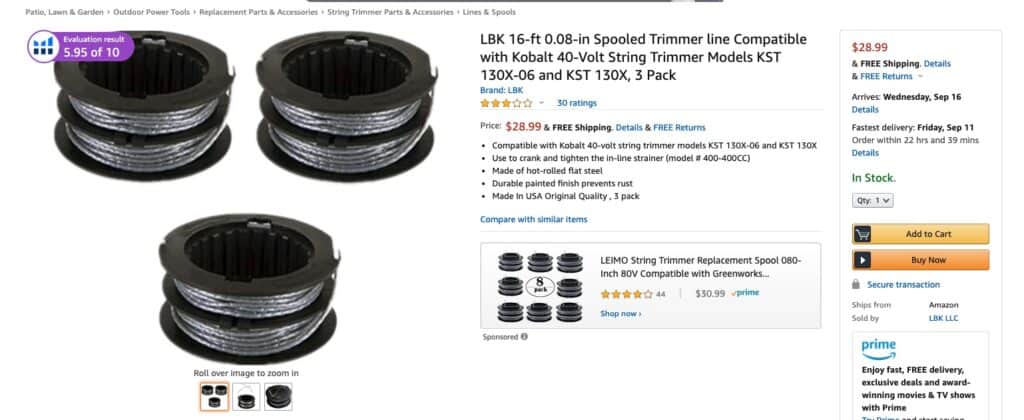 Another interesting product that came up was Spooled trimmer line. Again this method showed by Bradley in the training video is just the starting point. But it does show how powerful this tool and the data are found can be. You can uncover some real gems using this. Once you have found a few ideas you would like to look into, check out Helium 10 free training that comes with the paid tools called freedom ticket.
Black Box Does The Work For You
The database of products is broken down into even the most minute of search specifications to aid with your product research. This complexity doesn't make Helium 10 difficult to use. Its interface is designed in such a way that it is largely self-explanatory.
There's a search bar at the top with a variety of checkbox filters that you can select or deselect easily to adjust your search results. These are separated into two sections: basic and advanced.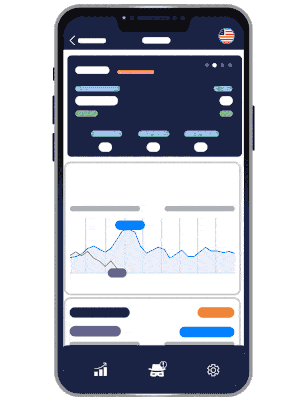 Start your Amazon seller journey with the most in-depth and detailed keyword research tool
Helium 10 Chrome Extension
Black Box doesn't require a specific website to function. With the Helium10 chrome extension, you can access vital information right from your browser.
This allows you to open up a Helium 10 window while browsing Amazon products and get all the information you need on particular products in one quick overview. The main menu includes:
Estimated revenue
Estimated sales
Review count
Review rating
The Helium 10 chrome extension X-ray delivers all the powerful product research features of the Black Box itself, just in a condensed format. This particular research tool is especially helpful when deciding how competitive the sale of an Amazon product may be from the number of reviews counted. You can download Amazon reviews with a click of a button using Helium 10.
What is Cerebro IQ Score?
One of the most unique features of Helium 10, and what sets this research tool apart from many of its competitors, is its Cerebro function. This tool allows you to discover which keywords are most frequently used to find particular products.
All you need is the Amazon Standard Identification Number (or ASIN) of a product, then let Black Box do the rest. By specifying what users are typing when searching Amazon, you can boost your product up the listings and therefore improve your chances of making a sale.
The information surrounding keywords is stored in the same way a site uses cookies to improve a user's experience. Little pieces of data are continually saved with every Amazon search, meaning Black Box only increases in efficiency as time goes on.
The Cerebro IQ score is the rating given to a product by Black Box to indicate how profitable of an opportunity various Amazon products may be. The higher the score, the better.
Looking for a Discount:
Click here for 20% off Helium10!
Is Helium 10 Black Box Worth It?
In short: yes. If you intend to throw your hat into the ring of FBA products, sufficient product research is essential, and Black Box turns a potentially exhausting process into a streamlined effort. So, how much will Helium 10 cost you?
Helium 10 pricing varies depending on which package you opt for. Here's a breakdown:
Free: For nothing at all you gain access to all of Black Box's features. This is generally considered the free trial option, as it lets you gain familiarity with what's on offer.
A La Carte: $37 per month
Platinum: $97 per month
Diamond: $197 per month
Elite: $397 per month
Which plan you opt for entirely depends on the kinds of products you're going to invest in, how much money you're able to invest in FBA pursuits, and which features you consider essential. The free trial package is a fantastic way to start without risking a loss in profit. You can find a full pricing breakdown via this link for more information.
Final Thoughts
When it comes to product research, Helium 10 Black Box is a powerful tool that can give you a much-needed edge in the competitive world of the Amazon market place. The Cerebro keyword tool in addition to the browser extension gives it an edge, while the expansive search cements it as a necessary weapon in any seller's arsenal. It is the ultimate all-in-one Amazon database.
🔥 Exclusive Helium 10 Coupons 🔥