There are dozens, if not hundreds, of different ways to sell new and used items online. Amazon, Facebook Marketplace, Spotify, and Google Shopping are just a few of the big names in the game. One more company that is already known throughout the world (and has over 10,000 brick-and-mortar stores and a presence in 24 countries) also has a piece of the eCommerce pie: Walmart Marketplace.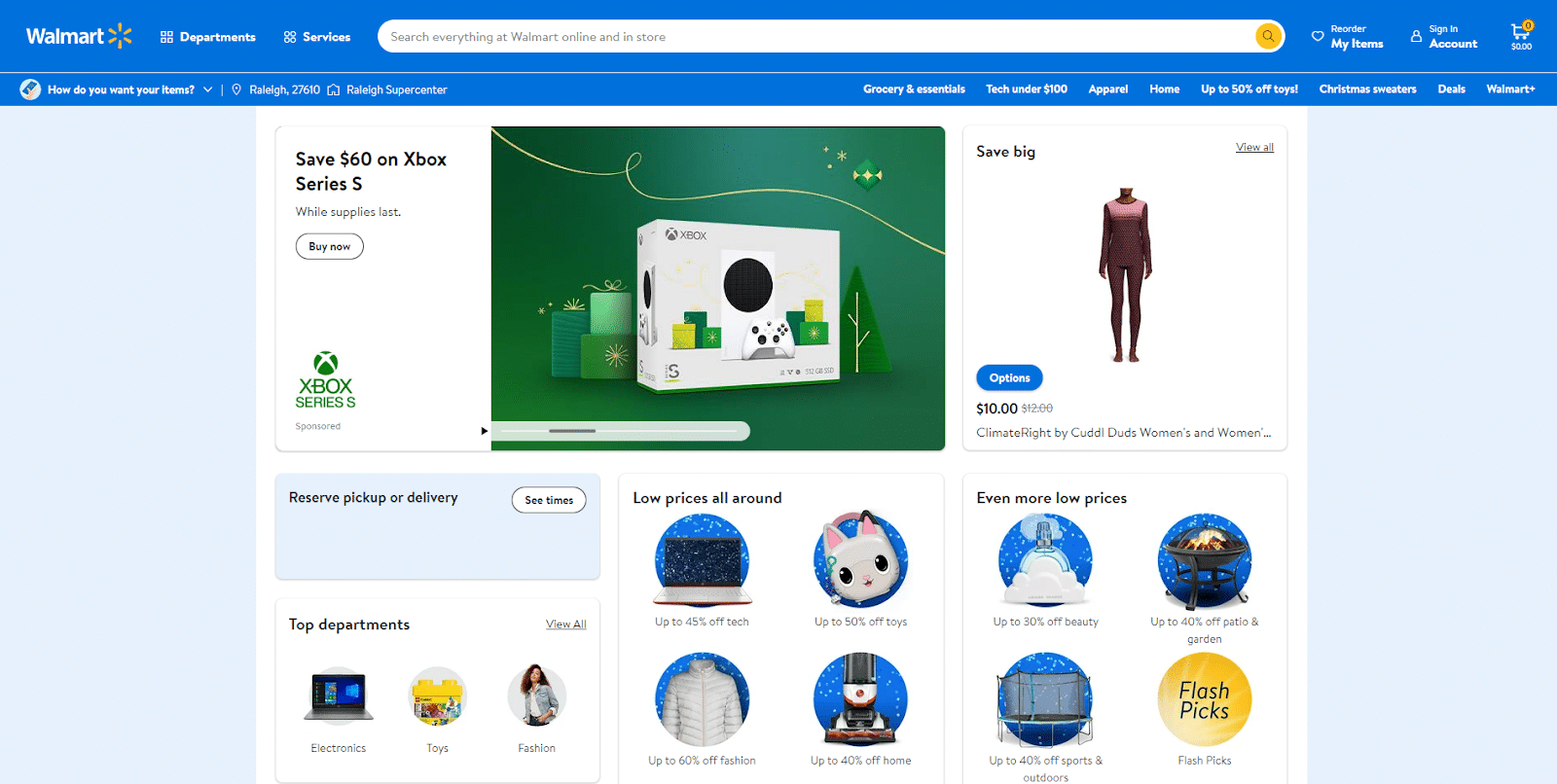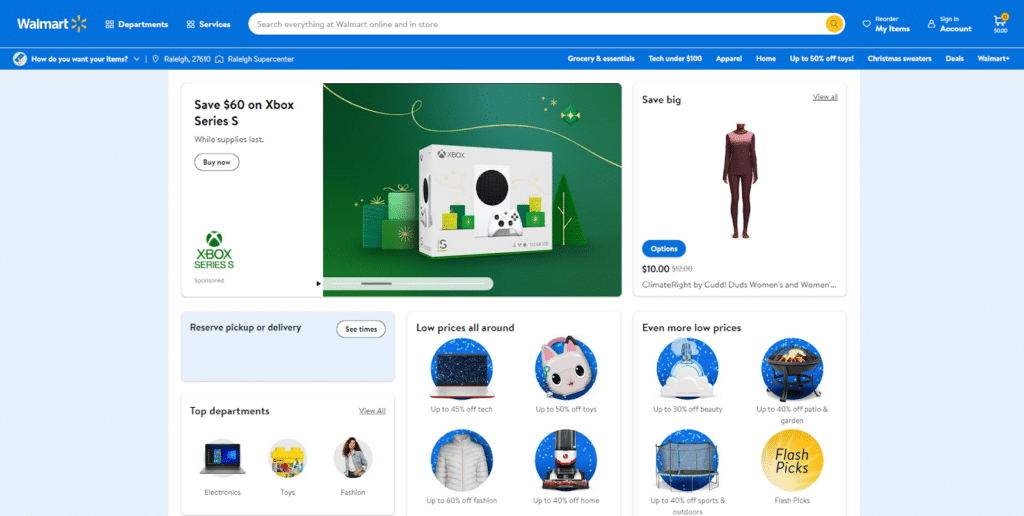 What Is Walmart Marketplace?
When they enabled customers to pick up their online items in-store via Store Service in 2007, Walmart introduced the idea of multichannel shopping. In 2009, they entered the internet marketplace and established the Walmart Marketplace. Originally, Walmart Marketplace invited different third-party merchants into the marketplace and helped them sell their products via Walmart.com.
Does this sound a lot like Amazon? If so, it's because these online marketplaces do have many similarities. Like most companies, Walmart does not admit to copying Amazon's strategies; however, the one-time online bookstore turned superstore has definitely provided a quality roadmap for others to follow. And one main difference between these superstore giants is that Walmart has established brick-and-mortar stores.
Walmart's third-party items are not (typically) sold in stores, only online, and are grouped together in the Walmart Marketplace section of the site. In addition to approximately 100,00 third-party sellers, it boasts more than 300–400 established retailers, including some giants like eBags, ProTeam, and Wayfair.
In the world of eCommerce, Walmart is ranked number three on the list, not surprisingly behind Amazon and Ebay. Walmart.com also ranks in the top 20 for U.S. based sites and in the top 100 worldwide. In the last four fiscal years, 2019–2022, Walmart's eCommerce sales have more than doubled. This includes Walmart (U.S.), Walmart International, and Sam's Club divisions.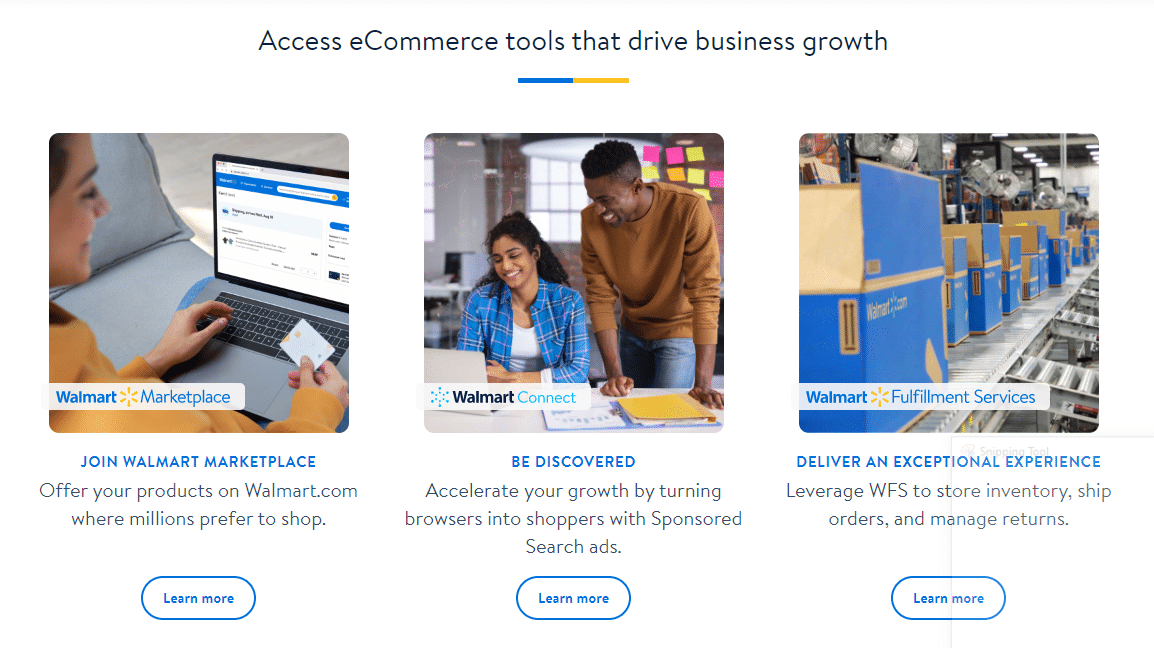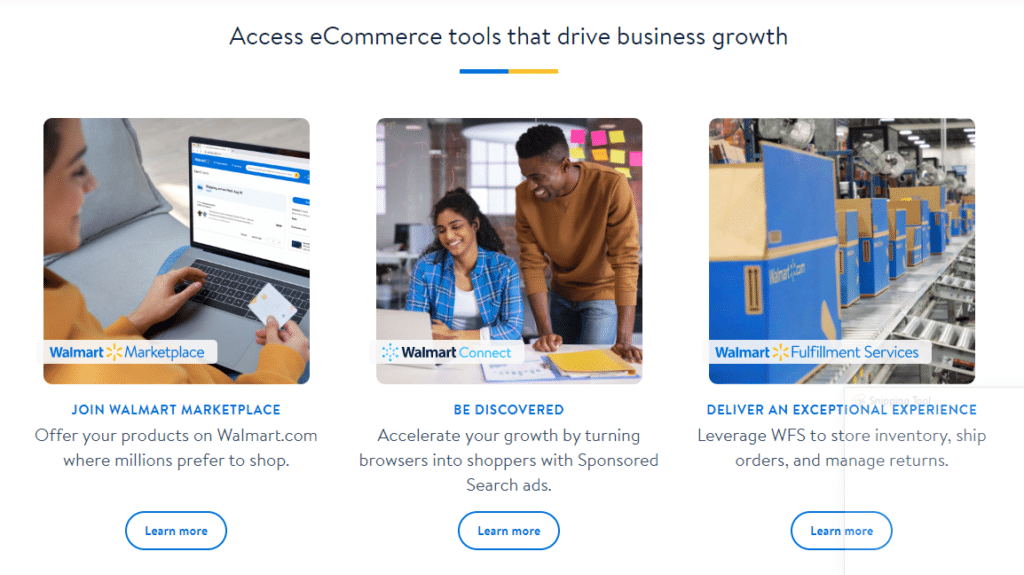 How To Start Selling Products on the Walmart Marketplace
Since most marketplaces are user-friendly, it's not too hard to get your products up and running on Walmart Marketplace. To make it easier, we've outlined the startup steps to get your first product live. If you're low on time or resources, tools like Helium 10 can assist with the application process.
1. Fill Out an Application
To fill out the Walmart Marketplace application, you'll need a few bits of information, including what you want to sell. Some other things you'll need include:
US Business Tax ID (SSN not accepted)
W9 or W8 and EIN Verification Letter from the Department of Treasury that verifies your U.S. business address or place of physical operations
Address or place of physical operations
U.S. business address
A planned integration method (How are you going to get your products and the correlating information onto the Walmart site?)
Primary product categories, catalog size, and related information (e.g., total SKUs you will be selling on Walmart.com with verified UPC information, used vs. refurbished products, etc.)
2. Create Your Account
Visit marketplace.walmart.com, or submit your information through an assisted tool. Click "Request to Sell," and fill in all the required fields.
It should take about 10 minutes to complete if you have all the information readily available
Double-check all of the information you provide for accuracy
Click "Save" at the bottom as you complete each section
3. Creating Product Listings
You now have a basic partner profile and can access the seller portal, which means you're on your way to selling products on the platform. Now it's time to set up your profile and list your products.
Complete your Partner Profile by including your:

Company name
Description
Logo
Company policies
Tax information
Once the progress bar shows 100%, you're ready to start creating your product list.
Provide product information for each of your items for sale:

Pictures
Video
Long and short descriptions
Any other product attributes
After filling out all required fields, click the "Validate Fields" button. Correct any highlighted fields, and then upload your file to the Seller Center. Once completed, the items in your Seller Center will be moved to Active status.
4. Test Your Page on the Marketplace
Going through the test process lets you see the customer view of your products. To test accurately, follow the steps below.
Preview your item to check your product information, pricing, and see how customers will view the item
Update your item inventory to "1"
Click the "Update Inventory" button
Click "Publish Item"
Click "Purchase Item"
5. Go Live
This is the moment when you will officially begin selling products on the Walmart Marketplace. To make your products live:
Click "Mark as Done" on all the items on your Walmart Launch Checklist in the Seller Center
Select "Confirm on the pop-up message asking if you're ready to launch
If everything checks out, the Walmart Marketplace integration team will approve your profile
After approval, your products will be available on Walmart.com within 24 hours
Is it Hard To Get Approved To Sell on Walmart?
Getting approved to sell on Walmart.com is not automatic; however, there have been changes in the recent past that have made it somewhat less stringent.
To be prepared, we asked Walmart Marketplace pro and Helium10's Senior Brand Evangelist, Carrie Miller, what some of the reasons are for why your products and business page may not be approved on Walmart Marketplace.
She told us that Walmart Marketplace may deny your request if:
Your business does not have high enough revenue per year
Your product catalog is not unique
You provided inconsistent tax or business documentation
Lack of eCommerce experience
Failure to meet customer service requirements
Product review ratings are low
You're appealing a rejection
Candidates that do get approved usually have these attributes:
Unique products or patented ideas; Walmart doesn't like to feature product lines they have already reviewed 100 times before
Experience on Shopify, Amazon, Ebay, and other eCommerce platforms
Established brands that already have $100,000 per year in sales
Reliable fulfillment within the United States
Open fulfillment to other countries including the U.K., Mexico, Japan, Canada, etc.
Successfully Selling Products on the Walmart Marketplace
Getting started on the Walmart Marketplace definitely takes some work and experience, but it can help raise brand awareness, increase sales and revenue, and expand product lines into new markets.
Once you're approved and are a registered partner, try these tips to maximize your efforts on the site and make you a successful seller.
1. Optimize Your Product Listings
Carrie Miller gave us some quick tips to optimize your listing if it isn't showing high in search or isn't getting a lot of customer interest.
Make sure to follow Walmart's guidelines in optimizing. Amazon allows keyword stuffing, but Walmart will penalize for this. Remember, bullets should only 80 characters long, and description length depends on category.
Some other optimization tips include:
Using a specific, succinct product name
Using rich media and high-quality images
Highlighting your key features in your description with bullet points
Using keywords in your product description
Selecting relevant attributes
Enabling 2-day delivery
Pricing your products competitively
Once optimized, check on your growth quality listing score so you can see a breakdown of how your product listing matches Walmart's quality standards. You can also check to make sure your products are listed in the right product type. If you aren't showing up for your intended keywords, you might be in the wrong section.
2. Buy Paid Ads
Sometimes, you have to spend money to make money, including on Walmart Marketplace. To start buying paid ads for your products, follow the steps below.
Request advertising access
Attend a Walmart advertising webinar
Login to Walmart ad platform
Launch your ad campaign
3. Earn a Pro Seller Badge
Recognition as a top seller on any eCommerce site can certainly help get your products noticed and increase your sales. Here are the criteria to meet to earn a pro seller badge on Walmart Marketplace.
An overall 90-day Delivery Defects rate less than or equal to 10%
A seller-related 90-day Cancellation Defects rate less than or equal to 2%
At least 70% of your trending catalog (or top-moving SKUs) must have a listing quality score greater than or equal to 60%
At least 100 orders or more in a rolling 90-day timeframe
Zero Trust and Safety or Performance Standard violations
An active account for at least 90 days
Is Selling on Walmart Marketplace Worth It?
Yes, it generally is worth it to sell your products on Walmart Marketplace. But you'll definitely need to put in the effort to make it profitable. Selling on Walmart.com is far different than going through your attic or basement to find items worth listing on Ebay. Working with Walmart is a business, not a hobby.
Carrie Miller outlined a few benefits of putting in the time to sell on Walmart Marketplace:
Competition is much smaller
This is especially true if your niche is very competitive. Amazon has tons of products with 5 stars. When selling on Walmart, you can get on the first page with less stars in your rating.
PPC (cost per click) is a lot lower
Translation: Advertising costs are lower.
The timing is right to jump on this platform
Right now, Walmart marketplace is growing (similar to the beginning stages of Amazon), so it's a great time to establish your place in the market early on.
Profitability depends on effort
If you just copy listings from Amazon, they will not do as well. Be sure to follow Walmart guidelines.
Walmart products can surface in Google searches
If you're good at incorporating unique keywords into your product descriptions, you won't necessarily have to count on people coming to Walmart first to find them.
If you do well, you could get invited to sell in stores nationwide
It's always best to sell online before selling in stores, but if your product is doing well online, you can attend an open call once a year and pitch your product for sales in stores. Imagine selling your product online and then walking into Walmart and seeing it on the shelves? This reason alone should encourage you to put your products on the platform.
In the future, someone else could pick up your product on their site
Some other websites are starting to use Walmart fulfillment services to supply products, which means another site could pick up your product for sales if your fulfillment is reliable.
How Helium10 Can Help You Sell on the Walmart Marketplace
Seller tools can be a very helpful when trying to launch or optimize your products on the Walmart Marketplace. Using Helium10 (and other tools) lets sellers automate, analyze, and streamline their processes so they can stay on top of orders and continue to add new products as they are available.

Here are a few more reasons why you should check out Helium10 and all of the tools they have to offer to help you sell on Walmart.
Product research: The comprehensive, data-driven capabilities of Helium10's Xray allow you to save time and money while also getting the details you need to feel confident about your listing. Carrie says that "most Walmart Marketplace sellers use this tool to help them optimize their products."
Keyword research: Your product launch may succeed or fail depending on the keywords you choose. With keyword tools like Cerebro and Magnet available on Helium10, you can look up useful keywords to increase organic traffic by searching for a Walmart Product ID or a specific phrase. You can also view the number of searches made on Walmart for each of the displayed keywords. Cerebro also lets you see the keywords your product is currently indexing for as well. Magnet is for MSV and helps surface related keywords you can add to your product as well.
Keyword performance: Using the simple dashboard in the Keyword Tracker section, you can easily keep track of the positions of all your Walmart keywords. It automatically checks your products and where they are ranking for your intended keywords every 24 hours. Then, you can utilize this data to enhance your listings, foresee trends, and outperform rivals on Walmart.com.
Financial analysis: The Profits section of the tool tracks the financial health of your Walmart product listings using real-time data and provides you with crucial information like gross income, net profit, sales trends, and inventory levels. You can use this information to determine your business growth decisions.
Using H10's seller tools, including Xray, Cerebro, Magnet, Profits, and Keyword Tracker, will help you outpace your competition in more ways than one. If you're ready to take your Walmart Marketplace product catalog to the next level, then it is time to see all of what Helium 10 has to offer.
Walmart Marketplace FAQs
Before you jump into Walmart Marketplace, read up on a few more frequently asked questions by sellers so you're fully prepared to launch your products.