With any FBA business, you must have a general understanding of where you stand in comparison to your competition. Keeping up with reviews and regularly checking up on customer feedback will make or break your success rates in this industry. 
While it was once difficult to track and manage all of your reviews, you can now download your customer feedback with Helium 10. This software feature can make a huge difference when you need to read up on what customers have to say and evaluate how you can take your satisfaction guarantee to the next level. 
Today, we are going to share how to download Amazon reviews with Helium 10. We'll also explain why this feature is so necessary if you're an Amazon seller, as well as some of the other perks that come with having Helium 10 as an FBA management software! 
What is the Helium 10 Review Downloader? 
With so many different FBA management software on the market, it can be challenging to know which will actually make you more productive, jump to out Helium 10 review, where we offer an insider discount coupon code for our readers.
Wer'e here to tell you that Helium 10 works; it takes pressure off your shoulders to manage every task that goes into operating an FBA.
Here's how it works: 
Helium 10 Xray is a Google Chrome extension that allows you to download all reviews for a specific product on the Amazon marketplace. Before the development of this application, there really was no way to gather all of this information, so this is definitely something you should consider using!
As an FBA business owner, it is in your best interest to do anything you can to stand out above the competition. After all, you are competing for consumers' attention and buying power! Helium 10 can help to give you a full understanding of where you stand in the marketplace and can help to simplify mass amount of data and reviews unlike ever before. 
If you are interested in learning more about this handy application, read on for a step by step explanation and guide on how you can use it!
Coupon Code = PROJECTFBA20
Looking for a discount, Get 20% off Helium10 for its readers so get started today!
How to Use Helium 10 For Downloading Reviews
While the application is going to do most of the work for you, there are some things that you need to do to get it started. 
1. Download the Helium 10 Extension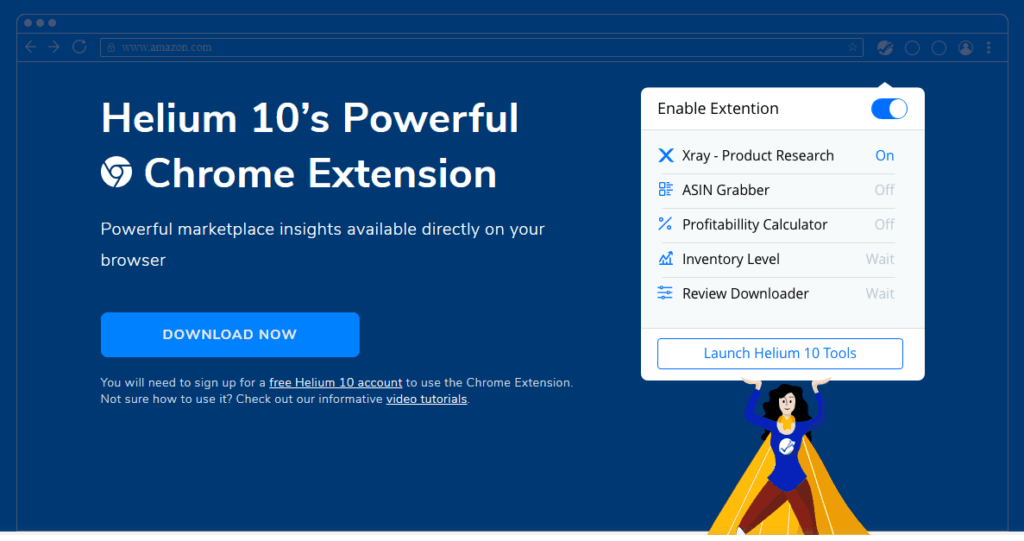 As we mentioned above, Helium 10 is a Google Chrome extension, so the first thing you are going to have to do is download the application here. 
To do this, you can simply type into your web browser "Helium 10 Extension," and you will be prompted with an opportunity to download the app. 
Ensure that you follow all of the instructions on the screen and allow the extension to be downloaded fully. Sometimes, you need to allow for pop-ups or other things that may appear. 
Once it has downloaded, you will see the newly added extension in the top right corner of your screen. You can even hover over it with your mouse to see the name "Helium 10" pop up. 
Now that you have installed the application, you will be able to use it to its full capacity! The application is very user friendly, which you will see in the following steps. 
2. Head Over to Amazon
Now that you officially have the extension installed, you can head on over to Amazon to see just how it will work.
Once you are on the main page of Amazon, you are prompted with the opportunity to type in any product into the search bar. 
As a seller on Amazon, you likely have a whole list of products that you already sell or perhaps some that you are interested in selling one day. 
To use this application most effectively, you should develop a strategy before starting your store. It is truly just another form of research in the big scheme of things and can be incredibly helpful in making you successful on this competitive site.
To start, you will need to single out a specific product that you are interested in researching. Go ahead and type that into the search bar and specify exactly what you are looking for – this is going to help later on when you go to sell on your own!
3. Browse Over the Products
During this step, you really need to make sure that you are looking at the correct model and version of the product. By being extra cautious during this step, you are more likely to get reviews and information that is going to be a lot more helpful to you than if they were being pulled from another similar product. 
Once you have found the exact same or closes match, go ahead and click on it as though you were going through with the purchase.
You are probably already familiar with this screen as it is the place where you, as a buyer, would go to read further details on the product before making the purchase. 
From a seller's standpoint, this is where the Helium 10 extension is going to work its magic. 
4. Gather Reviews and Reports with the Helium 10 Extension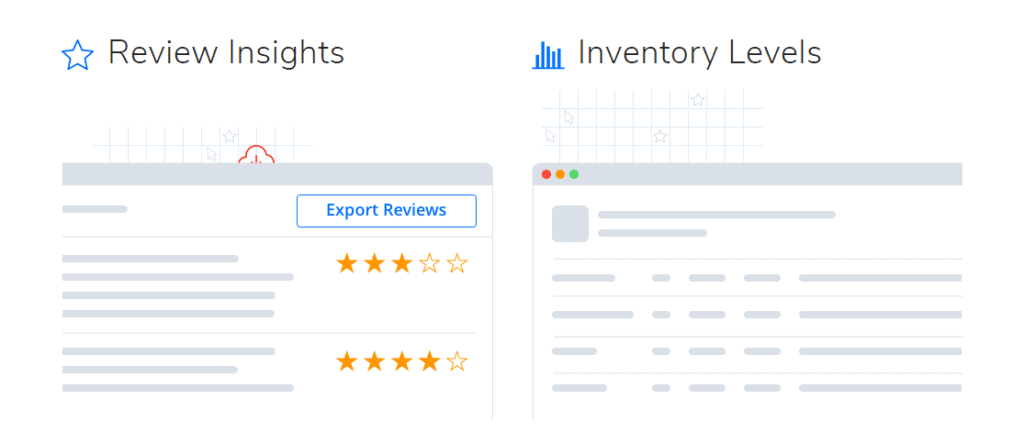 Once you have made sure that you are viewing the correct product, it is time to get Helium 10 into action. 
To do this, you are going to want to click on the extension button in the top right corner of your screen.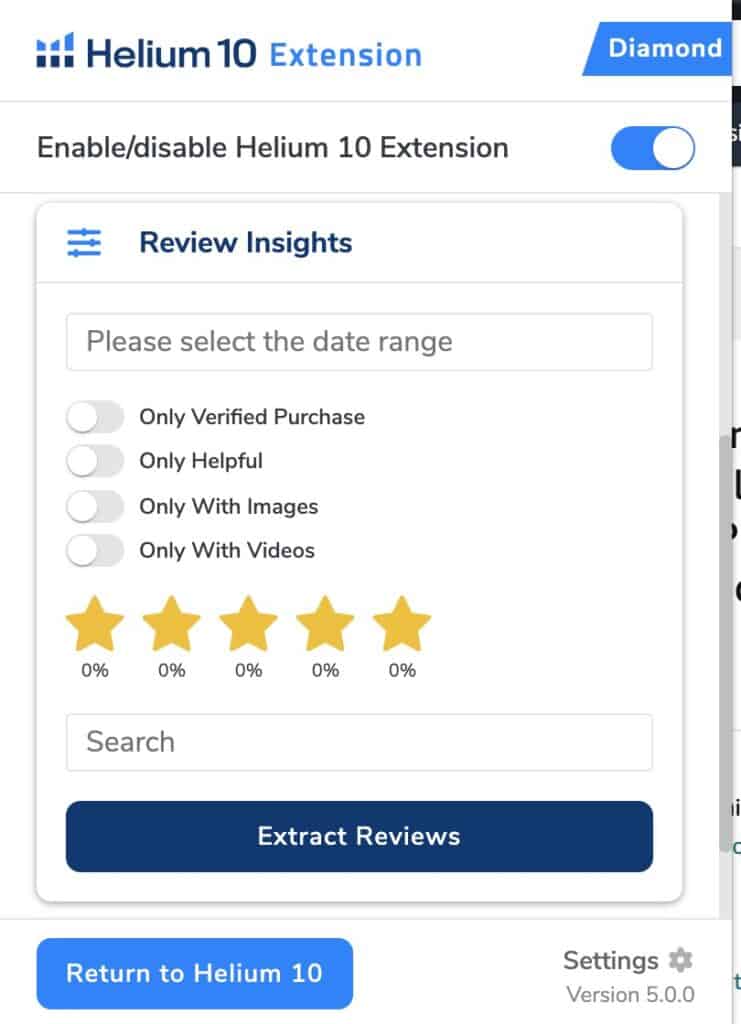 When you do this, you are going to be prompted with a couple of options. This application's primary purpose is to give you an all-encompassing collection of the reviews made on this specific product. This collection will give you a real look at the good, the bad, and the ugly reviews, and you can then use these to your advantage when you get to selling!
If you want to download all of the reviews for this product, you are going to want to press "Review Downloader" and then press the "Extract" button. 
From here, you will be redirected to another tab that will have all of the reviews for you to look over!
Filter Down Reviews
With many products, however, there will be thousands and thousands of reviews, which can be quite overwhelming and may even get in the way of the more helpful information you are looking for. Lucky for you, there are options to filter down the search so that you can look at specific types of reviews. 
With these filters, you will have the option to single out reviews based on the star rating, the date in which they were posted, or even whether they contain helpful information or not.
The benefit of this feature really comes when you are looking to launch a new product in your store. Reading the negative reviews from your competitor's page can help you to avoid any of their downfalls before they even happen.
Additionally, this is your opportunity to make up for any shortcomings and understand where your competition is really struggling. Use these reviews as an opportunity to do better, and we guarantee that you will win over the consumers in that specific market!
5. Export the Reviews
After you have had the chance to look over and read all of the reviews, it is still a good idea to save them for later use.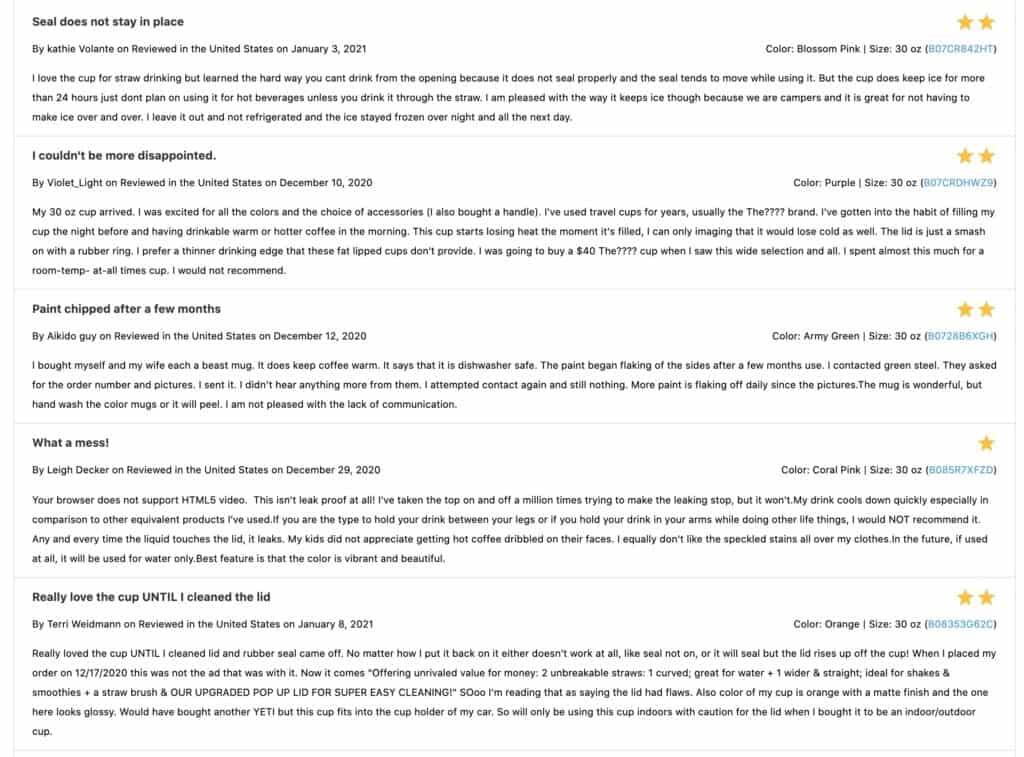 There is so much information that comes out of these downloads, and you can honestly make some great changes to your FBA if you are willing to learn from this data! You'll have more information about who your target audience is and what they want in a product like yours. 
To save the information for later, you can press the export button that should appear somewhere near the top of the page and on the right side of the screen.
Once you have pressed this, a download will pop up. Go ahead and click on this download box and make sure to rename it so that you can find it easily down the road. 
The information will be exported into an excel file, which is great for organizational purposes! You can reorganize things however you like and can even search through the information for specific words or prompts as you need them. 
This database is a great source of information and is the primary reason as to why Helium 10 can help to make you stand out among your competitors!
6. Use this Information to Your Advantage
We mentioned above that this application has really done something revolutionary. Prior to its development, there wasn't a way for you to download and save these reviews, meaning you would have had to go through each one on Amazon just to get an idea of what the customers were talking about.
As you can imagine, Helium 10 has expedited this process in so many ways, so you need to take full advantage of this opportunity by making sure to use the information to your advantage!
Here's how you can use downloaded reviews to improve your FBA business:
Learn What Customers Want
The clearest advantage you get from this information is that you can understand the consumers' perspective. You will dive deeper into both positive and negative factors of other FBA products to gain a full understanding of the current market you are targeting. Here's why:
Positive reviews are helpful because they allow you to see what consumers are really looking for. If someone is willing to leave a positive review, it usually means that the seller exceeded their expectations somehow. You can use this to your benefit by capitalizing on these positives and ensuring that you focus on the good stuff when you launch the product. 
Negative reviews are also a very helpful piece of information that can help you avoid some of the more common downfalls your competitors have had to deal with. Reading negative reviews will highlight those problem areas and give you clear direction on how to make things a little better in the eyes of the customer.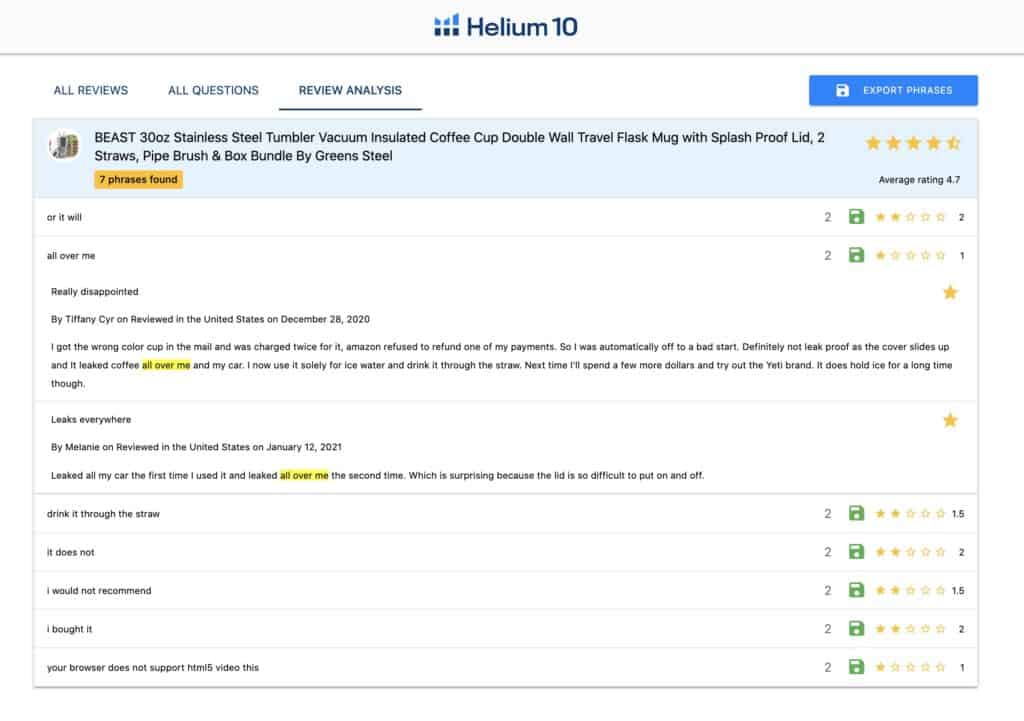 Take your time through this process and find those common points. You may even want to organize your data into "Good" and "Bad" review columns with notes explaining what customers liked and disliked.
Sharpen Your Marketing 
Downloading these reviews can also help you to market your product. By really studying what customers express in reviews, you will see that people tend to talk about the same things.
Those commonalities are a great for research when it's time to find keywords and talking points to market your product. If everyone seems to be talking about how great one product's features are, you absolutely should include it in the listing.
To use an analogy, selling products online is a lot like real estate. The higher up on the search your product shows up, the better chance you will acquire a sale. You are fighting for that "property" on the web and need to make sure you are one of the first options up there – utilizing the correct keywords is the way to do this!
Making Helium 10 Work For You
What makes Helium 10 so great is how exactly you can use the information it gathers to your advantage. It really is a revolutionary piece of software.
Whereas before you would have to trawl through pages and pages of products and reviews on Amazon to find the information you want without the option to download them, now you just have to find a handful of closely related products and let Helium 10 do the work to find the exact information you need.
But of course, it isn't just down to Helium 10 to take your FBA business from good to great and to dominate the marketplace. Helium 10 gathers the information, but it's up to you to really use it to your advantage and make the most out of it.
But how exactly can you use the reviews Helium 10 collects to improve your FBA business? 
Well, you can use the reviews gathered by Helium 10 to actually put yourself in the customer's perspective. Of course, a lot of businesses are started by people who are in tune with what customers want and who notice a gap in the market, but you can take this to the next level with Helium 10. 
Positive reviews give you a deeper insight into what customers are looking for, and often people leave reviews because they are delighted with the product they bought and their expectations were met or exceeded.
Take note of these good points and emphasize them when the time comes to launch your product.
As we've already mentioned, negative reviews can also be helpful because they tell you what to avoid. You can take what customers weren't happy about with your competitor's products and make sure those same downsides are not reflected in your product. 
While Helium 10 will pull up pages and pages of reviews for you, make sure to filter them thoroughly so you can read them carefully. It's tempting to skim thousands and thousands of words – especially when they're disorganized.
Make it easier for yourself by separating the data into positive and negative columns, making notes of key points made in reviews.
Looking through customer reviews can also be beneficial for marketing too. As you read through the reviews Helium 10 has gathered for you, you'll probably notice a pattern.
True highlights of the product will be mentioned repeatedly, as will the real dud aspects of the product. Noticing these trends makes keyword research so much easier and helps you craft talking points for your product. 
Marketing your product on the web is all about getting to the top of the search page. The higher your products are, the more inclined people are to click on it.
Partly because who wants to scroll all the way down for something when one of the products seems to meet their needs, and partly because people will assume the top products are the best products. Therefore, keywords are crucial! 
What else does Helium 10 have to offer in the way of Amazon software?
So now that we've sung the praises of Helium 10 X-ray – and their Review Downloader specifically – you might be wondering what other features it has to offer. Let's take a look:
ASIN Grabber: This lets you select and copy multiple ASINs in one go. This comes in handy for creating targeted ads. 
Inventory Levels: This uses the 999 cart trick to calculate how many items are in stock. However, this only works if the seller hasn't set buy quantity limits, which is becoming more common for sellers to do.
Profitability Calculator: This lets you make important pricing decisions by uncovering net profit or loss results based on cost factors. This is particularly useful for quick calculations, and it calculates everything from the cost of goods and shipping, to storage costs, Amazon fees and even tax. 
Try Helium 10 Today!
The key to being a successful Fulfilled By Amazon seller is learning how to make the most of your time and manage tedious tasks. As this type of online business has become more popular, tools like Helium 10's review downloader are imperative; this feature makes a huge difference for your FBA because it gives you access to helpful customer feedback in an organized way.  It can be difficult to stand out in such a crowded online marketplace, but Helium 10 will give you that step up that you have been looking for!