Amazon is perhaps the world's biggest online retailer. More and more people are becoming interested in selling things on Amazon as a third-party retailer. This can be a great way to make money, but it can also be difficult for sellers to stand out on the site. There are likely to be a whole host of other shops that you are going to have to compete with.
Part of the way you can mitigate the financial risk involved with selling products on Amazon is by ensuring that whatever you intend to sell is accessible and does sell well on Amazon. There is a range of software you can use to analyze the trends and purchasing patterns of specific products sold on Amazon. This article breaks down the differences between two of the most popular: Jungle Scout vs Unicorn Smasher.
Jungle Scout Features and Benefits
Jungle Scout is the market-leading software for Amazon research. There are several different editions of the Jungle Scout platform, and you can use Jungle Scout either as a Google Chrome extension or as a web app. Something that sets Jungle Scout apart from its competitors is that you can use it to find a niche or unique products. Doing so successfully can be an excellent way for you to succeed as an Amazon seller, as it's much less likely that you are going to have to compete with a large number of other shops on the platform.
However, not all of the versions of Jungle Scout can be used in this way. The Jungle Scout software is available both as a web app and a Google Chrome extension, and the features vary somewhat depending on which version you use.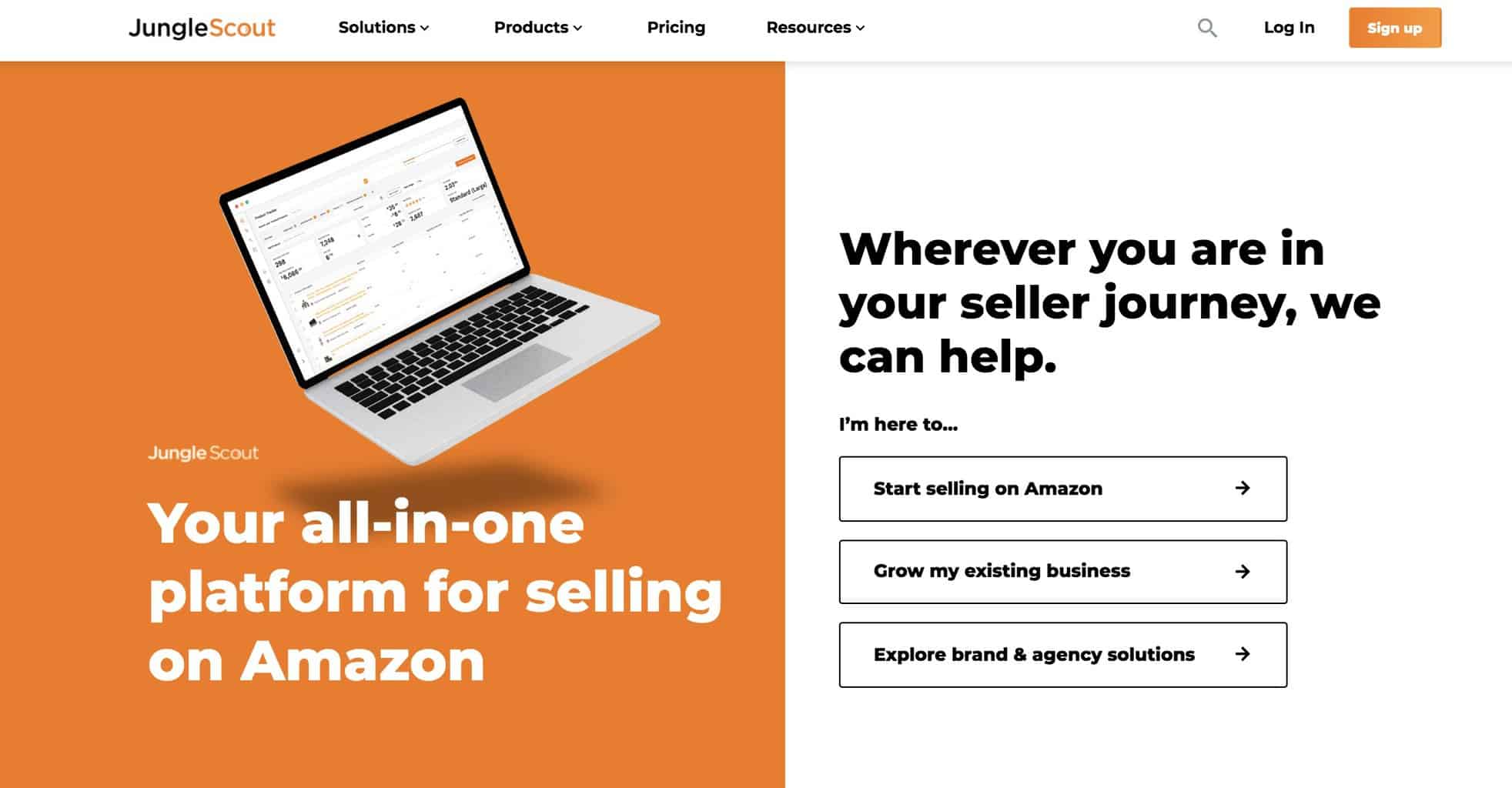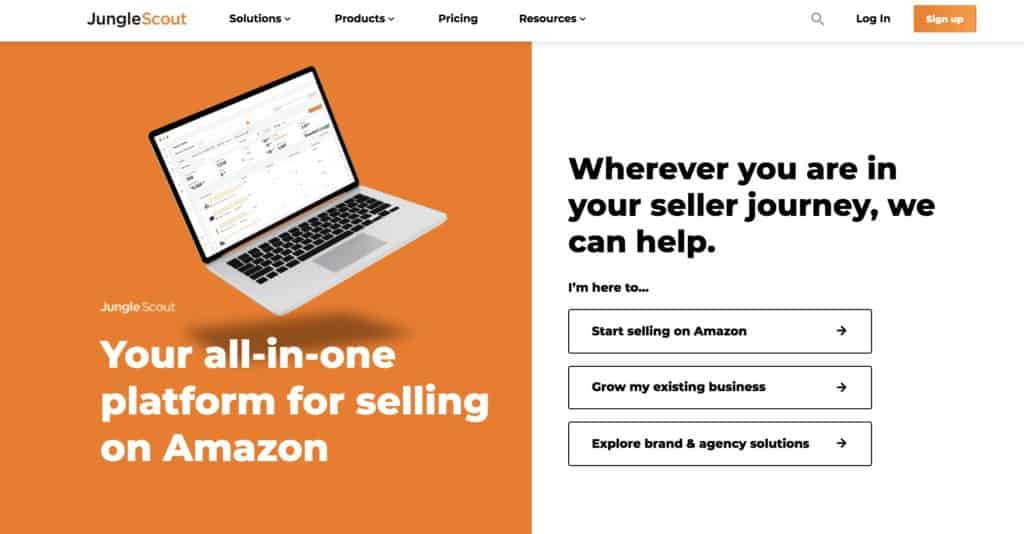 Jungle Scout operates primarily through a website. Users pay a monthly subscription to search for products on Amazon that are niche or uncommon. By comparison, you can use the Chrome Extension to analyze products that you have found (how they sell, how popular they are, etc.).
Part of the Jungle Scout software is the Product Database that it has. You can use this to search through almost every product that is sold on Amazon, and thereby figure out what might be the right product for you to sell on the site. With this feature, you can filter your search precisely to look for something particular. For example, you can refine your results to only products with a 5-star rating. This feature is beneficial if you want to sell products on Amazon but are not sure yet what they should be.
Another feature that Jungle Scout offers is its Product Tracker. The Product Tracker shows a range of data for a selected product or products, which you can use for comparison. Part of the information that the Tracker shows you include statistics like the average number of daily units sold, the average daily revenue for a particular product, and other such information. These figures are beneficial if you are considering selling a product but don't want to waste your money or time investing in something that may not end up being in exceptionally high demand.
Jungle Scout also has a database of suppliers as part of its core software's features. This database shows you suppliers for a product or category of product that you want to sell, as well as other statistics, like the number of customers the supplier serves, or the total number of shipments it has provided, for example.
Understanding keywords is an integral part of selling products on Amazon. Having the right keywords in your listing directly impacts the search result of your product, in terms of what priority it is given as a result when Amazon users search for a product. However, it can be challenging to know what keywords are most relevant to the product you're selling, as well as how you should use them in a listing. Jungle Scout has a Keyword Scout feature, which shows statistics based on keyword results for search terms that you enter. It also shows you suggestions for keywords that you can use and can help you to find effective keywords that are less commonly used. These words are going to be less saturated in terms of how many sellers use them, and your product is, therefore, going to stand out as a search result if you include them in its listing.
Some sellers on Amazon struggle with creating a listing that is appealing and well-constructed. This is important, because it can directly influence how much traffic your listing gets, and thereby how much of a product you are likely going to be able to sell. Having the right text in your listing can make it much more effective in generating sales. Jungle Scout's listing builder feature helps you to write a listing based on the most effective keywords and phrases for the product that you are going to sell. This is something that makes Jungle Scout especially useful for sellers who are not very experienced on Amazon and don't yet know how to create a listing that is going to maximize their search results and sales.
A great feature that the Jungle Scout Chrome Extension offers is its Google Trends Report. You can use this to see trends in searches for the product you are researching, and how these trends may vary over time. This is very useful if you want to see if the demand for your product might fluctuate seasonally, for example, or if it is relatively stable.
The Chrome Extension of Jungle Scout also shows Amazon trends for both the Price History and Sales Rank of the product you are interested in. These features can help you to figure out if the value of your product is variable, and whether or not interest in the product on Amazon is stable or not.
Jungle Scout Accuracy of Data
It can be challenging to determine how accurate the data you receive from these figures is. Jungle Scout uses Accusales™ data for its web app, which is touted to be the most accurate data available for Amazon to date. Accusales™ gathers a large set of data every day, which should theoretically lead to a whole idea of trends both in interest and sales of a product. Jungle Scout also has one of the most extensive databases of Amazon products and deals available, which should, therefore, lead to a more accurate picture of sales performance and trends for the product you are interested in.
Furthermore, Jungle Scout state that its estimates are based on millions of sales and points of data. Jungle Scout's data is often evaluated by data scientists, in order to ensure that it is as precise as possible.
Jungle Scout Pricing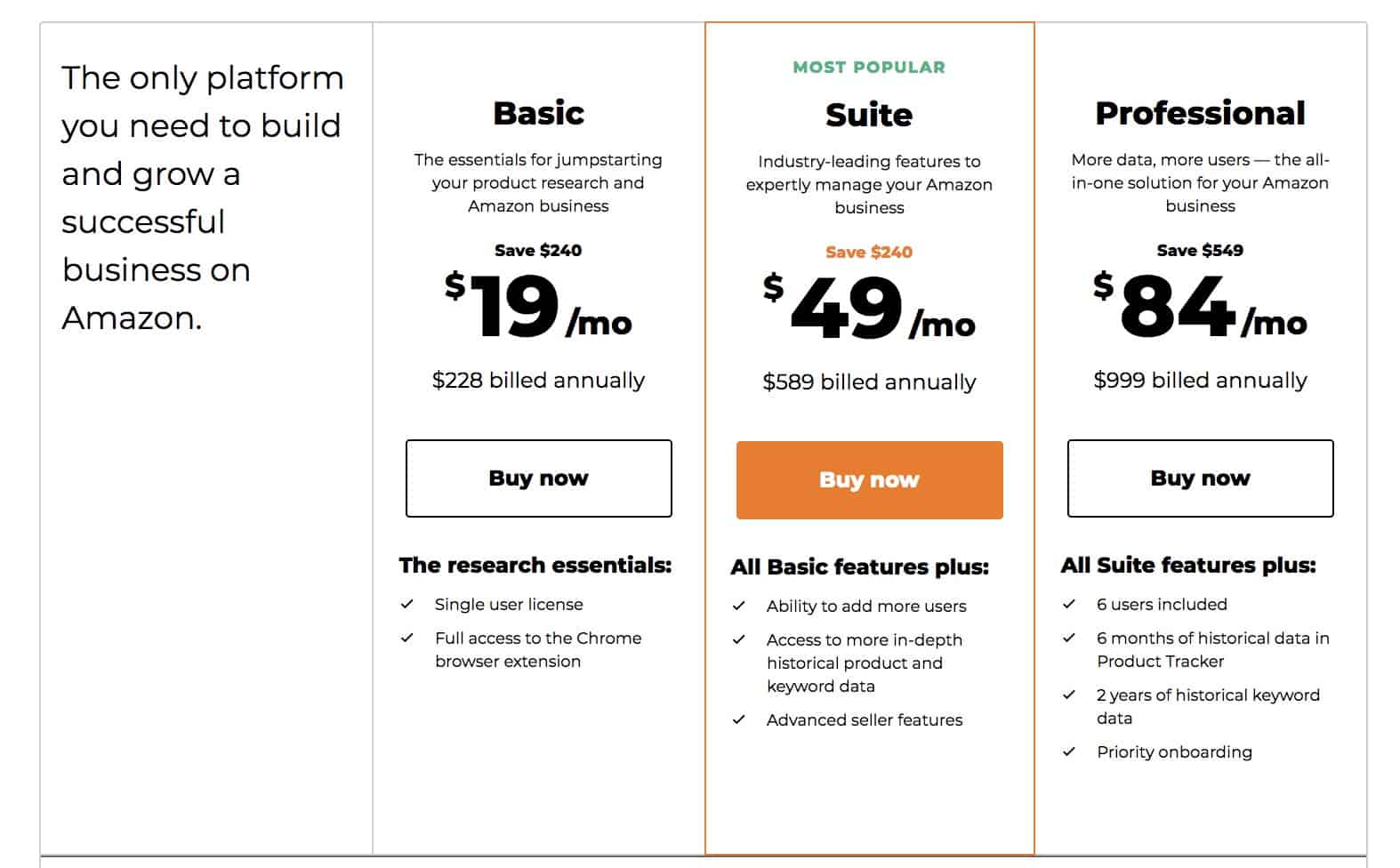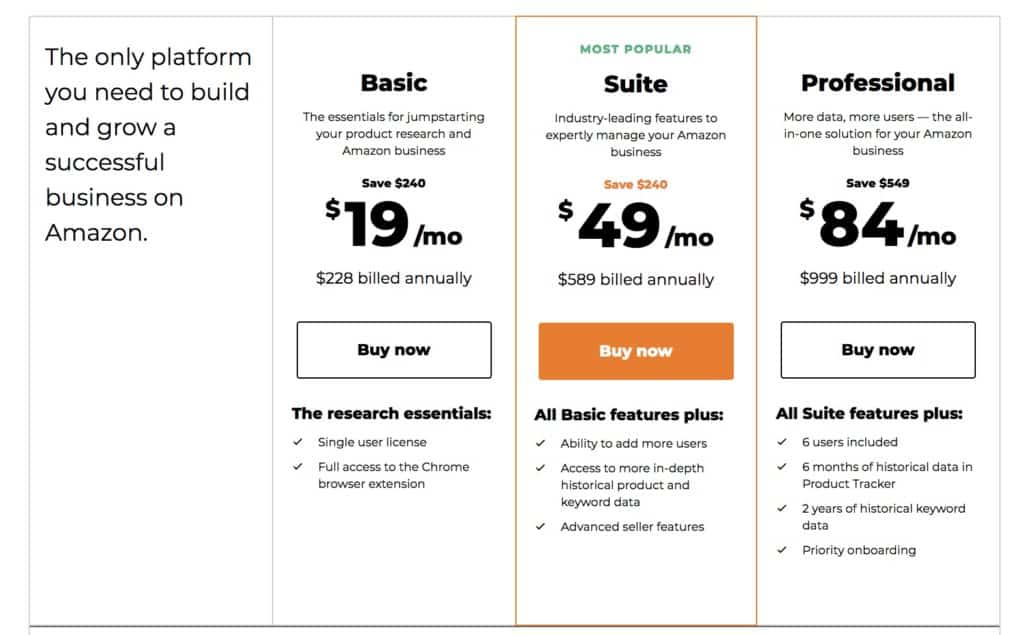 Jungle Scout pricing has been updated
Extension is now a feature & included in all plans!
No more Tiers!
No more additional fees based on order count!
Basic costs $39 per month and includes full Extension access & product research essentials but limits monthly searches on some features like Keyword Scout.

Suite is $69 per month and gives full access to all our research tools plus advanced seller features

Professional costs $129 per month and is the best option for experienced sellers in need of additional users on their account and more historical data
Unicorn Smasher Features and Benefits
Unicorn Smasher works as a Chrome Extension, and is a competitor to Jungle Scout. One advantage that Unicorn Smasher arguably has over Jungle Scout is that it is free software, while Jungle Scout is relatively expensive. However, the features of Unicorn Scout are not as extensive, as it does not have a website in the same way that Jungle Scout does.
In this sense, Unicorn Smasher might be a better option for those who are just starting out as an Amazon seller, or for people who don't intend to use the platform very much. Unicorn Smasher is free and can show you some reasonably in-depth data. Still, it does not have anywhere near the depth of information available that Jungle Scout offers, nor can it compete in terms of the sheer number of features that Jungle Scout has.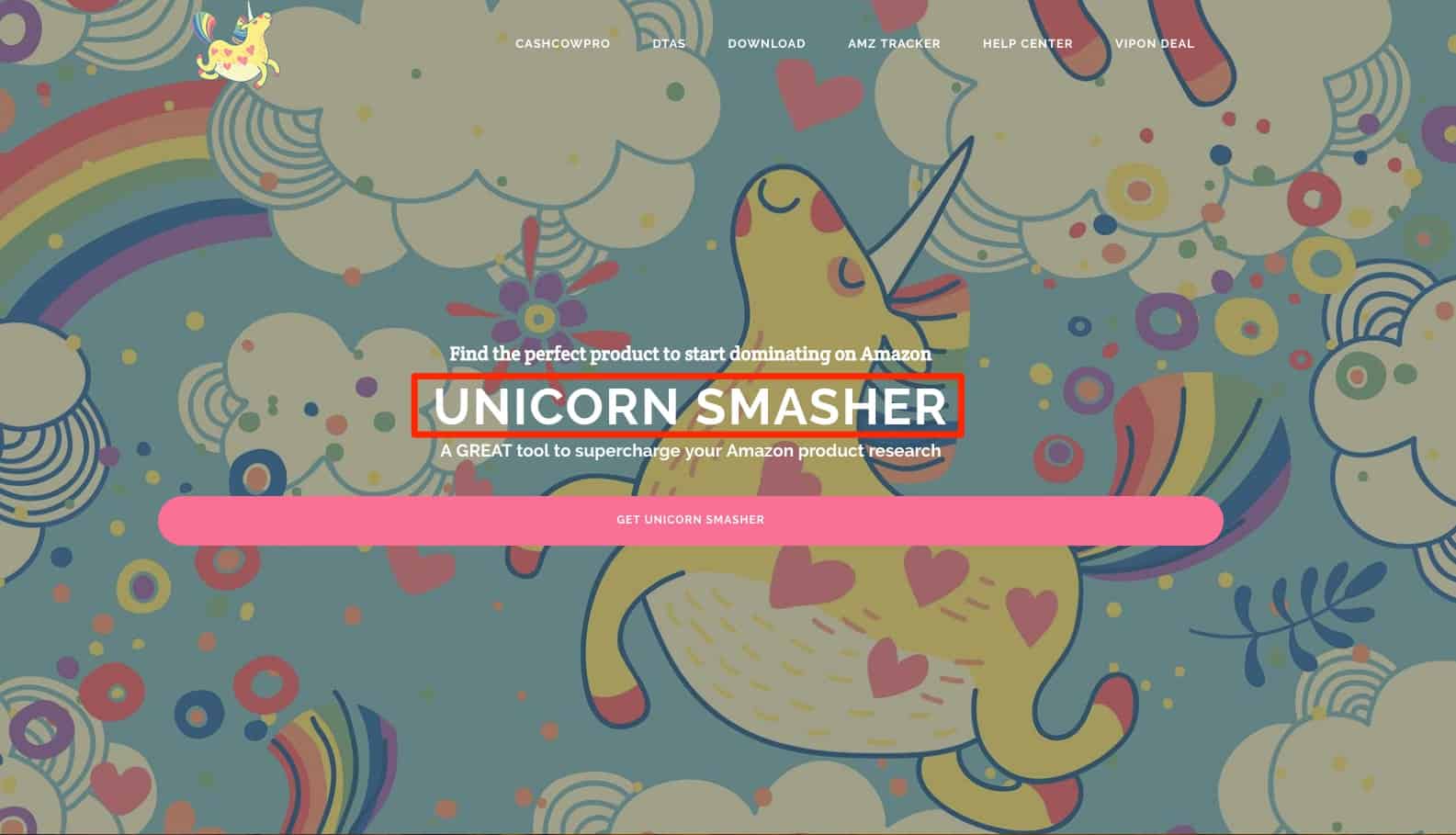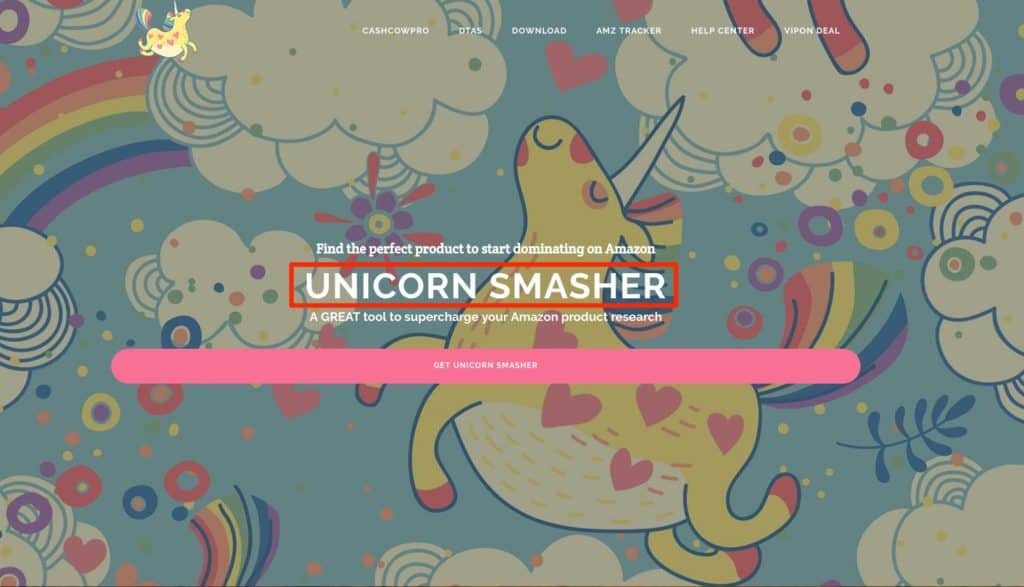 Something that Unicorn Smasher offers which helps users refine and customize their product searching is the filters it provides. You can use the filters provided by Unicorn Smasher to narrow down the parameters of what you search for to help determine its popularity and the level of demand for the product on Amazon.
Another practical feature that Unicorn Smasher has is that you can export the results of your search to a .CSV file. If you decide to conduct a significant amount of searches at one time, it may be difficult to keep track of all the data and results that you find. Exporting the results to a spreadsheet can make it much easier to understand the results that you get, as well as analyzing them further if necessary.
You can also add the results of your search to your dashboard with Unicorn Smasher's Add to Dashboard feature. This lets you save the results of your search to the Unicorn Smasher widget, which you can then revisit later if you decide you want to carry out more searches at once.
Unicorn Smasher Accuracy of Data
A side-by-side comparison of the results of searches conducted on both Jungle Scout and Unicorn Smasher often show very similar results. However, Unicorn Smasher tends to underestimate results and popularity compared to Jungle Scout. With that being said, Unicorn Smasher does not have the wealth of data available in its data that Jungle Scout has, as it has not been around for anywhere near as long.
Unicorn Smasher Pricing
One main advantage of Unicorn Smasher is that it is entirely free, at the time of writing this article.
Conclusion – Which is better Jungle Scout Vs Unicorn Smasher
When it comes to Jungle Scout vs Unicorn Smasher and which might be a better choice for a beginner Amazon seller, it depends on what the seller wants to use Amazon for, and how much they want to use it. For someone who might want to casually use Amazon to sell products now and then, Unicorn Smasher could be a better option. This is because it is free, and can allow you to see some useful data with regards to the success of particular products on Amazon, and the level of interest in them.
However, Jungle Scout offers a wealth of features, which let the user go into a much greater depth in their searches. This may actually be of great use to a beginner Amazon seller, as the features can help you to create a listing that is likely to be successful or have more interest than its competitors, based on data and analytics. Jungle Scout has a much bigger database that it can refer to, and it is also available on a few different platforms. This potentially makes it a better option for those who want real flexibility with their searches and for those who use Amazon across a variety of different devices.
Jungle Scout also uses the Accusales™ database, which is touted to be the most accurate and extensive database of data relating to Amazon sales and search results. These results are also frequently analyzed by Jungle Scout's team of data scientists, who ensure that the software is optimized to help its users respond to trends and changes in how people use Amazon. This may arguably make Jungle Scout a more reliable platform, though the results and analyses that Jungle Scout and Unicorn Smasher provide are often quite similar when compared side-by-side.
If you are someone who is looking to get into product selling on Amazon for the first time, then both Jungle Scout and Unicorn Smasher could be a good way for you to get a better understanding of a potential market for any product or products that you are interested in selling. For a true novice, Unicorn Smasher may be better to begin with, as it can give you the opportunity to try researching demand and trends for on Amazon without needing to make any financial commitments on your part. However, if you feel that you need a greater or more varied range of data or features, then Jungle Scout is likely to be a better option for you.
Further Reading: