More entrepreneurs are selling products on Amazon. This venture is lucrative, relatively easy to manage, and rewarding. But, before you start selling, you have to choose between Amazon FBA and FBM.
If you're not sure what these terms mean, you're not alone. Many people don't know the difference between these business models nor how to decide which is right for them.
Luckily, we're here to clear things up. Read on for everything you need to know about Amazon FBA vs FBM. We define each option, go over the differences, and help you pick the one that's best for your business.
What Is Amazon FBA?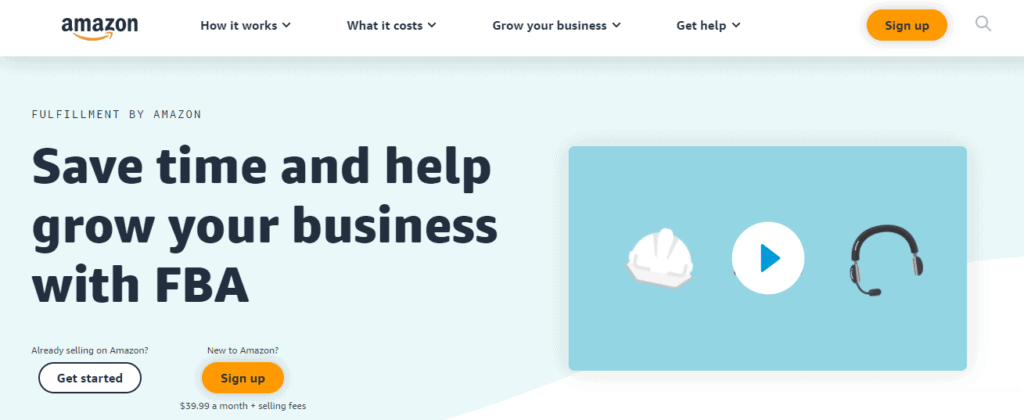 Amazon FBA (Fulfillment by Amazon) is a method of selling on Amazon. FBA sellers (or suppliers) send products directly to Amazon warehouses.
From there, Amazon takes care of the entire fulfillment process. The company stores products, ships them, and provides customer support.
What Is Amazon FBM?
Amazon FBM (Fulfillment by Merchant) is another method of selling on Amazon. FBM sellers list their products for sale on Amazon but handle the fulfillment process themselves. They take care of storage, shipping, and customer service. FBM sellers may do all of this themselves or outsource the work to companies other than Amazon.
FBA vs FBM: Which Is More Popular?
Before reading this article, you were probably already familiar with FBA. This makes sense, as a vast majority of Amazon sellers use the FBA model. The FBM model is also relatively popular, with around a third of sellers using it.
Most sellers solely use the FBA model. A smaller percentage use a combination of FBA and FBM, and an even smaller percentage only uses FBM.
Amazon FBA vs FBM: Which Should You Choose?
When considering the Amazon FBA vs FBM debate, it's important to realize that one isn't necessarily better than the other. Each has advantages that benefit certain types of businesses.
Here are some factors to keep in mind when deciding between FBA vs FBM:
Size of the Product
As you would expect, FBA charges fees to fulfill your products. The FBA fee structure favors products that are lightweight. Unfortunately, it's not so generous when it comes to products that are bulky and heavy. Consider these examples…
Let's say you want to sell a small item like a spatula via FBM. The sale price for one is $5.99. The cost for you to buy one is $1.50, and Amazon charges $1.05 per unit sold. The cost for you to fulfill the product is $3.00 per unit.
After subtracting the cost of the product, Amazon's fee, and the cost of fulfillment, you make $0.44 per unit. This yields a 7.3% profit margin, which isn't too bad considering it is a small item.
However, you may be able to make more per spatula if you use the FBA model. Let's say you are selling the same exact spatula. All factors are the same except for the cost of fulfillment. Thanks to FBA's fee structure, you only have to pay a fulfillment cost of $2.00 per unit.
This results in you making $1.44 per unit (a profit margin of about 24%!). Using the FBA model more than triples your profits, making it the preferable option for this specific product.
As this example demonstrates, lightweight products are typically better suited for FBA. However, this is a general rule of thumb. Just because you are selling lightweight products doesn't mean you should default to FBA. Similarly, just because you are selling heavy products doesn't mean FBM is the right choice.
Instead of going by the trends, do the calculations yourself. Use Amazon's FBA revenue calculator to see which model would be more profitable.
Expenses and Fees
As we hinted at above, the size of a product won't tell you the full story. Consider how much it will cost to receive, store, and ship the product yourself. You should also consider labor costs, how much packaging materials are, and several other factors.
Compare these expenses to how much Amazon's fees are and see if it's cheaper to let Amazon take care of everything. If this is the case, and you are prioritizing profits, FBA might be the way to go.
Inventory Turnover Rate
Some products fly off the shelves. Others might sit around for a while before customers buy them. This is a normal part of the Amazon selling experience, but you should choose the right selling model to maximize profits.
If you have a product that sells quickly, FBA might be your best bet. Because your products won't be sitting in the fulfillment centers too long, they won't rack up storage fees.
If your products take a long time to sell, you'll end up paying excessive storage fees. This is especially important if your products sit for longer than a year, as Amazon will start to charge more expensive long-term storage fees.
So, if you have slow turnover rates, you may want to use FBM.
Logistics
While running an FBM business is very rewarding, managing the entire process falls on you. You have to figure out:
Where to buy cost-effective shipping materials
The cheapest shipping methods
How to handle returns
All of this requires a lot of research and time. If you are new to selling, FBA is the way to go. It will take care of all of this for you. However, if you already have these logistics in place, you may find success through the FBM model.
Interaction with Customers
If you use FBA, you will rarely interact with your customers. Amazon will handle all contact with customers including complaints, returns, etc. This is appealing to sellers who don't want to deal with this.
However, some sellers want that personal interaction with their customers. They see it as a chance to improve their service and establish relationships with consumers. If you fit into this category, FBM is the way to go. FBM sellers have much more control over the customer experience.
If you don't want to provide customer support but are worried about subpar service, don't be. Amazon provides some of the best customer support there is. So, if you choose FBA, you can rest knowing your customers will be well taken care of.
Seller Feedback
When a customer buys from a third-party seller via Amazon, they can leave seller feedback. Seller feedback is different from a product rating as it only covers factors like:
The shipping experience
Seller communication
Whether or not the product received matched the Amazon description
Let's say a customer leaves you negative seller feedback. If you use FBA, you can request to have this feedback removed. This is because you aren't responsible seeing as Amazon handles your fulfillment.
However, if you use FBM, there's not much you can do about negative seller feedback. All you can really do is avoid it in the first place by shipping items promptly and providing great service.
Sales Strategy
You'll also want to consider what sales strategy you're using. Let's say you use a dropshipping business model. This involves buying products directly from a manufacturer and shipping them straight to the customer. It wouldn't make sense to use FBA as Amazon would be acting as an unnecessary middleman.
Similarly, if you craft your own products, it makes sense to use FBM. This is because you already have the items and will be saving extra steps by shipping them straight to customers.
Can I Use FBA and FBM?
If you sell multiple products, you can use a combination of FBA and FBM! This will help you maximize your profits across the board.
Let's say you sell a variety of bike-related products including bikes, helmets, and bells. The lighter products (helmets and bells) may be better suited for FBA. The bulkier products (bikes) may be better suited for FBM. Amazon will take care of the fulfillment for helmets and bells, leaving you free to focus on managing the sales of bikes. All the while, you'll be making the most money possible.
When to Choose FBA vs FBM
Generally speaking, you should use FBA if:
Your products are small and lightweight
You have a fast inventory turnover rate
You are new to selling on Amazon
You don't have logistics already established
You are okay with Amazon handling all aspects of fulfillment and customer service
And, you should use FBM if:
Your products are bulky or heavy
You have a slow inventory turnover rate
You have experience selling on Amazon
You have pre-existing logistics
You want control over fulfillment and customer service
FBA vs FBM: Final Thoughts
Many sellers don't have the resources they need to fulfill orders themselves. This makes FBA a desirable choice for maximizing profits.
However, if you prioritize having control over the customer service, then FBM might be worth the slightly lower profit margins. It all comes down to analyzing your business's unique needs.
As long as you keep these factors in mind, you make an educated choice between FBA vs FBM.