Selling on Amazon is not really an easy thing considering all the competition that you have to face. If you are considering selling on Amazon then you definitely have to familiarize yourself with Jungle scout. It's quite a useful tool that you will need if at all you want to make it in this business. Jungle scout is generally a marketing platform for your goods and services. It's more of a research tool for products sold on Amazon.

Jungle scout functions as a web app or a chrome extension. Through it, new sellers on Amazon get to discover profitable products and new opportunities to expand their business. This application is engineered in such a way that it derives useful insights from data to provide you with profitable business ideas.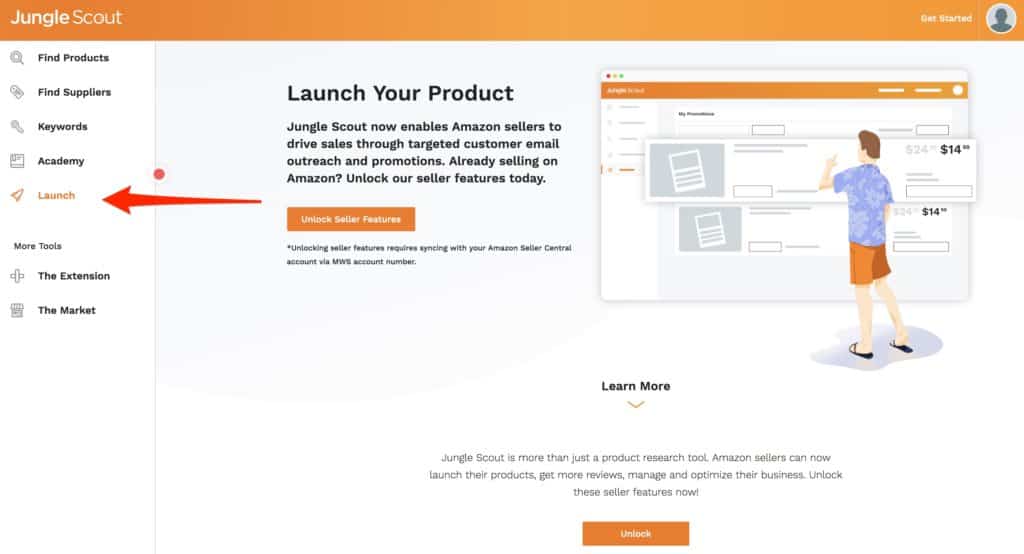 Why is Jungle Scout Important to Launch?
At this point, you might be wondering why exactly you need Jungle scout. You might have recently opened an FBA seller account on Amazon. This means that you already have a few ideas on the kind of products you intend to sell. Not all products will bring back profits and that's why you may need to use the Jungle scout launch tool to ensure your product starts the best chance of hitting page one and sticking the launch. Jungle Scout will help you find just the right products that will work to grow your business and launch will give your the best chance when launching or relaunching a product.
The major functions of jungle scout are based on product research. It tracks the product's sales, reviews from customers and their ratings. In addition, you get to know about the performance of the products of your choice. It also tracks down how your competitors are faring on and most especially their product sales. This way you can take advantage of their weaknesses to improve your business.
Launch by jungle scout comes with advanced features to give the users an exceptional experience. People who have already been using jungle scout can now upgrade to lunch and benefits from its advanced features. Below are some of the notable features of launch by jungle scout;
This feature enables you to discover exactly which products are popular and on high demand. You don't have to spend days researching to find the appropriate products for your business. With this feature, all you have to do is search the product database based on category, sales data and customer reviews. It definitely makes your work easier.
One of the vitally important things for a successful business is the supplier. You have to get a supplier that you not only trust but also can rely on. The Launch application consists of a new supplier database that you can use to get in touch with the best suppliers according to the criteria of your search. Furthermore, you have a chance to know the loyal customers of your potential suppliers and what they manufacture.
Every entrepreneur knows that there are some ups and downs in every business. The product tracker feature allows monitoring a specific product on Amazon. You can get access to revenue data, inventory data and daily sales of that product. This way, you are able to determine if the product idea you have in mind is reliable. In addition, this feature can be used to keep an eye on your competition. This is one means of coming up with a great business strategy.
You need better keyword if at all you want more traffic on your product listing. It's vital that you know what people are searching for on Amazon. The keyword scout works to provide helpful insights on the popular keywords that will drive more traffic to your listing. This also builds your brand exposure and improves the sales of your business.

Jumpsend and Jungle Scout Launch
If you have been using jungle scout launch, then you definitely have already come across jump send, which we already talk about. Every entrepreneur knows just how difficult it can be to make sales during the first days after launching their product. For your Amazon FBA business to thrive, you definitely have to make more sales and get higher rankings. Many sales mean more reviews from your customers and hence more business on your side.

The big problem is usually getting the first positive reviews from your customers. Most of them will prefer not to leave feedback. This is where jumpsend gets into the picture. Jumpsend is actually a promotional marketplace. On this platform there are thousands of shoppers who are seeking out offers and good deals on products. Through this application, they are able to get coupons and purchase your products at a discounted price. Therefore, the issue of low sale volumes, especially for new sellers on Amazon, can be solved. This, in turn, boosts your ranking and puts your product in the limelight to be seen by potential buyers.

Another notable feature of jumpsend is the email autoresponder. As I had already mentioned, receiving reviews from your first customers can be quite a challenge. The email autoresponder is a way of encouraging your buyers to leave a review on the quality of your products. Jumpsend is actually more or less similar to launch by jungle scout. The only difference is that there are some changes on launch that you will not find on jump send.

At the moment all the features on jumpsend will be incorporated into launch from jungle scout. The email campaigns will have a few changes. For instance, email campaigns will be personalized according to the marketplace level. The store settings can be viewed individually for each one of the markets you sell your products on. In this case, you will have a separate view of your US store, UK store and another one for the CA store. In addition, emails are made to be more engaging. That is, you can personalize your email campaigns to be in various languages depending on the marketplace of your customer.

Another difference is the naming of your Amazon accounts. Initially, you did not have to name your Amazon accounts. This is because all email campaigns are managed at the account level in jump send. On the other hand, in launch they will be managed at the marketplace level. This means that in case you have multiple Amazon accounts, you will be forced to name them so that you can differentiate each one of them.

Moving forward, you will no longer have to create and manage promotions in the jumpsend app. It will now be happening in the jungle scout platform under launch. However, deals and offers will still be showcased on the existing jumpsend site. Furthermore, seller and buyer accounts will be functioning separately. If you are a seller, you can't request for deals from your own seller account. You have to create a separate buyer account.

The keyword-targeted URL feature is not available on launch. It was included in jumpsend and people could use the feature to choose some notable keywords for their URLs. It was used as a way to improve the ranking of products on Amazon. The reason for getting rid of this feature is because it somehow seemed non-compliant with Amazon terms of service.
Jungle Scout Launch Elements
Customer satisfaction is really crucial for the success of a business. The email campaign feature is a way for you to stay in touch with your customers. You can inquire if they have already received their products. In case of any issues, then the customer can easily notify you about it. Also, you have the chance to request the customers to leave feedback.

When many of your customers are happy with your products and services, they will definitely give positive reviews. Additionally, the fact that you are communicating with them through personalized emails works in favour of your business. This is because you are able to know what they like and dislike about your services. Hence, you can improve on what is lacking. At the end of the day, you have a greater chance of getting more positive reviews.

One thing you will like about this feature is the fact that it is automated. You don't have to spend your time sending them manually. It's such a great tool that is simple to use. Moreover, it can help you achieve a high page ranking. This happens as a result of receiving lots of positive reviews. Another benefit of this feature is increased sales and better conversions.
This is the second element of Launch. It's a promotional platform where you can showcase your discounted products. We all know that offering products at a discount can greatly increase sales. The product promotion feature takes advantage of this so that you product sales increase tremendously. All you have to do is create a promotion and set it up on the jumpsend marketplace. Shoppers on amazon who are searching for offers and deals are will be able to buy your product by use of a coupon code.

This is a great way to boost the ranking of your product on Amazon. The entire process is pretty easy and simple. It will only take you a few minutes to have your discounted product included in the jumpsend marketplace.
Jungle Scout Launch Pricing
Benefits of Jungle Scout Launch
Here are some benefits you will reap from using launch from jungle scout;
The product promotional feature helps you to increase the sales of your products on Amazon. It's actually the perfect feature to use when you have just launched your product on Amazon and wants potential buyers to take notice of it.
Encourages customers to review your products
As an entrepreneur on Amazon, you must know how vital it is to get many positive reviews of your products from your customers. The email campaigns are a great way of encouraging your customers to leave feedback. The fact that you will be engaging with your customers makes it even easier for them to give you a positive review.
Minimizes negative feedback
A negative feedback can really damage the reputation of your brand. Very few people will want to buy a product that has a negative review on Amazon these days. Communicating with customers through the automated emails will be the best way to know exactly what they want. You can also improve on what your customers don't like.