Have you heard the latest news on Amazon or looking for a Forecastly Review? They have a new inventory tracking tool. The software aids the eCommerce giant sellers in keeping track of the inventory at all Amazon warehouses. But how does it work? Does it work? We took a look at Amazon's new inventory tracking tool to find out.


What is Forecastly?
It helps Amazon sellers to keep better tabs on their inventory. It is one of the top Amazon softwares on the market that will assist you, the seller, in keeping track of the stock you have that has sold out of the Amazon Fulfillment Center. There are several reasons a seller does not want to run out of inventory in the Amazon Fulfillment center. These reasons are as follows.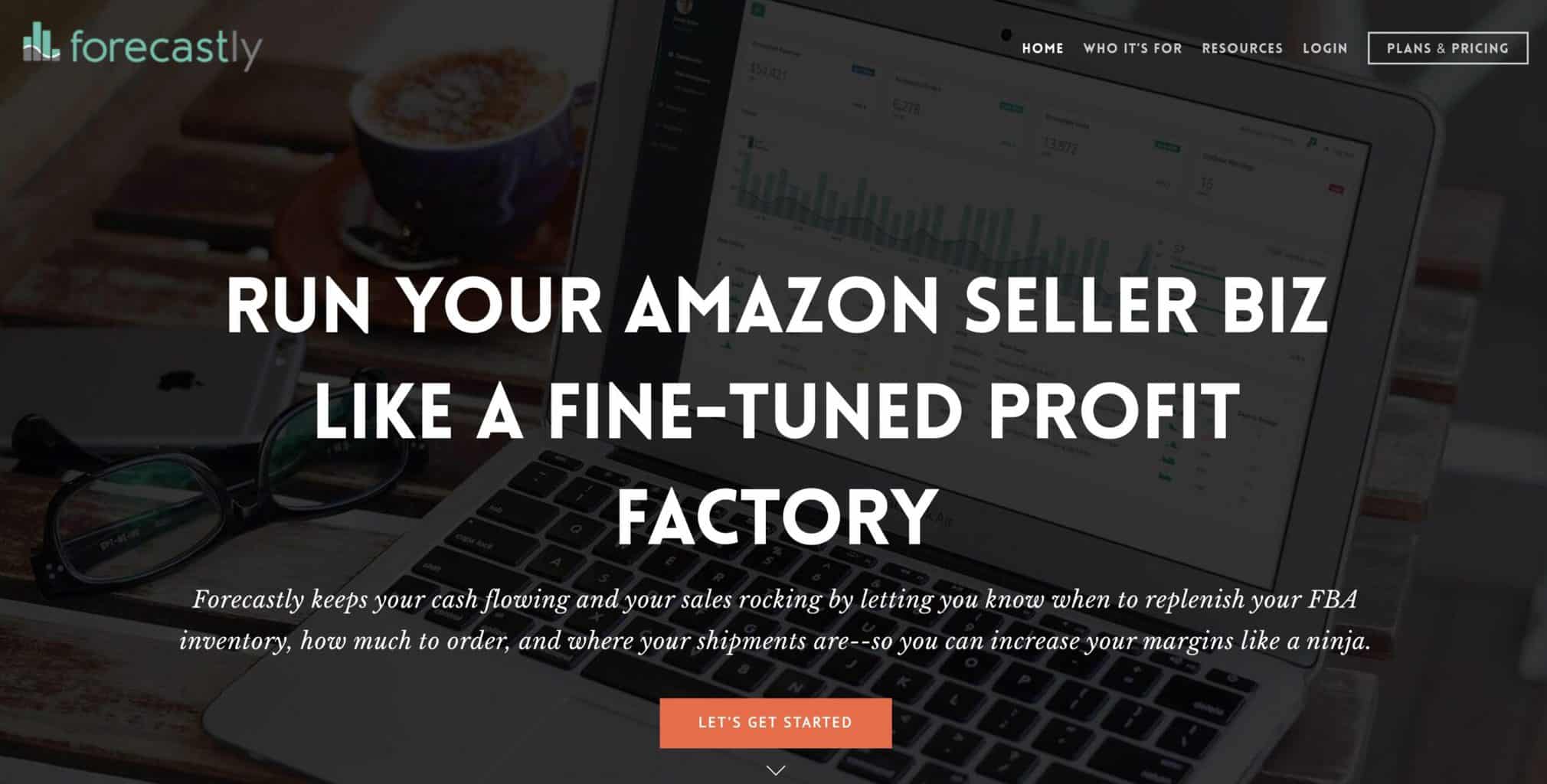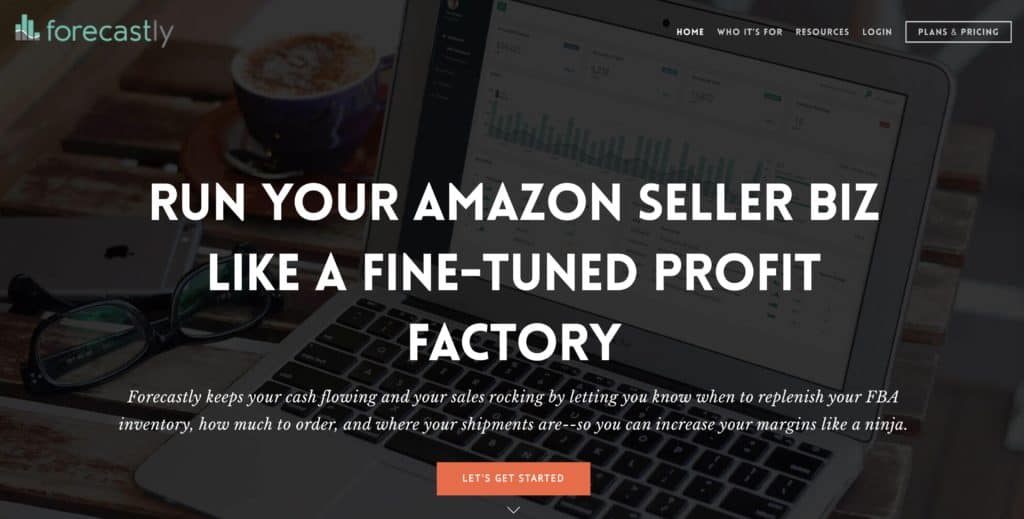 Forecastly Review
• There are Amazon customers who might have one of your products in their 'Save for later' cart. If you are out of stock on that item in the Amazon warehouse, you risk losing that customer. Once a seller runs out of an item, Amazon removes it from the 'Save for later' cart.
• When you run out of stock, your product will lose its rank among the Amazon ranking list. What does that mean to you? It means you will have to use promotions to get it jump-started again. These promotions will cost you money to run. So, you will lose potential sales from being out of inventory and more money when you run the sales.
• When you are an Amazon seller, you get free marketing on your behalf. Amazon makes an effort for all its sellers to have the same opportunity to sell. The company will do marketing on behalf of the seller. It alleviates the strain of budgeting for marketing. If a seller runs out of products, Amazon will no longer advertise for the seller. When they get new materials, they can start fresh with Amazon marketing on their behalf again.
• Sellers on Amazon who run out of products are certain to have high ACoS when they have more products in stock. The reason is that it will take a little while for the sellers' ads to warm up in the system. Once the ads warm up in the system, their ACoS will begin to decrease again.
Besides not running out of inventory, an Amazon seller never wants to have too much stock, either. To have too much stock might drive up the storage costs of having their units stored at an Amazon Warehouse.
What can Forecastly do for me as an Amazon FBA Seller?
There are four things this software can do for an Amazon FBA seller. These are as follows.
• Sellers can make fast and accurate buying decisions.
• They can take the headache out of accounting.
• They can scale their business with automation.
• Sellers get better deals from their suppliers.
Make fast and accurate buying decisions, forecast.ly the software makes it easy to see where you are in one glance. The seller can look and see what has sold. That will make it easier for the seller to reorder anything close to selling out. Also, the seller can easily see where they are in the sales rankings at Amazon. There is a Buy Box Amazon makes available for its sellers. With this software, the seller can easily look at what is going on in the buy box. When doing so, the seller can see what the buyers want, and they can then order and stock what the buyers want.
Taking the headache out of accounting—the software allows users to look at their inventory at a glance. Sellers can easily keep track of their cash flow. They will know what is tying up their money. At the end of every month, users of this software will get a snapshot of theirAmazon inventory. It is easy to determine from the snapshot how much inventory is on hand, and how much they will need to reorder.
Scaling the business with automation—the software will fully automate your selling business on Amazon. There will be automation for how much of your inventory is in the Amazon warehouses. Sellers can then spend more time either focusing more on their business or their personal lives. They might find time to focus on both. Regardless of how sellers spend this extra time, the important thing is they will have more time.
Get better deals from suppliers—sellers get to stay on top of their stock. That gives them leverage when they are negotiating with their suppliers. The main point suppliers look for is what the costs of the seller's inventory are?
What are the Features and Benefits of Forecastly?
There are four exciting features of the software. The feature-rich software makes it easy to own and learn. These features are as follows.
• Advanced replenishment stats
• Industry-leading demand forecasting
• Inbound shipment tool
• Insightful account dashboard
Advanced replenishment stats—with this feature, a seller of both the Amazon marketplace and FBA sellers can reap the rewards. The feature gives a detailed report of what the seller has in stock. The software counts the inventory. The seller knows how much of the product to reorder. When the seller replenishes stock, the software tells the user what the best way to replenish their stock is.
Industry-leading demanding forecast—this feature offers users an opportunity to get their stock forecasted with ease. When the software forecasts the stock, the user gets real-time results. They can configure how much they need and when they need it.
Inbound shipment tool—when using this tool, users have the opportunity to come to terms with all inbound shipments. They can process both Amazon and non-Amazon shipments. It is a useful tool for any Amazon seller. When using this part of the software, users will find that it is easy. The process in the software makes reconciling the shipments easy and useful. You do so with the click of a button.
Insightful account dashboard—There are a few benefits users will find with their user-friendly dashboard provided with this software. They will find that it is easy to navigate.
Like there are a few features to stand out in the software package, there are also a few benefits that stand out. These benefits are as follows.
• FBA inventory replenishment
• Inbound shipments management
• Product analytics
FBA inventory management—when using this part of the software, users can know exactly when to replenish their inventory. The benefit allows users to learn when to replenish the inventory and how many units to reorder. It will boost their profits. The method is a proven model to prevent outages of stock.
Inbound shipping method—with this feature, users can gain insight on all their inbound shipments. They will have a valuation of inbound accounting management.
Product analytics—with this added benefit for the software, users get to analyze much of their data. Some data they get to analyze are data that breaks down sales. Sellers want to utilize this tool because it simplifies end of the month accounting practices. The tool gives accurate inventory information and simplifies the entire process of counting your inventory, then subtracting what you have left from what you sold. There are many more useful insights into this fantastic software.
Forecastly Pricing
The pricing for the forecastly suite and all its wonderful features and benefits varies. There are tiers for the pricing. If a seller usually sells $3 thousand or less per month, the tier one pricing is going to be beneficial for them. The tier-one price starts at $80 per month. There are no packages smaller than this.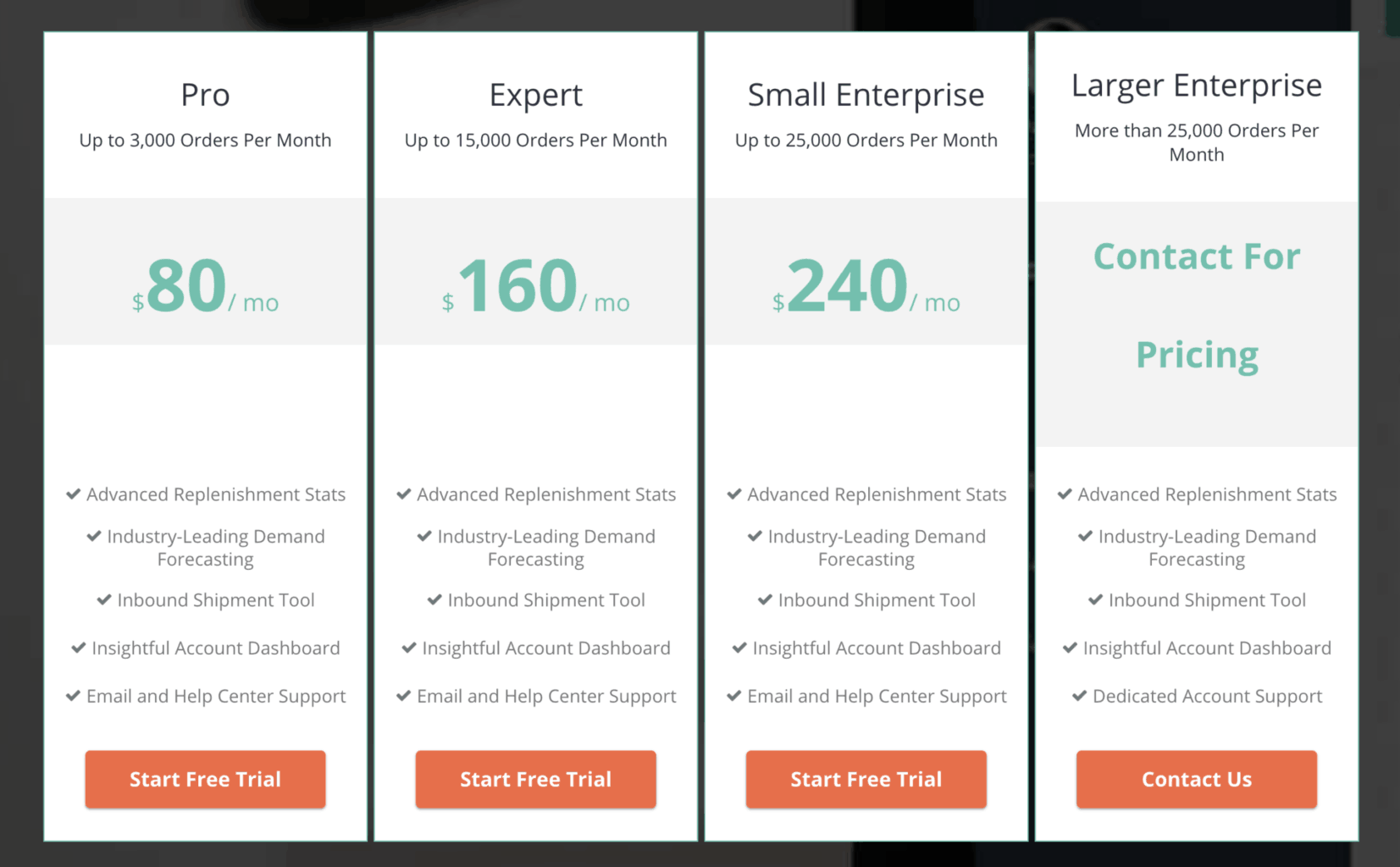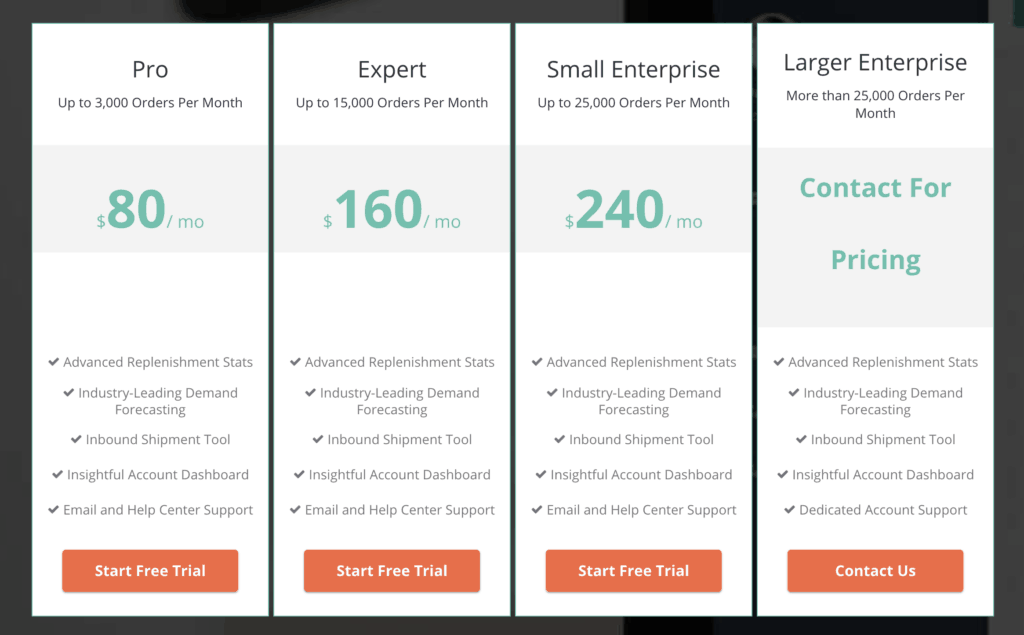 If you were looking for something with a little less commitment every month, you would want to try out one of the competitors. These might not have all the features and benefits of this, more expensive software that helps you keep track of your inventory.
The pricing will move up according to how much stock goes off the shelves for you every month. If you are a seller who makes more than twenty-five thousand sales per month, there are customized pricing packages for you. So, the more you sell, the higher the price you will have to pay.
The good thing about this software is that another company acquired it in 2018. Since then, there have been many changes made. One change is that the company now offers users a free trial for fourteen days. During the free trial, sellers get to download and use the software without taking up two weeks of their pay commitment. The seller gains access to all the benefits and features that a paid version has, without the commitment. When the two weeks are up, the seller provides the software company with their credit or debit card information. That is when the seller will pay for thirty days.
In conclusion, the Forecastly software seems like an excellent software to try for all sellers on Amazon. With the free fourteen-day trial, the seller has nothing to lose. It seems like it is worth a reasonable price for anyone that sells at least one thousand units per month.