Big brand businesses, long-time merchants, and first-time sellers on the internet all have something in common—a reliance on Amazon. Amazon has redefined the marketplace in the twenty-first century, and it's become an integral tool in building your customer base on the internet.
Now, there are lots of tools out there to help sellers of all experience levels navigate their experience on Amazon, and it can be challenging to pick the best one for you without any background knowledge. It is most imperative for Amazon FBA companies to be aware of their options (which stands for Fulfillment by Amazon and refers to Amazon's ability to store, pack, and ship Amazon products at no extra cost once the products and seller have met Amazon's FBA standards). Helium 10 and Sellics, for example, are some of the most competitive tools in terms of embarking on Amazon search engine optimization, or Amazon SEO. So, which is better?
To put it shortly: Helium 10 is going to be the most ideal way to navigate selling things on Amazon.
That said, Sellics is a major competitor that strives to achieve the same kind of results, and it's always good to be informed. So, when it comes to Helium 10 vs Sellics, Helium 10 is by far the better option—but let's discuss why.
Tools such as Helium 10 and Sellics have been designed to analyze your Amazon business, and help you improve your brand.
As useful as these tools are, it can be difficult to decide what is right for you. In this review, we consider all the features and details of both Helium and Sellics, so you can decide which is best for your brand.
Who Created Helium 10 and Sellics?
A great way to decipher who a system was designed to work for is by identifying who created it. Systems are made in the image of the creator, and that's why it's important to get some background history on any sort of software or technological tool you choose to use.
Helium 10, for example, was developed by Amazon seller Many Coates so that he could keep track of their own products' performance as well as the success of their competition. This means the software engineer had all Amazon sellers in mind while making it because they, too, were an Amazon seller. They knew what obstacles they faced, what kind of product information they wanted, and all of the ins and outs that seasoned Amazon merchants are privy to.
Sellics, however, was developed for the purpose of aiding big business brands and helping them navigate the market of which they are already a part. They prioritize the maintenance and organization of selling on Amazon without emphasizing the importance of growing a business on Amazon. This makes sense because of their devotion to private label companies, and speaks to a narrower range of expertise in selling on Amazon as they rely on a pre-existent clientele.
What To Expect From Helium 10 And Sellics
Helium 10 and Sellics are both software tools that have been designed to make selling on Amazon easier, and more profitable.
Helium 10 was one of the first big names in the market, assisting Amazon sellers in almost every area of the business. It was designed specifically to be used with Amazon, helping to navigate the complicated set-up of this incredibly popular site.
Sellics hasn't yet built the same reputation as Helium 10, but it's fast connecting with established businesses. That's where Sellics sets itself apart — this is a tool for those who already have some experience.
With both Helium 10 and Sellics, two things are expected. They should help with your own sales, and help you to analyze the competition's sales.
Both tools are intended as a way to improve your profits, and optimize performance. As an Amazon seller, the features of each tool should be specifically focused on Amazon algorithms and functions.
Helium 10 and Sellics are both designed to be used alone, so they need to be comprehensive. By using Helium 10 or Sellics, your Amazon business should become easier to understand, and a bigger earner.
And neither tool should cost so much that they wipe out your profits.
So, which tool actually delivers on their claims, and which tool falls behind?
Features Available
The features offered on your Amazon tool of choice are integral to navigating the possibilities of products to be sold—after all, the features make up the vast majority of the reason you would use such a tool in the first place. If we want to thoroughly examine Helium 10 vs Sellics, we need to analyze what they can offer.
Helium 10's Features
Helium 10 offers a wide range of features, such as Helium 10 Black Box (currently their most popular), which lists and organizes all of Amazon's products in a way that makes sorting through them much easier. For those who want to sell on Amazon but aren't sure where to begin or what products to sell, the Helium 10 Black Box stores all of them and can be filtered down according to the user's needs.
Helium 10 also offers Helium 10 Xray, a Chrome extension that optimizes the data storing and entry process that concludes the success of various Amazon products. The Helium 10 Xray deals specifically with prices, revenue, and the fiscal success of each product listed.
There are also additional features such as Helium 10 Cerebro and Helium 10 Magnet, which helps sellers find additional products to sell as well as assists with search engine optimization that can get your products higher up on the Amazon listings. Magnet is responsible for some of the most state-of-the-art keyword algorithm mechanisms found in Amazon tools these days, while Cerebro is a great way to take a lot at the keywords your competitors are using for the same or similar products.
Finally, Helium 10 offers a Wrong Spell Checker which is sensitive to misspellings or errors in keyword entry, a common but deeply threatening mistake to the success of your listed products; however, this feature also allows for identifying common typing mistakes so that you can include those as keywords for your products. It is an underrated yet clever way of capitalizing on the misspelled words both sellers and buyers are culpable of.
Helium 10 generally has the best features relating to the most important aspects of selling on Amazon—discovering products that would be ideal to sell, proper inclusion of keywords, and professionally executed search engine optimization.
Sellics' Features
Sellics provides a product database and general product data, but relies on the users to make their own inferences. This could speak to Sellics' assumption that the big businesses using their services already employ the kind of staff needed to make data-based conclusions.
Similarly, Sellics only tracks profits through two different features, which are "Profit" and "Competitor Monitoring." This means the extent of the information it can provide is the full profit you can reap selling your products as well as the financial success of your competitors selling the same products. It does not allow for further analysis or nuance, such as average daily revenues, average reviews, or information other than your raw profits in relation to your competitor's.
Sellics does, however, have a few good services up their sleeve. It has the PPC Manager, which assists with automating campaigns for larger companies; it has an Amazon Inventory Management tool which alerts all users when their respective products are getting close to being out of stock; and it has the Profit Dashboard which calculates your profits after deducting costs such as overhead costs and seller fees.
Prices for Their Services
Neither Helium 10 nor Sellics are completely free (though Helium 10 offers a free option, which we'll get to), meaning you will need to examine your budget to decide which Amazon tool works best for you.
What you spend your money on as a business, especially when you're first starting out, has a significant impact on the future success of said company. So, from a fiscal perspective, let's compare Helium 10 vs Sellics.
Helium 10's Pricing


Helium 10 has five tiers of plans if you sign up with them. The first one is free with only a fraction of the features, the second one varies in price according to how you customize it, the third tier is $97 per month, the fourth tier is $197 per month, and the final tier is $397 per month. Or for a bonus to our readers try using our Helium 10 discount coupon code for the best offer.
All of these tiers are entirely up to the buyer involved and do not inherently correlate with the money the buyer is making from their product on Amazon.
Sellics' Pricing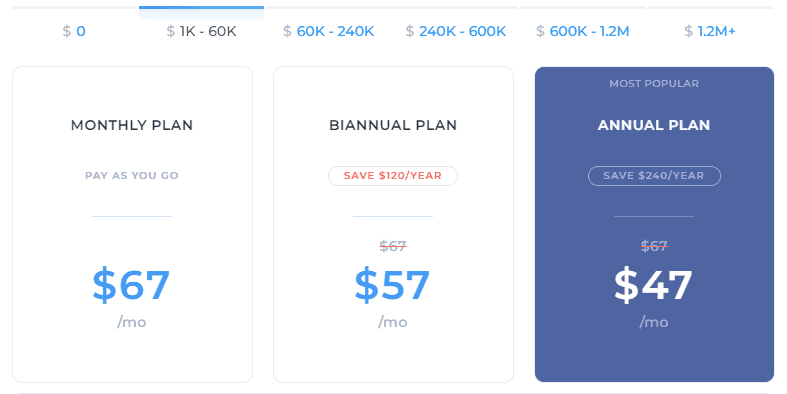 Sellics does not offer a free plan, but only a 14-day free trial period. After that, the price you pay is determined by your annual sales volume, starting at $47 per month if you make $1,000 to $60,000 yearly, and ending at $257 per month if you make over $1.2 million yearly.
This may seem like the cheaper option, but the price is chosen by Sellics as opposed to your desired tier of access. Not only is there no free option for beginner sellers, but after the first two weeks, they determine how much you will pay for your membership as opposed to your picking out your own plan.
Usability
A tool like Helium 10 or Sellics is designed to make navigating the complicated world of Amazon slightly easier. So the features themselves need to be user-friendly.
Both Helium 10 and Sellics are designed in a way that integrates with your computer, and can be used intuitively. The initial amount of data may be overwhelming, but in no time at all even novice sellers will navigate the platforms with ease.
Sellics may be slightly more difficult to understand, as the information isn't as thoroughly explained.
With Helium 10, data analysis is presented clearly, in an easily readable manner.
Customer Service
Helium 10 and Sellics exist to serve current and potential Amazon sellers, which makes their dedication to customer service a significant point of their functionality as a whole. This is especially important for clientele who use their services to promote their products on Amazon but are otherwise unfamiliar with web extensions and additional software.
Helium 10's Customer Service
We consider Helium 10 to have expert levels of customer service and maintenance. They operate on a 24/7 time slot, meaning there are minimal feelings of inconvenience or neglect. Helium 10 also has a Help Center which lists a series of Frequently Asked Questions and answers them for the convenience of any seller encountering a common problem. They also have an assortment of published articles that answer less common, more in-depth answers.
Sellics' Customer Service
Sellics operates out of Germany and can only be reached by e-mail or live chat during the hours of operation in their time zone. They do guarantee an answer within a day and a half, but it can still be troublesome for time-sensitive questions and the general feeling of convenience or lack thereof.
They do, however, have active social media pages that provide updates as well as a system status page that is updated in accordance with the presence of any software bugs that users should be aware of.
Compare Helium 10 to Jungle Scout
Helium 10 VS Sellics: Which Is Better For You?
Helium 10 is designed for the new business owner, someone just entering the world of eCommerce who wants to understand the market. The initial product choosing tools are in-depth, and give a clear picture of the market. From there, things only get better.
By using Helium 10, it's possible to quickly expand your business. This fast-moving tool is constantly checking the market, viewing the listings, and reporting the data back to you. There's very little that hasn't been covered by Helium 10, as the features account for almost every step of the selling process.
Sellics, on the other hand, is better for the established business. The Sellics tools collect data and view markets, but they don't offer much information about expanding.
A compact inventory will be easy to view on the user-friendly Sellics dashboard, but businesses looking to grow won't find much support.
However, the automation and profit tools allow business owners to take a hands-off approach. With these details expertly handled by Sellics, you have more time to work on the bigger picture.
Final Thoughts
Web extensions are some of the most helpful tools in the technological age, and if you're taking on a big project like selling on Amazon, they're absolutely necessary. Extensions and software can do the heavy lifting of data analysis for you, while you only need to reap the information supplied by it.
Understanding your options is a vital aspect of smart business management, and comparisons like Helium 10 vs Sellics make seemingly overwhelming choices much more comprehensive once you break it down.
There are numerous options at your very fingertips, but if you're looking for accuracy, consistent maintenance, and perspectives from your fellow businesspeople to help optimize your company's performance, we say that Helium 10 is the best option for you.