As the e-commerce industry continues to grow, it is becoming increasingly difficult to remain competitive. You need to know how to find the right products to sell if you want your business to experience long-term success.
When deciding on which products to sell, you need to consider a variety of factors, such as:
Popularity
Competition
Amazon fees
Estimated ROI
Fortunately for sellers, there are hundreds of tools available that can provide you with this information.
The bad part is narrowing down which tool is right for your business. How are you supposed to choose between all of them?
Here, we'll be reviewing one of Amazon's most intelligent research tools: ASINspector. You can use this ASINspector review to help you decide if it's the right tool to use for your Amazon business.
What Is ASINspector?
ASINspector is a product finder research tool meant for use by Amazon businesses. It's useful for finding potential ideas for items to sell to consumers.
ASINspector offers important data that will help you determine if a product will be profitable or not.
It's a great tool for increasing your conversions and ROI for all of your selling activity on Amazon.
ASINspector takes the manual work out of performing product research. Instead, it allows you to efficiently view and sort through the products with the highest demand.
How Do I Install ASINspector?
Installing ASINspector is a relatively easy process. It operates as a Chrome extension, so you will need to have the Chrome browser installed on your computer.
After installing Chrome on your computer, you can get access to ASINspector.
To view ASINspector, you'll need to have Amazon.com open in one of your browsers.
From there, you can search for any keyword or product directly on Amazon. Click on the magnifying button to finalize your search, and then you can select the ASINspector extension to begin your thorough research.
What Product Data Does ASINspector Review Offer?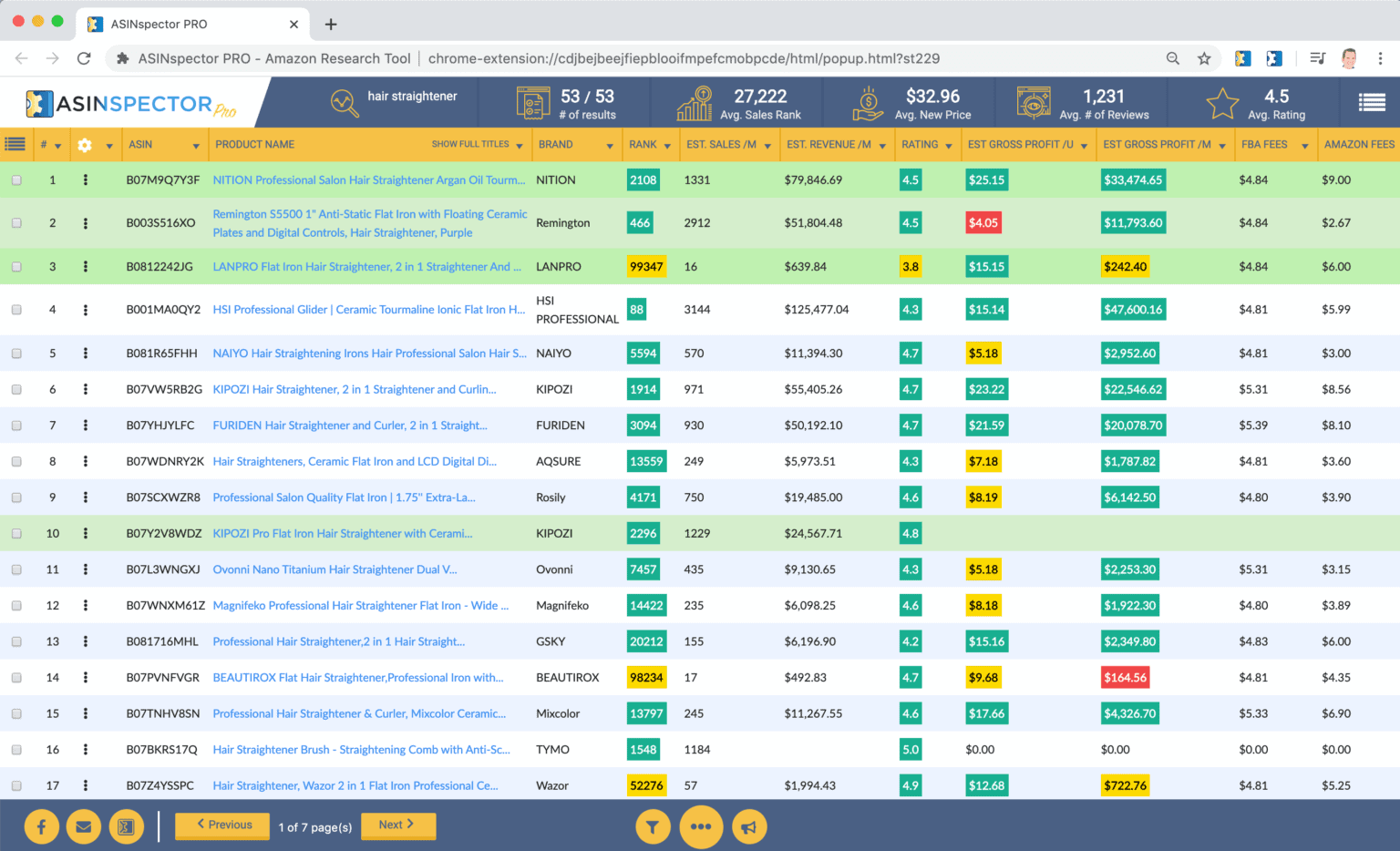 Main Tools
ASINspector provides you with a lot of product data so you can efficiently find the right products to sell. Some of the product data you can expect to view include:
Best seller rankings: You can find the best-selling products on Amazon using this feature. With the top options displayed in front of you, you can select the version that you want to sell. You can even select a new product depending on the current best sellers.
Estimated monthly sales: If your business needs to bring in a certain amount of money each month to stay afloat, this feature can help you prepare for the future. Get an idea of how much revenue a certain product will bring in every month.
Average price: If you have your heart set on a certain product, you want to ensure that you're selling it at a valuable price. Asking for too much can cause your sales to drop, while asking for too little could cause your business to miss out on a lot of revenue.
The number of product reviews: Some products will have hundreds of reviews, while others will only have a handful. Learning the number of reviews for a particular product will help you decipher how often it's ordered by consumers.
Average product rating: The number of reviews alone isn't enough to learn about a product. ASINspector provides you with the average product rating, so you can learn what customers think of a product. The higher the rating, the more likely you'll be able to sell it successfully in your own Amazon shop.
Other Features
As informative as this data is, ASINspector's Standard plan doesn't end there. To help you further plan out which products you're going to sell, you can get access to the following additional data and features:
Related products: ASINspector makes it easy to find products that are Frequently Bought Together. You can even browse related deals. Both types of data will let you better plan out which products your business can sell together. For example, if you sell pet supplies, you can find out what the best combination of products (drinking bowls, leashes, toys) to sell is. This way, your consumers won't have to look at other shops to find what they need. Rather, they can purchase everything they're looking for from your business's shop on Amazon.
CamelCamelCamel: CamelCamelCamel is another sales data tracking and product price tool from Amazon. ASINspector offers you access to this tool within the extension itself. Because CCC is meant more for use by buyers rather than sellers, you can gain valuable insight into your consumers' perspective.
Competitive information: You shouldn't limit your search to only what's on Amazon. Other marketplaces like Walmart and eBay are trying to sell products just like you are. ASINspector lets you conduct searches for products on these outside websites and get an idea of how much they're going for.
Product sourcing information: If you're looking for sourcing opportunities, ASINspector can help you. You can find out if an item is available on websites like AliExpress and Alibaba. This feature is particularly useful if you're interested in dropshipping, which lets you dip your toes into the e-commerce industry without the expensive overhead costs.
Weight and dimensions: While the weight and dimensions of a product may seem like minor data, they are something you should consider. Part of your job as a seller is ensuring that your products make it safely to your consumers' doorsteps. You need to ensure that you'll be able to adequately package and ship the products you sell. Not to mention, you should also have sufficient space to store items in your inventory as you wait for them to sell out.
Fees, profit, and ROI calculators: Even if you figure out product prices to a tee, they won't reflect your true profits. Running an Amazon FBA business comes with some fees that you have to pay. ASINspector offers calculators you can use to subtract fees and determine your true profits.
Historical data: Not only do you get access to current data, but you can also look up products' historic data. You can get an idea of how they performed in the past and how their rankings changed over time. ASINspector will even provide you with data from Google Trends.
Exporting options: Have you found the data you're looking for? Keep it on your computer by exporting it to Excel. This way, you can revisit and update it however you need to at a later date.
What Can I Expect from ASINspector Pro?
As great as ASINspector's Standard package is, it may not meet all of your shop's needs. That's where the Pro version comes into play. Check out all of the unique features that ASINspector's pro version offers:
Product Idea Generator
Are you stuck on what additional products you want your business to sell? The Pro version's Product Idea Generator will help you narrow down your options and select the most profitable items to sell.
Do you have a general in mind but haven't found the exact item you want to sell? The Pro version will also grant you access to data about product variations.
Mobile Scanning
The Mobile Scanning feature is arguably the most interesting part of the Pro version. This feature lets you scan products that you find in physical stores to get convenient access to product data.
To use this feature, you'll need to first download the mobile app on your phone by visiting ASINspector.com/scanner.
Once you find an item you're interested in, take a picture of its barcode through the app. Whatever pictures you take will automatically be stored for later use.
Once you get back home or to your office, open up the Pro version on your desktop. Navigate to the Scanner icon near the bottom of the screen to recover your scanned barcodes.
ASINspector analyzes all of the barcodes you have and displays their current Amazon listings. From there, it's up to you to decide if the product is worth buying.
A lot of sellers love this tool, as it lets them explore the concept of "offline arbitrage," which is when you find good deals in person and sell the items online.
ASIN Importing
If you are looking at a lot of products, you won't want to perform the tedious work of importing their ASINs. The Pro version lets you import ASINs in bulk so you can efficiently analyze all of the products you're interested in.
Once you've decided on products to sell, you can upload their UPCs (universal product codes) in bulk to save yourself some time.
Save Your Searches
If you're constantly performing product research and need a reliable way to return to past searches, the Pro version is just what you need. Unlike the Standard plan, the Pro plan lets you save your searches so that you can revisit them at a later time.
Listing Assistan
Not sure how to craft your individual listings? The Pro version's Listing Assistant is a handy feature that will help you capture consumers' attention and optimize your reach.
Sponsored Ads Data
As you're performing product research, you will benefit from being able to view the big picture.
One downfall of the Standard version of ASINspector is that it doesn't show you products of Sponsored ads.
While you can get away without seeing these, you will be missing some key information.
Not being able to see sponsored products on the Standard version could cause you to make unwise decisions about which items to sell.
That's why we love the Pro version, as it lets you see data about products from sponsored ads as well as regular listings.
Features Training
Do you need some clarification on any of this tool's features? With the Pro version, you'll get access to tutorials and training that you can use to refine your knowledge.
ASINspector Review Pricing


If you're impressed by all that ASINspector has to offer, you may be wondering how much it's going to cost your business.
While you do need Google Chrome for ASINspector to work properly, installation is free. That's one nice thing about this Amazon tool: you don't need to invest in any additional software or extensions for it to work.
With that being said, you will have to pay a fee to use ASINspector. Here's the price breakdown:
The Standard plan for this tool costs $97. After this one-time payment, you won't have to pay anything to use ASINspector. The Standard plan is meant for self-starters and up-and-coming entrepreneurs.
The Pro package used to be less cost-effective. On top of the previous $147 initial fee for the Pro package, business owners used to pay an additional $10 per month. ASINspector has since changed its pricing for the Pro plan. You only have to pay a one-time fee of $187. This fee unlocks all of ASINspector's features, which offers your shop a great value.
No matter which plan you choose, either one is very affordable for any sized business.
Does ASINspector Offer a Free Trial?
If you're not sure if this software is right for you, you can try out the Pro version for free for seven days.
How Does ASINspector Compare to Free Product Research Tools?
Some Amazon shop owners may be initially put off ASINspector's fees. They may wonder why they'd pay for a keyword research tool when there plenty of free tools to choose from.
These free tools are very limited in features. They have strict usage limits, so you may not be able to complete thorough research.
ASINspector's costs are very typical of a high-quality research tool. The one-time fee for ASINspector's Standard plan is appealing to a lot of business owners. They pay a single fee and have lifetime access to the tool and its core features, which is sufficient for a lot of Amazon businesses.
Even if you need more features, the $10 per month for the Pro version is pennies when your business is selling the right products.
Is ASINspector Worth It?
If you're trying to sell products on a marketplace as large as Amazon, it can be difficult to know which items will generate the highest profits, and which you should avoid selling altogether.
From our research and through reading about others' experiences with ASINspector, we can safely say that this tool is well worth the investment. You no longer have to worry about locating profitable products; the tool's easy-to-use features do most of the hard work for you.
ASINspector will help you find just the right products to sell. With its assistance, you can rise above the competition and increase your cash flow. Give ASINspector a try today to start reaping its benefits for your Amazon business!