In today's world, anyone can choose to sell goods online. Now more than ever before, entrepreneurs and amateurs are taking full advantage of this opportunity to make some extra cash or even a full income!
Online marketplaces like Amazon and eBay have made this type of selling incredibly popular, and as more people jump on the bandwagon, the more programs are created to make the selling process easier and more productive.
Sellbrite is just one of the many programs that has been created to make managing an Amazon FBA business easier. In this Sellbrite review, we'll share more about this software and whether we think it's the right FBA tool for your business.
What is Sellbrite?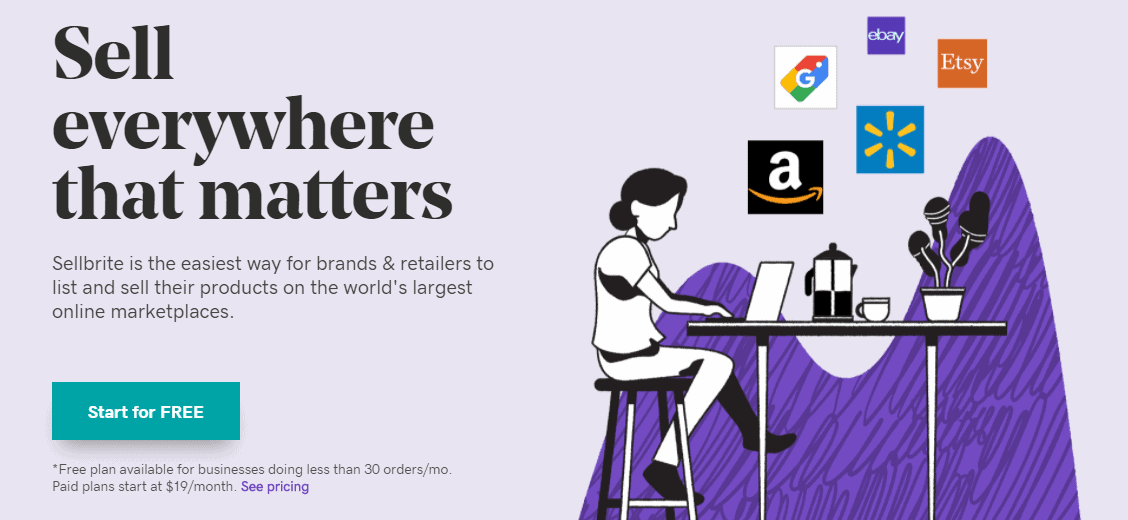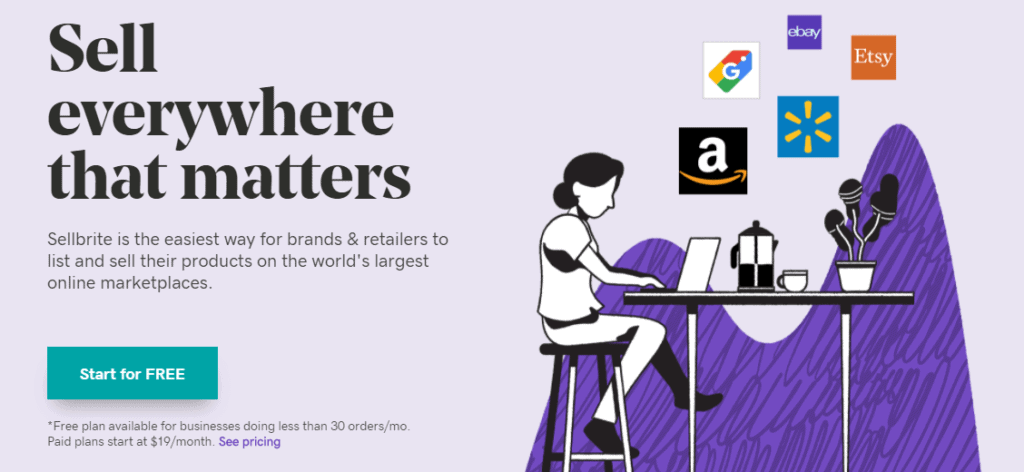 Developed in 2011, Sellbrite is an online program that helps retailers list their products on some of the largest online marketplaces.
This program provides both brands and retailers with a one-stop-shop for all of their listing and selling needs, making the entire process much more efficient than managing several accounts for each marketplace. This program allows retailers to sell on multiple platforms while managing everything from the main site – it truly simplifies the entire process and accelerates sales across all of the different platforms.
By using this type of program, sellers can reach a larger audience of potential buyers than ever before! Now, you can post a product in one location while having it marketed to the users of all of the major online marketplaces – efficiency and productivity are the key features that Sellbrite offers.
If you are a retailer or brand that sells your products on Amazon, eBay, Etsy, or any similar online marketplace, you should definitely consider looking into the tools and functions that Sellbrite can provide to you!
Sellbrite Pros and Cons
To start off this Sellbrite review, we will break down some of the major pros and cons associated with this site.
Pros
1. User Friendly
Who doesn't love a program that is easy to use and gets the job done? Sellbrite is meant to make things simpler for you, and that is very evident in the user-friendly features on the site.
To get started with this program, you will want to link up all of your online stores. Whether you are running an FBA on Amazon, have a store open on eBay, or a personalized shop on Etsy, you have to make sure that your products are listed and accounted for through this site.
By following simple prompts through the "settings" tab, you can quickly link of your accounts so that all of your stores will be listed right in your Sellbrite account!
Then, you are going to want to import all products that you have for sale. After this, you will have an option to sync up your inventory so that it is updated regularly as you sell things through your store.
Once all of your products have been imported, you will have the option to manage your listings, meaning you can edit them or change them whenever you need with just a few clicks.
Sellbrite was predominantly designed to simplify some of the more tedious tasks associated with online retailing, so it is no wonder that the program is so user-friendly.
2. Fulfill Orders More Efficiently
Another great feature that is offered through Sellbrite is that sellers and retailers can now fulfill orders much more efficiently than ever before.
With all of your products and listings in one place, and your accounts synced up through this program, you will be notified immediately when an order needs to be fulfilled.
Rather than having to go back to the specific site to fulfill an order, you are able to do so right from the Sellbrite application!
3. Filter and Customize Your Listings
An important feature that will help you to make your online stores stand out is the option to filter and customize all of your listings.
If you plan on listing products individually through Sellbrite, you will find that the process becomes quite time-consuming. Luckily, Sellbrite cuts out those tedious tasks! You can create product and listing templates that you can save for later and apply to new postings whenever you need.
This feature is unique to the Sellbrite application and is guaranteed to save you so much time. It will also help you to get your products out and into the marketplace much faster than if you had to go through each one and post it individually.
4. Easy-to-Use Listing Features
Jumping off the customized filter features, Sellbrite offers many other easy-to-use listing features. You can quickly post listings in bulk by adding mass amounts of products to your store all at once.
Again, with your accounts all linked, the products will quickly show up in all of the marketplaces that you sell on!
You no longer have to waste a lot of time creating separate listings for the different sites, and you don't have to learn how to use all of the different features and interfaces on the various websites.
Sellbrite makes it easy for you to succeed and has made the most of these easy-to-use features that were crafted with the sellers' best interest in mind.
5. Reach a Larger Audience
By having your products listed on many different online marketplaces all at the same time, you are bound to reach a larger and more diverse audience.
This is listed as a pro more many reasons. First off, the more people that come in contact with your product listings or store, the better. Higher foot traffic is almost always correlated with higher sales, so you are more likely to see positive changes in your sales just from using Sellbrite.
Additionally, you are also more likely to reach a diverse audience. Now, you may be wondering why this would be important in an online setting, but the truth is that consumer behavior online isn't all that different than in the real world. You want to reach diverse audiences because your products might just resonate with someone that falls outside of your target audience.
Sites like Etsy invite a much different buyer than sites like eBay, but it won't hurt to market your products to both types of buyers. Using Sellbrite heightens your chance of reaching the right buyer on the right platform, in turn, increasing your overall sales.
6. Have All of Your Products in One Place
This pro is important for a lot of reasons. The obvious benefit comes from the fact that you will see everything that you are listing in one spot. This is great for organization purposes and can really help to keep you focused on the products that are performing the best in the market.
The other benefit that comes along with having your products in the same place is that you will have a regularly updated inventory!
No longer will you have to be concerned with the problem of overselling a product; Sellbrite updates in real-time. This means that as soon as one of your products is sold on any marketplace, your online inventory will automatically update with the correct number of products that are still listed.
This keeps things much clearer for you as the seller and will help to make sure that you aren't over fulfilling on orders with a depleted inventory. You will be happy and your buyers will be happy – a win-win!
Cons
1. Short-lived Free Trial
If you are interested in trying Sellbrite, but still aren't completely sold, you have the option to try all of the features out through a limited free trial.
While this is great for those who want to test out the many features, the free trial is only available for a thirty-day period before you are required to pay for the subscription.
Additionally, the trial of Sellbrite is only free if you sell under 30 orders in a month. If you are a small retailer who is just getting started, you probably will not have to worry too much about this restraint.
However, if you are a larger retailer looking to simplify your tasks by trying out this app, you may run out of the free trial quicker just because you have sold more products in a shorter period of time.
2. Large Investment for Smaller Retailers
While the pricing packages for the different levels of the app are pretty reasonably in the big scheme of things, it may be a larger investment for those smaller retailers.
If you only sell your products on one or two sites, or you specialize in a very small, niche market, you may feel that the program is a little too expensive for your needs.
The features can still be helpful, but it is a matter of deciding whether the price is worth it for your specific business.
3. Can be Problematic for Smaller Retailers
Following on what was said above, there is a chance that Sellbrite may not be the best match for some smaller retailers.
If you do any research on this program, you are likely to find that this is one of the main complaints. This is primarily because the features are most productive when a bulk amount of product listings is at play.
Small retailers may only have one or two of the same product. They won't be able to restock on those products once they have been sold. This can make it difficult to use those customized listing templates and sorting features as your products are constantly changing.
It is not impossible for small retailers to use Sellbrite, but we strongly recommend that you give the free trial a go before committing to any of the packaged deals.
Pricing Breakdown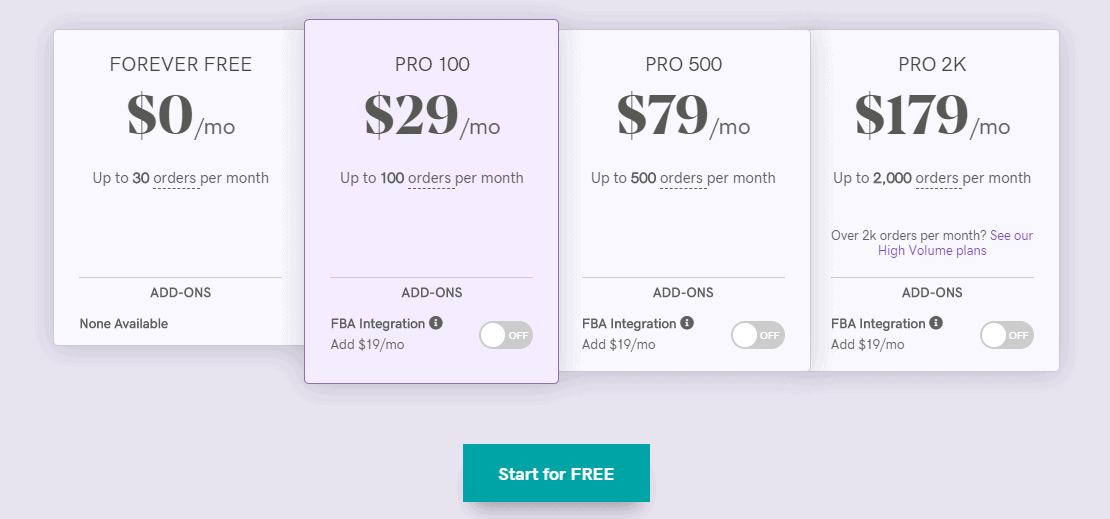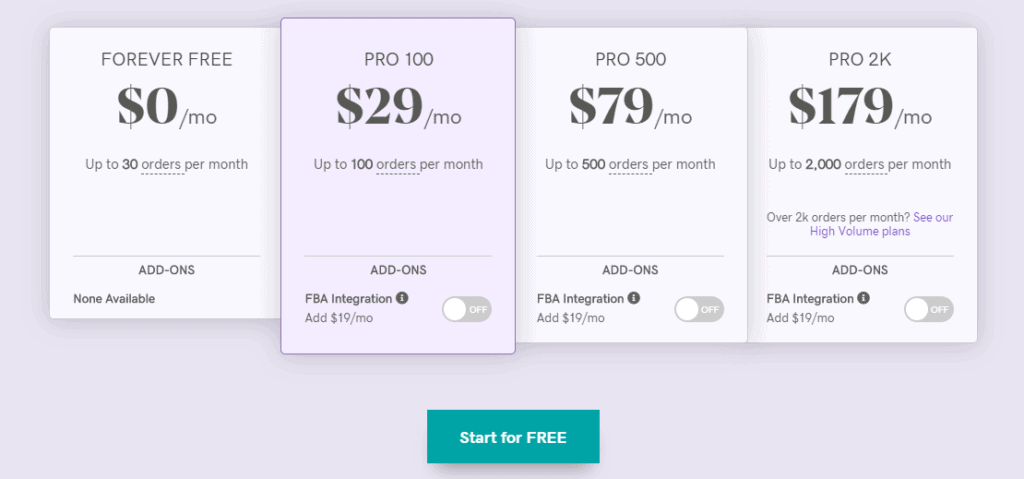 If you are considering trying Sellbrite for your online store, or if you are nearing the end of your free-trial period, it is time to look at the different pricing features offered on the site.
To accommodate sellers of all shapes and sizes, Sellbrite has offered up a couple different packages and price points to choose from.
1. Sellbrite
The basic subscription option is listed as "Sellbrite." This package is meant for sellers to use on all of the different marketplaces that they sell on, so this is the broader of the two options.
If you choose to go with this package, you will be prompted with the chance to choose from a couple of different pricing options.
If you're leaning towards this package, you need to look at how many orders you traditionally fulfill on a monthly basis. These deals range anywhere from $29 a month all the way to $179 a month – just make sure you aren't spending more than you need to on a larger package!
2. Sellbrite for Shopify
The other option is listed as "Sellbrite for Shopify." This package is a little bit more specialized and is aligned specially with Shopify Vs Amazon FBA.
For sellers that use Shopify, this option may be better suited to you. It also comes at a lower monthly price. Price points for this option range from $19 a month to $99 a month, again depending on how many orders you fulfill in that timeframe.
Our Verdict
Sellbrite is a program that helps to take online selling to a whole new level. If you have been selling across multiple platforms, you likely have seen firsthand the struggles that Sellbrite mollifies; it's ideal for businesses that need to sell on multiple platforms but can't be bothered with managing a million accounts.
We have looked at how this application can work in the many online marketplaces and feel that it really does perform well, despite being geared toward larger retailers, as we mentioned above.
We think that this user-friendly application is perfect for any online sellers looking to get more organized and work more efficiently. The features offered on the site were designed to help sellers make the most of their products and listings. We feel that Sellbrite has earned its place in the online selling community!