A best-selling product on Amazon can be a game changer for a business. But with close to two million sellers currently on the platform, it can be hard to get your product to stand out and rank for competitive categories.
Luckily, you have options available to help your products get in front of consumers' eyes. An algorithm is used to rank products in Amazon searches—which means you can optimize for Amazon SEO keywords to cater your product description to what the algorithm is looking for.
Your product listing is the most significant factor in Amazon SEO optimization. Amazon looks at your page title, product description, images, and other elements when evaluating your products. If you optimize your listing for the Amazon algorithm, you can increase your chance of ranking higher on Amazon search and get more sales as a result.
Why Amazon SEO Is So Important
Amazon uses an algorithm called the A9 algorithm to power product search results. It considers various factors when looking at product pages to determine which ones should show first to its customers.
This is important to know when thinking about how people search for products today—61% of consumers now start searching for products on Amazon before any other website. Understanding how to gain consumer visibility from the Amazon search bar can be a crucial step for a small business.
If you want to optimize Amazon listings, you need to understand how the A9 algorithm works and how to optimize your Amazon products to give the algorithm what it wants. Here are the factors Amazon considers when ranking products that you can use to start optimizing your Amazon listings.
Text Relevance
Text relevancy is how well the content in your product listing matches the search term an Amazon customer uses to find products. 
Amazon looks at your product title, description, bullet points, image captions, and other text content to get a list of keywords describing your content. It then uses those terms to run a match against the user's search term to determine where your product should be listed in a filtered relevancy list.
Sales Velocity
Your sales velocity refers to how much of your product you sell on Amazon. 
Amazon looks at your total sales volume alongside your products' total revenue numbers. If you have a popular item that sells well and makes more money than its competitors, Amazon will value your product listing more and rank it higher.
Stock Availability
Amazon doesn't want customers to click on products they aren't able to buy because of stock issues. Experiences with low stock can lead to a frustrating experience and may result in lost sales for the site as a whole. 
If your products regularly run low on stock or run completely out, Amazon may degrade your product's visibility in search results. Supplying a well-stocked item will keep your Amazon account in good standing.
Pricing
A big reason people shop on Amazon is the prices. They know there are deals and they check multiple items on Amazon to see how good of a deal they can get. 
If you price your product too high and outside the norm of similar products, it can negatively affect your ranking. Amazon knows high pricing can impact conversions, so it will optimize for products it believes will convert better.
Customer Reviews
Customer satisfaction is one of the most critical factors in ranking. Amazon prides itself on excellent customer service and providing quality products to consumers. 
If your products don't offer that same customer experience, it will negatively impact your ranking. Getting enough negative reviews will turn people off from buying your products and lead to lower sales and decreased visibility on the search results.
Amazon FBA
Amazon runs a fulfillment service for its customers. You send your product to an Amazon warehouse and use their resources to pick and ship to customers. 
Amazon wants to encourage sellers to use this program, so they created Amazon FBA. FBA sellers get reduced and free shipping rates for customers as well as quick shipping times. You also get the FBA badge on product listings, which increases your search visibility and helps you win the buy box.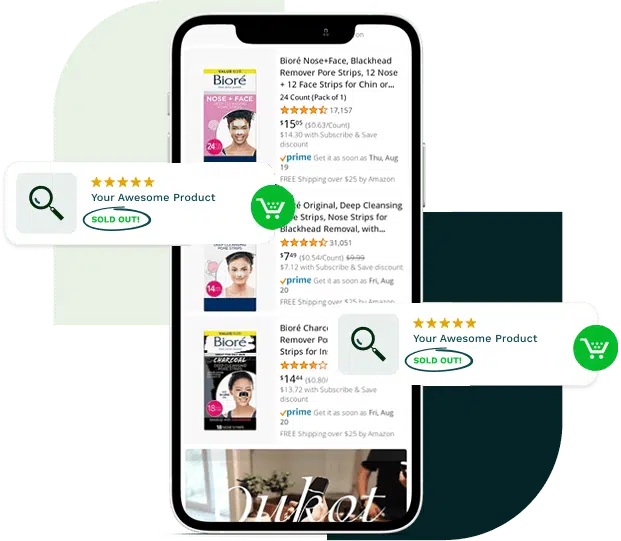 Ready to boost your Amazon sales and increase your ROI?
Contact Search Nurture for top-notch Amazon optimization services.
Helium 10 Listing Analyzer Features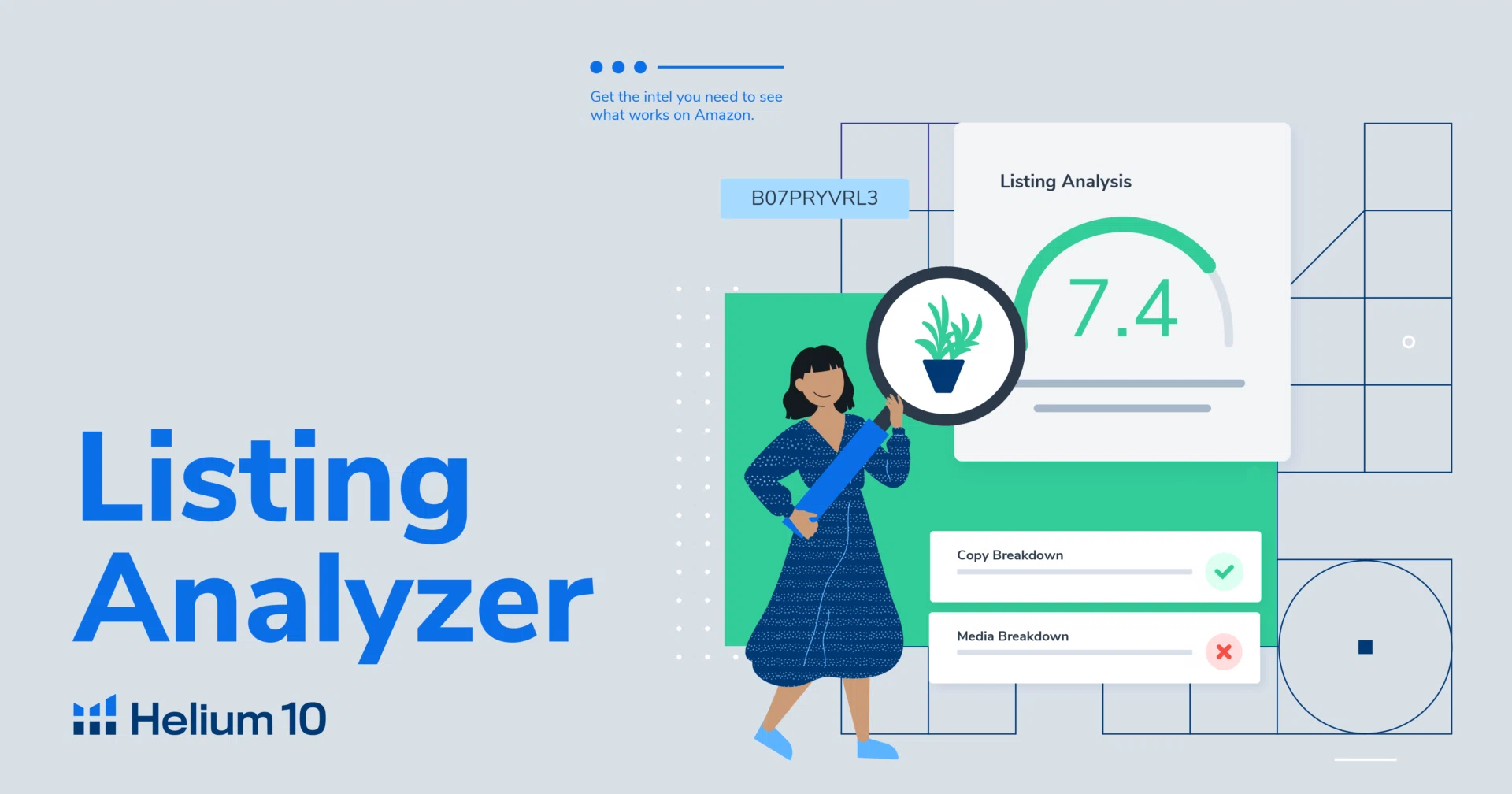 The Listing Analyzer from Helium 10 is a powerful tool that gives buyers useful information about how their product listings are doing. Analyzing key measures and making ideas based on data, it gives sellers the power to find and fix problems that could be hurting their sales.
List Analyzer's most important features are:
Keyword Research
The tool does in-depth keyword research and offers relevant keywords based on the product being examined. It helps buyers find high-volume keywords with low competition so they can improve their ads and move up in search results.
Competitor Analysis
This feature lets buyers look at the listings of their rivals and compare them to their own. By looking at what works and what doesn't in the lists of competitors, sellers can improve their own tactics and gain an edge in the market.
Listing Optimization
The tool gives suggestions based on data for how to improve things like the title, bullet points, product description, and core keywords. These ideas come from popular ads and proven ways to increase conversions.
Helium 10 Listing Builder Features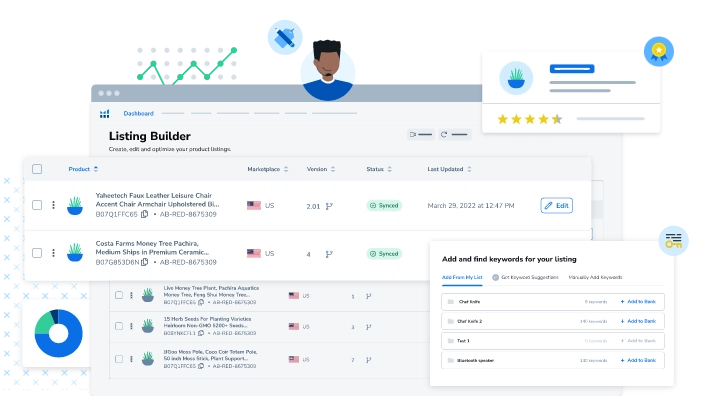 Listing Builder from Helium 10 is a strong tool that makes it easy to make optimized product listings from scratch. It speeds up the process and makes sure that buyers include the most important parts of their ad to get the most views and sales.
List Builder's most important features are:
Step-by-step instructions
The Listing Builder walks buyers through each step of the process of making an ad, making sure they include all the important parts. From product information to keywords and pictures, the tool uses a methodical approach to make sure that the listing is complete and professional.
Keyword Integration
Listing Builder helps buyers make SEO-friendly listings that are more likely to rank higher in search results by adding relevant terms that were found through keyword research. It helps optimize names, bullet points, and product details to make them more visible and bring in the right kind of traffic.
Image Organization
Listing Builder helps buyers organize and optimize their product pictures so that they can show off their goods in the best way possible. By using high-quality images and following the rules of the platform, sellers can make customers more interested and get more sales.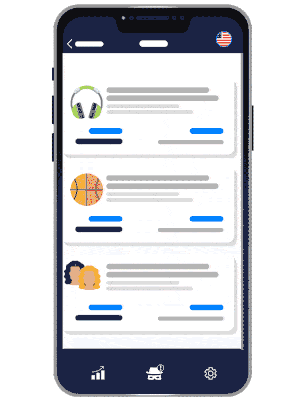 BEST OVERALL
Helium 10 is one of the most powerful All-in-One Amazon seller tools on the market today.
How to Optimize Your Amazon Listings with These Tools
Starting with a Solid List of Keywords
Of all the factors that play into ranking on an Amazon search page, keywords are among the most important. The terms you use in your product title and description tell Amazon what your product is about. Without knowing the terms people use to search for products, you'll never be able to optimize your listing to rank for Amazon searches.
Keyword research will help you determine which terms are ideal for your product category. Your keyword research strategy should lead to lists of terms related to your product. It's important to generate a wide variety of keywords during this process. You don't want to keep using the same terms repeatedly—this leads to over-optimization, a poor reader experience, and a potential decrease in your Amazon ranking.
When starting your keyword research, put your terms in three main buckets:
Exact match keywords: These are the keywords that exactly match your product. They can also include synonyms for your product type. These terms will offer the highest conversion rates because customers will find exactly what they want when browsing for products.
Phrase match keywords: These keywords are still highly related to your product, but they are broader in scope. They can include more words before and after the main search term and often include an exact match keyword somewhere in the term.
Broad match keywords: Broad match keywords are the most general keywords. These are terms that are often related to your general product category. These terms may offer lower click-through rates and conversions, but they are still worth targeting in some situations.
Now that you know what types of keywords to add to your list, discover a few strategies for generating keywords for your Amazon product listing.
Check What's Ranking on Google
Product search terms on Google and Amazon are fairly similar. Although Amazon gets a lot of direct search traffic from Amazon customers, Google still receives many searches for people looking for things to buy.
One of the best things about Google data is that much of it is public. The Google Keyword Planner, for instance, displays the search volume of terms you type in, along with related search terms. You can also use autocomplete on the Google search bar to get keyword ideas Google believes are related terms, as well.
Investigate the various Google keyword research tools to gather initial data about how people search for products in your industry.
Use Amazon Keyword Research Tools
Google isn't the only company that offers insights into keywords. You also have tools to help you analyze which keywords people use on Amazon to search for products.
Amazon keyword research tools gather a ton of data about products ranking on Amazon. They look at the search results for product pages to determine which products rank as well as the related terms they also rank for.
If you don't want to invest in tools, you can do research directly on Amazon. Type in the root keyword you want to rank for and see what other terms Amazon suggests.
Examine Your Competition
One of the best ways to learn what works and doesn't work with keywords is to look at the terms that your competitors already rank for on Amazon. There are many competitor research tools that allow you to do a deep dive into how your competitors optimize their pages.
One of the fastest ways to do this is with a reverse ASIN lookup tool. Paste the ASIN of a competitor's product into your tool, and you'll receive a list of terms worth looking at. On top of that, you'll be able to see related products commonly sold together. This is excellent information if you have companion products and want to see how your competition ties their products together in their product listings.
Optimizing Your Amazon Product Listings
Your Amazon product listing is much more than a title and short description. It has multiple components, including: 
Amazon listing optimization includes updating and carefully crafting all of these things for each product you're selling to give Amazon the best view of your product and drive Amazon traffic to it.
To start figuring out how to optimize your entire listing, look at the products currently ranking in the category. You can look at the listings yourself to see how others sell their products. Here are some things to look for:
Features listed in bullet points
Responsiveness to bad customer reviews
Keywords used throughout the product listing
Once you understand more about what the other sellers in your category are doing to rank, you can start optimizing your listing. To reduce some of the manual research, you can also tackle your product listings by using a product listing software to help make smart optimization decisions and do the research for you. Optimization tools can also help you write your descriptions, manage the status of all of your listings, and update older listings you already have on the platform.
So, what product listing components do you need to optimize, and what are the best ways to optimize each one? Here's a quick guide on the parts of a listing.
Title 
Your product title is the first introduction to your product—it lets people know your product's purpose, the brand, and one or two features that make it stand out.
You only have 200 characters for your title, so you can't include too much. Instead: 
Focus on the most important elements. Are people looking for certain features, colors, sizes, or something else? Include those things in your title to attract their attention.
Don't want to overwhelm shoppers with too much information. Many sellers find a lot of success by keeping their title lengths around 150–170 characters so it is easier to read.
Include your primary keyword in your title. This will help get the attention of searchers looking specifically for your product type. You can also include other related keywords in your title as long as you avoid keyword overuse.
Product Key Features
Your key product features are bullet points at the top of the Amazon listings. They are one of the first things shoppers will read when looking at your product.
It's important to make an impact with this section by: 
Letting shoppers know with your first bullet point what they can expect when they buy your product. 
Then list your most important product features that are also the primary selling points for your product.
Use this section to sprinkle in keywords for your product. This is a good section for feature-based keywords that are hard to fit into your title and other sections.
For most categories, you'll only get five bullet points and 1,000 characters to discuss your product features, so make them count. This means the ideal length for each feature section will be around 200 characters. These limitations can change for specific categories, so double-check the limitations for your product category.
Product Description
Your product description is the listing section where you can really make your product shine. It's located farther down the page, so it's not the first thing shoppers see. But it is the place where you can talk in-depth about your product and why it's the best.
You have 2,000 characters to talk about your product in this section. Unlike the feature section, where everything is bullet points, this is a freeform area to summarize your product and all its features, like material, size, and compatibilities. Here are some other tips to try out in the product description section: 
Explain more about what makes your product unique.
Describe your product in a clear yet concise way so shoppers aren't overwhelmed by your description.
Use simple HTML tags to highlight information in bold and italics to let readers know the important points.
Apply for the Amazon brand registry to create Amazon A+ content on your product descriptions. This program allows you to add more compelling elements to your descriptions, like images and comparison tables, to engage shoppers.
Images
Since people are buying online when searching on Amazon, it's important for them to get the full picture of what they are buying. You can't look at a product in-person and hold it to see all the details like you can in a brick-and-mortar store. Consumers must rely on product images to get that information when you shop online.
Amazon allows for up to nine images for each product. Use these image slots to give shoppers an in-depth look at your product and everything about it. Try to: 
Photograph the main product in as much detail and as accurately as possible for the primary image. 
Include multiple angles for your secondary pictures.
Make sure images are high quality and at least 1000px wide and 500px in height. 
Use a white background for each photo to help the product stand out.
If you want to go the extra mile, you can also add a video. Many shoppers enjoy seeing products in action, so you can use this part of your listing to show them what your product can do.
Backend Search Keywords
Backend search keywords are an Amazon listing feature that allows sellers to insert keywords into their product listing without displaying them to the user. It's not usually possible to list every keyword you have in consumer-facing descriptions. If you try, you'll end up with messy listings that don't help users.
The backend search section is the perfect place to include the keywords that you couldn't fit. The important thing to remember when filling out this section is that Amazon limits the length of backend search keywords to 250 characters. For this section:
Stick to the highest-priority keywords that will make the biggest impact. 
Try to avoid using filler words and instead include as many keywords as possible.
Index your products for keywords that may not fit well in your public listing. These are often related keywords from adjacent product categories that will help your offering appear for similar products.
Pricing
Since Amazon boosts products that sell well and have good profits, price is important in how your product ranks. If your price is too high, it will hurt your conversion rate. When this happens, Amazon will devalue your product, leading to even fewer sales.
Try to optimize your pricing by: 
staying within the standard pricing for similar products 
testing different price points to see which get the best results. 
You may be able to charge a little more than your competitors to get a better profit margin without impacting your search visibility.
Continued Optimization
Your job isn't complete once you optimize your initial Amazon listing. Even if you do a great job setting up your product's information the first time, there are still changes you can add to make it even better.
You'll be able to spot these things as time goes on and people view your product. The data you gather over time will help you spot the winning parts of your sales copy. The feedback you receive from customers will also help you understand what people expect when buying—and help you change your listing to better align with those expectations.
Small A/B tests will help you figure out which changes work best. You can make minor changes to your text, copy, and images to see which results in better click-through rates and conversions. You can also use a listing analyzer tool to keep track of your A/B test results for clearer data.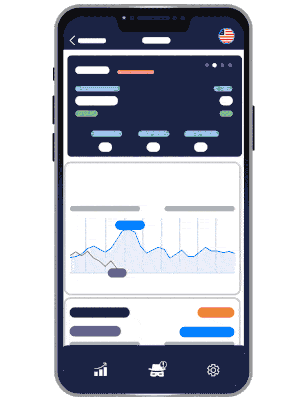 SIGN UP FOR HELIUM 10
Get 20% OFF your first 6 moths or 10% OFF every month
Dos and Don'ts of Optimizing Amazon Product Listings
Now that you understand how to optimize your Amazon listings, you may be ready to get started with the process. However, there are some essential things to keep in mind that will impact your listing's success.
Read the tips below to learn what you should and shouldn't do before you begin optimizing your Amazon product listing.
Do Write Clear and Concise Copy
Writing promotional sales copy when creating a product listing on Amazon is tempting. You hear about all these great copywriting techniques and want to make the most of them to get more sales.
Great copywriting is fine, but fluff isn't what Amazon shoppers are looking for. They are looking for solutions to problems, and if you aren't clear about what your product offers, you won't make sales.
Be as concise as possible when writing your Amazon copy. Keep sentences short, don't use jargon, and make your benefits clear—that way shoppers should be able to quickly understand everything your product offers and why it's the best.
Do Use Good Grammar and Punctuation
When someone comes across your product page, it's often their first introduction to your brand. They are learning what you offer for the first time—which means it's the perfect opportunity to make a great first impression.
What kind of impression will you make if your product page is full of bad grammar and punctuation? It's hard to take a company seriously when they don't double-check information before publishing.
Take the time to run your content through grammar-checking tools. Fix the common mistakes you find to avoid the most glaring problems. If you have the budget, hire an editor to review everything to spot problems you may not notice.
Do Stick To Informational Messaging
You can't get around adding some sales language to your product listing. After all, you need to make the sale and not encourage shoppers to look elsewhere for a solution.
But at the same time, you can't be too promotional. Amazon shoppers are looking for solutions, and if you don't provide enough information about what you offer, it's hard to convince them to buy.
This is especially important in your product title. Using promotional language here is against Amazon's terms, so stick with the facts about what your product offers.
Do Avoid Keyword Stuffing
If you've done the proper research, you probably have a huge list of keywords related to your product. You also understand which of those terms gets the most traffic.
It's tempting in these situations to try and over-optimize for the high-value terms. Companies do this by stuffing as many of those keywords in their product listing as possible.
The problem with doing this is that it offers a poor user experience. You're writing your product listing for Amazon in this situation—not for your customers.
So, avoid using a keyword too many times in your listing. Instead, focus on adding in keywords where it's natural and vary the keywords you use. Doing this will help you rank for more terms and provide a great product listing for potential customers to read.
Don't Exaggerate Product Details
There is a lot of competition on Amazon, so you may be tempted to exaggerate your product's capabilities to try and stand out and set yourself up as a better alternative.
However, this rarely works out well on Amazon. Even if most of your customers don't use your products to their full potential, some of them will. Those customers will know you exaggerated your product's abilities and leave bad reviews.
Be truthful about your product on Amazon. Stick to the facts about your product and avoid making exaggerated and subjective claims.
Don't Forget About Mobile
It's tempting to forget about mobile users when setting up your product listing on desktop devices. Everything may look great on your desktop screen, but things appear much differently if you load your page on a mobile device.
Although Amazon does a great job of optimizing for mobile, it can only get you so far. Your listing won't look great for mobile users if you have poor formatting and poor-quality images.
Take the page title, for instance. Amazon limits titles to 80 characters on mobile devices. Placing your primary keyword in the first 80 characters helps mobile users understand more about your product and will help your click-through rate.
Before you decide to publish your page, load your listing on your phone. Look over every detail to make sure nothing looks off.
Set Your Company Up for Success on Amazon
Having a successful product on Amazon isn't an easy task. You have over a million competing companies—each of which is doing whatever possible to optimize their product listings on Amazon to rank higher.
If you don't optimize your product listing, gaining traction on Amazon search is hard. Make sure you find the right keywords, upload high-quality images, and let shoppers know why they should buy your product.
Of course, getting everything right isn't easy if you aren't sure where to start the process. Reach out to contact an Amazon expert and get the advice you need to create amazing Amazon campaigns.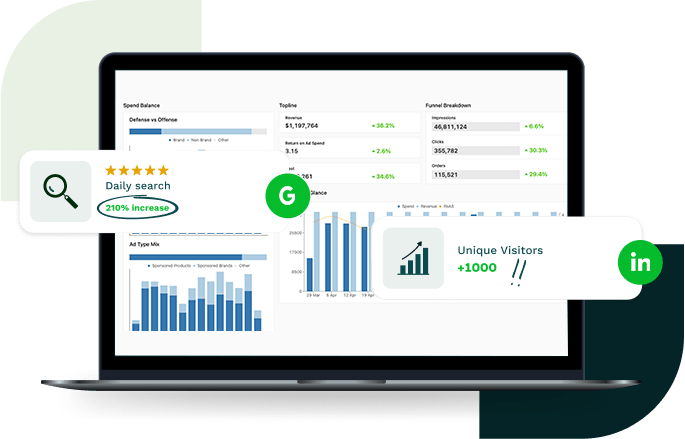 Maximize your Amazon sales and dominate your competition
Let Search Nurture handle your Amazon optimization strategy.