Launching a new product or service can be a daunting process, especially on a competitive network like Amazon. That's why ranking your product is important to achieve and maintain growth.
Luckily, there are services like Pageoneify that help both small and large businesses rank on search engines. In this Pageoneify review, we'll help you decide if this is the program you should choose for your Amazon products.
What Is Pageoneify?
Pageoneify is a professional Amazon product launch service. If you're looking to sell or market a product, Pageoneify will use its expert knowledge to help you rank your product organically. With this tool, you can increase your product's chances of appearing on the first page of Amazon search results.
Since enjoying success on Amazon depends on how well you get your products to rank, Pageoneify is a great service to use. It's especially appealing for sellers just launching a product or looking for successful selling on Amazon in general.
How Pageoneify Works
Listing Optimization
Optimizing your listing has guaranteed success. Things like image and product title need careful selection. The more optimized your listing is, the more clicks you will get, which will get you more business.
Pageoneify will help you optimize by creating the entire listing, along with the description of the product. Title, images, and bullet points are all part of the Pageoneify tool.
Keyword Targeting and Selection
You also need to select keywords carefully. Pageoneify offers 1-3 keywords at first, which allows you to test the service and see what the results are. If you see progress, you can increase the number of keywords used.
Pageonify doesn't just provide keywords but helps you determine what type is best for your product. For example, if you start with a small budget, you can choose keywords that are considered low-competition. This strategy is more efficient because low-competition keywords don't require a high sales volume.
The other option would be to use keywords that have a higher level of competition. This method would be more suitable for someone who has a larger starting budget. With this option, you end up paying more per click, but it will balance out in the end once the sales start to soar. This option is more of an investment upfront.
No matter what strategy you choose, Pageonify gives you the resources to make decisions about keyword use.
Personalized Support
One great feature of Pageoneify is 24/7 personalized coaching and support. With this feature, you will continue to receive support after your initial launch.
In case the original keywords or the title for your listing isn't leading to the results you want, there is always the option to revisit your options with this support team.
Launching University
Pageoneify currently has a menu option that is titled "Launching University." While nothing currently occupies this space, it's certainly a sign of exciting things to come. The title suggests a resource page of some kind, which would be a huge benefit to the already helpful service.
Does Pageoneify Use Product Giveaways?
One great aspect of Pageoneify is that it can help you launch your product without using any product giveaways.
Product giveaways were once common on Amazon, and often new sellers will use them when trying to launch a product. This contest could have one or multiple winners and would result in those winners getting the product for free.
Essentially, giveaways helped to raise awareness of the product. This exposure would not only increase the hype for a new product but also lead to positive reviews. Often, sellers would also sell the product at a discount for those who entered the contest but didn't win. Those that didn't win the contest would still purchase the product with the discount.
The issue with this approach is that after the giveaway is over, the customer disappears, too. By not utilizing this strategy, Pageoneify can ensure that through a PPC campaign, the product in question will rank organically and be able to hold a strong position over time. While product giveaways were a great away to get ranked fast, the excitement would often fade away when the contest was over.
Pros
The price is very affordable, especially with the current discounts
Purchase is a one-time fee, so you won't be surprised with other fees down the road
A dedicated support team is available 24/7
Support is available for 30 days after purchase to ensure that you get the most out of Pageoneify right out of the gate
Cons
Sellers need to have a product to benefit from the customer support
Depending on your budget, the price could be too much without the coupon code
What Does Pageoneify Cost?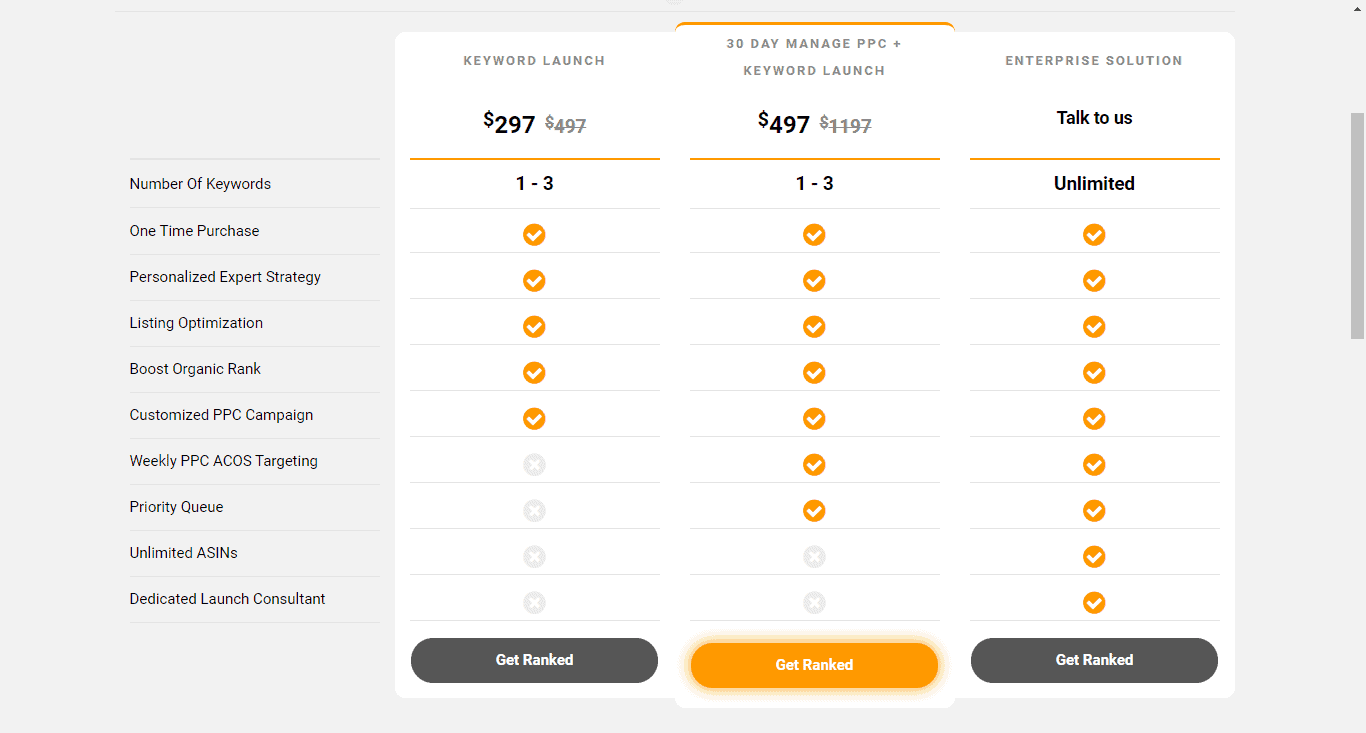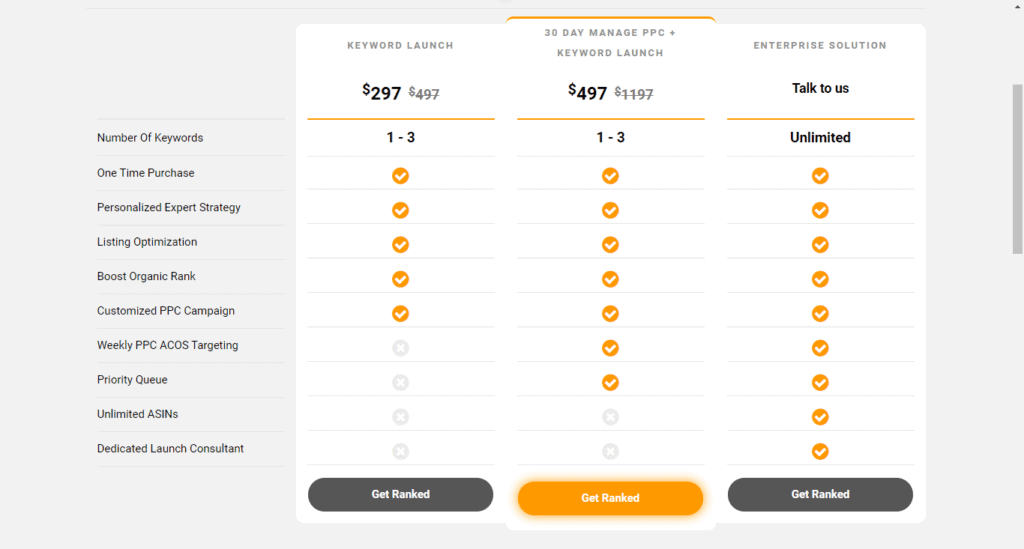 Like most product launch services, Pageoneify has several tiers from which to choose. The lowest tier at $497 includes the following:
1-3 Keywords
One time purchase
Personalized expert strategy
Listing optimization
Boost organic rank
Customized PPC Campaign
The next level up at $1197 includes a 30 day manage PPC and a keyword launch. This package includes the same services as the first tier but also weekly PPC ACOS targeting and priority queue.
The third and final tier is the Enterprise Solution. The main feature for this tier is access to a dedicated launch consultant. For this reason, the price depends on the specific services you require and varies per client.
Pageoneify Coupon
Pageoneify can be a hefty investment, especially if you're an FBA seller just starting your venture or not ranking high enough to justify the cost. Fortunately, a Pageoneify coupon can give you that headstart. Checkout the latest coupon code.
With the coupon code, you could save $200 on the Keyword Launch plan and a whopping $700 on the Keyword Launch and 30 Day Manage PPC. This value is enormous for what you get and can be the much-needed break for a seller looking to launch a new listing.
Activate the latest Pageoneify coupon here!
PageOne Coupon = PROJECTFBA
Is Pageoneify Worth it?
Especially with the current discount, the benefits you receive from using Pageoneify are definitely worth it. Different tactics work for different people, but with such a large discount currently available, why not give it a try? It's not every day that you can save $700 on a PPC campaign package.
Besides the fantastic discount, Pageoneify is a great tool for successfully optimizing your listing on Amazon and maintaining a position on page one.