Being an Amazon seller might seem like a simple process, but there's an intense amount of work that goes on behind the scenes. If you're looking to get into selling through FBA, you'll want to know a few things before you jump in.
Expert sellers on Amazon utilize market research to know when, how, and where to display certain products and get maximum sales. You need tools that will help you gather data, scope out the market, and attract customers before you start selling. Otherwise, you risk opening shop without a head start, giving your competitors the opportunity to outsell you.
So, what tools are we talking about? Product research tools, two of which are Jungle Scout and AMZ Scout. These tools might seem similar on the surface and with limited research; that's why we're here to give you the scoop about each scout and why you should choose one over the other.
Here's what you need to know about Jungle Scout vs AMZ Scout!
What Are AMZ Scout and Jungle Scout?
Jungle Scout and AMZ Scout are product research tools that Amazon sellers use to determine when to sell their products. Amazon is a hyper competitive market, meaning that you'll need an edge on the competition to get your products sold. Among other things, a high-quality research tool will allow you to do the following:
Find niches to sell your products
Set prices that are competitive but still within your profit margins
Track the products your competition is selling
Aggregate and analyze current and up-to-date market data
Along with learning the secret ins and outs of the Amazon Seller Marketplace, utilizing product research tools also allows you to define your search parameters. You can filter for:
Sales ranks
Product reviews
Price ranges
Optimal ads
Seasonal Searches
Etc.
Why Should I Use a Product Research Tool as an Amazon Seller?
If you're looking to sell on Amazon, you're diving into an extremely saturated market. Many people are trying to make money utilizing the online vending website. Unfortunately, if you dive into the world of selling on Amazon without the proper tools and knowledge, you're most likely to fail.
With product research tools like Jungle Scout and AMZ Scout, you'll learn how online marketing works. You'll target your products to specific interested audiences using ads and marketing strategies that they'll respond positively to.
Plus, you'll never have to guess about the correct pricing again, since most product research tools allow you to compare prices of similar products already on the market.
Even though these are great tools, there are some key differences to know. Here's more information about Jungle Scout vs AMZ Scout.
Jungle Scout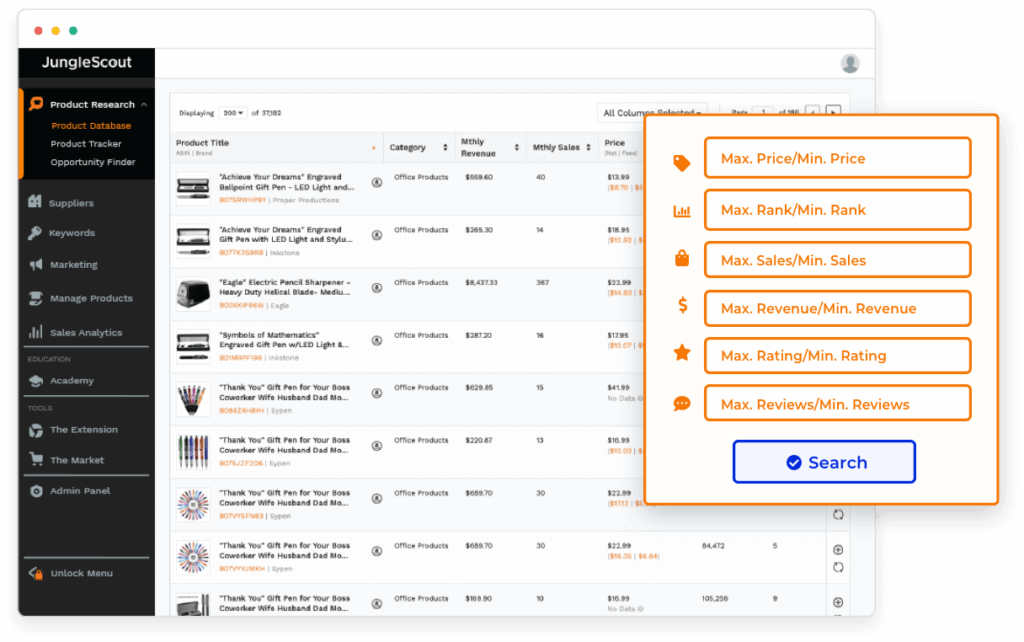 Jungle Scout is the go-to tool for newbies and veterans that are selling their products on Amazon. The software works as both a web app and as an extension for Google Chrome. The main purpose of the program is to help you find smart business ideas to sell via Amazon.
Features
Jungle Scout is very popular because of the variety of features that it offers its users. The program acts as an all-encompassing product research tool for Amazon Marketplace sellers.
Product Price History: Jungle Scout has a large database that allows you to monitor the history of classifications of objects. You'll also be able to monitor the differences between prices on Amazon and the Marketplace.
Web Extension + Desktop/Mobile App: Jungle Scout utilizes both methods to provide you with the most current data possible regarding the products that you're looking to sell. The Jungle Scout extension gathers data directly from Amazon so you can make quick decisions in regard to your business. Meanwhile, the desktop app gives you the ability to filter Amazon's database to your choosing.
Sales Data: With the program, you can keep track of seller rankings, product pricing, units of products sold, the history of each product, etc.
Listing Quality Score (LQS): An in-house algorithm that determine how good your listing is.
Pricing
Jungle Scout gives sellers three options when it comes to plans. Depending on what you require as an Amazon Marketplace vendor. Each plan is paid on a monthly basis and offers different perks.
Start Up: Either $29 per month if you're renewing annually or $39 per month if you're renewing monthly.
Standard: $49 per month if you're renewing annually or $69 per month if you're renewing monthly.
Business: $69 per month if you're renewing annually or $99 per month if you're renewing monthly.
Most Amazon Sellers that use Jungle Scout end up utilizing the Standard plan because of the variety of features and good payment price.
Accuracy
Jungle Scout is one of the most accurate product research tools currently available to those selling their products and services on Amazon. The program will give you accurate averages of sales for you to extrapolate from.
The key is for you to analyze the data and make decisions yourself. The software is not smart enough to accurately determine which products will maximize your profits the most.
Pros
Makes researching products simple and efficient
Easy to use interface
Three payment plans depending on your business needs
All in one tool
A plethora of data
Cons
Sales ranks estimates
Discrepancies between web app and browser extension data
Doesn't have every product on Amazon
Verdict
Jungle Scout allows both long-time and first-time sellers to accurately predict which products they should sell and how much they should sell them for. The tool works as a perfect support system to the business savvy. However, keep in mind that it's estimates are based on sales ranks, which quickly change and aren't always accurate.
AMZ Scout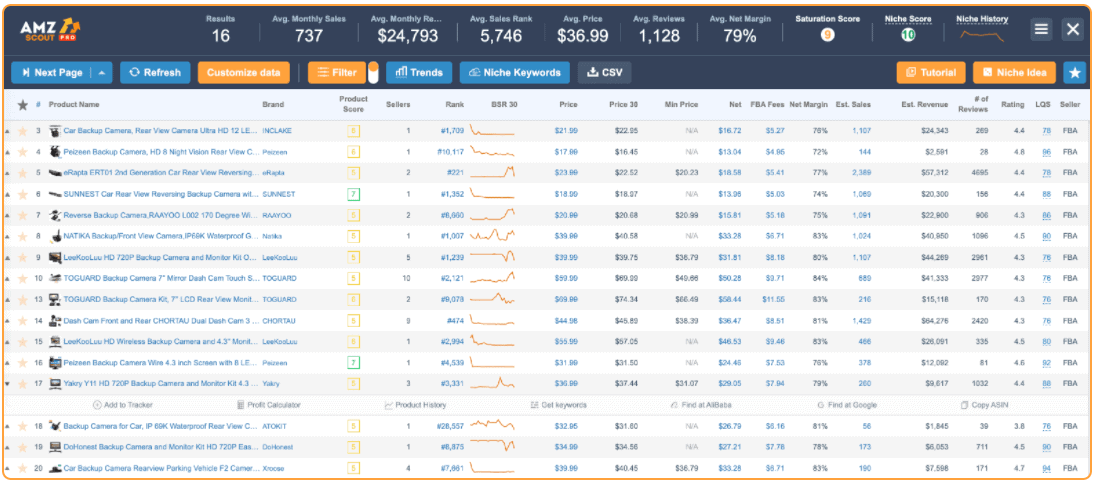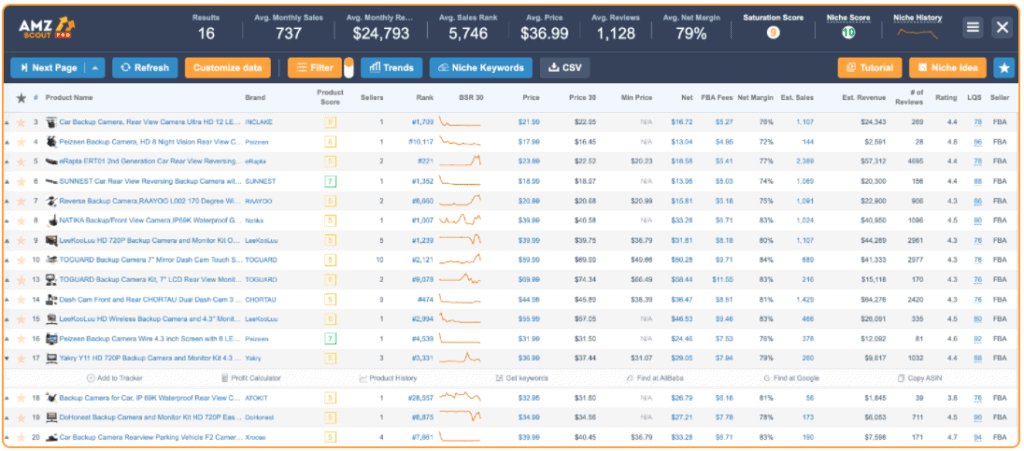 AMZ is another product research tool that is favored among both new and old Amazon Marketplace vendors. The program compiles data about products relevant to you and helping you estimate when, how, and for how much to market your goods on the website.
Features
Product Price History: Has a decent sized database to allow you to do research before you put your products up for sale.
Web Extension + Desktop/Mobile App: AMZ Scout has both a Google Chrome extension and a Desktop/Mobile app that users can navigate.
Sales Data: Maintains a variety of sales content data for you to utilize.
Listing Quality Score (LQS): Scales product ratings from 1 to 100 and covers a variety of aspects including brand, name length, product description, and number of reviews.
Pricing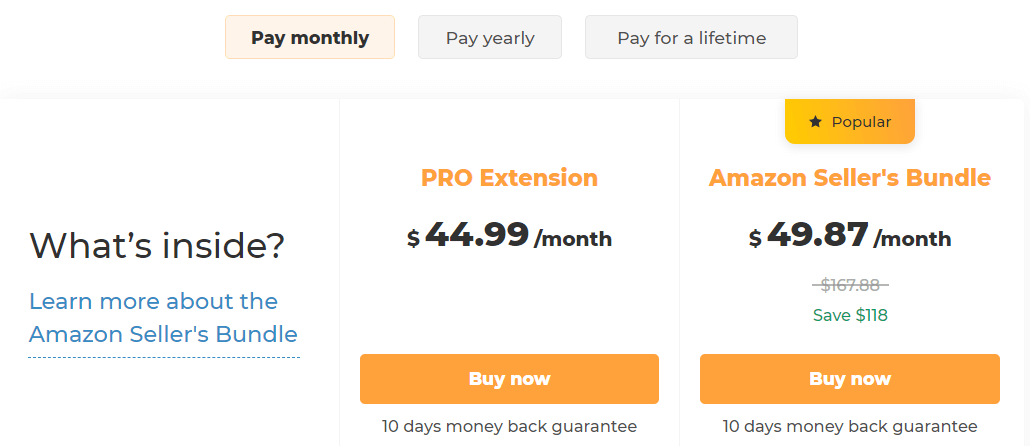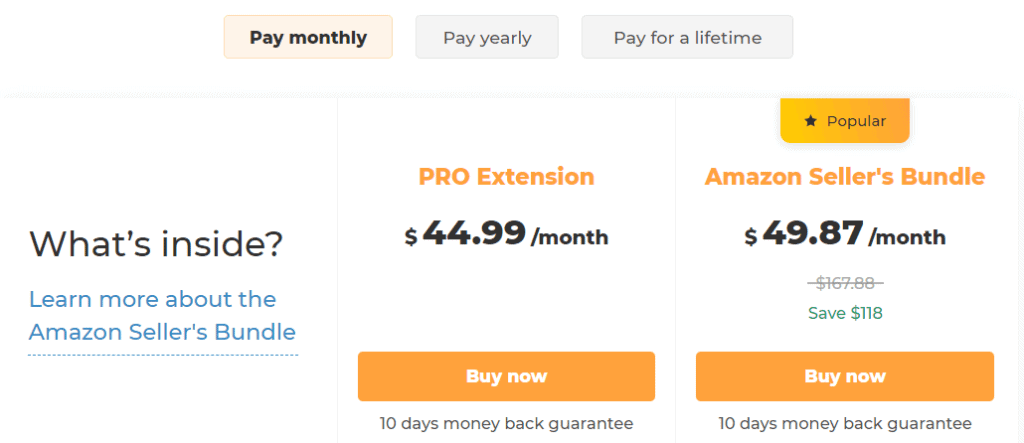 If you're interested in testing out the product, you can use the AMZ Scout seven-day trial that's available for both versions. You'll have access to limited features to help you get started with your sales. The free period allows you to determine how to best use the program to suit your business needs. After the trial period, users can either cancel or pay for one of two payment options.
Monthly: $44.99 per month for full use of services on both the browser extension and the desktop/mobile app
Lifetime: $199 one-time payment for usage of both browser extension and desktop/mobile app features for your career as an Amazon seller.
Most vendors who choose AMZ scout use the 7-day trial before they decide which plan they'll go with. If you plan to sell products for a long time on Amazon, the lifetime option is your best bet. Otherwise, go with the monthly plan.
Accuracy
AMZ Scout is another accurate product research tool for vendors to track the prices of competitors products and sales ranks. With the program, you can estimate what the best price for your goods is and when you should sell them. Unfortunately, the software isn't smart enough to tell you exactly which products will maximize profits. The final decision of putting up items for sale is up to you.
Pros
7-day trial to test out services
Easy to utilize interface
A variety of features
Dashboard makes tracking products efficient and simple
Graphs and charts to help track data
Cons
Has a smaller scope of products in its database
Discrepancies between web app and desktop data
Verdict
AMZ Scout is a great alternative to Jungle Scout for Amazon Marketplace vendors looking to boost their sales and make a living. The program helps business owners reach the next level in their goals and become more profitable. However, it has a smaller number of products in its database compared to Jungle Scout.
Other comparisons you may be interested in:
Should I Get the Web Extension or the Browser Application?
When it comes to tools to help you become a highly profiting Amazon seller, you might be wondering how you should utilize them. Should you download the extensions offered on Google Chrome and work directly on the web browser? On the other hand, maybe you should put the product research tools directly onto your computer and work on the applications that the teams themselves offer.
Fortunately, both Jungle Scout and AMZ Scout both have Chrome Extension and Desktop/Mobile Application options. However, there are differences between each option:
With the Chrome extension, you get the convenience of looking directly at your Amazon Seller portal while going over statistics. Plus, you can track your products and competitors' products directly online.
With the desktop/mobile application, you can dive deeper into the data and make future sale plans. You can also take your business with you wherever you go because of the mobile apps available.
If you're looking to dominate your particular Amazon marketplaces, utilizing a combination of the Chrome extension and desktop/mobile application is your best bet. You have these two options available, so why not take advantage of both?
Conclusion
After considering Jungle Scout vs AMZ Scout, we've decided that both applications have plus points and minus points. When starting out selling on Amazon FBA you should choose your next product research tool based on the following:
If you're looking to sell products in a unique variety of categories, Jungle Scout will have more data for you to analyze.
On the other hand, if you want to focus on selling a few specific products really well, go with AMZ Scout for its in-depth breakdowns.