Are you excited about your Amazon business but you still don't know what to sell? If you're eager to maximize your success and find profitable products to sell, you are in the right place. In this article, we will delve into one of the most powerful Amazon tools to learn how to use Jungle Scout to find products to send on Amazon. As one of the most successful companies of our time, Amazon, structured in a way that allows outside sellers and businesses to use the platform to their benefit. It facilitates the marketing process so that suppliers of goods only need to list their products, and then proceeds to do the heavy lifting in getting the word out.
Well, what if you don't have a product to sell, yet? The success of Amazon's business model is enough to make anyone want to grow a lucrative business through its website, and now there are companies designed to assist sellers with this undertaking, such as Jungle Scout.
Product Research
Product research is the process of gathering and analyzing information to evaluate the potential of a product in the market. It's all about digging deep to uncover valuable insights and discover the perfect product that can capture the hearts of your customers. It involves exploring the wants and needs of consumers, studying the competition, and keeping a keen eye on the latest trends. By immersing yourself in this research journey, you better understand what makes a product truly remarkable and appealing. It is a critical step in the product development and marketing process, allowing businesses to make data-driven decisions and increase their chances of delivering successful products to the market.
How Does Jungle Scout Work?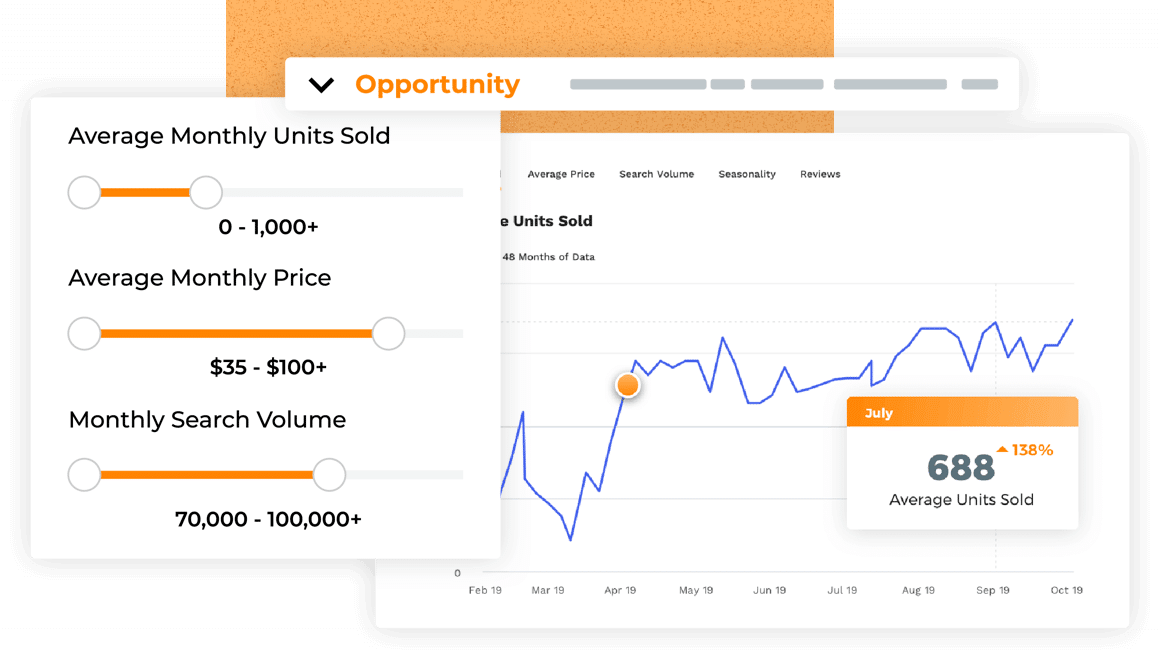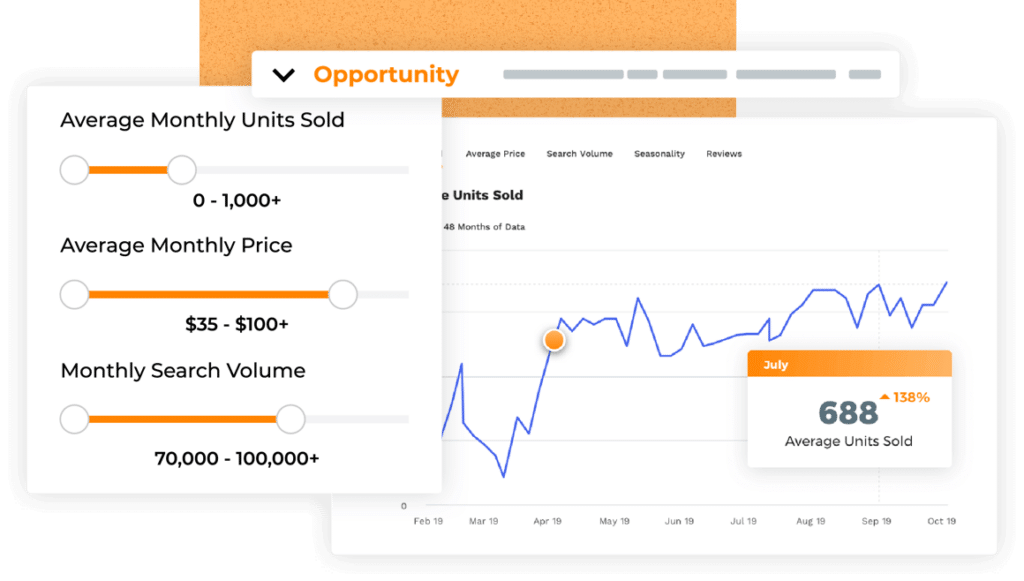 Source: Jungle Scout
Jungle Scout is the ultimate tool for Amazon sellers, providing a wide range of features to enhance efficiency and profitability. With its web extension and app, sellers can access a diverse range of powerful tools, including:
Product database
Supplier database
Inventory manager
Alerts
Keyword scout
Opportunity finder
Listing builder
Rank tracker
… just to name a few. These all track the patterns and traffic of purchases on Amazon; to ensure an optimally successful experience for the sellers of Amazon.
The data and analytics are accumulated to inform Jungle Scout users of which products are selling, which aren't, what people are looking for, which brands are doing better than others within the same category, etc. With this platform, you will be constantly updated with the market's trends, patterns, and how they could impact your business.

Why Use Jungle Scout?
There are several compelling reasons to use Jungle Scout for your Amazon selling journey. Due to Amazon's cultural and financial hold on the market, getting yourself involved in it's business model is a prudent and lucrative measure. It opens up your business to the largest clientele base in the world, and Jungle Scout has developed a system that does all of the hard work for you.
Because of Amazon's vast scope of products from all over the globe, it can be hard to keep up with the ins and outs of the website without a software program and corresponding team of experts to get it taken care of. Jungle Scout makes the hard parts easy, and the easy parts worth it.

Top Amazon Alternatives to Jungle Scout:
Who Can Use Jungle Scout?
Jungle Scout is designed in a way that makes it accessible for individuals and companies of all sizes to navigate their options soundly. Whether you're selling on Amazon for the first time, or you are already used to selling on Amazon, or are a big brand business looking for additional tips and tricks, Jungle Scout has all the information and resources you need.
So, when it comes to discovering new means of capital, here's how to use Jungle Scout to find products to sell on Amazon.

Jungle Scout Features that Make the Process Easier
If you want to know how to use Jungle Scout to find products to sell on Amazon, you should know the features that make the process significantly easier. Sorting through the various product ideas can be confusing, but the web app is designed to simplify the process.
Product Database
With Jungle Scout's Product Database, you are able to comb through the whole of Amazon's catalog, an inventory of hundreds of millions of products, and sort it by price, demand, seasonality, and more, so that you feel confident in narrowing down your options.
In fact, there are even more specific parameters, such as level of competition, the range of returns on investment, low-quality or high-quality goods, and more, so that you can navigate the data in a way that best suits your needs.
Its Product Database also supplies an FBA Profit Calculator to keep track of seller fees and overhead costs required with every product.

Product Tracker
Once you've done that, you can save the products that you think might be a good fit in the Product Tracker, which gives you more intimate details of their performance regularly. If you're on the fence about a product or multiple, you can archive them for later and track their progress.
Also, Product Tracker organizes your archived products by categories you customize, meaning you can separate products you're more likely going to sell from others you're less likely to sell or any other parameters of your choosing.
Niche Hunter
Jungle Scout's Niche Hunter is also an extremely helpful tool in tracking keyword traffic to analyze how specific products in respective niches perform on Amazon. Due to the global reliability of the website, it is responsible for selling an equally vast array of products—specific car parts, computational devices, hardware, furniture, clothing… The list is endless.
Comparisons to Products Outside of Amazon
Additionally, the Jungle Scout web extension can compare information from any website's product to the marketing potential of similar products on Amazon. This means that even browsing the web can inform the products you choose to sell on Amazon, and the extension is designed to keep you as informed about your options as possible.
And, if you are lost with no prospects of products to sell, consider consulting the Opportunity Scale, which sorts the catalog products by the most optimal selling potential.
The Hunt: A Weekly Newsletter
Downloading Jungle Scout's web app and browser extension also means an immediate subscription to the weekly newsletter, The Hunt!
This is yet another way to discover new, opportune products waiting to be sold on Amazon, as the newsletter records and supplies the information of successful, potentially undersold products waiting to take off.
This is an ideal resource for those who don't know where to begin, and it's a weekly occurrence.
24/7 Jungle Scout Support
No matter your question or concern, Jungle Scout has customer support 24 hours a day and 7 days a week to walk you through any obstacle you may come across.
While its interface is user-friendly, web apps and extensions can still bug out, but Jungle Scout is committed to supporting its users at any point.

How Does Jungle Scout Break it Down?
Of course, you can always work backward. Instead of flipping through the catalog to find the ideal Amazon product worth selling, you can research the details of any already-existing Amazon product to see its success on the Jungle Scout website.
The web extension is a significant resource that allows for this function. You can access vast data on each product on Amazon if you simply access the extension once you've searched your chosen keywords. You should have immediate access to the:
Opportunity score
Average sales rank
Average reviews
Average monthly sales
Average price
… of the products sold under that keyword, which should all be able to express the market's success in a user-friendly interface.
Additionally, it is organized by each product so that you also get the information for each individual item, such as:
Brand
Price
Category
Rank
Sale
Revenue
Reviews
Rating
Listing Quality Score (LQS)
… and more.
With the help of the Jungle Scout web extension and web app, you can get all the details you need on products so that you can make the most informed decision possible.
How to Use Jungle Scout to Find Products to Sell on Amazon in 5 Steps
1. Set your goals
The first step to unlocking the power of Jungle Scout and discovering profitable products to sell on Amazon is to define your goals. Take a moment to envision what you want to achieve with your Amazon business. Are you dreaming of a side hustle that brings in extra income, or do you aspire to build a thriving full-time venture? Are you passionate about a specific niche, or do you want to explore various product categories?
By clarifying your goals, you'll be able to focus your efforts and make strategic choices that align with your aspirations. It's like setting the compass for your Amazon journey, and with Jungle Scout as your trusted companion; you'll have the tools and insights to navigate toward success.
2. Jungle Scout to the Rescue
The next step is to download Jungle Scout. By downloading the Jungle Scout web extension and app, you'll have your very own Amazon-selling superpowers at your fingertips. With the web extension, you can easily explore product listings, track sales ranks, and uncover those hidden gems. And with the app, you can manage your business on the go, making it even more convenient and flexible. So download Jungle Scout to unlock a world of possibilities and take your Amazon business to new heights.
3. Choose Your Categories
Now that you have Jungle Scout downloaded and ready to go, let's discover the perfect products to sell on Amazon. Step 3 is all about entering the product database and exploring the amazing range of categories available. It's like entering a treasure trove of possibilities! Take a moment to think about what truly appeals to you and aligns with your goals. What is your marketplace? Are you into fashion, home essentials, or something unique and niche? Jungle Scout's product database has it all. So go ahead, dive in, and start exploring the categories that resonate with your passions.
Take your time browsing the listings, paying attention to what's in demand, and selecting the most appealing categories that speak to your vision. Remember, finding products that excite you and have a good market potential is key. With Jungle Scout as your guide, you're on your way to uncovering those hidden gems that will make your Amazon selling journey truly rewarding.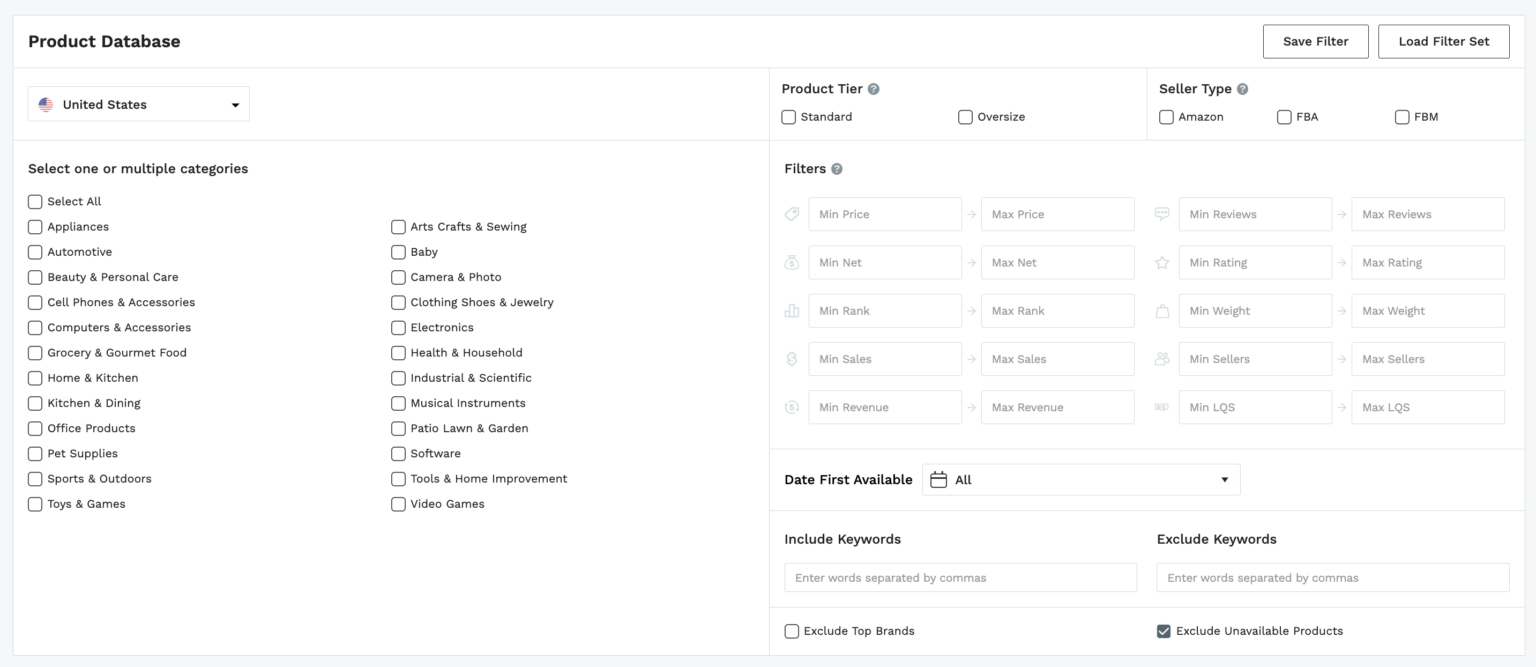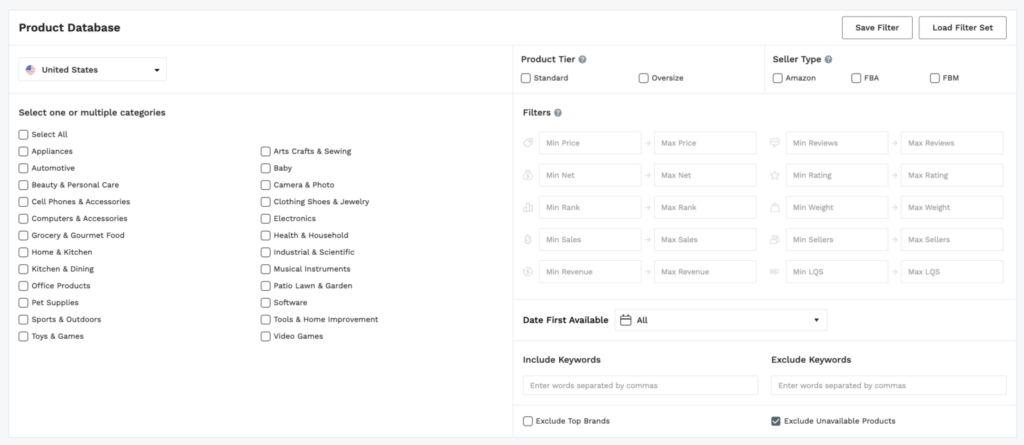 4. Define the features of your product
In Step 4, it's time to dive into the exciting process of determining the perfect product characteristics for your Amazon business. With Jungle Scout as your trusty companion, you have the power to choose exactly what you're looking for. Start by deciding whether you want to offer standard-sized or oversized products (for beginners, it is advised to choose standard so you don't need to make an extra effort in the shipping process). Then, consider the seller type -FBA, FBM, or Amazon.
Once you've made these choices, Jungle Scout's handy filters come into play. They allow you to uncover products with high demand and low competition, which is the sweet spot for success. You can analyze sales trends, check prices, read customer reviews, and evaluate the competition, all within the platform. So, take your time, explore the filters, and handpick those products that truly stand out. 
5. Find Your Champ
Step 5 is where the real fun begins! It's time to put on your detective hat and dive into the world of opportunities with Jungle Scout. This amazing tool will become your trusty sidekick as you search for winning products. With Jungle Scout, you can explore data and insights to uncover those hidden gems that have the potential to skyrocket your sales on Amazon. Take a closer look at the product data, dig into the sales history, and keep an eye on the latest trends. Jungle Scout will help you make sense of all this information and guide you toward the most promising opportunities.
Are you ready for this adventure?
What are Some Key Things to Look Out for in Your Chosen Products?
To gauge the likelihood of a successful product, let's refer back to some of the building blocks of economics: supply and demand.
Supply
The existing supply of a product is of huge importance when deciding what to sell. Naturally, the smaller the competition, the better. More competition means a better chance that customers will buy from other retailers than you.
You want to find a product that is not oversaturated in its supply to reap a profit from it. Of course, determining that is by determining the demand for it.
Demand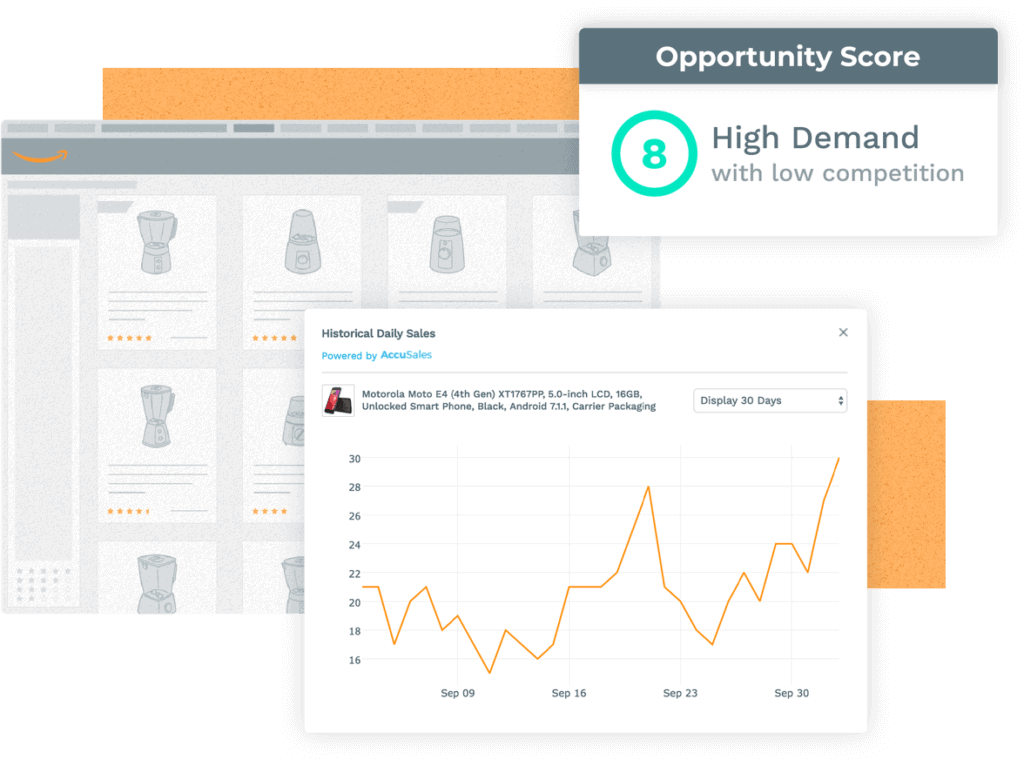 One thing that drastically informs supply is the demand for the product. For example, since the start of the COVID-19 pandemic, the supply of face masks has increased exponentially, but none of them have suffered from a lack of customers because there has been an equally exponential growth in the demand for face masks.
Similarly, products that are in demand year-round and not just seasonally have a better chance of stable success and overall longevity. Products that are popular in specific times of the year are still encouraged to be sold because there is a demand for them, but it should not be your lone source of income as it's less steady.
Also, be sure to confirm that only a handful of providers does not dominate a product's category this could reflect an already-established monopoly or a distinct reason why that company produces that product, such as a unique and creative touch that sets it apart from the rest.
If the top ten sellers of a product can sell ten or more units a day, it's considered "in demand" and thus an ideal candidate to sell. Jungle Scout shows you these figures to help you decide what to sell.
How Do I Price My Product Correctly?
Jungle Scout can account for every question concerning price you might have, including how your product relates to its competitors on Amazon. Naturally, a big contributor to your success on the website will relate to your pricing.
An ideal product has a price of $25 to $50, as those products are statistically sought after and bought the most. Therefore, pricing it within this range is an apt way to make your product regularly purchased, so it's wise to look for products that fall within that price range. This price range is also prudent because the products that fall within it are common of a reasonable size and therefore don't require a substantial amount of warehouse space.
Also, the price of your product should be comparable to how your competition has priced their merchandise—enough to reap a profit, but not so much that you are considered too expensive in relation to other available options.
How Will Jungle Scout Support My Selling Process After I Have Already Started?
The journey doesn't end there once you have started selling your product(s) on Amazo. Keeping up with your sales, revenue, and competition is a vital aspect of maintaining a successful business plan, and plenty of Jungle Scout's features have also taken that into account.
Features like the free Amazon sales estimator tool can compare your product's BSR (or, Best Seller Ranking) to your competitor's.
As well, Jungle Scout has a wealth of information about Amazon aside from just sales. It offers ways to become an Amazon affiliate, with reasons as to why that could be a lucrative venture for you.
The Bottom Line
When understanding how to use Jungle Scout to find products to sell on Amazon, there is a wealth of information waiting for sellers to use.
Jungle Scout is a user-friendly website that makes it easy for any potential Amazon seller to familiarize themselves with their options and provide steps on how to navigate the following process.
If you think Jungle Scout might be right for you and your business needs, get started and sign up today! You can receive 50% OFF just by reading this article. Click, here for a more in-depth review of Jungle Scout's features. This platform can give you all the tools and insight you need for your business to grow exponentially while selling through Amazon.