If you are selling a product or multiple products on Amazon, you want your marketplace to be thriving. To shape that success effectively, you need the best tools at your disposal. The right digital tools will help you manage your business, identify what's working, and mark issues that you need to address to improve sales.
Today, we will be reviewing one of those tools, the Helium 10's keyword Index Checker, which is for listing optimization. This guide will take an in-depth look at this product and why you would use it. We will also discuss the features of the Index Checker, pricing options for interested users, and the pros and cons that you may experience while using this product.
What is the Helium 10 Index Checker?
Helium 10 launched the Index Checker software as a tool that sellers can use to optimize their product listings on Amazon. It conducts a series of index tests that will enrich your content and increase leads.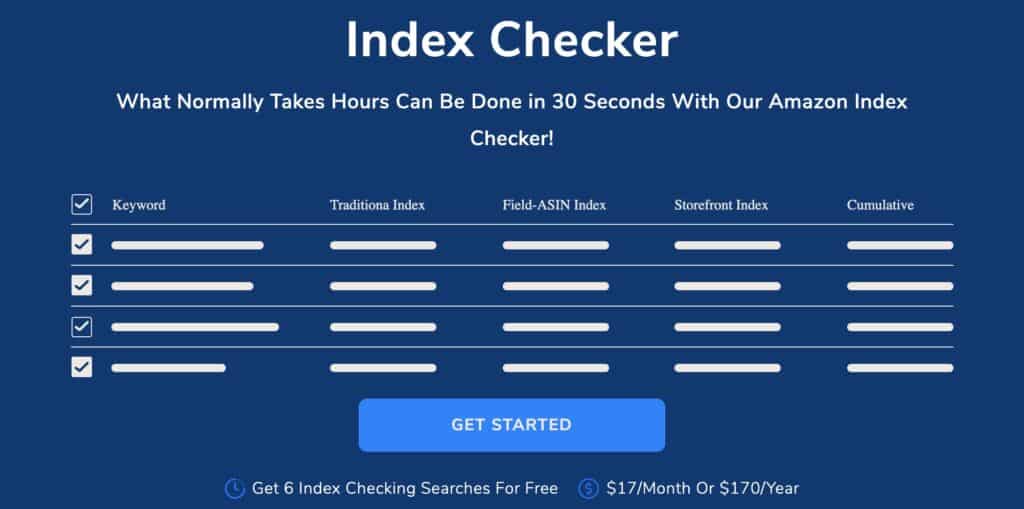 How It Works
As an Amazon Seller, you want to make sure that your product is indexed, which means that it is listed in the search results when buyers use certain keywords that pertain to your product. If you indexed for certain keywords, it means that your products are in the system, and those products are connected to those keywords. So when someone does a search using those keywords, your product will appear.
So how does Index Checker fit into all this? Well, it runs index tests that allow you to see whether or not your product is indexed for certain keywords. Those who use this specific tool can extract data about their index status on Amazon.
If they are not satisfied with their index status, they can then take the steps necessary to fix it and improve their status.
Knowing if you are indexed in Amazon is important because it allows you to maximize your profits by optimizing your listing. The keyword Index Checker runs the tests quickly and efficiently, which saves you time and energy.
Keyword Index Checker Tests You Can Expect to See
This software runs three types of keyword index tests. Each type offers a different look into your index data. They include:
· Traditional index test: This test combines the ASIN +keyword within amazon's search function
· Field-ASIN index test: This test is similar to the traditional test, but is little more in-depth
· Store-front index test: A less commonly performed test, but when used it does require a Seller ID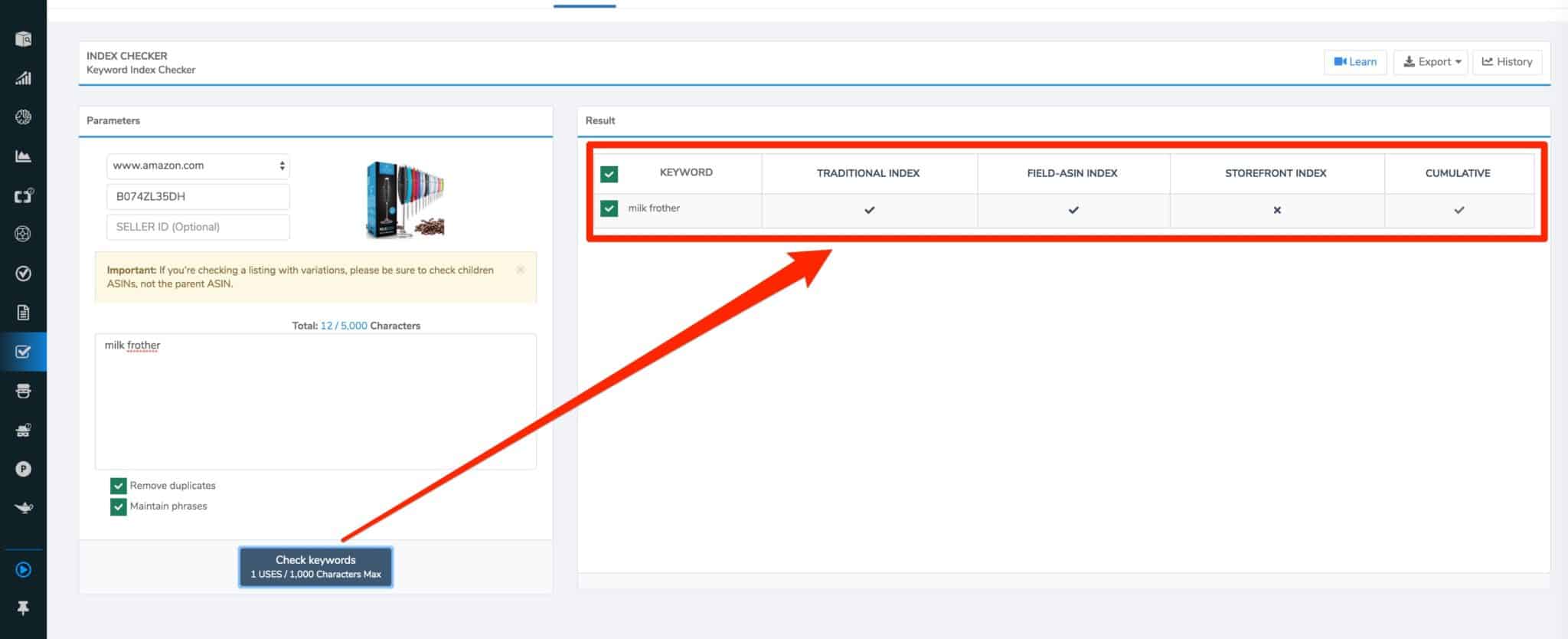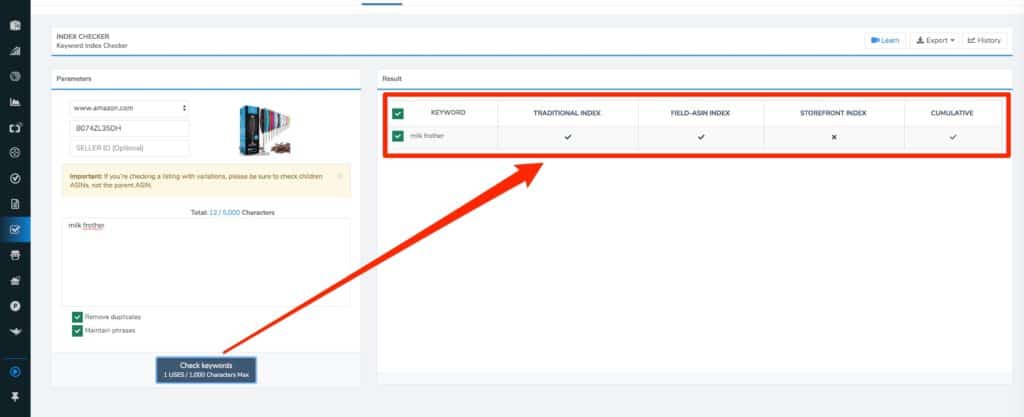 It also provides users with a cumulative rating for their index. The software analyzes data from all of the used tests.
Index Checker Features
Many features make this resource attractive to Amazon Sellers. Some of the most popular features for Helium 10's keyword Index Checker include:
Competitor comparison options for Sellers that want to get ahead of their competition
Avenues for potential new keywords that can help Sellers boost their ranking
Product rank validation for current products
Simple user-interface
Index Checker Pricing
Pricing is an important consideration when it comes to investing in software for your business. You want something that fits within your budget but gives you the edge you need to bring your business to the next level.
Helium 10 offers a variety of pricing plans to those interested in using their products. Because Helium 10 offers different types of tools for Amazon business owners, each plan provides users with different levels and terms of access.
When it comes to the keyword Index Checker and how it fits into Helium10's pricing plans, the number of times you can use it per month is determined by each tier of the pricing plan:
With the free version, you have six uses, and the a-la-carte plan costs $17 a month.
The Platinum Plan, which is billed at $97 a month, includes 150 uses a month.
The Diamond Plan, which comes to $197 a month, gives users access to 300 uses a month.
The highest pricing plan at $397 a month (The Elite Plan) includes 500 uses a month.
Which pricing plan is right for you depends on your business needs. Try to estimate how many times a month on average you plan to use the keyword Index Checker.
Because each plan also includes access to other Helium 10 tools, it's a good idea to look at the big picture: which plan gives you access to the right tools for your business at the rates you need them?
Pros & Cons of the Helium 10 Keyword Index Checker
Pros
User-friendly
Ability to click on the keyword Index Checker tests to see how they're done
Concise and clean design
Gives sellers more knowledge about competitors
Helps sellers identify potential new keywords
The latest Helium 10 discount code gives you 20% Off
Cons
Pricing is sometimes steep for the keyword Index Checker software, depending on how many tests need to happen per month
Further Reading:
Why Amazon Sellers Should Use the Helium 10 Index Checker
If you are an Amazon Seller that is interested in optimizing your listing, getting more views from potential customers, and boosting their sales, you should consider getting the keyword Index Checker tool from Helium 10. Overall, we think it's a great product. It's an investment in the future of your business. You'll be able to know if you are indexed in Amazon, which is a key component to driving the sales you need.
The tests that the keyword Index Checker runs will help you become a smarter, more informed Amazon business owner. If you were to try to run similar tests on your own, it's easy to get lost, not to mention how long it would take you to gather the same data that this software can gather in seconds. The keyword Index Checker's design works to save you time and energy. Take that extra time and energy and apply it to other aspects of your business instead.
We think that Index Checker is a resource that anyone can use because of its straightforward and simple design. It is also great if you have a small team helping you run your business.
Start exploring pricing plans on Helium 10's website and take your listing optimization to the next level.