Sourcing Products to Build a Successful Amazon FBA Business​
The growing amount of interest in small businesses using Amazon's FBA sales platform leads more people to take a closer look at Alibaba vs AliExpress. These two parts of the same company offer different benefits for people who want to find quality sources for wholesale merchandise.
The Amazon FBA program allows you to send bulk quantities of products directly to their warehouses and offer them for sale. When someone buys an item, Amazon handles fulfillment and shipping. It's easy to see why this business model attracts many entrepreneurs. In order to succeed, however, you need to find an excellent place to buy your product lines from.
The majority of suppliers on both platforms do business from China and other Asian countries. Sourcing products from here usually keeps costs down and allows you to make a larger profit through the FBA part of Amazon's seller's program. What is the difference between Alibaba vs AliExpress? How do you decide which to use for your new or growing business?
Alibaba is a massive wholesale marketplace that includes a huge array of merchandise types from a vast selection of companies. Most products come from China or other Asian countries, which makes them affordable for purchase by other businesses. If you order from here, you deal directly with manufacturers, production companies, and resellers that work directly with these entities themselves.
This B2B sales website, which boasts the claim of being the largest in the entire world, includes everything from the smallest and least expensive costume jewelry or craft supply to the biggest construction equipment and home appliances. They even offer manufacturing components such as chemicals and metals, and business-related equipment like signs and packaging materials. Many suppliers offer only made-to-order merchandise instead of existing products currently in their warehouses.
Retail businesses like you want to start through Amazon FBA have two ways to use Alibaba for product sourcing needs. In one way, it acts as a verification database that can connect you to suppliers and trading companies for more specific professional contact. They collect all the necessary information and attempt to weed out any unscrupulous vendors. The customer rating system also helps.
You can also buy directly from these sellers through the platform directly. This is the most common way to interact with Alibaba as a business owner. The secure payment service uses a type of escrow to hold your money safely until the company you order from sends the merchandise. Trade assurance is just one of their safety mechanisms in place to help you feel more confident about international trade practices.
Ordering does not only entail clicking an "Add to Cart" button and filling out your payment information in some cases. You frequently have to contact the suppliers and negotiate prices. This involves some degree of professionalism and understanding of Chines or other Asian business practices. Sounds complicated, but confidence and the attitude that your order will bring value to them will help you succeed.
As pictured below on Amazon.com you can use the chrome extension Source now from Alibaba, to source products directly from Amazon via the extremely helpful Image search. 
After clicking source now, it brings you directly to Alibaba, with the product you have sourced via Amazon.com. Not only has it found the exact same product it has returned a number of similar products, some of which may be the differentiation you are looking for to enter the market. Why not try it out. The best thing is the extension is free.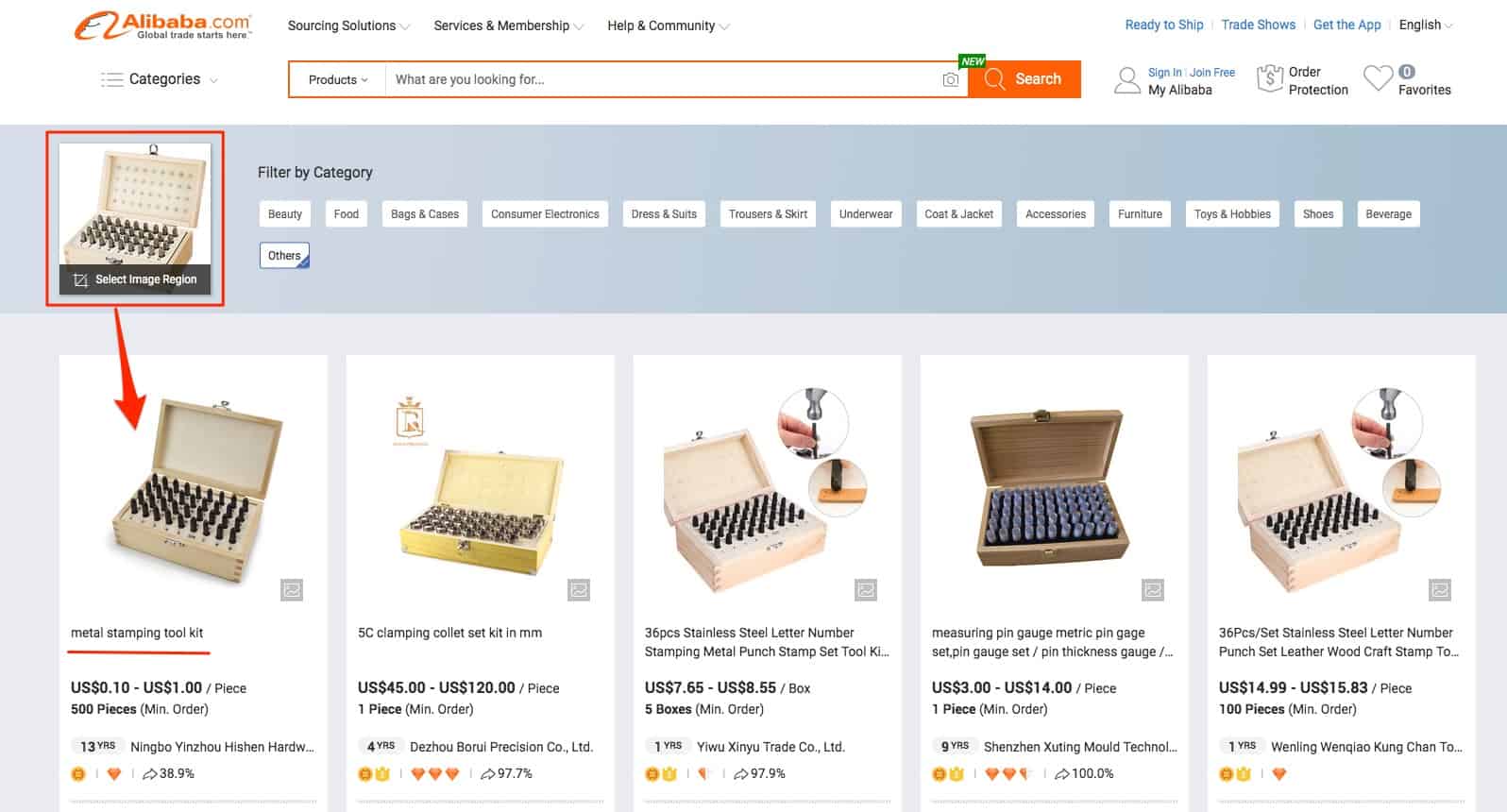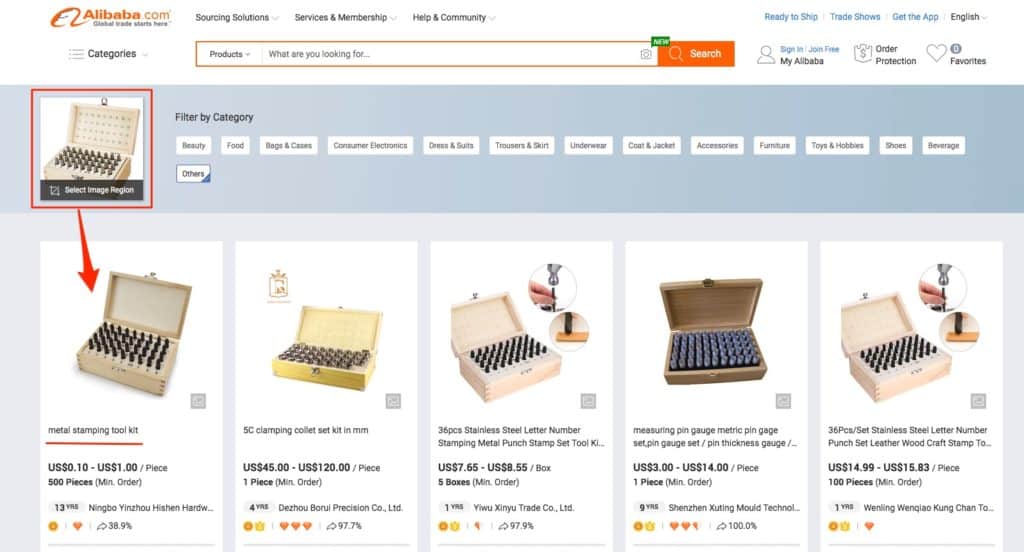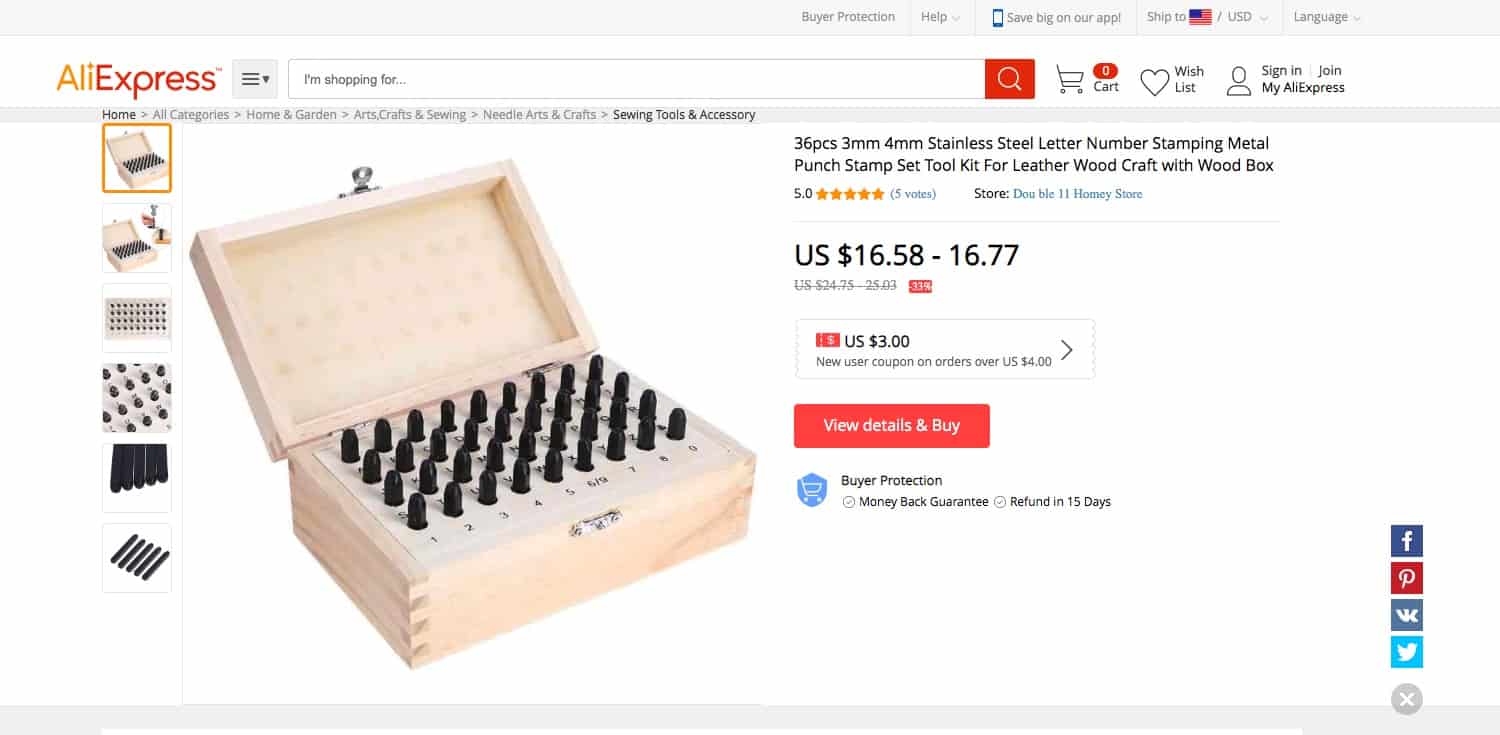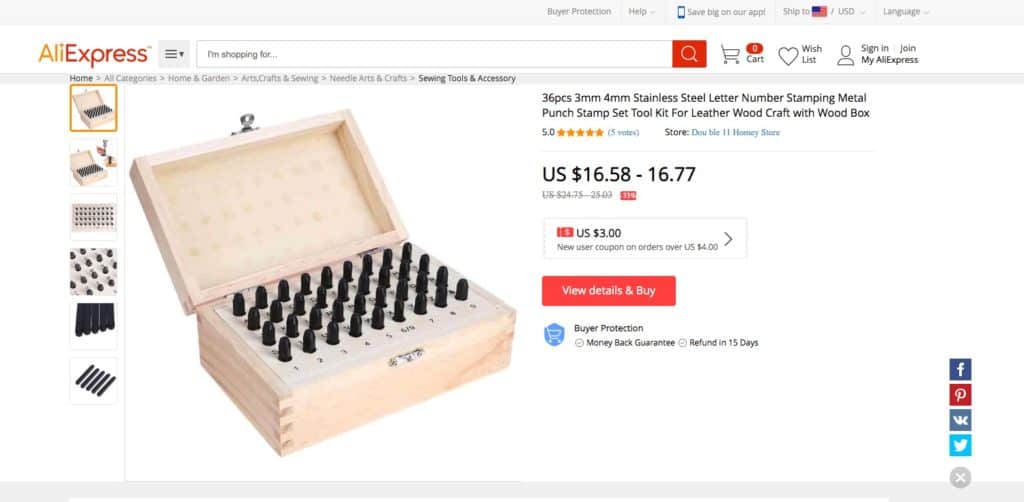 While Alibaba is the wholesale arm of this large corporation, AliExpress caters to retail sales. This means any member of the public can go there and purchase one or two items (or as many as they want) just like they were buying from Amazon or any online e-commerce shop. In fact, AliExpress is one of the biggest competitors for the Amazon super site that exists today. They sell ready-made products that are shipped from the importers' warehouses directly to consumers around the world.
The vast array of categories and product types entice shoppers from all over the world. The focus is on quality items at less expensive prices. They are again prominently from Asian manufacturers or supply companies. The company puts considerable effort into its Buyer Protection services to ensure customer satisfaction. After all, if the people who buy the products are not happy with the item or the purchase process, they will not come back.
What you see is what you get at AliExpress. You see a cool shirt or new pair of headphones, you hit "Add to Cart" or "Buy Now" and you pay the stated price plus shipping. The price per unit remains affordable, but they are retail prices. You will not find wholesale costs or bulk discounts on this website. Many companies do offer free shipping. However, as the items come from Asia, expect long wait times – possibly up to two months – if you do not pay for extra speed.
Another, newer option is Alibaba Wholesale that combines the benefits and features of the two. You can buy smaller quantities at near-wholesale costs that can still make you a profit if you source the right products and market well.
Alibaba vs AliExpress Comparison​
When it comes to creating or expanding the business using Amazon's FBA program, AliExpress falls short of most company's needs because it would be a direct competitor. It is nearly impossible to buy retail products and resell them for a profit on another platform. After all, why would a customer purchase from you if they could get the same thing for less somewhere else?
AliExpress does, however, provide the opportunity to order single products as samples of a particular supplier's quality and order fulfillment methods. After you do that, if the particular manufacturer or supply company you want to do business also offers retail items, this platform fails to help expand your business.
Alibaba makes it possible for you to order in bulk, ship directly to you or Amazon in some cases, and launch your FBA business successfully. A few suppliers also offer a white label or private label products, too. This means you can have your brand printed on the items as if you made them directly yourself.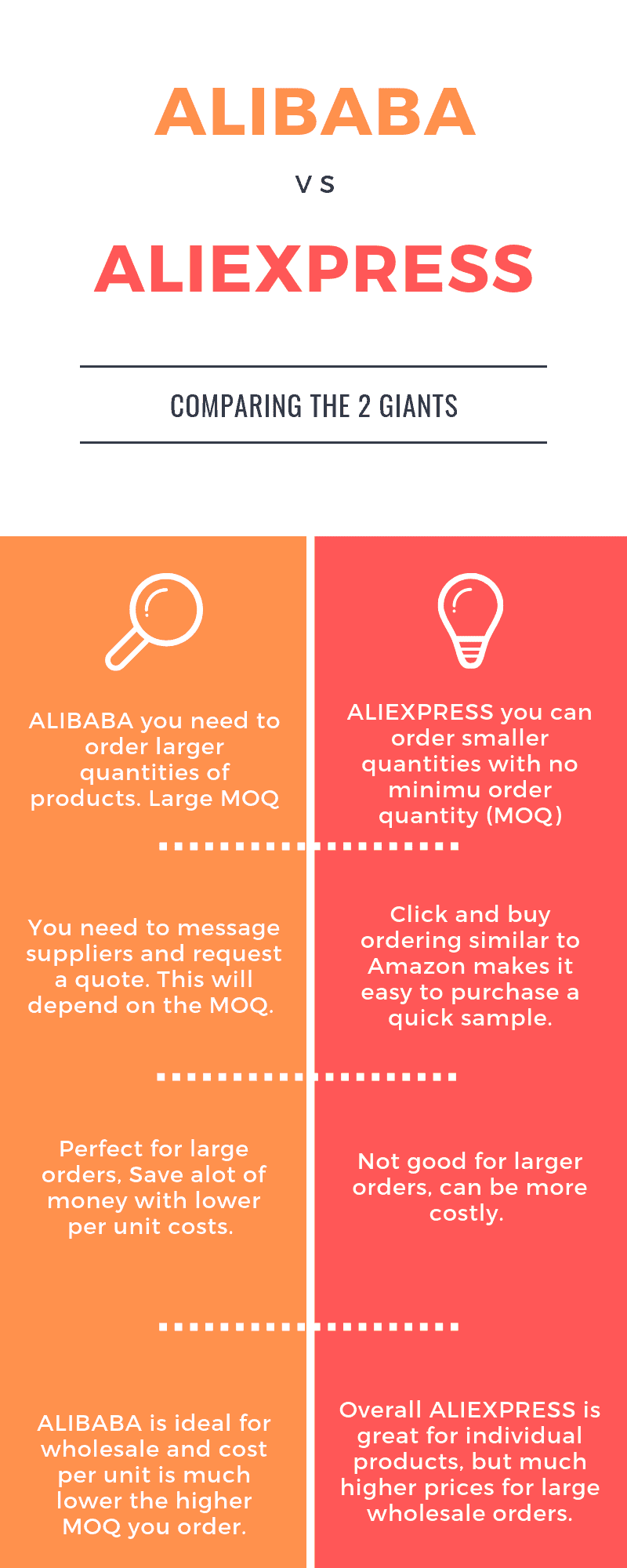 Whats the difference between Alibaba and AliExpress
The main difference between the two online platforms is AliExpress is individual product purchases by customers and Alibaba is meant for B2B wholesale customers. So Alibaba equals B2B business and AliExpress equals B2C business. 
If you receive the shipments directly, you do need the ability to receive them effectively. Some suppliers or shipping companies may require a loading dock or other equipment to get the cases or pallets off the truck. Some may not ship to residential neighborhoods.
Mostly, people who work at home can definitely find sources for the types of merchandise they want to sell. Order, pay, wait for the shipment to arrive, store it in your office, warehouse space, basement, or closets, or reship it after a quick check to Amazon distribution centers that handle your FBA business. This represents one of the most popular and fastest growing types of small business activity in the world of online marketing today.
The main differences in the Alibaba Vs AliExpress debate come from per unit pricing, minimum quantities, and shipping methods and costs. As with all wholesale situations, the first platform sells products in bulk quantities. You have to purchase 50 or 500 units rather than just one. This is called the minimum order quantity (MOQ) that is explained in more depth below. Also, since products are manufactured after ordering in some cases, the production and shipping times may increase.
Minimum Order Quantity (MOQ) Explained​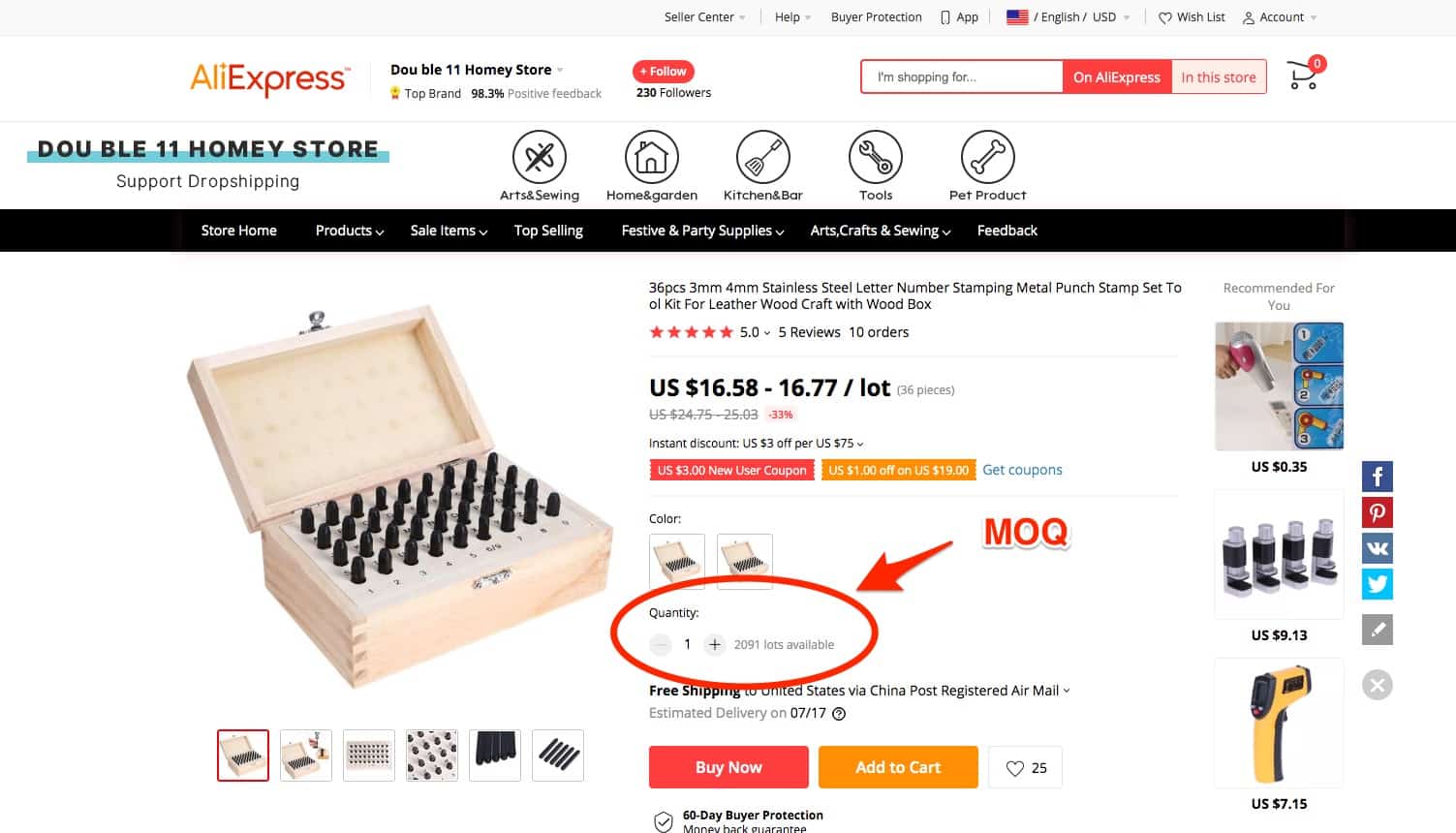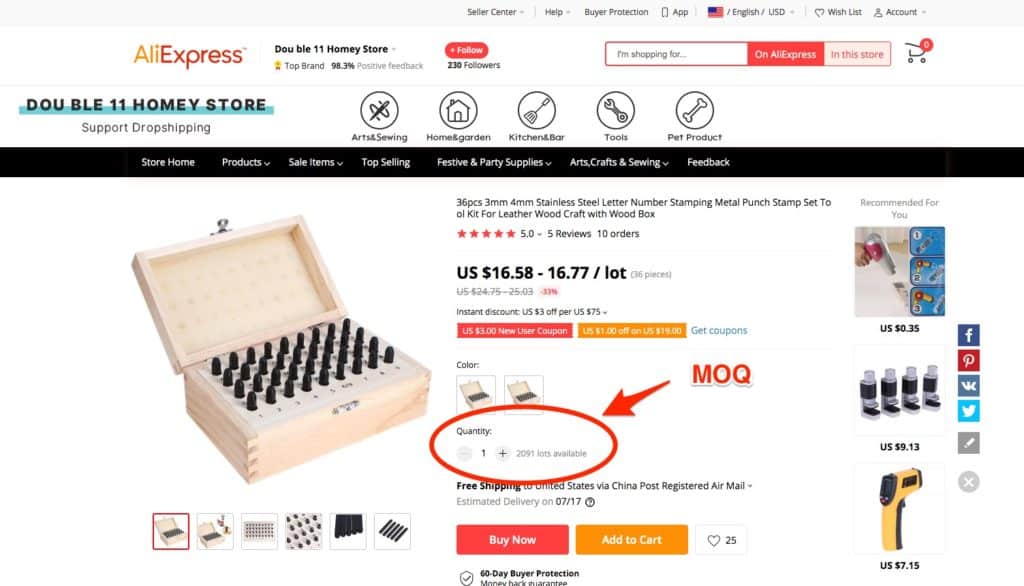 With Alibaba, you have to order a particular quantity of products instead of just one. Each manufacturing company or resale supplier in China sets a minimum order quantity or MOQ. If they say they will only ship 500 phone cases, you have to buy the case of all 500. In some rare instances, you might be able to negotiate a different quantity, but this practice is generally frowned upon. The company wants to make worthwhile sales, after all, and sending 50 instead of 500 makes little financial sense for them.
AliExpress does not use MOQs because they are retail companies who mark up the products to prices that cover the risk of manufacturing products before they sell, warehousing the extra, and higher shipping costs associated with more orders. The suppliers do not create white or private label items to your specifications. They just ship already existing products.
Alibaba has MOQs for the exact opposite reasons. Many suppliers make your products after your order, which incurs very limited risk. However, a factory cannot produce just one or two individual items. That would not even cover the cost of turning on the conveyor belts. Often, the smaller and less expensive the item is the higher the minimum order requirement. So, you could buy just 10 pillow top mattresses, but you would have to buy 2000 printed nail files.
In most cases, buying products in larger quantities suits an Amazon FBA business model anyway. You need to send enough to Amazon distribution centers so they can fulfill the orders you get from the buying public. If you run out of stock, you make no money, of course.
Shipping Times and Costs​
One thing that may come as a surprise to people who order from Alibaba or AliExpress for the first time has to do with the shipping times and costs. On the Express site, you can probably get free or very low-cost shipping. The amounts that the suppliers pay is factored into the price of the items directly. On Alibaba, the freight costs depend on what shipping or trucking company handles the large loads.
Whatever a particular wholesale supplier charges are generally what you have to pay. While negotiations may include a change to the price per unit, they will pass on freight costs in the final price. You cannot expect them to cover the rather expensive shipping from China or another Asian country to your front door.
When it comes to shipping times, you should also prepare yourself for high numbers. It takes a while to send multiple boxes or goods around the entire world. In order to keep the total cost as affordable as possible, your merchandise will come by container ship in most cases. Air transport is simply too expensive. From manufacturing plant to shipping facility to port to ship and then to reverse the whole process on your end can take weeks or even more than a month.
In fact, the entire process from order to fulfillment may take half a year or more. This depends on your negotiations, what type of product you order, the manufacturer's lead time and production time, and how long all the logistics take at every point along the way. Since buying, paying immediately, and waiting is the riskiest way of doing business with companies on Alibaba, it makes sense to take your time and open channels of communication with the companies you order large, expensive quantities of product from.
After all, this is your Amazon FBA business success that is on the line. You want every aspect of the entire product sourcing and delivery process to run smoothly and as quickly and inexpensively as possible.
Another question that comes up all the time: Is Alibaba safe to use for Amazon FBA private labelling? The answer is , yes Alibaba is safe to use for Amazon sellers as the offer a number of different customer protection methods.
In the quest to find the top sources for wholesale merchandise at the lowest prices, small business owners turn to the Asian markets. If you want to get involved in Amazon's FBA platform and use their fulfillment and shipping services to handle your merchandise, you still need to find a source for those products. Alibaba vs AliExpress is a common question people have at the beginning of this process.
Although both sites have their benefits, AliExpress focuses on consumer purchases much like Amazon does itself. The prices align with retail levels, which makes it hard for you to make any considerable profit through reselling. On the other hand, Alibaba offers business owners the opportunity to buy bulk products for less. Although it has higher minimum order quantities that usually start around 50 units, it offers much more affordable prices suitable for the wholesale market.
Prepare to succeed in a new Amazon FBA business, or scale up an existing retail company with more quality merchandise from excellent and affordable Asian wholesale sources. Although you may need to negotiation, minimum order requirements exist, and shipping times and costs take longer than you expect, Alibaba is the best option when it comes to sourcing wholesale goods.