Alibaba is known around the world as one of the best ways to find affordable wholesale items for your online store. But many people have concerns about buying for their Amazon shop on Alibaba. This is a platform used by many different suppliers, and it can be difficult to buy products from Alibaba as an Amazon seller safely if you're not careful.
If you're wondering, "Is Alibaba safe?" we're giving our honest review on all the safety and security aspects of the Alibaba marketplace. We'll cover how to verify your suppliers on Alibaba so that you're only working with safe and trustworthy people, using secure payment sources, and negotiating with Alibaba suppliers.
We'll go over buying items from Alibaba as an individual and not a company. Finally, we'll touch on Alibaba reviews to see what real users have to say.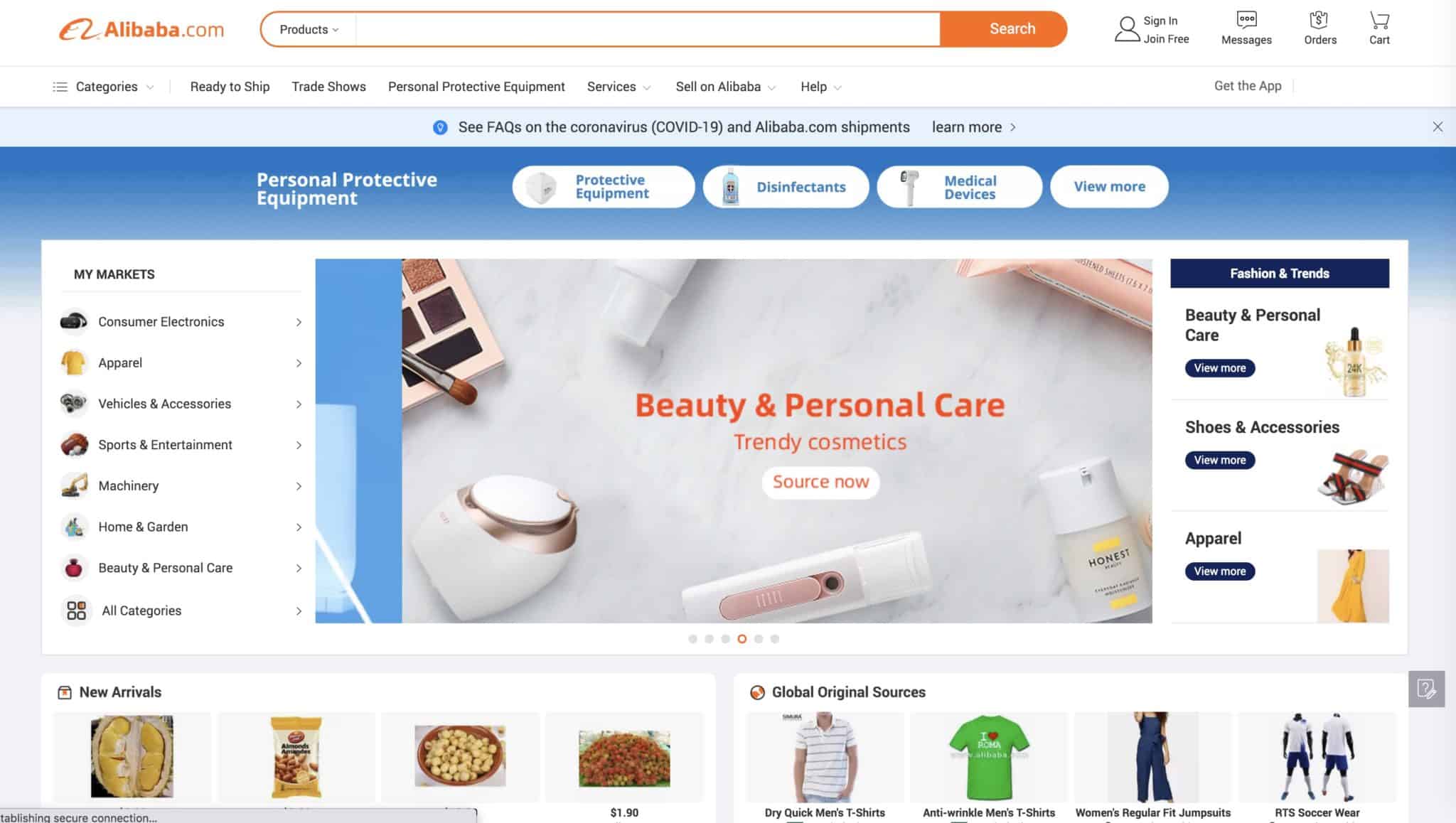 Here is more about the safety of Alibaba.
Is Alibaba Safe? Is the Site Really Legit?
Yes, Alibaba is a legitimate, reputable source for products online. Alibaba has its own set of strict regulations and rules that keep most transactions safe and secure during their time on the platform.
However, these regulations don't mean that Alibaba takes responsibility for any unfavorable sales that go on. Alibaba is merely an e-commerce platform that connects buyers with different suppliers from around the world.
This means that it is both the buyer's and the seller's responsibilities to perform proper research and do their due diligence when engaging with one another. It is not Alibaba's role to intervene in the case that there is an improper use of their service.
For this reason, you're better off researching before making any purchases or sales to ensure that your transaction will be secure.
Find out if a supplier is trustworthy or not by looking at the supplier's profile and reviewing any feedback previously left by other buyers. This will give you an idea of their past dealings.
When in doubt, it's always a good idea to buy a small amount first to test the product's quality. Once you can confirm that it meets your standards as an Amazon seller, you can feel more confident making a larger order with a supplier you've already worked with before.
As long as you carry out these best practices for safety and security, you can feel confident in your use of Alibaba as a supplier.
Verifying Safe Suppliers on Alibaba
On Alibaba, you'll encounter all sorts of suppliers – the good, the bad, and the ugly. Although Alibaba has attempted to put a stop to this kind of behavior on its site, it is not entirely secure.
Alibaba is not policing authority, so the responsibility falls on both the buyers and sellers to keep each other accountable.
Be a smart buyer. Vet any potential suppliers before you place an order. Be strict about who you engage in business with, and you'll see better results.
Here are a few helpful steps to follow before you buy for your Amazon store.
Check for Verification on Alibaba
Checking for verification through Alibaba is a great way to see how trustworthy suppliers are. Checking to confirm that suppliers are fully legal, registered businesses.
Check online for Gold suppliers – these tend to be the most reliable on the platform.
Ask Your Own Questions
One of the best ways to learn more about your potential suppliers is by asking your own questions directly. Ask the company about the following:
Business practices
Standards
Products it sells
Facilities it makes the products in
Don't be shy, ask for photos for verification if you want.
If you have any concerns about anything, now is the time to speak up. Scan anything they say for anything that feels fraudulent or spammy. You want to feel confident in the conversation you have with the supplier.
Check Out the Samples
Better safe than sorry. It's always wise to first test out a few samples of the product before buying it wholesale for your Amazon store.
Before making a big commitment, ask the company to send you a sample of the product you're interested in buying. Once you receive it, check it closely for any issues or factory defects.
This is a good time to ask all of the suppliers of the products you're potentially interested in buying so you can compare the products up against one another. Once you confirm which one fits your needs most closely, you can make your first large purchase.
Look for Feedback
Learn from the buyers who have worked with your potential suppliers in the past to hear directly from them about their buying experience as a client.
Alibaba ratings and reviews are available for buyers and sellers to view, so take advantage of this valuable information. You'll learn a lot about how well they've met expectations of other buyers in the past.
Be sure to check out several reviews rather than just a couple – you want to gauge their reputation on the marketplace as a whole rather than based on one or two random reviews.
Gut Check Yourself
If something seems like it's just too good to be true, there's a good chance it is. If your gut is telling you that something is off about a supplier, don't buy from them. You put your reputation on the line with when you become this supplier's customer. So, get accustomed to analyzing everything about the supplier before purchasing anything.
If the deal seems like a dream, there might be something sketchy going on. Remember that things should be bought and sold for what they're worth – a luxury item going for just dollars can't be all it promises.
Be vigilant, and your vigilance will pay off.
Using Secure Payment Methods With Alibaba
The safety of your purchase on Alibaba depends entirely on your supplier, but you can enact some safeguards yourself through secure payment methods.
Secure payments are available on Alibaba to provide some sense of security that you will get the product you're anticipating, or else you will get a refund for your money.
With Alibaba's Trade Assurance, you will get your money back on any products that are not received or are not in good condition when received.
Keep in mind, however, that not all suppliers support this Trade Assurance policy. If you're not dealing with someone who supports this important policy, you might want to reconsider that transaction.
Even if you have to deal with someone who doesn't use Trade Assurance, you can still use a few different safe payment options to make your transaction more secure. Here are your options:
Secure Payment – Security
Secure Payment prioritizes buyer satisfaction and is one of the safest payment methods available on Ali Baba.
Using Secure Payment means Ali Baba holds your payment in escrow until the product is safely and satisfactorily delivered. Then and only then, they'll release your payment to the seller.
If something goes awry, Ali Baba will look into things and give your money back if it was the seller's fault.
This is typically the most preferred payment method on the platform.
T/T Upfront Bank Transfer – Security
You should only use an upfront bank transfer if you strongly trust the supplier you're buying from. This serves as a direct wire transfer, sending the full cost of the order to the seller sometimes before production even begins.
If you pay a scammer with upfront bank transfer, there's a good chance your money's lost. Be wary about using this unless you absolutely trust them.
Western Union – Security
Western Union, worldwide, is arguably the least secure payment method available. There is no way to recover your money once the product is paid for. This shouldn't be used even for trusted suppliers. It's not a smart idea.
Only use Western Union when you're sending money to a family member. Even then, using something like PayPal is safer. Don't use it for business.
PayPal – Security
While Alibaba does not officially support PayPal, it is still a much safer way to pay than the two options immediately above – just ask your supplier if they accept PayPal payments outside of the Alibaba platform.
If so, use the Goods and Services payment options. Extra buyer protections are in place on these transactions, which means more security for you.
PayPal ensures that if there are any issues with your order, you can get your money back easily and conveniently.
Letter of Credit – Security
A Letter of Credit is a pretty safe option for both buyers and sellers to use. Because of the complex procedures required for this type of transaction, however, many people prefer to avoid this payment option.
A Letter of Credit often becomes the best option when buying or selling something over $20,000. At that point, having a letter of credit helps move the transaction along.
Approaching Alibaba Suppliers
With proper techniques for validating your potential Alibaba suppliers for your Amazon store, you're ready to approach the suppliers to ask your questions and get a great deal.
Here's what you should consider as you email your suppliers:
Minimum Order Quantities
Most listings up on Alibaba come with their Minimum Order Quantities listed. However, there's no harm in asking about a lower order quantity for your sake. This way, you can use the small purchase as a product sample before ordering much larger.
Many suppliers will oblige these requests if you reach out and are genuinely interested in their product.
Price Negotiations
Although the price is set for wholesale orders, that doesn't mean you can't negotiate your price on the sample purchase.
Ask for a sample before purchasing a wholesale order. Set your ideal sample price and be prepared to negotiate with the supplier. You can ask for a discount to verify the quality.
You may encounter some suppliers on the site that are confident enough to send free samples. Take advantage of these opportunities, but prepare to pay a small fee for the others.
Ask About Exact Price and Production
Many suppliers will give you an estimate of their product pricing, offering somewhere between $3-4 per unit. But this range can cause the grant total to change drastically, so ask about the exact amount.
You should also ask about the expected time of production. You want to be able to hold them accountable should your order be significantly delayed.
Buying as an Individual – Is It Safe?
Yes! Instead of putting a company name in the Company field when it comes time to purchase, simply put your own name. Since most Alibaba transactions are wholesale orders, you will encounter high-minimum requirements. Sometimes, you can contact the suppliers and negotiate these minimum orders.
Alibaba Reviews
Judging from their online feedback from past customers, Alibaba has high overall reviews. They have an average of 4.5 stars on Trustpilot from over 12,000 reviews. Eighty-four percent of past customers said the service was 'excellent.'
While there can always be a few bad eggs in the bunch of suppliers, Alibaba customers overall have great experiences using the platform. So, there's no reason why you should have more difficulties than the average seller if you follow these safety guidelines.
Verdict
We hope our review above cleared up some of your concerns on how to verify the validity of suppliers and create safe, secure transactions.
While Alibaba works in good faith to protect its buyers and merchants, it is only a platform that facilitates the sale. It's still up to the individual parties to protect themselves by performing their due diligence. Interested to see in how Alibaba compares with Aliexpress for Amazon sellers check this out.
That being said, reviews are overwhelmingly positive from former customers, showing that most transactions are easy and smooth.
By performing proper research and making the right decision about your supplier, you can join the ranks of satisfied Alibaba customers.
Are you still on the fence about Alibaba? Reach out to us with your questions about Alibaba. We can help you decide if this is the Amazon seller tool for you and your products.