If you're looking to accelerate your sales and grow your business, you need a powerful tool on your side. By automating and outsourcing certain processes, you can focus more on sourcing the best products and serving your customers. Intentwise offers effective, user-friendly tools to help you grow your audience, better analyze your data, make informed decisions, and take your business to the next level.
Intentwise is an interactive automation platform that provides valuable data and analytics to anyone looking to stregthen their advertising and grow their online sales. The platform provides valuable insights into ad performance, audience targeting, and in-depth reporting. It also allows advertisers and sellers to automate ad optimizations for greater efficiency.

The Intentwise platform provides an API connection to some of the world's largest retail sites, including Amazon, Instacart, and Walmart. Their AI tools offer top-of-the-line automation that can optimize your ads and provide data-backed recommendations. Intentwise also gives you a convenient way to manage your campaign budgets and track performance on both campaign and product levels.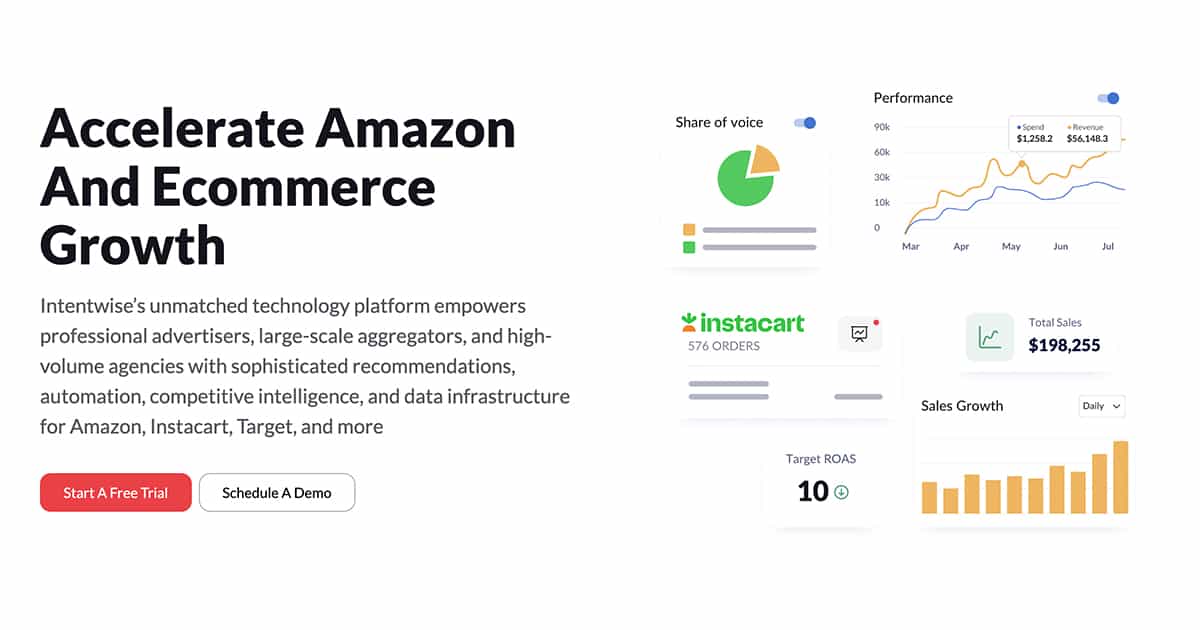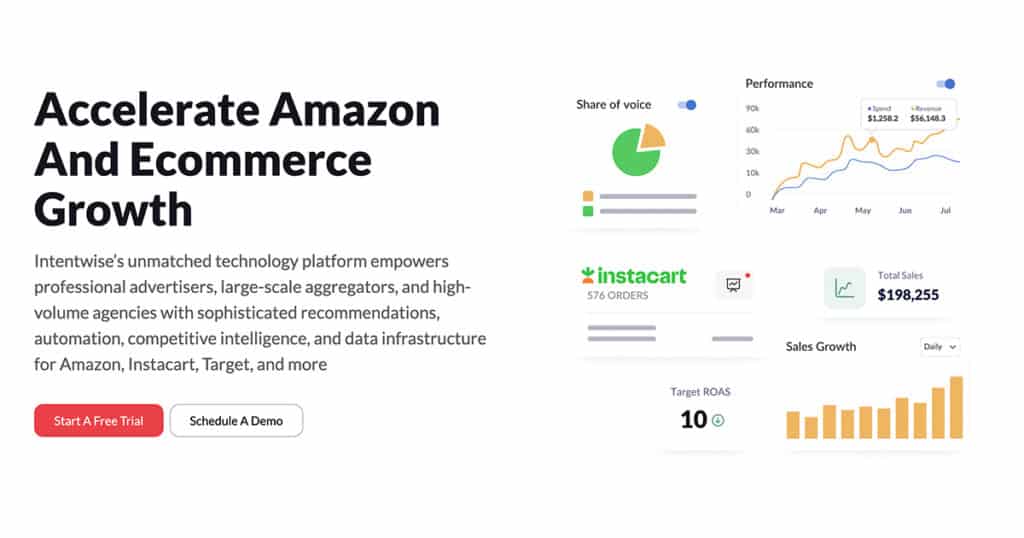 Intentwise offers some key user-friendly features, designed to maximize your advertising spend. They also provide top-notch customer service and a free trial to get you started. The benefits and features of using Intentwise include:
Access for an unlimited number of users
24/7 live chat assistance and customized onboarding services
Informative webinars featuring e-commerce news and best practices
Training through The Intentwise Academy
Clear and easy-to-interpret data reporting
Customer-first philosophy
The Intentwise service menu is broken down into three specific products, which you can mix and match based on your business needs.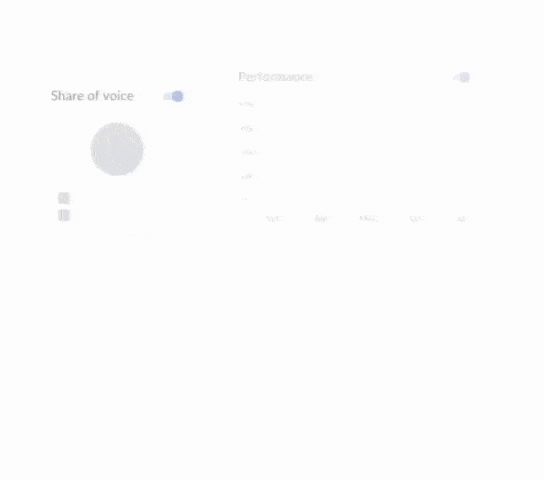 Need help managing and optimizing your Amazon ad campaigns?
Discover how Intentwise's AI-powered platform can help.
Optimize Your Amazon Ads with the Intentwise Ad Optimizer
This tool allows you to easily manage and scale your advertising budget for multiple retailers in one place. It provides you with automated data-driven recommendations, AI and rules-based bid management, and competitor insights. With everything from keyword recommendations to automated optimized bidding, you'll have all the tools you need to scale your advertising and get the most out of your ad budgets. The Intentwise team is on standby 24/7 through chat support to help you troubleshoot along the way.
Intentwise analytics allows you to collect and analyze your Amazon data efficiently and accurately. Level up your reporting with customized dashboards and easily integrate your data with other tools and applications, including Microsoft Power BI and Google Data Studio. Intentwise Analytics automatically collects your data for you, saving you time. Data can also be easily exported for external analysis and reporting to clients.
Intentwise Demand Side Platform, or DSP, helps you expand your audience and build brand awareness. Manage your campaigns and build campaigns to reach your target market with efficient ease. This tool is based on your audience on Amazon but provides valuable information to help you boost sales with other retailers as well.
Intentwise vs. Other Tools
| Feature/Competitor | Intentwise | Sellics | SellerApp | Jungle Scout | Helium 10 | AMZSuite |
| --- | --- | --- | --- | --- | --- | --- |
| Advertising Management | Yes | Yes | Yes | Yes | Yes | Yes |
| Keyword Research | Yes | Yes | Yes | Yes | Yes | Yes |
| Product Research | Yes | No | Yes | Yes | Yes | Yes |
| Listing Optimization | Yes | Yes | Yes | Yes | Yes | Yes |
| Sales Analytics | Yes | Yes | Yes | Yes | Yes | Yes |
| Competitor Tracking | Yes | Yes | No | No | Yes | No |
| Inventory Management | Yes | No | No | No | Yes | No |
| Pricing | Custom pricing available | Subscription-based pricing | Subscription-based pricing | Subscription-based pricing | Subscription-based pricing | Subscription-based pricing |
| Customer Support | Email, phone, chat | Email, chat | Email, chat | Email, chat | Email, chat | Email, chat |
| Integration with Amazon Advertising API | Yes | Yes | Yes | No | No | No |
| Advanced Bid Management | Yes | Yes | No | No | No | No |
| A/B Testing | Yes | Yes | No | No | No | No |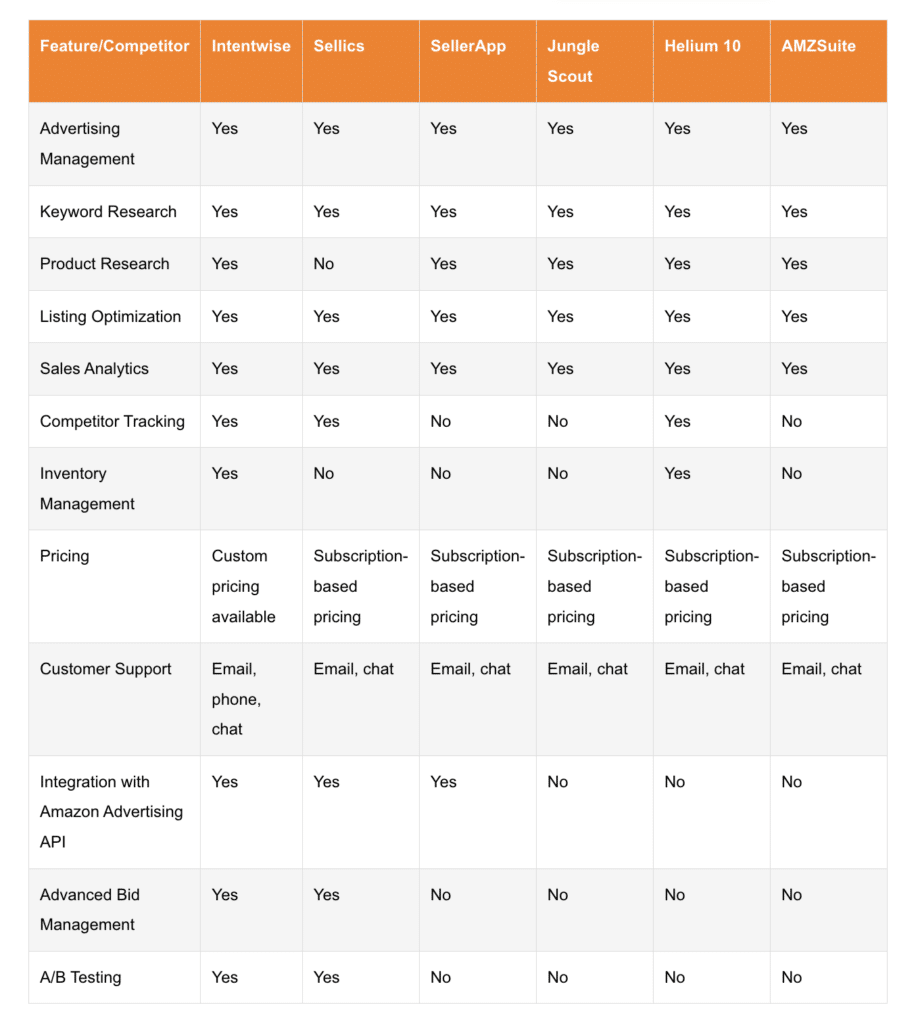 Benefits of Using Intentwise
The benefits of using Intentwise can make a big impact on your business and the sales growth you see. These key benefits include:
Precise, consistent, and accurate data reporting

User-friendly and intuitive dashboard with a focus on efficiency 

Simple connectivity and integration with other applications

Makes advertising prices more efficient and less time-consuming

Saves employee bandwidth to expand the number of clients served
These benefits allow you to use the Intentwise tool efficiently and provide for the most effective use of your advertising data stream.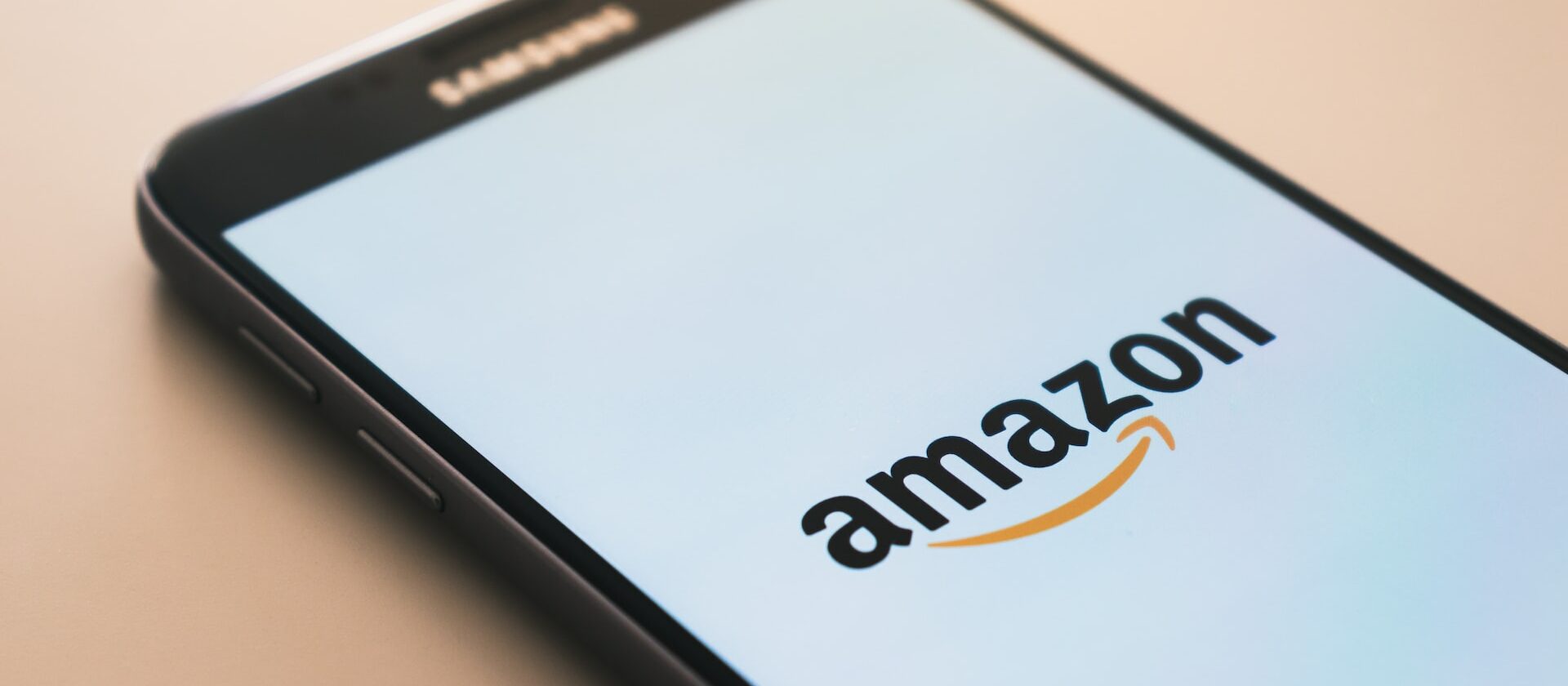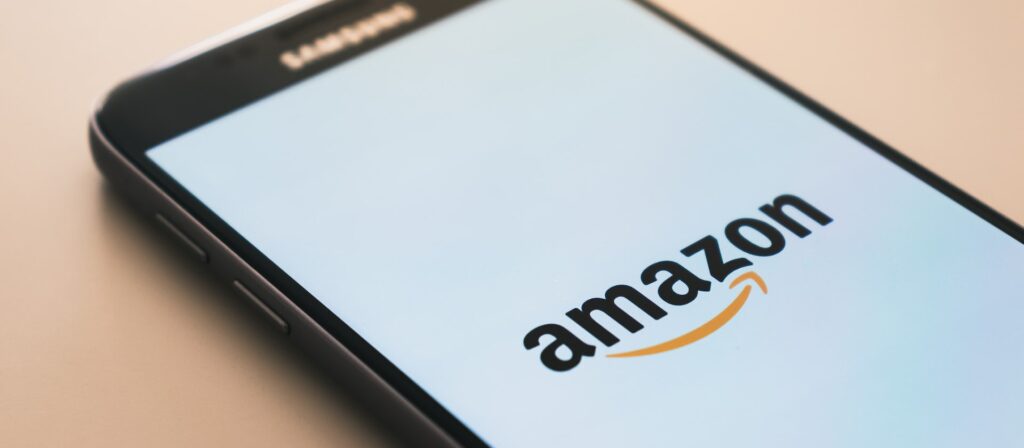 Using Intentwise does come with a unique set of challenges. User Jason Beddome, a retail ads account manager that uses Intentwise, reports that the campaign creation is a downfall as you can only launch sponsored product ads through the tool. However, he noted that Intentwise already has a fix for this challenge in the works. He also pointed out that creating campaigns for other ad types directly on the Amazon ad platform is an easy workaround.
He also touched on some of the missing data sets and features that were absent from the Intentwise dashboard. The full automation leaves some of the optimization strategies to be left to be adjusted manually. Yet Beddome also noted that many of these key processes are not necessarily better optimized when automated.
The other challenge is not knowing what specific time frame of data optimization is based on. He also notes that typical dayparting strategies can be a challenge on the tool. However, he points out that there's a way to shift and reduce ad budgets to achieve the same strategy.
Intentwise pricing is tier-based and starts at $500. However, users are welcome to try out the service for free for 14 days. There are also volume and term discounts available for cost-saving benefits.
What Kind of Customer Support Does Intentwise Offer?
Intentwise's unmatched customer service gives you access to expert 24/7 chat support and monthly office hours to answer your questions and help you troubleshoot along the way. Support is also offered via insightful blogs, webinars, training guides, and more.
Intentwise has numerous awards and accolades for its extraordinary customer service. Clients point out that Intentwise is a valuable asset to their business and praise their commitment to a premium user experience. They are pleased with the service for their willingness to go the extra mile to help their client's businesses grow and thrive.

Beddome points out that the Intentwise customer success team is top-notch and incredibly helpful. Their communication is proactive and they provide a free trial to preview the platform and answer any questions. The live chat function is quick with low wait times and effective resolutions. Clients have access to the online Intentwise library that features in-depth resources and provides users with helpful and valuable information. The Intentwise team also welcomes meetings and is more than happy to answer complex questions and provide transparent details about their processes.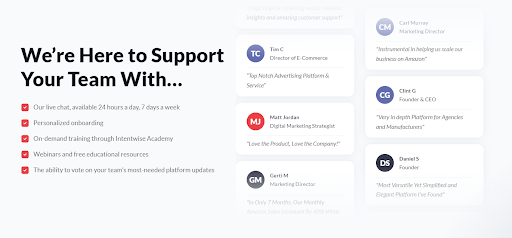 Intentwise can be an amazing asset to your business. With this automation tool in your arsenal, you can optimize ads and analyze sales data like never before. Plus, with a risk and commitment-free trial, you can see for yourself why so many sellers and advertisers rely on Intentwise. Get started today on your journey to exponential growth and an impressive bottom line.