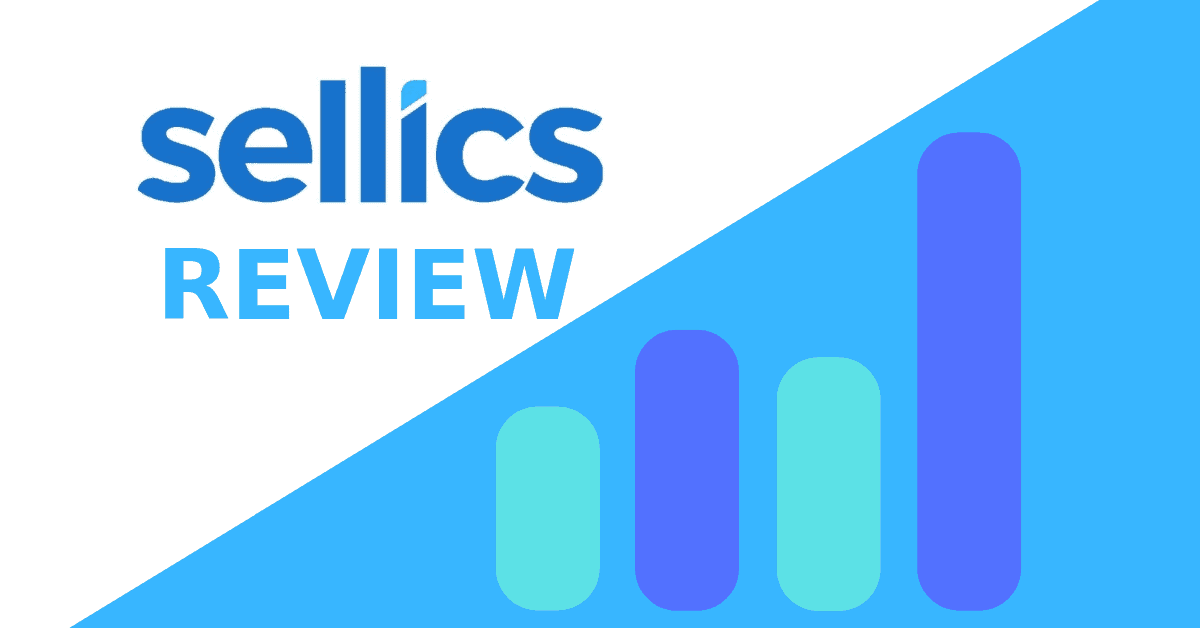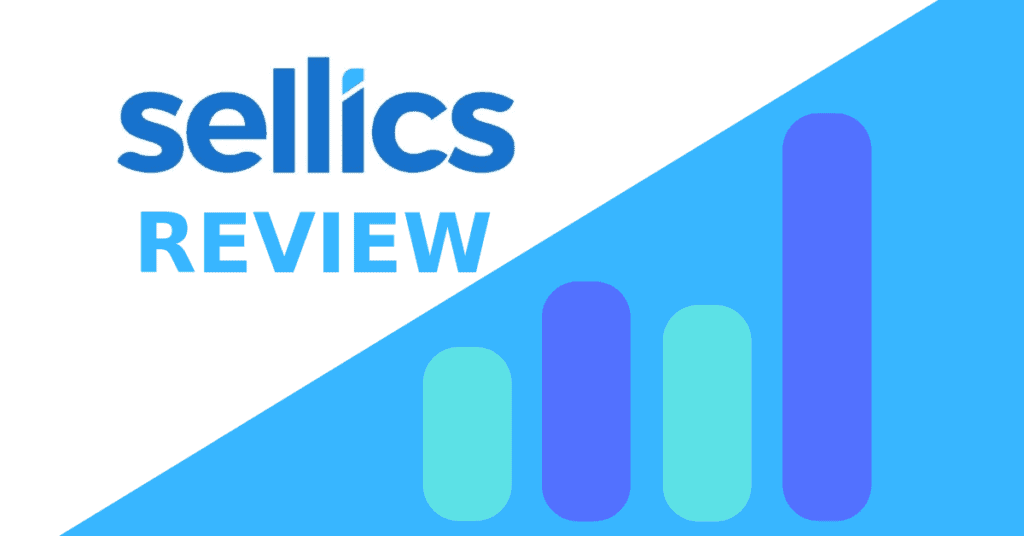 It's easy to get an Amazon business up and running. The real challenge lies in growing your business and rising above the competition. Nowadays, growth almost certainly requires using multiple tools to get the right metrics at the right time in order to make profitable business decisions. Sellics wants to break that cycle by providing Amazon sellers with all the tools they need in one place. Sellics is essentially a one-stop-shop for Amazon sellers that bundles three to five different analytics tools into one package. You can use it to optimize rankings, monitor competitors, manage reviews, track several performance metrics, and more. Sellics provides two separate software platforms: a Seller Edition for Amazon sellers and a Vendor Edition for Amazon vendors. The Seller Edition, which is what this post covers, is exclusively for Amazon sellers with Seller Central accounts. [toc]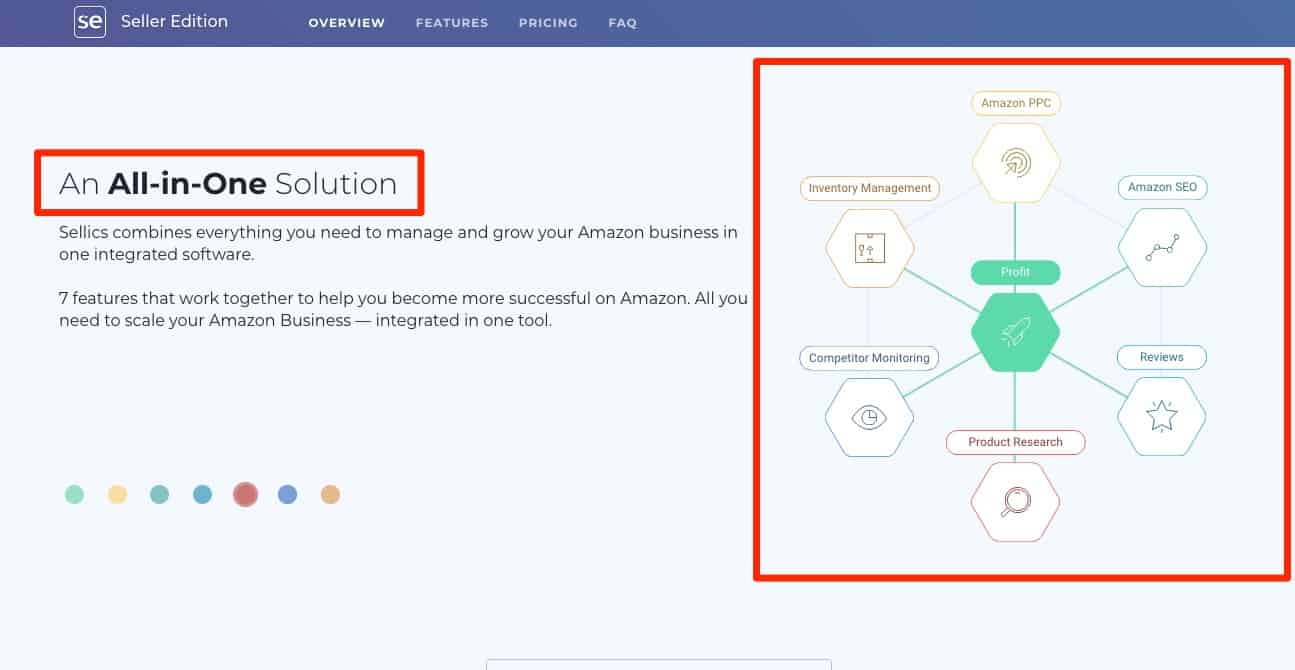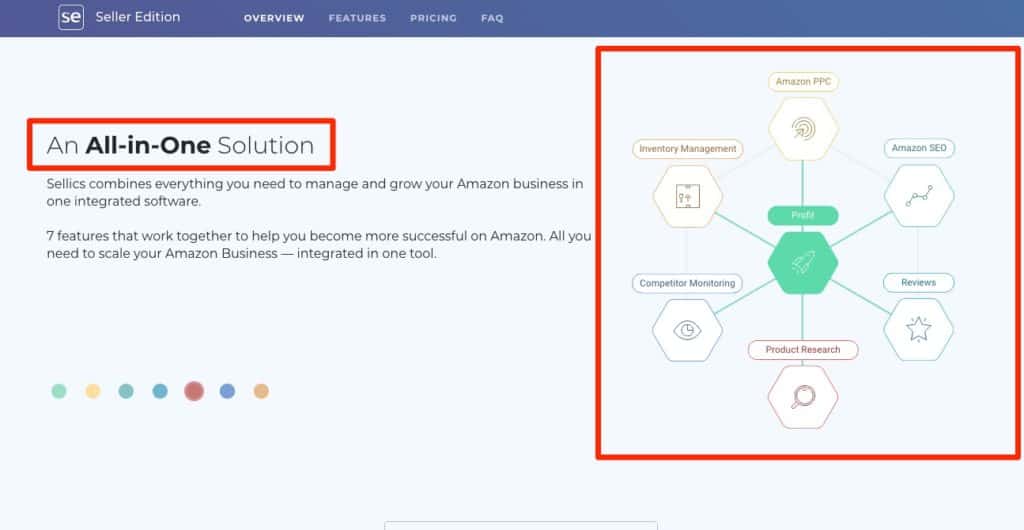 Seller Edition
Measure Profit: It only takes one click to connect your Amazon Seller Central account to your Profit Dashboard. Sellics will automatically calculate all your Amazon costs for you, and you can also input the COGS (cost of goods) for more precise results. Your Profit Dashboard instantly visualizes the profitability of each SKU. It breaks down each cost metric, allowing you to see which area is disproportionately eating into your profit margins, enabling you to make critical decisions immediately. Sellics Profit Dashboard shows your exact profit margins after all your costs are deducted (Amazon fees, PPC spend, promos, item cost, etc.) It is seamlessly integrated with Amazon Seller Central and your profit data share is displayed in real-time.
Breakdown of Sales versus Costs
See the split between your organic sales and sales generated through Sponsored Products Pay-per-click (PPC) ads and campaigns. Know exactly what is driving your costs.
Profit calculation by SKUs
Not all SKUs are equally profitable. Some products might actually lose you money if you factor in all your Amazon costs. Treat each product individually and calculate whether or not your products are truly profitable after PPC spend with the Sellics PPC feature.
Maximize your Amazon PPC sales: Sellics drastically reduces work hours spent on PPC management, sick of running excel spreadsheets and the never-ending headache of keywords vs search terms, which ones to use, which ones to negative exact. Now Sellics takes care of PPC with the automated PPC campaigns.
Automate PPC Campaigns:
Save time and automate your keyword bids
Focus on campaign profitability and get the most out of your Amazon advertising spend
Automatically increase keyword bid (when Advertising Cost of Sales is low)
Automatically lower keyword bid (when ACoS is high)
Automatically pause keyword (when a keyword is unprofitable)
Help you to achieve a higher return on ad spend (ROAS).
Analyze Campaign Performance:
Sellics marketplace analytic tool will track your ad performance for any given period and see exactly which changes positively affected your campaign results. There will be no more seller central reports.  Stay on top of your Sponsored Products campaigns and track the performance of your ads for any given period. Its Trend Chart provides a visualization of all your KPIs (revenue, cost, CPC, ACOS, purchase orders, etc.)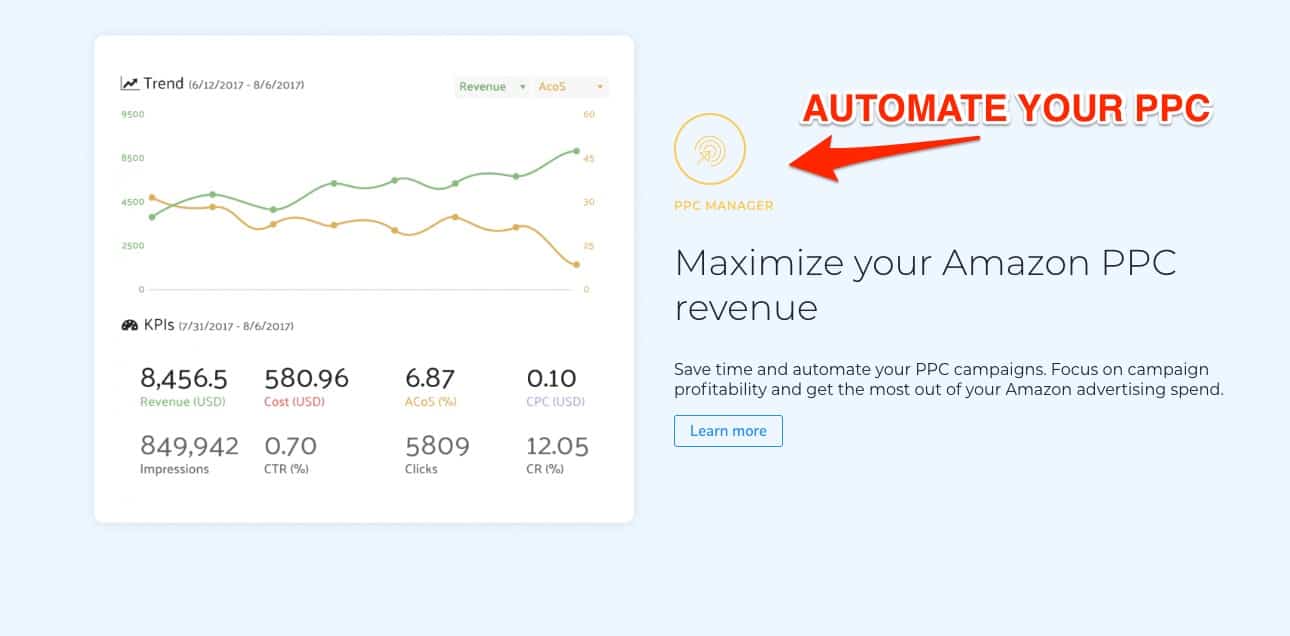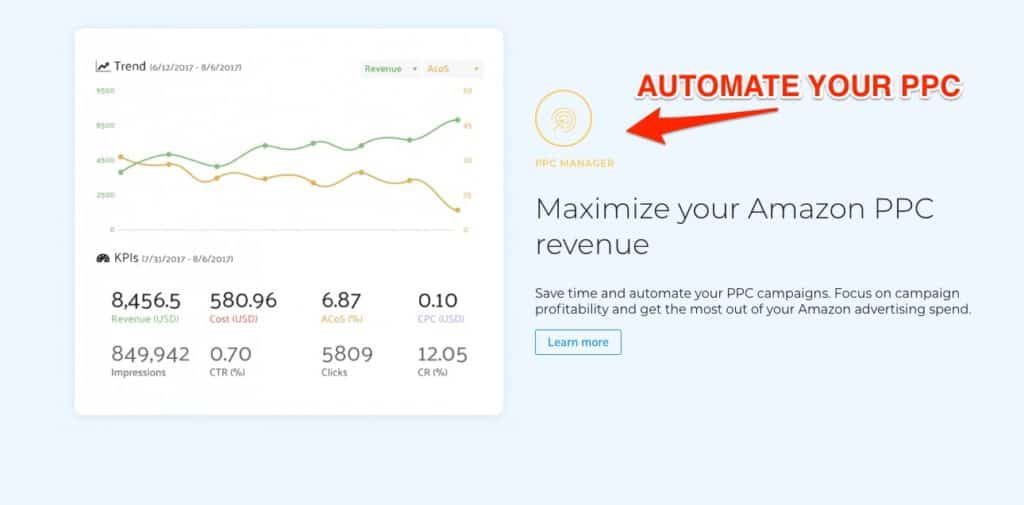 Use the Sellics PPC Manager to optimize your CPC bids for-profit and make smarter decisions with historical data. It makes Smarter Decisions with Historical Data. Sellics tracks every change made to your Amazon Sponsored Products campaigns, enabling you to access all your historical campaign data that is not available in Seller Central. Also, it sees your Keyword Bid History. Changes you make to your keyword bids, budgets added or removed keywords are all visualized for you. Learn from the past and know exactly which changes correlated with a boost in ad performance.
Improve your Amazon Rankings: Only 10% of customers look beyond Page 3 on Amazon. 90% of customers will make their purchase exclusively on Pages 1-3 of Amazon's search results page. If your product is not visible here, you will lose the bulk of your sales. What customers do is monitoring other sellers' prices. Overview of your competitors' products and their prices. Amazon Keyword Search Volume indicator to help you prioritize the most relevant keywords for your product.
As a next step optimize keyword rankings. By actively optimizing your listings, you can improve your rankings in Amazon's search results. Optimize your keyword rankings to ensure your customers find you on Amazon. Compare your listings against your competitors. Immediately pinpoint differences and learn to outrank your competition by monitoring the most successful merchants. Higher rankings = more sales. The higher your products rank on Amazon, and the more keywords they show up for, the more you will sell. Your product's organic search rankings directly affect your bottom line.
Amazon Keyword Ranking Tracker tracks the rankings of all relevant keywords. It monitors how your rankings develop over time and see the effects of your optimization efforts on keyword rankings and BSR. Ranking Index tracks the performance of all your keywords, visualized in a simple to read chart.
Manage Reviews: Negative reviews can seriously make your sales drop. Sellers should react as fast as possible to negative feedback to reduce the damage. Stop checking for new reviews manually and start getting automated updates! Focus on reacting to the negative reviews, don't waste time looking for them. Focus on the Most Damaging Reviews & Take Immediate Action. Sort your reviews by their impact on the average rating of your products. Focus on the most damaging ones with just one click. Comment on negative reviews on Amazon directly from the program and ensure a smooth workflow.
Use Positive Reviews to Improve Your Copywriting. Positive reviews often contain valuable information about your products. Is there a feature that constantly gets favorable feedback? Then highlight this feature in your product details, e.g. the bullet points. Use the filters to display all positive reviews for a specific product over a certain time period.
Research Products: Generate product ideas, find the most profitable niches and stop investing in slow-selling products. Generate top-selling product ideas in seconds. Stop wasting time randomly browsing through the bestseller lists on Amazon. Get access to the Sellics product database that includes the top 10.000 Amazon best sellers of each product category. Sellics marketplace analytic use filters like estimated sales, sales rank, weight, number of reviews and a lot more to quickly find thousands of profitable products matching your winning criteria with Sellics keyword tool.
Find out how much money you can make in any niche with one click. Easily analyze sales volume and competitiveness of your target niche. Our niche analyzer will tell you how much sales are generated in a niche and how difficult it will be for you to achieve a top ranking with the most important keywords.
SPY reduces the risk of investing in slow selling products and losing money.
Is your product really going to sell well? Don't rely on estimates when you invest thousands of dollars of your hard-earned money. Track the actual sales volume of your target product with our product spy. Avoid investing in shelf warmer and getting stuck with expensive unsold inventory.
Competitor Monitoring: Monitor Your Competition on Amazon. Understand every move your competitors make. Monitor other sellers' prices. Overview of your competitors' products and their prices. Track price trends so monitor the price changes of all of your products. See at a glance, how the highest and lowest prices develop. If you are selling on Amazon, your goal is to win the Buy box – after all, the seller that wins the Buy Box makes the most sales.
Track your competitors' exact sales. Discover your competitors top sellers with just a few clicks. Use the spy to determine the real sales volume for any ASIN on Amazon.
Hijacker Alert: Don't let competitors steal your revenue. Hijackers are merchants that unrightfully "attach" to your products. Oftentimes they are cheaper than you and are therefore preferred by customers. This way you are losing revenue that belongs to you. Sellics will send you an alert immediately when a seller hijacks any of your products, so you can have them removed before losing any revenue.
Inventory Management: Know exactly when to place a new order. Upload the lead time for each of your products. Sellics will automatically calculate the perfect reorder date for each product based on its current sales velocity and lead time making inventory management spreadsheet free.
Your 90-day reorder pipeline at a glance. Placing a reorder is more than just a phone call. It requires both financial and personnel resources. Easily keep on overview of your 90 days reorder pipeline to plan your resources accordingly. So always reorder at the right time.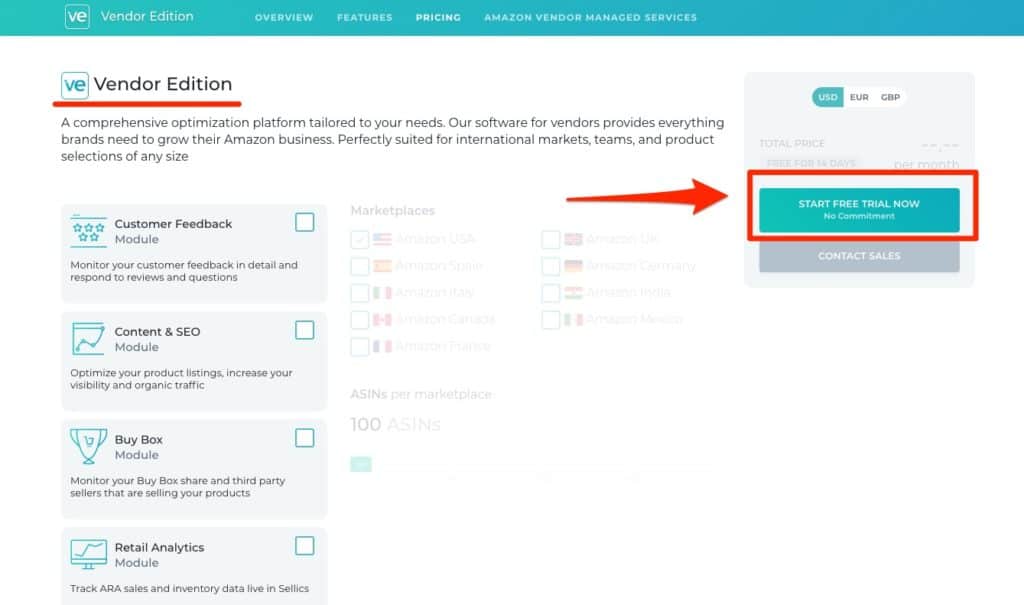 Customer feedback: Everything vendors need to manage is customer feedback.
Monitor Your Customer Feedback – Manage your star ratings and control how your brand reputation and company develop on Amazon. Track all new reviews and questions of your Amazon products in one place.
Respond to New Reviews – Get notified when you receive a negative product review and respond in real-time to minimize damage. Get comfortable and customizable email notifications about new reviews and questions. Use the Sellics Vendor Edition review management system to manage all your reviews and questions efficiently and consistently. Follow Up easily with review adjustments and additional questions/comments. Turn up your customer service level with Sellics reviews. 
Respond to Customer Questions – Actively engage with your customers and build a positive relationship to enhance your brand reputation. Get a quick overview of feedback status and trends across all your products and dive in for thorough analytics if needed. Get easy access to your full history of reviews and questions for use in content creation, marketing or quality, and product management.

Content and SEO: Everything vendors need to boost is their rankings on Amazon.
Content Analysis and Check – Easily identify content optimization potential across your product selection using the automatic and detailed content check.
Identify Top Keywords – Research relevant keywords and sort keywords by Amazon search volume for maximum impact. Use the Sellics VE review management system to manage all your reviews and questions efficiently and consistently. Let Sellics Vendor Edition assists you in creating top-ranking product listings in an intuitive optimization workflow. Tap into precise keyword information as well as content insights from customers and competitors. Automatically generate an optimized set of backend keywords to quickly boost your rankings and extend your organic visibility.
Optimize Your Listing and Boost Rankings – Tap into profound keyword information as well as content insights from customers and competitors in an intuitive optimization workflow. Track your keyword rankings and precisely measure the success of your optimization efforts. Export ranking data for in-depth analysis and reporting. Stay in control of your Amazon listings and get notified automatically whenever third parties including Amazon make unauthorized changes to your products.

Optimize AMS Campaigns: Maximize Your Amazon Advertising Success.
Automate Your Sponsored Product campaigns – Manually managing and optimizing bids, negative keywords, etc. can be time-intensive. Sellics saves you a lot of time and effort by automating these tasks. Managing your bids and keywords manually can be very time-intensive. Sellics saves you a lot of time and effort by automating these tasks for you.
Easy Campaign Analysis & Reporting – Access all your important KPIs at a glance. Visualize and compare your KPI trends. Make smarter decisions with historical data using our Change Log. Get an overview of your PPC performance within seconds. Easily compare the efficiency of different ad types and campaigns. Find out how your campaign performance evolves over time. Visualize and compare your KPI trends over your entire PPC history using individual time frames and display settings.
Efficient Campaign Management & Optimization – Manage your Sponsored Products and Sponsored Brand campaigns easily with Sellics. Save time and perform campaign optimization measures in bulk. Integrated with the Amazon Advertising API. Set up and manage your campaigns comfortably with Sellics. Efficiently perform campaign adjustments in bulk, move keywords between campaigns, use negative keywords, and more. Understand What Drives Your Campaign Performance. Precisely measure the success of your optimization efforts and learn from the past. Sellics automatically tracks all changes to your PPC campaigns and visualizes them – enabling you to obtain valuable insights.

Buy box Monitoring: Everything vendors need is to succeed on Amazon.
Buy box Monitoring – See who sells your products on Amazon and find out when and why Amazon is losing the Buy box. Stay in control of your products on Amazon. See who sells your products on Amazon and find out about third party prices. Identify products that are not performing because Amazon is not winning the Buy Box. Find out who Amazon is losing the Buy box to and why.
Buy box Notifications – Get notified via email if Amazon loses the Buybox or runs out of stock and react quickly.
Stock Monitoring – Identify products where Amazon is running out of stock.
Retail analytics: Get a better understanding of your Amazon revenue growth.
Direct comparison of your sell-in and sell-out data – No more Excel graphs: Your ARA/ARAP data will be pulled on a daily basis via our Chrome Plug-in and stored in your Sellics account.
Data visualizations of your sales performance – Your sales and inventory data is visualized for you, making it much easier to track and review your sales performance on Amazon.
See your sales performance for all Amazon markets – Get an immediate overview of your global marketplace performance, and review your sales data by ASIN, country, product group, brand, etc.
Sellics is multifunctional software designed for Amazon marketplace sellers, vendors, clients, and agencies. It offers solutions for analytics, keyword rankings, profit tracking, managing pay-per-click campaigns, and more. Agencies represent vendors and sellers may contact Sellics to obtain a quotation.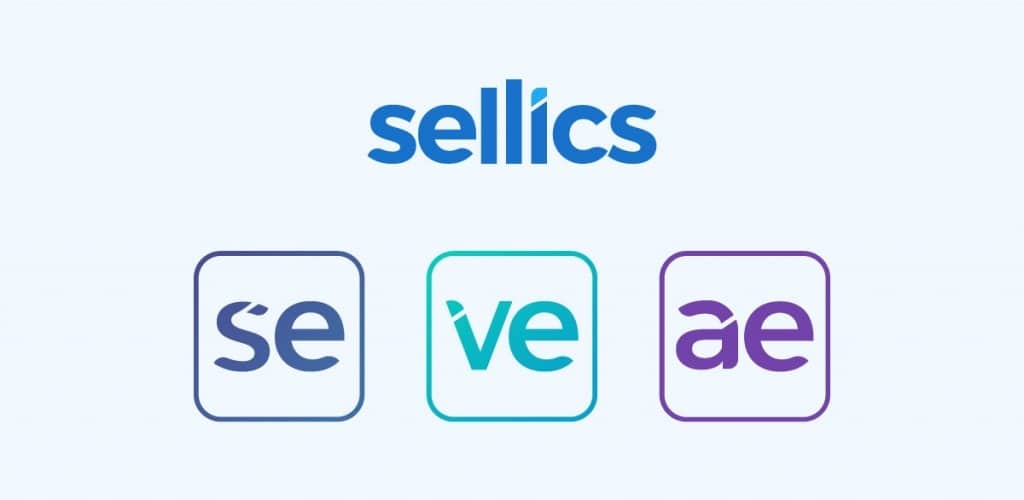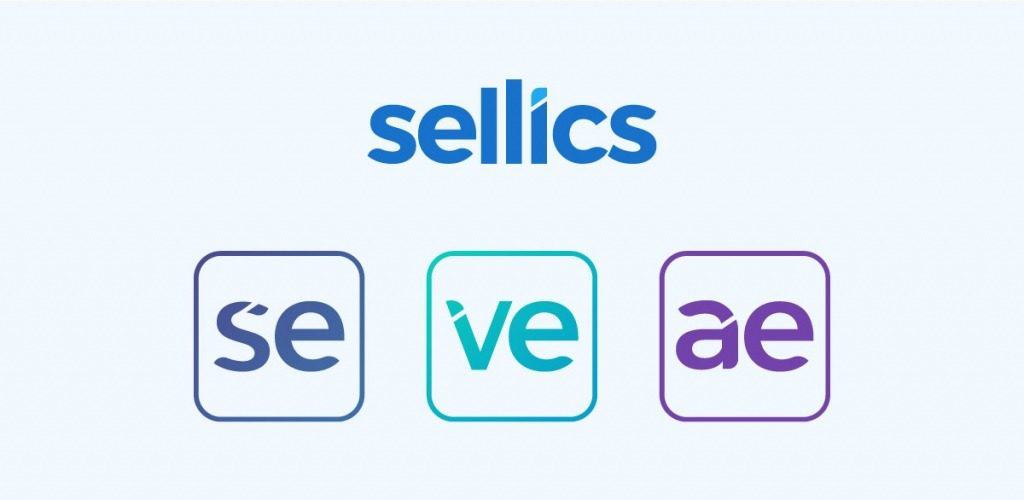 The Sellics pricing scheme has multiple price points, depending on the amount of annual Amazon sales.
Monthly pricing for the Seller Edition ranges from $57-$317, depending on whether the user opts for a Monthly Plan, a Biannual Plan, or an Annual Plan.
It also offers products for Vendors (starting at $149) and Agencies (custom priced). The Vendor Edition's pricing depends on the modules covered, such as customer feedback, content, and SEO, Buy Box, retail analytics, and AMS campaigns. Additionally, fees are determined by the numbers of Amazon marketplaces and Amazon Standard Identification Numbers (ASIN) included.
You can test and review all of the available features for free for 14 days (no CC required) before purchasing a plan. Sellics recommends testing its ranking optimization tool with two products. Start by researching as many relevant keywords as possible. If you're not sure which keywords work best for your products, use the Keyword Rankings feature to check out the rankings of your most relevant keywords.
For example, if your product is an outdoor dog house, the most important keywords might be something like "dog house outdoor" or "dog house garden." Sellics recommends using the PPC optimizer to see which keywords will convert. You should see your first ranking improvement by the end of the trial period. By then, your company will have collected enough data to produce meaningful reports on the keywords you track.
Once the free trial ends, you can choose a subscription plan. They use a variable pricing model that charges you based on the volume of products you sell. Sellics recently changed their pricing model as it previously used a credit system for keywords or products tracked, which ultimately proved very confusing and put people off the software as they couldn't understand how it worked. The software is great because it bundles every analytics tool you'll need to profitably sell on Amazon in one neat package. It provides you with all the data and performance metrics you need to grow your Amazon business, with options to dive deeper and gain further insight from key performance indicators.
The new Sellics pricing model is an improvement; however, it can still be confusing as your subscription fee is now linked to your Amazon sales.
For example, if your sales volume is between $1,000 and $60,000, then Sellics will charge you $67 per month, with a $342 biannual option ($57 per month) and a $564 annual option ($47 per month).
Sellics is great because it bundles every analytics tool, you'll need to profitably sell on Amazon in one neat package. It provides you with all the data and performance metrics you need to grow your Amazon business, with options to dive deeper and gain further insight from key performance indicators.
If you want an analytics dashboard that provides you with the approximate profitability of your products coupled with handy features like a PPC manager and ranking tracker, Sellics is the way to go. It also firmly wins in our comparison between Sellics and AMZ Tracker.
The pricing model can be confusing at first but for most new Amazon sellers, you'll be paying between $57 to $97 a month.
The main drawback is that you must connect your Seller Central account to use most of the features Sellics provides. If you're only starting out and don't have a Seller Central account, then Sellics is not the right software for you. In this instance, we would recommend using Jungle Scout over Sellics if you are still in the product research phase. It can make product research less of a chore and drastically improve your chances of finding a profitable niche.
For those further down the road with their Amazon business, Sellics is definitely worth giving a try.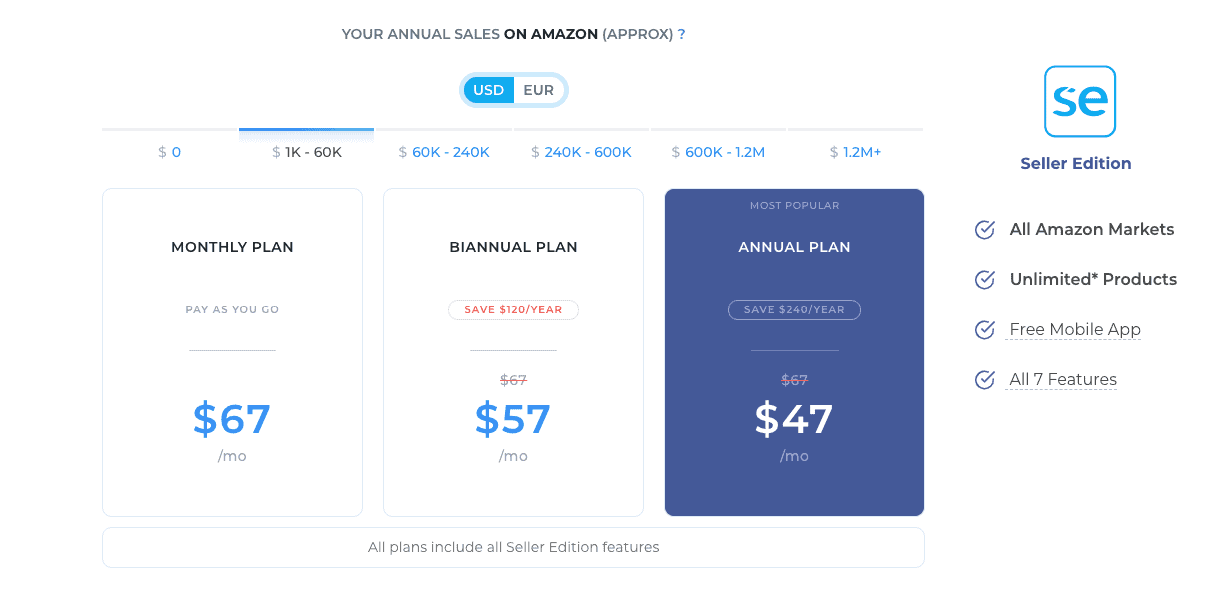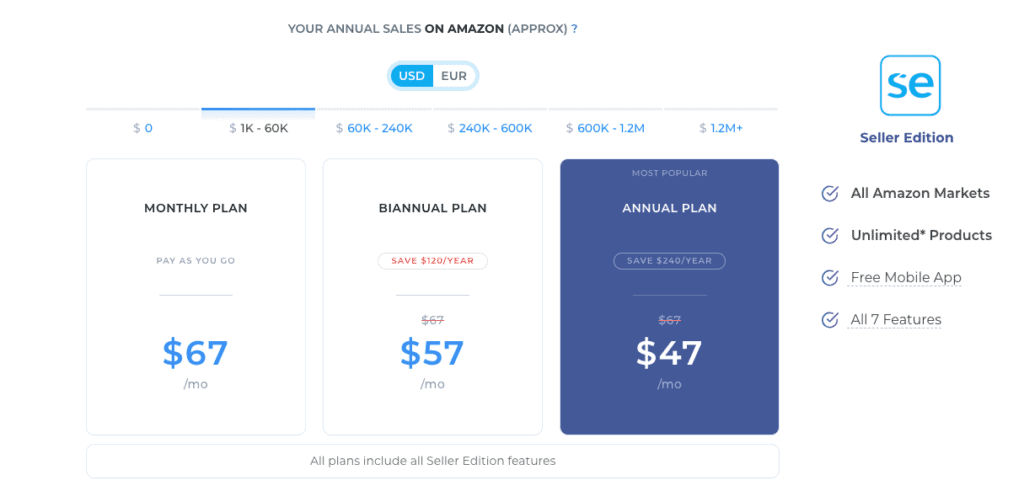 Best Features from Sellics
Sessions and conversion rates – the performance widget shows the sessions and conversion rate for all your products, which is a feature most tools don't have.
Good customer support – the support team can be reached via live chat or email. They respond to queries quickly.
Extensive knowledge base – Sellics has an online knowledge base that covers every feature with tips on how to best use the provided tools to grow your business.
Supports 8 Amazon marketplaces – Sellics supports several Amazon marketplaces, including the U.S., UK, Germany, France, Spain, Italy, Mexico, and Canada.
Variable pricing – your subscription fee is determined by your annual business volume. This is an improvement from their old pricing model.
What you Need to Know Before Buying Sellics
Even trial users must connect the Seller Central account– you can't test a majority of the features without connecting your Seller Central account.
Adds third-party promos to your profits– Sellics adds the value of all types of promos, even ones that aren't yours, to your profits because Amazon's API considers any sale with a price reduction to be a promotion. This can artificially inflate your revenue numbers.
Historical data is limited– Sellics can only pull two months' worth of historical data on the profit dashboard because of limitations set by Amazon's API.
No user management tool– you currently can't create multiple users with different rights, but Sellics plans to introduce a user management feature in the future.
Limited to one Seller Central account per Sellics account– you can't integrate multiple Seller Central accounts into one Sellics account, but Sellics will give you a 20% discount for each additional Sellics account you create.
No downloadable reports– you can't export or download reports from your Sellics account.
Return on investment (ROI)– Sellics doesn't calculate or show ROI.
Confusing Pricing– The pricing model can be confusing at first. It can be positive or negative depending on your Amazon sales and the subscription fee you pay.
Sellics Top Competitors & Alternatives