No matter if you're just getting started as an Amazon FBA seller or have been in the industry for a few years, you may be looking for a way to skyrocket your business.
Following in the footsteps of successful Amazon FBA seller giants like Dan Vas, Stefan James, Derrick Struggle, and Greg Mercer can be difficult. As you're beginning or continuing your journey selling on Amazon, you should have a list of Best YouTube channels for Amazon sellers to use to help guide your decisions.
Many YouTube channels and blogs offer Amazon product sellers great advice. Unfortunately, some are ad-heavy and spread bad recommendations.
If you want to experience success on Amazon, you should watch and learn from reputable YouTube channels. Check out these 6 life-changing YouTube channels that every Amazon FBA seller should add to their watchlist.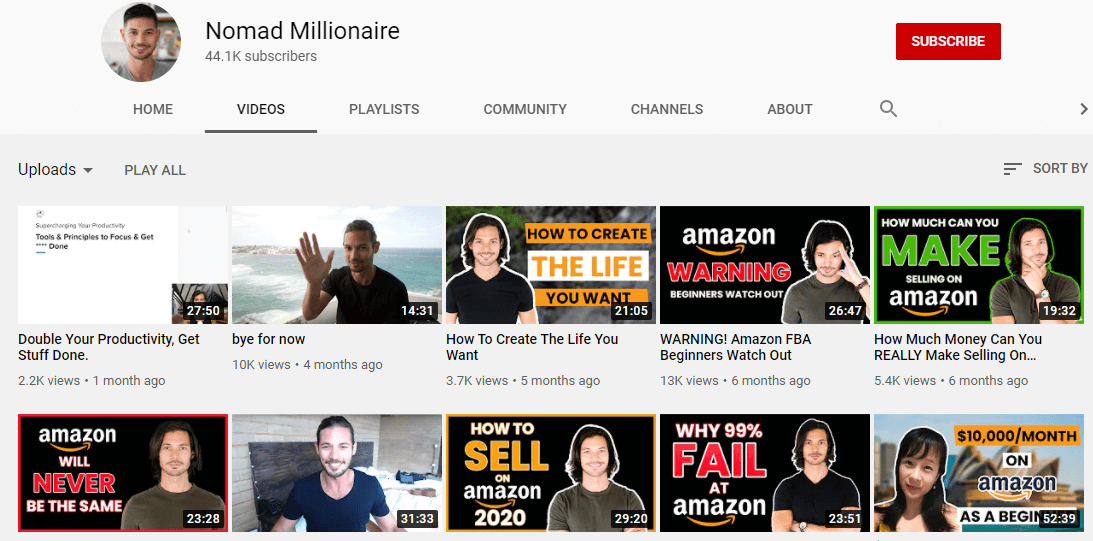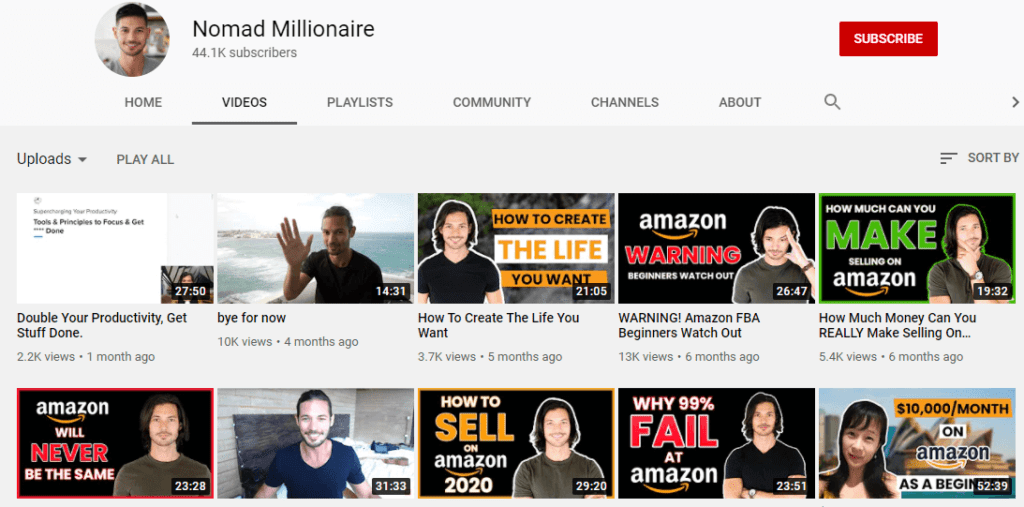 Myles Dunphy is no stranger to hard work. He is a former engineer turned Amazon FBA business owner and consultant. He runs the YouTube Channel called Nomad Millionaire, which currently has over 40,000 subscribers. His biggest accomplishment is using his Amazon FBA business to become a millionaire within three years.
He uses his channel to share advice and in-depth case studies with other Amazon sellers. He points out common mistakes to avoid as well as unique strategies for selling on Amazon for people located outside the U.S.
With over 35,000 subscribers and nearly 2,000,000 channel views, Private Label Masters is a fast-growing YouTube channel for Amazon FBA sellers. This channel, ran by Tim Sanders, is focused on helping sellers grow their FBA businesses in predictable, organized ways. He is an entrepreneur who has achieved 8-figure status, so the advice he has to share is truly life-changing for subscribers who are willing to listen.
If you're interested in further education and turning Amazon into your job, you can visit his website and navigate to the contact menu. Here, you can provide your name & email, and gain access to a thorough training video and newsletter.
The Helium 10 YouTube channel is unique in that it focuses on producing content about a specific type of software. Its goal is to reintroduce audiences to the new version of Helium 10. This software has evolved from a single tool into an entire platform, and it aims to educate users on its many features.
Several hosts make regular appearances. Subscribers enjoy content from familiar faces on the channel like Cassandra Craven and Vince Montero. In addition to discussing Helium 10 strategies, the crew shares general tips for selling any product from T-shirts to dog collars.
Seller Tradecraft is a three-man operation ran by Anthony Biu Tran, Fernando Campos, and Nick Young. Together, they post videos on specialties like private label, product launches, product development, supply chain, and social media marketing.
The goal of their channel is to help viewers build their businesses and earn money passively so they can focus on what matters to them in life.
The guys share the best browser extensions and research resources to use and discuss niche topics like opening and resolving Amazon cases.
From YouTube, you can click on a link to navigate to the trio's website. Here, you can leave your name, email address, and any comments or questions you have.
In search of an entertaining channel? Samer Brax is one of the more fun YouTube channels centered on Amazon FBA businesses. Samer has a combination of interview, sit-down, and on-the-go vlog-style videos to maintain his audience's attention. His emphasis on remote work helps viewers improve their quality of life.
He focuses on step-by-step tutorials for creating PPC campaigns and offers effective tools audiences can use to find the perfect keywords. No matter what you want to sell, like an article of clothing or the latest electronic device, Samer can help you maximize your campaign.
His previous job of selling private labeled and online arbitrage products on Amazon FBA makes him a qualified name on YouTube to look up to.
Tim Jordan didn't stop his success with the creation of Hickory Flats, a full-service logistics, sourcing, and warehousing operation of e-commerce sellers. He went on to share his advice and foster learning in the e-commerce industry by creating videos on his AM/PM Podcast YouTube channel.
The format of this YouTube channel differs from the other five we have reviewed above. The AM/PM Podcast features a menu of videos of Tim talking to different guests about tools, tips, tricks, and news in the Amazon world. The other YouTube channels post heavily edited videos of the hosts talking directly to the camera.
As the name implies, the goal of the show is to help Amazon sellers create recurring revenue streams during all hours of the day. Even though Tim is a well-rounded host, the show is always in search of other people to take over for a video or two.
For example, Manny Coats, a co-founder of the Amazon seller software Helium 10, once hosted a video on the show about using competitor reviews to distinguish your products on Amazon. He discussed the topic with Seth Kniep by his side, who is the genius behind his own YouTube channel called Just One Dime. In this episode, Manny and Seth offered invaluable advice on ranking higher on Amazon and increasing sales. The comments on this video were very receptive to the gentlemen's ideas.
FAQs for Best YouTube channels for Amazon sellers
Here are a few frequently asked questions you'll want to know the answers to.
How Will a YouTube Channel Help Me As an Amazon FBA Seller?
These informational YouTube accounts will discuss topics related to:
The best browser extensions to use for conducting business
Dropshipping
Keyword implementation
Tracking sales analytics
Managing inventory
Automating review requests
By watching YouTube channels like the ones we've discussed, you will gain knowledge on topics you maybe didn't know a lot about to begin with. And, you can use this knowledge to help guide your business decisions.
Which YouTube Channels Should I Be Wary Of?
Be wary of channels operated by people with no proof of their success. A channel run by a small-town husband and wife who are just getting started may not be the best resource to use. You might be able to learn from their journey, but don't be so quick to implement their advice.
Should I Follow All the Advice I Get?
What worked for someone else may not work for you. No one has a catch-all, magic key solution for every seller. Evaluate your personal circumstances to determine what to take with a grain of salt. Too many videos and channels are centered on clickbait to draw audiences and make money with no regard for their viewers' well-being.
Don't expect instantaneous results. Even if the tips you get from a video are solid, you might not be able to achieve quick results on a large scale. Take your unique business model into account and see if implementing the advice you've been given makes sense.
Conclusion
Subscribing to the six YouTube channels mentioned above is a sure way to get started on a successful Amazon experience. Becoming an Amazon FBA seller is no easy feat, however, having a strong support system to mentor you is key to thriving in this business.
Joining like minded communities like facebook groups, reddit communities or even an Amazon FBA course to encourage and gain insights into what is working for advanced sellers is essential to furthering yourself as an Amazon seller.