Selling on Amazon FBA can be tough. The most crucial part of running a successful Amazon business is to know what to sell and how to sell it. This might seem like a simple task to tackle but actually, it's not. You need proper guidance to ensure your business is successful. Most beginner sellers would focus on a tight budget to secure themselves from heavy losses in case the business fails.
Cutting corners or saving money by learning online or from YouTube is a rabbit hole many new sellers go down. Every successful seller I know has a mentor or has taken a course from someone who themselves has build a thriving Amazon FBA business.
Amazon courses are the best means of ensuring your FBA business becomes successful. Actually, it's the first step to take when you want to sell successfully on Amazon FBA. Through these courses, you are maximizing the chance of having a successful business while minimizing failures and rookie errors that can be quite expensive.
If you are not willing to learn, no one can help you. If you are determined to learn, no one can stop you.
Best Amazon FBA Courses in 2023
Here is our list of the best Amazon FBA courses reviewed in 2023.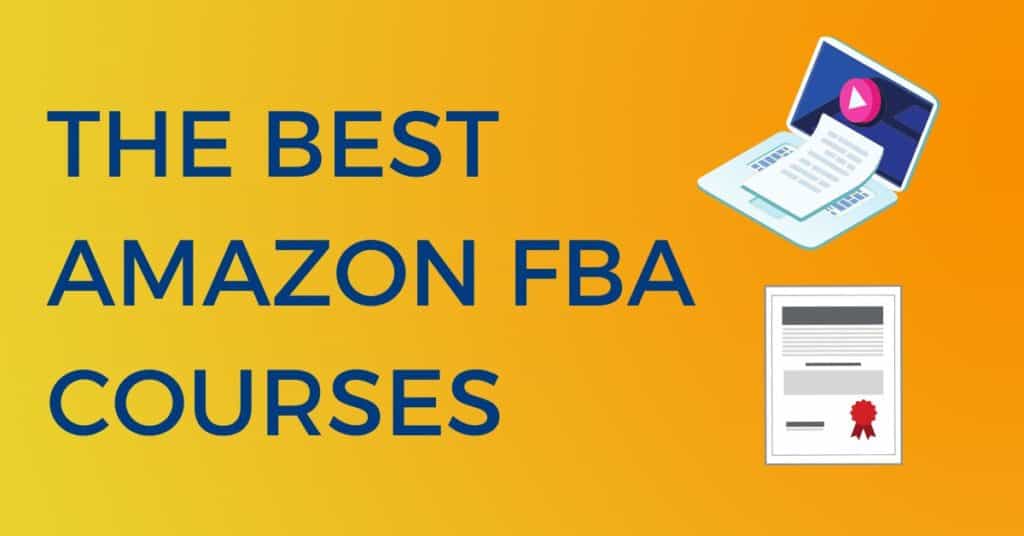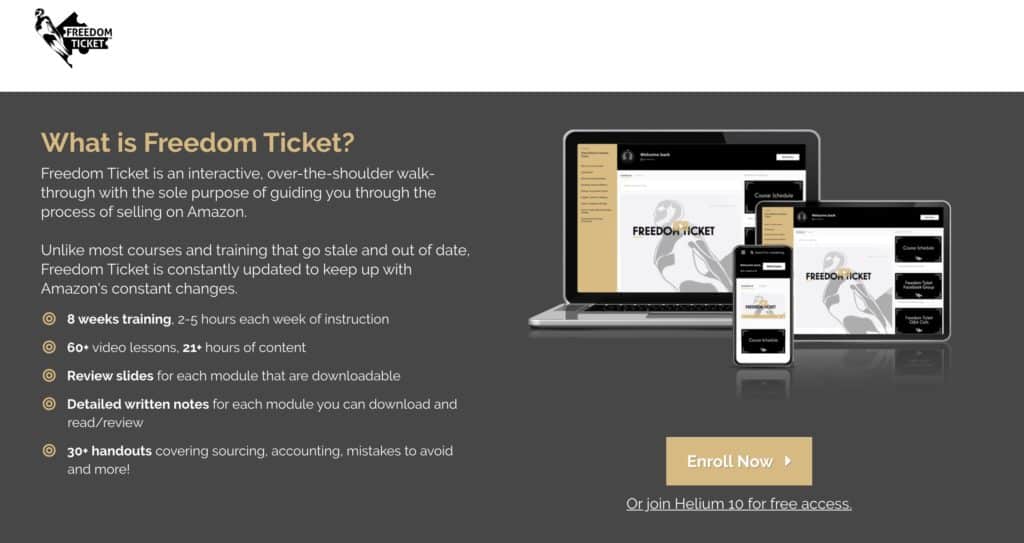 Are you looking for an FBA course that is always up to date with Amazon changes? Then look no more. Freedom ticket is the perfect FBA course for you. 
The information has been assembled by Kevin King. 
With over 20 years of experience in online trading, he is the right teacher to look up to. 
Freedom Ticket 2.0 course has 8 modules. Below are the topics that each module will cover:
Module 0: Introduction
Module 1: Business basics for Amazon beginner seller.
Module 2: Branding, Millions and Money
Module 3: Choosing a successful Amazon product
Module 4: Orders, Shipping and suppliers
Module 5: How to win Big through competition
Module 6: Optimizing the Amazon conversion listing
Module 7: Advertisements, Promotions, and Ranking
Module 8:Keving King entire business operation blueprint
Price of the package
This is the best part! Freedom Ticket is absolutely FREE with your Helium 10 Membership: This option gives you free access to the package. But you have to pay for the monthly charges of $97 that includes Helium 10 suite software. If you are new to Amazon FBA Helium 10 is one of the top tools your will need from the start so it makes perfect sense to go down this route where you can learn from the best in the industry.
Final Remarks
Freedom Ticket course is a full package if you want to venture into a successful business of physical products. But there is one thing to note, your business will be successful, not from just reading the Freedom Ticket course alone but also from your efforts, investment and dedication to your business.  
For more information about Freedom Ticket 2.0, click here
2. Freedom Accelerator – Myles Dunphy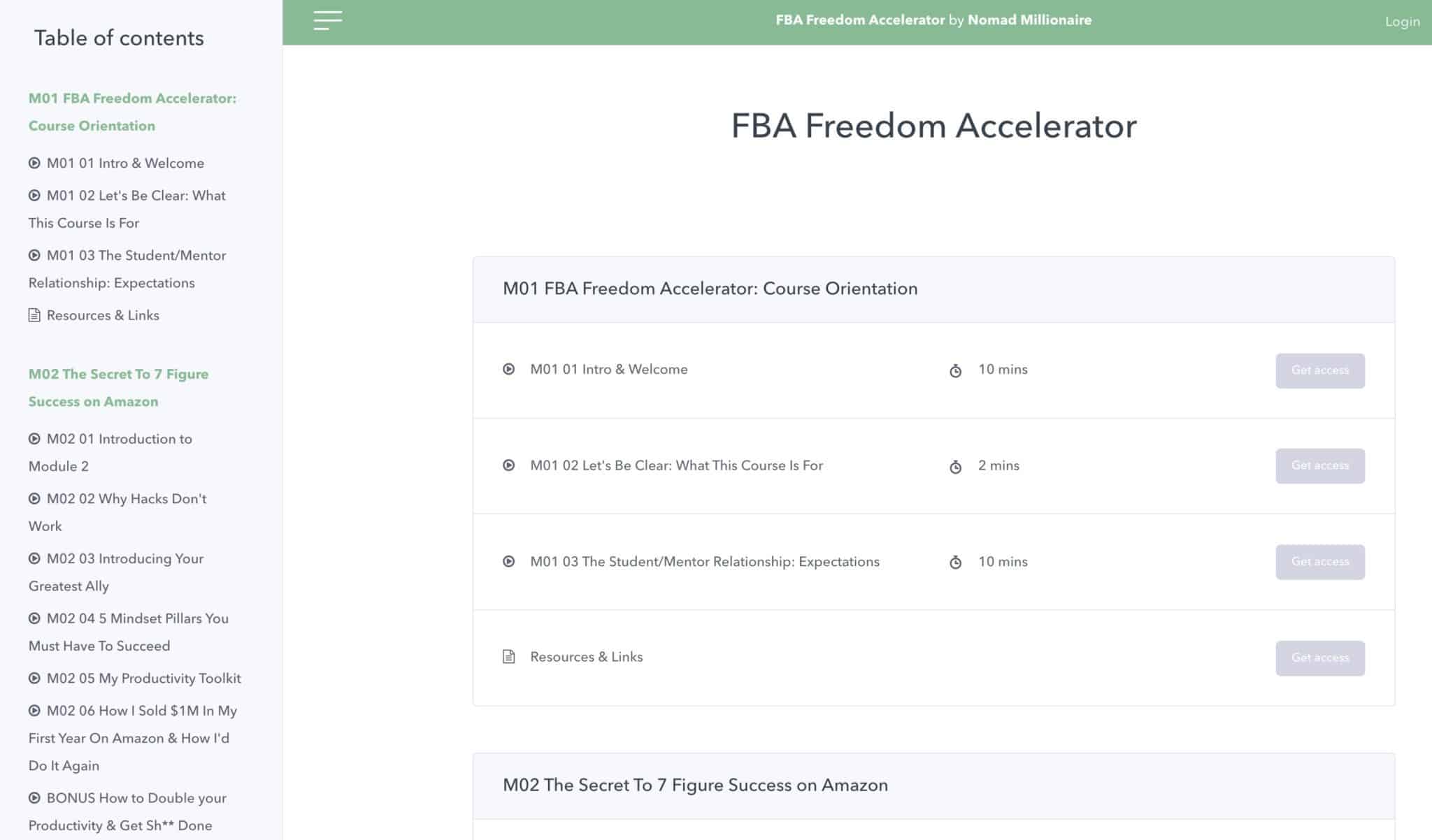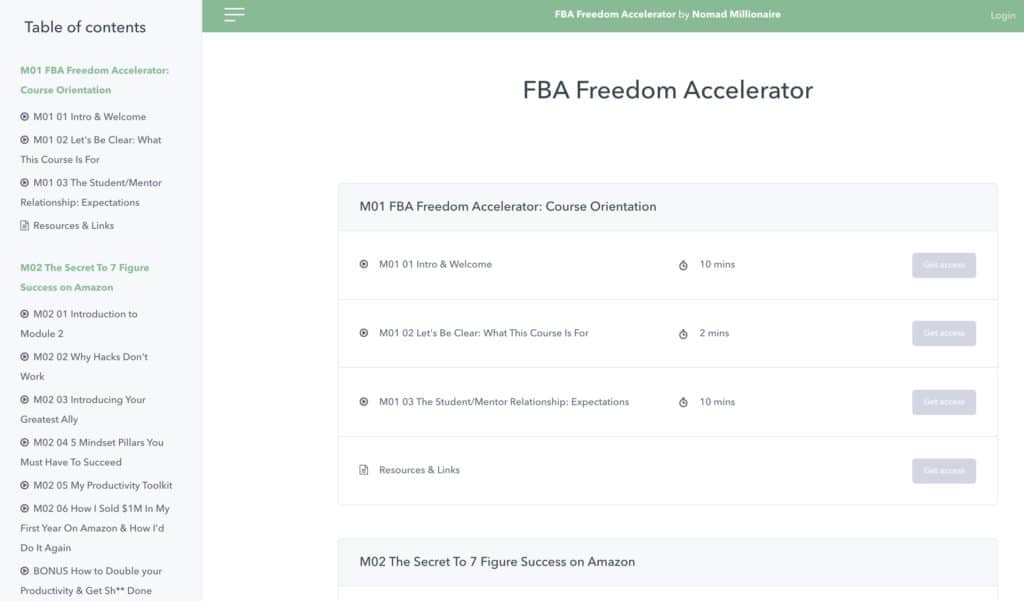 Are you a young entrepreneur and in need of FBA business inspiration? Then Freedom Accelerator is made just for you. Freedom accelerator course is founded by a young entrepreneur who started from scratches and challenges but made it successfully.
Quote from Freedom accelerator website:
"I bought other courses and this is the most detailed, up to date and well organized. This will change lives"
Myles Dunphy is the founder of Freedom Accelerator with a special focus on the young entrepreneur. Being one, he has enough experience of what runs into a young person's mind when they are about to venture into a lucrative business. Therefore, he is the perfect teacher who understood the various weakens that young new sellers in Amazon go through.
According to Myles, making it in Amazon FBA business is quite possible but neither easy nor hard. He has shown special concern on entrepreneurs who are in a hurry to get a return of investment. According to him, you need more than just the course work to make it as a successful Amazon seller. You need patience, focus, commitment, good investment and the strength to tackle challenges as they come.
Many young investors are in a hurry to make profits. Some will even expect thousands of dollars in profits to start dripping in within the first few weeks of investment. But Myles states it clearly, that you need about 2 to even 3years' period of investment to start earning six and seven figures profits.
Freedom accelerator course for FBA business comprises of 10 modules. Below are the topics that each module will cover:
Module 1: course introduction
Module 2: How to achieve seven-figure salaries
Module 3: Business setup and fundamentals
Module 4: Amazon product research
Module 5: sourcing, shipping- Suppliers' finding and negotiation
Module 6: Sourcing, shipping – Amazon PO's and product shipping
Module 7: Product prelaunch and product listing
Module 8: Product launch on Amazon
Module 9: Post product launch – Product maintenance and optimization
Module 10: Scaling
Price of the course
The package is on offer at $1197. This is a onetime complete payment of the package. Alternatively, you can opt for 3 months pay plan of $517 per month. Whichever pay plan you choose, you've got a 100% refund guarantee within 14 days of purchase.
Final remarks
Myles has several years of experience in being a successful Amazon seller. Being a young millionaire he is a perfect teacher for young entrepreneurs. He is enough proof that anyone can make it, whether you are a young or an older person.
The course contents are clear and straight to the point. He has applied a simple language to ensure you optimize the content without straining. The 20 hours lessons in video format are neither long nor short, it's just a perfect length to watch and understanding everything without getting bored.
As a member, you have access to direct mails from Myles, and also his own existing community of Amazon sellers. There is so much more to learn and resources to obtain from the Myles Freedom Accelerator course.
For more information about the Freedom accelerator course, here.
3. Seller Pro Academy – John Bradley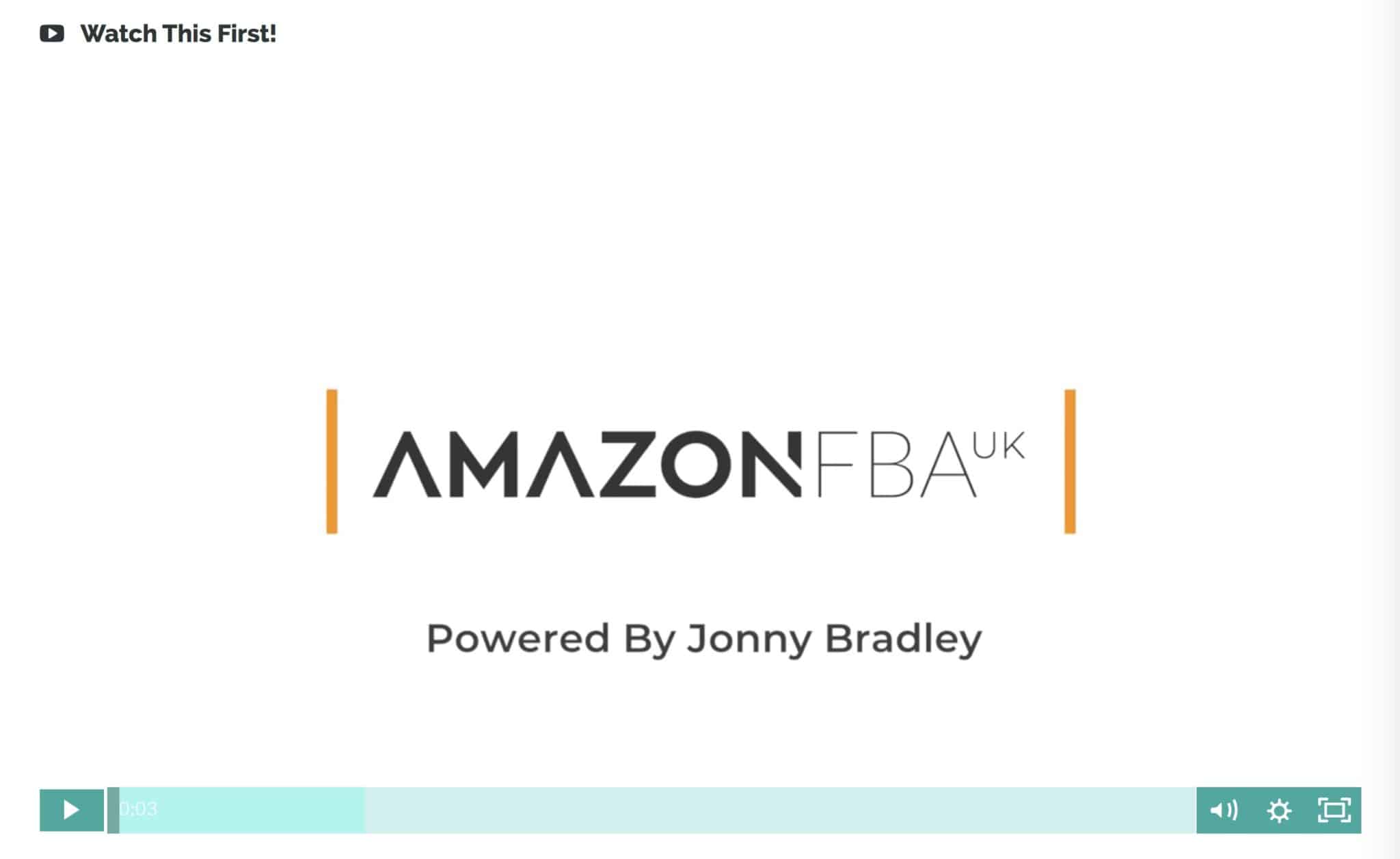 There are millions of consumers who visit the Amazon site on a daily basis. Almost all of them often search for a product with the intent to buy. This creates a great business opportunity to invest in.  Unlike the challenges of creating traffic when doing business on other online platforms, Amazon provides you with more than enough traffic.

The only challenge you will face is competition against Amazon itself and other sellers on the platform. Thus, the trick here is to get a visionary who is successful and dominates this platform. They are the best teachers to get a nudge from.
And that visionary is John Bradley. The best expert of Amazon FBA and comes from the UK. But don't be worried if you are not from the UK, his expertise also applies in other regions like the U.S. He is the founder of Seller Pro Academy course.

John Bradley is enough proof that through getting guidance from the right source, you can be successful in the Amazon FBA business. He began by acquiring enough knowledge through reading and watching video channels on business. And then applied it practically through Amazon FBA business as well as creating YouTube channels. He transformed from being the product consumer to a seller and creator.

John's coursebook is, therefore, a great choice if you need enough inspiration to rise from zero to earning a lot. In addition, you could also learn a thing or two from his experience of running two jobs.
Quote from Seller Pro Academy website:
"It has been one of the best investments I've made this year and I have only used 30% so far"

Seller Pro Academy course for FBA business comprises of 15 modules. Below are the topics that each module will cover:

Module 1: Introduction

Module 2: Support details
Module 3: Company creation
Module 4: Duty and Taxes
Module 5: International selling
Module 6: Optimum research strategy for comprehensive product
Module 7: Product sourcing
Module 8: Product shipment
Module 9: Central Amazon Seller
Module 10: Product listing
Module 11: Advertising academy 1
Module 12: Ultimate strategy for product launch
Module 13: Sales funnel mode of application in FBA product sell
Module 14: Advertising Academy 2
Module 15: Getting un-gated

Price of the course

You can get the whole package at £997 

Final Remarks

According to John's experience, success in Amazon FBA business is guaranteed as long as you consume the right knowledge. But that's not all, you also need to execute what you grasp and dedicate all your focus and effort to ensure it's successful.
For more information about Seller Pro Academy, click here.
4. Amazing Selling Machine (ASM)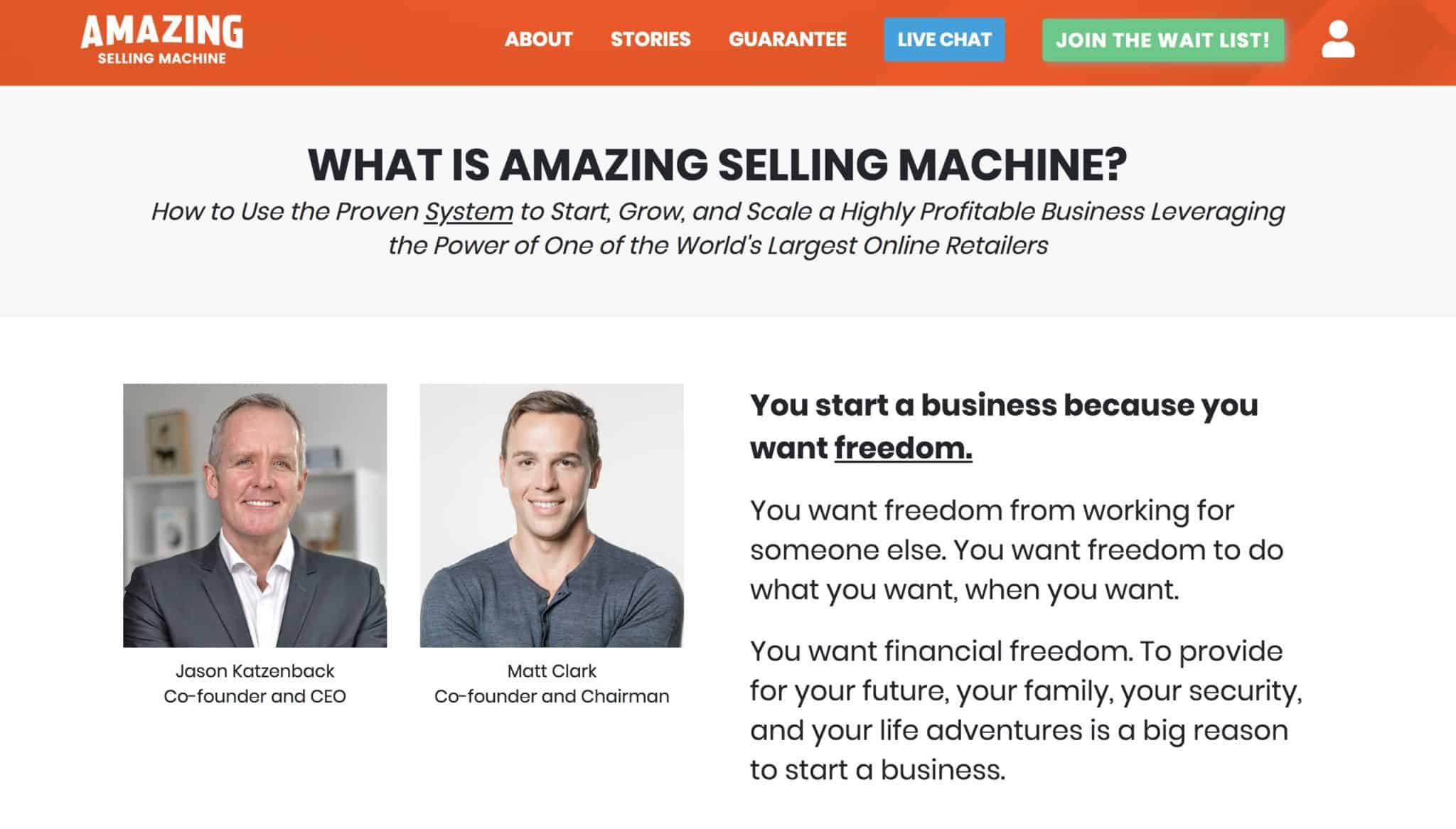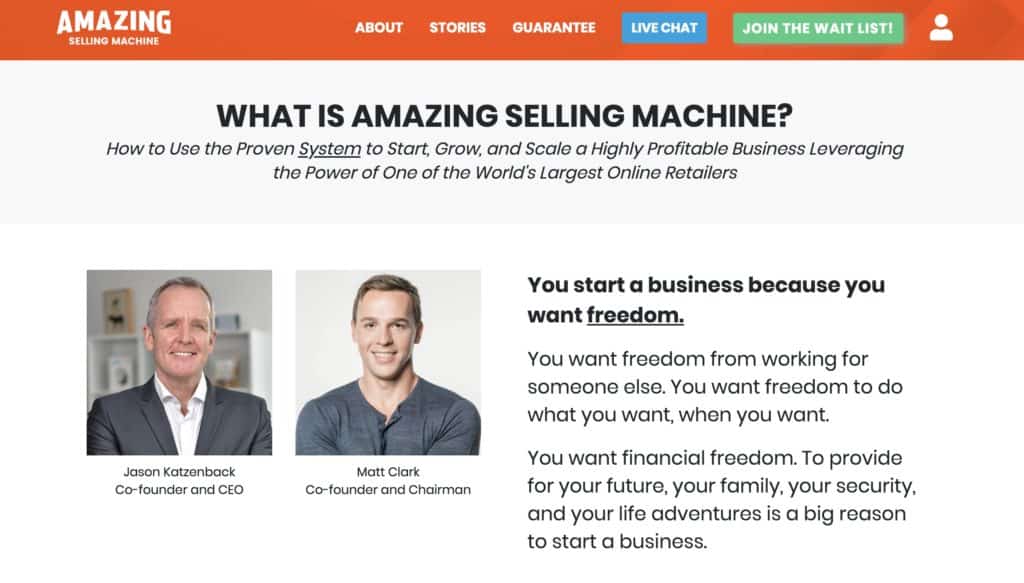 If you are looking for coursework that's big and meaty, then the Amazing Selling Machine is the right choice for you. Over the past few years, the Amazing Selling Machine has been creating an excellent record in being the source of the best Amazon FBA sellers. You never know, you could be the next.
Despite being too expensive, ASM is a good investment if you are part of or if you are intending to join Amazon FBA business. With credible and well-researched information from persons with years of experience, the rate of ROI (Return of Investment) is quite assuring and fast.
"How to Build Your Own Profitable Business on Amazon in 6 Months (or less)"
Unlike other FBA courses, ASM provides you with comprehensive details that cover all that you need to know about Amazon FBA. Additionally, you are also provided with extra information that you will never find in any other FBA course. And for this reason, it is among the best and most popular courses that you should definitely invest in.
Amazing Selling Machine FBA course has 8 modules. Below are the topics that each module will cover:           
Module 0: Welcome and an overview of the course
Module 1: Product building opportunity list
Module 2: professionalism, product sourcing, and profits
Module 3: Inventory orders and Brand creation
Module 4: Ensuring success in your launch
Module 5: 8 components for a product listing that is perfect
Module 6: Product launch that is perfect
Module 7: Traffic tools and advanced marketing
Module 8: Next level boost to your business
The course objective
Amazing Selling Machine is an FBA course that has been formed by Mike McClary and Rich Henderson. Their main focus is the provision of quality work that guarantees the clients positive results. The course has been formulated in a businesslike manner with hardly any technical terms. Every detail is expressed in simple terms in such a way that anyone who can read will understand it very well. The course special focus is on the means of building a successful and massive FBA business on Amazon.
Price of the Course
The course package is available to you at $5000.
Final remarks
If you are looking forward to reducing the workload by cutting down on the day to day activities of Amazon business, the Amazing Selling Machine will guarantee that. Also, it's a great option to boosts your profits.
Since the course work is 19hours long, you can actually go through it several times to ensure you've grasp everything well. For a much clearer understanding, there are over 60videos to cater to that. Considering the advice and return of investment guarantee, this course is worth the $ 5000.
For more details about the Amazing Selling Machine click here.
5. Zero to Brand – Matt Loberstein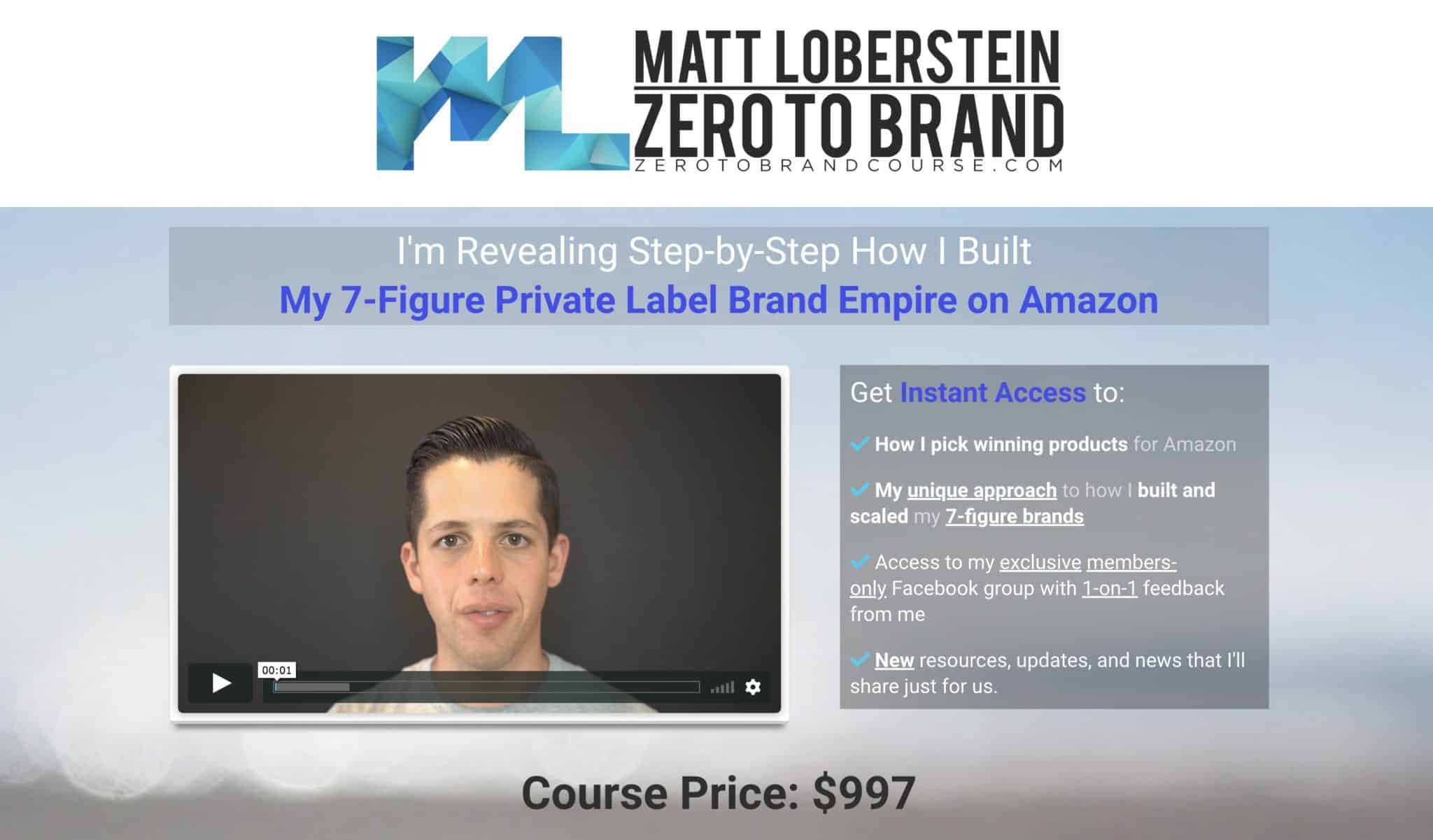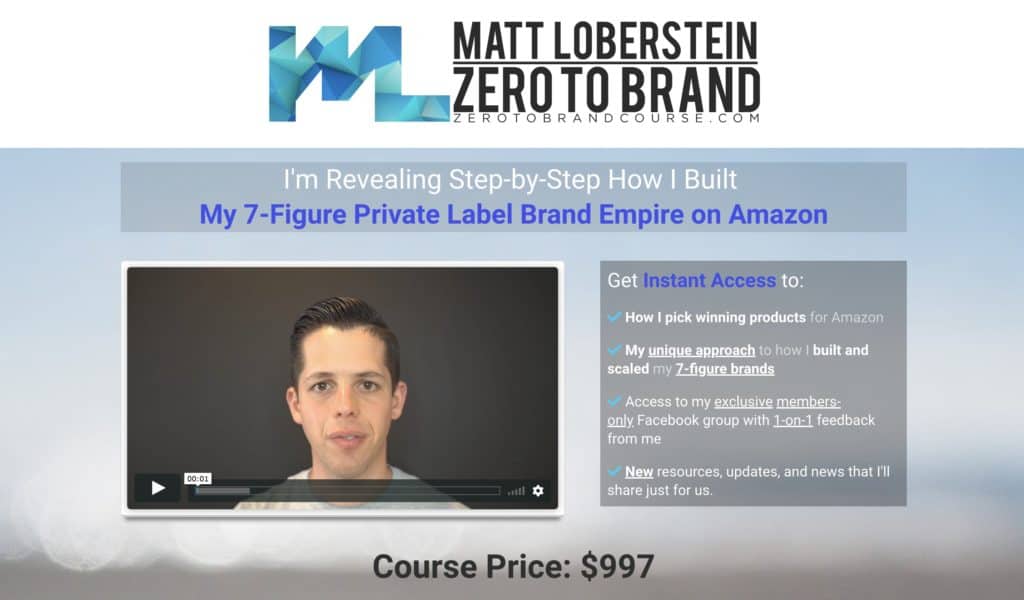 This a great choice for a beginner with no prior experience in the Amazon business. Every bit of the course information has been broken down and made simple to grasp. The course comes with great methods for Amazon product research; getting more reviews; Successful product launches and even email marketing and PPC campaigns.
Matt Loberstein the course owner has several years of experience in this field. His success in becoming a seven-figure earner is enough proof that you've picked the right path. Matt has been running his Amazon FBA business since 2015, so, Zero to Brand course has everything you need to be a successful beginner as Amazon FBA seller.
Quote from Zero to Brand website:
"My only regret is that I didn't start sooner." 
As the title of the course depicts, Matt's course enlightens the clients on how to he built his business from failures and success. Thus he is a great guide to look up to for a successful business in Amazon. By enrolling in his course, you will have lifelong access and continuous updates if they occur on Amazon. That alone shows you that the course is there to help you grow and also maintains the status of being the best seller.
Module 1: Introduction and Mindset
Module 2: Business Fundamentals
Module 3: Amazon Fundamentals
Module 4: Products selection
Module 5: Sourcing
Module 6: Shipping
Module 7: Build Foundation
Module 8: Launch Day 1
Module 9: Traction
Module 10: Scaling 
Price of the course
The whole course package goes for $997.
Final Remarks
Setting up the Amazon FBA business is quite difficult, and often time-consuming. But Matt's course, everything will seem like a walkover. More often, many new Amazon sellers believe that the work is over once you've set up your account.
But, that's not the case, you need to continuously carry out maintenance and updates on your account from time to time.  And this is where the Zero to Brand course also comes in handy. The course provides you with endless updates that may occur on Amazon. Through the updates, you can maintain your status as the best seller and even add more success to your business.
For more details about this course, here. 
What is an Amazon FBA Course and do I need one?
Theoretically, learning about the Amazon FBA course can be done through various means. You can try out through websites, youtube, Facebook groups and much more. However, much of the information provided is mixed up and confusing. At times, you may find out that some of them are contradictory. Learning FBA through this may take longer and with little or no positive result to show at the end.
It's hardly possible to get a source of information that is credible enough to guide you well. But don't lose hope; access to a well-illustrated FBA course from a credible source will make your work quite simple. Moreover, an FBA course from a well-experienced provider will guide you stepwise with simple and easy language to understand.
You will be able to follow along and get everything within a short period of time. Also, you will be given access to Facebook groups with experts and learners who will enlighten you on hard to understand points.
There are plenty of reports about people who have fall victims to fake providers. To ensure you don't waste the resources you have worked hard to obtain, below are Top 5 Amazon FBA Courses. They have been carefully researched and selected to ensure you only get the best.
To entrepreneurs, time is money, and that's one thing that these courses have taken into consideration. They are all written in simple terms for fast reading and understanding within a short period of time. Therefore, you get to implement what you've learned fast for a quick return of investment from your business.
Do I really need an Amazon FBA Course to Succeed?
Through investing in Amazon FBA courses, you will have the ability to optimize the power of fulfillment role by Amazon as well as warehousing. This will enable you to establish successful businesses that are extremely profitable.
You can actually convert this business into side income or invest more money, time and resources and turn it into a full-time job. Imagine a scenario where you don't have to wake up early for work.
Above, you've been provided with five best Amazon FBA courses. Go through all of them and choose one that favors your business in terms of resources as well as budget. Remember that starting a business on Amazon is a great stream of income but venturing into Amazon FBA transforms it into overdrive.
One important thing to note, any of the courses has the potential to make your business extremely successful. But it only works for those who invest their time and money to make it work. In other words, the courses are not paradise for slothfulness.
Who has the best Amazon FBA course 2023?
The best Amazon FBA Courses for 2023 are created by Helium 10 with Freedom Ticket 2.0, Freedom Accelerator, Seller Pro Academy, Amazing Selling Machine and Zero to Brand. 
What's the best Amazon FBA course for Beginners in 2023?
The best Amazon FBA Courses for beginners in 2023 is Freedom Ticket by Helium 10 and Kevin King.