Are you new to Amazon FBA or eager to learn more about growing your business? Blogs can be a valuable resource. Some seller blogs let you discover valuable tips and actionable strategies Amazon sellers can use to boost business and gain profits.
Leveling up your FBA game doesn't have to be complicated. That's why we've created this list of the top 12 amazon seller blogs for FBA. Read on to learn about these blogs for Amazon selling.
12 Of The Best Amazon FBA Seller Blogs for 2023
Our review will cover the following blogs you can use as resources to help sell your products on Amazon:
Blog #1: Helium 10

Location: Irvine, California, United States
Post Frequency: Consistent
Email Signup: Yes
Helium 10 is a helpful tool for FBA sellers. It comes with tools such as product research, listing optimization, keyword tracking and research, and more. Apart from their software offerings, Helium 10 runs a blog on their website covering Amazon FBA strategies and news. They also have a Twitter account.
The Helium 10 blog features categories such as negotiating tactics, bookkeeping, and general information for new entrepreneurs. Simply use the "Blog Navigation" function to search for articles based on the type of posts and topics you seek.
Helium 10 is a valuable resource for anyone interested in Amazon eCommerce. Its online articles give a wealth of information about everything from being your own management to case studies from other businesses.
Blog #2: Jungle Scout

Location: Austin, Texas, United States
Post Frequency: 4 per week
Email Signup: No
Everyone from beginner FBA sellers to experienced entrepreneurs can find helpful posts on Jungle Scout. It covers everything from brand loyalty in COVID-19 to selling used items on Amazon. JS also offers toolkits for any Amazon seller to use for their Amazon stores.
One of the best things about this site is the readability of its articles. Some other blogs on our list post about all things Amazon FBA but focus only on specialists. This site has FBA experts who can help beginners. Their blog posts help readers stay up to date on the news in the industry.
Another thing we love about JS is its detailed filter. With almost 50 different categories, you can easily filter posts to find the advice you need. Their posts are in-depth, detailed, and easy for everyone to understand.
Blog #3: Viral Launch


Location: Indianapolis, Indiana, United States
Post Frequency: Varies
Email Signup: No
Viral Launch is another toolkit for Amazon FBA sellers, helping you save time and build profits by automating your PPC (pay-per-click). The Viral Launch blog helps FBA sellers get the information they need, fast.
You can subscribe to the Viral Launch blog to receive news updates about Amazon FBA. Simply input your email, and you'll get the most critical Amazon FBA news from the web delivered straight to your inbox.
Something important you should know is that the website caters to FBA professionals or private label sellers. If you're well-versed in FBA, the blog posts can help you learn specialist information. However, if you're brand-new to FBA and Amazon seller tools, you may be a bit confused at first.
Blog #4: Online Selling Experiment


Location: Unknown
Post Frequency: A Few Times Per Month
Email Signup: Yes
The Online Selling Experiment is an online course where students learn about FBA. The course consists of readables and lectures that teach people how to get started selling on Amazon.
Even if you can't afford the course, the blog is a goldmine of free resources. OSE's creator is a full-time FBA seller who writes about topics relating to Amazon FBA and business. He's well-versed in teaching newbies and experts the ins and outs of the industry.
The blog consists of posts such as selling on the Facebook Marketplace, how to start selling in 2022, and more. It's best for those wanting to start a new FBA business, but experts can also learn tips from the blog posts.
Blog #5: Seller Labs


Location: Athens, Georgia, United States
Post Frequency: 4 Per Month
Email Signup: No
Seller Labs is a toolkit that many a successful Amazon seller has used. They offer tools for keyword research, sponsored product advertising, inventory management, feedback and more. They also have a Twitter account.
The blog on Seller Labs is full of helpful information for those new to selling on Amazon. The blog posts consist of beginner guides to Facebook advertising, managing customer engagement, and advertising on Amazon. You can also learn about Amazon SEO.
Seller Labs has built its success on giving newbies the resources and platform they need to learn about Amazon selling. Even if you don't pay for their toolkit, you can still learn plenty about selling on Amazon from their blog posts.
Blog #6: FeedbackWhiz

Location: San Jose, California, United States
Post Frequency: 1 per week
Email Signup: No
FeedbackWhiz gives vendors tools to boost their business, automate functions, and get product reviews easily. Many sellers have seen their sales rise after using the tools from FeedbackWhiz.
The FeedbackWhiz blog offers free advice about marketing, team leadership, and making money from Amazon businesses. Although the posts cater to everyone, it's best for people seeking to scale their business.
If you struggle with building your Amazon seller reputation, messaging customers, or increasing your sales, this free blog is for you.
Blog #7: Full Time FBA


Location: Online
Post Frequency: 2-3 per week
Email Signup: Yes
Full Time FBA differs from the other blogs on our list because they don't offer FBA products, just advice. Their entire website serves as a blog and resource for FBA sellers to learn everything they need to run an Amazon FBA business. They also have a Twitter account.
The Full Time FBA owners have a podcast called "The Full-Time FBA Show." In this show, they talk about FBA topics such as wholesale sourcing, inventory, and statistics. They transcribe these episodes and upload them as blog posts, making the website accessible for those who are hard-of-hearing or prefer text over audio.
The Full Time FBA team is a husband and wife who took control of their part-time hours and made it into a full-time income. They're knowledgeable about Amazon FBA topics and share their knowledge online. Although they don't offer software, their blog posts provide valuable tools for success that you can't get anywhere else.
Blog #8: Startup Bros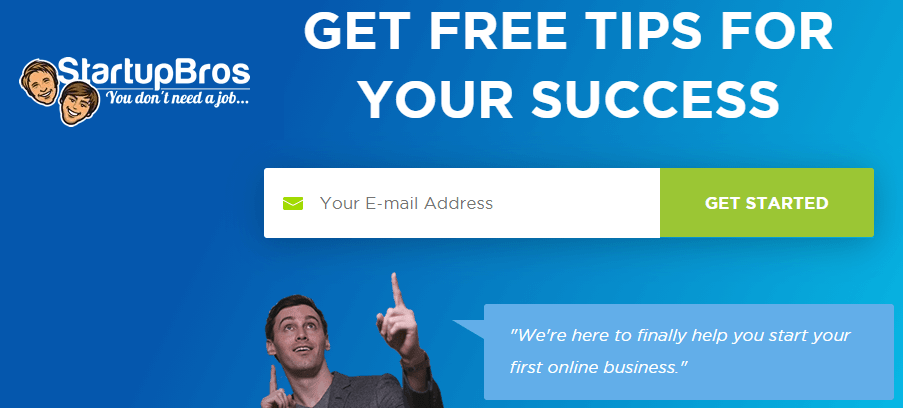 Location: Palm Harbor, Florida, United States
Post Frequency: 2-3 per week
Email Signup: No
The Startup Bros' slogan is "You don't need a job," and that's what they prove on their website. With workshops, boot camps for entrepreneurs, playbooks, and more, they've created invaluable resources for Amazon sellers. Will Mitchell also has a Twitter account for the Startup Bros.
If you have created and own an online business as an Amazon seller, reading the Startup Bros blog can help you get the best results. Their blog talks about vital business topics such as money and sales, but they also delve into the psychology of owning your own business. For instance, one blog post helps sellers overcome the fear of conflict and confrontation. They also cover case studies for their business, as well as others.
They also have a YouTube channel where they talk about the same topics from their blog. The Startup Bros website is especially helpful for new sellers seeking help with the basics, such as marketing or Amazon feedback.
Blog #9: The Selling Family


Location: Ripon, California, United States
Post Frequency: Unknown
Email Signup: Yes
Another blog post-centered website to check out is The Selling Family. It offers niche training courses that teach young private label business owners how to make money selling on Amazon FBA.
Established in 2011, the Selling Family started by sharing their Amazon FBA methods with family and friends. In 2012, they made Amazon FBA consulting a full-time business. They offer practical courses and blog posts for new Amazon sellers, such as Amazon Boot Camp, Daily Online Leads, and more.
The blog posts spotlight popular Amazon sellers and cover valuable topics about the industry. Although their posts seem to gear more toward those experienced eCommerce retailers, beginners can find valuable information from The Selling Family.
Blog #10: AMZ Finder


Location: United States
Post Frequency: 1 per week
Email Signup: No
Circling back to software for Amazon sellers, AMZ Finder is a feedback and review application for FBA businesses. This software automatically sends feedback and requests for reviews to customers and manages reviews and orders.
The AMZ advisers focus on developing Amazon marketing, providing tips for data analysis, and more. New Amazon sellers can learn tactics to boost business. For example, in the February blog, they posted five tips to optimize your business' Amazon listing.
AMZFinder's blog is a valuable tool to learn more about the essentials of Amazon FBA and sell more goods.
Blog #11: Seller App


Location: Singapore
Post Frequency: 3-4 per month
Email Signup: No
Seller App is a Google Chrome extension created to gather and process information for Amazon products. It connects marketing, sales, and operations on a single platform to ensure growth and success. The program consists of a profit dashboard, a PPC analyzer, and more.
Seller App's blog covers fundamentals, such as getting started on Amazon with a private label and covers in-depth concepts like eCommerce help desks and Amazon DSP.
One of the most valuable things about Seller App is that it leans toward advice for international vendors. You can also join their Facebook group of Amazon sellers to learn tips and strategies from a helpful Facebook community.
Although they only upload a few times a month, their articles are easy to read. Their blog post team is knowledgeable, and it's easy to search for the subject you'd like to read about on their website.
Blog #12: Repricer Express


Location: New York, New York, United States AND Derry, Northern Ireland
Post Frequency: Varies
Email Signup: No
Repricer Express is an automated repricing software platform. This tool watches the prices of Amazon and eBay competition and reprices your Amazon and eBay products based on the competition.
The Repricer Express blog doesn't cover everything the other blogs on this list do. However, it is the best blog for advice on pricing and repricing.
Repricer Express created this blog to instruct Amazon newbies how to effectively price products for their online business. Its Amazon seller blog gives actionable items and valuable strategies to scale your business and get the best profits.
Repricer Express is a valuable tool, but the blog is even more so. We recommend it to everyone who needs help finding their niche in the community and pricing their products to get the best profits.
Final Thoughts: Amazon FBA Blogs for Amazon Sellers
Much like watching Amazon Youtube channels, listening to Amazon podcast in your car on the way to work, checking out of these Amazon seller blogs is a valuable resource for business owners running an FBA business. They cover topics such as eCommerce, Amazon SEO, best business practices, and other niche topics.
Some blogs are in-depth and cover interesting eCommerce case studies, while others are best for beginners and cover the basics. Regardless of the topic, reading and learning from others about Amazon selling can be beneficial.
If you're an Amazon seller, we highly recommend checking out an Amazon seller blog from this list. There is no "best" blog to read, which is why we've gone over what each blog covers in this list.
We hope you've enjoyed reading about the best Amazon seller blogs for FBA. If you'd like to learn more about FBA, browse the Project FBA website or contact us today!