Amazon is arguably the largest marketplace in the world, covering the entire spectrum of the global internet.
There is rarely any place on the planet where Amazon's signature "A to Z" arrow does not deliver. To fulfill these demands, Amazon facilitates millions of vendors on its platform, allowing them to sell their goods to those in need.
Amazon asks these vendors to follow specific rules and regulations to fulfill the massive global demand. Vendors need to comply with these regulations or face expulsion from the world's biggest market.
Amazon's FBA policy is known across the globe for its smooth working. The policy regulates a dynamic flow between sellers and buyers, where vendors ship their products to Amazon, and the e-commerce giant handles the final delivery of the same.
So, let's take a look at Amazon's FBA policy involving polybags.
What is poly bagging?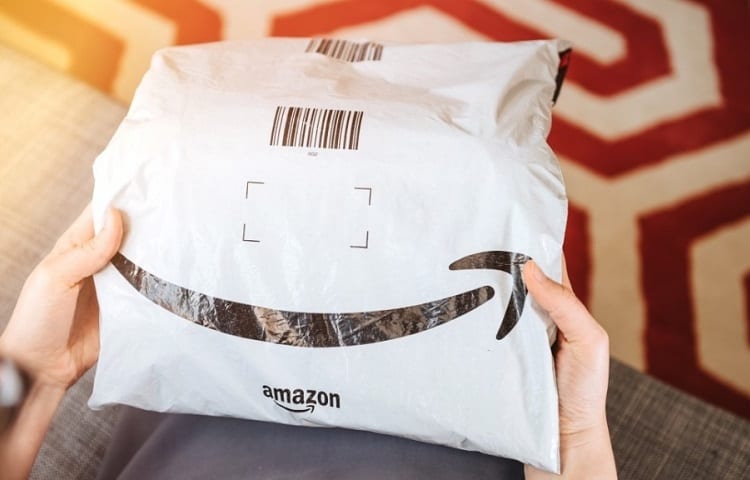 Packing your delivery item in a polybag — a bag made up of one of the varieties of polyethylene — before shipping it to an Amazon fulfillment center is called polybagging.
Polybags are essentially containers made of thin, flexible plastic and are one of the most common forms of packaging.
A chuckle-worthy remark about the Amazon FBA business is that you can only start with three things – a smartphone, a printer, and polybags. B
ut, as any vendor on Amazon will tell you, your FBA business is not complete without an assortment of polybags. You use polybags to wrap up and pack all the items you are shipping to Amazon.
Therefore, vendors are advised to purchase a lot of polybags before starting their business not to have to wait for additional supplies to facilitate their shipping needs.
Some of the most profitable items you can sell on Amazon have to be packaged in polybags before they are shipped to fulfillment centers. Therefore, polybags are a necessity for an Amazon FBA business. 
Why do you need to use polybags?
Amazon is a globally renowned brand that specializes in the best delivery of your demands. To keep up this image, the company needs to ship and deliver products that are not damaged or broken.
Sometimes, multiple products are sold together. To prevent these "brother products" from separating and make sure they are delivered without damage, Amazon asks its FBA vendors to use polybags. As a general rule, Amazon tells its vendors to use polybags to prevent spills.
However, bear in mind that spills can damage other products in the shipment, too. Polybags also keep the shipped items away from dust and dirt, ensuring that it is delivered brand new.
Amazon also takes care of any other possibility of damage with its polybag policy. Sharp items or glass items have to be polybagged.
Additionally, liquids that aren't held in glass containers and powdered substances must also be bagged before being sent to an Amazon fulfillment center. Toys, clothes, and even groceries exposed even a little bit have to be polybagged before shipping to Amazon.
Items that you ship might travel distances far and wide before reaching the hands of the recipient. Therefore, it is best if you try to prevent any kind of wear and tear.
With the parcel traveling in a modest form of transportation and exchanging a million hands before delivery, it is crucial to ensure that the item does not face any damage. It does not hurt to polybag your item as a preventive measure against warehouse wear and tear.
How do you pack your product into a polybag?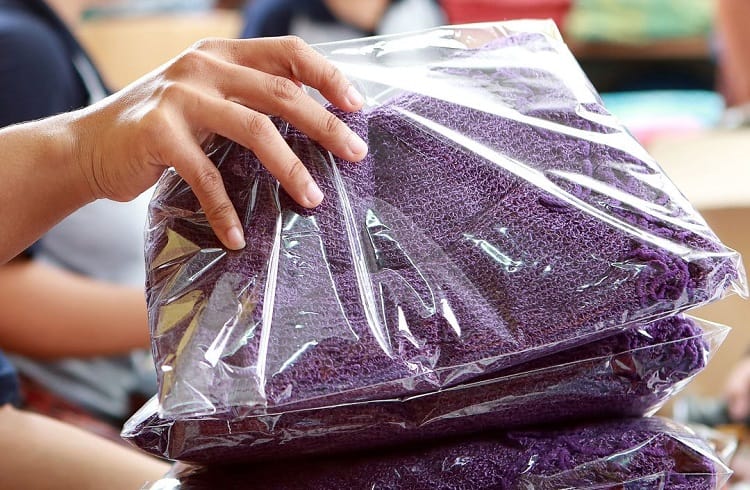 For starters, you, as an Amazon FBA business owner, need to get your hands on a large shipment of polybags.
Multiple brands can cater to these needs graciously. Amazon sets some strict rules in place about its polybag packaging, so you need to get an assortment of sizes from your dealer. Uline and Bubblefast are two of the best polybag manufacturers out there today.
They will provide you with polybags in a variety of sizes; 6″ x 9″, 8″ x 10″, 9″ x 12″, 11″ x 14″ are the most commonly used ones. We advise you to get at least 100 units of each size, so you will never be short of packaging.
Amazon's polybag packaging requirements
You must cater to Amazon's packaging policy during the shipping process. The e-commerce giant Amazon asks its vendors to send packages in a precise manner.
When you are polybagging an item, you must make sure a few things like :
The polybag is transparent (clear)
The polybag is at least 1.5 mil thick
The polybag is self-sealing or wholly closed and heat-sealed after packing
The polybag must not extend more than 3″ beyond the edge of the product
A clear bag ensures that intermediaries, delivery persons, and the recipient can all make out the item during delivery.
In addition, it becomes more accessible for the receiver to know whether they have received the correct shipment without opening the product completely.
Moreover, the shipped item must contain important labels that have to be scanned at the Amazon facility. To successfully check the labels, the polybags around the item have to be transparent.
Amazon states that the bag must be at least 1.5 mil thick to ensure that nothing inside the package spills into the remainder of the shipment.
A spill within a large shipment is a recipe for disaster for Amazon and you, the FBA vendor. As a vendor, it is your responsibility to get the product safely to the customer without a speck of damage.
Amazon's labeling requirements with polybags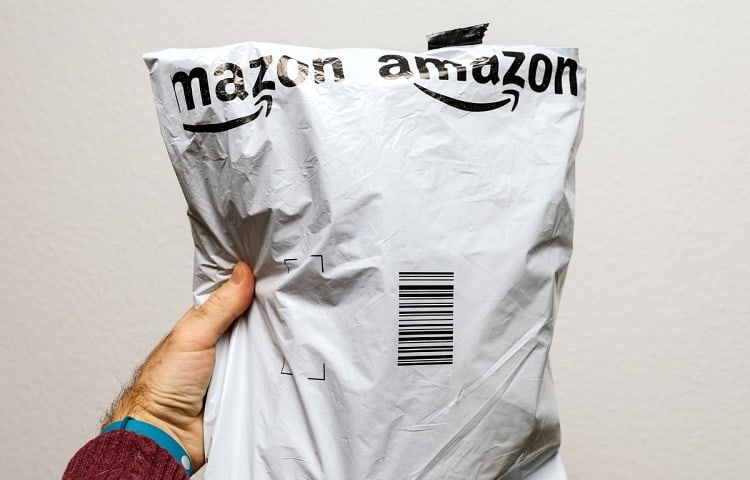 Like with its polybag policy, Amazon also follows a strict labeling scheme for all its items shipped inside polybags.
All products and items must be labeled with their necessary barcodes like UPCs or EANs. Also, it would be best if you placed the labels carrying these codes in a way where they are easily accessible and legible.
An essential part of Amazon's labeling deal is the FNSKU (Fulfillment Network Stock Keeping Unit). It is a vital identifier explicitly used for Amazon FBA business deliveries, where multiple vendors might sell the same item.
To distinguish between them, Amazon uses FNSKUs on every item. Therefore, it is mandatory to label every FBA product with its correct FNSKU before shipping it to Amazon.
The polybag that carries the shipment must feature a safety hazard warning or a suffocation warning if its mouth is larger than 5″ in length. The notice mentioned above must be clearly and easily visible.
Most polybags purchased by FBA vendors are sold with such safety warnings already on them to decrease the hassle of the businessperson. Amazon has also laid down guidelines for the suffocation warning labels.
If the bag is more than 60″ wide, then the warning print size should be a 24 point
If the bag is 40″-59″ wide, the warning print size must be an 18 point
If the bag is 30″-39″ wide, the warning print size must be a 14 point
If the bag is less than 29″ wide, the warning print size must be a 10 point
It is also mandatory to mention the category of the item that is being shipped. If the shipment fits multiple categories, then you must mention all of them on the label. Additionally, the label must also feature an expiration date if necessary in the MM-DD-YYYY format.
All the details mentioned above can be stuck on a label on the item and placed so that it is legible through the polybag. Alternatively, you can attach a tag on the outside of the polybag itself.
To Conclude
Jeff Bezos' Amazon is a jacked-up business that almost runs a monopoly in its sector. Naturally, therefore, the e-commerce mogul wields power to call the shots about the industry standard.
Consequently, it runs a tight ship and its vendors, who have to abide by specific policies, rules, and regulations during the shipment process. 
Amazon FBA business vendors must be thorough in packing their products before shipping them to Amazon fulfillment centers. The company asks vendors to use polybag packing for a multitude of items.
Amazon takes this measure to prevent the onslaught of any kind of damage to the product. Items that contain liquids or powders are polybagged thoroughly to prevent spillage within the shipment. Items that are supposed to be sold together, shampoo and conditioner bundles, for example, are polybagged together for ease of access.
Lastly, the company ensures that the bags are marked with adequate safety warnings to prevent any accidents. These warnings are specially for infants and toddlers, engaging guardians to not let kids play with the bags.
The FBA packaging also involved the vendor attaching the necessary labels and codes to the shipment. These codes include necessary barcodes, FNSKUs, special warnings, expiry details, etc.
If you follow these guidelines, you can run a successful Amazon FBA business. Otherwise, you stand the risk of being stripped of the seller's status.
Resources: