Amazon sellers need to stay on top of a lot of information if they want to continue to grow their businesses. Market trends are constantly changing, and prospective buyers have ever-fluctuating demands and interests.
Luckily, a number of new software programs have entered the business world to help make market research more accessible to business owners and Amazon sellers. We present this – ZonGuru Review!
ZonGuru is a chrome extension with a ton of excellent and useful tools that simplify the research process for entrepreneurs. Whether you need to develop a product for a new niche, track keywords to improve your marketing, manage the security of your intellectual properties, or improve your listing optimization, ZonGuru makes it easy. If you're looking for a better way to grow your Amazon business fast, the ZonGuru chrome extension could be the solution for you.
Continue reading this ZonGuru review for an overview of the different features offered, the pricing, how ZonGuru compares to the competition, and more.
What is the ZonGuru Chrome Extension?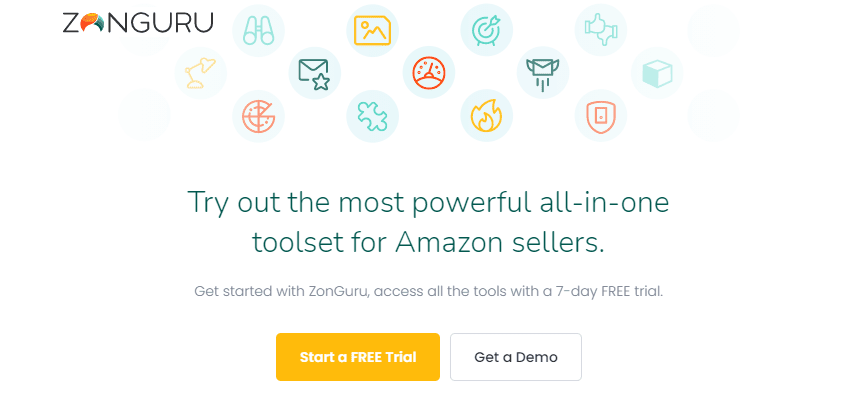 ZonGuru is the brainchild of entrepreneurs Jon Tilley and Adam Hudson. In their quest to improve the sales experience of business owners and entrepreneurs using the Amazon marketplace, they developed this handy software program that automates the majority of the research that goes into the marketing process, saving sellers a considerable amount of valuable time (and probably a few headaches as well).
With ZonGuru, a vendor can not only analyze the performance of their business and work toward optimization but they can also:
Do product research to see how well their product is projected to perform in its niche
Track the most searched keywords to improve their marketing strategies
Track the performance of their competitors
Improve their listing optimization
Keep a close eye on the security of their intellectual properties
And more!
How Much Does ZonGuru Cost?
ZonGuru has a variety of flexible payment plans so that their clients can get the tools they need at the price they want, without paying extra for tools they won't take advantage of. Users can pick between three different options, all of which offer distinct groups of features based on their respective price points.


The Researcher Plan
The lowest tier plan, the Researcher Plan, is intended for use by those who are just starting out and looking for a product to promote. It gives subscribers access to the following tools:
Niche Finder
Niche Rater
Sales Spy
Love/Hate tool
Keywords on Fire
Keyword Optimizer
Keywords Spotlight
Easy Source
Listing Optimizer
We'll take a closer look at these tools and what they do in the features section below. This plan is available for $39 per month, or $288 when billed annually. Choosing annual billing results in a discount that is equivalent to $15 a month in savings.
The Seller Plan
The mid-tier plan is called the Seller Plan. This plan includes all of the benefits that come with the Researcher Plan, in addition to the following tools:
Business Dashboard
My Products
My Orders
Keyword Tracker
Product Pulse
IP Monitor
Email Automator
Review Automator
It costs $49 a month, or $456 when billed annually. The Seller Plan is intended for an entry-level client who already has a product and a brand, but is looking to get more sales.
The Plus Plan
The highest tier plan is the Plus Plan, for advanced sellers. This plan includes all of the benefits of the other two, as well as the full suite of enterprise features. Billed at $199 a month, this is intended for large-scale businesses that are selling products in large quantities.
Each tier allows prospective customers to do a free trial for a limited time before committing to paying for the full month or year. Users can change their preferred tier at any time, including during their free trial period.
Business owners looking to use ZonGuru can also get access to several free resources on their website, and a discount or promotion may be offered from time to time.
How Does ZonGuru Compare to Jungle Scout?
So how does ZonGuru rank against the competition? There are several other software programs out there that can help Amazon sellers conduct product research, search for keyword statistics, improve listing optimization, and analyze data related to marketplace trends. Jungle Scout is one of the most popular.
Both of these software programs serve the same general purpose. While this competitor has a larger user base and tends to be more affordable, ZonGuru offers a lot more features and is probably better suited to Amazon sellers who have large sales quantities and want to utilize more unique applications to help them scale faster.
What Features Does ZonGuru Have to Offer?
Now let's take a look at exactly how the ZonGuru software application can help Amazon sellers and support their growing businesses. We'll review how each tool functions and the specific ways in which each tool can assist entrepreneurs conducting business via Amazon with product research, data analysis, and information gathering.
Business Dashboard
The Business Dashboard is an important tool that can help Amazon sellers analyze data and track the performance of their brand or product. With this tool, Amazon sellers can see their brand's sales history, overall worth, and any changes to this information over time. It's also a good place to see data such as customer reviews and the net margins of specific products.
Niche Rater
An important first step when getting started selling on Amazon is to investigate your niche to make sure your product has a good chance of doing well. The Niche Rater tool can help you find information about your product's chances of success without going away from the Amazon website and searching somewhere else. It condenses the relevant data into a rating based on your product's projected success rate in a particular niche.
Keywords on Fire
This tool is ideal for tracking the most searched keywords on Amazon. It lets users know when a keyword is popular, along with its keyword rank. This helps users know whether a keyword is relevant or not, so they can adapt their marketing strategy accordingly.
Email Automator
The email automation tool is one essential resource for keeping in contact with your patrons. A customer who receives constant communication from your brand is more likely to remember it and return to purchase more of your products. You can even send that potential repeat customer encouragement via email in the form of a discount or special offer.
ZonGuru's email automation tool will help to streamline this communication process by sending automatic responses to buyers as well as sending out pre-prepared emails en masse from a queue according to your desired schedule.
Love/Hate
The Love/Hate tool is the best way to determine the overall tone of the reviews for your product. It scans for keywords from Amazon reviews to see what customers have to say. This saves you the trouble of having to find and read reviews on your own and condenses the information into a "love" column and a "hate" column.
A keyword from a negative product review goes into the "hate" section, while one from a positive product review goes into the "love" section. An in-depth review analysis of this sort gives a clear picture of the projected success of your product.
Intellectual Property Monitor
The IP monitor feature is the best way to manage your intellectual property. It notifies you if anything for which you have rights reserved has been compromised.
Sales Spy
This tool uses new data gathered in real time to monitor the competition. This is the best method to find out what changes you should make to your marketing plan to be on the right track for growth.
Product Monitor
The product monitor tool is one of the best features. It uses new, real time data to track your product's performance.
Other Features
ZonGuru users will also find features such as the Listing Optimizer tool, Your Orders, user support, and more.
Pros
Flexible payment plans
Optimal for large scale businesses
Lots of useful features
Possible discount
Cons
Not ideal for smaller clients
No real time technical support
What's the Verdict?
Overall, ZonGuru is an extremely useful tool for market and product research, and it can really help sellers save time in the process of growing their business. While sellers might get more tools and features than they reasonably need or know what to do with, the ones they do get are sure to prove their worth.
Frequently Asked Questions
Let's go over some frequently asked questions. If others have asked them, chances are you may too.
What Currency Does ZonGuru Chrome Extension Use for Billing?
While ZonGuru is available for use in several international marketplaces, the company is based in the United States. Consequently, all pricing is listed in U.S. dollars.
Which Amazon Sellers Have Access to ZonGuru?
Currently, the ZonGuru Chrome extension is available in the United States, Canada, Mexico, Australia, and all of Europe. Any Amazon sellers operating in these marketplaces should be able to use ZonGuru and its associated tools. In the future, the company plans to expand its coverage area to also include India and Japan.
How Do I Set Up ZonGuru With My Amazon Seller Account?
It's easy to get started using ZonGuru with your Amazon Seller account. Just click the button that says "Connect" within ZonGuru's interface, and a dialogue box with instructions should appear to walk you through the setup process.