Jeff Bezos' Amazon has captured the eye of the globe in the past decade with its magnanimous service and efficient supply-chain management.
In addition, it was one of the few marketplaces that stayed open and functional throughout a pandemic. That feat alone is a feather in Amazon's cap.
However, what sets it apart from other online marketplaces is the company's global outreach, fast and efficient delivery system, and a fantastic barrage of vendors and merchants looking to sell their products online.
The internet is a haven for those who want to shop without leaving their couch, and vendors are here to cater to those people.
Amazon facilitates the needs of millions of buyers and sellers like these using its FBA service. FBA stands for Fulfillment By Amazon. It is a service that helps businesses deliver their goods to customers with ease.
Vendors stock their inventory in one of Amazon's many fulfillment centers, and Amazon handles the delivery of each of the items in the said inventory.
The Amazon FBA process sounds easy, but in reality, it is a daunting task for those who operate the gigantic warehouses.
To make the sorting, segregating, and processing easier for Amazon employees, the company has issued specific guidelines for vendors regarding the packaging and labeling of their goods.
In addition, Amazon also has some norms for the boxes that carry every vendor's shipments to fulfillment centers. These norms also apply to packages that contain the final deliveries sent out to buyers.
What are Amazon's guidelines for the dimensions of an FBA box?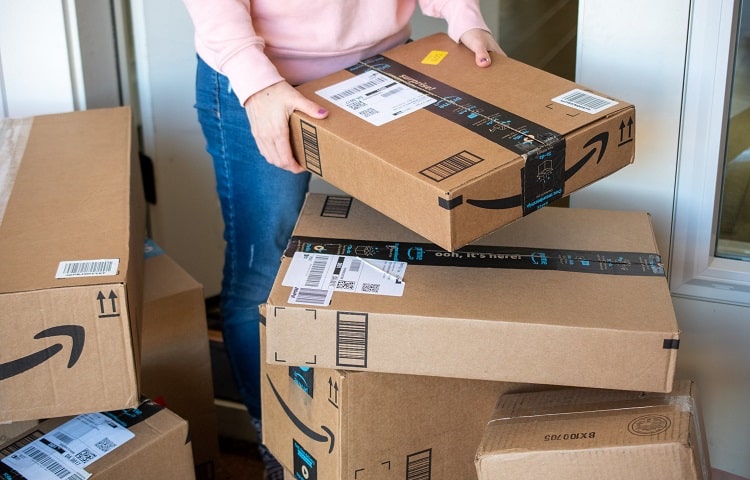 Your FBA shipments to and from Amazon arrive in a variety of box sizes. If you are a vendor, then you are bound to be a little confused initially about the different sizes in boxes.
Fret not. Amazon has set a few protocols in place about how businesses should package their stock in boxes so that it is easier for FBA employees to restock their fulfillment centers.
Amazon has mentioned some clear instructions about packing items in boxes. However, the factor that determines the correctness of the packaging is the shipment's weight and dimensions.
Amazon states that boxes that contain a multitude of standard-sized items must not be more than 25″ in length, breadth, or height. That means, for example, if you, as a vendor, are selling bars of soap, then you can package as many bars as possible in a 25″ x 25″ x 25″ box.
There are exceptions to the above rule. For items that are larger in size than 25″ on any side, you can use boxes according to the dimensions of the item.
For example, if you are selling pipes that are 30″ long, then you can use boxes that will fit your product perfectly. Vendors can also put multiple oversized (25″+) units in a larger box, as long as they fulfill the weight requirements.
Amazon boxes are observed in a variety of sizes. Amazon recognizes more than 100 box sizes, each of which can be anywhere from 100 cubic inches to more than 10,000 cubic inches in volume.
Vendors need to know the dimensions and weights of their products since packaging them into the perfect box is paramount.
In addition, your items need to be packaged closely, not tightly or loosely, since either of those scenarios can damage your products during transit.
What are Amazon's guidelines for the weight of an FBA box?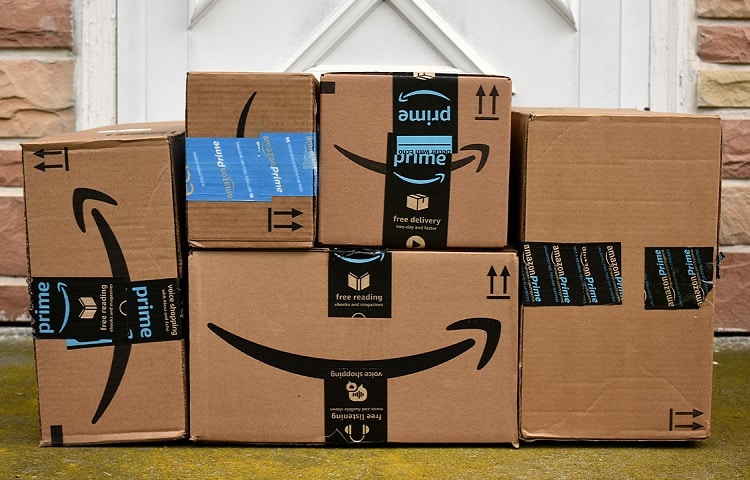 Amazon also has specific guidelines for box weights. Boxes must not weigh more than 50 lbs unless they contain a singular item that weighs more than 50 lbs.
Therefore, referring to the previous example of selling soap bars, you can only package 50 lbs of your product in one box while sending it to Amazon.
Amazon also asks vendors to indicate that more than a single employee is needed to carry a package that contains a single unit exceeding 50 lbs using the label "Team Lift." If a box weighs more than 100 lbs, vendors must use a "Mechanical Lift" label.
Amazon has also clarified to its vendors that every box carrying between 25 lbs and 50 lbs must have labels stating that it is a heavy package on its top and all its sides. Moreover, Amazon says that boxes containing jewelry or watches must not weigh more than 40 lbs.
Amazon has no policy regarding reused boxes. That means you can use old boxes again for sending your inventory to the designated Amazon Fulfillment Center.
However, ensure that you remove or cover all old barcodes and other labels from the old box. Amazon only wants relevant scannable barcode labels on its boxes.
The vendor must also ensure that the contents of the box are packed neatly and do not damage each other in transit. Vendors can use appropriate dunnage like bubble wrap to protect their items. Amazon asks vendors to use a 2″ thick dunnage between each item inside the box.
Vendors should also pack the same dunnage between the walls of the box and each item. If the contents of the box do not fill it, vendors need to use enough dunnage in the box so that it does not collapse when something is stacked over it.
Amazon has a list of approved dunnage items that includes sheets of foam, bubble wrap, or air pillows. Finally, vendors should shake their boxes gently after packing.
The contents inside should not move because of the shaking. That is a simple test of your packaging.
What are the reasons for the FBA Box requirements?
Amazon is working for the sellers that it officiates, and therefore has specific guidelines for packaging and shipping inventories.
Vendors must understand that the company has put particular policies in place to benefit every seller on the forum. These policies, norms, and guidelines only help vendors get their products to Amazon safely.
Ensuring no product is damaged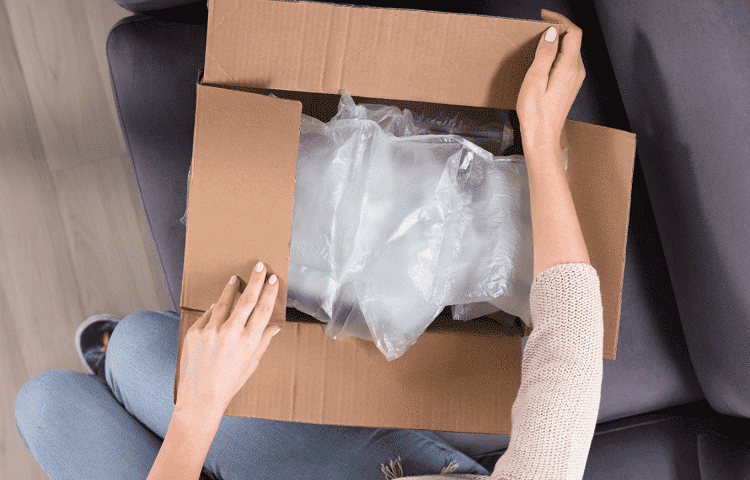 Amazon has strict box weight rules and box packaging/shipping rules to ensure that no product is damaged by the time it reaches the designated fulfillment center.
The company also asks vendors to use or reuse the best quality boxes available in the market to reduce the probability of any mishap during transit.
Amazon stresses heavily on the dunnaging in its shipments to prevent any product from losing its value when transferred from the vendor to the buyer. Nobody profits from an item that reaches its buyer in a faulty condition.
Amazon also caps the size of its boxes at 25″ to make it easier for FBA employees to transfer them. Boxes lesser than 25″ in length can be moved around with ease and have the least risk of all.
Safety of employees
Amazon FBA employees are hardworking people who ensure and oversee the sorting, segregating, and processing of millions of packages every day.
They have to move around large shipments, and for their safety, the company has put caps on the dimensions and weights of boxes.
In fact, Amazon's box guidelines ensure that vendors put the weight of the box on its label. Moreover, if the weight of the package crosses a certain threshold, then vendors are required to tag those boxes as "Team Lift" or "Mechanical Lift." Thus, no employee should be at any risk at any point during shipment.
Boxes with dimensions less than 25″ are more manageable for employees to carry without the possibility of any mishap during the handling at Amazon FBA.
To conclude
Amazon's ability to handle supply-chain management is legendary. No other conglomerate has been able to achieve numbers the way Amazon has.
The defining factor in this success has to be the company's smooth-sailing mechanisms that ensure no trouble to buyers or sellers.
With ease and grace, Amazon facilitates countless sellers on its air and allows them to do business globally. However, vendors have to abide by a few guidelines set by Amazon in return for the ease of trade mentioned above.
Amazon FBA is one of the company's most expansive and comprehensive services, and it falls under the ambit of several guidelines for sellers.
Whenever businesses send their inventory shipments to their designated Amazon Fulfillment Centers, they have to abide by the company's guidelines about packaging and labeling. Amazon has specified what they are looking for in terms of packaging. It is then the job of every vendor to comply with those terms.
Every box shipped to Amazon must be less than 25″ in dimensions, except for objects that are larger than that size. Additionally, boxes carrying several standard-sized items must not weigh more than 50 lbs.
Any boxes weighing more than that must be carrying a singular object. These guidelines have been set in place to ensure the safety of every item that is shipped. More importantly, they protect every Amazon employee who works to deliver that item.
Amazon has put forth these terms of service to create a fail-safe and foolproof system of delivering products to buyers. And the company has succeeded significantly in doing so. Why else would vendors ship their products to a 'middleman' company?
Resources: