The internet is a haven for those who want to shop without leaving their couch, and vendors are here to cater to those people.Amazon facilitates the needs of millions of buyers and sellers like these using its FBA service.
Vendors stock their inventory in one of Amazon's many fulfillment centers, and Amazon handles the delivery of each of the items in the said inventory. However, one important piece of the process that sellers should be attentive to is the packaging requirement. Everything from using proper packaging to staying within Amazon's FBA box limitations is key to a smooth process.
These guidelines make the sorting, segregating, and processing easier for Amazon employees.
In addition, Amazon also has some norms for the boxes that carry every vendor's shipments to fulfillment centers. These norms also apply to packages that contain the final deliveries sent out to buyers.
What are Amazon's general packaging requirements?
Navigating the deep waters of Amazon's FBA can be intricate. Whether it's understanding FNSKUs or ensuring your packages meet the tracking requirements, every detail counts. Below is a concise guide to help you ensure your products are packaged and labeled correctly, optimizing your FBA experience.
FNSKU (Fulfillment Network Stock Keeping Unit) The FNSKU serves as a unique identifier, marking products under the Fulfillment by Amazon program. Each FNSKU should be distinctive, representing only one product. For sellers offering similar items that vary only in aspects like size, shape, or color, it's essential to assign a distinct FNSKU for each variation.
Package Tracking Every package should sport an external barcode or label for hassle-free tracking. This label needs to be both easily accessible and legible.
Packaging Guidelines by Category
Loose Products: If multiple loose products are sold together, they should be packaged within a single container. If selling units that come as sets with numerous items in one box, a label stating "Sold as set" or "Do not separate" must be prominently placed.
Boxed Units: Shipments in boxes must be fully enclosed with six sides and sealed securely, ensuring they are challenging to tamper with. Each box should be robust enough to endure moderate pressure from any side.
Poly Bag Units: Poly bags with openings exceeding five inches should carry clear suffocation warnings, either printed directly on the bag or as a separate, easily visible label. The bags should be clear, featuring a scannable barcode, and must be securely sealed.
Expiration Dates: For products with expiration dates, the date should be clearly marked both on the outer packaging and each individual item inside. Ensure the date follows the MM-DD-YYYY format.
What are Amazon's guidelines for the dimensions of an FBA box?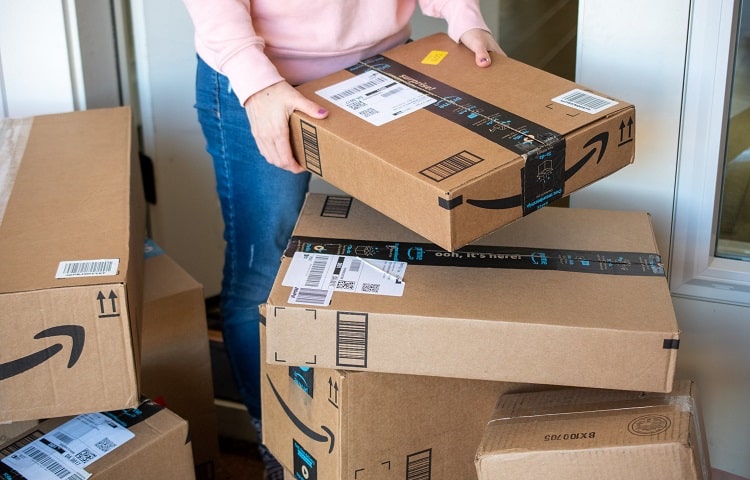 Your FBA shipments to and from Amazon arrive in a variety of box sizes. If you are a vendor, then you are bound to be a little confused initially about the different sizes in boxes.
But don't panic. Amazon has set a few protocols in place about how businesses should package their stock in boxes so that it is easier for FBA employees to restock their fulfillment centers.
Amazon has provided clear instructions about packing items in boxes. However, the factor that determines the ideal packaging is the shipment's weight and dimensions.
Amazon's guidelines state that boxes that contain a multitude of standard-sized items must not be more than 25″ in length, breadth, or height. That means, for example, if you, as a vendor, are selling bars of soap, then you can package as many bars as possible in a 25″ x 25″ x 25″ box.
There are exceptions to the above rule. For items that are larger in size than 25″ on any side, you can use boxes according to the dimensions of the item.
For example, if you are selling pipes that are 30″ long, then you can use boxes that will fit your product perfectly. Vendors can also put multiple oversized (25″+) units in a larger box, as long as they fulfill the weight requirements. Plus, Amazon recognizes more than 100 box sizes, each of which can be anywhere from 100 cubic inches to more than 10,000 cubic inches in volume.Vendors need to know the dimensions and weights of their products since packaging them in the perfect box is key to preventing damage and reducing waste .
In addition, your items need to be packaged closely, not tightly or loosely, since either of those scenarios can damage your products during transit.
What are Amazon's guidelines for the weight of an FBA box?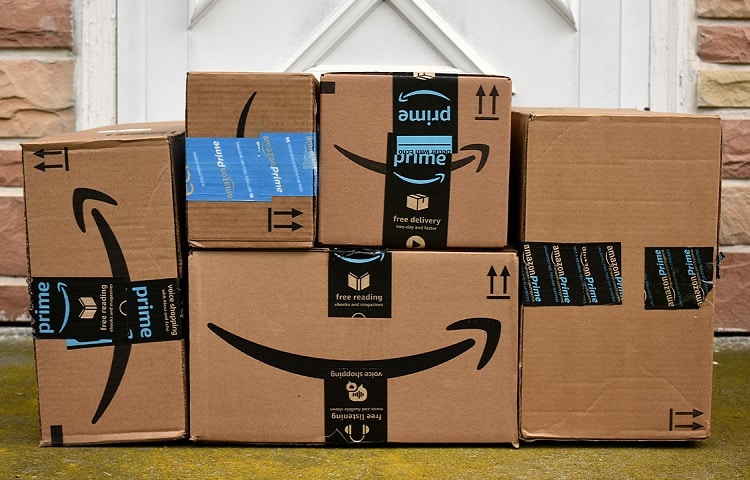 Amazon also has specific guidelines for box weights. Boxes must not weigh more than 50 lbs unless they contain a singular item that weighs more than 50 lbs.So, referring to the previous example of selling soap bars, you can only package 50 lbs of your product in one box while sending it to Amazon.
Amazon also asks vendors to indicate that more than a single employee is needed to carry a package that contains a single unit exceeding 50 lbs using the label "Team Lift." If a box weighs more than 100 lbs, vendors must use a "Mechanical Lift" label.
Amazon also requires every box carrying between 25 lbs and 50 lbs must have labels stating that it is a heavy package on its top and all its sides. Plus , Amazon says that boxes containing jewelry or watches must not weigh more than 40 lbs.
Amazon has no policy regarding reused boxes. That means you can use old boxes again for sending your inventory to the designated Amazon Fulfillment Center.However, ensure that you remove or cover all old barcodes and other labels from the old box. Amazon only wants relevant scannable barcode labels on its boxes.
Amazon FBA Items: Sets vs. Box Units
Understanding the nuances between items sold as sets and box units is crucial for seamless FBA shipping. While both may seem similar, Amazon has distinct guidelines for each. Let's dive into the key differences in shipping guidelines for these two categories:
Items Sold as Sets
When multiple loose products are sold as a combined set, they must be contained within a single package.
A prominent label stating "Sold as set" or "Do not separate" is required.
Boxed Units
These shipments must be enclosed in six-sided boxes that are securely sealed and resistant to tampering.
The boxes should be durable enough to withstand moderate pressure from any side.
---
Recognizing these differences can help ensure your products align with Amazon's expectations and reach your customers without a hitch.
Amazon Packaging Requirements by Product Type
Amazon's FBA packaging guidelines aren't one-size-fits-all. Depending on the product type, there are unique requirements to ensure safety, prevent damage, and enhance the customer experience. Here's a breakdown of packaging rules for some common product categories:
Perishable Items
Products with a limited shelf life must be labeled with clear expiration dates, following the MM-DD-YYYY format.
Ensure items are properly sealed to prevent contamination or spoilage.
Refrigeration or special handling instructions should be prominently displayed if required.
Clothing
Each clothing item should be individually wrapped or bagged to protect against dirt and damage.
Clear bags used for packaging should contain suffocation warnings if the opening exceeds five inches.
Size, material, and care labels should be easily identifiable.
Electronics
Sensitive electronic products should be packaged in protective materials, like bubble wrap or foam inserts, to prevent damage from shock or pressure.
Batteries (if included) should be secured within the device or separately packaged to prevent short-circuiting.
Any accompanying documentation, warranties, or user manuals should be included.
Fragile Items
Items that are breakable or fragile should be cushioned with ample protective packaging, ensuring they can withstand drops or pressure during shipping.
Clear labels indicating "Fragile" or "Handle with Care" should be placed on the outer packaging.
Toys and Games
Items with small parts should have warning labels regarding choking hazards, especially if intended for children under three years old.
All components of a game or toy should be securely contained within the main packaging to prevent loss of pieces.
By tailoring your packaging to the specific needs of each product type, you not only comply with Amazon's FBA guidelines but also ensure a positive unboxing experience for the end consumer.
What packaging material is approved by Amazon?
The vendor must also ensure that the contents of the box are packed neatly and do not damage each other in transit. Vendors can use appropriate packing material like bubble wrap to protect their items. Amazon asks vendors to use a 2″ thick barrier between each item inside the box.
Vendors should also pack the same packaging between the walls of the box and each item. If the contents of the box do not fill it, vendors need to use enough packaging material in the box so that it does not collapse when something is stacked over it.
Amazon has a list of approved packaging materials. These include:
Sheets of foam
Bubble wrap
Air pillows
Sheets of paper
Finally, vendors should do a shake test on their boxes gently after packing.
The contents inside should not move during this process. If so, you may need to increase the amount or change the type of packaging material being used.
Labeling Your Box for FBA Shipment
When preparing your products for the FBA program, proper labeling of your shipment box is paramount. An accurate label ensures your product reaches the Amazon warehouse without any hitches and is processed efficiently upon arrival.
Amazon's Label Requirements
Readability: The label should be printed in clear, legible font, ensuring no smudging or blurring occurs.
Size and Position: The label should be large enough to be easily scanned, positioned on a flat surface of the box without wrapping around edges or corners.
Barcode: Include the shipment ID barcode, ensuring it's scannable and not covered by tape or any other packaging materials.
Shipment Contents: Clearly list the box's contents, especially if you're shipping multiple types of products in one shipment.
Address: The destination Amazon fulfillment center's address should be present and accurate.
Box Count: If your shipment contains multiple boxes, indicate "Box X of Y" (e.g., Box 1 of 3).
Expiration Date: If shipping perishables or products with a limited shelf life, the expiration date in MM-DD-YYYY format should be visible.
Suffocation Warnings: For boxes with plastic bags or wrap, a suffocation warning should be visibly placed, especially if the opening exceeds five inches.
Ensure you frequently check Amazon's official FBA guidelines, as requirements might evolve over time. Proper labeling is not just about compliance; it's also a step towards efficient handling and happy customers.
What are the reasons for the FBA Box requirements?
Amazon is working for the sellers that it officiates, and therefore has specific guidelines for packaging and shipping inventories.
Vendors must understand that the company has put particular policies in place to benefit every seller on the forum. These policies, norms, and guidelines only help vendors get their products to Amazon safely.
Ensuring no product is damaged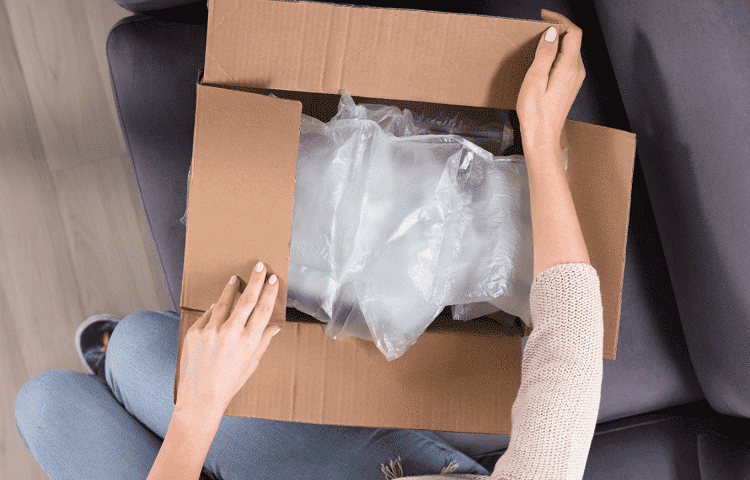 Amazon has strict box weight rules and box packaging/shipping rules to ensure that no product is damaged by the time it reaches the designated fulfillment center. The company also asks vendors to use or reuse the best quality boxes available in the market to reduce the probability of any mishap during transit.
Amazon stresses heavily on protecting shipments to prevent any product from losing its value when transferred from the vendor to the buyer. Nobody profits from an item that reaches its buyer in a faulty condition.
Safety of employees
Amazon FBA employees are hardworking people who ensure and oversee the sorting, segregating, and processing of millions of packages every day.They have to move around large shipments, and for their safety, the company has put caps on the dimensions and weights of boxes.
Amazon also caps the size of its boxes at 25″ to make it easier for FBA employees to transfer them. Boxes less than 25″ in length can be moved around with ease and have the least risk of all.
In fact, Amazon's box guidelines also state that vendors must put the weight of the box on its label. If the weight of the package crosses a certain threshold, then vendors are required to tag those boxes as "Team Lift" or "Mechanical Lift." Thus, no employee should be at any risk at any point during shipment.
Playing by Amazon's FBA packaging rules
Amazon's ability to handle supply-chain management is legendary. No other conglomerate has been able to achieve numbers the way Amazon has.The defining factor in this success has to be the company's smooth-sailing mechanisms that ensure no trouble to buyers or sellers.
Amazon facilitates countless sellers on its air and allows them to do business globally. However, vendors have to abide by a few guidelines set by Amazon to enjoy the well-run marketplace.Amazon FBA is one of the company's most expansive and comprehensive services, and it falls under the ambit of several guidelines for sellers.
Amazon has put forth these terms of service to create a fail-safe and foolproof system of delivering products to buyers. And the company has succeeded significantly in doing so. Why else would vendors ship their products to a 'middleman' company?
Can I reuse boxes for FBA shipments?
Yes, you can reuse boxes for FBA shipments as long as they are in good condition without any holes, tears, or other significant damages. It's crucial to ensure that old labels, stickers, or other shipment-related markings from previous uses are removed or completely obscured to prevent confusion during shipping and processing.
Are there any prohibited materials for Amazon shipping?
Yes, Amazon has specific guidelines on packaging materials. For instance, packages containing styrofoam peanuts, shredded paper, or any other non-recyclable packing material are not allowed. Always refer to Amazon's official packaging and prep requirements to ensure compliance.
Where should I purchase FBA packaging material?
Amazon offers an online marketplace called the "Amazon Packaging Store," where you can purchase compliant packaging materials. However, you're not restricted to buying from there. Many sellers also purchase packaging supplies from local stores or other online retailers, ensuring that materials meet Amazon's FBA guidelines.
What happens if I exceed the FBA maximum box size?
If your box exceeds Amazon's FBA maximum size or weight restrictions, it may be rejected at the fulfillment center or subjected to additional handling fees. It's essential to adhere to the size and weight guidelines to avoid any potential disruptions or additional costs in your shipping process.
Resources: