The Amazon supply chain is one to behold—the eCommerce giant led by Jeff Bezos has changed the game for online sales. Before Amazon, making a purchase online meant patiently waiting for several days, or even a few weeks, before customers could expect their delivery to arrive. But these days, you can even get your favorite Whole Foods order sent straight to your door in as little as an hour or two. That's the magic of the Amazon supply chain.
From Amazon's fulfillment centers and distribution centers to its warehouses and impressive deliveries, they've vertically integrated just about every aspect of the supply chain while somehow still keeping costs low for Amazon's customers.
This unmatched advantage allows Amazon to control the majority of the online e-commerce market. In 2018, it hit a 49% share of the U.S. e-commerce market, and it has grown since then.
With so many great delivery options for customers and even support logistics and fulfillment services for sellers like Amazon FBA, it's easy to see why Amazon has so quickly risen to the top of the pack.
So, what are the secrets behind the Amazon supply chain? How does it all come together to meet incredible demand while keeping costs low and impressing customers daily with efficiency? This article will explore what a supply chain is and what makes the Amazon supply chain so unique. We'll look at all of the critical aspects, from warehousing and manufacturing to technology and logistics. Then, we'll uncover the secrets that make Amazon stand out so much.
What Is Amazon Supply?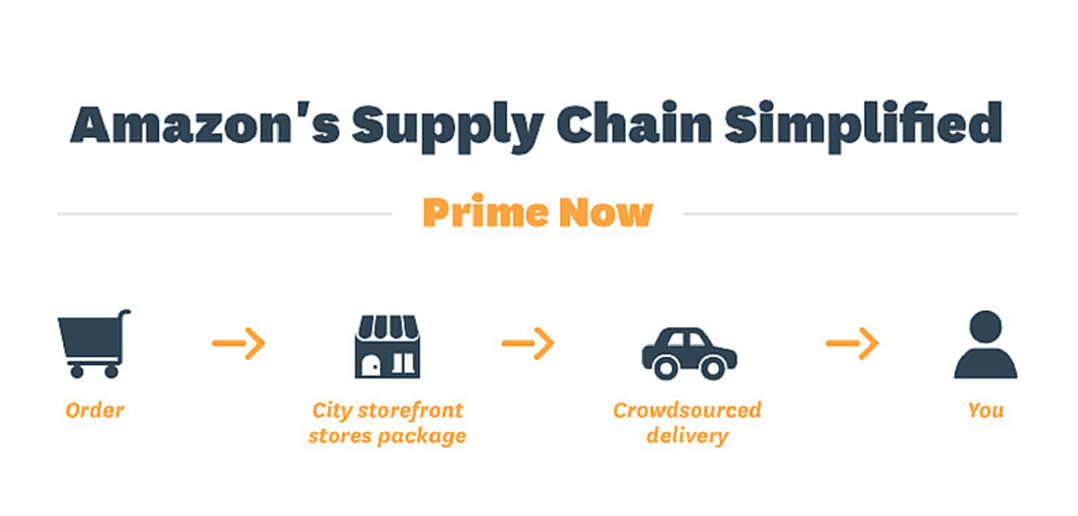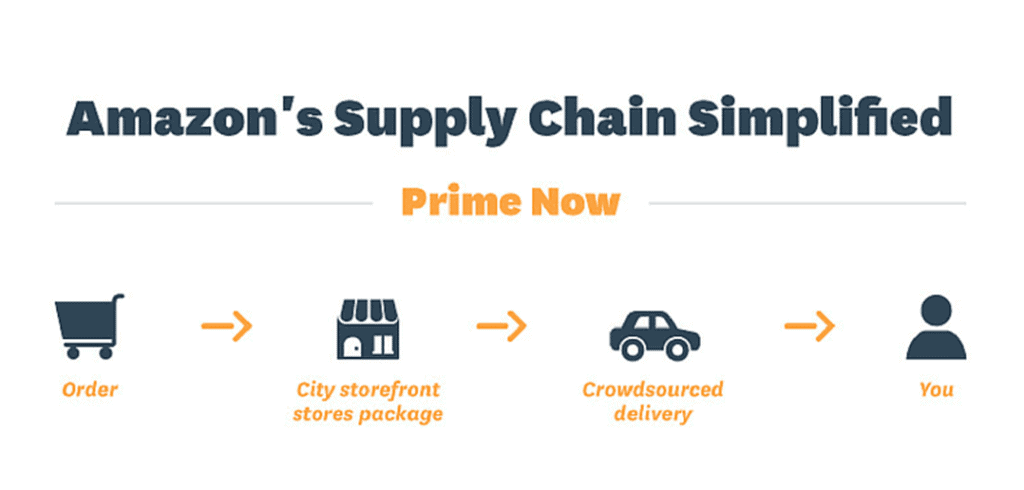 First thing's first—what is a supply chain?
A supply chain is a network of partners involving a distributing company and its suppliers. Using this operation management structure, vendors can produce, sell, and distribute a product to the customer. This network consists of different people, entities, activities, resources, and information, and it represents the physical steps taken to get the product closer to the customer from its original state.
The purpose of developing this network is to meet demand, reduce costs, and stay competitive within the general business landscape. An optimized supply chain creates a faster production and fulfillment cycle and lowers costs for the sellers and the customer.
Below, we discuss the multiple stages involved in this extensive operation.
Manufacturing
Manufacturing is the first step in this process. The manufacturer is the partner that creates the product itself. Depending on the product, a seller may or may not be the manufacturer.
The manufacturer company will structure its output depending on the world demand for the product—the higher the demand among customers, the more supply is needed, and the more strain there is on the manufacturer.
Warehouse and Distribution
The product then goes from the manufacturer to the warehouses. Then, the inventory will remain in storage until shipping out for delivery.
Often, these warehouses will be just outside of metropolitan areas where there is more space but a short enough distance to major transportation hubs (to keep the costs low).
These days, most supply chains are experiencing what's becoming known as the "Amazon Effect," wherein customers expect a business to meet demand for the product quickly by offering a faster delivery. In other words, they want to see how innovative a business can get to deliver their products sooner. Amazon's impressive shipping times has placed significant pressure on distributors to get their products sent faster.
Delivery
Once the product is ready to go, it will move into the delivery stage. Depending on the delivery method, this could include air shipping like Amazon Prime Air, ground shipping through partners like UPS or DHL, or even handling by local contract workers for the last mile of delivery.
Does Amazon charge before shipping an Item?
Tech
These days, technology plays a significant role in supply chain management. Robots can pack orders; machines can help direct deliveries to the proper delivery truck, and so much more.
While these innovative solutions cost more money upfront for the retail company, they speed up shipping speeds and keep the customer happy, which is of utmost importance.
Logistics
The entire process of managing resources, long-term or short-term storage, and distributing an order to its final location requires a complex supply chain operation. It typically involves several different partners, various equipment to facilitate the storage and deliveries, and tight timelines without much room for long-term delays.
How Amazon Manages Its Supply Chain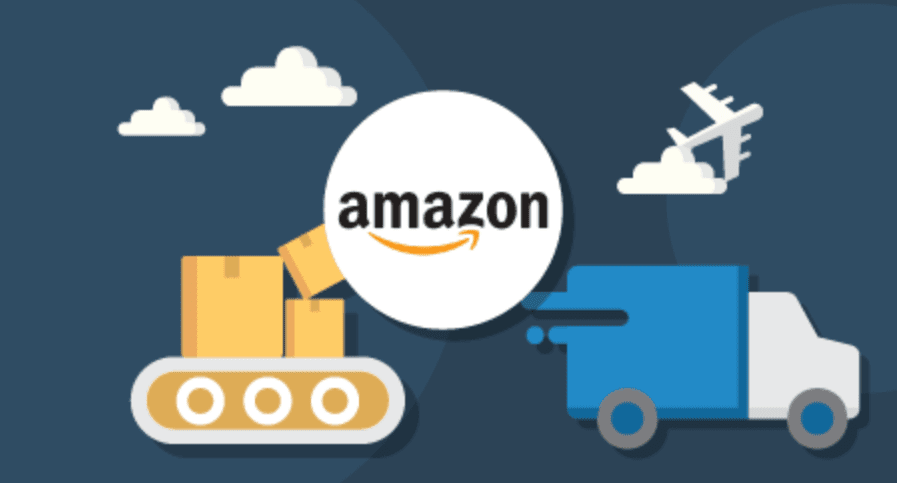 Sellers who hope to makes sales on the Amazon Marketplace have a couple of different fulfillment options:
FBA (Fulfillment by Amazon) – FBA lets sellers leverage Amazon's fulfillment service for any products they sell through the Amazon sellers marketplace. Amazon will handle everything from sorting and packaging to shipping.
FBM (Fulfillment by Merchant) – With this service, the sellers can list their products on the marketplace but handle all of the fulfillment themselves, from inventory management to shipping.
Here, we'll talk about the FBA chain of operations.
Fulfillment by Amazon
When sellers use the supply chain Amazon offers, they get all the benefits of a streamlined service:
First, send inventory to Amazon.
Next, they receive and store your products.
Prime customers find your product in the marketplace and order it.
The Amazon supply chain handles the pick and pack and ships the order.
Your Prime customers can use Amazon's customer service for tracking the order.
Amazon FBA also means the company can handle any returns or additional assistance.
Recently, CEO Jeff Bezos has added impressive technology such as drones to Amazon's supply chain strategy. These drones make delivery faster and more affordable.
Warehouse and Distribution
A significant part of Amazon's success comes from its inventory management and distribution strategy. It utilizes numerous sprawling warehouses and distribution centers for storage across North America.
The company strategically places all of its Amazon warehouses near large metropolitan areas to spread out inventory. Below that, they even have mini-warehouses in less populated areas to guarantee that orders can ship and deliver quickly, no matter what the product is or where the customer is in the world.
Within each center, there's additional internal optimization. Each center has five distinct storage areas for inventory that make it easy for both robots and employees to pick and pack the correct items from storage and get them ready for delivery.
Delivery
Another significant distinction between the Amazon supply chain and other business supply chains is the many delivery options available, especially for Prime members.
The first impressive offering that Amazon Prime presented several years ago was the free two-day shipping or one-day delivery, depending on the product and availability. More recently, they started offering some deliveries even faster than their typical one or two-day shipping from Prime delivery. Prime Now can get products to the buyer's door (even from your favorite stores like Whole Foods) within two hours.
However, the most impressive part about this business strategy is the many ways in which they can fulfill these promises. Using new technology and traditional delivery modes, Amazon has built a delivery network with lightning-fast delivery speeds.
From their fulfillment centers, sometimes the products ship out on Amazon-branded trucks. There are also drones that fly through the air and deliver to backyards and individual delivery people who come in their car or make bike deliveries in urban areas.
Tech
The Amazon supply chain has developed many of its technologies to keep up with delivery speeds and find efficiencies in warehousing, inventory management, and delivery.
Amazon robotics and automation solutions are impressive. From the customer purchase to the final drop-off, there are Amazon tech strategies at work every step of the way.
Automation starts during shopping when Amazon prompts you to purchase with just one click. They're also piloting a drone project that will utilize small, flying machine robots to make deliveries so they can expand their network of services with the money they save from cutting back on warehousing and staffing costs.
Manufacturing
While Amazon still allows third-party sellers, they also have a strategy to make the same inventory available at a lower cost to the customer. They've started manufacturing their own products or even putting the Amazon brand name on third-party products.
Using their machine-building robots to create branded products allows Amazon to take greater control over the e-commerce market. They can rise to the demand for products with the same speed they've exhibited in all their other shipment services.
Amazon's customers have grown to recognize and trust the Amazon brand products, attributing more sales to the retail giant itself.
Global Reach
The Amazon supply chain strategy is arguably the most impressive in the world. Amazon currently operates in 11 different online markets globally, allowing sellers to thrive anywhere in the world. These marketplaces are distinct from the original Amazon website, featuring different site suffixes like .co or .uk.
Some of these world marketplaces include:
Amazon.com.mx
Amazon.fr
Amazon.in
Logistics
Amazon utilizes a vast network of storage areas spread out across the country alongside branded and third-party carriers to ensure timely delivery of inventory for happy customers.
Inside the centers Amazon uses for inventory storage, employees pick the products and pack the items. From there, distributors (this may be UPS, FedEx, USPS, or independent contractors) pick up the items and distribute them to their final locations.
Why Is Amazon a Supply Chain Leader?
Amazon's supply chain works; there's no question about it—just looking at the company's sales numbers proves it. But why? There are a few supply chain secrets that position this retail giant as the global leader.
There are three critical elements of the Amazon supply chain that help the company meet demand and deliver the best customer experience.
Amazon Supply Chain Management Warehouse and Distribution Network
Amazon Prime is undoubtedly one of the most critical aspects to maintaining such a loyal fanbase. Prime members can enjoy two-day free shipping on just about any item on Amazon at a low monthly cost. In 2019, the company expanded this offering by providing one-day free shipping on plenty more items.
To keep up with this promise, the company runs over 175 Amazon fulfillment centers around the world, with 75 in North America alone. Besides these warehouses, the FBA program handles all fulfillment for sellers through the Amazon supply chain.
Without these centers and logistical programs, Amazon wouldn't be what it is today.
Diverse Fleets
The Amazon supply chain relies on various transportation methods and partners to distribute packages for maximum efficiency. They utilize their airplane fleet, Amazon-branded trailer tucks, shipping partners such as UPS or FedEx, and independent logistics companies or contractors.
To incentivize companies to join these ranks, they offer up to $10,000 in refunded startup costs and three month's salary for anyone who joins their Delivery Service Partners.
Where Automation Meets Human
Finally, the last key to Amazon magic is the intersection of humans and automation. Amazon is doing it like no other company has done before. Using robots to pack products and drones to deliver them, Amazon has reduced storage and staffing costs.
These machine aspects help the company keep up with its Amazon Prime promise while the humans keep things moving along the way.
What Software Does Amazon Use for Logistics in the Supply Chain Strategy?


Part of what has made the Amazon supply chain strategy so robust is the software suites it uses to manage the various logistics.
With cold chain, for example, Amazon partnered with Carrier. Using the Lynx platform, the two companies created a digital solution for managing data and shipment for cargo that requires temperature control.
Besides cold chain logistics, it also has AWS solutions for blockchain, machine learning, AWS Cloud, and other software.
Final Thoughts
Any business that wants to build out a successful supply chain should look to Amazon. The retail giant has completely changed how people shop online and get deliveries thanks to its vast web of storage centers, diverse distributing fleets, and compilation of human power and robotics. If you're considering becoming an Amazon seller, these are the benefits that Amazon can offer.