PPC Scope is the perfect tool for optimizing your Amazon sponsored product campaigns and is an essential tool in ensuring that your PPC advertising budget is put to good use. However, it slows down every business. It's a crucial process, but it takes up a good part of the day that can go towards other tasks like customer support and SEO.
What if optimizing these ads could take minutes instead of hours? What if we told you there was a program to speed up and automize the optimization process dramatically?
The answer is PPC Scope, an advertising, analytics, and optimization platform for sponsored Amazon products.
In this comprehensive guide, we're going to cover everything you need to know about PPC Scope, and whether or not you should try it for yourself.
What is PPC Scope?
Amazon sellers can use PPC Scope to:
Improve the performance of their ads
Compare outcomes between PPC and organic
Improve audience segmentation
Increase sales
Reduce ACOS and ad costs
It provides you with metrics on profit margins, so you can assess the effectiveness of your advertising and see how much profit it earns you.
The software uses performance charts and tables that can be segmented by product, campaign, ad group, term, or keyword. The reports you generate can be downloaded and analyzed to make changes within the Campaign Manager.
Essentially, PPC Scope helps you put your product in the hands of people who may be looking for it. Here are PPC Scope's features and how those features can help you make the most of sponsored ads.
PPC Scope Review Features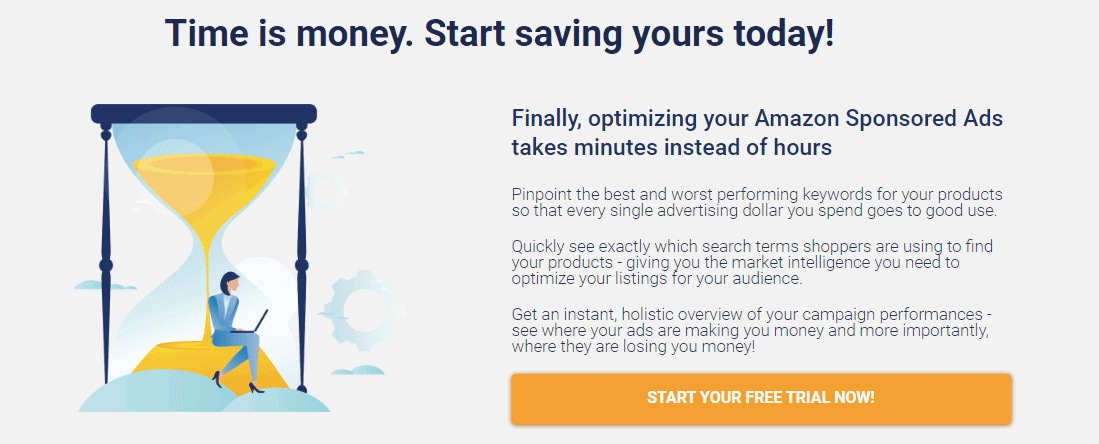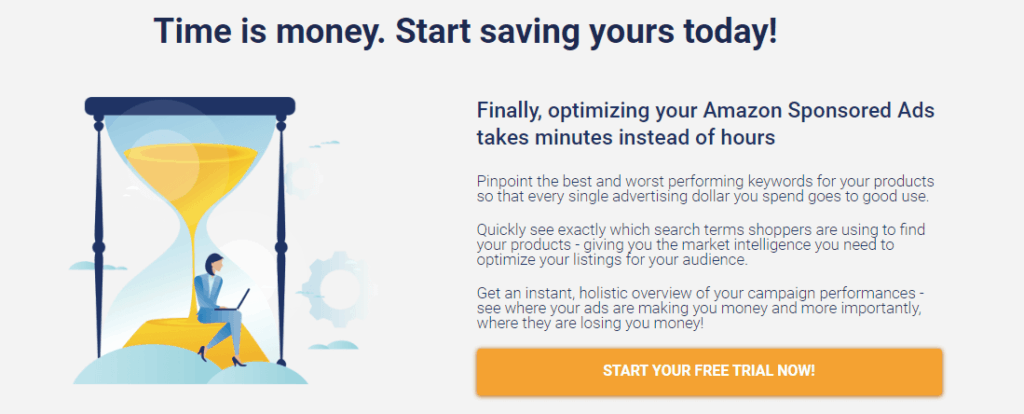 PPC Scope is a thoughtfully designed platform that puts many powerful PPC tools in the palm of your hands. First-time users will have no problem navigating the interface.
PPC Scope helps you decide on keywords by highlighting the highest and lowest-performing keywords in your product's category. You can quickly find out what words or phrases potential customers are using to try and find your products. Information like this allows you to navigate the market intelligently and optimize listings for your target audience.
You'll receive a holistic overview of how your campaigns are performing and how to improve.
With PPC Scope, you can also increase bids on keywords with high click-through rates.
PPC Scope Pricing
If you are interested in signing up for PPC Scope, you can choose between four different membership tiers. Each plan accommodates a different number of products:
New Sellers
We recommend the "New Sellers" plan for businesses that have 1-3 products, need to manage fewer than 500 keywords, and sell on only one Amazon marketplace.
The Breakdown:
One marketplace
Three products (SKUs)
500 keywords
Email support
Exclusive PPC tips from Brian Johnson
Growing Sellers
If you have recently seen some growth in terms of sales, you may want to choose the Growing Sellers plan.
The Breakdown:
Three marketplaces
Ten products (SKUs)
8,000 keywords
Email support
Exclusive PPC tips from Brian Johnson
International Sellers
If you want to sell in many different marketplaces, the "International Sellers" plan might be the best choice for you.
The Breakdown:
Seven marketplaces
100 products (SKUs)
12,000 keywords
Email support
Exclusive PPC tips from Brian Johnson
Kick-Ass Sellers
If you are an experienced seller who already has a successful store, upgrade to the "Kick-Ass Sellers" plan. Consider this plan if you already have a large ad budget and want to maximize the benefit of those advertising dollars.
The Breakdown:
Seven marketplaces
1,000 products (SKUs)
20,000 keywords
Email support
Exclusive PPC tips from Brian Johnson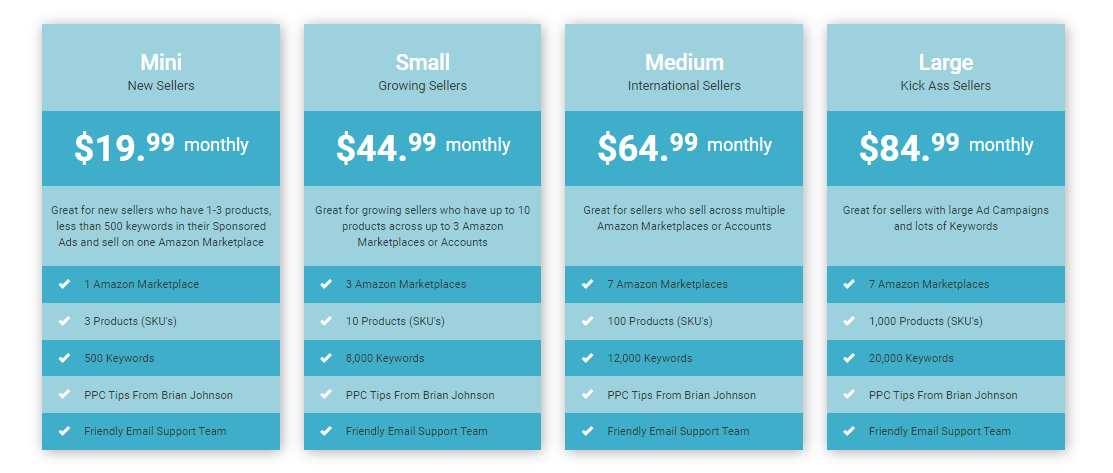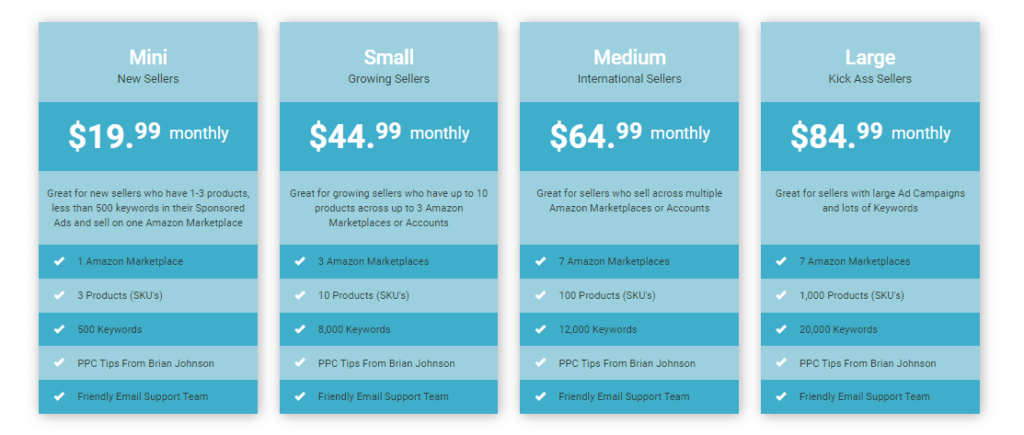 No matter which plan is best for you, PPC Scope offers a 21-day free trial. So if you aren't sure whether or not you want to use PPC Scope long-term, try out the software and get familiar with its features.
The Pros & Cons of PPC Scope
Pros
Variety of plans that appeal to sellers at different levels
Free trial
Keyword visibility
Expert training from the founder of PPC Scope
Access to live Q&A webinars and pre-recorded strategies
A better understanding of your target market
Cons
Tips for PPC Scope Users
If you neglect to optimize your ads, you run the risk of earning poor ad placement. Amazon's algorithm favors high-performing ads with strong product pages. If you don't spend time optimizing your ads to the best of your abilities, consumers will ignore them. PPC management is key to a successful Amazon business.
However, you'll also want to make sure you're following these tips:
1) Track the Right Metrics
Selling through Amazon can be lucrative if you learn how to advertise your products effectively. The two most important metrics to consider are:
Click-through rate (CTR)
Conversion rate
These metrics measure how successful you are at converting prospects into buyers and connecting with your target audience. If you monitor and make changes according to both of these metrics, you'll have an easier time optimizing ads and attracting new customers.
Use PPC Scope to see how the keywords you choose affect your conversion rate and CTR. These metrics will help you discern between high-performing keywords and keywords that have no effect.
2) Optimize Product Pages
You should also optimize your product pages by upgrading the product photography, writing compelling copy that explains the product clearly, and setting competitive prices.
Product pages are an excellent place to place those keywords you discovered using PPC Scope. Try and sprinkle these keywords in various places like the title, features, or specifications section.
3) Join Seller Social Media Networks
To avoid missing updates to Amazon's algorithm, consider joining PPC Scope's private Facebook group. Here, you can engage with other PPC Scope users and find out about any changes to Amazon's algorithm.
PPC Scope Alternatives
Zon.Tools
Verdict
Whether you have no experience in online advertising or you are a professional who has been in the game for a while, PPC Scope can help you scale your Amazon business:
PPC Scope collects data and lets you filter through it to locate the important parts of the report. This way, you can avoid hours of sifting through data.
The software is user-friendly, and you can choose between various membership plans depending on the needs of you and your Amazon business.
Users of PPC Scope also say the company has an excellent customer service team.
Customers always respond to inquiries within 24 hours.
Serious Amazon sellers can benefit from using PPC Scope. The software helps you improve sales and increase passive income by optimizing the ads you place on Amazon. It serves to guide you through complex optimization tasks that would otherwise take hours.
We hope you found this review helpful, and we encourage you to try out PPC Scope for yourself! Feel free to check out some of our other reviews and shoot us an email if you have any questions about PPC Scope or what we've covered in this piece.