If you're an Amazon seller, you've probably heard of Shopkeeper. It's a type of management software designed to make it easier for sellers to review essential information about their marketplace, so they can better understand their overall profits, features, and costs.
Managing a business on Amazon can be very difficult because of the number of features you have to master to optimize profit and sales. Reading this Shopkeeper Review makes it a lot easier, particularly if you're new to selling on Amazon and need an easy-to-use product to simplify it for you.
About Amazon Shopkeeper
The product can make it easier to manage your business and sales. Using the software, you can improve business management in four main areas.
Business Dashboard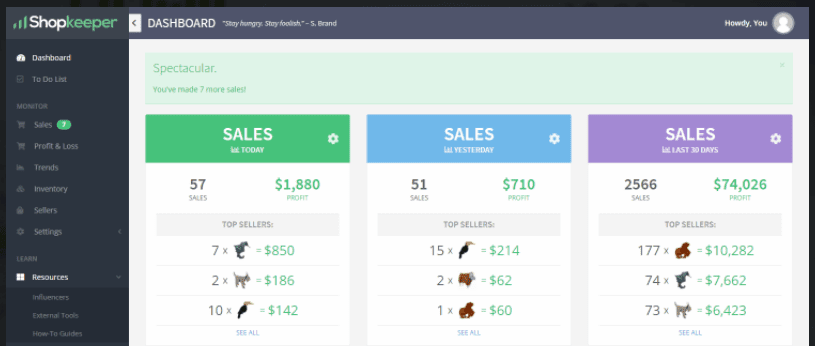 If you struggle to understand some of your eCommerce figures, this tool is great for you. It allows you to see and compare your growth, best-selling products, the value of your inventory, and profit margins in your shop.
This information helps you know what products add value to your website and which have fewer sales. That way, you can optimize your site for the best sales and rating on Amazon marketplaces.
Best of all, the dashboard keeps all this information in a centralized location. You won't have to sort pages of graphs and reports to understand product performance or competitor trends.
Inventory Forecast
One of the most useful tools that Shopkeeper offers is predicting which items in your store will sell at what time.
This projection makes it easy to keep your inventory stocked and not run out of any products. It also ensures that you don't get items that aren't useful and waste money.
The forecast also has an indirect benefit. It helps you get a 5 stars rating from your Amazon customers as it ensures they won't have a long wait time because you've accidentally run out of a product. With the inventory forecasting, you can streamline operations and ensure you're not playing catch-up—you're ahead of the market trends.
Profit Tracking
If you struggle to understand how your business sales drive profit, this feature will benefit your store. It allows you to see what the sales and profits have been over time, letting you compare products and decide which work for you and which don't.
Once you know how to look for trends, it's much easier to optimize sales on Amazon. Shopkeeper is a great option if you need support in this area.
Learning Resources
One of the most rewarding things about Shopkeeper is that it helps you improve your understanding of Amazon marketplaces and business. It gives you a great free list of podcast and software recommendations that help you look more deeply into issues and improve your customer relationships.
Ultimately, these resources help you increase profit in a wider sense. It gives you the sort of insights that would otherwise require years of trial-by-error.
If you would like to improve your business savvy to get hundreds of 5 stars reviews, this is a great feature for you.
Shopkeeper Review Features and Functions
Now that you know Shopkeeper's main features, you probably expect to know how the product helps you optimize your Amazon marketplaces. Several settings and options make this tool an excellent choice for every seller:
Sales Plotting
Shopkeeper plots your sales and profit against your past business figures. With these reports, you can leverage data-backed decisions about changes in inventory, pricing, new launches, seasonal sales, and more. It helps you to see how your business performs and how it is evolving.
Live Profit Margins
If you would like to quickly find out your eCommerce profits, this is one of the best options out there. The products provide easy-to-understand live profit and sales information, so you can quickly see on your dashboard if there is an issue with one of your Amazon products.
Easy to Use
If you're an eCommerce beginner, Shopkeeper is a tool that's accessible for everyone. With a clear online layout, the tool is great for even the most junior Amazon sellers.
Smartphone Accessible
There's no need to invest in an expensive computer if you want to be a Shopkeeper user. All the details of your inventory and website are available online through your phone in whatever currency you want.
Accessible Dashboard
If you want to review further information, you can easily see it on the main Shopkeeper page. Quickly navigate the Shopkeeper dashboard to find more tools and figures about your business's specific working information.
Useful Customer Service
As well as helping you be a better seller, Shopkeeper has lots of options for you to access their friendly team if you have an issue on your site. They have a free support email address and even share with you a live chat feature available at all hours of the day if you would like any help.
Notifications
If anything significant happens to your shop or products, it can instantly share the top information with you. Just switch on notification settings for friendly information at any time.
Shopkeeper Costs and Pricing Plans


You're probably expecting Shopkeeper's cost to be high because of all the great information that it will share with you. However, the product has flexible pricing options and a free trial, making it ideal for business owners of any size.
Free Trial
One of the coolest things about Shopkeeper is that they offer a fourteen-day free trial, so you can use the dashboard and support tools and see if it gets a yes from you.
Many people have given the tool a review of five stars, so you're likely to quickly see all the ways it can add to your profits and business understanding.
Pricing Plans
After this, there are four main pricing plans. The tiered pricing allows you to see which one you like most, depending on what level of input you need.
If you have any questions, share them with the Shopkeeper team during your free trial, and they can help you decide which plan will be most useful to you and your page.
The Novice
If you like to have a lot of control over your page and require some software to add to your understanding, you will like this option. It is the cheapest option, and it comes with several key features:
Business dashboard
Inventory with sales and sellers
Notifications on sales, sellers, and inventory levels
One to 250 orders per month
Overview reports
The entry-level tier is a great option if you have a small shop and want useful statistics.
The Intermediate
This level is one of the most useful options if you have a medium store and desire efficient service that will help you gain 5 stars reviews. It has all the features of The Novice, but with one difference:
250 to 1,000 orders per month
It is ideal for sellers who require software to share figures and financial information but don't have a massive sales amount. It's slightly more expensive than The Novice but still reasonably priced.
The Master
If your business is doing well and making lots of sales, this is a great option for you. Like The Intermediate and The Novice, it has lots of 5 stars feedback for improving customer experience and sales. It has one main difference, however:
1,000 to 5,000 orders per month.
This volume means your store is doing well, and you want to view and share more detailed figures.
Ballin' Outta Control
As you have probably guessed from the title, this plan is for 5 stars sellers who make lots of profits and require software that will share detailed information to make their shop even more successful. It has one key feature that's different from other plans:
Unlimited orders per month
Therefore, if you're making lots of sales, this is the right option for you and your business.
Shopkeeper Competitors
Helium 10, Jungle Scout, Manage by Stats and Viral Launch are the top Shopkeeper competitors on the market.
Frequently Asked Questions
Now that you know all about the great ways that Amazon Shopkeeper can help your website flourish, you're probably wondering what the top questions are from people who want to learn and share more. We've come up with a solution to your curiosity. Read on to find some of the top questions about the tools, website, and how it's used.
What Is the Meaning of Shopkeeper?
The software helps you manage your site by working to provide useful information on costs, settings, and user currency—in all the ways a traditional shopkeeper would help a seller.
Shopkeeper also helps you look more closely into the customers who have used your website, supporting you as you develop your product and site and encouraging more 5 stars reviews from anyone who chooses to get a product from your page.
How Can I Be a Good Shopkeeper?
One of the most common 5 stars reviews that the products get is that it makes it much easier for you to be a good shopkeeper and see an overall improvement in your relationship with customers.
The dashboard will make it easy to look at what products and features on your website appeal to customers. That way, you can work out the most useful way to target them with minimal costs.
Check out the great features Shopkeeper has to offer to find out even more new ways to improve your performance on Amazon Marketplaces every day.
How Does a Shopkeeper Help Us?
If you want to use an online Amazon page to sell your products, you will have to manage many different areas of your business. It would confuse even the most financially minded person. Shopkeeper is a tool that you can add to your computer for an all-in-one review of all the essential items.
Will Shopkeeper Help My Customer Service?
Shopkeeper is a useful tool if you want to bring new improvements to your customer service. The software will share information about popular products, so you can make sure that you always have them well-stocked. It means no customer ends up waiting weeks to receive their product.
Pros and Cons
Now that you've heard about all the great features of this product, you're probably trying to decide if it's the right option for your company. We've created this easy roundup of the benefits and drawbacks of the product, so you can decide whether it's right for you.
Pros
An easier way to look at key statistics like profits, sales, and bestselling products
It helps to distinguish your brand in the various marketplaces you would like to use.
Four pricing plans, so you can choose the deal that's most effective for you.
Compatible with smartphones, making it excellent on a range of devices.
It makes it much easier to understand the critical information you require about your store.
Free two-week trial, so you can try out all the features yourself to see if it's a good option before committing.
Cons
If you're struggling to optimize profits or your company is brand new, you may prefer a bundle that has a greater range of features.
Reviews: 5 Stars
If you want more information on what this has to offer and all the ways it's helped people like you, take a look online to find hundreds of positive reviews. With so many features and a flexible pricing plan, it's not hard to see why everyone from the biggest sellers to brand-new workers uses this tool.
Verdict: Should Amazon Sellers Use Shopkeeper?
Using Shopkeeper, you can take your online shop and transform it into a full-scale operation. It's the ideal solution for those who wish to take keeping shop to the next level. It offers so many helpful tools, including notifications of crucial statistics and a range of pricing plans. Ultimately, it's ideal for sellers who aim to be better informed about what's going on without having to use a complicated or stressful program.
Now that you know everything about Shopkeeper, the only thing left to do is try it out and see your store benefit.