Amazon Seller Conferences To Attend In 2019
Everyone who follows the internet retail industry is aware of the potential marketplace, Amazon.  
While there are a lot of ways to stay updated on latest concerns and issues for Amazon sellers, the sheer amount of sources and information can be difficult to parse. So, in 2018 there were many interesting Amazon FBA conferences held for every type of Amazon seller.
The retail community is warmed up for the events and Amazon seller conferences in 2019 also. These conferences are one of the essential ways for vendors to stay up to date with the latest trends, and gain mastery on the necessary techniques to refine their tactics and expand their sales.
Let's check out our selection of the most awaited Amazon FBA conferences or Amazon seller conferences to attend in 2019.
 List Of Amazon Seller Conferences To Attend In 2019:
When: January 30, 2019
Where: Brooklyn, NY
Price: $190.00 and $200.00
 The main aim of ASGTG is to prevent the dreaded Amazon suspension notification by keeping it up-to-date on the most impactful and relevant crackdowns and rules.
Amazon Sellers Group TG has exploded from a handful of vendors to thousands of vendors including most of the top 200 Amazon sellers.
When: 19th -23rd February 1, 2019
Where: Nashville, Tennessee
Price: N/A
Funnel Hacking Live is one of the most important events for Amazon FBA seller. In this event, you can meet with Russell Brunson and 20+ speakers, and take funnel hacking tips and ticks.
If you are one among them who are feeling stuck, want a way to reach more people, and want to start or grow your business then you should attend this event.
When: 25-27 February 2019
Where: San Diego, CA
Price: From $895 – $1,595
Be a part of the Traffic & Conversion Summit and know what actually works in digital marketing. This summit will help to increase traffic, conversions, and sales.
Traffic & Conversion Summit will give you perfect ideas, strategies, digital retailers & advertisers, and growth hacking tips. This is the most important event for every online seller, who wants to grow his business.
When: March 3-6, 2019
Where: Las Vegas, USA
Price: From $2500 – $4500
At Shoptalk, all retail ecosystem comes together to discuss and create the future of the retail industry. Here, you can connect with potential partners and large audience. There will be lots of speakers and sessions, which help your business to grow.
At 2019, there were 8000+ attendees, 150+ inventors, and 500+ Exhibit at this event. The more details of Shoptalk 2020 are yet to be announced.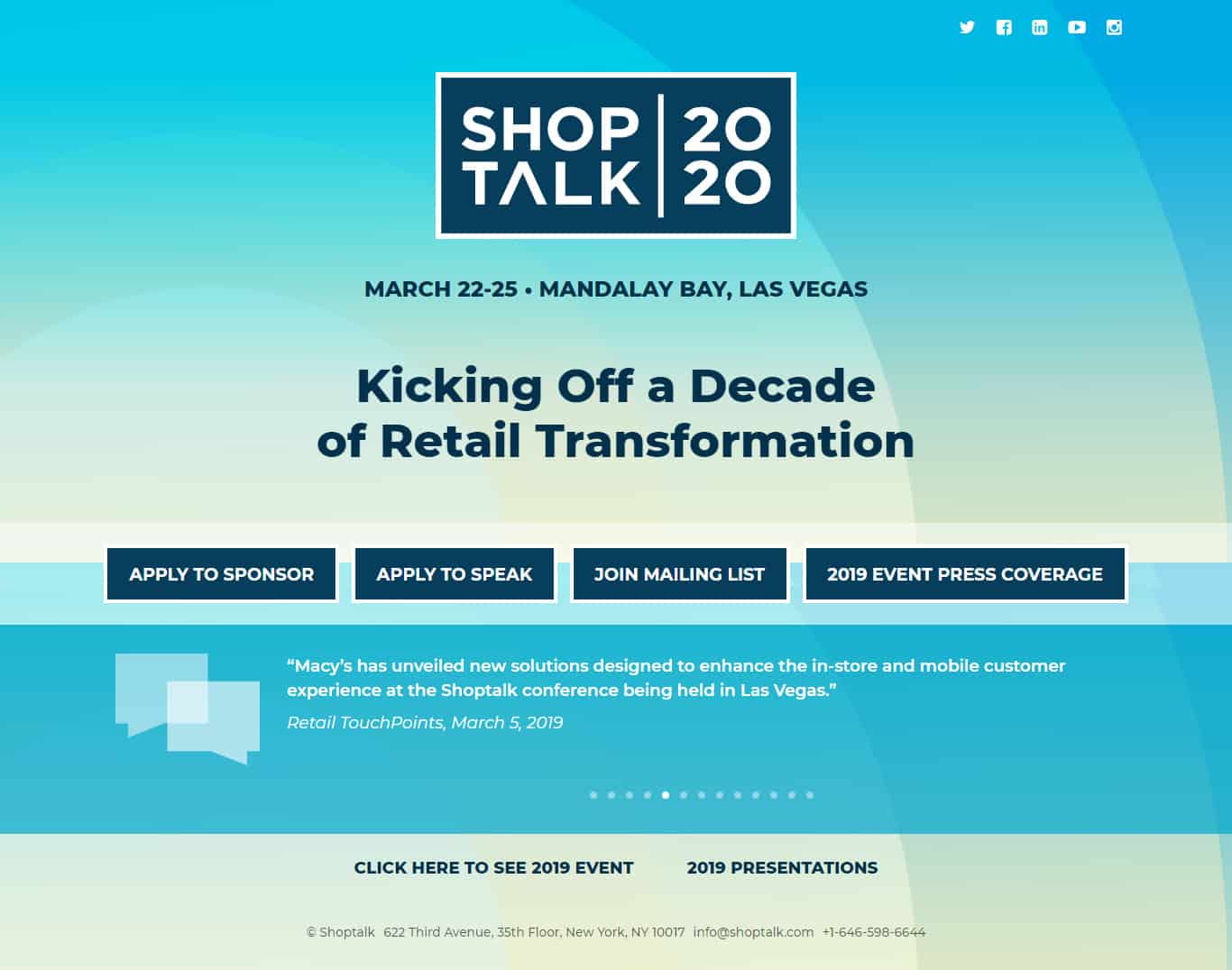 When: March 6 and 7, 2019
Where: Metro Toronto Convention Centre, Toronto
Price: N/A
DX3 now becomes the part of IoT events and in the year 2019, it built on the same pillars; retail, marketing, and technology but with fresh energy and perspective. This conference includes various workshops, innovative keynotes and many other things by International speakers.
The aim of this conference is to take it to the new level by continuing working with the thought-provoking content and interactive installations that have built it Canada's one of the biggest event for marketers.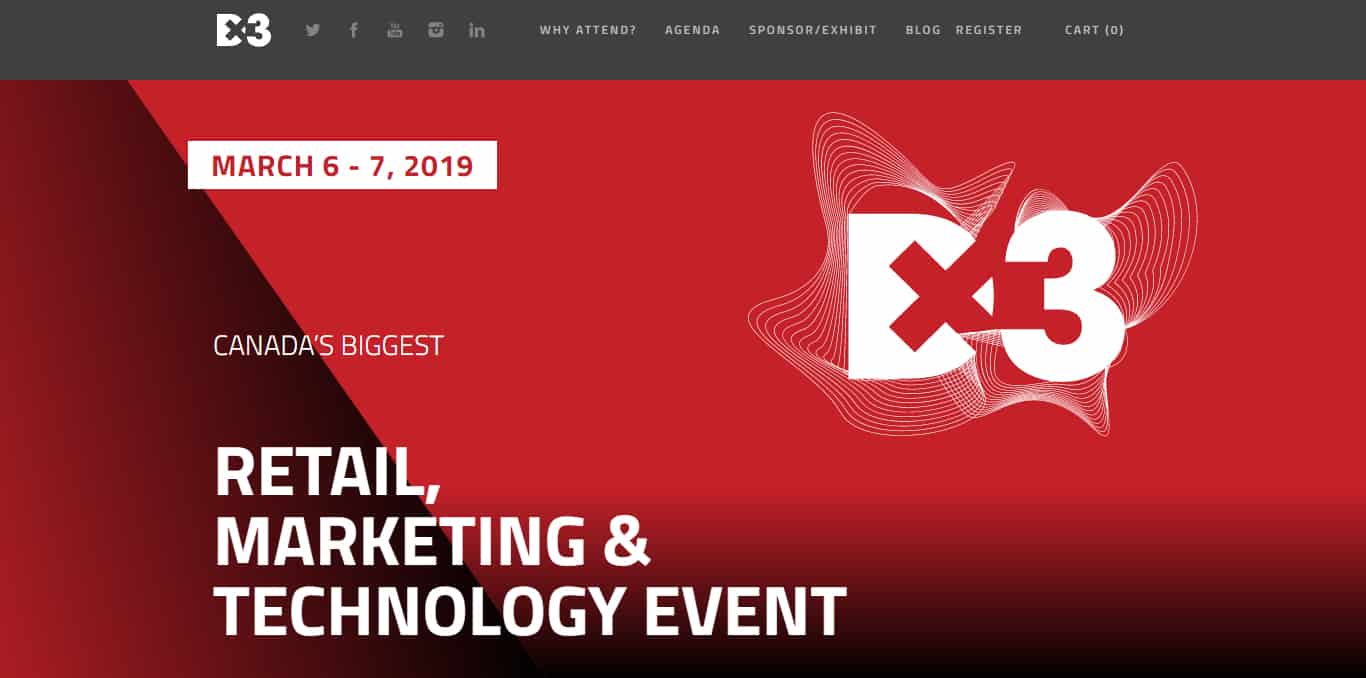 When: March 8-10, 2019
Where: Las Angeles, USA
Price: $797
This is not a typical e-commerce conference. The main purpose of this conference is to show how to build an e-commerce empire that disrupts the industry. In this conference, many experienced workshop trainers and speakers provide you the fullest training experience on the Earth.
Here, you will get three fun-packed parties related to networking to provide you the optimal time to hang out with many other entrepreneurs who have created multi-million dollar businesses.
When: March 12-13, 2019
Where: Munich, Germany
Price: N/A
The Amazon FBA conference, Amazon World Convention will be held in Munich in March 2019. This conversion gives you a chance to learn from the successful sellers and vendors on Amazon.
The speakers will reveal their secrets to attract more visitors, higher conversion, and better product presentation on the e-commerce platform.
When: March 17-19, 2019
Where: Las Vegas, NV, USA
Price: N/A
Prosper Show is an annual Amazon sellers conference; will be held in Las Vegas in 2019. This conference provides the best networking opportunities for all sellers.
At Prosper 2019, several ex-Amazon leaders will help sellers to build a better online business. Here, you can learn how to build your business, how to scale up your business, and how to make it more efficient.
When: 28-29 March 2019
Where: Prague
Price: N/A
European Seller Conference is an Amazon seller conference that will help you to increase your revenue. Here, you can expand your network with experienced Amazon sellers from all over the world.
In March 2019, over 200 successful Amazon sellers will attend this event. This event will focus on SEO, Amazon FBA compliance, social media, PPC campaigns, and more. More details about this event are yet to be announced.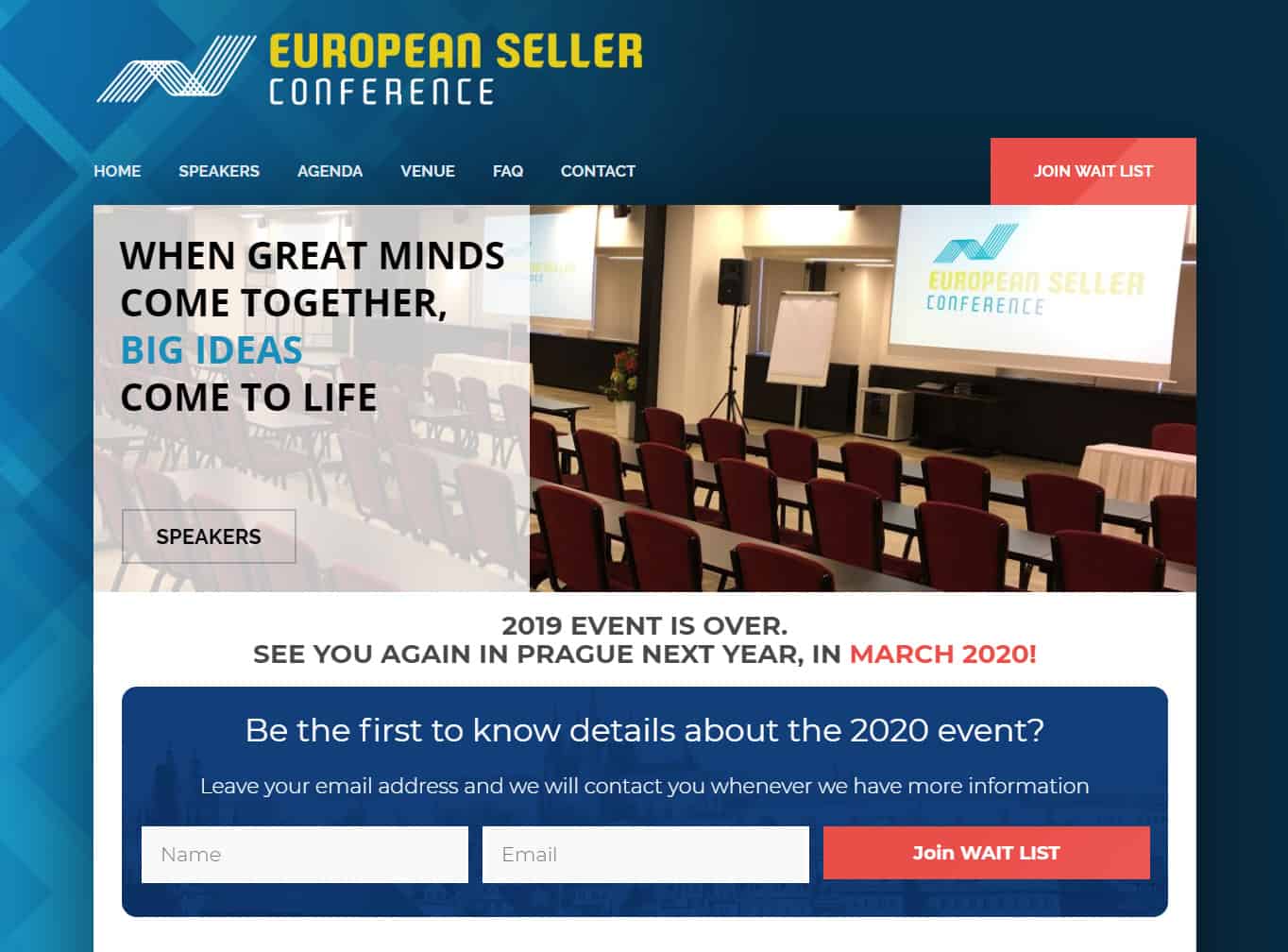 When: April 27-29, 2019
Where: AsiaWorld-Expo, Hong Kong
Price: From $500 – $799
Global Source Summit gives you the opportunity to meet thousands of suppliers from China. This Amazon FBA conference has invited leading experts from Amazon and other e-commerce platforms. All these speakers will share their knowledge and insights to all online sellers out there.
This event is one of the best places for you to connect with the global audience. You can find new profitable products at this summit. There is an additional add-on on the summit by e-commerce expert, Kevin King. He will share his million dollars Amazon business secrets with you.
When: 7-8 May 2019
Where: Atlanta, GA, USA
Price: From $899
After two successful years, Resonate 2019 is getting organized on 7th-8th May at Atlanta, GA. This conference will focus on assisting you in the exponential growth of your business.
At this Amazon FBA conference, you will learn about branding, stories behind successful marketers, managing cash flow, and many more important tips to sell your product online.
When: May 13-15 2019
Where: Wynn Las Vegas
Price: From $1895 – $2095
Imagine is hosted by Magneto with featuring lots of speakers from Magneto, Amazon, PayPal, Forrester, and more. This is one of the most popular conferences in the world. This year there will be over more than 150 speakers and about a hundred of the unique sessions.
Over 3500 attendees from over 60 plus countries will have the opportunities to learn about e-commerce SEO, trends, business models, email marketing, insights, and more.
When: 15th-17th May 2019
Where: Miami, Florida, USA
Price: From $999 to $1699
Sellers Summit 2019 is going to take place on 15th-17th May in Miami, Florida. This Amazon seller conference will guide you with real and actionable strategies that will you help to make more money.
This summit is one of the best summits for you if you are looking to grow your business and brand on e-commerce websites.
When: May 20-21, 2019
Where: Barcelona
Price: NA
E-commerce Summit is an invitation-only conference for retailers and brands. You can request to join this conference, to receive the invitation by them. All the retailers and brands will share their knowledge and there network at this event.
This event will focus on the European market and top trending topics on e-commerce. At E-commerce Summit 2019, you can receive valuable advice on growing your business from the e-commerce experts.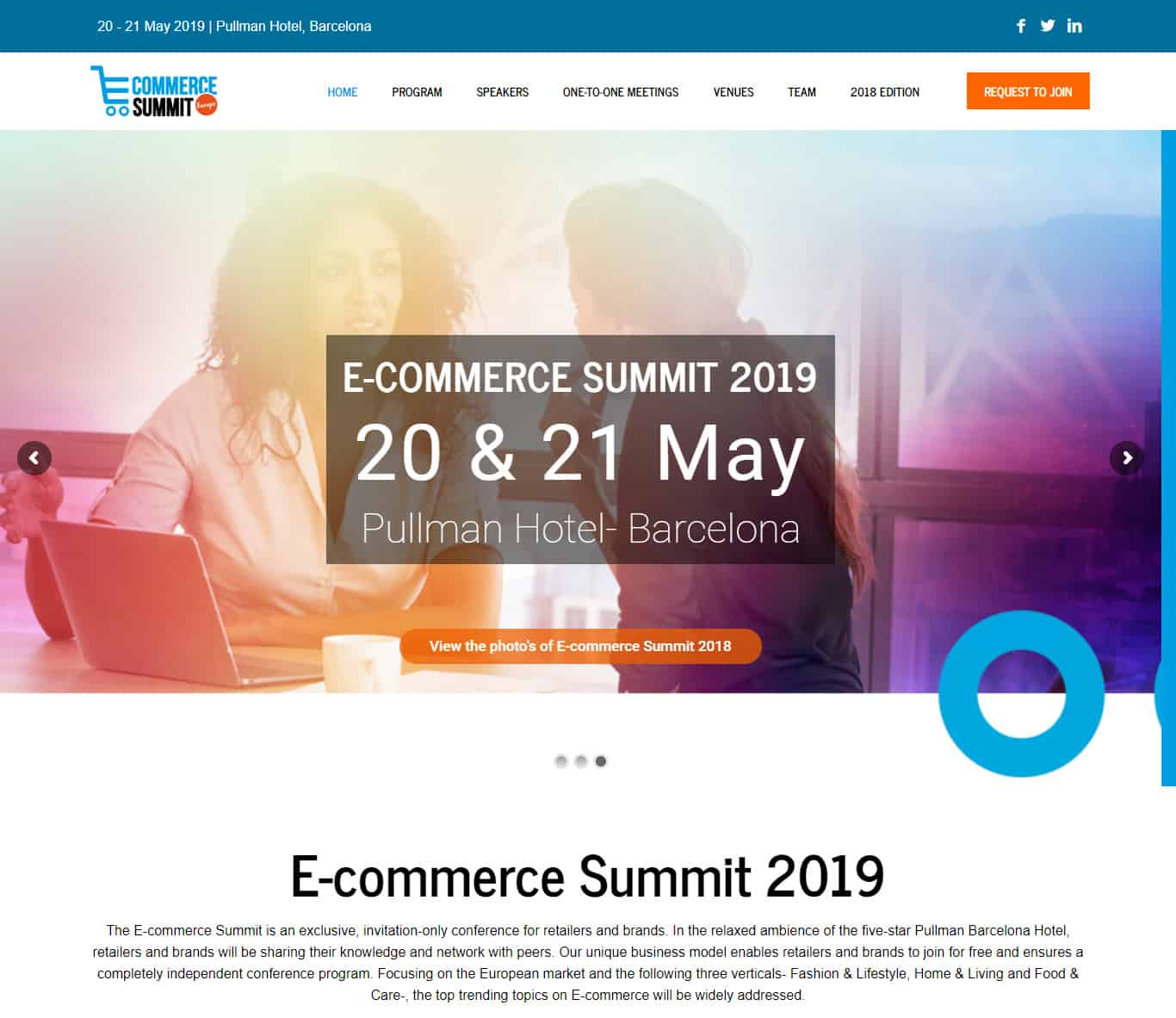 When: May 20-23, 2019
Where: Austin, TX, USA
Price: From $4997
Billion Dollar Seller Summit is an Amazon seller conference, limited for 50 attendees, which is the beauty of this summit. Due to limited number of seats, everyone has enough time to meet and know each other. The organizer and one of the speakers of this event, Kevin King who is the Lead Mentor for Helium 10 Elite has selected 12 speakers by himself, who are highly successful sellers.
This event is been is focused on sharing important tips and knowledge to the attendees. Few of the topics are: How to rank on the 1st page, how to get billions of reach, Amazon PPC, etc.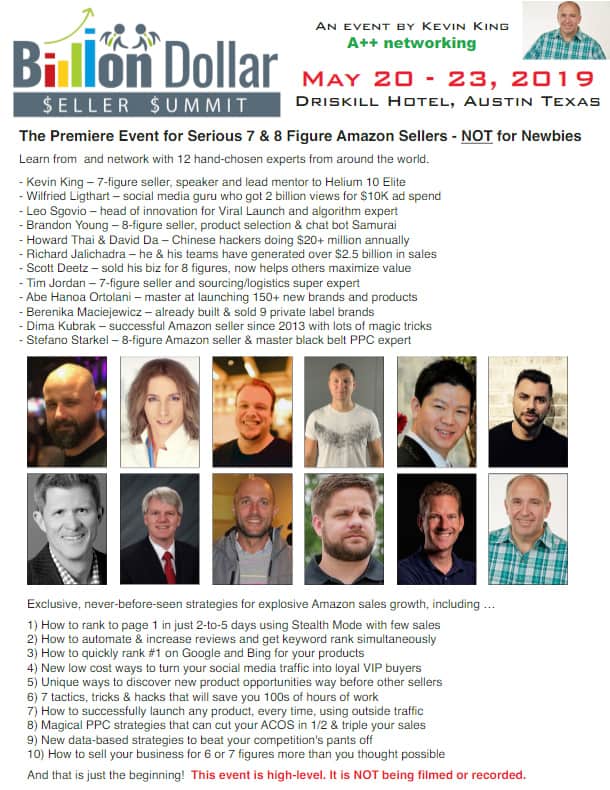 When: 23rd May 2019
Where: Manchester, UK
Price: 50 Pounds
This is an Amazon FBA conference for every seller and trader on Amazon. It can give you the opportunity to meet some of the great speakers & sellers.
Ama Fest UK helps you to learn about pricing strategies, PPC on e-commerce, how to build private label, increase conversion and sales, social selling and many more important topics.
When & Where:
June 4-5, 2019 in Stockholm, Sweden
September 18-19, 2019 in London
Price: From 499 Euro – 1999 Euro
Savant eCommerce is the event for all eCommerce experts and sellers who want to stay ahead of the latest trends in e-commerce. Over 170+ senior e-commerce professionals, 30+ leading speakers and some top brands will attend this event.
This event will help you to understand your customers, commercial cycle, social strategies, and customer-centric e-commerce. If you are looking to solidifying your position in multiple cities and countries, this event is the right place for you.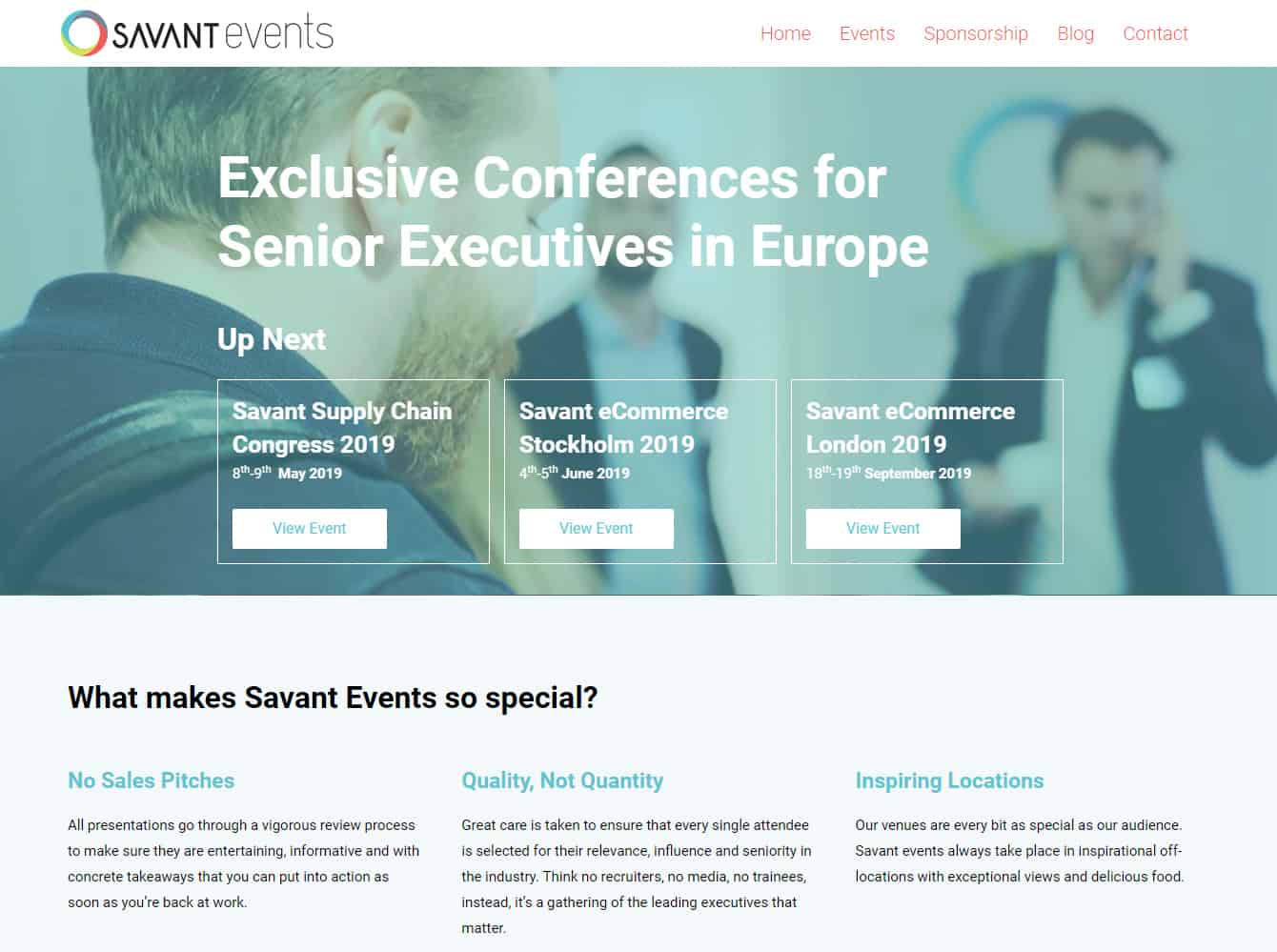 When & Where:
June 14-15, 2019 in Auckland, New Zealand
August 30th-31st, 2019 in Sydney, Australia
Price:  NA
Alibaba groups in hosting their flagship event, Alibaba E-commerce Expo in New Zealand and Australia. This event gives you the opportunity to grow your business in China. Alibaba is expecting to attract thousands of buyers from the Alibaba ecosystem and the Chinese community.
China is a very big country and due to its population, it has become the land of opportunities. And as an online seller, you don't want to miss this opportunity.
When: June 18-20, 2019
Where: Toronto, ON, Canada
Price: From $799
Shopify Unite 2019 will take place in June 2019 in Toronto, Canada. The developers and partners of Shopify will come together and share their knowledge at this event.
At Unite, you can learn how to use tools to grow your business, how to optimize your app listing, e-commerce evolution, and upcoming changes in Shopify.
When: June 25th-28th, 2019
Where: Chicago, IL, USA
Price: From $599 – $2400
IRCE is one of the largest events for retailers and online sellers. This year, it is hosting in Chicago on June 25th-28th. This event features top business solutions for you. It also offers over 130 educational sessions covering the latest trends and interesting topics.
There are around 600 vendors and 200 companies, who will showcase there latest solutions and technologies at this conference.
When: 21st-23rd June 2019
Where: Los Vegas, Nevada, USA
Price: Premier Class – $1297 & VIP Class – $1497
SellerCon is organizing for the past 6 years. And in 2019 this will be held in Los Vegas, Nevada. This conference can help you to know more about e-commerce and its strategies. You can learn to build a successful brand with the help of the tactics of successful online sellers.
There will over 40+ speakers including Robert Kiyosaki (author of Rich Dad Poor Dad) will directly interact with over 3000+ attendees.
When: July 19th-20th, 2019
Where: Minneapolis, Minnesota, USA
Price: $299 – $399
6th Annual Midwest E-com Conference is here with many important tips and tools for every e-commerce seller. This Amazon FBA conference will give you the chance to meet and learn from the e-commerce professionals.
The speakers will share their views and advice on e-commerce, wholesale, retail and online arbitrage, social media, tax, FBA, private label and much more interesting and useful topics.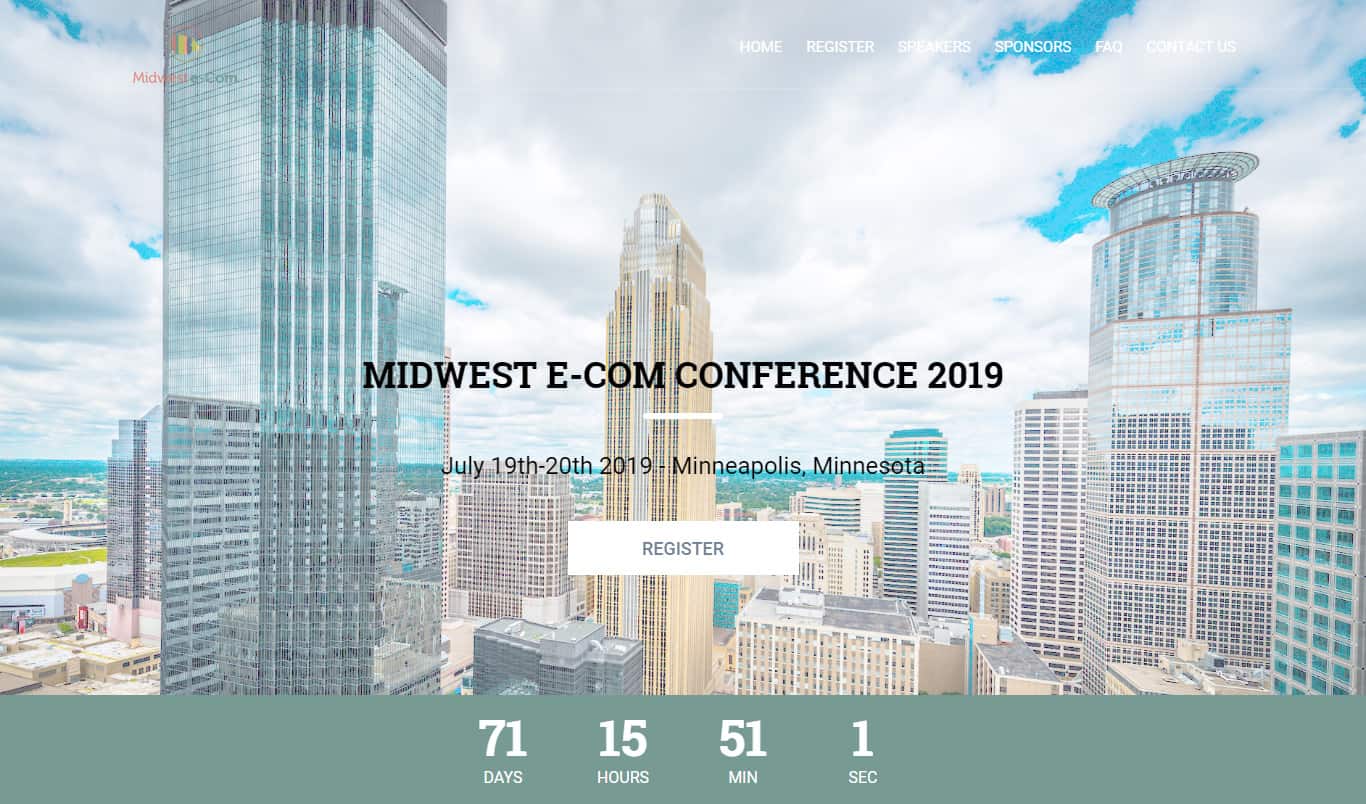 When: July 22-24, 2019
Where: Las Vegas, NV, USA
Price: From $495
Shop.org is hosting by National Retail Federation for over two decades. This year National Retail Federation is saying goodbye to Shop.org and launching all-new event, NRF NXT.  This event helps you to dive into the latest trends in digital marketing, data, analytics, and customer experience.
This event gives you the opportunity to connect with digital and e-commerce professionals and learns about marketing strategies, consumer insights, data science, digital commerce from them.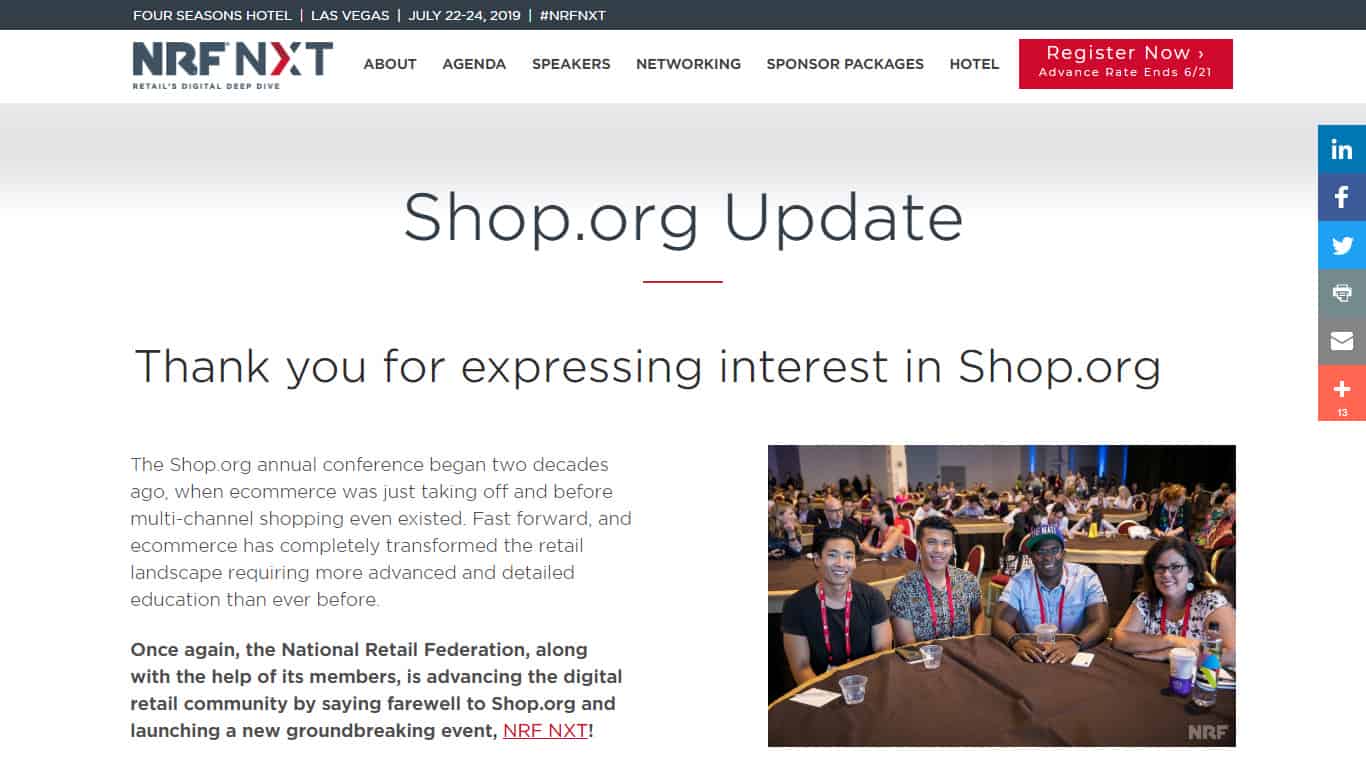 When: July 28-31, 2019
Where: Las Vegas, NV, USA
Price: NA
ASD is a premier trade show for all sourcing professionals all around the world. Here you can meet with the wholesale provider and manufacturer to buy products directly from the factory. Lots of vendors, wholesalers, manufacturers, and companies from different categories will exhibit their products at ASD market week 2019.
This is a leading B2B show in Los Vegas which brings a variety of merchandise together. If you want to buy or sell your product at a wholesale price point then ASD is the best place for you.
When & Where:
August 19 – 22, 2019 in The Sheraton, Boston
February 24 – 27, 2020 in Palm Spring, CA
Price: From $1999 – $2299
America's most successful retailers meet, eTail is back with most disruptive eCommerce content. Here, you can learn more about technology and industry and how it will be tomorrow.
At eTail, you can grow your network, learn about marketing and branding from lots of attendees and speakers.
When: September 4th, 2019
Where: New York, USA
Price: From $397 – $2397
One of the most awaited Amazon seller conferences, AMZ Innovate going to take place on September 4th, at New York. 200+ Amazon sellers from all over the world will gather at this event. Here, you will get a chance to meet face-to-face with 8-7 figure sellers.
This conference offers you the best place for you to learn valuable tips and insights which you can't learn anywhere else. Each and every seller should try to attend this event in New York.
When: September 18-20, 2019
Where: Fort Worth, TX, USA
Price: From $499
Brand Accelerator 2019 will focus on building a successful e-commerce brand. This event is for you if you are selling products online, wants to grow a business, how to make a brand, how to automate your business, and want to meet high-level entrepreneurs. You should not miss this brand-building event in September 2019. Great time to learn from Jungle Scout founder Greg Mercer. 
When: September 24-25, 2019
Where: Montreal, QC, Canada
Price: From $5599 CAD
12 Amazon and e-commerce insiders will reveal their million dollars working strategies at Orange Hat Summit in September. At this Amazon FBA conference, you can learn how to scale a business, how to make millions of dollars and tools to create a breakthrough in business.
Only 200 lucky attendees have a chance to grab a ticket and attend this event. All those speakers are charging thousands of dollars to share all those information which will get to know on this event.
When: September 25-26, 2019
Where: Olympia London, England
Price: Free
eCommerce Expo 2019 is one of the much-awaited e-commerce events in England. This year there will be a lot more exhibitors and suppliers attending this event. Here, you can discuss the challenges and way to overcome with them.
There will be 250+ sessions and 150+ leading suppliers. All those sessions will give you valuable tips to develop killer e-commerce strategies.
When: 10th October 2019
Where: Business Design Centre, London
Price: Free to attend
The leading conference of UK, IRX Internet Retailing Expo will take place on 10th October 2019. This event is armed with 150+ exhibitors, lots of speakers, innovation, experts, and workshops.
When: November 9-11, 2019
Where: London, England
Price: From 499 – 699 Pounds
Youpreneur Summit will help you in everything you need to grow your business and take it to the next level. This summit will focus on three main content and teaching principal: Building, Marketing, and Monetizing.
This list is just a starting. As the volume of Amazon sellers continues to grow, there will be more new and fantastic workshops and conferences announced over the time. Whether you are a beginner or an advanced business owner, it is essential to know your competitor sellers who walk down on the same road, or you can listen to successful guru stories and keep yourself updated.