Many entrepreneurs find themselves drawn to Amazon. They want to sell private label products with the help of Amazon's FBA (Fulfillment by Amazon) service.
Selling products on Amazon takes a lot of hard work and dedication. But, the effort is often worth it as you can make a lot of money. Think about it—millions of people buy things on Amazon every day. Why wouldn't you want to take a cut of the profits?
However, if you want to be successful on Amazon, you have to choose the right products to sell so you can make a profit.
This part is where many entrepreneurs get stuck. How do you decide what is best to sell on Amazon?
Well, there are many products out there designed to help you with product research. One of these tools is Amaze Owl.
In this Amaze Owl review, we'll cover everything you need to know about this Amazon seller tool and whether it's a good option for product research.
What Is Amaze Owl?
Amaze Owl is a software that helps you conduct product research on Amazon.
Who Uses It?
Entrepreneurs from all niches and experience levels use Amaze Owl for product research.
That being said, most users are brand new to selling products on Amazon. They rely on Amaze Owl to help them find their very first product to sell.
One reason the tool is so popular among newbies? It's very simple to use. The software is intuitive and straightforward. The features are basic compared to other tools like Jungle Scout. And Amaze Owl users have access to helpful tutorials and a friendly customer support team.
The tool's simplicity makes it easy for aspiring Amazon entrepreneurs. Users can quickly find a product to sell that will perform well. This starts their business off on the right foot, allowing them to grow even further.
Keep in mind that Amaze Owl is primarily for FBA/private label sellers. If you have an arbitrage or dropshipping business, this isn't the best tool for you.
How to Download the App
To use Amaze Owl, you must download and install the desktop app. Windows (Windows 7 and later) and Mac (macOS 10.10. and later) operating systems support the app.
Some sellers are skeptical of downloading software to their computers, which is reasonable, as there are many sketchy programs on the market.
But, we guarantee you can trust Amaze Owl. Every month, it helps over 4,000 entrepreneurs launch their new Amazon businesses. Independent reviews testify that the software won't slow down your computer or threaten your security.
Once you download the app, you can install the Amaze Owl Google Chrome Extension. The extension lets you use a browser to view your account and validate product research.
Keep in mind that the extension doesn't give you access to all the features available in the desktop app.
Amaze Owl Features
Compared to other tools on the market, Amaze Owl has relatively simple features.
Some users see this as a downside. They feel that the tool limits what they can do and doesn't give them access to all the data they need.
But, we've found that the tool's simplicity is what makes the product so great. It's easy to learn thanks to the product training that comes with the free trial. There are also additional learning materials in the form of step-by-step video tutorials.
The tool's simplicity doesn't take away from its powerful capabilities. Beginners can use it to find their first product to sell quickly.
Let's take a closer look at Amaze Owl's features:
Hunt for Products
Without a tool like Amaze Owl, finding the right product to sell can be difficult. You have to scroll through countless items on Amazon. Then, you have to research to determine if it will be profitable.
Amaze Owl's "Hunt for Products" feature makes this process so much easier. It helps you search through over 600 million products to find the best ones for your business.
To use this feature, you first choose one of eleven available marketplaces (U.S., Canada, etc.). Keep in mind that the marketplace doesn't necessarily have to be where you live. You should choose where you want to sell your products.
Then, you choose from one of three options:
Hunt by keyword. This option lets you filter through products by keyword. If you are interested in selling printers, you should type in keywords related to printers. If you aren't sure what you want to sell, click the "Random" button, which will generate keyword ideas.
Hunt by bestseller. This option shows you the top 100 products in each category. This is especially helpful if you know what niche you want to work with (electronics, pet supplies, etc.).
Product database. As we mention later, the product database is only available with the Growth and Established plans. It takes even more work out of the process by researching products and showing you that they are likely to do well. The database updates daily.
The first two options require a bit more thinking on your part. When you hunt by keyword or bestseller, the extension takes you to Amazon. You scroll through the results pages as if you were a normal buyer. As you scroll, the extension will light up products it thinks will perform well.
The third option is even easier to use. When you click it, the tool automatically shows you promising products that fit your niche. Because the product database option doesn't make you scroll through Amazon, many users think the premium subscriptions are worth it.
More Filter Options
Hunt by keyword, hunt by bestseller, and product database are the three main filter options. But, you can make your search even narrower with more filter options. Just go to your settings and adjust the parameters as you see fit.
Parameters you can adjust include:
Optimal price range. This option will show you products within a certain price range. This is useful for many reasons. For instance, some entrepreneurs want to stick with cheaper products as they are easier to sell. Consumers don't research them as much and tend to buy them on impulse.
Optimal review numbers. To sell products, you'll want to have good reviews. Good reviews build trust among your customers and rank your products higher. As important as they are, reviews can be difficult to get. If you want to see products that will perform well with limited reviews, adjust the optimal review numbers option.
Maximum item weight and package size. Shipping costs can determine whether or not you make a profit. Items that are smaller and lighter have lower shipping costs. So, adjust these filters to show products that will keep your shipping costs low enough to see a profit.
Track Products
When you hunt for products, you can choose to track the ones you are interested in selling.
When you track an item, Amaze Owl provides you all the data you need on it. Some useful insights include:
How many reviews you need to attract buyers successfully
What images you should use
How competitors are performing with similar items
What you should price the item at
Total revenue estimates
You then use this data to determine whether or not the item is worth selling.
Keep in mind that Amaze Owl gathers this information by compiling data from competitors. Because it's an automated system, the tool may use data from competitors that aren't relevant to your product.
This can cause your insights not to be as accurate, but it's an easy fix. Simply click on "Competitors & Reports" on the item's tracking page.
Then, scroll through the competitors that Amaze Owl identified. If a competitor isn't relevant to your product, mark it as "Moved to Ignored." This will make your insights more accurate.
Using the Product Database
As we mentioned early, you can use the product database to find items to sell.
The product database, however, is also useful after you choose items you want to sell. It's great for continuously monitoring keyword ideas, optimized product titles, prices, and more.
Amaze Owl Pricing
Amaze Owl's features are relatively basic yet powerful. They allow you to conduct accurate product research.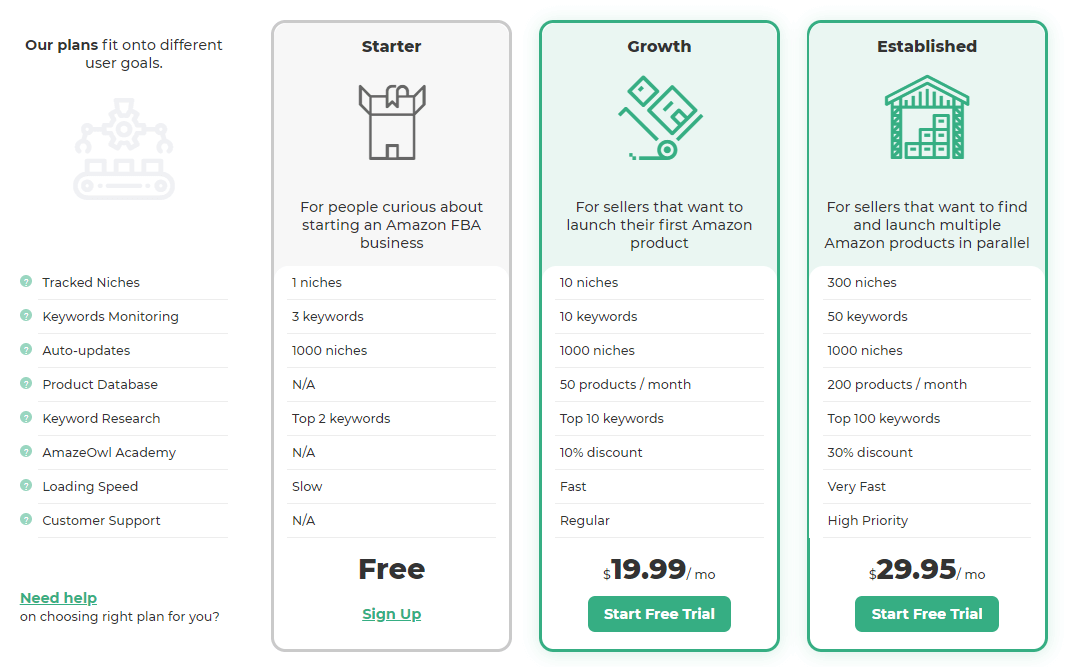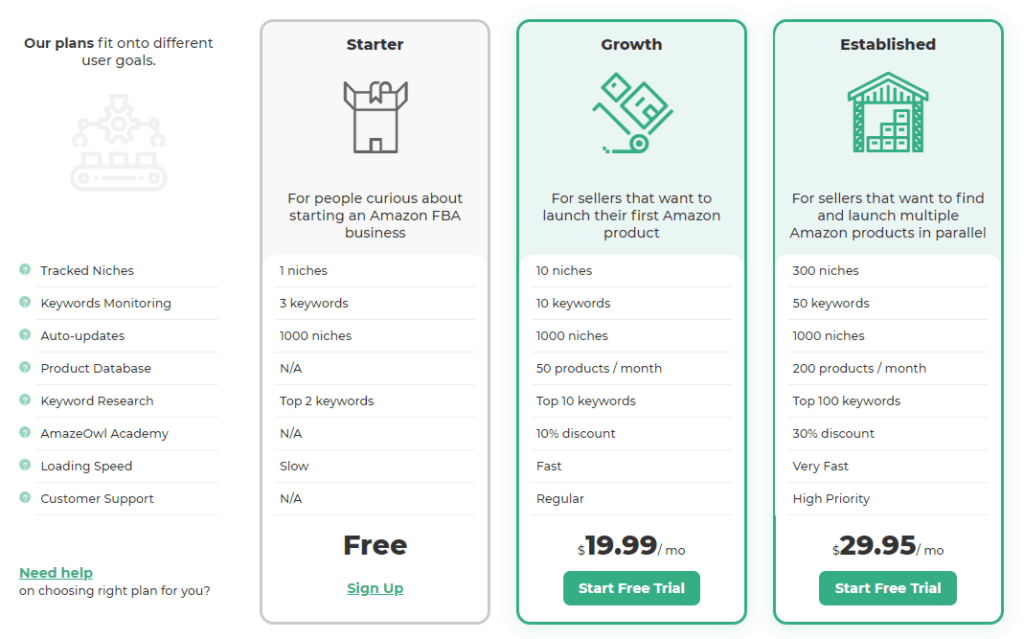 Amaze Owl's simplicity also allows it to be affordable. You won't spend as much as you would with other tools on the market.
Let's take a closer look at the software's three plans:
Starter Plan
The Starter plan is perfect for those who are brand new to FBA/private label selling. It is completely free and gives you a chance to learn more about selling on Amazon.
Keep in mind that as it is completely free, the Starter plan is somewhat limited. The loading speed is very slow and can be frustrating to deal with. Additionally, you don't have access to customer support, the product database, Amaze Owl Academy discounts, and other premium features.
Regardless, the Starter plan is a great option if you want to get your feet wet. On its website, Amaze Owl markets the Starter plan to those who are "curious about starting an Amazon FBA business."
But, many people use this plan to find their first product to sell. It lets you track one product niche and three keywords.
Growth Plan
The Growth plan makes it much easier to find your first product to sell. It gives you access to premium features (faster loading speed, customer support, product database, discounts, etc.). And, it lets you track 10 product niches and 10 keywords.
If this plan sounds like a good fit for you, we recommend the annual subscription. You'll end up paying even less per month than you would with a monthly subscription.
Established Plan
The Established plan is basically just a beefed-up version of the Growth plan. With it, you get to track 300 product niches and 50 keywords. It provides a "very fast" loading speed, high-priority customer support, etc.
Like with the Growth plan, you'll pay less per month for the Established plan if you go with the annual subscription.
Which Plan Should You Choose?
Entrepreneurs selling multiple products will benefit the most from the Established plan. If you still need to find your first product, we recommend going with either the Starter or Growth plan.
Still not sure which plan you should pick? Amaze Owl offers a free 10-day trial with every subscription. You'll get to test out all of the features no matter what plan you pick. You can stick with the Starter plan if you realize you won't use the more advanced features.
How Accurate Is Amaze Owl?
When looking for the right product research tool, you'll want to know how accurate it is. This ensures you will make smart, well-informed business decisions.
Amaze Owl is one of the most accurate product research tools available. It collects statistics from multiple sources and effectively compiles the data into bite-sized pieces.
The tool gives you the full picture of keyword analysis, sales estimates, and other valuable insights. It also accurately analyzes competitors to help you set your business apart.
All of this serves to help you choose the right products to sell on Amazon. Keep in mind that the tool is just that—a tool. The items it suggests won't automatically perform well; you must put in the work to optimize your business.
Final Breakdown: The Pros and Cons of Amaze Owl
Here's a summary of Amaze Owl's pros and cons:
Pros
The app and Chrome extension are safe to download
Free subscription available
Affordable premium subscriptions
Easy-to-use features that accurately help you find products to sell
Narrow filtering options that make it easy to refine your search
Clear and concise product training
Cons
Not ideal for arbitrage or dropshipping businesses
Free version comes with limited features
Verdict
Overall, we consider Amaze Owl to be one of the best product research tools on the market.
Its free plan makes it a particularly desirable option. You can use it to get acquainted with the FBA industry and find your first product to sell.
And, if you want to have access to more features, the premium subscriptions are affordable. All plans, to varying degrees, help you make your business more profitable. The features are easy to use and harness their full power.
Considering it has a free trial, Amaze Owl is at least worth a try. Download it today to see how it streamlines product research!