Amazon is a major online retail powerhouse. It can connect you with hundreds of millions of customers worldwide and allow you to sell your products like never before. However, just listing your products on Amazon isn't likely to get you very far. You need to beat out the competition and make your products appeal to your audience.
In 2020. over 200,000 new third-party sellers joined Amazon. Now, 58 percent of Amazon sales are generated by these sellers. So, how can you win buyers over other sellers and gain your share of this vast market?
The key to winning over this stiff competition is smart and effective marketing and advertising. You need to gain awareness for your products and get your listings in front of the customers that matter to your products. The best way to make this happen is by enlisting expert marketers and one of the best Amazon advertising agencies.
What does an Amazon advertising agency do?
Your Amazon ad agency's role in your business can be multi-faceted. Maybe they optimize your product listings or manage your pay-per-click campaigns. They also might bolster your social media presence and help you create better listings for voice searches. Either way, the right Amazon marketing company can help you make the most of your presence on the site.
Why should I use an Amazon advertising agency?
You're likely busy sourcing and selecting products, creating sales goals, and managing the experiences of your customers. Why not put your Amazon advertising strategy in the hands of seasoned pros? These marketing experts know how to plan and implement strategies that lead to measurable growth. Plus, they stay up to date on the latest news, trends, and techniques to help you beat out your competition.
Best Amazon Advertising Agencies
There are a few things you should look for in an Amazon advertising agency. First, you want to find an agency that prioritizes you as their client. Top-notch service features like a dedicated representative and response time guarantees can give you an ideal experience. You'll also want marketers that are committed to continuous learning and staying up to date with algorithm changes. And lastly, clear and regular performance is a must. Look for an agency that has easy-to-interpret reporting so you can see that their campaigns are driving results.
The best Amazon marketing agencies have various features and benefits. Check out the list to see which one makes the most sense for your business.
Search Nurture – Best Amazon Advertising Agency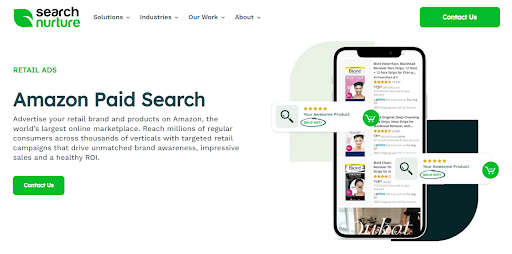 Search Nurture is the best Amazon advertising agency for your overall needs. The agency is client focused and prioritizes communication and collaborative decision-making. Using proven processes designed to boost your sales, they plan goal-oriented strategies with measurable results.
Industry-leading and accredited Amazon Advertising Partner
Dedicated full-time Amazon advertising rep
Transparent reporting with customizable SearchRAMP dashboard
White glove services with guaranteed 24-hour email response time
Regularly scheduled informative meetings and budgetary updates
The paid search and ad variations that Search Nurture expertly uses can help make the most of your product pages. The result is increased brand awareness, sustained performance, and an impressive return on your advertising spend.
Zyne Ventures – Best Amazon Optimization Agency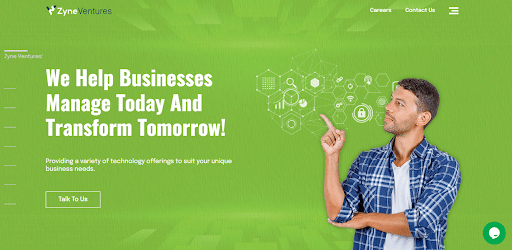 With the number of Amazon users wanting products on demand, making sure your listings show up in search results is imperative. With product listing optimization, you have better chances of being discovered by relevant audiences and those actively seeking your products. Zyne Ventures can help boost your sales by optimizing your listings using proven strategies and data-driven techniques.
Tiered package plans to meet each business's specific goals and objectives
Backed by advanced keyword analysis based on the Amazon buyer's journey and intent
Commitment to creative problem-solving
Monthly performance reporting schedule
Zyne uses customize solutions that foster growth for their clients. With proven-SEO strategies, they can help you put your products in the spotlight.
FountainheadME – Best Amazon PPC Agency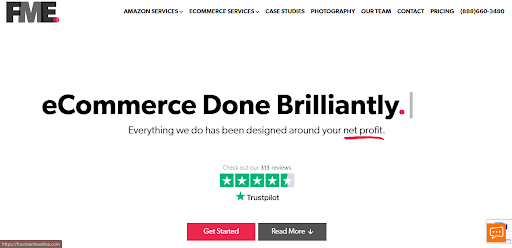 Pay-per-click, or PPC, ads are an awesome way to boost your ROI. These can be targeted to a specific audience and you online pay when users actually take your desired action. This results-based pricing allows you to make the most of your Amazon advertising budget. With FountainheadME, you'll know that the planning, implementation, and optimization of your PPC campaigns are in good hands.
Amazon Sponsored Ads Accreditation
No contract and customized hourly service pricing
Complementary introductory analysis and consultation
Offers Amazon product photography to enhance listings
FountainheadME combines creativity with a keen analysis of the buyer's journey. This leads to an engaging PPC experience that's customer-centered with measurable results.
Thrive Agency – Best Amazon Social Media Advertising Agency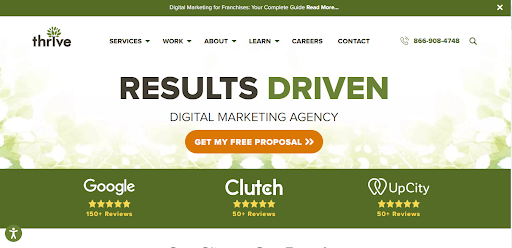 With over four billion social media users worldwide, using these platforms to advertise your products is a must. Combined with the number of Amazon users, social media advertising can bridge the gap and allow you to easily reach this overlapping audience. Thrive Agency marketing pros are experts in advertising your products everywhere from Facebook to TikTok and uses strategies that increase conversion.
Strategy planning and implementation aligned to each unique seller's needs
Both monthly and weekly Amazon social media ad performance reporting
Ad integration with multiple search engines and social media channels
Dedicated account management team
Thrive Agency uses proven processes to drive impressive results. Their award-winning team uses innovative social media strategies for the success of Amazon sellers.
Hiring the Best Amazon Marketing Agency for Your Needs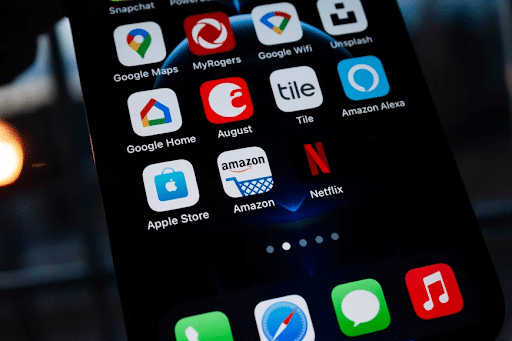 Having the best Amazon marketing agency in your corner can mean big things for your sales. Amazon saw skyrocketing sales over the pandemic and the site is projected to propel forward with over 15 percent year-on-year growth. Having a robust marketing strategy in place can help you take advantage of Amazon's current popularity and future success.
Expert Amazon agents can help you plan and implement a holistic strategy that makes sense for your sales goals. They can also help you scale these objectives and flourish into the future. Contact Search Nurture today to learn how to grow your Amazon business and increase your sales.

Amazon Advertising Agency FAQs